Is your dog a member of your family? If you answered yes, then we are totally twinning, because same.
We're not weird, and we're not alone.
Recent studies have shown that people can come to have the same type of bond and attachment to their dogs as parents do with their children.
So it's no wonder why many of us often go out of our way to celebrate our fur babies and their milestones, especially when it comes to birthdays and Gotcha Days. And why wouldn't we?
Our dogs bring us loads of unconditional love, an insane amount of entertainment, and the comforting consistency of a forever friend.
So, is your fur baby's Gotcha Day or birthday is just around the corner? Are you racking your brain for ideas on how to show your canine child just how much he means to you?
Then you're in luck because I have tons of ideas.
Many of my clients take their fur-parenthood very seriously and love to throw big birthday bashes for their four-legged children.
Trust me, I've seen it all, and I've listed fifteen of the best, most affordable, and uber-successful dog birthday celebration ideas I've experienced.
But before we dive in, let's talk about your unique dog.
Before you decide to go all out and throw a totally hype and wild bday shindig for your pooch, I encourage you to consider his unique personality.
If you really want to throw your dog a birthday celebration he will love, make sure you actually do something for him he will enjoy.
For example, if you have a highly anxious dog or a dog who has not been very well socialized, has noise phobias, or prefers life as a homebody, don't force him outside of his comfort zone and try to "make him" have a good time.
And if you fall in love one of the fifteen doggy birthday ideas below but it doesn't mesh with your dog's personality, don't be discouraged.
It's totally easy to modify any one of these ideas to suit your dog's unique needs and temperament.
Remember, it's your dog's special day, so you want to make sure it's fun for him! Now let's get celebrating!
1. Invite Your Dog's Friends Over for A Doggy Birthday Party!
This is a great option for dogs who are total social butterflies.
If your dog attends a doggy daycare, enjoys going on group walks, loves dog park days, or even just enjoys meeting new fur-friends when out and about with you, then he's sure to love having a dog-filled birthday party in his own backyard!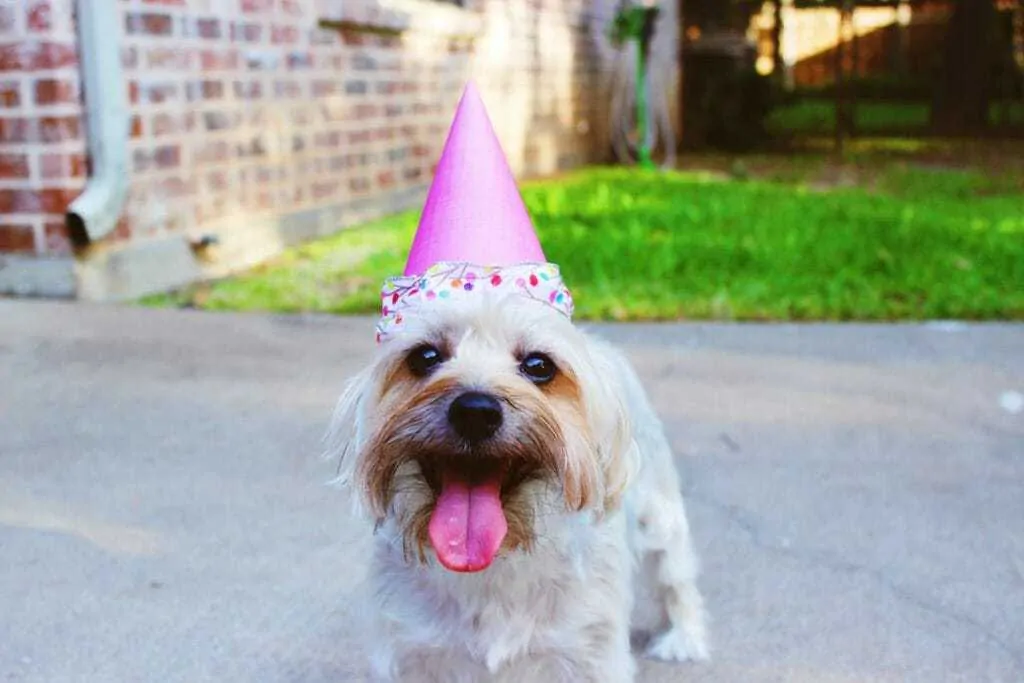 Celebrate your best fur-friend by throwing him a spectacular birthday party! 
An added bonus? This can also be a social gathering for you as well! A few good friends of mine also have dogs and we get our pups together for playdates and birthday celebrations all the time.
If you are lucky enough to have buds like that and all your dogs get along, then why not invite them and their pups over for some birthday festivities?
To host a fun and easy dog birthday party at home, you can offer
Tiny birthday hats for the guests
Goody bags filled with dog treats
A dog-friendly birthday cake
Designated play areas where dogs can swim in a baby pool, play fetch, or just snooze on some fuzzy blankets in the shade.
However, I should note that even well-trained dogs can have potty accidents, so I would recommend hosting your dog's birthday party outside in your backyard as opposed to inside your home. Unless of course, you are willing to do a lot of damage control afterward.
Remember, it's easier to clean potty spots from grass and dirt than it is carpet!
But does a doggy birthday party at home sound like too much work? No worries! There are plenty more ideas below.
2. Take Your Dog to the Dog Park and Bring Treats for All His Friends.
If hosting your dog's birthday celebration at your home seems a bit overwhelming, you can always opt to take the party elsewhere, like to a dog park!
Is your dog a regular at one of his local dog parks? Then taking him to his favorite hangout on his special day may be a perfect and easy way to celebrate!
You can make the event super fun by bringing little gift bags of dog treats to hand out to the other dog park attendees.
Keep in mind, however, that some dogs have food allergies and can be sensitive to grains or other food ingredients.
Know the kinds of treats you are handing out and make sure you ask the dogs' owners first if their pet can eat the type of treats you have brought.
If you are worried about dogs with sensitivities, I recommend going for grain free treat options or treats that use meat-free protein sources for dogs with sensitivities.

If your dog is a social butterfly, he'll love celebrating his special day with his friends at the dog park!
Perhaps your dog doesn't go to the dog park but he does attend a doggy daycare or is involved with a local dog walking service?
You can always implement his birthday by dropping treats by his boarding facility or asking his walker if they could do something special for him.
3. Spend One-On-One Time With Your Dog at A Public Park
Bring a picnic along for you and your furry BFF and just spend the day hanging out with him.
He'll love the change of scenery and the chance to smell all the new smells and see all the new sights!
Most of all, he'll love the quality time he'll get to spend with his favorite person – YOU!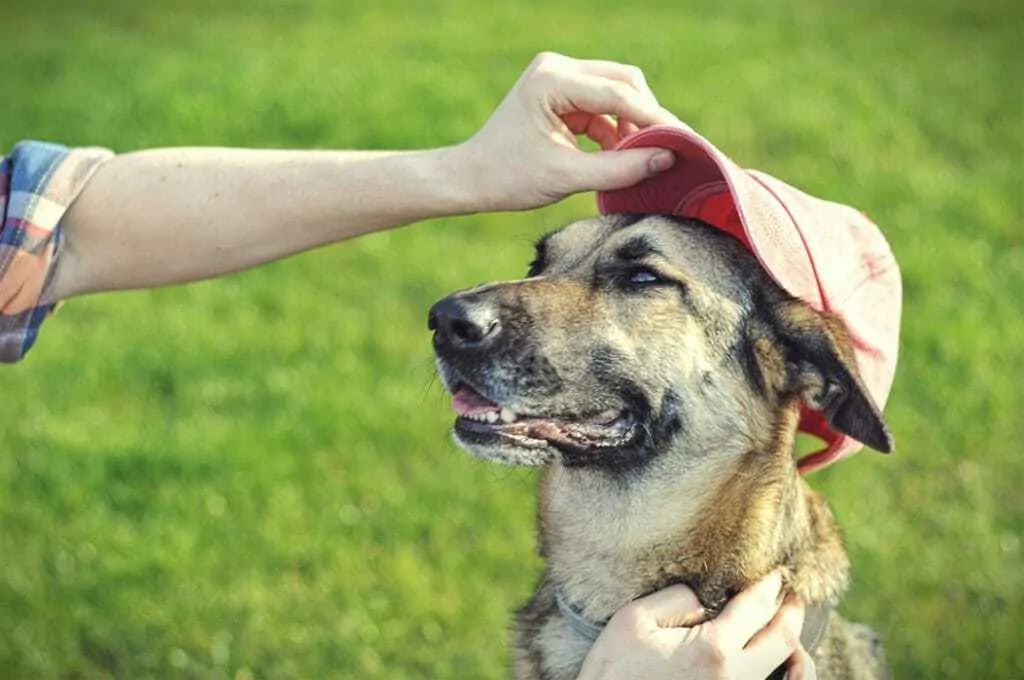 There's nothing your dog loves more than just being with you. So gift him the present of all your attention on his big day!
For especially intelligent dogs, you can take this time to learn new tricks together using treats, praise, and other forms of positive reinforcement.
Time spent training can be fun and mentally stimulating for many dogs, not to mention it can help to build a stronger bond between you and your furry friend.
What better way to celebrate your special four-legged counterpart than by giving him all your attention and loading him up with even more tricks to amaze people with?
4. Take Your Dog Camping and Just Let Him Dog
Most dogs I know love camping. They love the new smells, being out in the wild, and just hanging out with their human pack.
If your dog is a camper at heart, why not take him camping for his special day?

Does your dog love being a dog? Take him camping and let him go wild!
If your schedule or budget doesn't allow for a full-on a camping trip, you can always take a few hours out of your day to take your dog hiking and explore some new trails.
Let your dog get totally dirty. Let him roll in the grass and play in the mud, and just full out dog all day long. Trust us, he'll love every second of it and so will you!
5. Make Your Dog Homemade Dog Treats.
Looking for something cozy and cute to do with your pooch for his special day?
Sometimes the simple things lead to the best memories. If you love to cook (and even if you don't) making homemade treats for your dog can be a fun and rewarding experience for both of you.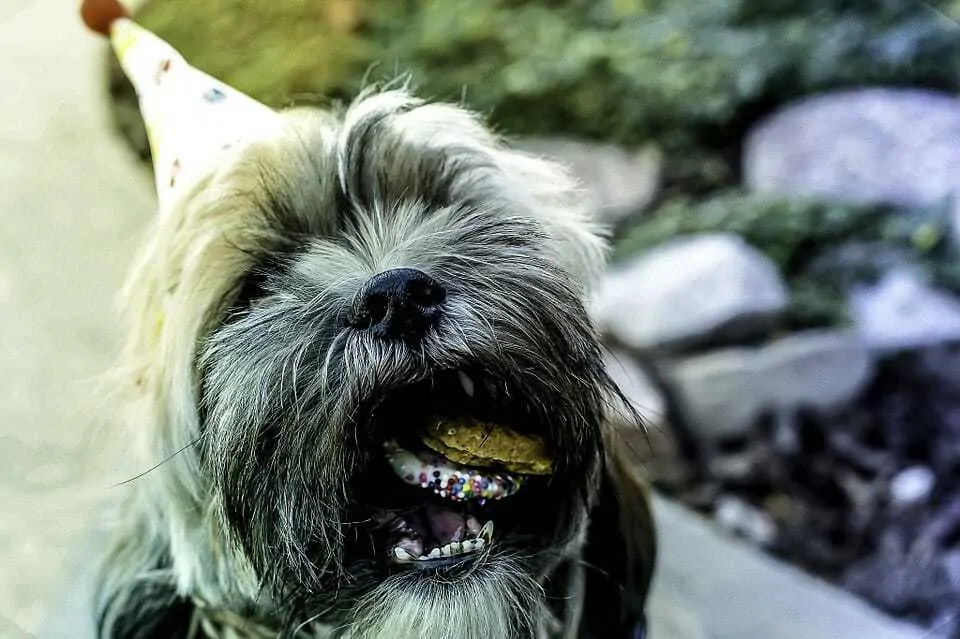 Even if you don't consider yourself a gourmet chef, there are easy recipes online that hardly require any work and will make your dog feel all the love!
Your dog will love hanging out in the kitchen with you and licking the spoons, and he'll especially love the surprising result when he finds out that everything you were making, you were making for him!
There are tons of recipes online for homemade dog treats, but this is one of my favorite videos showing how to easily make some super tasty DIY dog goodies your pup will love.
https://www.youtube.com/watch?v=l3Mb9RyW3V4
Remember, not all human foods are safe for doggy consumption. Be aware of unhealthy or toxic foods and make sure you only include dog-safe ingredients in your pet's dog treats.
6. Treat Your Dog With A Doggy Birthday Cake!
Have you ever seen a dog get down with a doggy birthday cake? I have! Move over one-year-old babies – dogs eating birthday cake is the new cute thing.
It's adorable how dogs seem to know that the birthday cake is for them and how they just go wild for the first bite!
Of course, we're not talking about a humane-style birthday cake with frosting and chocolate.
The right birthday cake for your dog is going to be totally dog-friendly and will be free of any harmful ingredients.
You can make your own doggy birthday cake, like the video below shows, or you can purchase one at a local pet bakery in your area. (I swear dog bakeries are a thing. Google it!)
https://www.youtube.com/watch?v=MYM97ZhArQ8
If your dog has food allergies and you worry that making a cake from a recipe online or ordering a dog cake from a dog bakery will make him sick, you can always do a little digging and make your dog his own special dog cake from scratch depending on his unique dietary needs.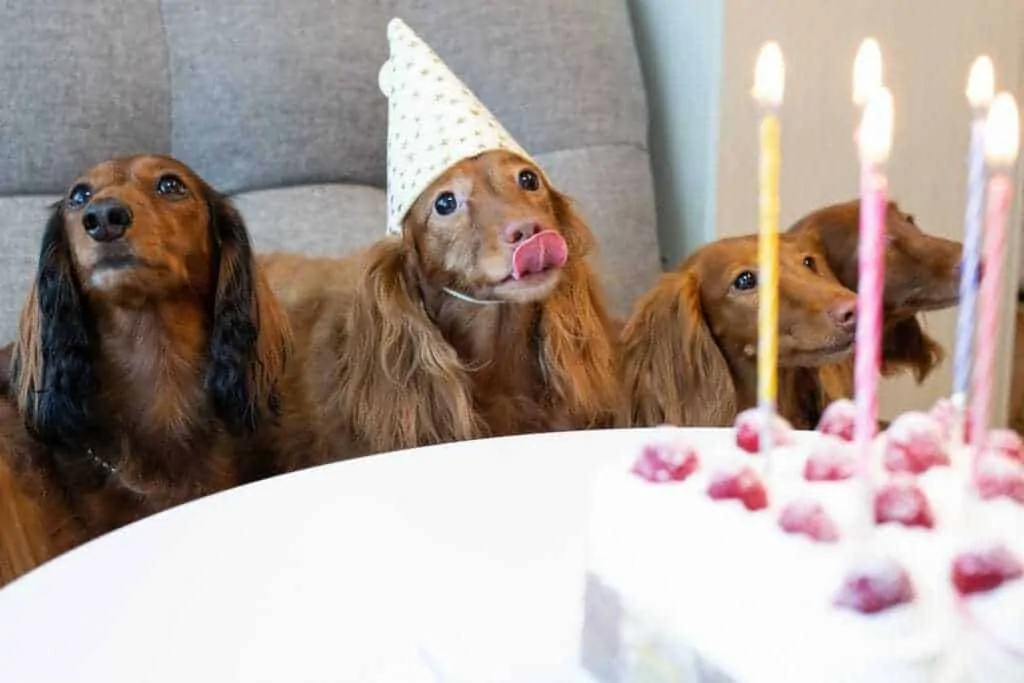 Spoil your dog with a dog-safe birthday cake! You can either make one yourself or order one from a doggy bakery.
If you do choose to make your dog's cake from scratch, be aware of what kinds of foods are safe for your dog to eat and what kinds of foods are toxic to him, and be especially cautious of giving your dog sweets on his birthday.
Remember, many human foods and goodies contain something known as Xylitol, which is an artificial sweetener found commonly in human foods.
Xylitol is an extremely toxic product to dogs
7. Make a Birthday Backdrop for Photo Ops So You Can Capture All The Birthday Memories!
Grab your camera and get your dog ready for his closeup!
Since you are going to all the trouble to celebrate your dog's birthday, why not capture the moment? Set up a photo wall or photo booth for your dog and take amazing dog pictures in front of the backdrop.

You can buy a backdrop at any party supply store or you can make one yourself!
Giving your dog a birthday backdrop doesn't have to be difficult or expensive. You can buy inexpensive birthday backdrops almost anywhere online or at most general merchandise stores like Target and Walmart.
Of course, you can also get creative and make your dog's birthday backdrop yourself!
Here is a fun video of how one creative woman made a super adorable photo backdrop by hand!
8. Set Up A Doggy Ball Pit In Your Backyard!
When I throw events for my furry clients, I like to bring along a doggy ball pit. You'd be surprised how easy, cheap and fun it always turns out to be!
Even dogs you don't think would enjoy it do, and once the dogs get going, it's hard to stop them.

Use a child's plastic pool and fill it with colorful balls. Your dog will have a blast!
Not only will your dog love playing in the ball pit, but it'll also be great exercise for him! If your dog is a bit shy of the ball pit at first, you can always gently encourage him by tossing some of his favorite treats into the pit and letting him dig for them.
You can order a ball pit for your dog online, or you can easily make one yourself.
To make your own doggy ball pit, you will need 
A plastic baby pool
A large bag of plastic ball pit balls (you can find these at most major merchandise stores or even order them online)
Dog treats
9. Wrap Toys and Treats and Let Your Dog Go Wild Unwrapping His Gifts!
This is a great birthday idea for dogs who are fearful or anxious because it can be a quiet event just you and your dog can partake in at home.
But what about the gifts?
If you don't want to break the bank, there are tons of DIY dog presents you can make for your dog at home.
Need some ideas? Try making your dog a homemade dog bed, some homemade toys, snuggly DIY dog blankets, homemade dog games, or even some homemade dog dinners!
There are plenty of recipes and DIY tutorials online, so even if you aren't Betty or Bart Homemaker, you can still come up with something amazing that your dog will love!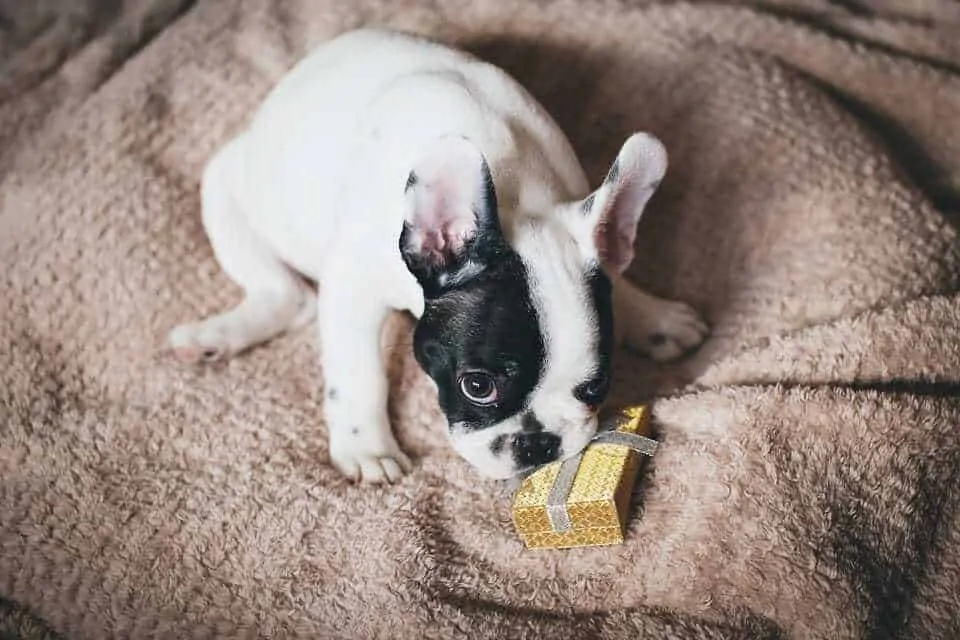 Let your dog open his own presents!
If you prefer to buy your dog his gifts, again, I suggest you consider his personality. If he's pretty brainy, try looking into getting him some puzzle toys to keep him occupied.
You can also go with the basics, like fun new squeaky toys, new leashes or harnesses your dog may need, and even some necessities like poop bags and grooming tools!
10. Set Up A Doggy Scavenger Hunt In Your Own Backyard.
Dogs love to use their noses and in fact, sniffing is a good and healthy pastime for dogs.
All the more reason to set up a fun and tasty doggy scavenger hunt for your pup around your house or in your backyard!

Hide treats and other goodies where your pet can find them!
Similar to an Easter egg hunt, you'll want to collect a few of your dog's favorite (and most smelly) treats and plant them around the house or backyard, and then let your dog sniff them out.
While you don't want to hide these treats in places that will be impossible for your dog to find, I do suggest making your dog work a bit.
Let him dig around in some leaves or through some shrubs to find his prize! Hide treats under his dog bed, bury them in the garden hose, and plant them around his favorite potty tree. Then get ready for some adorable entertainment!
11. Take Your Dog Swimming!
My dog absolutely hates water and doggy bathtime is her worst nemesis. Of course, not all dogs are like my dog.
Many dogs love to swim and can't get enough of the water! If this sounds like your pooch, then don't hesitate to find a fun place to take him swimming.
If the weather permits, you can find a dog-friendly lake, beach, or even pool in your area and get splashing!
Remember, just because your dog likes water doesn't mean he is a good swimmer. Celebrate safely by taking precautions and make sure you never leave your pup unattended in water. I also suggest getting your dog a life vest.
Hey, it can be one of his birthday presents!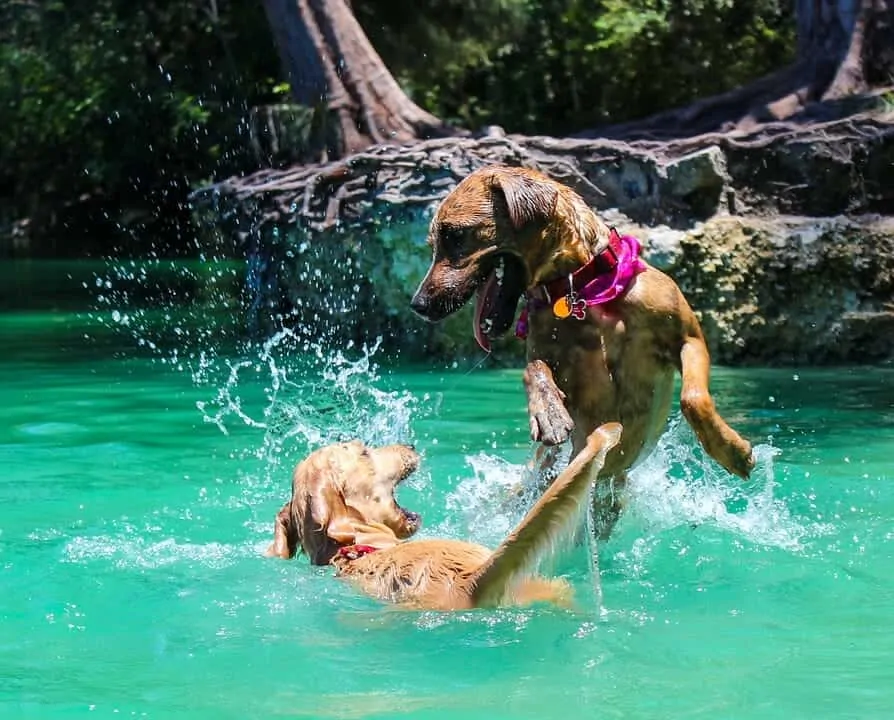 If your dog swims like a fish, take him to a lake and let him play on his big day!
Taking your dog for a birthday swim is a great option if your pup is especially energetic.
However, I do want to note that it's important to make sure your dog is up to date on all of his doggy vaccinations before taking him to public places like dog pools and lakes.
The Lepto Vaccine may be especially important for dogs who spend a lot of time in and around lakes, so talk with your vet about your options to make sure your dog stays healthy while he's celebrating his big day.
12. Take Your Dog to the Pet Shop and Let Him Pick His Own Present.
Why not take a trip to your local pet shop and bring your dog along? Let him explore the isles and pick out a brand new squeaky toy, bone, or treat bag!
Don't think your dog is clever enough to pick out his own birthday present?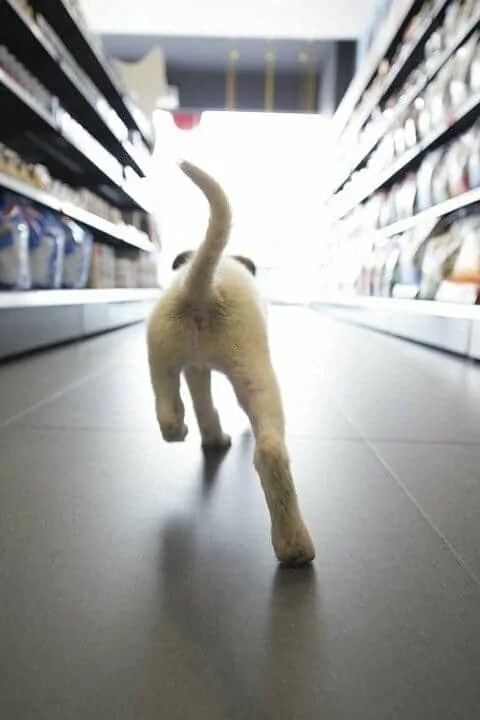 Your dog knows what he wants! Let him pick out his birthday gift!
You may be surprised! Many dogs perk up when they get to the dog toy aisle or the doggy treat aisle due to the yummy smells and all the colorful sites and sounds.
Trust me, a dog knows a dog toy when he sees one!
13. Take Your Dog for A Drive in the Country.
Does your dog love car rides as much as mine does?
While not all dogs enjoy going for a ride in the car, many dogs do, so why not take a road trip with your favorite furry friend?
Grab your gear and grab your dog! It's time to hit the road for his birthday celebrations! Taking a roadtrip with your dog won't only be a blast for him, but for you as well!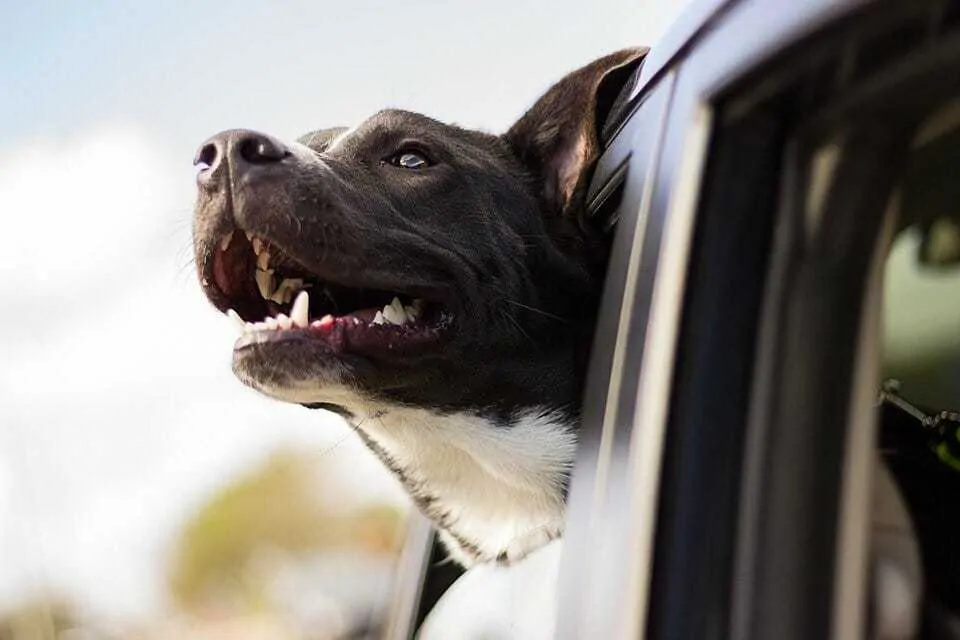 Let your dog enjoy all the new smells of the countryside for his birthday!
Remember, safety should always come first when traveling with your dog. I always recommend securing your dog safely in your car for any duration of travel. Of course, whether you use a travel crate or doggy seatbelts is up to you.
14. Treat Your Pup Like The Royalty He Is All Day Long
Along with pampering your dog with yummy treats and new dog toys, you can also just let him lounge around the house and do all of his favorite things for the day.
With that being said, I don't suggest allowing your dog to break usual house rules just because it's his special day.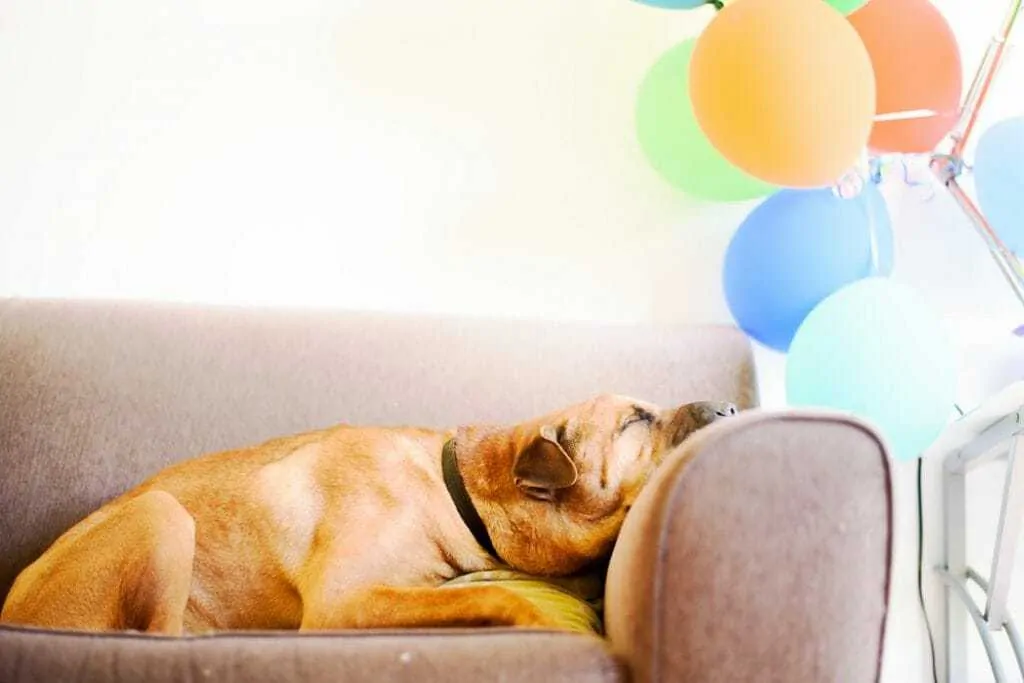 Let your dog do all his favorite doggy things on his birthday and treat him like a king!
While I am the first to say that dogs are way smarter than we give them credit for, that doesn't mean your dog understands it's his birthday.
Suddenly allowing your dog to do things he normally isn't allowed to do could backfire and cause confusion and frustration for both you and your pup down the road.
15.  Have A Full-Blown Doggy Game Day With The Whole Family!
Your dog makes your whole family happier, right? So it makes sense that you want to give him back the same joy and happiness he gives you.
That's why celebrating his big day with his favorite pack (his human family) is going to be the best birthday for him imaginable.
You can go as a family to the park and play fetch with your dog, start up a game of football that is canine inclusive or even go on a family hike with your family and pup. Just remember to bring your hiking gear!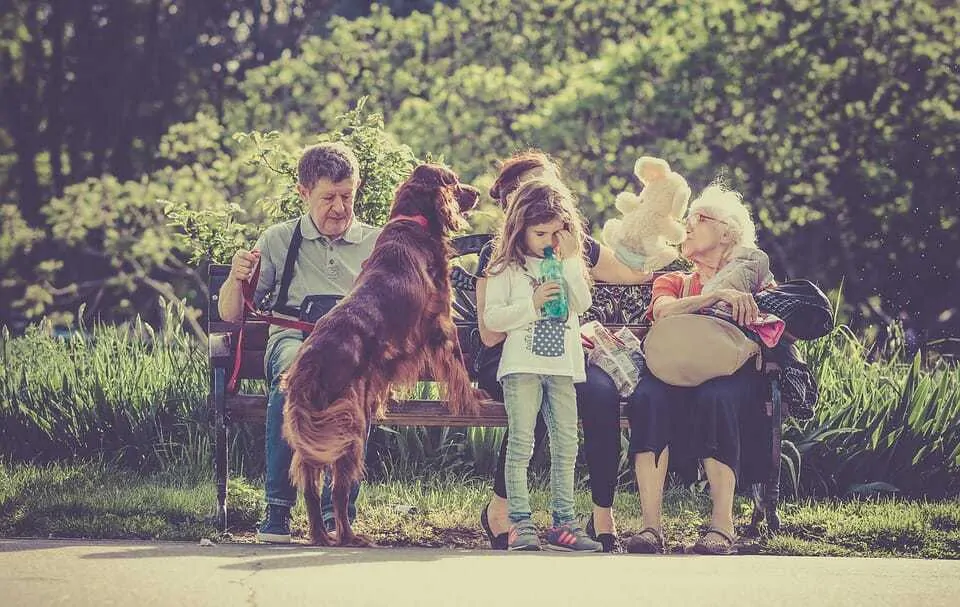 Make your dog's birthday a family affair!
Other Ways You Can Make Your Dog's Birthday Epic.
As I mentioned in the beginning, the whole point of celebrating your dog's birthday is to show him how much he means to you, so it's important you make the day fun for him and try to avoid stressing him out.
While it can be tempting for us as dog parents to want to push the things we think are fun and cute on our dogs, not all dogs will be into getting dressed up, wearing birthday hats, or hanging out in overstimulating environments.
Watch your dog's body language and try not to force him to do anything you can tell he's not comfortable with, especially if you want to give him a birthday that is fun for him.
And for especially anxious dogs or senior dogs, you may just want to celebrate at home without making too much of a fuss. A good movie night with some dog-themed movies may be just what your dog wants and needs to feel safe, loved, and happy on his birthday.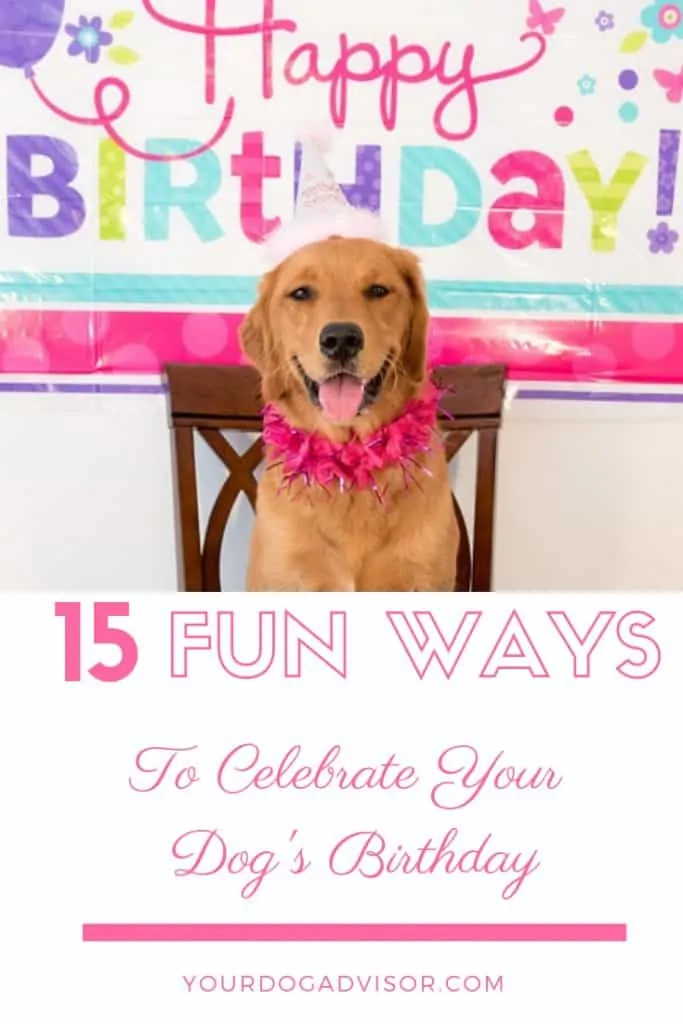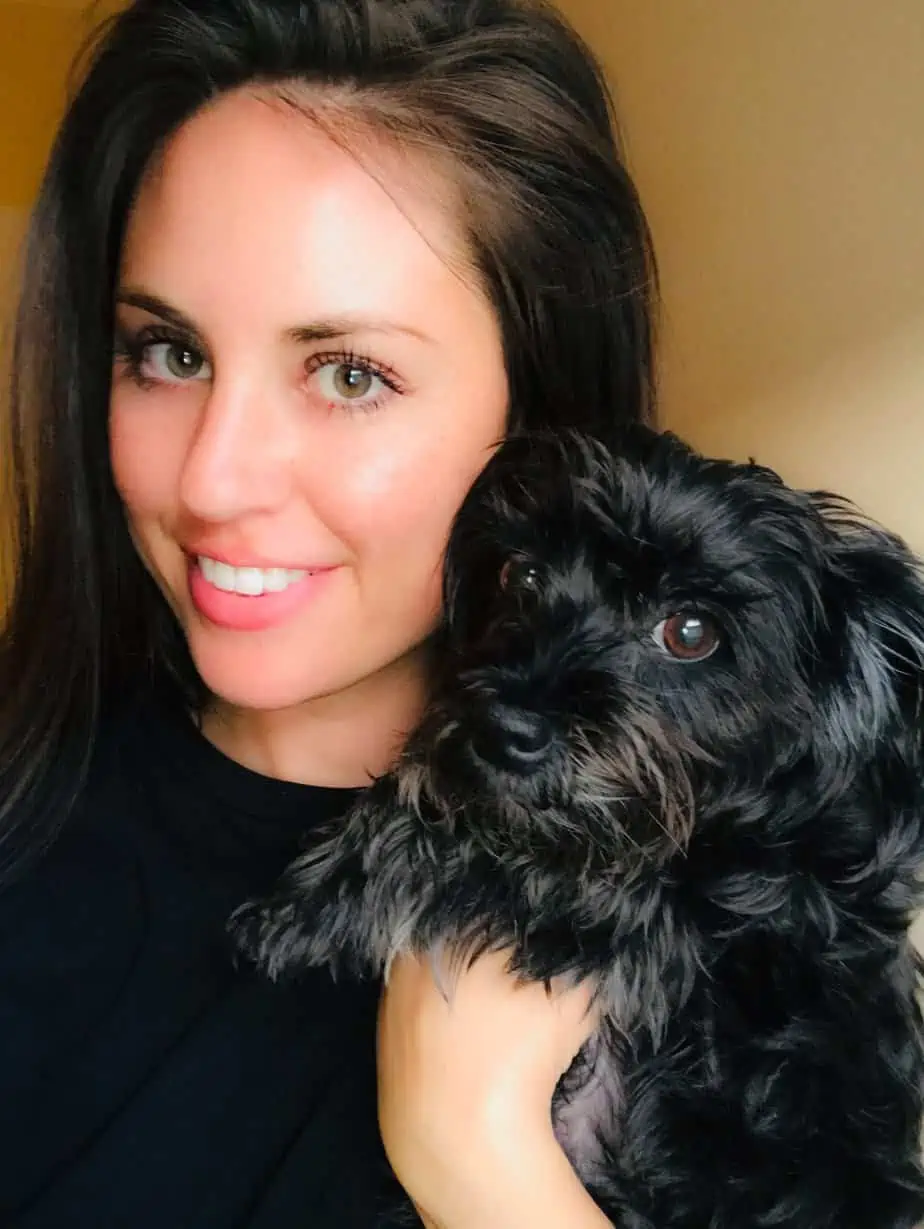 Madison Guthrie (also known as Sonny Mackenzi) is a pet care specialist and positive-reinforcement trainer who works most closely with anxious and reactive dogs. Born and raised in Littleton, Colorado, Madison developed a love for animals at an early age and spent most of her childhood outdoors rescuing stray pets and helping to rehabilitate injured wildlife.  Along with animals, Madison also developed a love for writing and music. Over the past five years, she has worked to use her passions to help the pets and pet parents in her community build stronger bonds and live happier, healthier lives together.  Currently, Madison lives in South Pasadena, California where she owns and operates Miss Madison LLC, a marketing company that focuses on helping privately owned veterinary establishments and pet care companies grow and thrive. She also works as a dog trainer at My Dog Spot, which is an award-winning pet care and training establishment in Pasadena, California.