If you have an intelligent dog, you know they can be both a blessing and a curse. My childhood German shepherd, Clancy, was one such dog. She was so smart that she walked my sister and me to school every day and then found her way home alone (we lived in the country) and jumped back into her fenced area by the time we started classes. She knew how to open doorknobs and the latch on her gate. You could hide a toy or treat without her seeing you and she'd find it almost instantly.
Her intelligence came with drawbacks, though. Often, Clancy would jump out of her yard sometime in the late afternoon and go for solo adventure sessions. I'd realize she was gone when I went to let her into the house for the night, and then I'd call and call until she came back home and leapt into her yard.
Clancy is the darker German shepherd on the left. You can tell from her eyes how intelligent she is! Here she's pictured with her daughter Bella, waiting for some snow to chase. Photo credit: Anita Strawn de Ojeda.
Now that I look back, I see that Clancy could've used some puzzle toys. Funnily enough, my Alaskan shepherd, Eira, reminds me a lot of Clancy. She's intelligent, too. She puts her paws up every time I grab her harness. She "says" yes and no. She knows when I've gone to the store and bought her new toys, and she sits patiently and waits for me to get them out, tail barely restrained in its wagging.
Because she's smart, she gets bored easily. So I've recently found some fantastic puzzle toys to keep her brain moving when I'm busy with my toddler or work!
West Paw Toppl Puzzle Toy
The really neat thing about West Paw (for me) is that all products are made in Bozeman, Montana, which is where I grew up with my German shepherd dogs, Clancy and Bella. I love that Eira adores West Paw's puzzle toys—especially the Toppl Treat Dispenser.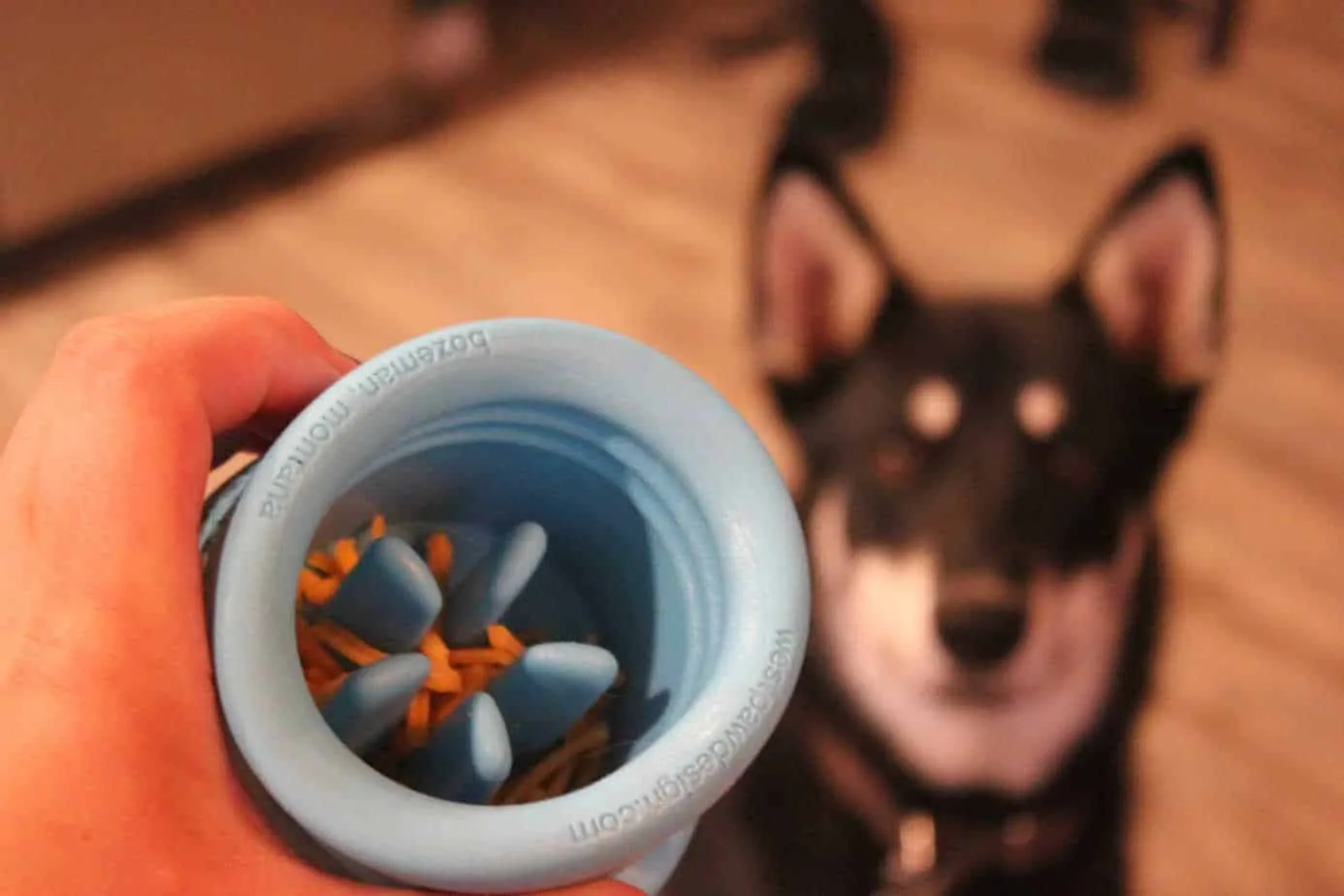 Eira eagerly waits for me to put down her Toppl Treat Dispenser, filled with cheese.
I put cheese, kibble, Kong paste, or other treats inside the Toppl and Eira digs it out with her tongue. It's not that simple for her, though: the Toppl does what its name says. It tumbles and topples around on the ground, making Eira go scrambling after it to get at her goodies.
Once your dog masters the Toppl, you can purchase the other size (there are only two, and Eira has the larger one) and fit them together.
Using the hole in the bigger Toppl, your dog can pry apart the two to get to the treats inside. It'll take her a lot longer and work those brain muscles out.
Nina Ottosson Smart Dog Toy Level 1 Puzzle
The Nina Ottosson line of the company Outward Hound makes several puzzle toys, but this one is a winner with one of Eira's BFFs. The reason Eira doesn't have this toy is that I'm worried she'll eat those small pieces or choke on them. This puzzle toy is a lot of fun, though, and it especially delights smaller dogs. Regardless of your dog's size, don't leave this toy lying around all day. You don't want the pieces to get lost or chewed up.
Have fun watching your pup use her nose to flip and twist the bricks and get to the treats inside!
StarMark Turkey Leg Puzzle Toy
Eira is trying to figure out this turkey leg puzzle toy as I write this. It's an awesome puzzle because you can easily adjust the difficulty for your dog. The turkey leg is a durable chew that comes with several treat rings buried in the four slots.
Eira with her turkey leg puzzle, which comes with four pre-filled treat slots.
If you want your pup to work really hard to get the delicious treat rings, leave them buried the way they are. Or, if you want to make it slightly easier but still challenging, you can use a butter knife to push the treats out a little bit.
We did this for Eira at first. Each time she plays with the turkey leg, we push a treat out—but less and less as she gets better at solving the puzzle. Once she's proficient, we'll leave it in all the way.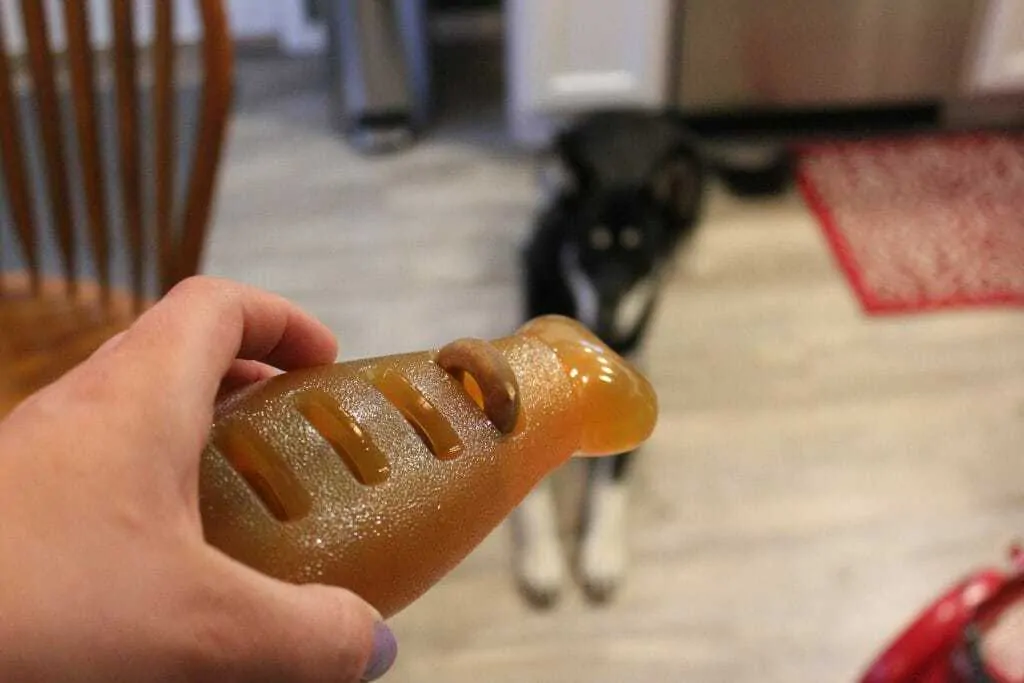 Eira's StarMark turkey leg with the treat ring pushed out.
Here's Eira playing with her turkey leg. I pushed the treat in just a little, and she had a harder time getting at it.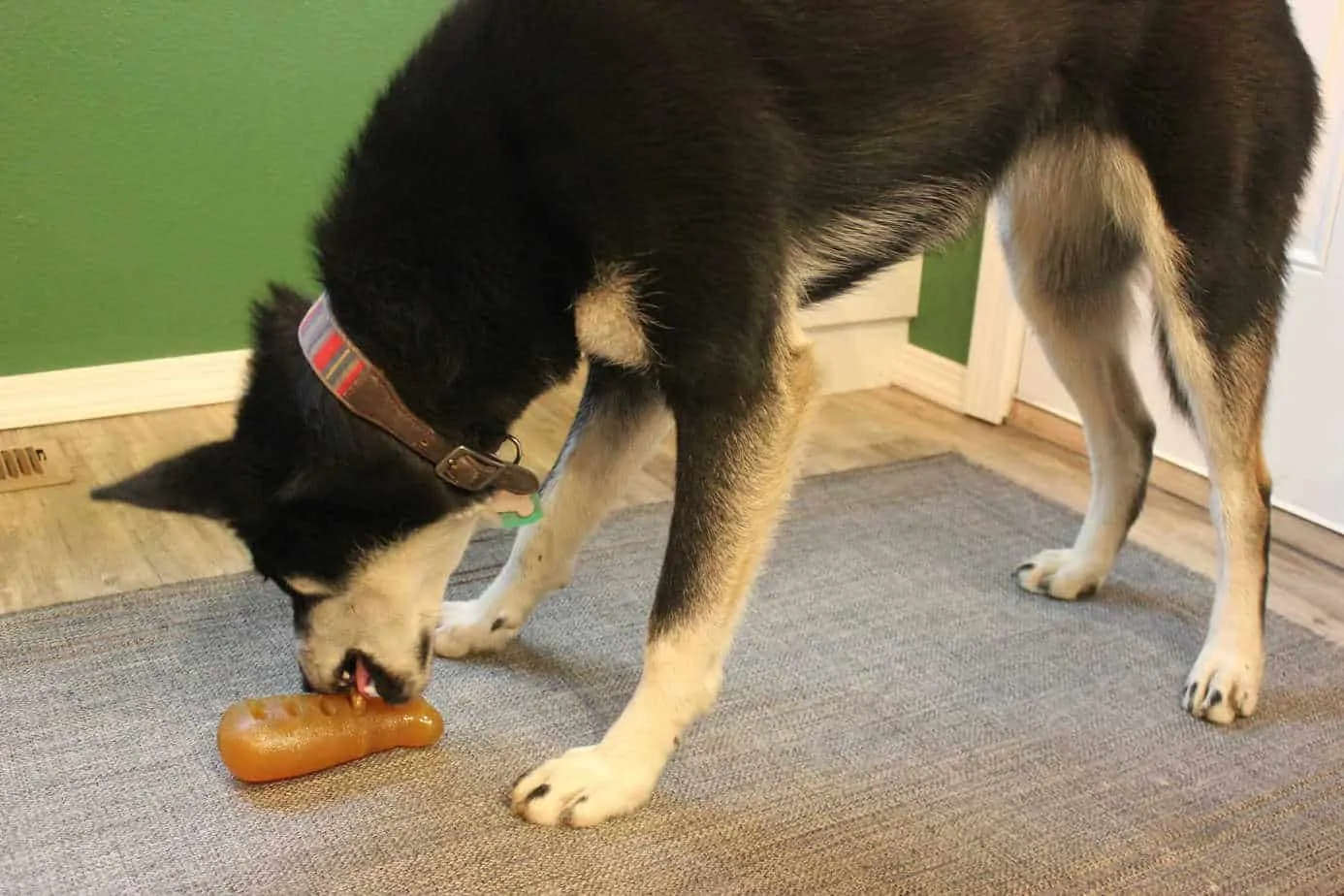 Eira using her tongue and teeth to pluck the treat ring out of the turkey leg.
The toy only comes with four rings, but you can easily purchase refill packages.
Outward Hound Hide-a-Squirrel Puzzle Toy
If Eira weren't a rabid chewer, I would get her tons of these toys. My toddler has a similar toy, and the one time she got a hold of it for a few moments, she loved it. There's something about searching for tiny squeaky animals and tugging them out of holes that dogs absolutely love.
One of my friends has a German shepherd who cares for his toys admirably well, and he loves this type of toy—and he doesn't chew it to pieces! Even if your dog is a moderate chewer, she'll be able to enjoy this toy for several months before it's completely toast.
Outward Hound has a hedgehog toy that's supposed to last longer than the squirrel one, so once Eira's older and a little less chew-loving I might give it a try.
Trixie Activity Flip Board Interactive Dog Toy—Made Especially for Small Dogs
Eira's paws would be too big for this toy, designed especially for intelligent small dogs like Eira's cousins, Walter and Rosemary (one's a yorkie, the other's a maltipoo). Your small dog can paw at and nose the small, fun-shaped pieces to find the treats inside. You can even use this flip board to feed your dog if you find that he eats too quickly and needs help pacing himself.
If You've Got a Destructive Dog, You Might Just Need to Get Her One (or Five) Puzzle Toys!
Sometimes, intelligence presents itself as destructive behavior. Dogs that were bred to do complicated, important tasks like herd sheep or hunt will need extra stimulation as puppies, or if they're left alone for long portions of the day. Aging dogs can also benefit from the mind-sharpening benefits of puzzle toys.
In short, puzzle toys help intelligent dogs channel their energy and smarts into a game instead of something destructive. What's not to love about that?
What's your pup's favorite puzzle toy? Let us know in the comments!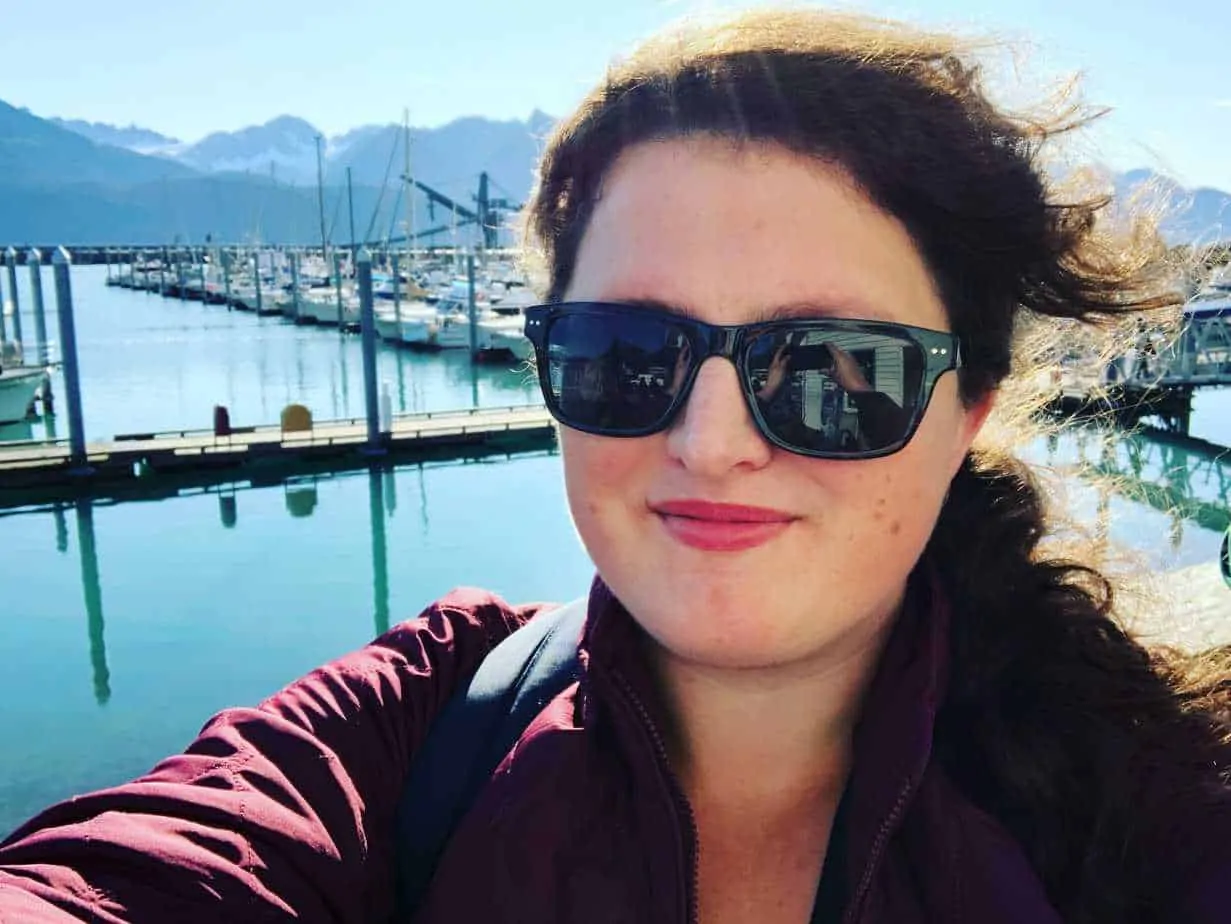 Laura Ojeda Melchor grew up with two beloved German shepherd dogs—Clancy and her daughter, Bella. From the time her family brought Clancy home, Laura took on the duty of pooper-scooper and potty trainer. As a teenager Laura helped her mother care for Clancy during her pregnancy. She still remembers fondly the exciting, frigid winter night when the seven special puppies were born. Laura kept the youngest puppy—Bella—and potty trained her, too. She taught Bella important commands, took her for long walks, and spent hours throwing tennis balls for her.
In November, Laura brought home a sweet new puppy, Eira Violet. Eira is half Alaskan malamute and half German shepherd, and Laura loves her deeply. She chose not to use a crate to potty train Eira and was pleasantly surprised at the results. She now has a sweet, energetic dog who always uses the potty outside, plays well with Laura's toddler, and enjoys long family walks in beautiful Alaska. If you were to meet Eira, she'd bound up to you with a wagging tail and get you running around the yard with her in no time.