Pomeranian dogs are known for being intelligent, sassy, adorable, and super playful. As a Pomeranian owner, you're probably on the hunt for some of the best Pomeranian toy options to keep your little ball of fur active and happy.
Listen, we know that all dogs are unique, but there is just something special about the quirky adorableness of a Pomeranian. Bred lap dogs, these pooches bond strongly with their people.
Because of this, they can be highly prone to anxiety or destructive behaviors when left to their own devices or if they become bored.
Worse, some Poms and especially Pomeranian puppies are known to be chewers.
So, how can you help to keep your Pomeranian busy and happy whether you are home or away? By buying him a wonderful Pomeranian toy, of course!
Don't worry. We have you covered with a checklist of toy box must-haves for Pomeranian parents.
But before we get to that list, let's talk about why playtime is so important for not only your Pomeranian, but also for you.
How Playtime Helps Build A Bond Between You And Your Pomeranian Dog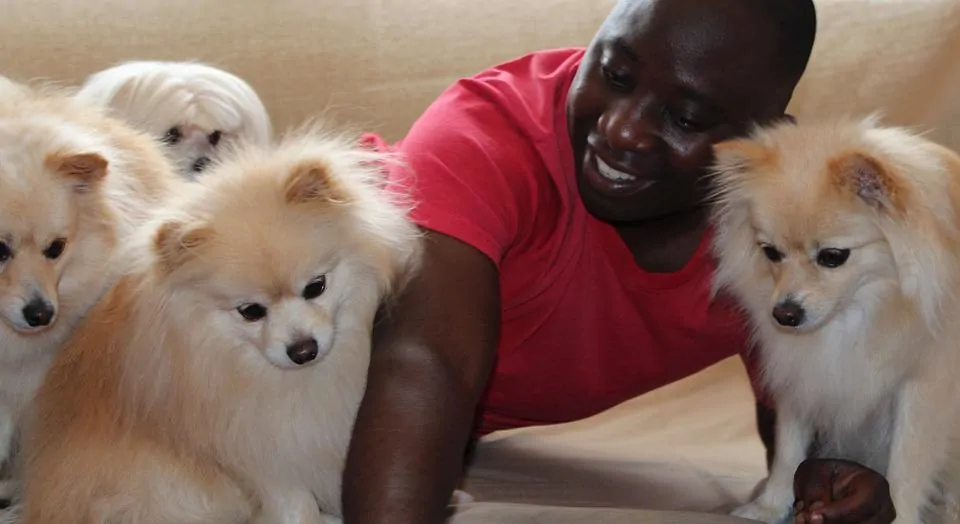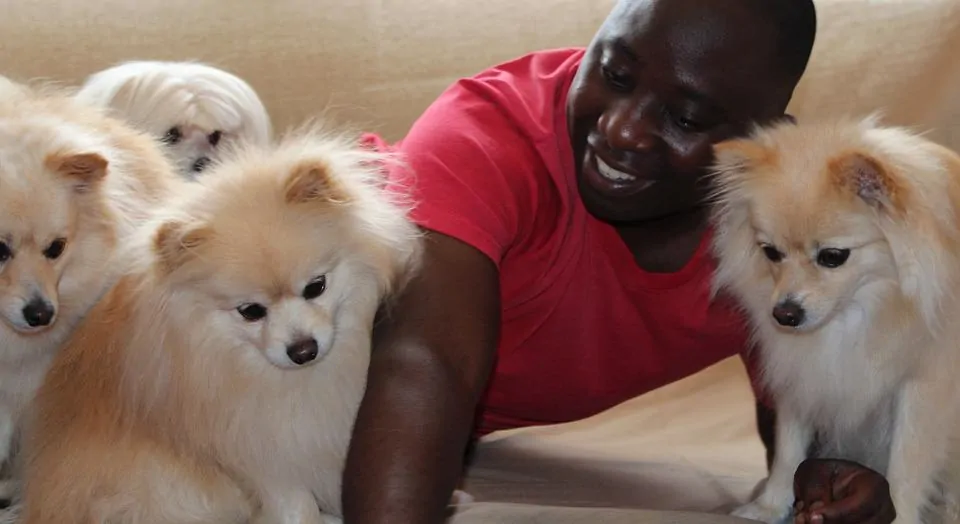 Did you know that playing helps your dog bond with you? 
Playtime helps build a strong and lasting bond between you and your dog. Playing with your pooch releases the feel-good hormone known as serotonin. It also releases the oxytocin hormone, which is responsible for those warm and fuzzies you feel when you look your sweet pup in his adoring little eyes.
And the feeling is mutual. Your dog loves you right back, and play is a great way for both you and your Pomeranian to express to each other just how much you each care.
But playtime is no fun without the proper toys, right? And when it comes to a Pomeranian, the right toy can make or break a good game.
So, what kinds of toys do Pomeranians like best? Let's find out.
Which Types Of Toys Do Pomeranians Like Best?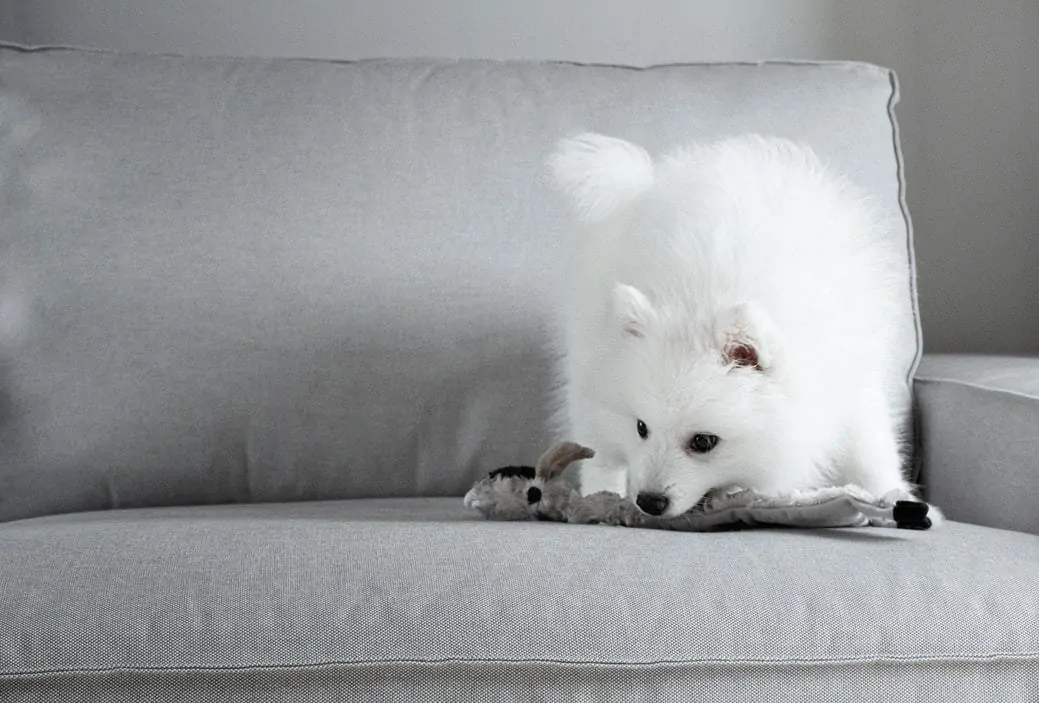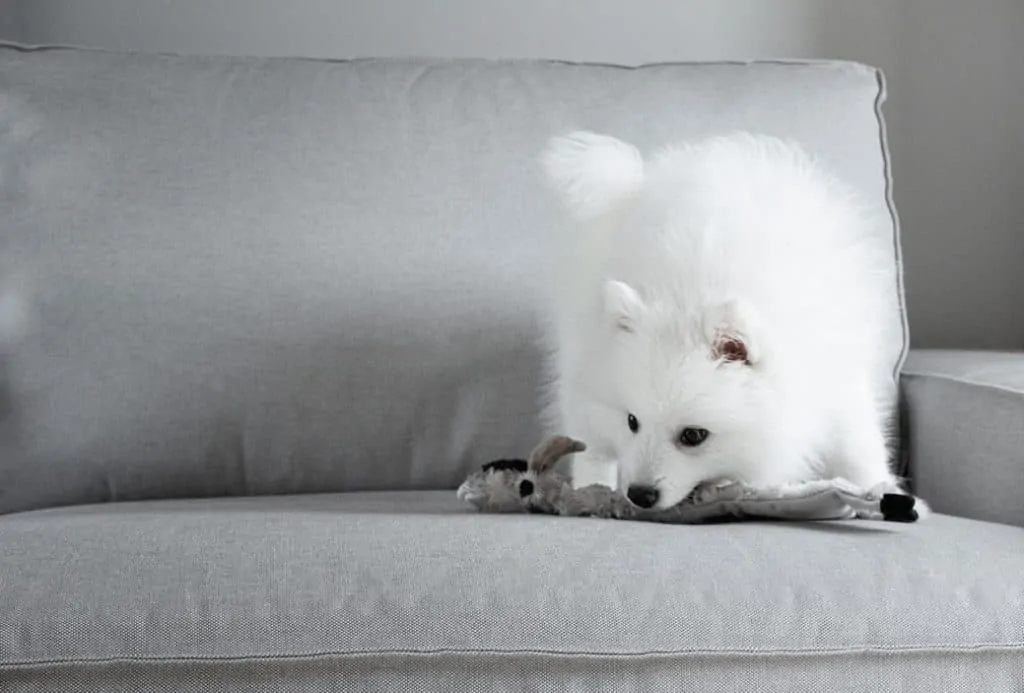 Pomeranians love interactive toys and toys they can learn from. 
Of course, not every toy on the pet store toy shelf is going to be right for your Pomeranian. And in your Pom's case, size does matter.  Pomeranians are teensy tiny, only weighing around four to eight pounds on average. So, the smaller the toys are, the easier they are for your Pom to handle.
The best Pomeranian toy is going to be a toy that offers variety. Pomeranians are high-energy dog breeds who need lots of mental and physical stimulation to stay happy and healthy.
In spite of their size, Pomeranians are full of spunk and personality and they love to learn. This is why we highly recommend buying toys for your Pom that are not only safe for him to play with, but fun for him to play with.
An interactive toy like a puzzle toy, a treat ball, and even a plush Pomeranian toy with a squeaker and crunchy inside linings are great additions to your Pomeranian toy collection.
Let's learn more about picking the best Pomeranian toy.
Picking The Right Toy For Your Pomeranian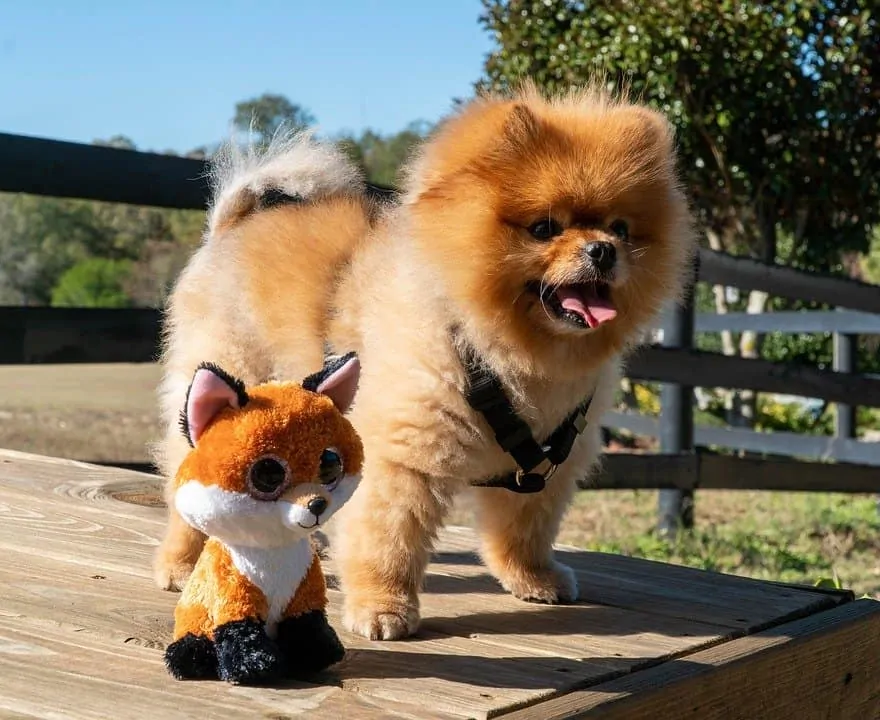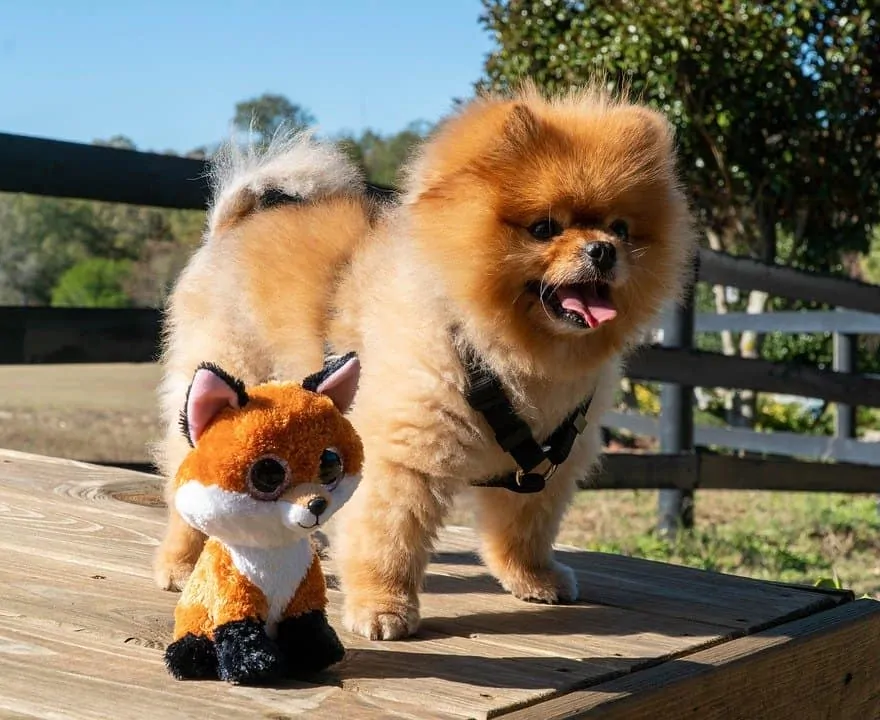 Different Pomeranians may enjoy different types of toys.
Some Pomeranians will prefer plush toys over rubber toys, and others will want to run around with chew toys over anything else.
To choose the best Pomeranian toy for your pup, you'll want to consider his personality as well as his energy level.
Does your Pomeranian love to run and chase things? Does he have a high prey drive? Or maybe your Pom is more laid back and likes to focus on training exercises…
Whatever type of Pom you have, you'll want to look for a few key factors when looking for a Pomeranian toy.
First, make sure your dog's Pomeranian toy is made of quality, dog-safe materials. Dogs do nearly everything with their little mouths, and play involves lots of chewing. For this reason, make sure you get toys with non-toxic paints and materials, and toys that are durable and built to last.
Many of the toys below on our list are free of stuffing in case your Pomeranian does happen to rip it open, as stuffing can sometimes cause choking hazards for dogs.
You should also look for a Pomeranian toy that offers variety. Remember, Pomeranians like to learn and can get bored easily.
Now, let's take a look at some of our favorite Pomeranian toy options below.
ZippyPaws Skinny Peltz Stuffing-Free Dog Toys
These toys are the absolute BEST and for so many reasons. I don't know a single dog who doesn't love these, but these are especially great for smaller breed dogs like Pomeranians who will enjoy shaking and chasing and hearing their toys squeak.
ZippyPaws Skinny Peltz are just that – skinny pelts in the shape of your Pom's favorite animals. There is no stuffing, which means a safe and fun toy for your pet to chew on or shake if he wants.
Plus, this Pomeranian toy is durable and there is a squeaker inside which offers your Pomeranian plenty of motivation to keep playing.
Jalousie Five Pack Of Plush Squeaky Toys
Whe looking at your Pomeranian toy collection must-haves, one thing you must have is vareity. Pomeranian's are intelligent and very playful, and they'll love getting new toys now and again.
That's why we love this five pack of push squeaky toys. They are all different textures and shapes, which means you can pull a few out right away and hide the rest to surprise your Pom with later.
Your pomeranian will love the variety and will never get bored with these toys. Best of all, these toys are great for homes with multiple dogs, however they are not ideal for very heavy chewers.
Nylabone Puppy Starter Kit Chew Bone
Pomeranians are very smart and energetic dogs and they can be prone to destructive behaviors like chewing from time to time. That's why it's super important to include chew toys in your Pomeranian toy collection, especially if your Pomeranian is still a puppy.
Having a good collection of different textreud and flavored chew toys will help keep your Pomeranian busy and happy and will hopefully help keep your furniture intact.
You can order these chew bones in different colors and different counts, and rest easy knowing they will be gentle on your Pom's teeth and gums.
Small KONG Toy
KONG toys are an absolute must have for any dog and dog owner, regardless of if your dog is a Pomeranian or not.
But for busy, playful, and adoring dogs like Pomeranians, the KONG will help keep them occupied and busy when you are away or when they are alone in the house. Just stuff a few healthy dog treats into your dog's KONG and he'll be busy for hours.
Just be careful to order the right size KONG for your small dog or he may not have as much fun playing with it, especially if he's not able to chew it.
EETOYS Low Stuffing Interactive Dog Toy
We love Pomeranian toy options that keep your Pomeranian busy. Let's face it – these little dogs are loaded with energy and they need toys that are going to keep them occupied.
This EETOYS Pomeranian toy above is a ball and plush toy in one. It has a low amount of stuffing, includes a squeaker, and is interavite, which means it will help keep your Pomeranian entertained with or without you around.
We also love that this Pomeranian toy comes in several different animal options, making it extra versatile and cute.
BUIBIIU Assorted Dog Chew Toys
This pack of six dog toys is specially designed for small dogs who love to play and keep busy. Sound like your Pomeranian? We thought so.
All materials in this dog toy collection are made with safe materials. Your Pomeranian can play fetch, wrestle, nuzzle, cuddle, and even chew any of these toys above.
This is a great Pomeranian toy for Poms who are still in their teething phase, although we would recommend not giving them to your POmeranian all at once and switching them out to keep him excited and interested.
Outward Hound Ottosson Puzzle Toy
Pomeranians are known for their incredible intelligence, which is one of the main reasons we love puzzle toys so much.
Puzzle toys like this Outward Hound toy allow dogs to think and use their minds, which in turn keeps them busy and mentally stimulated. This puzzle Pomeranian toy above is also rewarding, as it offers treats when your Pom plays with it correctly.
It is easy to keep clean and offers several ways for your dog to find his treasures, helping to keep him interested and learning.
AWOOF Dog Puzzle Mat
Another puzzle Pomeranian toy we love is this puzzle mat by AWOOF. Your Pom may especially love this foraging toy since Spitz dogs were originally bred for hunting, pulling and burrowing.
You can use healthy training treats or even other toys to hide in the mat and allow your dog to sniff them out. The bottom of the mat is made with non-slip material and can be pulled open to lay flat or close up like a bowl, depending on your Pomeranian's likes.
Volacopets Interactive Dog Treat Ball And Toys Five Pack
My dog loves her treat ball. This has been the very best toy for me, although I only bring it out and give it to her when I'm about to leave her home alone for a while.
She is always so excited to see it and it has helped so much with her separation anxiety, and for this reason I would highly recommend treat balls to Pomeranian owners.
Poms are bred lap dogs who become very attached to their people and can suffer greatly from separation anxiety.
Treat balls help to keep dogs like Pomeranians busy and active while their people are away and, if you only bring it out when you are about to go and then take it away from your Pom when you get home, it will help them to associate you leaving with something positive.
Trust me – treat balls are a must-have for your Pomeranian toy collection.
Outward Hound Plush Hide and Seek Toy
Outward Hound really does make cute puzzle toys that are perfect for smaller dogs like Pomeranians.
Small dogs love plush things, and Poms love staying busy and mentally stimulated. This hide and seek Pomeranian toy brings your pup the best of both worlds by offering him a fun, soft, and creative way to use his brain while playing.
You can order this Pomeranian toy in two different sizes and even get it in different toy options like birds, bees, hedgehogs, rainbow, and squirrel.
Vitscan Stuffless Dog Toy
Whether you order your Pomeranian prince or princess the duck, fox, hedgehog or squirrel, you're sure to win with this adorable stuffless dog toy. It's perfect for shaking and throwing around, with arms made of rope and a body free of stuffing.
Specifically made for small dogs like Pomeranians, this adorable toy washable and durable. And while it's free of stuffing, it's full of loud, crinkly paper for shaking fun and has a squeaker inside, which all dogs love.
Multipet Plush Dog Toy
I don't know why but this lamb plushie seems to be a super popular dog toy for small dogs and especially for puppies. I was actually given this at my puppy shower (you read that right) and it was my puppy's favorite toy for the longest time.
This Pomeranian toy also lives in a lot of toy collections of my clients, and every dog who has it is just as in love with it as my dog was.
So I can't leave it off this list. There is something about this plush lamb that dogs and puppies love. It's super soft, good for cuddling, and comes with a squeaker for extra fun play.
Multipet Duckworth 4 Inch Mini Ducks For Small Dogs
Small dogs like Pomeranians love little toys, and female Pomeranians may especially love these little plush toys and feel that they are their "babies". (I've seen this and it's adorable).
You definitely don't want to skimp your Pom on the opportunity of being an adoptive mama or daddy, so you should certainly include some little plushies for them to cuddle, nuzzle, suck on and care for.
However, if your Pomeranian is a pretty aggressive chewer, you may want to stay away.
SHARLOVY Textured Squeaky Ball For Small Dogs
Because Pomeranians are so small, they will love having a textured ball to play with to help give their little mouths some grip.
This textured Pomeranian toy also meshes as a chew toy, so it's wonderful for Pom puppies or Pomeranians who are prone to chewing.
The six pack includes a variety of bright colors and the balls' rubber spikes are gentle on your Pom's teeth and gums.
BarkBox Interactive 2-in-1 Squeaky Cactus Toy
Everyone meet Consuela. You may recognize this cactus from such platforms as hilarious dog memes on Pinterest or from that Facebook post your dog-loving friend shared.
Yes, this is the famous 2-in-1 Pomeranian toy that's made to be shredded. It's dog safe, and includes a soft, shreddable outer layer with a chew toy in the center.
And if you're ot a fan of the cactus, you can order one of her interactive friends. There is an acorn, a pineapple, and even a sloth to choose from.
For your Pomeranian, we recommend ordering this in the small size. As with most dog toys, it is best to supervise your Pom with this Pomeranian toy as it is made to be shredded.
Other Fun Ways To Play And Bond With Your Pomeranian

Training sessions are a great way to bond and play with your Pomeranian!  
Playing certainly is a great way to bond with your Pomeranian. Why? Because it's just you giving your dog one-on-one time and attention, and there is honestly nothing a Pomeranian dog loves more than that.
Dogs like Pomeranians, who were bred primarily as lap dogs and companion dogs, are known to become extremely attached to their people.
These dogs require lots of time and attention from their owners, and keeping them busy and exercised helps alleviate any pent up anxiety these intelligent dogs may acquire during their time left alone.
A great way to show your Pomeranian just how much you care along with playing with him is by taking him on walks or hikes, going on road trips, or even just cuddling on the couch.
Hey, these guys are easy when it comes to love. As long as they are with you, they'll be having the time of their life.