Pomeranians have a lot of great characteristics. They're cute, cuddly, smart, affectionate, and — at an average of about 7 pounds — tiny enough to carry around with you everywhere you go. Whether you're traveling, shopping, or visiting friends, your little pom can keep you company, and you don't have to worry about leaving him home alone. Still, even a small pomeranian needs some sort of carrier to keep him safe.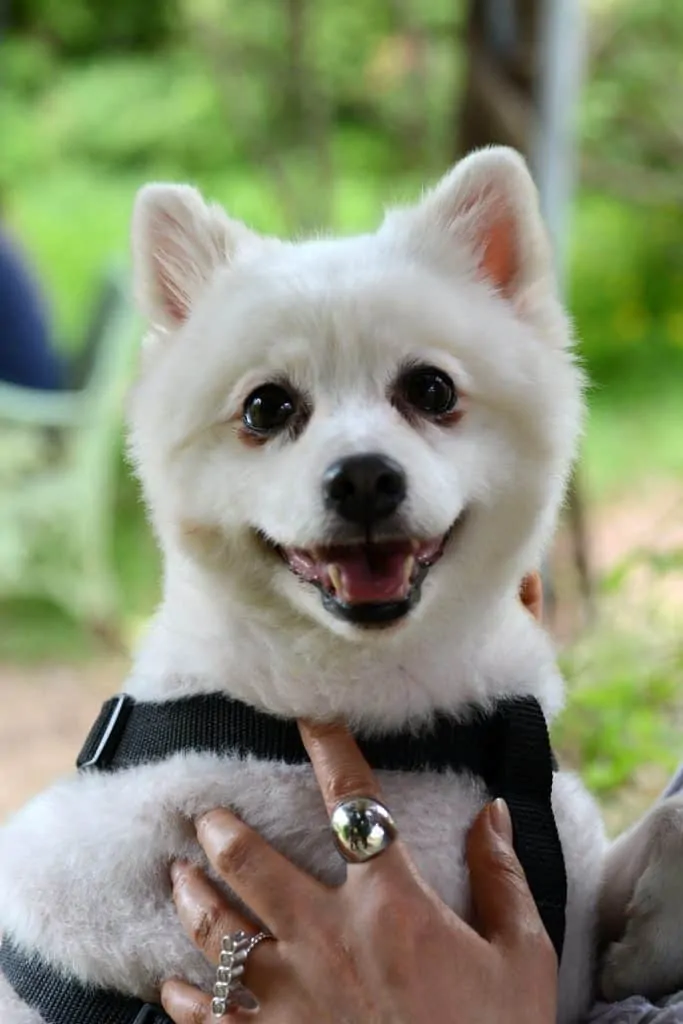 Taking your Pomeraian with you everywhere is lots of fun. Just make sure you have a carrier available to keep him comfortable and safe.
Fortunately, Pomeranian carriers come in various styles, from backpacks to slings to rolling carriers and more. What's more, because pomeranians are so tiny, the carriers are usually quite affordable — so much so, in fact, that you may want to invest in more than one.
Not sure how to choose a great carrier? To start, look for one that:
Has plenty of ventilation
Is durable and lightweight
Has a washable, removable liner on the bottom
Is easy to clean
Is attractive and suits your personal style.
Here's a selection of some small pet carriers that we think are good choices for your little pooch..
YUDODO Pet Dog Sling Carrier
The YUDODO Pet Dog Sling is a great little carrier for a small Pomeranian. Made from sturdy mesh with a leather bottom, the sling comes in two sizes: small and medium. The smaller size  is suitable for dogs weighing up to 5 pounds; the medium can accommodate dogs up to 10 pounds maximum. The carrier features an extra-wide adjustable strap that measures 33 to 45 inches in length, which will accommodate most people, though it might be a little snug for someone who is especially large. The hands-free, cross-body design is convenient for both shopping and travel, and the easy-to-reach cell phone pouch is a definite plus.
Pawaboo Pet Carrier Backpack
The Pawaboo Pet Carrier Backpack is a great hands-free Pomeranian carrier that gives your little buddy lots of freedom to move and look around. Designed like a baby snuggly, the carrier has openings for your dog's legs and tail and firm support for his neck. Just slip him into the carrier, zip up the sides, and adjust the hook and loop closures for a customized fit.
Designed to be worn either as a backpack or a front-facing snuggly, the Pawaboo Pet Carrier has well-padded shoulder straps designed with your comfort in mind. Made from durable, breathable polyester mesh, it helps keep your dog cool and comfortable even in crowded airports and overheated shopping malls. The carrier accommodates dogs up to 15 pounds and comes in nine fabrics designs: Solid black, blue, pink, and red; blue or pink marble;  blue and white or multicolored stripes; and camo & black.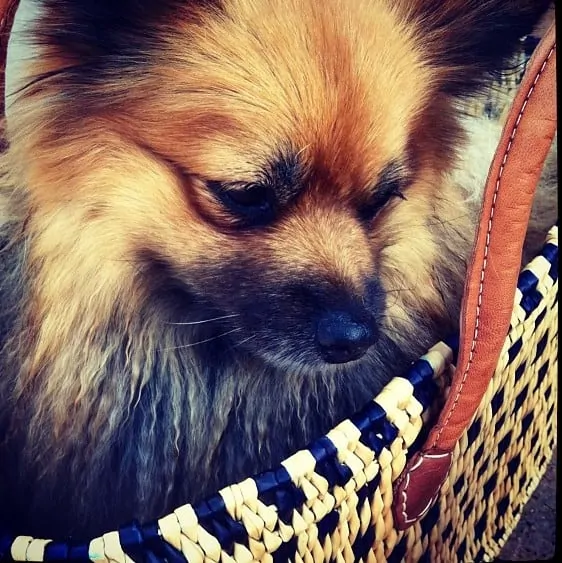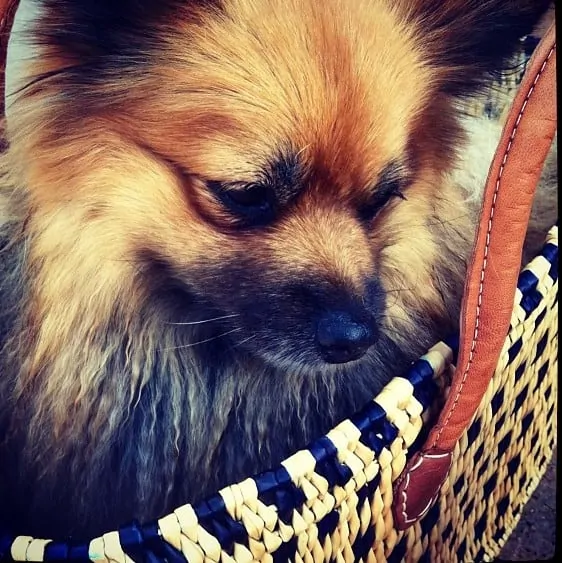 Carrying your Pomeranian in your purse may seem like a good idea, but a fashionable carrier is safer and just as much fun for your dog. 
Photo "Puppy in a Bag" by WickerParadise via Flickr licensed under CC 2.0
PetAmi Dog Purse Carrier
For Pomeranian owners who want a more fashion-forward dog carrier, the PetAmi soft-sided purse carrier may be just the thing. Made of high-grade polyester fabric with mesh inserts for ventilation, it's available in five colors: grey, pink, purple, turquoise and black and white stripes. Measuring just 17 inches long by 11 inches tall by 8 inches deep, it's not much larger than a typical woman's purse but is still plenty roomy to hold a Pomeranian who weighs up to 12 pounds. What's more, it's sized to fit easily under an airplane seat.
The PetAmi purse carrier opens from the top so it's easy to put your dog in his little "home away from home," but it also has a zippered opening in front so you're Pom can stick his head out and see the world. For safety, the entire carrier is supported by an adjustable frame so it won't collapse, and it has a short leash sewn inside to prevent unwanted escapes. It even comes with its own collapsible water dish.
PetsHome Dog Carrier
Another fashionable Pomeranian carrier, the PetsHome Dog Carrier is a cute, high-quality option for someone who wants a pet carrier that's a step above the rest. The bag is available in either polyurethane-coated leather or durable nylon with gold-tone and leather accents, and comes in an assortment of colors, including black, brown,cream, or red (leather) and pink, grey, black or camo (fabric). All options have several breathable mesh panels so your little one gets plenty of air, and the bottom is lined with two soft, washable pads so he's got a nice cushy surface on which to rest. The top opening is adjustable, so you can close it completely or leave it partially open so your dog can look around. If you choose to leave it open, the integrated leash keeps your little guy safely inside.
The PetsHome Dog Carrier comes in two sizes, small and medium, which are appropriate for dogs up to 22 pounds and 33 pounds respectively. Both are sized to fit comfortably under most airline seats.
Sherpa Travel Deluxe Pet Carrier
One of the best-known names in pet carriers, Sherpa typically makes a quality product, and this Deluxe Pet Carrier is no exception to that rule. Made of sturdy nylon with mesh inserts, the carrier has a unique spring wire frame that allows it to be pushed down a couple of inches to fit under an airline seat. High-quality zipper closures let you move your little dog in and out of the carrier easily (a definite plus when you're dealing with airport security), and the wide, padded strap makes toting the carrier a breeze. Best of all, the soft, washable, faux-fur liner gives your little Pomeranian a luxurious place to rest while he goes for a ride.
Measuring just 15 inches long by 10 inches wide by 8.5 inches high, the Sherpa Deluxe Pet Carrier accommodates dogs up to 8 pounds. (Larger sizes are available.) The carrier also falls under Sherpa's Guaranteed on Board (GOB) program, which ensures that your pet's carrier will be accepted by the airline of your choice. That said, some restrictions apply, so visit the GOB page before booking your flight.
PAWISE Pet Trolley Bag
If you're in the market for a Pomeranian carrier that you can push rather than carry, the PAWISE Pet Trolly Bag may be right for you. The carrier has a telescoping handle like a suitcase and four multi-directional wheels. Sturdily built from high-quality nylon with net inserts for ventilation, it measures 11 inches wide by 12.5 inches long by 14.5 inches high and accommodates dogs up to 15 pounds. It comes in one color — gray — with neon orange or green trim, and offers two roomy pockets in front for treats and toys. One important point to note, however, is that  it's not foldable and is too large to fit under an airline seat. But it's a great choice for shopping, short trips around town and visits to the vet.
Alfie Pet – Hayden Pet Sling
Definitely as much a fashion accessory as a pomeranian carrier, the Alfie Hayden Pet Sling is a cute and colorful way to carry your pooch around town. Made of red, white and blue nylon and mesh, it's super-lightweight and has a drawstring top that lets your dog pop his head out to see what's going on. The extra-wide, adjustable shoulder strap is well-padded and comfortable, and the five pockets give you lots of options for carrying treats, toys, extra food and more. There's even a side mesh pocket that's roomy enough for a reusable water bottle, and several extra hooks where you can attach a carabiner and hang a collapsible dish or a carrier filled with waste bags.
CLOVERPET Fashion Bubble Pet Travel Carrier
Another stylish Pomeranian carrier, the CLOVERPET "Bubble" travel carrier offers an innovative, "porthole" in the side of the bag that lets your dog see the world while tucked safely inside. The hole can be covered with either a semi-spherical plastic or mesh cover or can be left open if you choose to let your dog poke his head outside. Beautifully designed from high-quality PU leather, the carrier has lots of ventilation holes, an integrated leash, and a removable, washable fabric liner so your dog has a comfortable place to rest. It also has one large side pocket and a smaller one that buckles closed. Available in two colors, tan and teal, the carrier accommodates dogs who weigh up to 12 pounds.
YOUTHINK Bone Shape Rolling Pet Carrier
Though it's somewhat larger than your "standard" Pomeranian carrier, the YOUTHINK rolling pet carrier offers a lot of nice features that make it a great choice if you're traveling by air. The sides are made of lightweight but durable plastic with a cute bone-shaped, mesh covered cutout on either side, and there's mesh fabric on the front and back panels so your dog gets plenty of air. The top entry flap zips closed or you can roll it up and leave it open so your dog can enjoy the view. Best of all, the carrier comes with a detachable wheeled platform and a hidden telescoping handle that lets you roll your dog through a crowded airport with ease. And while the carrier is too large to fit under an airplane seat, it folds flat, so you can easily store it in the overhead bin and let your dog sit on your lap. Or you can take out the soft fabric liner and let him relax in comfort at your feet.
Petmate Sky Kennel
Although most of us want to travel with our pets by our side, there may be times when you need to take your Pomeranian on an airplane and in-cabin travel won't be allowed. (Many flights to and from Hawaii, for example, prohibit in-cabin pets.) In that case, you will need an airline-approved, hard sided carrier so he can travel in the cargo hold. And that's where the Petmate Sky Kennel is definitely your friend.
Designed to conform to the standard dimensions used by most airlines when assigning cargo space, the Sky Kennel meets almost every requirement of most U.S. airlines. It has metal grates, ventilation on all sides, a solid roof, and is secured on all sides with heavy duty plastic nuts and bolts. (Note: some airlines will require that you replace the plastic hardware with metal. You can buy the replacement hardware here.) It also comes with a clip-on food and water dish (Airlines require these on most  flights.)
The Sky Kennel comes in a variety of sizes, but the smallest one measures 21 inches by 16 inches by 15 inches and accommodates pets who weigh up to 15 pounds.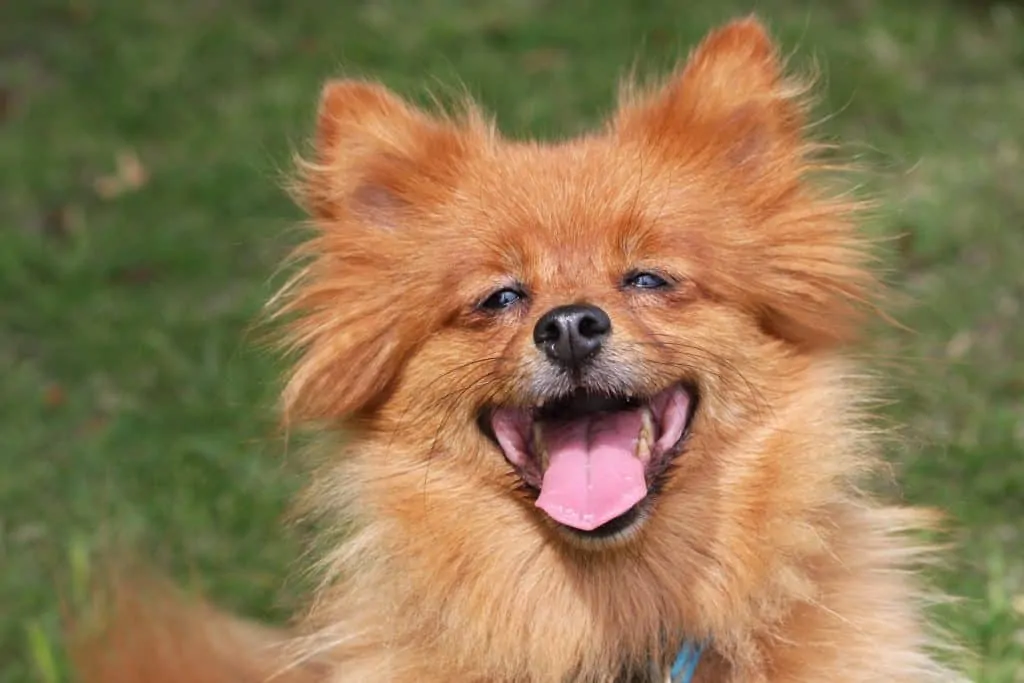 A high-quality Pomeranian carrier will keep your little dog happy and smiling as he travels with you wherever you go. 
Of course, these ten Pomeranian carriers are only a small sampling of many great carriers available for your little pooch. But we hope that we've given you an idea of the wide variety of carriers available and helped you narrow down your choices a bit. And as we said at the outset, there's no reason to limit yourself to just one! So enjoy shopping and have a wonderful time traveling with your little Pom.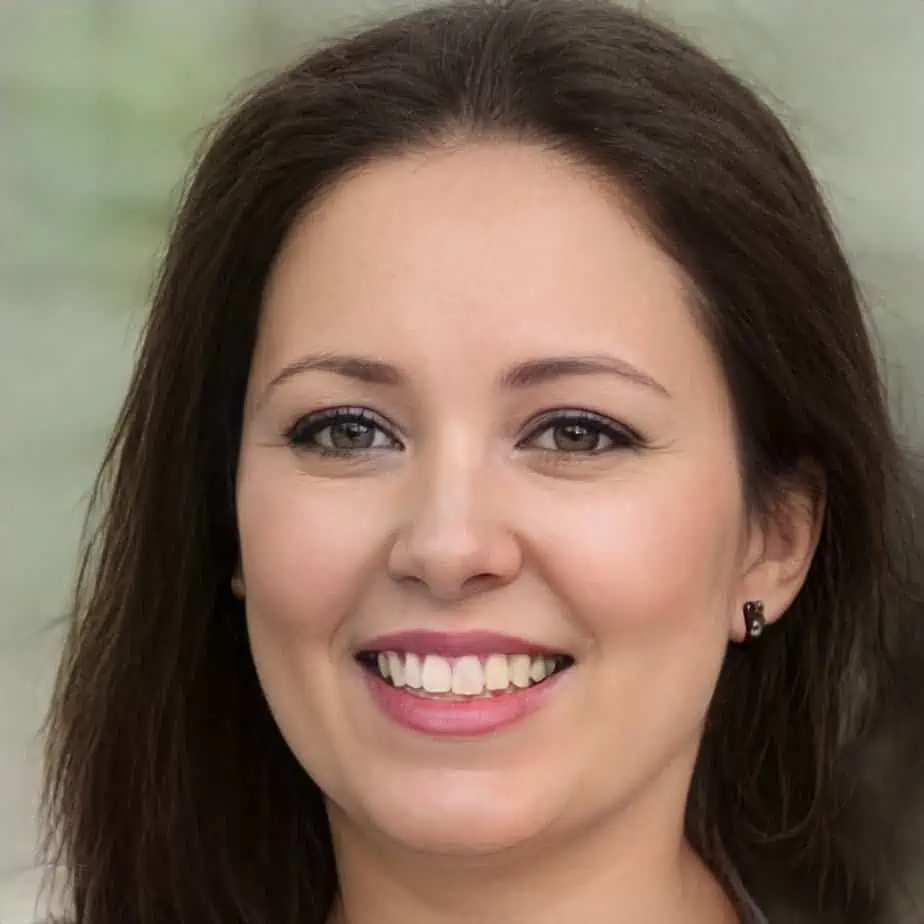 Jen Jones is a professional dog trainer and behavior specialist with more than 25 years of experience. As the founder of 'Your Dog Advisor' and the 'Canine Connection' rehabilitation center, she applies a holistic, empathetic approach, aiming to address root causes rather than merely treating symptoms.
Well known for her intuitive and compassionate approach, Jen adopts scientifically-proven, reward-based methods, encouraging positive reinforcement over punishment. Jen specializes in obedience training, behavior modification, and puppy socialization. Her innovative methods, particularly in addressing anxiety and aggression issues, have been widely recognized. Jen has worked with many of the world's leading dog behaviorists and in her free time volunteers with local animal shelters and rescue groups.