Summer may be coming to an end, but that doesn't mean the travels are over. Thanksgiving and Christmas are just around the corner, meaning more opportunities to hop on flights, jump in cars, and travel the world to see our loved ones or to simply explore!
Of course, many of us pet parents can't imagine traveling without our fur babies, whether we are traveling just a few hours into the countryside to go camping or soaring across the ocean to explore exotic new worlds.
So, if you are one such dog parent who plans to travel with your dog, you're in luck. I'm about to share fifteen of my favorite dog travel carriers for all occasions!
But before we begin, let's talk about a few different carrier types, and why dogs need travel carriers at all.
Why Do Dogs Need Travel Carriers?
Dogs need carriers for a number of reasons, but the type of carrier your dog needs will depend on his size, how long you plan on traveling for, and what type of plans you have for your travels.
Traveling with your dog in a doggy travel carrier not only makes getting from point A to point B easier, but it is also safer for everyone.
Not only that but if you plan on flying with your dog, most major airlines require airline-approved travel carriers for pets.
You can't pack your pup away in a standard suitcase, in spite of what your pooch may think from time to time.
You obviously can't stow your pup away in a standard suitcase, in spite of what your pooch may think from time to time, but the good news is that there are plenty of dog-approved pet carriers for all your traveling needs.
What To Look For In The Best Dog Carrier
Before investing in a dog travel carrier, consider your plans.
Are you taking a road trip or are you flying? Are you traveling rough terrain on bike or are you walking or hiking? Do you plan to ski, boat, or climb with your dog in a carrier?
Travel carriers come in all kinds of shapes and sizes, and you'll want to get the carrier that is right for your unique dog and trip.
The right carrier for you and your dog will depend on a number of factors, including your lifestyle and travel plans.
If you only need a carrier for those short drives down the road to the vet's office, you may opt for a standard pet carrier without all the bells and whistles.
However, if you are planning to go on an extravagant vacation with your dog and plan to travel by car, train, plane, and foot, you'll likely want a dog travel carrier that offers more.
With that being said, there are a few basics you should look for in the best dog travel carrier.
Make sure your pet's carrier is made of quality material and is durable and safe. Cheaply made pet products can break, causing safety hazards.
Make sure that your pet carrier has plenty of ventilation for free-flowing air.
Make sure your pet carrier is easy to clean. Keeping your dog's travel carrier clean is important to your dog's health and comfort.
Plus, dog carriers make great beds for helping your dog get over that jet lag, so a nice clean and comfortable pet carrier is a must for longer expeditions.
Other things to consider in your dog's travel carrier are your pet's size and temperament.
You should also note that even though many products claim to be airline approved, some airlines have different specifications for the pet carriers they will allow on their planes.
Before purchasing a dog carrier for a flight, I suggest contacting your airline and making sure the carrier you want meets all the specific guidelines of your particular airline.
What Are Airline Approved Travel Carriers?
For the most part, flying with a dog is safe, so long as you follow precautions. Most major airlines require pet travel carriers that have the following:
Two-Sided Ventilation (So your dog can breathe properly)
Secure zippers (No buttons or snaps)
Waterproof bottoms (Incase of potty accidents)
Must zip fully closed (So your dog cannot escape)
When traveling on a flight, pick carriers that follow the airline's guidelines. 
As I mentioned above, just because your pet carrier meets the above qualifications of most major airlines does not mean your particular airline will approve it.
It is always best to be prepared, so I recommend calling your airline ahead of time to ensure your pet's carrier meets all qualifications.
Now, let's go over some of my favorite travel carriers for dogs!
1. Airline Approved Pets Go2 Expandable Small Dog Travel Carrier
This is one of my favorite travel carriers for a dog due to the fact that it not only expands, is made of durable and comfortable material, and is easy to travel with, but it is also airline-approved for most major airlines and is about the size of a carry-on.
I should note that this product is made for smaller dogs or cats and is designed to fit underneath the airplane seat, which is required if you want to have your pet join you at your seat on your flight.
The material is breathable with mesh siding so your dog has adequate air, but it is also cozy and gives your pet the extra benefit of feeling safe and secure during travel.
This carrier expands on both sides to offer your dog extra room if needed and comes with some bonuses, including a collapsible dog water bowl and a safety clip inside the actual crate for extra security.
Of course, if you want your own water bowl or travel water bottle for your dog, you can always bring your own or order one separately.
2. Airline Approved ZaneSun Soft-Sided Pet Travel Carrier
Another airline approved carrier is the ZaneSun soft-sided travel carrier. This is made primarily for small dogs, puppies, and cats and is a bit more simple than the carrier above.

The ZaneSun comes in two colors (pink or blue) and has a shoulder strap as well as a sturdy handle for easier travel.
I would recommend this carrier for shorter flights or car rides, or for the dog who is an uneasy traveler.
The product is made with breathable mesh siding but offers a bit more security and comfort to pets who get anxious when traveling.
3. Airline Approved Purrpy Premium Pet Carrier For Air and Car Travel
Perhaps one of the greatest things about the Purrpy Premium Pet Carrier is that it is built for both air travel and car travel.

This product is airline approved and great for small to medium-sized dogs, and it also comes with seat belt attachments so you can use it to secure your dog in the car during road trips.
Not only that, but this is a very stylish pet carrier that comes in four stunning colors.
Like many of the carriers I love, it also comes with a shoulder strap and handles for easier travel. I also like dog bags that come with extra storage, which is another bonus to this dog travel carrier, as it has pockets along the edges.
4. Ytonet Dog Backpack Carrier
For those on the move, something like the Ytonet Dog Backpack carrier is a great option.

Backpack dog carriers like this one are designed to help dog parents travel and move freely and easily with their pets. This is great if you are a hiker, camper, or if you simply need your hands free for holding luggage.
This pet carrier also comes complete with extra pockets for storage and is built sturdy with mesh siding, which, as we know, is important for breathability for your pup.
However, this product is not necessarily airline approved. If you plan on flying with your dog and would like a product like the one above, I suggest contacting your airline and finding out if a backpack carrier is allowed.
5. Snoozer Wheel Around 4-in-1 Pet Travel Carrier
I absolutely love pet products I can use for several different purposes, and the Snoozer Wheel Around Pet Carrier is just one of my favorite dog travel carriers for that very reason.
Whether you are hitting the road for a doggy road trip, soaring the skies on an airplane, or simply traveling to the vet, this is an amazing product to have on hand.

The Snoozer Wheel Around Dog Carrier can become a backpack, a rolling travel carrier for your dog, a dog bed, and even a doggy car seat!
It is safe and comfortable for your dog and, bonus, it makes traveling easier for you.
I should note that not all of these types of carriers are airline approved, especially since each airline may have different qualifications for pet travel carriers.
So while this product is small enough to fit underneath most seats on an airplane, it's still wise to call your particular airline and make sure your carrier meets their requirements.
6. PAWABOO Dog Backpack Carrier
My little fur child isn't very fond of traveling carriers and crates.
I'll admit that I did a terrible job of crate training her when she was a puppy and now no matter what I try to do to entice her into a carrier she's not having it.
Luckily for me there are products like this one below.

This is not an airline approved product, but it is wonderful for those moments before boarding a plane or for simply camping, hiking, or just going to and from cars and hotel rooms.
My dog Axelle does love being held, so when I slip her into this carrier it's as if she is in my arms without actually having to be in my arms, making traveling around much easier on the both of us.
Of course, this is not a long term travel carrier option and your dog will need to be allowed out every so often to stretch and do his business. Also, and for obvious reasons, this carrier and carriers like it are meant only for small to medium-sized dogs.
7. TOMKAS Small Dog Sling Carrier
Similar to the carrier above, the sling carrier allows your dog to feel like she is being held by you while allowing you to move about hands-free.

Again, this is not an airline approved carrier but is ideal for those of you looking for a hands-free way to go hiking, camping, etc.
I have one of these sling carriers for a dog in my care who enjoys going for walks but only wants to walk a few steps at a time. I'm not sure if she's lazy or a princess, but I am sure that she loves the sling rides.
8.  YUDODO DOG Sling Travel Bag
For a sling bag that is a bit more secure, I like products like the YUDODO carrier. It is built like a sling but is made with breathable mesh and allows your pet to lie comfortably looking out or to snooze inside if he wants.
One of the things I like best about this sling dog carrier is that it unzips, allowing you to easily get your dog inside, and then zips up and pulls tight to keep your dog secure and safe.
This is good for those of us with dogs who are not yet used to carriers or for owners who are worried that their dog may try and jump out while they are on the move.
9. Airline Approved Morpilot Dog Carrier Bag
This is another high-quality, airline approved dog travel carrier that can also be used for car trips, long distance travel, and short distance adventures.

Like a few other products on this list, the Morpilot is compact and fits beneath most airline seats while also being built with breathable mesh and quality material for safe travel.
It comes with a shoulder strap and comfortable handle, and the zippers lock so that even the best furry escape artist will stay safe and sound in his crate during travel.
The crate also comes with a collapsible portable water bowl and built-in bedding for extra comfort.
10. K9 Sport Sack Dog Carrier Backpack
Dog backpacks are great not necessarily for air travel, but for dog owners who are constantly on the go and want to bring their four-legged family members with them.

What I love most about the product above is that it is a secure and comfortable space for your dog to just hang out while you are out and about.
Dog carrier backpacks like these allow you to live your day to day life with your dog at your side.
This is especially great if you have a senior dog or a dog who has difficulty walking and you need an easy way to carry him around or still want to take him out for some fresh air.
11. AmazonBasics Premium Folding Portable Dog Crate
There are not a whole lot of options for larger dogs when it comes to travel carriers, but the AmazonBasics Premium Folding Dog Crate comes in five sizes and fits smaller to larger dogs.
It makes travel as easy as possible for larger dogs by being simple to store and easy to hide away when you are done with it.
It also comes with lots of extra storage pockets and comfortable bedding inside.
12. Airline Approved WOpet Dog Car Seat and Travel Carrier
As I mentioned earlier, I love pet products that can be used for multiple things. The WOpet Dog Car Seat and Travel Carrier is one such product that doubles as a portable dog carrier and also a car seat.

Best of all? This product is airline approved! It is also made with waterproof materials, has breathable mesh siding, and comes with plenty of storage pockets.
13. PetAmi Delux Dog Backpack Carrier
This is another product you might love if you are constantly on the go. While this is not an airline approved item, it is built with sturdy, breathable material and provides safe comfort for both you and your dog while moving from one place to another.

Backpack dog carriers like this product or meant to house your smaller dog for only short periods, so make sure you are providing your dog with plenty of time to get out and stretch his legs and take potty breaks.
And, like a few products on this list, the PetAmi dog backpack comes with a collapsible water bowl.
For an adorable bonus, there is also a built-in name tag so you can personalize the product!
14. Airline Approved DBest Products Pet Smart Cart Rolling Carrier
When it comes to dog travel carriers, it's always convenient when they come with wheels. Not only do these products make it easier to travel with our pets, but I also think it can be a bit more comfortable for our four-legged friends as well.
The product above is a pet carrier that rolls along with the rest of your travel luggage, and comes complete with seatbelt straps for safe car rides and is completely collapsible for easy storage.
15. Airline Approved FrontPet Rolling Dog Carrier
It's always a bonus when you can get the safety, durability, fashion, and a number of uses out of a single pet product.
One such product is this FrontPet Rolling Dog Travel Carrier.

This carrier is sleek and durable with mesh siding, complete with wheels and backpack straps depending on your needs. It is airline approved and fits under most airplane seats.
However, this carrier and many like it are smaller and will only hold dogs that are up to 15 pounds.
Helping Your Dog Get Used to Their Travel Carrier
Preparing your dog to get used to a travel carrier is just as important as preparing your dog to get ready to fly in the cargo hold of an airplane.
You can buy the fanciest and most sophisticated pet carrier on the market, and it will be worthless if your dog refuses to go inside of it or insists on chewing, scratching, clawing, or crying her way out.
Some dog carriers may be easier for your dog to get used to than others.
If your dog isn't crate trained, getting her used to a carrier can be tricky, but not impossible.
Don't force your dog into a carrier or scold your dog for being afraid of her carrier. If you do, the carrier will become a negative place for the dog and she will fear it.
Instead, use positive reinforcement, treats, and clicker training to help your pet learn that her carrier is a safe and comfortable space.
The video below shows how you can easily and positively help your dog get used to a travel carrier using clicker training and treats.
Picking the Best Carrier For Your Dog
Remember, try and choose a dog travel carrier that works for your unique needs as well as the temperament and size of your dog.
Anxious dogs may do best with some calming supplements before travel and may feel more comfortable in carriers that are enclosed and offer a better sense of security, while outgoing pups may want to see more of what's going on around them.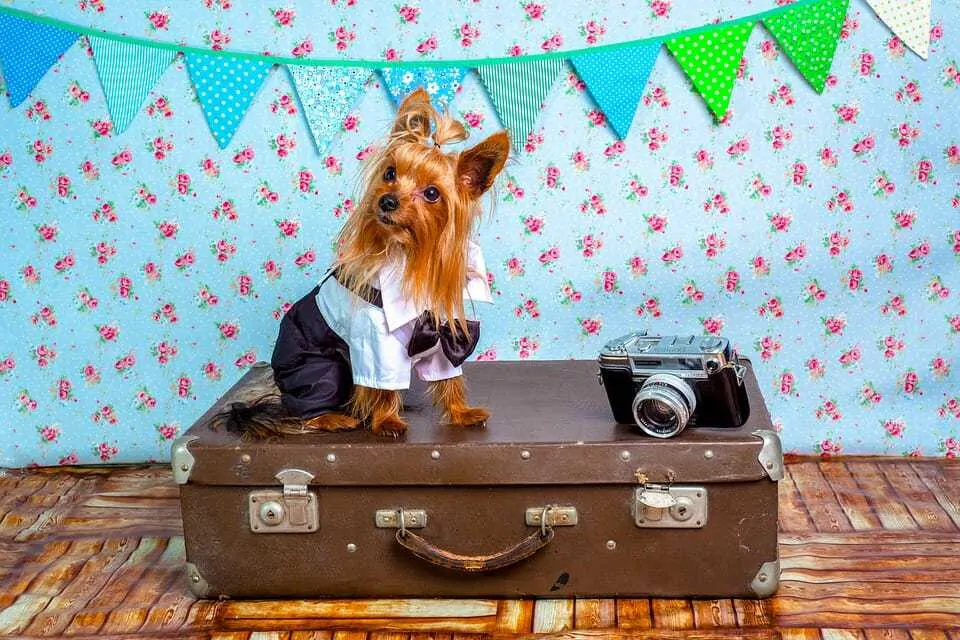 When choosing the right dog carrier, consider your dog and his needs, as well as your destination and plans for travel.
Always put safety first and go for carriers that are made well and are comfortable for your dog.
For added carrier security, you can use carabiners to latch zippers and for easier mess cleanup, buy some high-quality potty pads or dog diapers.
Do you have any favorite dog travel carriers not mentioned on this list? Let me know what some of your favorites are below in the comments section!