Are you planning a camping adventure for you and your favorite canine companion? Camping with dogs is one of the best ways to spend a weekend away from home, but it does require some advance planning to keep things from going awry. Follow these 14 tips for camping with dogs, and get ready for an epic adventure you won't soon forget.
Dogs love camping as much as their humans do!
Before You Head Out the Door
Most of the preparation that goes into camping with dogs happens before you even leave the house. When planning your camping adventure, ask yourself the following questions:
Does my dog have basic obedience skills?
Your dog doesn't need to be perfectly behaved to go camping, but having decent manners and obedience skills will go a long way toward making your trip less stressful and more fun. Here are the basic skills your dog should know before a camping trip.
Come – A solid recall is one of the most important skills you can teach your dog. He should reliably come when called, no matter what distractions arise. If your dog doesn't reliably come when called, he should remain on the leash at all times.
Sit and Down – These basic commands are useful when you want your dog to settle down at the campsite. Sit can also be used to help your dog greet people politely when on a leash.
Drop-it – Your dog should know not to steal food, as well as the command "drop-it" or "out" for those times when he's snagged a marshmallow or tasty piece of trash.
Leash manners – Your dog should be able to walk nicely on a leash without pulling. A dog who lunges and constantly pulls to the end of the leash is very hard to walk, whether you're on hiking trails or meandering around the campground.
Bathroom commands – Did you know that you can teach your dog to pee and poop on command? While this isn't a necessity for your camping trip, it can be super useful. Imagine not having to stand out in the rain while your dog finds the perfect spot to do his business, or not having to clean up embarrassing messes on the beach, playground, or your neighbors campsite. You pick the spot, give the command, and your dog does his business.  
Does my Dog Suffer From Fears and Anxieties?
A well-behaved dog makes camping much more fun for everyone!
Most dogs love everything about camping — being outside, laying next the campfire, and long walks in the woods. But there are some dogs who are fearful and anxious when taken out of their home environment. Of course that doesn't mean they can't go camping; it just means you'll have to take it slow — perhaps starting with day trips or backyard camping before embarking on a longer trip.
Other common anxieties include a fear of thunder, fireworks, and other loud noises. Because camping trips can be unpredictable, it's important to consider these fears carefully before deciding if camping with your dog is a good idea.
Does my dog bark a lot?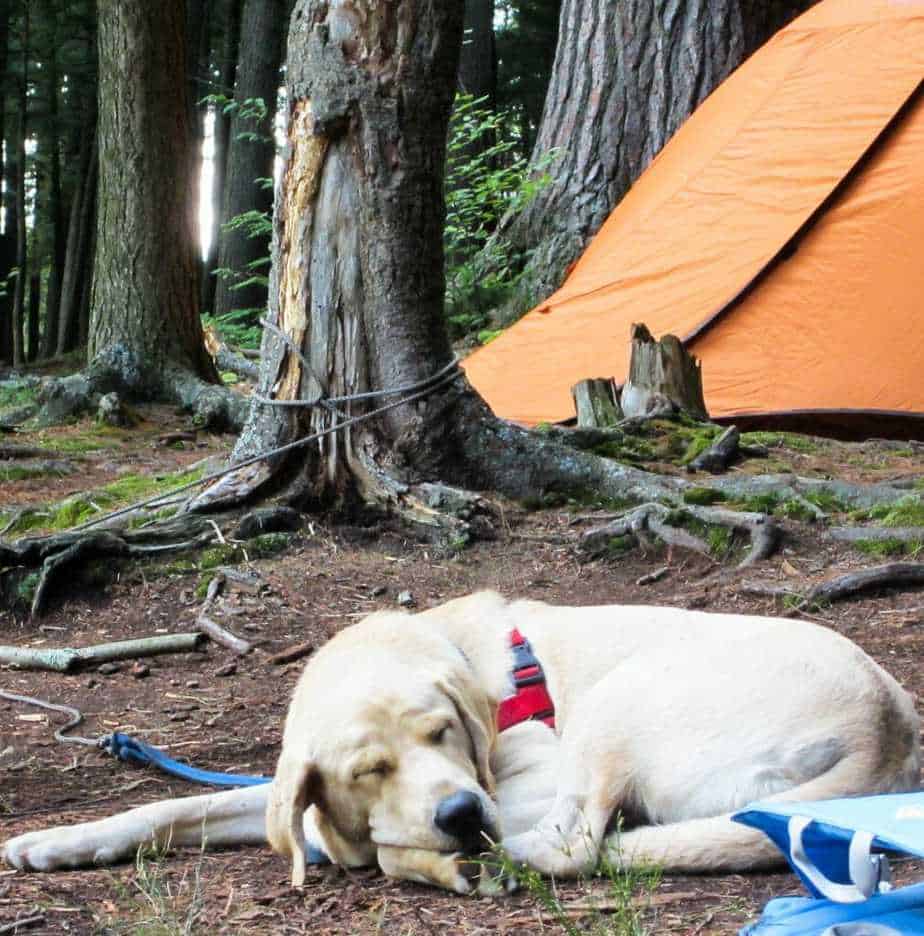 Your dog should be able to relax while camping.
Dogs who bark at every squirrel, dog, or person will only annoy you and your camping neighbors. If your dog is a barker, you have a few options, but all of them will require advanced planning and vigilance on your part. When making a campground reservation, ask for a quiet spot away from camping neighbors. You may also want to consider primitive, backcountry camping, where you won't have to worry about neighbors at all.
Do I have the proper gear I need for camping with dogs?
Your dog doesn't need a lot of fancy gear to enjoy a camping trip, but a few basic necessities will make your trip easier and more fun. Here's a list of basic gear and supplies for camping with dogs. These things are suitable for most tent and RV trips, but not necessarily for backpacking.
If your dog doesn't have his own bed, he may try and steal yours!
Enough dry dog food to last the length of your camping trip
Chew toys and bones to keep your dog busy round the campfire
Safety Considerations Before You Camp with Your Dog
Make sure your dog has a secure collar and tags
Now that you've got your gear figured out, it's time to take a few precautions to ensure that your prepared for illness, injury, or escape. Here are some safety tips for camping with dogs.
Be sure your dog is up-to-date on vaccinations and heartworm medication – If you are traveling outside of your local area, call your vet and ask about additional vaccines your dog might need.
Use a secure collar and sturdy tags – Check your dog's collar for wear and tear, and ensure that the buckle or fastener secures properly. Your dog should also have an easy-to-read tag with your current address and mobile phone number on it.
Have your dog microchipped – If you travel and camp on a regular basis, it would be wise to have your veterinarian microchip your dog. This will ensure that he is returned to you if he is ever lost.
Apply flea and tick preventative – Fleas and ticks are a nuisance, but they also can carry serious disease that can make your dog sick. Whether you use a collar, all-natural spray, or a monthly preventative, ensure you are prepared for fleas and ticks before you head out on your trip.
Gather emergency numbers – You should always carry the number for your dog's veterinarian with you, and when camping, it's important to look up the number for the closest emergency vet. Program these into your phone, but also keep paper copies in your car or backpack, just in case.
Pack a first-aid kit for your dog – You can make your own dog first aid kit, or buy one that will handle any minor emergencies you will encounter.
Tips for Enjoying Your Camping Experience with Your Dog
A tired dog is a happy dog.
With packing and preparation behind you, the rest will be easy. All you have to do is set up your camp, and get busy exploring and relaxing. These tips will help you and your dog enjoy the best camping trip ever.
Know and follow the campground rules – Most campgrounds require that dogs be kept on-leash, and some have rules about where your dog can go within the campground. Often times picnic areas, playgrounds, and public beaches are off-limit to dogs, and many campgrounds do not allow you to leave your dog unattended at your campsite.
Keep social interactions to a minimum – Just because your dog is a socialite, does not mean he has to meet every person he encounters. There will be many campers who just aren't interested in meeting dogs, and the ones who are interested will likely go out of their way to make your acquaintance.
Clean up after your dog – Perhaps this goes without saying, but the fastest way to annoy your camping neighbors is to leave piles of pooh for them to smell or step in. Bring bags and clean up after your dog.
Give your dog plenty of exercise – Not only is a tired dog a happy dog, but a tired dog is also a dog that stays out of trouble. Spend your days hiking, swimming, and adventuring, and you can expect a relaxing night 'round the campfire with your pooch.
Final Thoughts on Camping with Dogs
Your dog is pretty easy to please, wanting nothing more than to be by your side. But if you really want to give him a treat, simply lace up your hiking boots, and load up the car with your camping gear.
Whether you're heading into the backcountry, relaxing next to a dog-friendly lake, or hiking a mountain peak, your adventure will be all the better if you share it with someone you love. It's time to take a break from the daily grind and head out on a grand adventure with your dog by your side.