Bordered on the east by the Mississippi River and on the west by the Missouri River, the agricultural state of Iowa is well-known for its waterways. Boating, fishing, and paddleboarding are just a few of the recreational activities you can enjoy as you spend time at an Iowa river, stream, or lake – with your canine companion along for the adventure. Bird watching, from song birds and waterfowl to shore birds and birds of prey can be a fun activity along waterways as well as upon the prairies and fields found throughout the state.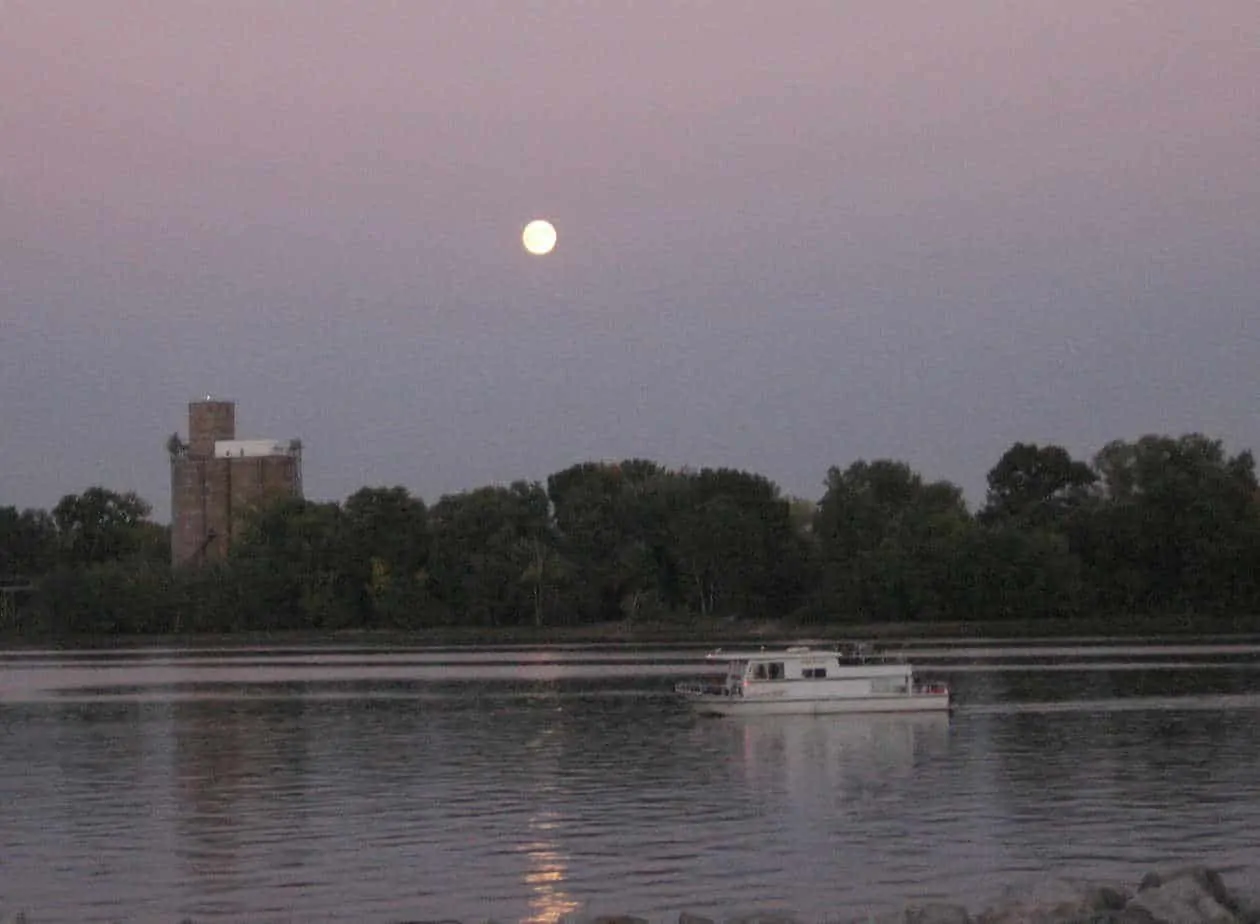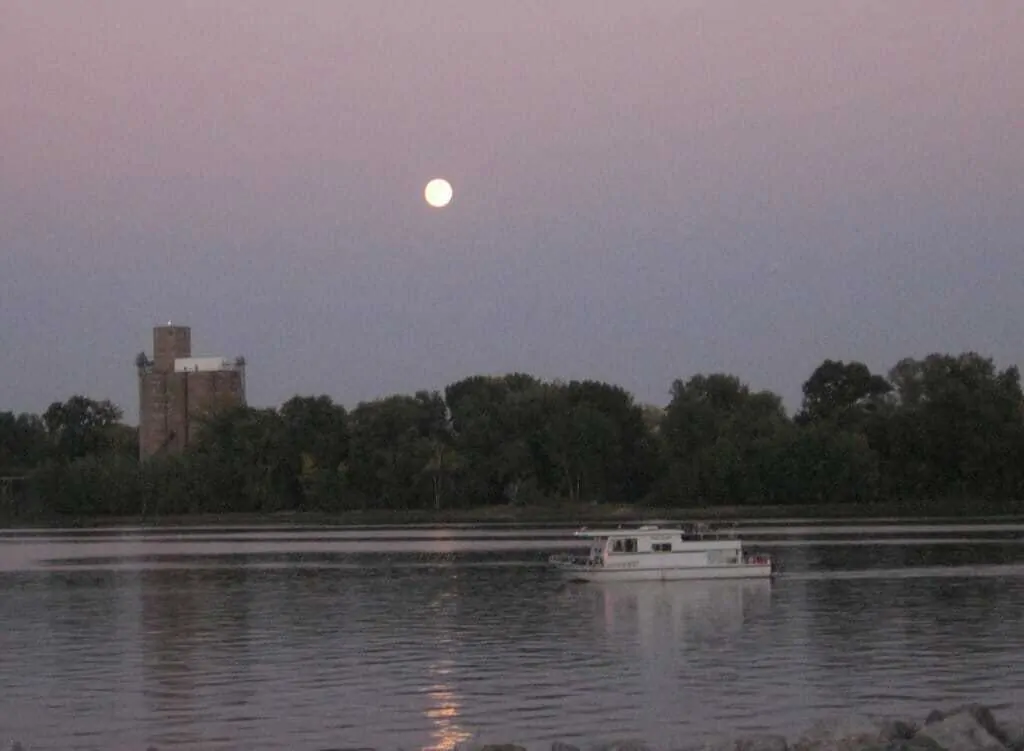 A boat cruises the Mississippi River near Burlington, Iowa during dusk, a sight often seen by residents and visitors to the state. 
Although dogs are not allowed in eating establishments or brew pubs under state law, there are many other activities and places you and your dog can enjoy together in Iowa. Below are 15 ideas: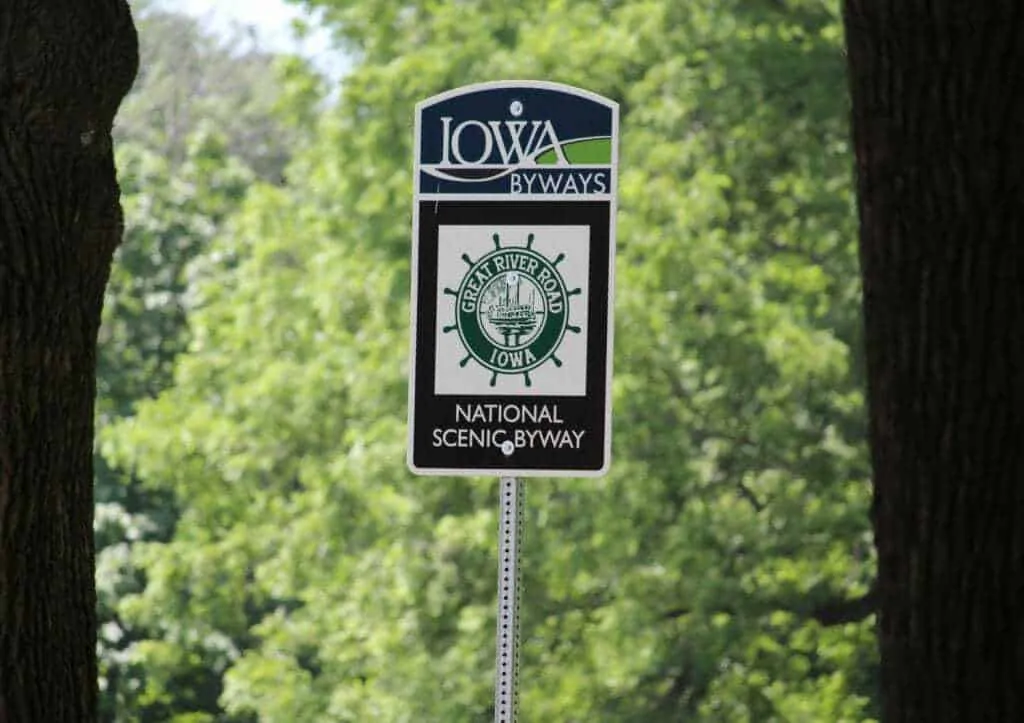 The Great River Road National Scenic Byway stretches more than 300 miles through the state of Iowa.
Travel the Great River Road National Scenic Byway
Stretching north to south along the Mississippi River, this 328-mile inspiring, beautiful roadway is part of the entire 3,000-mile Great River Road that extends from Minnesota to the Gulf of Mexico. From panoramic vistas to up-close river front, you'll enjoy the natural views and the numerous charming towns found in the ten different counties along Iowa's Great River Road National Scenic Byway. You'll also find plenty of places to explore with your dog, including marshes and wetlands, aquariums, museums, parks, and interpretive and historic sites. Bald eagle watching can be a delightful activity to do as you follow the river, especially during winter. The population of these birds increases from about 500 to nearly 3,000; prime viewing time is mid-December through early March.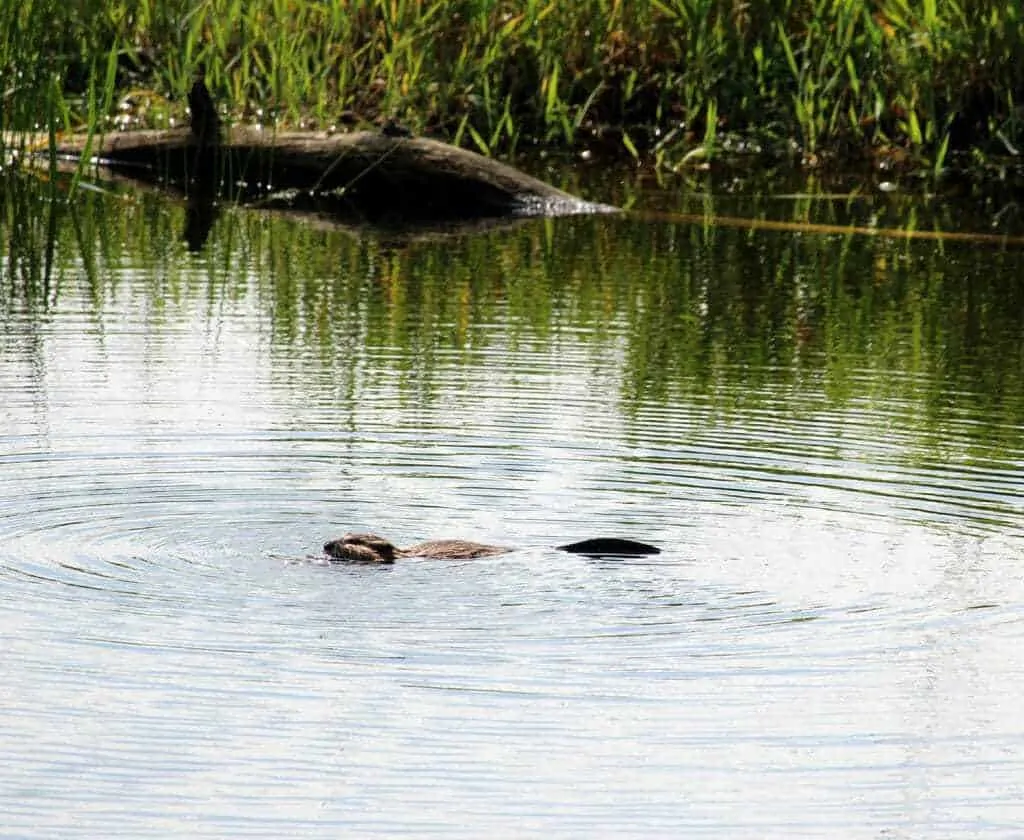 Muskrats and beavers are often seen in Iowa waterways, including those at Effigy Mounds National Monument.
Visit Iowa's Only National Monument
One of the most special places to visit along the Great River Road National Scenic Byway is the state's only national monument. Effigy Mounds National Monument is a Native American cultural site that includes more than 200 mounds of earth created in the shapes of various animals, such as bear, bison, and birds. Some of the earthen creations are burial sites; others were developed for unknown reasons. Mound builders were members of various Native American tribes, including Iowa's Fox and Sac nations. Walking trails and guided tours are some of the things you can do at Effigy Mounds; leashed pets are welcome on the monument's trails. This unique place was set aside by the federal government in October 1949 when President Harry S. Truman signed the proclamation to create this national monument, and additional acreage was added in subsequent years. Nearly 300 species of birds nest or migrate through the monument, including the once endangered peregrine falcon. River otter, muskrat, raccoon, red and gray fox, and white-tailed deer are some of the mammals you might see during a visit to the area.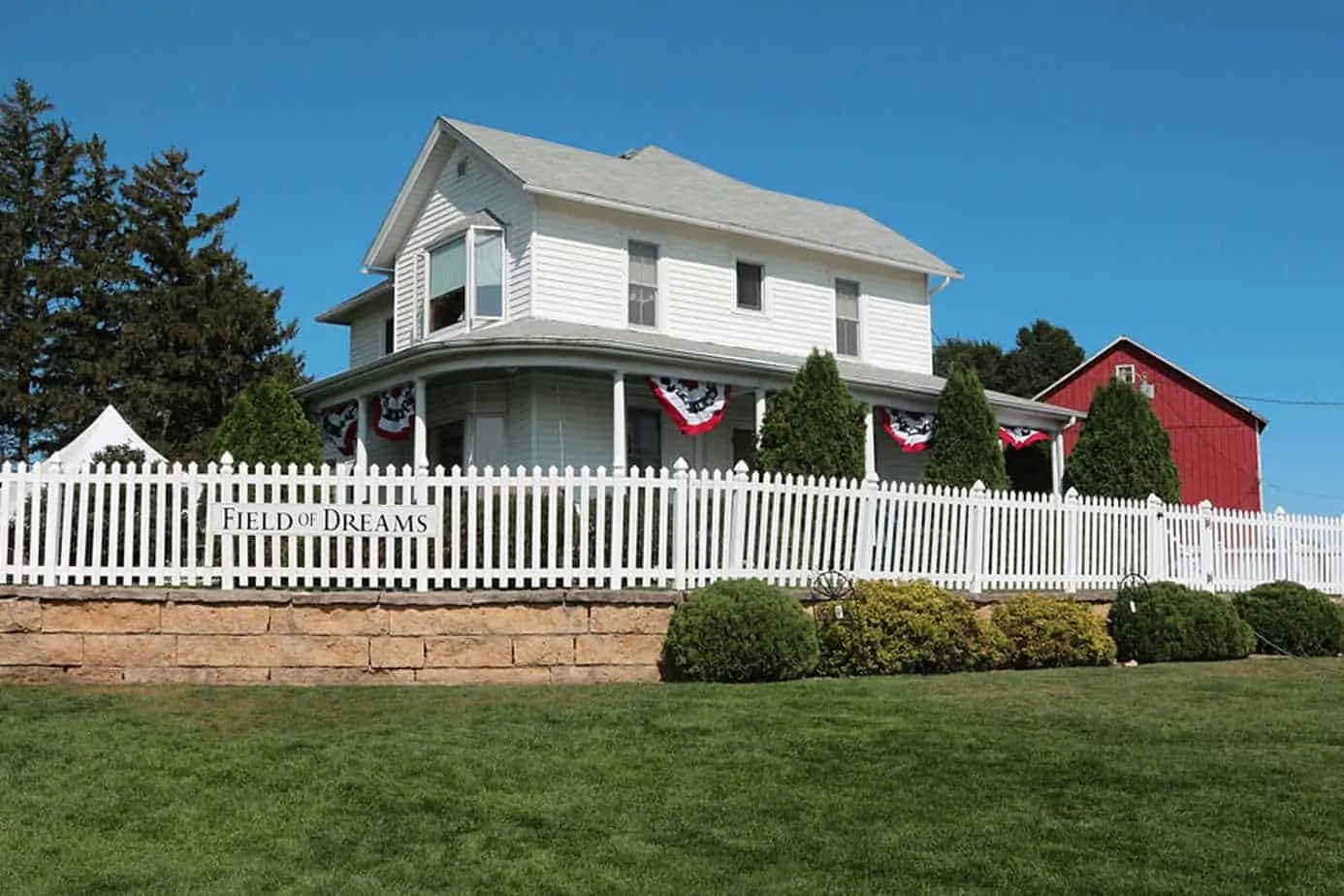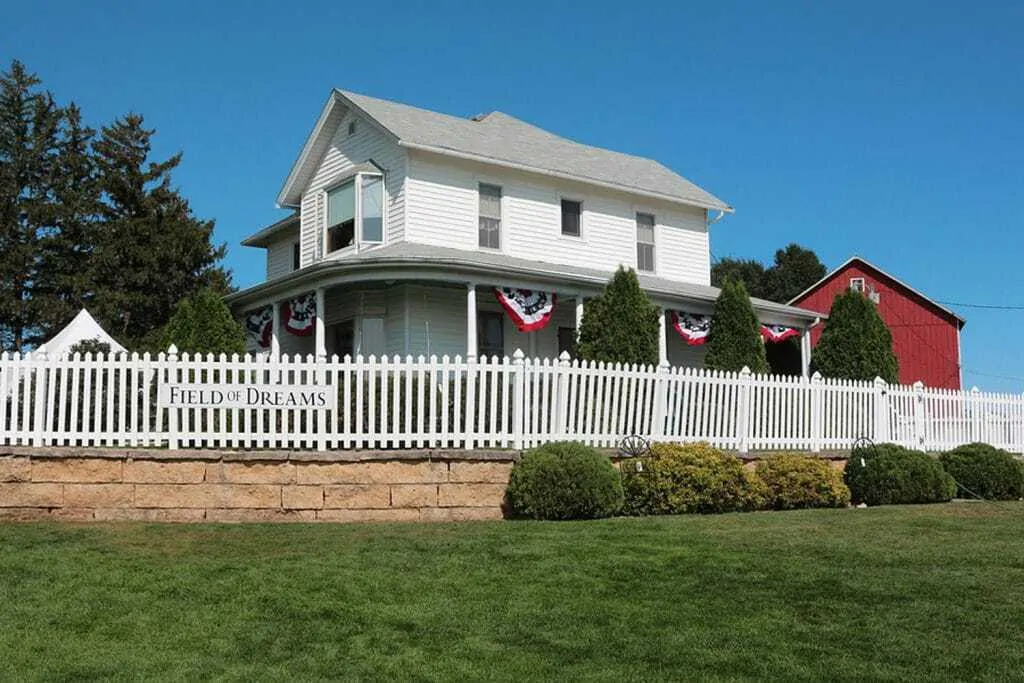 Baseball and movie fans enjoy visiting the site where "Field of Dreams" was filmed during the late 1980s.
See Where "Field of Dreams" Was Filmed
The late 1980s Hollywood movie "Field of Dreams" was filmed in Iowa. The family-oriented movie is about an Iowa corn farmer who builds a baseball diamond in his field and the 1919 Chicago White Sox come to use it; the award-winning film, starring Kevin Costner and several other stars, was nominated for three Oscars. The location of the film is open to visitors. The property is located near Dyersville, Iowa, approximately 30 miles west of Dubuque, a northern Iowa community along the Great River National Scenic Byway. Visiting the baseball field is free and leashed, controlled dogs are welcome at the site when special events aren't taking place. The Field of Dreams location has been open to the public since the film's release in 1989.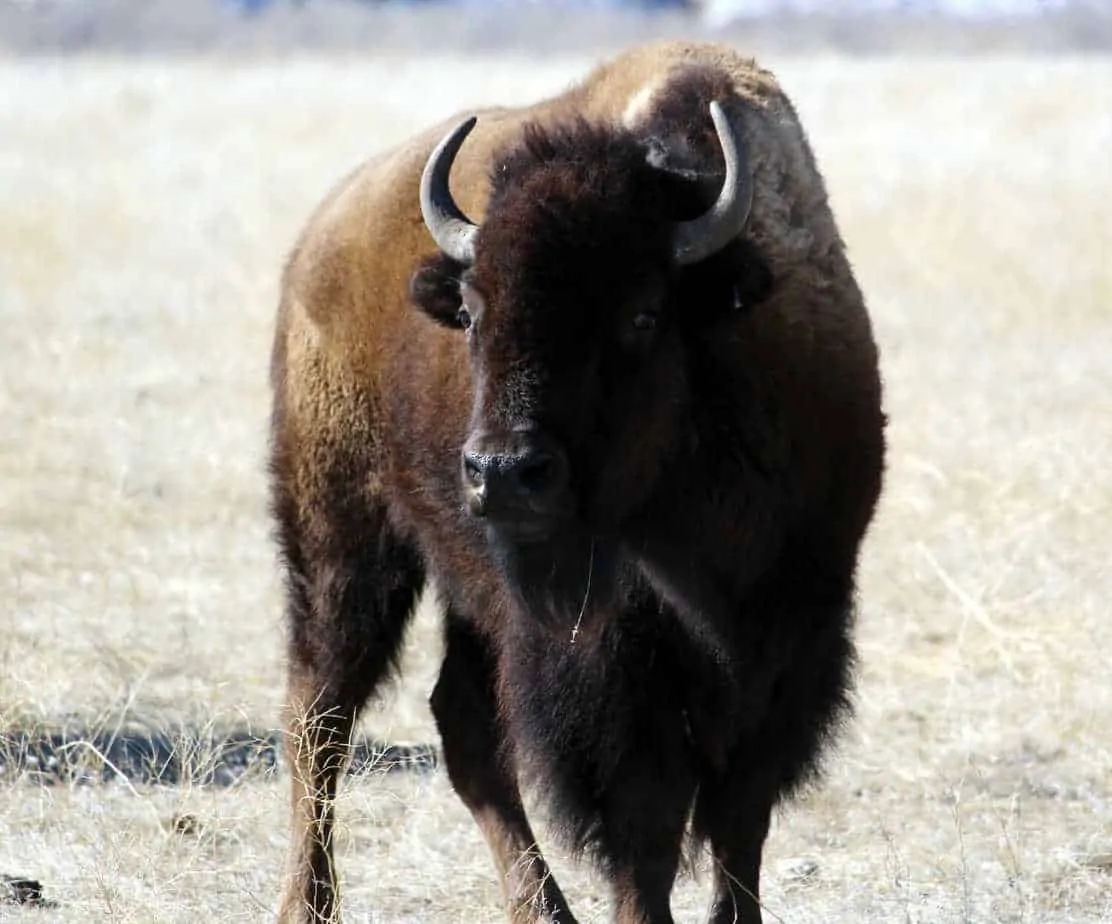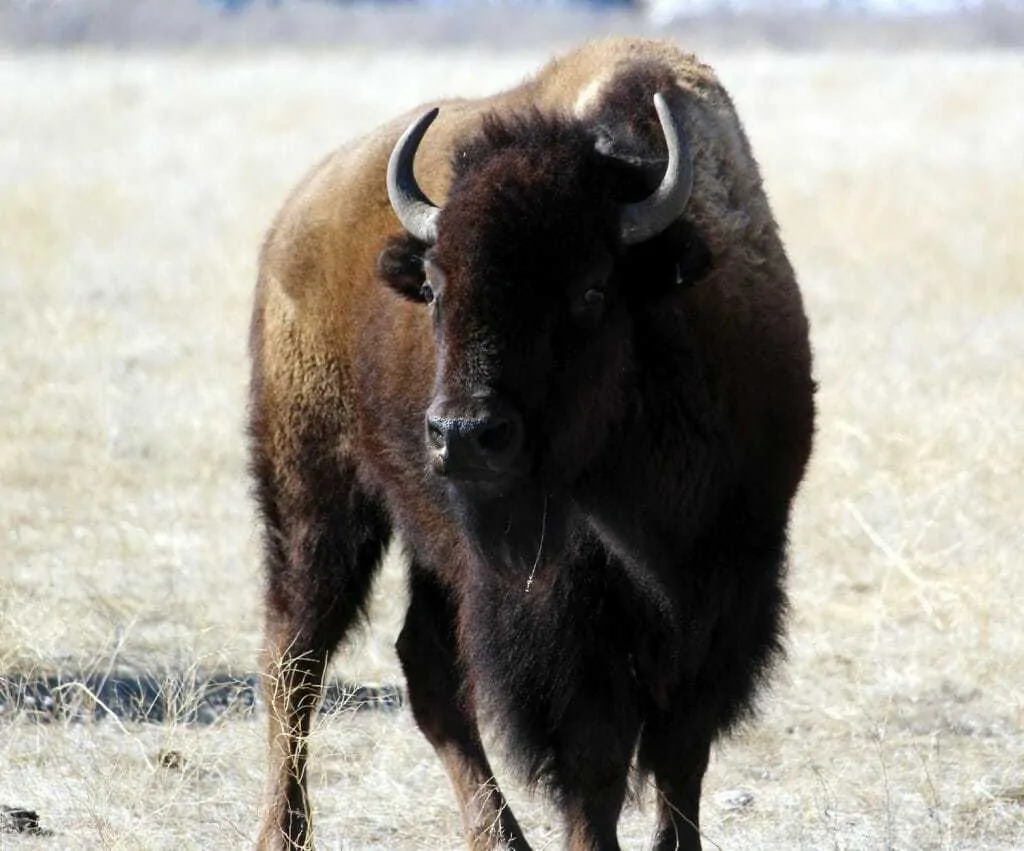 Bison, also known as buffalo, once roamed the midwestern prairies and Great Plains of the United States in huge numbers. Now wild herds are restricted to a few areas. The Neal Smith National Wildlife Refuge near Des Moines, Iowa is one place to observe these massive mammals.
Observe Bison at a National Refuge
For hundreds of years, possibly thousands, plains bison roamed the prairie and grasslands of Iowa and other midwestern states. As more people arrived, plowed and planted fields and established settlements and towns, these large mammals were pushed farther west. Most wild bison were gone from the state by the 1860s. Today, though, people can observe these massive mammals at the Neal Smith Wildlife Refuge. Staff oversee a herd of 70 to 90 animals in a 700-acre enclosure, managing the animals for genetic diversity and for studying the impact they have on a prairie ecosystem. Some individual bison are taken to other places in the United States to help reestablish herds, including the Wind River Native American Reservation in Wyoming. Elk, which also once called Iowa home, can also be observed on the refuge as well as a variety of songbirds, birds of prey, butterflies, and wildflowers. A visitor center, an auto tour, and hiking trails allow guests to learn about and enjoy the natural beauty of the area. Five other national wildlife refuges can be found in Iowa, many of which are managed for the protection of migratory birds and feature unique natural settings, environmental education programs, and walking trails. You and your dog will enjoy exploring these special wildlife spaces.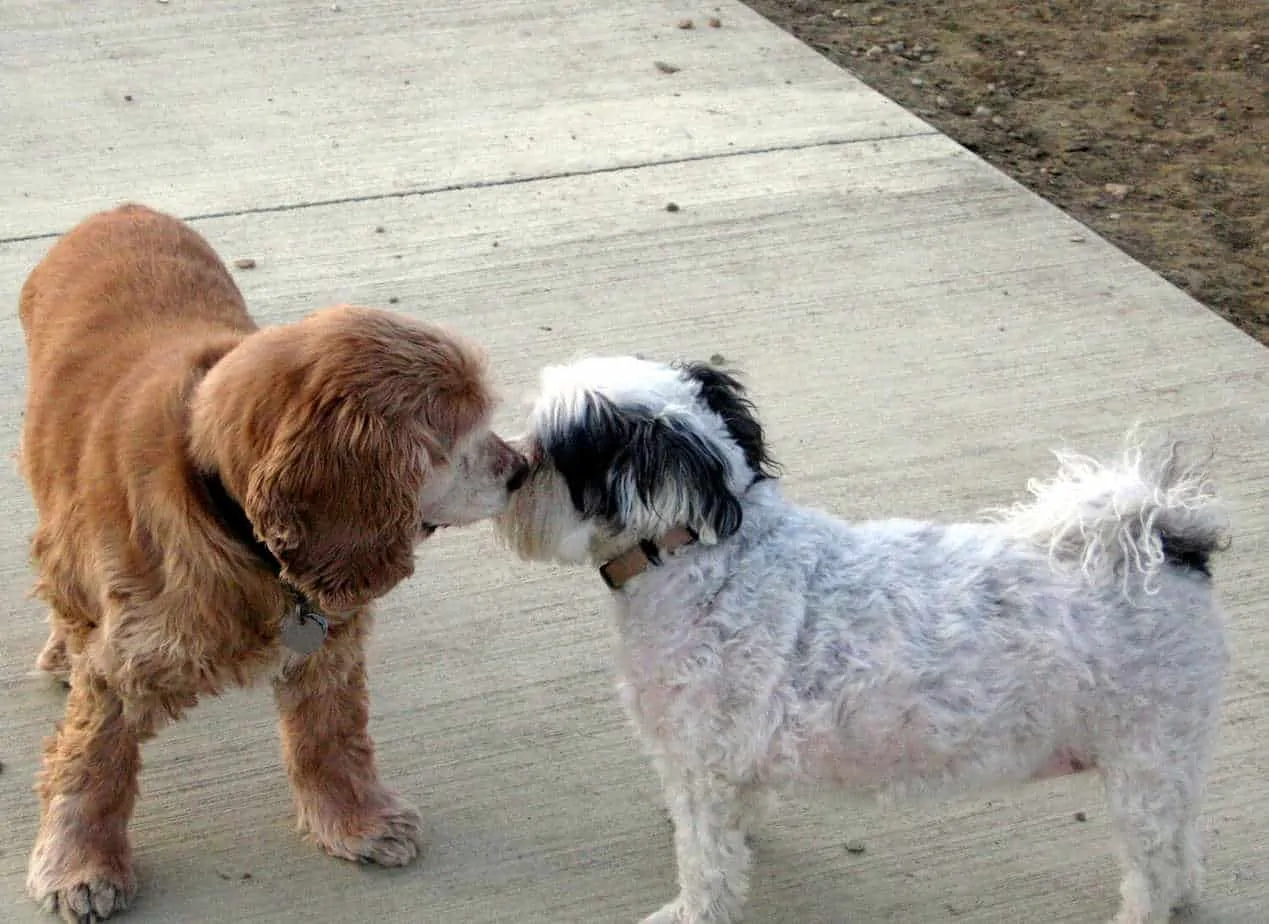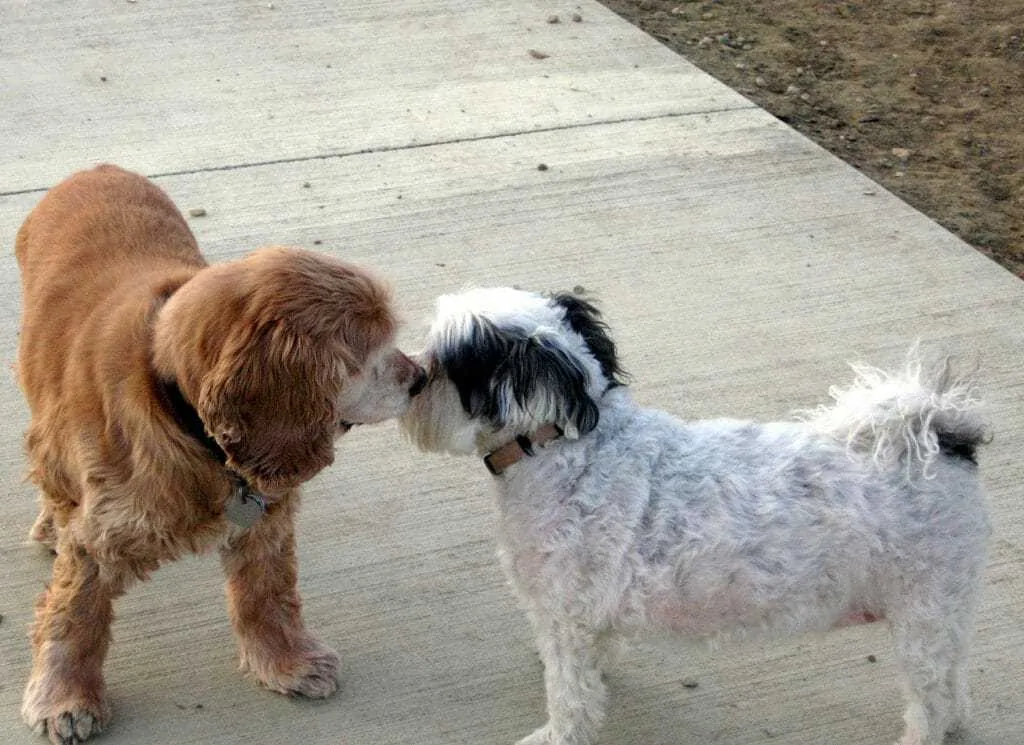 Dog parks provide socialization and exercise opportunities for pups. Several such areas can be found throughout Iowa.
From north to south, east to west, off-leash dog parks can be found throughout Iowa. Some require a paid-for pass, others are free. Many have areas designated for small or older dogs. Some have water features, like ponds, for dogs that like to swim. A few even have agility equipment for dogs with extra energy. Some dog parks are conveniently located off main roads and interstates for dogs traveling with their human companions as well as resident canines of the local communities. Dog parks provide opportunities to socialize and exercise your pup, offering opportunities for your canine friend to stretch his/her legs during a road trip.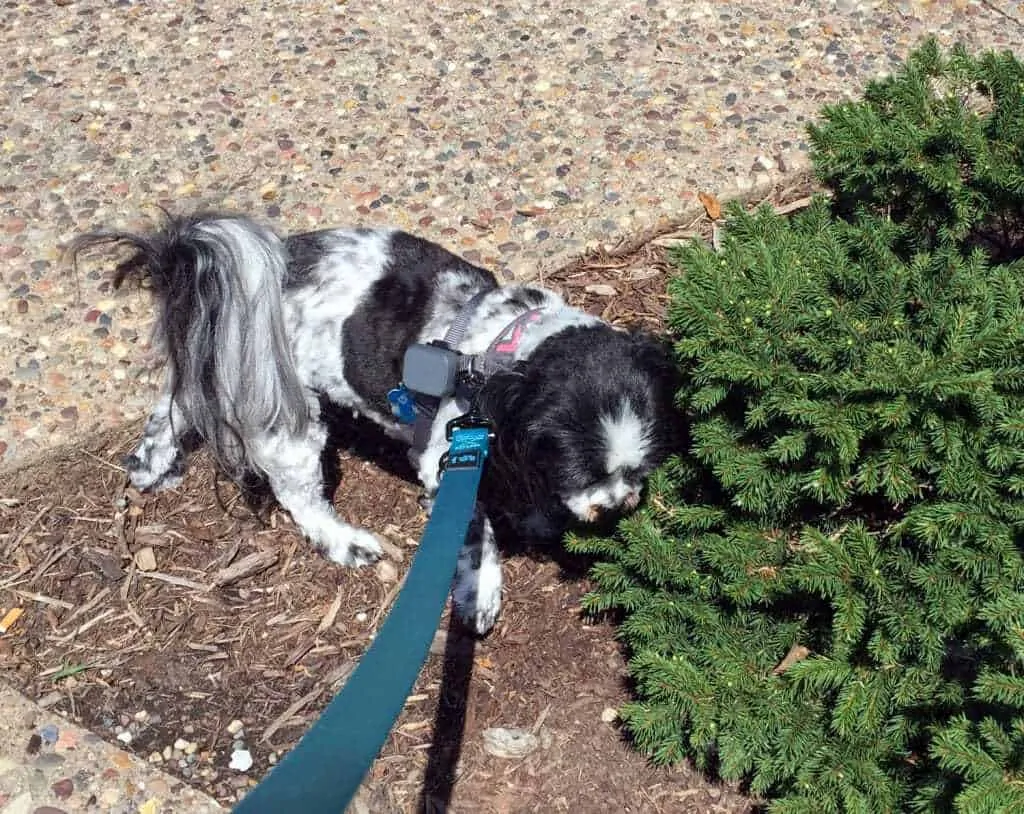 Whether walking in the woods or on a community pathway, you and your dog can enjoy the various sights and smells along the journey.
Woodland trails and community walking paths also provide excellent exercise opportunities for you and your dog. Natural areas with hiking trails can be found throughout the state. Near Harper's Ferry, one finds the Yellow River State Forest, one of four such areas managed by the Iowa Department of Natural Resources. Hiking and horseback riding trails abound, and in winter, cross country skiing becomes the recreationist's activity of choice. Leashed dogs are welcome. The community of Fort Dodge boasts two rail-to-trail endeavors, one connecting to the other. The Fort Dodge Nature Trail and the Soldier Creek Nature Trail were once part of the Chicago and North Western Railroad line. Walking, biking, and jogging are some activities that can be enjoyed on the five miles of pavement and natural surfaces, and your dog is sure to enjoy the outing with you. Hunt Woods, a 58-acre forested area on the outskirts of Burlington in the southeastern corner of the state, offers an extensive network of walking and hiking trails. This natural space is managed by the county and provides habitat for various wildlife species; therefore, in addition to hiking, wildlife watching and photography are activities that can be done on-site. Leashed dogs are welcome. Many towns along the Mississippi River provide walking paths nearby or next to the river. A public art exhibit in Dubuque is displayed along the community's Mississippi Riverwalk, and a marina and convenience store can be found as well. Often river boat excursions can be seen from the walkway.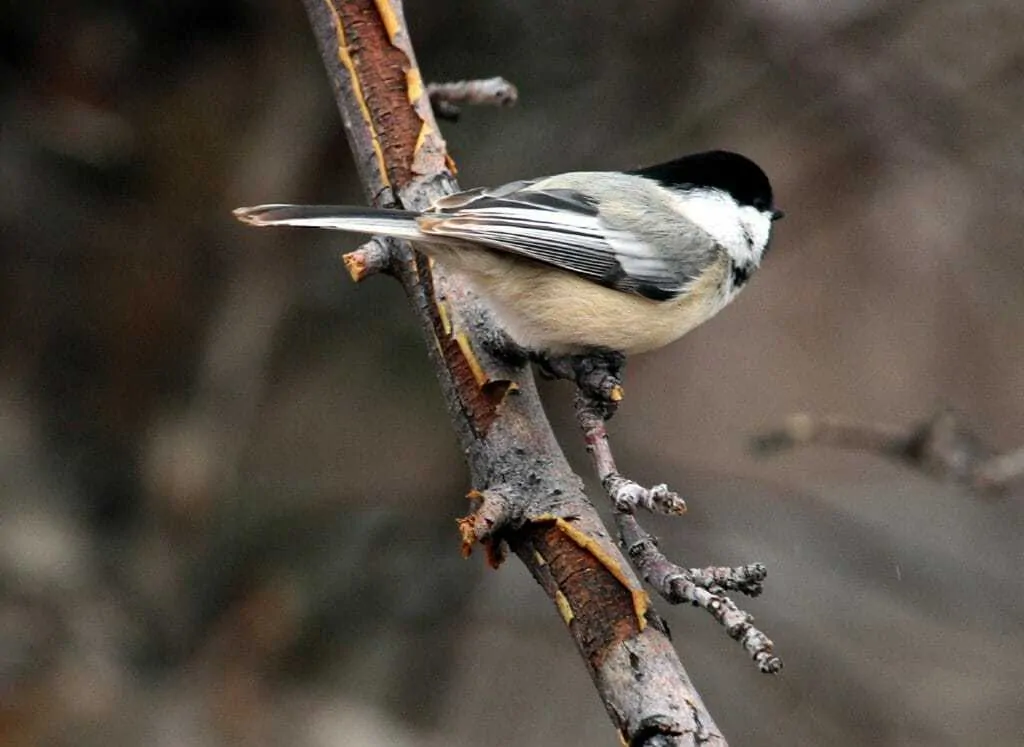 Various bird species, including different songbirds, waterfowl, birds of prey, and others, are found in Iowa.
More than 400 different species of birds are found in Iowa. From upland game birds like pheasants and quail and waterfowl like ducks and geese to songbirds and birds of prey, the state offers amazing opportunities to observe and photograph feathery creatures. Wetlands, waterways, prairies, woods, and farms all provide habitat necessary to sustain the plethora of species. Bird Watchers Digest listed ten special places to see and hear birds in Iowa; some of those areas include national wildlife refuges, state parks, and the Mississippi River. That river area offers a trail designated by the National Audubon Society known as the Great River Birding Trail. This is a migratory flyway which 40 percent of Northern American shorebirds and waterfowl use for migration. The birding trail follows the Great River Road north to south along the Mississippi River. Bald eagles flock to the region during the winter months, oftentimes numbering in the thousands. Great blue herons are also often observed along the birding trail.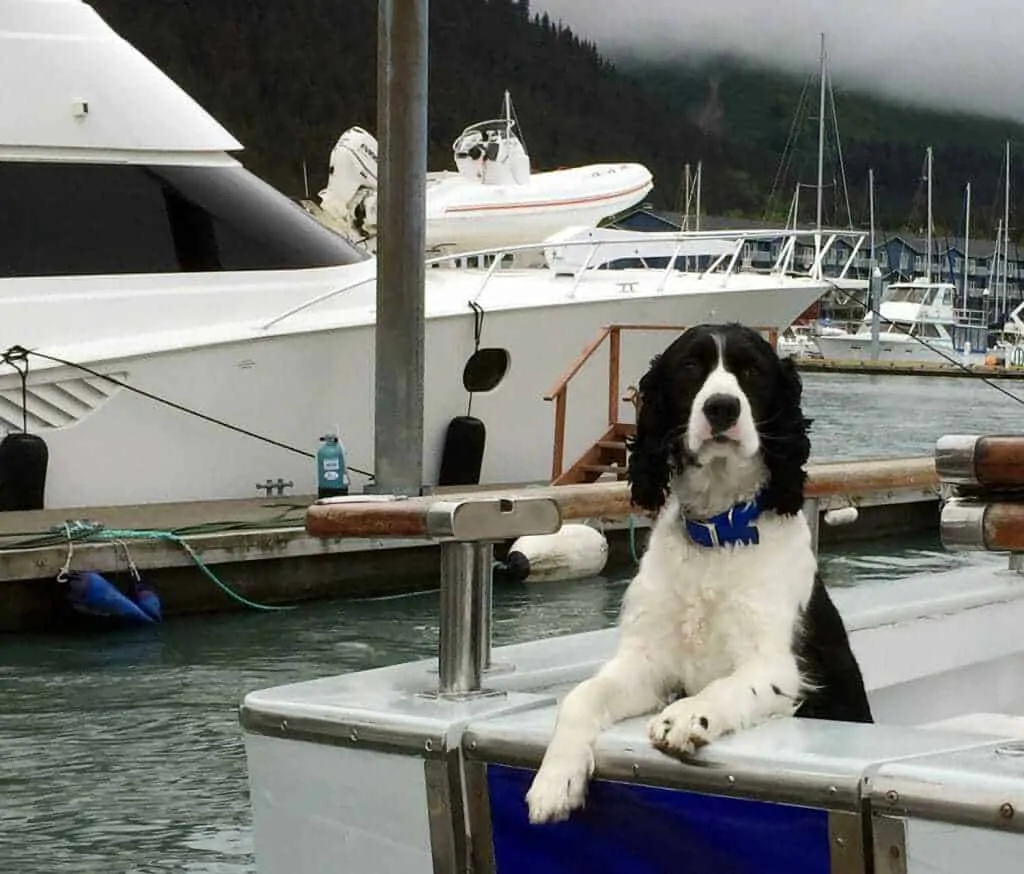 Many dogs enjoy boat rides, whether those are power boats or canoes. There are many opportunities for you and your dog to enjoy water sports when visiting the state of Iowa.
Enjoy Waterways with Your Dog
The mighty Mississippi and Missouri rivers create Iowa's eastern and western borders respectfully. Numerous lakes, ponds, and reservoirs, as well as other rivers, make this midwestern state an amazing place for fishing, boating and other water sports. Kayaking, paddleboarding, canoeing, and water and jet skiing, are other ways you and your pup can enjoy the water together. Whether you bring your own boat or other equipment, or you rent from a store or concessionaire, you'll find ample opportunity to bask in the fun of water activities with your dog. Be sure you and your dog each wear a life jacket for safety purposes. While out on the water, you may encounter wildlife, so you may want to bring a camera along and have digital memories forever.

Iowa state parks provide plentiful camping and picnicking opportunities.
Camp or Picnic at a State Park
The state of Iowa operates more than 70 state parks, forests, recreation areas, and other sites through the Department of Natural Resources. These areas offer a multitude of outdoor opportunities, including camping and picnicking. Some have modern hook-ups, such as electricity, while others are more primitive. Most sites require advance reservations, which can be done online. If camping in a tent or RV is not quite your style, you may enjoy staying in a cabin or yurt, which are available at some state-managed parks and other recreational sites; a few yurts are also available to stay in. Some parks offer concessions, providing kayak and other boat rentals in some locations as well as firewood and snacks. Many offer group picnic shelters and sites for family reunions and gatherings of friends. Pets are welcome at most state-managed parks, campgrounds, and picnic areas as long as they are leashed and under control. Some cabin and yurt accommodations are pet-friendly, too.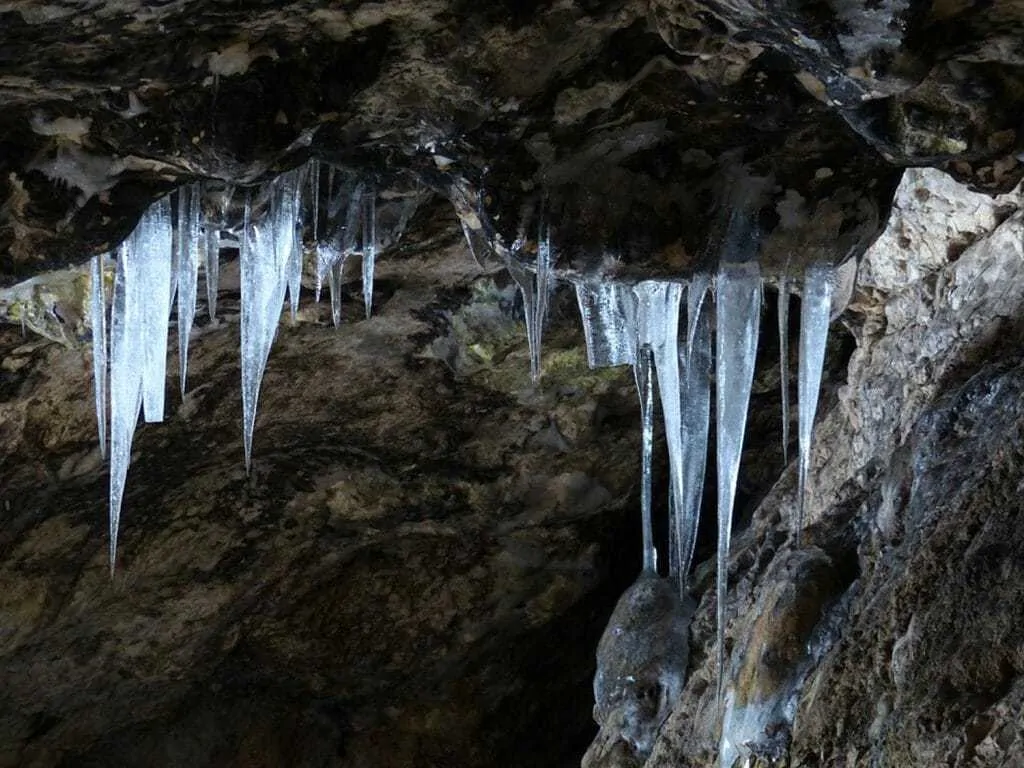 Caverns, including an ice cave, can be explored in Iowa.
Iowa may not be the first place you think of when you think about caves. However, the state has several unique underground caverns – and some of them allow dogs to explore with their owners. For example, Starr's Cave near Burlington, located in the southeastern corner of the state, is a 184-acre state park and preserve managed by the county. Rock formations here are found nowhere else in the world, and although Starr's Cave itself is closed to the public to protect the bat population, two other caves which are man-made, Devil's Kitchen and Crinoid Cavern, are open for human (and canine) exploration. There are also several miles of hiking trails and a nature center at the site. Additionally, Maquoketa Caves State Park contains more caves than any other place in the state. Its limestone formations and rugged bluffs make the caves and the park unique. Located between Dubuque and the Quad Cities, the park also offers miles of trails for hiking and walking, bird and wildlife watching and photography, a museum and interpretive displays, plus picnicking and camping. Other caverns of interest include Decorah Ice Cave State Preserve in the city of Decorah, known for the ice coatings on the walls and floor that stay well into summer, and Grotto of the Redemption, an inspirational man-made maze of gemstones and rocks created by a priest during the early 1900s. Located in the town of West Bend, this incredible site is listed on the National Register of Historical Places..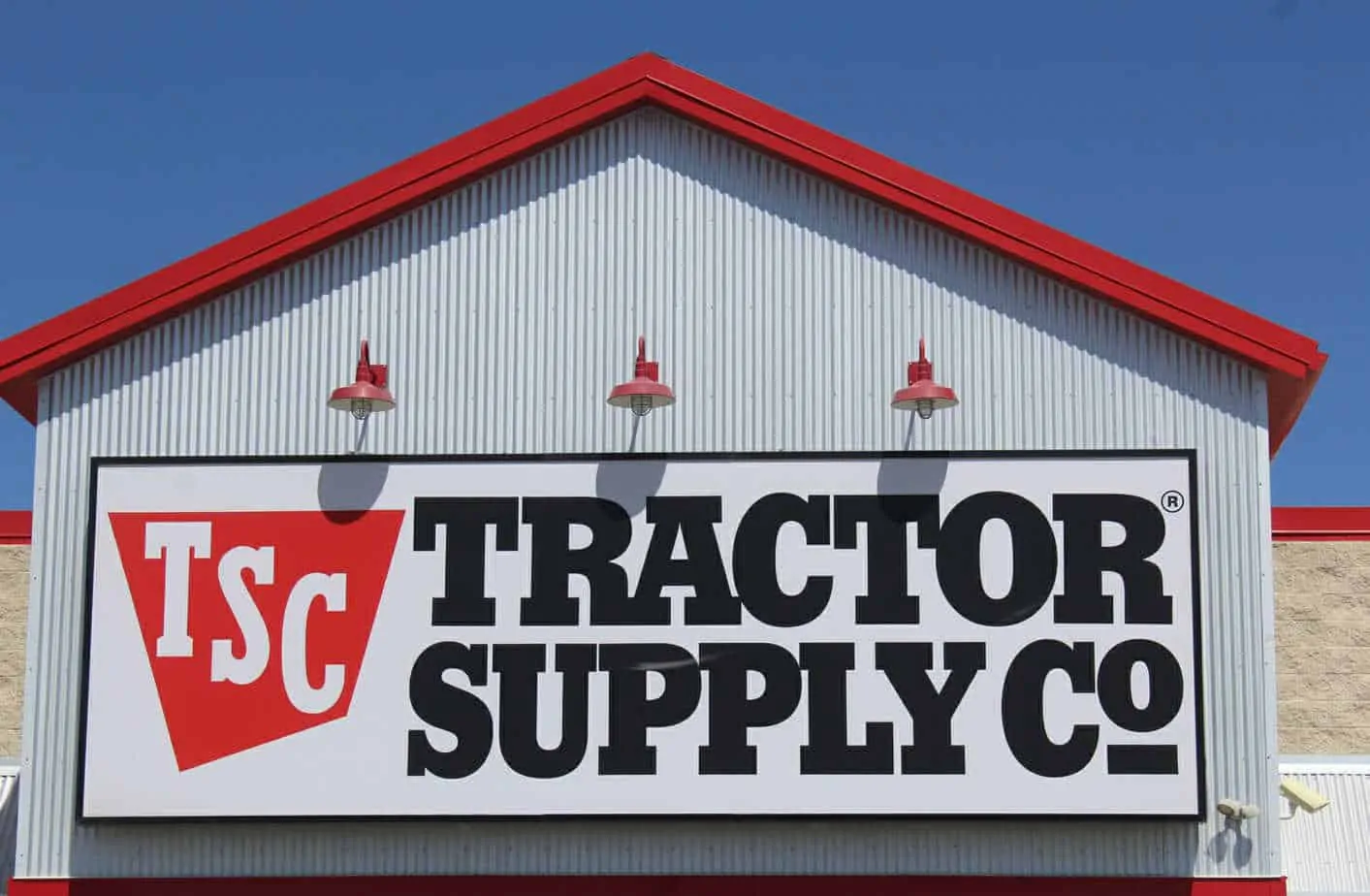 Several stores, including Tractor Supply Company, welcome dogs that accompany their shopping humans.
Big box store pet supply companies, like PetCo and PetSmart, allow dogs to shop in the store with their owners; there are 11 PetCo locations and 11 PetSmart stores in Iowa. Many locally owned pet supply stores, such as Bone-A-Patreat with three locations in Des Moines, also allow pets to accompany their humans. For the outdoor enthusiast, Bass Pro Shops welcomes leashed, controlled dogs inside stores. The 145,000-square foot store off Interstate 80 in Altoona, near Des Moines, features a 30,000-gallon aquarium with fish native to Iowa plus special events and an on-site restaurant (where dogs are not allowed). As you drive across the state, look for Tractor Supply Company; there are at least ten in the state. These stores carry not only pet supplies, but also clothing, shoes, tools, outdoor furnishings, and more. Best of all, purchases at Tractor Supply help fund the rescue and adoption programs of Miranda Lambert's MuttNation Foundation.

Snake Alley, located in Burlington, Iowa, was constructed between 1894 and 1898 and has been designated by Ripley's Believe It Or Not as "Unbelievably Crooked."
Designated by Ripley's Believe It Or Not as "Unbelievably Crooked," Snake Alley in Burlington curves a distance of 275 feet, creating a 21 percent grade from Washington Street to Columbia Street in the city's downtown area. The alley consists of five half-curves and two quarter-curves. Construction of the alley, which is composed of limestone and blue clay bricks, began in 1894 and was completed four years later. Whether driving or walking, you and your dog will enjoy the unique aspects of this special historic street and its unique meanderings to the downtown area, which is bordered on the east by the Mississippi River. Two special events are held each year along the pathway: the Snake Alley Criterium, an uphill bike race each May during Memorial Day weekend, and the Snake Alley Art Fair, held in June during Father's Day weekend. While here, you might also enjoy experiencing Cobblestone Alley, which is located a short distance east of Snake Alley. This site is included in the National Register of Historic Places and is composed of large blocks of native limestone.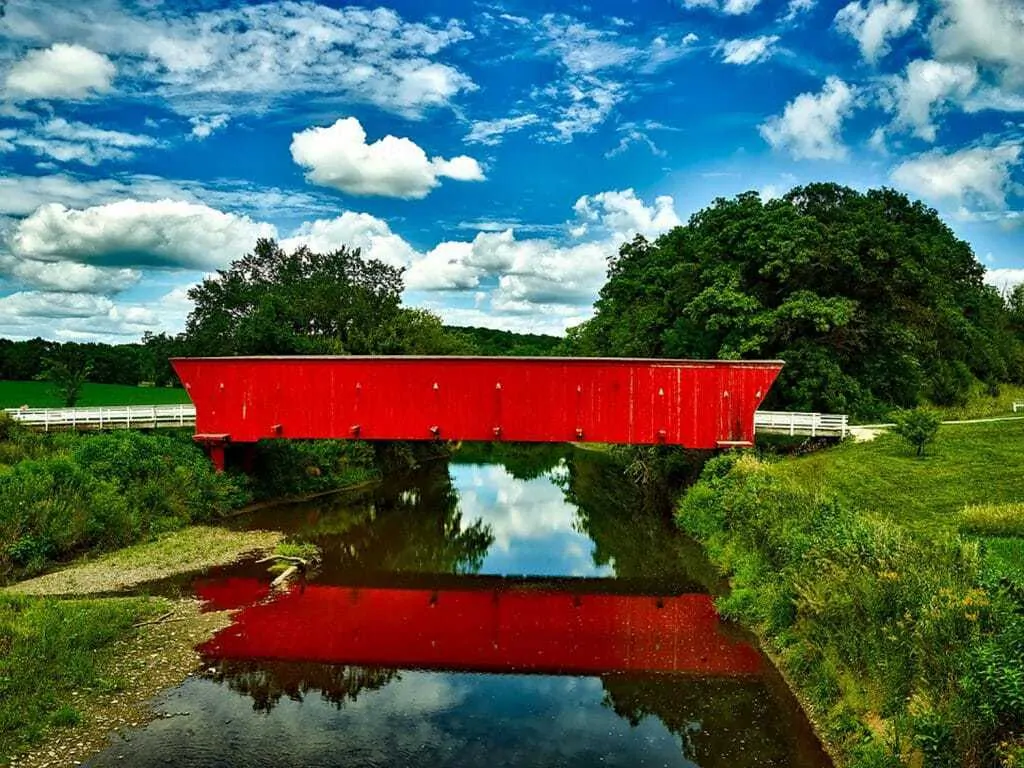 Covered Bridges National Scenic Byway is an 82-mile route featuring several covered bridges and was the inspiration for the book and movie "The Bridges of Madison County."
Off Interstate 35 in western Iowa, you'll find another scenic byway of interest and beauty. The Covered Bridges National Scenic Byway features historic covered bridges which were the inspiration for the novel and movie "The Bridges of Madison County." This area encompasses 82 miles of paved and gravel roads and is noted for natural, historic, and cultural sites. Other unique places are found along the route. Here you'll also find the birthplace of legendary Hollywood actor John Wayne and the only museum in the world dedicated to him. If you enjoy quilting, whether creating quilts or viewing them, explore the Iowa Quilt Museum. Create memories with your pup as you stroll through the covered bridges and explore the communities along the byway.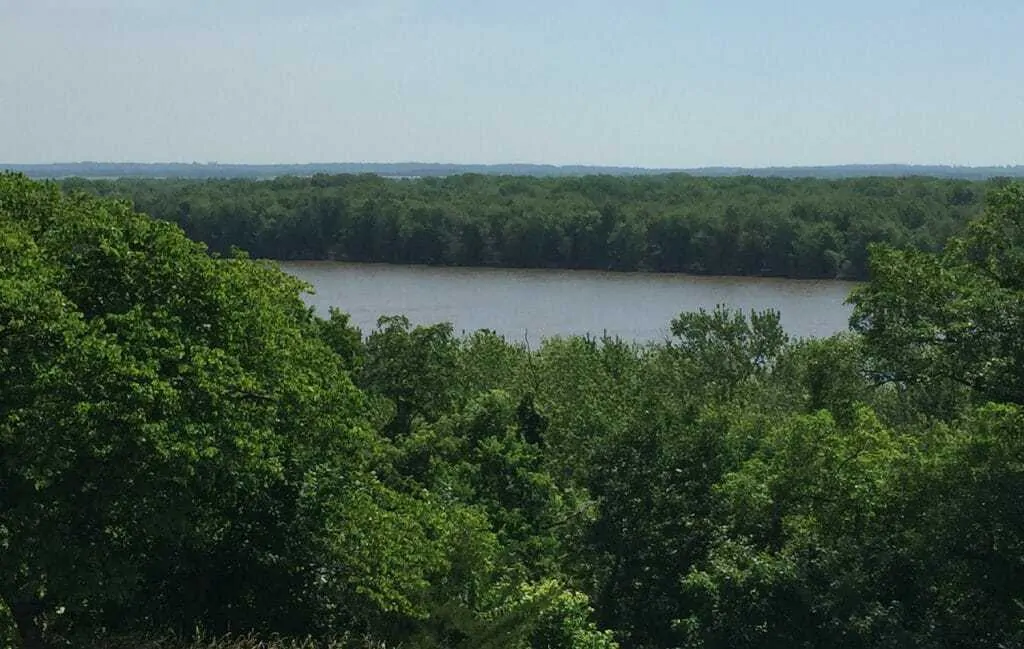 Views of the Mississippi River can be seen from many Iowa communities, including the town of Dubuque and the historic Fenelon Place Elevator.
Take a Scenic Elevator Ride
The world's shortest, yet steepest elevator ride is found in the community of Dubuque, Iowa, a northern Iowa town along the Mississippi River. The Fenelon Place Elevator takes passengers 189 feet from Fourth Street to Fenelon Place, providing an amazing view of the town's historic downtown and of the Mississippi River. The small railway is 296 feet in length and has been in operation off and on since 1882. A small fee is charged for people wanting to experience the ride, and dogs are welcome to accompany their owners.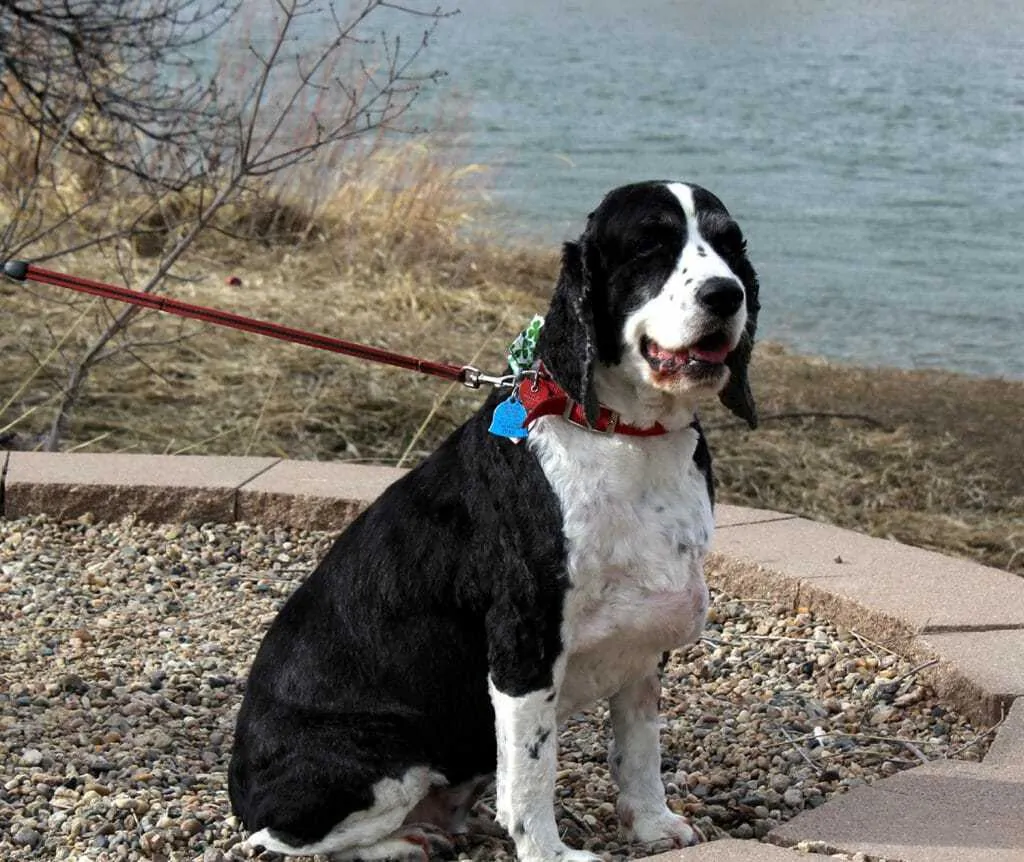 Pet friendly lodging can be found throughout Iowa, including places near waterways and walking paths, providing you and your dog exercise and nature viewing opportunities.
 Stay in Pet Friendly Accommodations
Throughout the state, travelers through Iowa will find pet friendly lodging. From brand name hotels and motels to more up-scale accommodations and bed and breakfasts, you will discover a vast array of places to stay with your dog during your Iowa vacation. If you enjoy the outdoors but aren't into camping, you might look into a cabin or yurt at a state park. Or, if you like the outdoors but prefer a more resort-like setting, consider Honey Creek Resort. Located in southern Iowa near Rathburn Lake and Honey Creek State Park, this unique facility offers a variety of activities, including a water park, disc golf, paddleboarding, fishing, geocaching, naturalist activities and more. The resort is also open during the winter, when guests have access to cross country ski trails and can go ice skating, snow shoeing, and ice fishing. Weddings, family reunions, and other events can be held at Honey Creek Resort, and a dining facility is available. The resort provides dog-friendly accommodations both in the lodge and in designated cottages.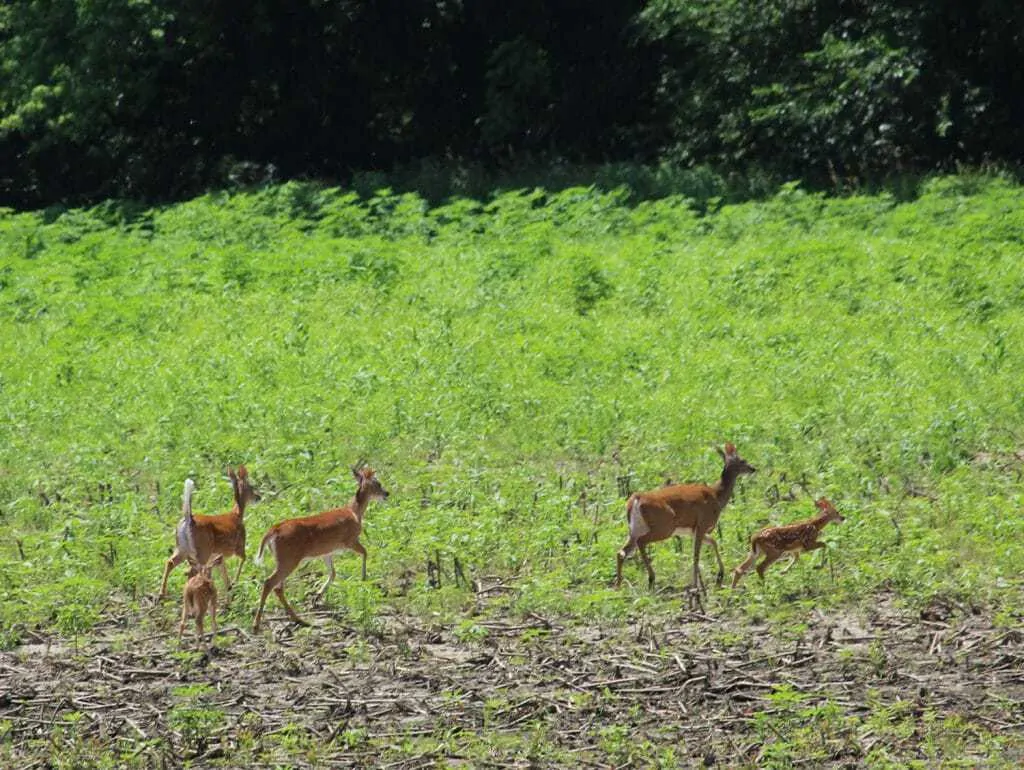 White-tailed deer are commonly observed throughout Iowa.
Visit Iowa With Your Dog
There are many activities and places you and your dog can visit in Iowa no matter the season of the year. Whether you're driving through the state on your way to another destination or you're visiting Iowa for a specific reason, take time to enjoy this lovely midwestern state with its farms, rolling hills, woodlands, and waterways, and make sure you and your dog are prepared for the trip.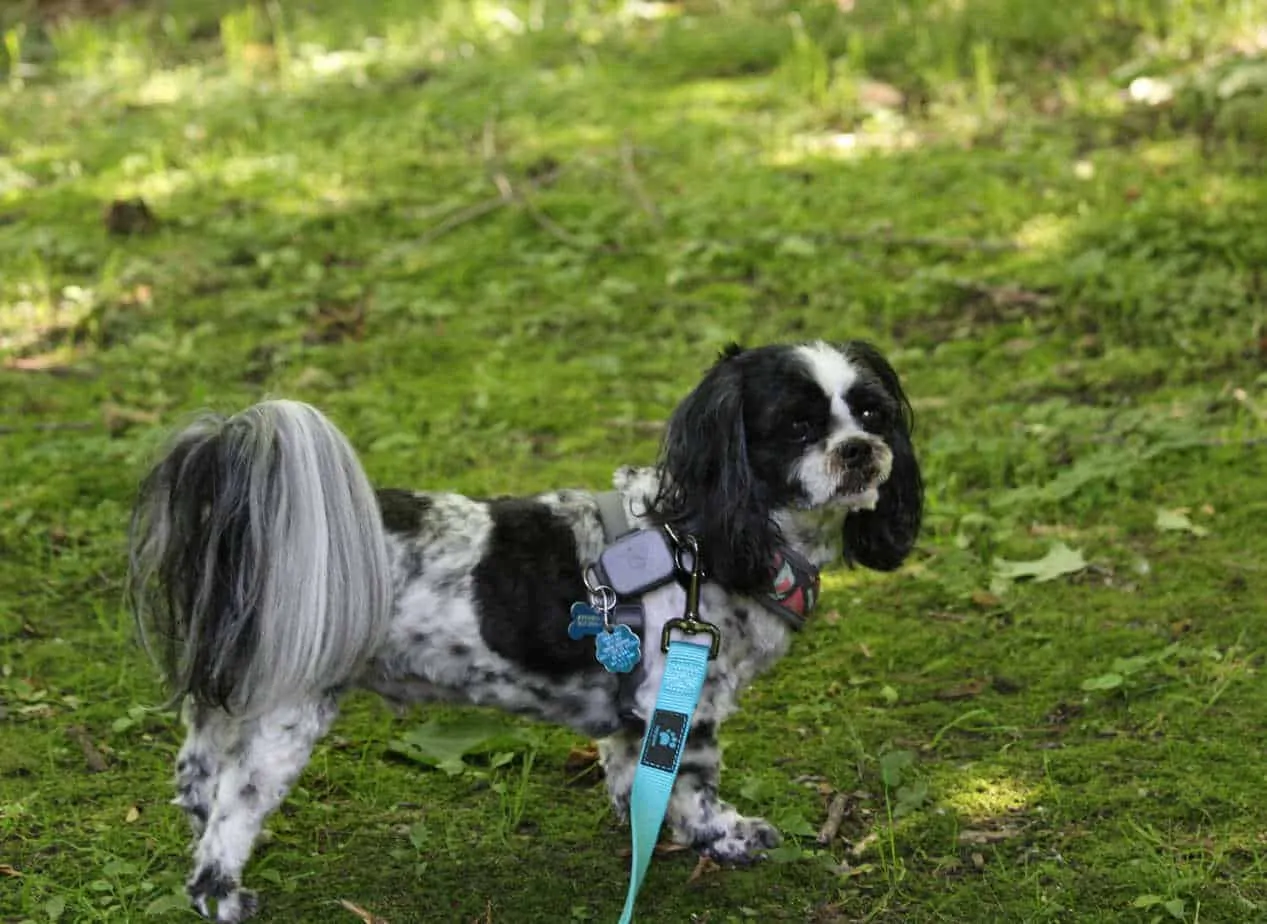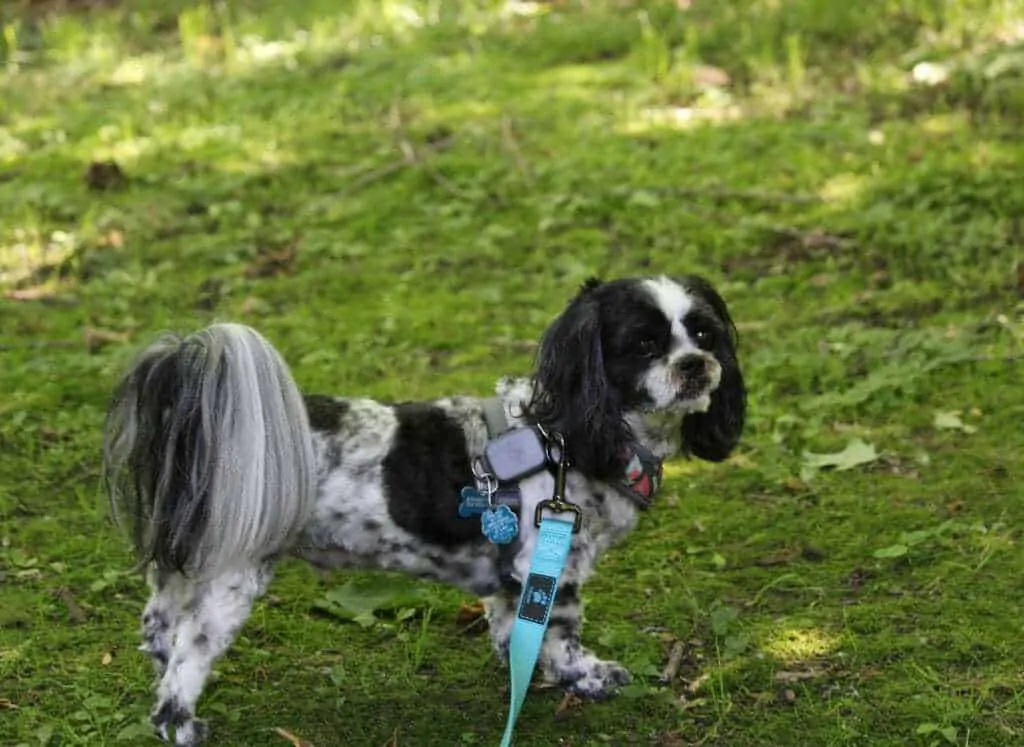 Always bring items your dog needs when traveling together, including collar/harness, leash, and identification tags.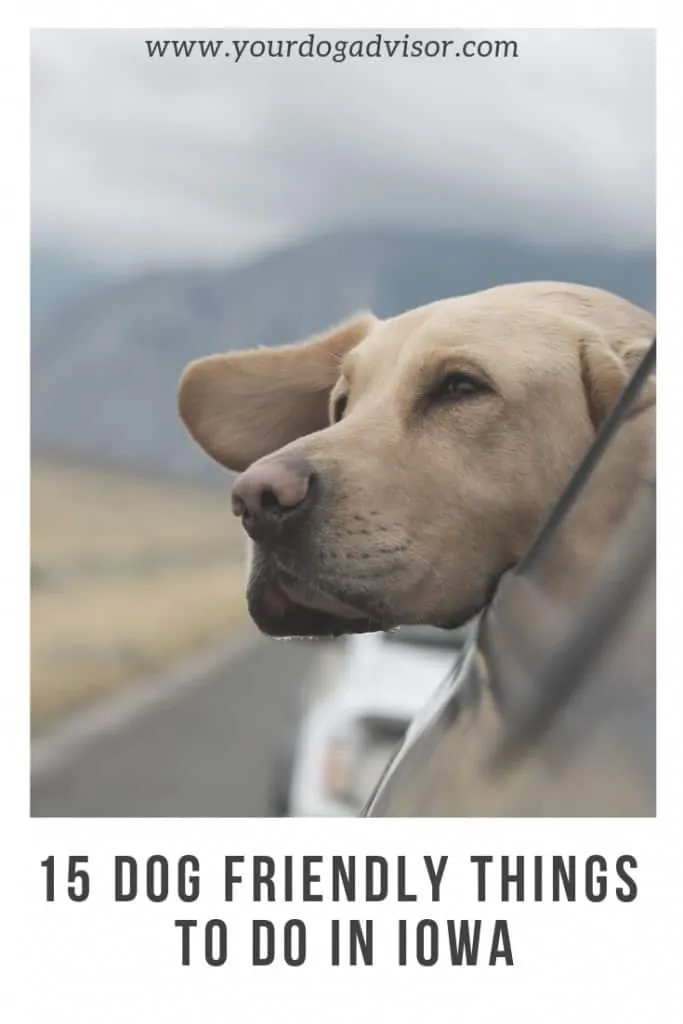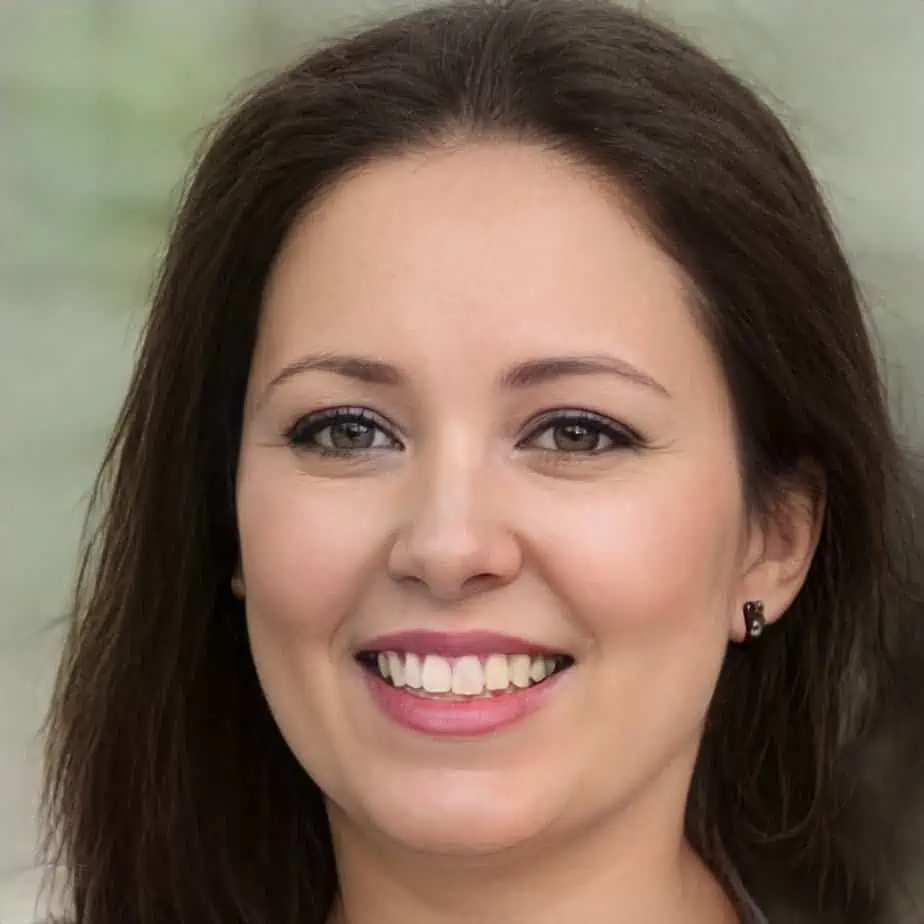 Jen Jones is a professional dog trainer and behavior specialist with more than 25 years of experience. As the founder of 'Your Dog Advisor' and the 'Canine Connection' rehabilitation center, she applies a holistic, empathetic approach, aiming to address root causes rather than merely treating symptoms.
Well known for her intuitive and compassionate approach, Jen adopts scientifically-proven, reward-based methods, encouraging positive reinforcement over punishment. Jen specializes in obedience training, behavior modification, and puppy socialization. Her innovative methods, particularly in addressing anxiety and aggression issues, have been widely recognized. Jen has worked with many of the world's leading dog behaviorists and in her free time volunteers with local animal shelters and rescue groups.