So, you want to take your dog with you on your next road trip, but don't know where to begin when it comes to packing and planning. The good news is that most dogs love to travel and will be thrilled to be invited on your journey. Road tripping with dogs may not always be easy, but it is incredibly rewarding and fun if you plan ahead. Here's a list of the essential items that you'll need for road tripping with your dog.
Basic Items You'll need for Road Tripping with Your Dog

Most dogs love taking road trips!
Before you embark on any road trip with your dog, you should gather a few basic supplies and pieces of gear. The following list includes just the necessities.
A Sturdy Leash and Collar with Tags

This puppy is taking his first road trip.
Your traveling pup should always wear a collar with tags so that he can be reunited with you if you are separated for any reason. Your dog's identification tag should include your name, address, and cell phone number and should be securely fastened to your dog's collar. We love the Nite Ize S-Biner for quickly and securing attaching tags to your dog's collar. The S-Biner also makes it really simple to switch between different collars.
The type of collar you choose for travel will depend a lot on your personal preferences, but if you are looking for something waterproof that will never smell bad, check out the Mighty Paw waterproof dog collar. This adjustable collar is made of PVC-coated nylon, includes a reflective strip, and comes in neon orange or green for high visibility.
Your leash should be sturdy and short (six feet or less) so that you can keep your dog by your side and under control in new environments. Our favorite leash is made of Biothane, which is washable, odor-proof, and waterproof. This Dogline Biothane leash comes in two widths and every color of the rainbow, plus it is made in the USA.
Food and Water
Even when traveling, your dog will need regular meals and access to clean, fresh water. You can certainly bring your dog's regular food and water bowls from home, and you can also secure a bag of dog food with a sturdy clip before hitting the road. Storing your dog food in a special bag, however, will prevent your car from smelling like a pet food store, and collapsible bowls pack down nice and small.
We recommend this travel bag from JSD Works, which holds eight pounds of dog food, is water repellent and features a roll-top closure that packs down small. As a bonus, this dog food bag also includes a collapsible bowl for feeding on the go.
Essential Safety Items

A seatbelt harness will keep your dog safe in the car.
According to the Whole Dog Journal, the safest way for a dog to ride in the car is either in a secure crate fastened in the back of your vehicle or fastened by a seatbelt to a special seat-belt harness. Riding unrestrained poses extreme risk if you are ever in an accident, and riding in the front seat can be dangerous due to your car's airbags.
If you have room for a crate in your car, consider a metal folding dog crate, and secure it with either a seatbelt in the back seat or a tie-down in the hatchback or cargo area of your SUV. If you have a small dog or a small car (or both), you can use a seatbelt harness to keep your dog restrained on the back seat. The PetSafe Solveit safety harness fits snuggly around your dog and then uses an attachment to connect to the shoulder belt in your car. The harness allows your dog a decent range of movement, but they will be secure if you are ever in an accident.
Another important aspect of keeping your dog safe while traveling is carrying a pet first aid kit and knowing how to use it. It's pretty easy to make your own first aid kit for your dog. If you do create your own, you can include everything you need, including medications and supplements that are unique to your dog.
If you want to buy a ready-to-go first aid kit, we like this one because it comes with all the essentials, including a tick remover, saline solution, a syringe (for administering medication), an instant ice pack, and bandages. Add your dog's vet records and medications, and you'll be prepared for any emergencies on the road.
Little Extras to Make this the Best Road Trip Ever
If you've packed the items mentioned above, you've basically got everything you need for your dog-friendly road trip, but there's nothing wrong with packing a few extras to ensure that your dog is happy and content during your road trip vacation. Here are a few things that we never leave behind.
ThunderShirt – Does your dog get anxious? We've been using the ThunderShirt with our dog for years. The ThunderShirt uses pressure to ease your dog's anxiety, whether it's from storms, riding in the car, or new experiences. Put the ThunderShirt on your dog before driving for extra comfort during your travels.
Bones and chew toys – If your dog likes to chew, then it pays to invest in new bones or chew toys and save them for your trip. At home, we use beef bones stuffed with peanut butter, but that can be messy in the car. For traveling, we buy flavored Nylabones or Benebones. These are both suitable for aggressive chewers and last forever.
Car seat cover – If your dog does not ride in a crate in the car, you can keep your seats free of dirt and fur with a protective seat cover. The one we use hangs between the front and back seats like a hammock and features a non-slip backing.
Love the Outdoors? Essentials for Adventuring with Your Dog on Your Road Trip

Be sure to take lots of breaks so your dogs can enjoy the outdoors.
If you know that your road trip will involve activities like hiking or swimming with your dog, we've got a few additional suggestions to make life easier for both of you.
Provided you plan ahead, road tripping with your dog can make your vacation more adventurous and fun for everyone. Take some time to prepare for your road trip and enjoy every minute with your favorite canine by your side.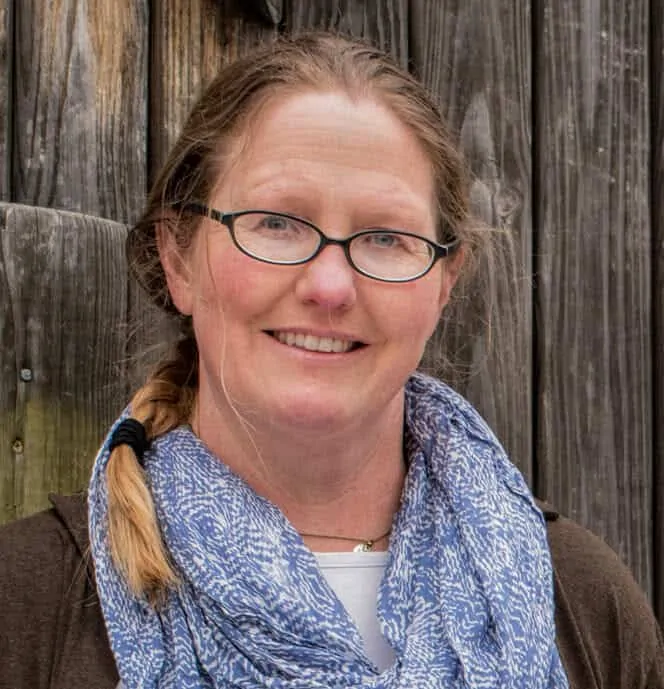 Tara spends much of her time raising puppies for Guiding Eyes for the Blind. She has been volunteering with Guiding Eyes for the past 12 years, and is currently raising her 9th puppy, a frisky German shepherd named Gatsby. Tara will work with Gatsby for a year, providing him with a loving home, obedience training, and many new experiences to help him become a guide dog.
Tara has been a passionate animal lover since she was a little girl. She got her first dog when she was four years old, and has lived with a rotating cast of animals ever since. She is fascinated by the complex bonds that develop between human and animals, and is dedicated to helping people use humane and effective training methods to build deeper relationships with their pets.