Back when I lived in Montana, I used to go jogging early in the winter mornings, long before the sun came up. I often took my one-year-old German shepherd, Bella, with me, and I wore a reflective vest and a headlamp. Bella didn't have a vest. One morning, we were running in the darkness past the house where Bella's sister Scarlet lived. I was listening to music on my iPod, like so many teenagers of the time, and I could see Bella's dark, furry shape running ahead of me.
Out of nowhere, a furry animal lunged at my elbow. I screamed and dropped my iPod. Bella whipped around. I just knew that a coyote or wolf had snuck up on me and was about to attack.
Instead, Scarlet stood next to Bella and me, her tail wagging hard. "You scared me so bad!" I told Scarlet as I walked her back to her house, laughing. "Stay here, okay?"
Bella and I continued on our run, but I remember thinking that it would've been nice if Scarlet—and Bella, for that matter—had been wearing a reflective vest. The light from my iPod might have shone on Scarlet's vest, letting me know it was just a dog and not a wild creature.
Now that I have Eira and live in another place where it's pitch dark in the winter—Alaska—I decided to invest in a reflective vest, finally. When Eira was a younger puppy, I had to wait until daylight seeped through the sky before taking her walking. And daylight in the winter often doesn't come until 10 or 11 am!
Eira in her reflective vest. I got the largest size, and I'm glad I did because it barely fits!
Right now it's summer, meaning that in Alaska, it never gets fully dark. Still, it's a good time to get a reflective vest because then Eira can get used to wearing it before winter hits again.
Even though it never gets truly dark right now, the light does get murky at around one in the morning. If for whatever reason I happened to be out walking Eira, I'd like to know that cars could see her. Several times I've been driving home late at night only to see the flash of reflective tape in my windshield and notice a couple out walking their dog late at night. Though I always drive the speed limit, especially in residential areas, the added warning of reflective tape always makes me slow down and drive extra carefully.
That's why your dog needs a reflective vest—and so do you! Even if you have one, your dog might be walking farther from you and needs her own protection.
Here's how you can find the perfect reflective vest for your dog.
Measure Your Dog Before Buying
With a tape measure, find out how big around your dog's mid-section is, and how thick her chest is, from chest and over the collar area and back. (See the above photo of Eira for clarification on where the straps go and therefore where you need to measure.)
Most reflective vest sizes will give a chest diameter along with each size of vest. If you measure your dog, you'll be confident that you're getting a size that fits. If you're like me and forget this step, opt for the size just above what you think your dog needs. You can almost always adjust a vest to be smaller, but it can be difficult to make it larger.
Once You Choose a Reflective Vest, Test it in a Dark Room
Before heading out with your dog in her new safety vest, you'll want to make sure it reflects as it should, and in smart locations. We tested Eira's vest in my bathroom after we purchased it, keeping the tag and receipt in case it wasn't to our standards. You can never be too safe when it comes to a reflective vest.
As you'll see in this video, I wasn't too sure about the reflection of her vest until the end. Once I was facing her as a car might, I could see the sharp light from the reflective strips. Our vest is a keeper!
The 5 Best Reflective Vests
To make your job easier, we've rounded up the best reflective vests for dogs of all sizes and abilities.
The Illumiseen LED Dog Vest
If you do a lot of nighttime, low-visibility activity with your dog, this vest goes a step further than the typical reflective vest. It's bright orange with two reflective strips that are then studded with bright LED lights. Your dog will be visible regardless of whether car headlights are shining on him or not. Also, this vest comes with adjustable buckles for flexibility and comfort.
On the Amazon listing, you'll notice a handy chart that outlines the measurements that go with each size, from small to extra-large. This is a pricier vest, so it's worth measuring your dog before ordering. And the batteries for the LED lights are rechargeable, so you don't have to worry about what to do when they stop shining.
Good2Go Reflective Dog Safety Vest
This is the vest we bought for Eira. It's less expensive than the Illumiseen but still works well, and even though it's velcro and mesh, Eira hasn't tried to pull it off. She seems comfortable in it. Well, now she does—at first she wasn't sure why she was wearing a bright orange thing on her back!
No products found.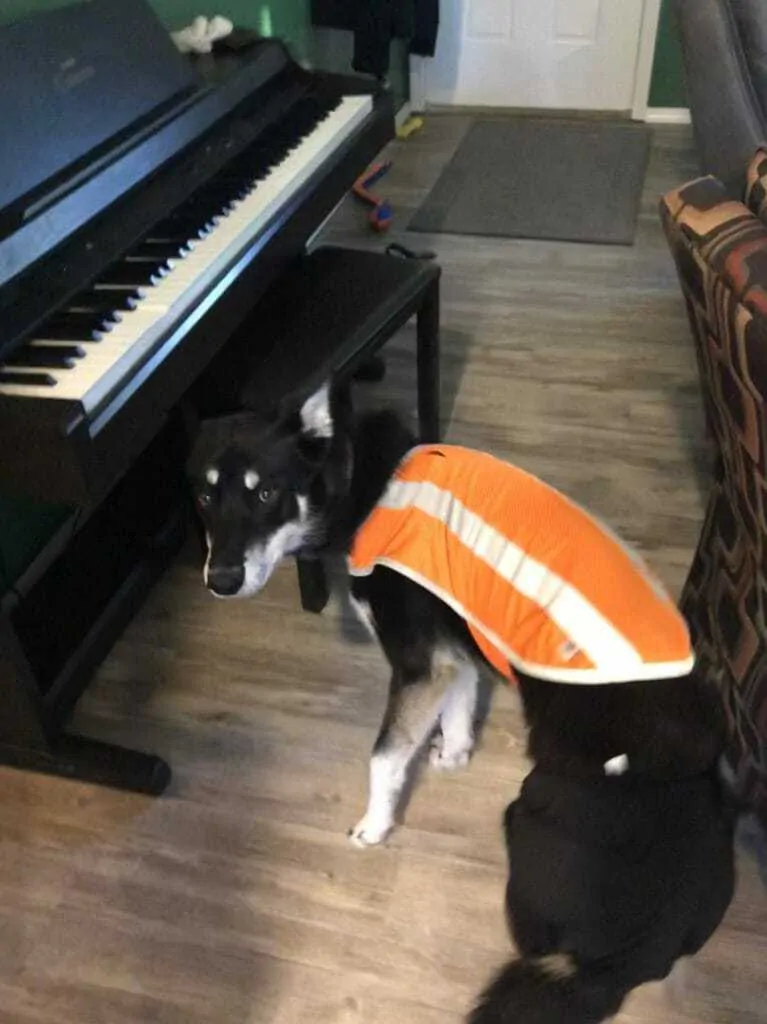 Eira looking less than pleased about her Good2Go reflective vest. She warmed up to it, though!
4LegsFriend Dog Safety Vest for Dogs 10-130 Pounds
Out of all the vests I researched, this one allows for the biggest size range. I will probably purchase it for Eira once she grows more because she's only eight months old and is almost too big for the largest Good2Go vest. The reflective tape on this vest is in the shape of a puppy paw print, which is fun. Not only will it remind drivers to slow down and drive carefully, but it will also make them smile.
It seems more obviously bright than Eira's current vest, so it's worth doing a bathroom darkness test to see how it compares. We'll likely get Eira one before winter descends on Alaska again, and that way we can have two in rotation in case something happens to one, or it gets dirty and we need to wash it.
Funtone Colors Waterproof Safety Vest
Do you live in Oregon or Washington—somewhere it's drizzling more often than not? Or Oklahoma, where torrential thunderstorms can strike without warning while you're out walking your pup? Then this waterproof reflective vest is for you. It's made of a solid yellow material that repels water, and it also features reflective tape in the shape of cute paw prints.
The straps and stitching are reflective, too, giving your dog an added boost of visibility.
Bolux No-Pull Chest Harness With Reflective Straps
While this isn't strictly a reflective vest, this harness is bright green with lots of reflective tape along both sides of every strap. If you have a big dog who's prone to pulling, this harness will not only help you stay safe while you train your dog to walk without pulling but it will also provide safety and visibility during evening and nighttime walks.
There's a reflective vest for every dog out there, and owning more than one is never a bad thing. Road visibility is crucial, especially when you live in an area with dark winters or if you love going on long evening walks with your pup in the summer.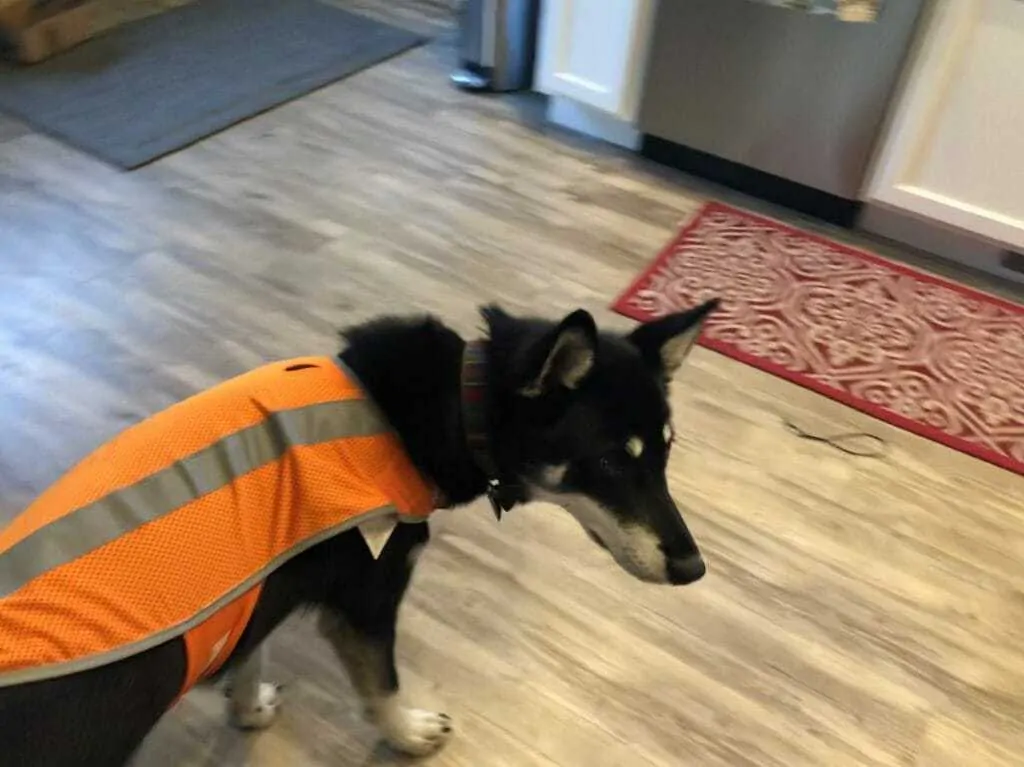 Eira getting used to her reflective vest.
Have you ever experienced a moment where a reflective vest saved your pup from potential injury? We'd love to hear about it in the comments!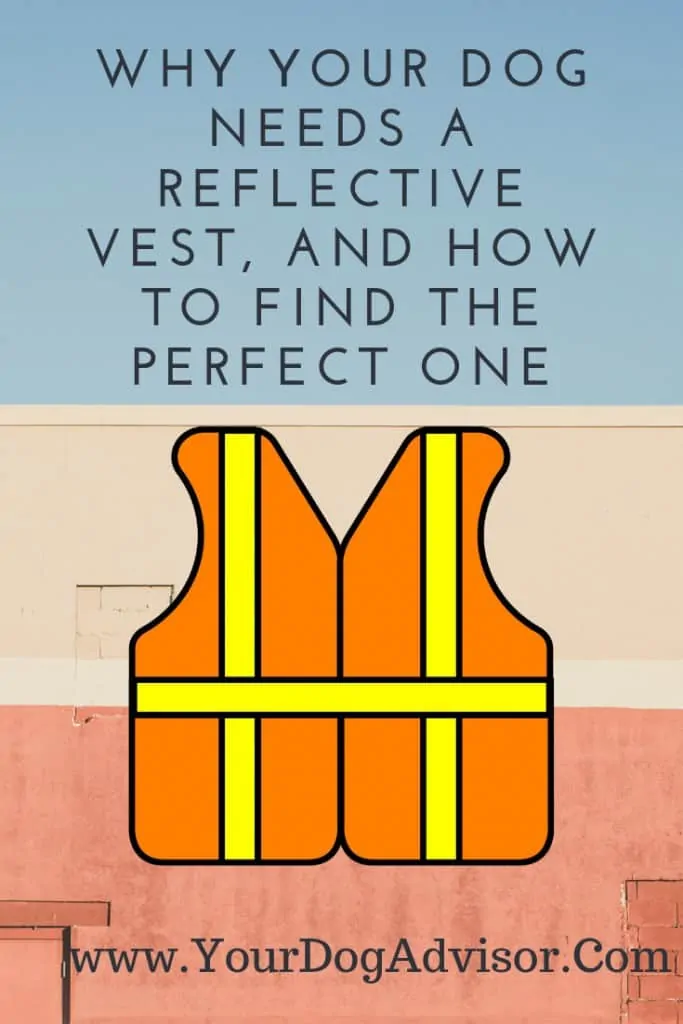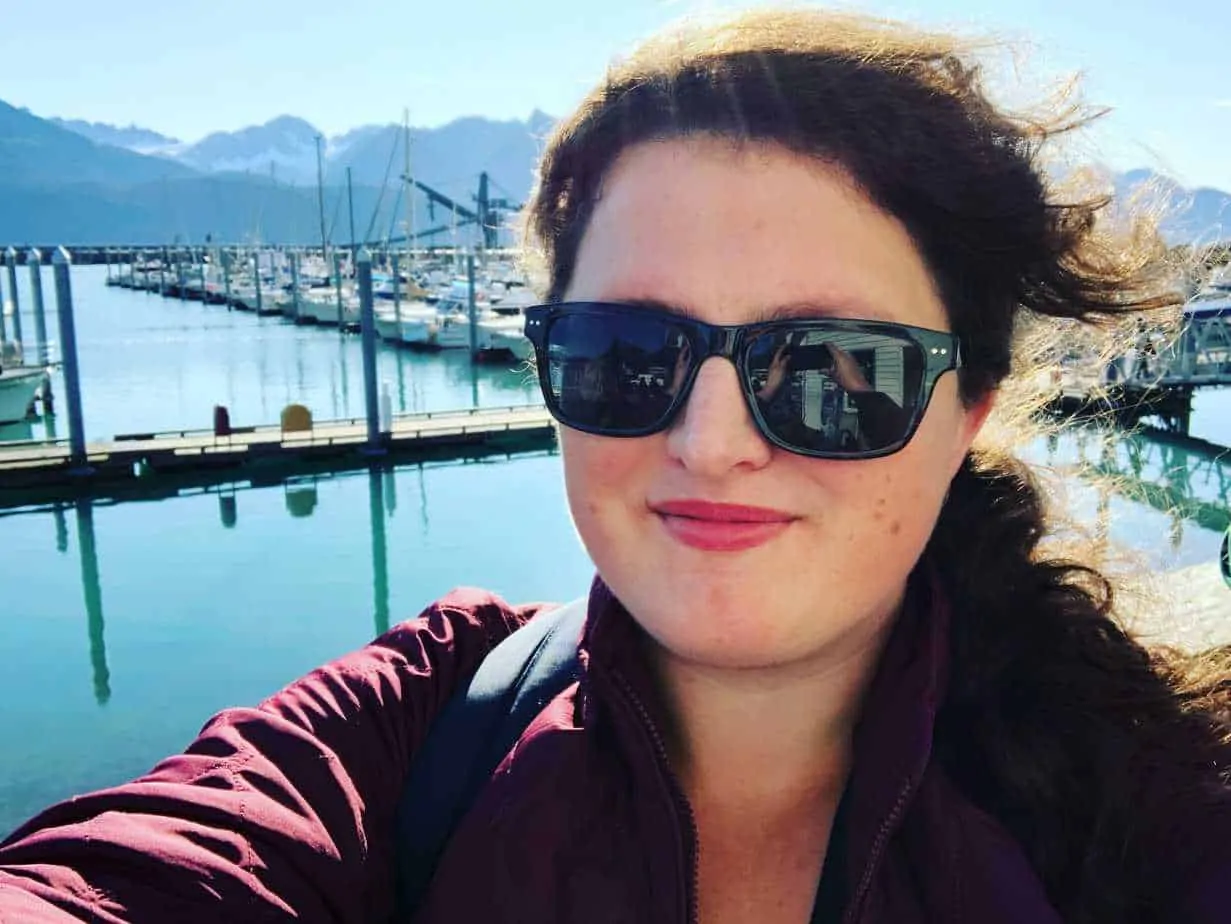 Laura Ojeda Melchor grew up with two beloved German shepherd dogs—Clancy and her daughter, Bella. From the time her family brought Clancy home, Laura took on the duty of pooper-scooper and potty trainer. As a teenager Laura helped her mother care for Clancy during her pregnancy. She still remembers fondly the exciting, frigid winter night when the seven special puppies were born. Laura kept the youngest puppy—Bella—and potty trained her, too. She taught Bella important commands, took her for long walks, and spent hours throwing tennis balls for her.
In November, Laura brought home a sweet new puppy, Eira Violet. Eira is half Alaskan malamute and half German shepherd, and Laura loves her deeply. She chose not to use a crate to potty train Eira and was pleasantly surprised at the results. She now has a sweet, energetic dog who always uses the potty outside, plays well with Laura's toddler, and enjoys long family walks in beautiful Alaska. If you were to meet Eira, she'd bound up to you with a wagging tail and get you running around the yard with her in no time.