Are you looking for a way to make your life easier as a dog parent? Then you might want to consider investing in an indoor dog potty. Indoor dog potties can be useful for a number of reasons, and many pet parents have found they allow for more freedom.
On the flip side, indoor dog potties are also surrounded with their fair share of controversy. Not everyone supports the idea, though dog parents who have used them properly tend to swear by them.
So, are you ready to learn about an indoor dog potty and find out if this option might be right for you and your fur kid? Then keep reading because that's what today's article is all about!
What Is An Indoor Dog Potty?

An indoor dog potty can be any type of indoor potty pad or dog grass to help reduce accidents and stains on flooring or carpet.
As you might expect, an indoor dog potty is a product that allows your dog to do his doggy business inside. There are different types of indoor dog potties, and this makes it much easier for owners to customize the type of indoor dog potty they commit to based on their lifestyle.
Some common indoor dog potty options you may have heard of include:
Disposable Potty Pads
Disposable indoor potty pads, also called pee pads or puppy pads, are some of the most widely used indoor dog toilet options available. They are generally affordable, easy to use and simple to clean up.
One of the best things about disposable potty pads is that they are similar to disposable diapers. Once they are soiled, you simply roll them up and throw them out. Of course, we recommend throwing them away in an outside garbage bin or at least putting them in a bag first. Otherwise potty pads can cause odor in your indoor garbage bin.
Washable Potty Pads
If you're looking for a more environmentally friendly option for an indoor dog potty pad option, we would recommend investing in washable potty pads. Most owners suggest getting at least four or five, that way you can replace the one you've picked up to wash.
Another great thing about washable potty pads is that they are more affordable. They last longer than disposable indoor dog potty pads so you're definitely saving money and time.
Artificial Grass
Some dogs are funny about going potty on indoor dog potty pads, so companies have gotten savvy by creating spaces that look and feel like outside grass. This is a great option for owners who have dogs who prefer to go potty outside.
The downside to artificial grass indoor dog potty options is that they need to be cleaned up consistently to reduce odor.
Real Grass
Yes, real grass is also an option for your indoor dog potty solution. While this option may be a bit more costly upfront, it's also a beautiful option that allows your dog to use real turf. The grass option also means that there's no cleanup when it comes to urin, and you can reuse this pad for a few weeks before you need to recycle it.
Companies who provide real grass options for indoor dog potty solutions also often allow you to set up automatic delivery so your pup is never without his toilet.
Indoor Litter Trays
Some dogs can be trained to use litter boxes. This option is easy to use and simple to maintain. Depending on the product you purchase, a litter box option may be less expensive than others, be more efficient, reduce odor and even be more environmentally friendly.
Grate Potty Pans
The grate potty option is ideal for smaller dogs, though it is possible to train large dogs to use this indoor dog potty option as well. Grate potties work by using a plastic or metal grate that sits over a flat or low pan. The waste falls through the grate openings into the pan, and you then clean both the pan and the grate once you are ready.
This option is another that is more environmentally friendly than some. It is also easy to use and maintain. However, it can lead to stronger odors in the home if not cleaned up properly.
Why Would A Dog Need An Indoor Dog Potty?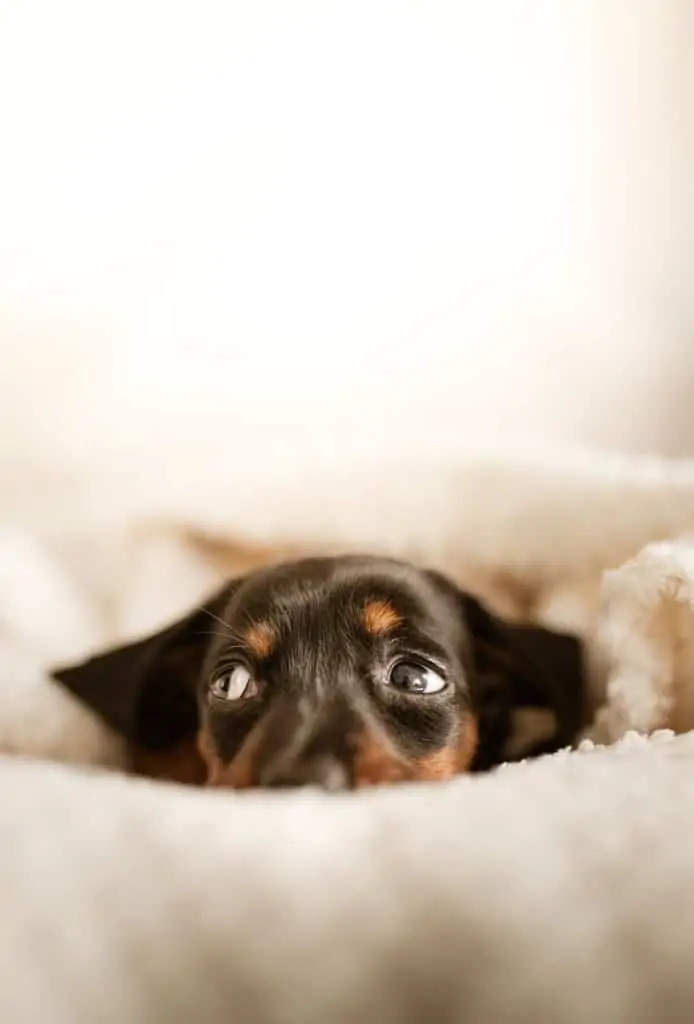 Both dogs and owners could benefit from a dog potty for a number of different reasons.
Potty training is one of the most time consuming and important parts of being a dog parent, and it doesn't end once your dog has become house broken. Environmental changes, moves, illnesses and aging can all play a role in your dog's bathroom habits or lack-there-of.
And while indoor dog potty options do have some controversy amongst breeders, trainers and vets, most experts do agree that they have their place.
Let's take a look at some of the reasons you might need an indoor dog potty:
You Live In A High-Rise Apartment
If you live in a high rise apartment and you're a dog parent, an indoor dog potty may be a necessity. Like people, dogs may need to use the bathroom at different times during the day and night.
Imagine waking up at two AM to take your dog down 22 floors just so he can go potty! That's not ideal for the dog or the owner.
You Have A Very Young Puppy Or A Very Elderly Dog
It can take several weeks to a few months to fully train a puppy. During that time, you might find that indoor dog potty options help reduce potential accidents on flooring or carpets. This can also help reduce marking in the future, as the smell of urine is very hard to get out completely and can cause your dog to repetitively go in the same location.
Senior dogs may also benefit from indoor dog potties, especially if they have trouble getting around or holding their bladders.
You Cannot Let Your Dog Out As Often As You Wish
Some people rely on dog walkers, pet sitters, or family members to drop by and walk their dog for them. Outside of that, they may not have the option of easily getting up and letting their dog out each time the dog needs to go.
Indoor dog potties are an essential to both you and your dog if this is the case, and they can certainly make life a whole lot easier for everyone.
You Must Leave Your Dog For More Than Three Hours At A Time
Most experts agree that you shouldn't leave a dog alone for longer than six to eight hours. However, dogs may still have to potty a few times in that time frame. Dogs who hold their bladders for too long can be prone to health issues like bladder infections and kidney problems.
If you don't have a doggy door or access to family or a dog walker to let your dog out while you're away during the day, an indoor dog potty option is an excellent help.
Your Dog Struggles With Incontinence Or Submissive Urination
Some dogs can struggle with holding their bladder. Others may get so excited or fearful they urinate on the spot (aka Submissive Urination).
Dogs like this can do well with an indoor potty pad to rely on. Not only does this reduce accidents and problems for the owner, it can give the dog a better sense of control.
If Your Dog Is Sick Or Recovering From An Injury or Surgery
An indoor dog potty may not be a permanent fixture in your home. In fact, some people use indoor dog potties temporarily for dogs that are sick or recovering from an injury or surgery.
Dogs on certain medications like steroids may also do well with an indoor dog potty, as these kinds of medications can lead to an increase in water intake and more excessive urination.
Best Indoor Dog Potty Options For Small Dogs

Small dogs can be difficult to house train, but indoor dog potties can help.
Small dogs are notorious for going potty in the house. Contrary to popular belief, this has nothing to do with how intelligent small dogs are or how "difficult" they are to train.
In fact, small dogs are just as intelligent and as capable as large dogs when it comes to house training. The problem lies with their small bladders and the smaller amount of urine they produce.
Large breed dogs seem easier to train because they can hold their potty longer. They also leave bigger puddles if they have an accident, which makes it much easier for owners to spot so they can clean up.
When a small dog has an accident, it can easily go unnoticed. Leaving that smell of urine behind in your carpet is basically like leaving a calling card to your little dog that tells him "you should potty here!", which can lead to repetition in indoor urination and marking.
To reduce some of these issues, you might consider investing in an indoor dog potty for small dogs.
We have listed some of our favorites below.
Blyss Pets Klean Paws Indoor Dog Potty Grate
We did mention a dog potty grate above, and if you weren't sure what we were talking about this is it. The Blyss Pets Klean Paws Potty Grate is ideal for owners who want their pets to learn to go potty indoors but are not big fans of potty pads that can lead to dirty paws.
The urine falls right through the grate and collects in the below tray. To make cleanup easier, some owners opt to layer the bottom tray with potty pads. Otherwise, you can easily wash the tray out using soap and water or household cleaning solutions.
Amazon Basics Small Dog Potty Pads
If you're looking for some basic indoor dog potty pads, we recommend Amazon Basics Potty Pads. These pads are affordable, easy to use, and perfect for smaller dogs. The pads quickly absorb urine and include a plastic lining to prevent leaks on the sides and to keep floors dry and stain free.
There is also a scent attractant built into the indoor dog potty pad to help encourage your dog to use it.
Artificial Grass Turf Indoor Dog Potty
This artificial grass turf indoor dog potty is easy to use and small enough for smaller spaces. You can order it for large dogs as well, but we like this original size for smaller dogs. It includes a tray below the turf that you can either cover with disposable potty pads for easier cleaning or fill with kitty litter.
You can also just clean it with soap and water if you prefer. This indoor dog potty is designed to be long lasting and durable, and it mimics real grass to help entice dogs to use it.
However, it can develop an odor if you don't clean out the tray and the top of the artificial grass routinely, so be sure to read the directions in the description before purchasing.
Best Indoor Dog Potty Options For Large Dogs Or Multi-Dog Households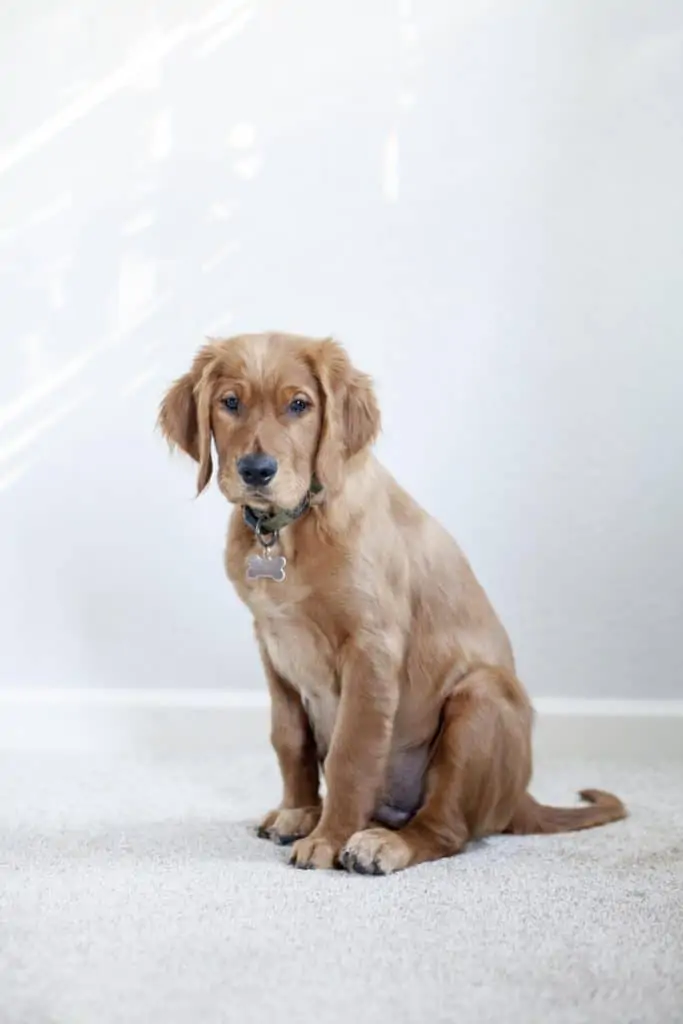 Large dogs can also benefit from indoor dog potties.
Initially, you may not have thought of an indoor dog potty as being an option for your larger dog. However, and as we previously mentioned, all dogs can benefit from an indoor dog potty.
Large breed indoor dog potties are designed for larger dogs and can hold more urine. They are also sometimes more durable and will last a bit longer.
These indoor dog potty options below are not only great for larger breeds, but we also recommended them for homes with multiple dogs as well.
Four Paws Wee-Wee XL Pads
For a large breed or multi-dog household we would recommend an indoor dog potty pad that is extra large, extra absorbent, and extra durable. The above pad is a typical dog potty pad designed for dogs of all sizes and ages, so it's ideal for a large dog or a multi-dog household.
They are 80% bigger than typical indoor dog potty pads and include six layers of leak-proof technology that help to absorb moisture and prevent leaks.
And if you're trying to train your dog to use an indoor dog potty, you'll love that this potty pad includes a targeted attractant that helps entice your dog to use the potty pad using a scent you can't smell.
You can order the pads in four different count options as well in case you want to give them a try before you commit to buying a large package.
Pet Impact Reusable Training Pads
We like reusable training pads because they are not only environmentally friendly but can also help save you money in the long run. The above reusable indoor dog potty pads are designed for large breed dogs or multi dog households. They are also shred-proof, which is helpful when leaving your dog or dogs home for a few hours at a time.
Like all good indoor dog potty pads, this pad will quickly absorb moisture and is leak proof and waterproof. It also helps reduce odor and protect floors and carpets.
Large Artificial Grass Indoor Potty
Grass indoor dog potties are not only great for picky dogs who prefer using grass to do their business, but they can also help with training if you want to incorporate your dog going both indoors and outdoors.
This indoor dog potty is made with artificial turf and is made durable with edge weaving, which reduces grass loss over time.
It also includes a drain hole, so the urine will go into the bottom trey without getting on your dog's paws. This potty is safe to use for your dog and easy to clean for you. It also reduces pet odor when cleaned routinely.
How To Train Your Dog To Use An Indoor Dog Potty

Positive reinforcement training using treats and praise has been shown to work best when potty training.
Training your dog to use an indoor dog potty is similar to training your dog to go potty outside. In fact, one of the great things about many of the above listed indoor dog potty options is that they are even scented to help entice your dog to use them.
That said, if your dog is already trained to use the bathroom outside, you might run into some complications getting your dog to go indoors.
Let's take a look at a few tips and tricks for how to train your dog to use his indoor dog potty.
Training A Puppy To Use An indoor Dog Potty
If your dog is a puppy, begin training him to go on the indoor dog potty first before you train him to go outside.
Be sure to feed your puppy on a schedule and restrict his access to the entire house. You may invest in a puppy pen or you can consider setting up a special room for your dog, like the laundry room or mudroom.
Put your dog's food on one side of his space and his indoor dog potty on the other side. Then, as we said, feed your dog on a schedule and guide him to the pad whenever it's time to go potty. Use the same phrase each time you take your dog to the pad, and be patient.
When your dog uses the pad, be enthusiastic. Use lots of praise and treats. Avoid punishing your dog if he has accidents during training. This could lead to more accidents over time and will not help your dog learn what you want from him.
Once your puppy is used to using his indoor dog potty, you can begin teaching him how to go potty outside as well. Use the same techniques listed above.
If You Have An Adult Dog
If your adult dog is already potty trained to go outside, you can use the same techniques listed above and use the same phrase you use for your adult dog like "go potty" with your indoor dog potty.
Of course, instead of taking your dog outside to go potty after he eats, leash him and take him to his indoor dog potty. Tell him "go potty" and wait. This may take some time, but treat it as if you are potty training all over again.
Be patient with your dog, and use treats and praise. Avoid punishments during training, as again this can hinder your dog's progress.
You also have the option of buying special sprays that can help communicate to your dog that the indoor dog potty is where he should go, and we've listed one of our top picks below.
Bodhi Dog Potty Training Spray
There are a few different types of potty training sprays and attractants you can find, but we like the above potty training spray for teaching your dog to go on an indoor dog potty.
This spray is made with safe ingredients that attract your dog and communicate to him where he should go potty. It helps decrease training time and can be used for both inside and outside. Best of all, this spray works for both puppies and adult dogs of all ages!
When Not To Use An Indoor Dog Potty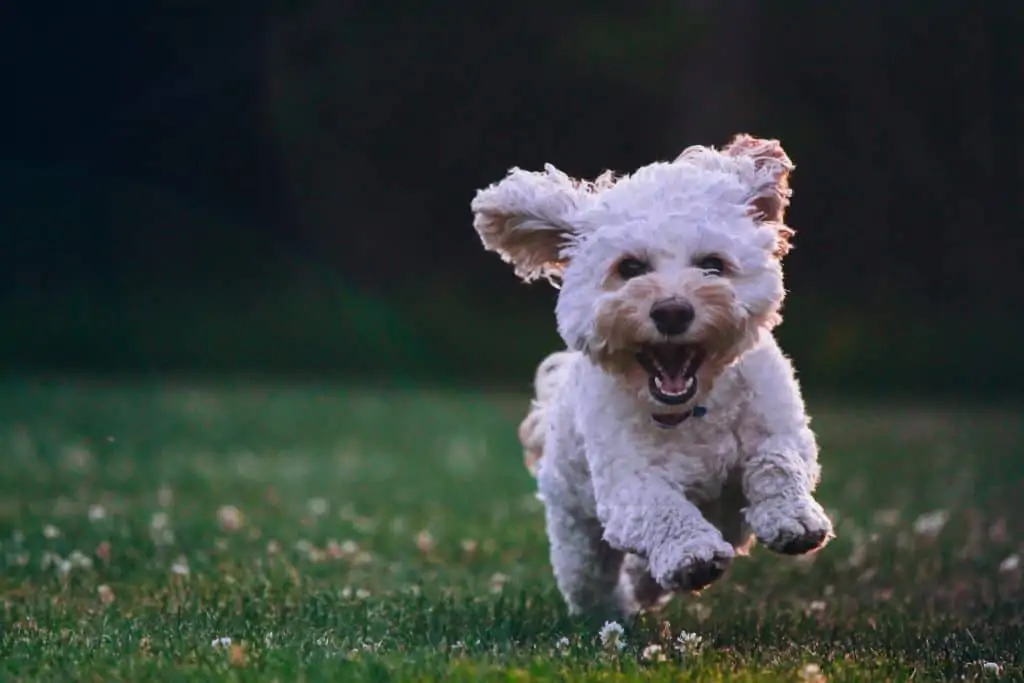 Indoor dog potties are not supposed to act as replacements for outings and exercise.
Indoor dog potties can certainly make life much easier for dogs and owners who truly need them. However, it's also important to make sure you are using an indoor dog potty for the right reasons.
Do Not Use An Indoor Dog Potty If You Want To Train Your Dog To Go Outside Only
An indoor dog potty is helpful only to those who are okay with their dog going potty both inside and outside of the home. If you don't want your dog to view the inside of your home as a safe space to go potty, we do not recommend you use an indoor dog potty.
While it is possible to train your dog not to use an indoor dog potty and revert back to using the outdoors, it is also difficult and confusing for your dog, especially if he gets in trouble for going potty inside the home.
Do Not Use An Indoor Dog Potty To Replace Walks Or Outings
Indoor dog potties are designed to help make you and your dog's lives easier by providing alternatives to going outside when using the bathroom. Of course, indoor dog potty options are not designed to replace walks and outings.
Dogs are intelligent, emotional, and energetic creatures. No matter how old or young your dog is, he is still going to require routine daily exercise and mental stimulation.
Do Not Solely Rely On Indoor Dog Potties So You Can Be Gone All Day
Experts warn against using indoor dog potties as tools that allow you to be gone all day and night. While your dog may use his indoor dog potty while you're away, he can also begin to develop anxiety that can lead to destructive behaviors, marking, barking and even health issues if he is consistently left alone for too long.
If you have a very busy schedule and must leave your dog home alone often, experts recommend you consider not only investing in an indoor dog potty, but also a professional dog walker or pet care expert to stop by and help keep your dog entertained and exercised.
Is An Indoor Dog Potty Right For You?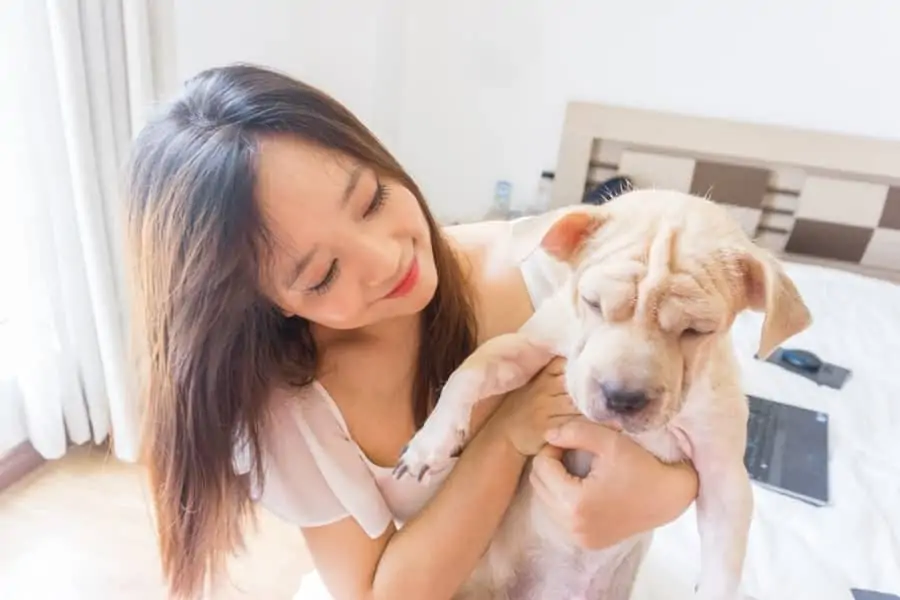 Deciding to use an indoor dog potty has its pros and cons.
Like most things, an indoor dog potty can come with its fair share of pros and cons. Before you decide if an indoor dog potty is right for you and your dog, we suggest considering the list below.
Pros Of Using An Indoor Dog Potty
Indoor Dog Potty Products Can Reduce Chances Of Accidents On Floors
They Can Prevent Your Dog From Marking
Indoor Dog Potties Can Help With Training
They Can Make Life Easier For The Dog And Owner
They Can Be Purchased In Different Size Options and Types
Indoor Dog Potties Can Take The Place Of Dog Diapers Or Belly Bands
Cons Of Using An Indoor Dog Potty
Sometimes Urine May Leak Off The Pad
Sometimes Dogs Miss Their Mark When Going
Some Indoor Dog Potty Products Are Not Environmentally Friendly
Dogs May Not Use The Same Pad More Than Once
Indoor Dog Potty Options Can Cause Odor If Not Cleaned Up Properly
Indoor Dog Potties May Confuse Dogs Or Hinder Outdoor Training
So, what do you think about an indoor dog potty? Would one of our options above work well for you and your unique dog? Let us know what you think about indoor dog potty options in the comment section below.
Thanks for reading!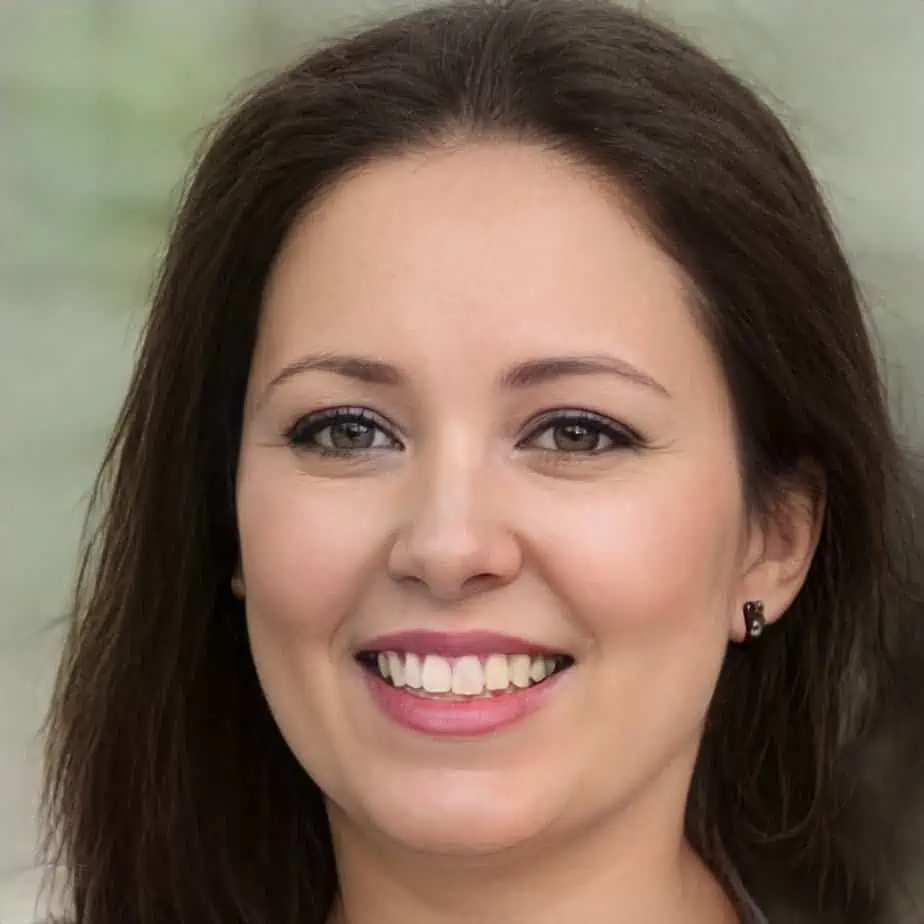 Jen Jones is a professional dog trainer and behavior specialist with more than 25 years of experience. As the founder of 'Your Dog Advisor' and the 'Canine Connection' rehabilitation center, she applies a holistic, empathetic approach, aiming to address root causes rather than merely treating symptoms.
Well known for her intuitive and compassionate approach, Jen adopts scientifically-proven, reward-based methods, encouraging positive reinforcement over punishment. Jen specializes in obedience training, behavior modification, and puppy socialization. Her innovative methods, particularly in addressing anxiety and aggression issues, have been widely recognized. Jen has worked with many of the world's leading dog behaviorists and in her free time volunteers with local animal shelters and rescue groups.