Service dogs are nothing new. Canines offering a helping paw to human beings has been in existence nearly as long as the human-dog relationship. In fact, most early domestication of wolves was designed specifically to create working dogs who could assist humans and aid in their survival.
Most of these dogs worked as hunting and guard dogs, while others were used as herding dogs and even search and rescue dogs.
Today, modern service dogs work a bit differently. When we think of service dogs, many of us tend to think of the traditional guide dogs who help give independence to the seeing or hearing impared. Of course, there are a number of other types of service dogs as well, ranging from emotional support dogs to medical alert dogs.
Is your dog a service dog? If so, it's important your dog wears this as a badge of honor. With that in mind, let's talk about how you can get your dog a service dog vest. But first, it's a good idea to understand what makes a true service dog.
What Makes A True Service Dog?

A service dog is a dog that is trained to perform a specific task to help enhance the quality or safety of their owner's lives.
As we mentioned above, there are several different types of service dogs. The term service dog in general is referring to a dog who is professionally trained and registered to assist in their human's daily activities and help aid in quality of life, provide independence, ensure health and provide overall safety.
There are many different types of service dogs, but the eight most popular types of professional service dogs recognized in the United States and throughout the world include:
Guide Dogs
Hearing Assistance Dogs
Diabetic Alert Dogs
Seizure Response & Alert Dogs
Mobility Assistance Dogs
Allergy Detection Dogs
Autism Support Dogs
And Psychiatric Service Dogs
Any breed or mix of dog can be qualified as a service dog so long as they have gone through the proper training and registration. However, some dog breeds or mixes are not allowed in certain regions, states, public transportation areas, or professional establishments regardless of their service dog status.
For example, Pitbull Terrier breeds are banned from some cities, and even certain air travel companies or public transport companies specify that these breeds are not permitted on board.
It's also important to know that the laws have been shifting in regards to psychiatric service dogs, also known as emotional support dogs.
In the past, it was simple to register your dog online as an Emotional Support Dog by simply answering a few questions and paying a small fee. Today, however, it's important not only to professionally register your dog as a support or service dog, but also to go through the proper protocols to ensure your dog is properly trained.
You may also be required to visit a doctor or specialist to sign a certificate proving you are in need of an emotional or psychiatric service dog.
Other types of service dogs can take up to two years to professionally train, although you have the option of taking classes and training your service dog yourself.
Once your dog is registered as a true service dog, it's important not only to keep all paperwork, certifications and identification cards on hand, but to also ensure you get a quality service dog vest for your dog.
That said, not every service dog vest is made equally and there are different types of service dog vests for different types of service dogs.
Keep reading to learn more.
Understanding The Different Types of Service Dog Vest Options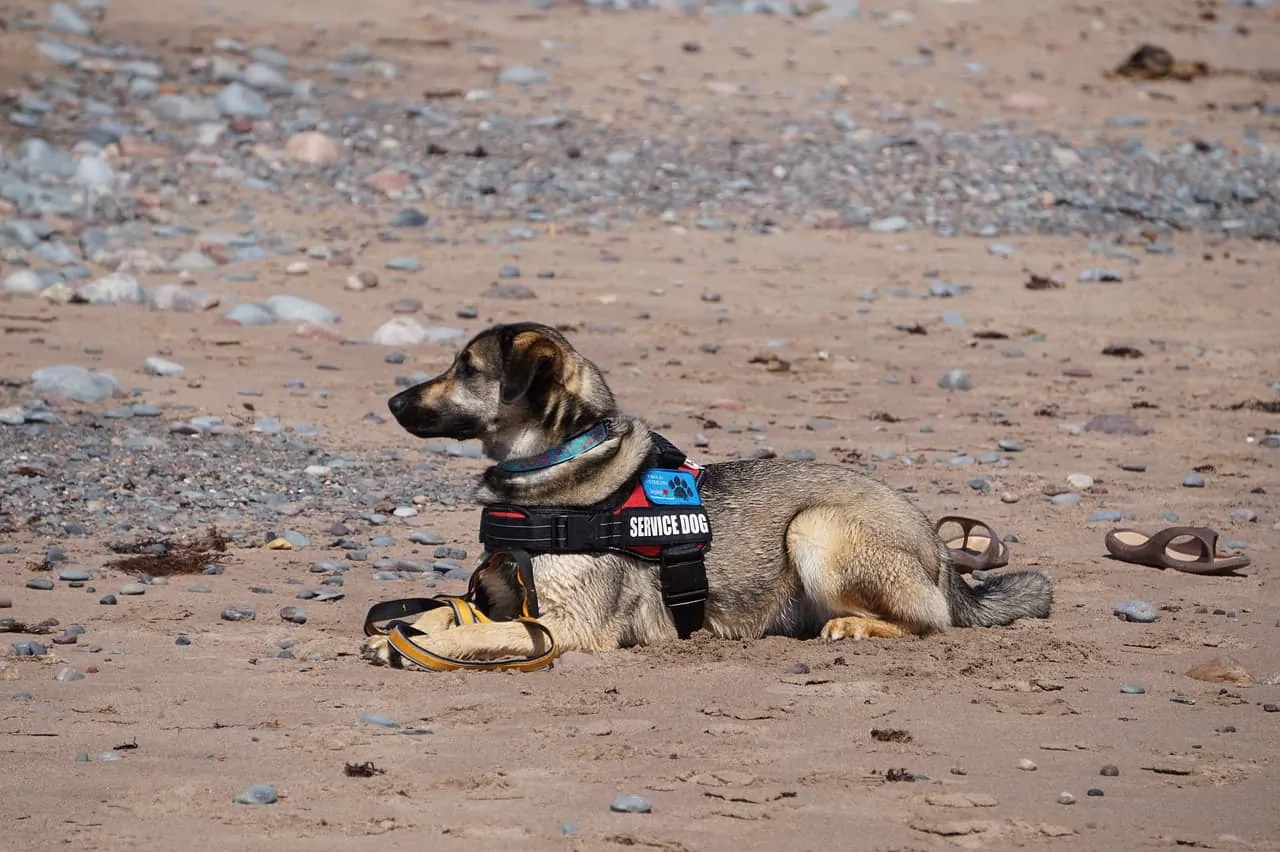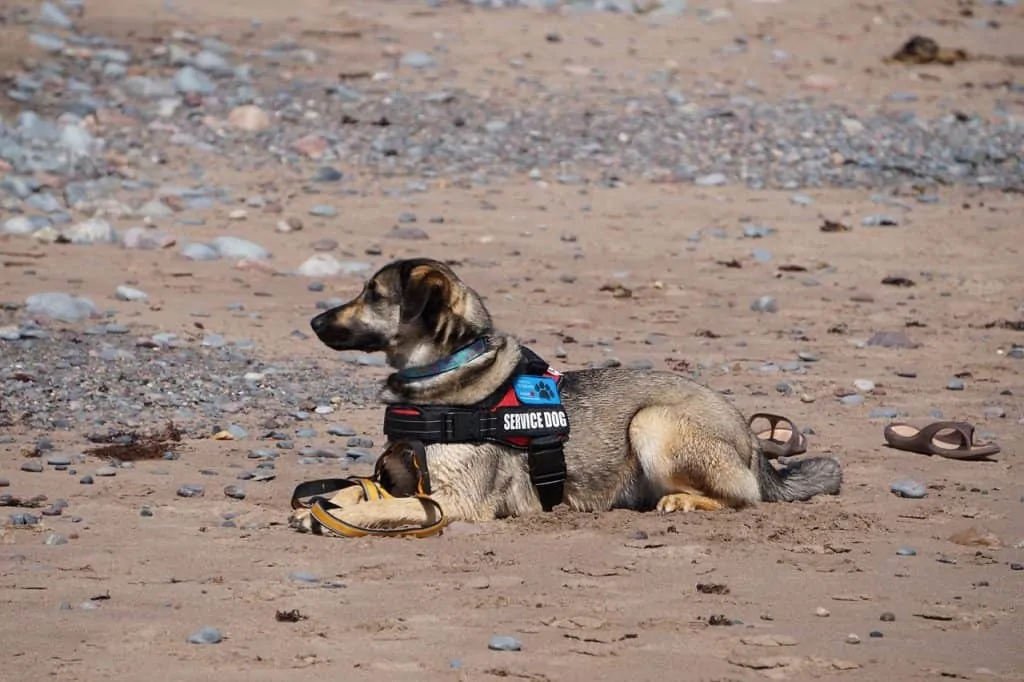 You may choose a vest that says service dog, or a vest that politely declines pets or attention.
If your dog is a service dog, it is not required by law that he wears a service dog vest. Still, a good service dog vest is an important part of your dog's work uniform, and it will help alert others around you that your dog is "on duty".
There are a few different types of service dog vest options that you can choose from, with some stating specifically the service your dog is performing, while others simply say "service dog".
The most popular service dog vest sayings are listed below
Service Dog
Guide Dog
Support Dog
Service Dog In Training
Ask To Pet
Do Not Pet – Dog On Duty
Medical Alert Dog
Emotional Support Dog
Service dog vest products also come in a wide range of colors, none of which have any official meaning. While the most popular service dog vest colors are red, dark green and blue, you can also order them in black, orange, pink, tie dye, and really any color you prefer.
Most of these vests are made of high quality material similar to a quality dog harness. They should also fit snugly. That said, not all service dog vest options are designed to be used as a harness or connected to a leash.
Some service dog vest options are made to simply be worn while your dog is on duty, while others can double as a walking harness for everyday use.
The type of service dog vest you will choose should depend on your lifestyle and the type of service dog you have. Still, regardless of which type of vest you want for your service dog, it's important to look for a few common qualities.
Let's learn more.
What To Look For In The Best Service Dog Vest For A Working Dog

Look for service dog vests that are sturdy and durable, but also comfortable for your dog.
The type of service dog vest you should get for your dog will depend on the type of service your dog performs. A mobility support service dog vest, for example, should come with a strap that the owner can hold to help them get around and be more independent.
A guide dog will need a service dog vest that attaches to a long handle that is specifically designed for the seeing impared to hold onto.
Other types of service dog vest options are more simple, and designed specifically to alert those around the dog that this canine is on the job.
Regardless of which type of service dog vest your dog needs, the quality and material should be durable and strong. Look for padded mesh that is breathable and comfortable for your dog to wear, and a harness that will not put unnecessary pressure on your dog's throat or trachea.
You might also consider investing in a service dog vest that comes with removable velcro patches, especially if your service dog is a dog in training. That way you can replace the sayings as your dog progresses.
Some of our favorite service dog vest options include pockets for ID cards and paperwork, while others have reflective lining to help increase the visibility of the dog and the handler during night walks or foggy conditions.
Last, make sure your dog's service dog vest is fitted for him specifically. Vests should fit snugly, but not so tight you cannot slip two fingers between the material and your dog.
And if you're unsure where to look to find the best service dog vest for your dog, don't worry. We have listed some of the best service dog vest options for you to consider below.
ALBCORP Service Dog Vest
First on our list of best service dog vest options is the generic service dog vest in a design that is most common. This is the typical vest you would see on most emotional support or alert service dogs, and for good reason. It is made of durable woven polyester and nylon material and is built to last.
It comes in several colors, with the main color being red and black, which is one of the most common combinations of service dog vest colors. Other colors include black, camo, and maroon. It also includes reflective straps on the front and sides for easier visibility, an adjustable stomach strap for more comfort, and padded cushioning to reduce chafing on your dog.
This service dog vest also doubles as a walking harness and includes a heavy-duty backstrap for mobility support. The vest can be ordered in sizes from XXS to XL, but make sure you do your measurements to ensure you find the harness that fits your dog best.
OneTigris Tactical Service Dog Vest
If you are looking for a more heavy duty service dog vest for your dog, you might be interested in a tactical service dog vest by OneTigris. This vest is one that is similar to those commonly used by professional police and the military.
For this reason, we recommend this service dog vest for larger dogs, as smaller dogs may be overwhelmed by its size. The harness includes two straps and velcro lining, so you can add different patches on the sides to help identify your dog and the type of service he is performing while on duty.
MUMUPET Service Dog Harness
The MUMUPET Service Dog Vest doubles as a harness and is ideal for small, medium and large dogs. It comes in a variety of colors including the standard blue, red or black, as well as pink, teal, camo, tie dye, and more.
It is specifically designed to reduce pulling and choking, though it is not an ideal service dog vest for anyone looking for mobility support. However, it does include reflective straps on the front chest and loops on the side to attach an ID card, ID tags, or pouches.
This service dog vest is also made with padded mesh to help reduce chances of chafing. It is breathable and comfortable, and helps ensure you and your pet are happy and comfy while the two of you are out and about.
ICEFANG Tactical Service Dog Vest
The above service dog vest and harness by ICEFANG is made specifically for working dogs. It is military grade and includes strong, metal buckles and clasps, an adjustable belly band, and front and back clips for easier walking and better control.
The vest also includes velcro straps on both sides as well as on the chest, so you can easily customize your service dog straps or sayings and remove them as needed. The vest comes in sizes from small to XL, so be sure to do your measurements to ensure the vest you get fits your dog properly.
We also like that this service dog vest comes in different colors including red, blue, grey, brown, black and pink.
Voopet Service Dog Vest
The Voopet Service Dog Vest and harness is somewhere in between the tactical style working dog vests and the typical service dog vests you will find on this list. It is still heavy duty without being as large or full-bodied as some, which will make it more comfortable for smaller or daintier service dogs.
The above vest includes a back strap and clip to connect to a leash, but what we like most is that it does not only strap around the chest but also under the arms. This increases comfort and reduces choking by distributing equal pressure on the chest and abdomen.
The vest comes in sizes from XS to XXL and is available in a wide variety of colors including the standard blue, red and green.
Auroth Tactical Working K9 Harness
Sale
We are serious fans of the above service dog vest by the Auroth Store because it doubles so seamlessly as an everyday harness. It is designed with your dog's comfort in mind and is durable and comfortable enough for everyday use while still being professional looking for your working dog.
The vest is made for small to large sized dog breeds and is adjustable on all sides, including even the back. The back also includes a hook for a leash or ID cards and tags, and the sides are equipped with velcro straps for your Service Dog signs.
You also have the option of using the front clip loop for your dog's leash to reduce pulling and choking.
PLUTUS Pet Mesh Service Dog Vest
If you are looking for a more simple service dog vest, the above mesh service dog vest should do the trick. This vest is not designed to be used in place of a harness for exercise like jogging or running, but is ideal for those traveling with a highly trained service dog or emotional support dog.
We like this service dog vest especially for those who live in warmer climates or who have service dogs with thicker coats like Huskies or German Shepherds.
The vest is made with quality mesh siding and comes with removable patches that you can customize depending on your dog's particular purpose or job. The vest is lightweight and easy to store, and clips under the belly and across the chest.
The top loop is ideal for attaching a leash or your dog's ID cards, and the colors include the standard red or blue.
Other Products You May Need For Your Service Dog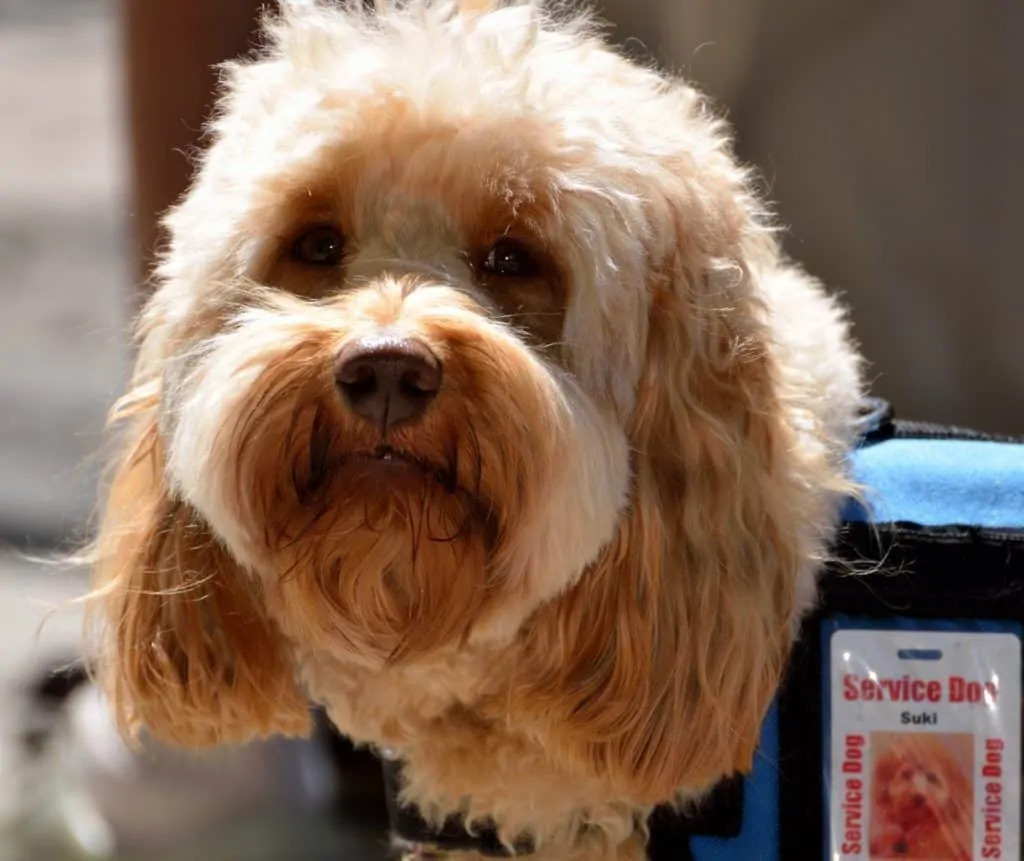 Along with a vest, you might also consider getting your dog an ID tag.
Investing in a quality service dog vest is certainly important for any service or support dog, but you'll likely need more than a service dog vest for your dog when out and about. This is especially true for those looking to travel with their service dog, eat inside restaurants, stay in hotels, or live in rental properties that prohibit pets or charge a pet fee.
Some common service dog accessories, along with a service dog vest, include:
A Service Dog Name Tag
A service dog name tag is a special ID tag that attaches to your dog's collar. It states his name and your address on one side, and on the other it identifies your dog as a service dog, support dog, guide dog, etc.
These ID tags are generally red or blue on one side and include the national medical symbol of Caduceus, which is commonly used by medical facilities throughout the United States.
A Service Dog ID Card
Once you register your service dog, you will typically be sent an official service dog ID card in the mail. This ID card will have your dog's name, age, and the expiration or renewal date. You will usually have to re-register your service dog once a year, and this up-to-date card will often be required when boarding aircrafts, entering hotels or restaurants, renting housing, and more.
A Service Dog Collar
Many dogs don't enjoy wearing vests or harnesses all day long, but you can ensure your dog is always seen as a service dog in or out of his service dog vest with a service dog collar. These collars typically have the medical symbol of Caduceus, and are often bright red, blue, or forest green. They can also be embroidered with your dog's name and the words "service dog".
Service Dog Harness Saddles
Service dog harness saddles are designed to attach to your dog's service dog vest and can carry extra equipment like his ID card, treats, paperwork, medications, or other items you may need. They are specifically designed and labeled to alert those around you that your dog is on duty.
Service Dog Signs, Clips and Tags
Along with investing in a service dog vest and ID card, you might also consider buying a service dog sign, clip or tag for traveling. These tags are not necessary, but can help alert those around you to any special instructions.
This may be especially important if you have a medical issue and your dog is an alert dog. The cards or tags can be specially customized with instructions incase you are incapacitated or separated from your service dog.
Service Dog Treat Pouches
We especially recommend investing in service dog treat pouches for service dogs in training. Even the most professional service dogs enjoy tasty treats, and this is a great way to show your dog how much you appreciate the hard work he does for you.
And while there are plenty of other accessories any service dog owner or trainer should know about, we have listed three of our favorite products specifically to go along with a service dog vest below.
GoTags Personlized Service Dog ID Tag
The above ID tag is specifically designed for service dogs and can be personalized with your dog's name and your information. On the front, the color is bright red and clearly claims your dog as a service dog or support dog.
The tag is made with stainless steel material that is durable and strong. You can order it to say either Emotional Support Animal (ESA) or Service Dog, depending on your needs. The tag also has the medical symbol of Caduceus on the front to better help alert those around your dog that he is working.
ActiveDogs Registered Service Dog ID Card
Perhaps just as important as a service dog vest is your dog's ID card that shows he has been professionally registered. The above card requires you to register your dog online through the company and then fills out your dog's information on the card to help give access to certain establishments.
The card will include your dog's name, his chip number, the date the card was issued, as well as your name and phone number. It includes a digital copy you can carry on your phone and a card holder you can clip to your dog's service dog vest when out and about.
PLUTUS PET Service Dog Leash
If your dog's service dog vest also doubles as a walking dog harness, you might consider investing in a special leash that labels him as a service dog as well. The above leash by PLUTUS Pet comes in two bright colors including red and blue. These are two of the most widely recognized service dog colors available.
It is also clearly labeled as a service dog leash. The material is made of durable nylon and it measures one inch wide. The handle is padded for extra comfort, and is designed to last. This leash works for all breeds and dogs of all ages and sizes.
What You Should Know About Service Dogs Before Buying A Service Dog Vest For Your Dog

Try and ensure your service dog continues with proper training, and know the specific laws in our region regarding service dogs.
Working with a service dog is not only incredible and rewarding, but it also gives you an opportunity to educate those around you about the wonderful benefits our canine companions bring to those in need.
That said, remember that laws are changing regarding service dogs, and many facilities and companies are becoming much more strict on what constitutes a service dog. This is especially true for those working with emotional support dogs.
Remember, before registering your dog as a service dog and investing in a service dog vest and other accessories, try and make sure you do plenty of research and brush up on the laws in your area.
Some important things to consider when registering your service dog are:
There Is Controversy Surrounding Emotional Support Service Dogs
Some companies and establishments have revised their rules in regards to viewing emotional support dogs as service animals unless they are specifically trained to perform a specific task. Be aware of this when registering your dog as a service dog and before buying them a service dog vest.
Try to ensure your dog is trained and behaves properly when in public if you are labeling him as an emotional support service dog. This can help reduce the stigma against emotional support dogs and those who truly need them.
Make Sure You Understand The Specific Laws When Traveling
Earlier this year, the Department of Transportation (DOT) announced stricter rules for those traveling with emotional support animals. Some of these rules request that the handler of the service dog provide up to date paperwork proving their dog is a service dog, and that their dog is trained to support a specific task for their human.
Without the proper identification and paperwork, you may be turned away or charged a fee before boarding an aircraft, so be as prepared as possible when it comes to traveling with a service dog.
Not All Breeds and Mixes Are Allowed On Public Transport Or In Certain Cities
Certain dog breeds are also not permitted on public transportation, as we mentioned above. Some of the most common dogs not permitted on public transport or in certain regions or cities include Pitbull Terriers, American Bulldogs, Doberman Pinschers, Chow Chows, Presa Canarios, and Wolf Hybrid Dogs.
We hope this has been a helpful guide on how to go about finding your dog the right service dog vest and that you will be better able to embrace more independence with your newly equipped furry friend.
Now we want to hear from you. What do you think about the stricter laws regarding service dogs and support dogs? Do you think it's fair that the DOT is tightening their rules when it comes to Emotional Support Animals?
Let us know what you think in the comment section below.
Thanks for reading!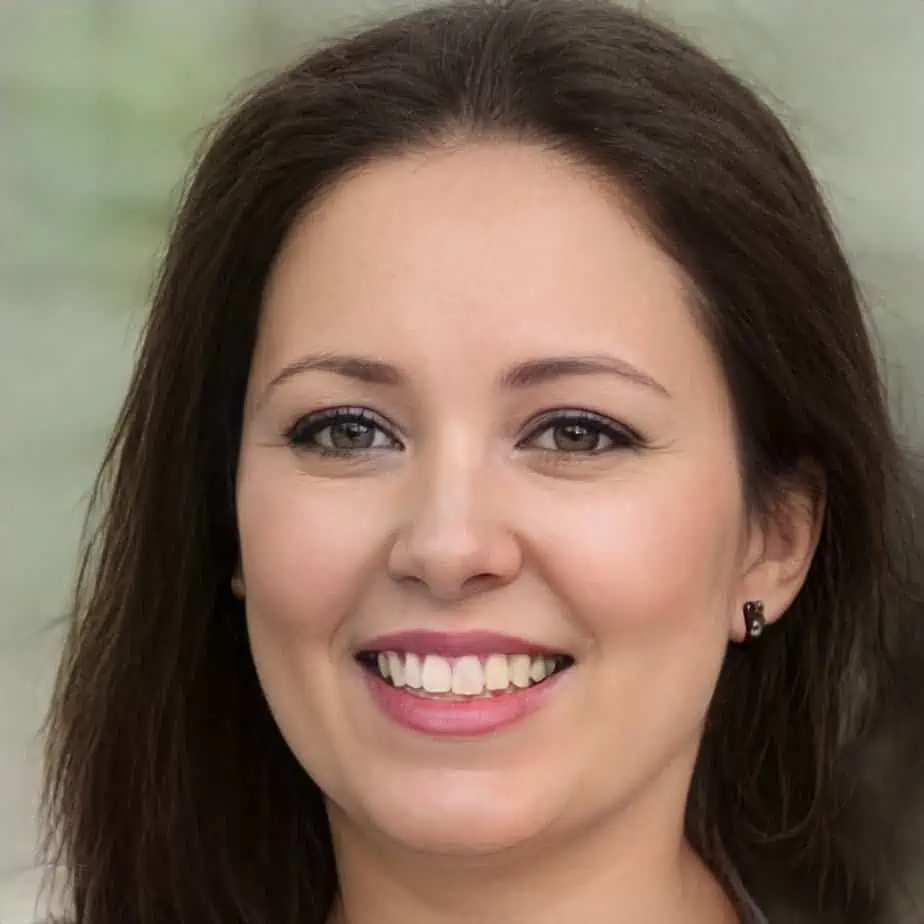 Jen Jones is a professional dog trainer and behavior specialist with more than 25 years of experience. As the founder of 'Your Dog Advisor' and the 'Canine Connection' rehabilitation center, she applies a holistic, empathetic approach, aiming to address root causes rather than merely treating symptoms.
Well known for her intuitive and compassionate approach, Jen adopts scientifically-proven, reward-based methods, encouraging positive reinforcement over punishment. Jen specializes in obedience training, behavior modification, and puppy socialization. Her innovative methods, particularly in addressing anxiety and aggression issues, have been widely recognized. Jen has worked with many of the world's leading dog behaviorists and in her free time volunteers with local animal shelters and rescue groups.