It's that sweet time of year again when the cities are hot, the beaches are crowded, and the travel sites' colorful images scream "book me"! But if your family happens to include a certain furry, four-legged canine member, vacation packages are usually not an option as they rarely allow dogs. Traveling with a dog requires careful planning and research. Let's have a look at a few of the steps from travel-proofing your dog, what to bring, finding a place to stay, getting there, and things to do.
Travel-Proof Your Pooch
When did you take your dog to the veterinarian last time? Before scheduling your vacation, it's crucial to make sure your pet is up to date with all of its vaccines. The rules are particularly strict for international travel. Dogs must be at least 12 weeks old to get vaccinated, and if this is its first round of vaccines, you have to wait 28 days to allow it to take effect. If your pooch is already vaccinated – check the expiration date! The rabies vaccination certificate must be valid for the duration of your trip. And to complicate things further – if your dog isn't microchipped yet, you will have to get that done before the rabies vaccine, or the vaccine will be rendered invalid. Also, there is quite a bit of paperwork required if you're taking your pooch abroad, which needs official approval within a set timeline before the trip.
Domestic travel is, of course, easier, but there are still many different rules traveling state to state. For example, in addition to an official rabies certificate, Alabama doesn't allow dogs infested with screwworms to enter (there was a recent outbreak in Florida.) Dogs taken to Iowa must have a Certificate of Veterinary Inspection (CVI) indicating freedom from disease. USDA lists each state's requirements.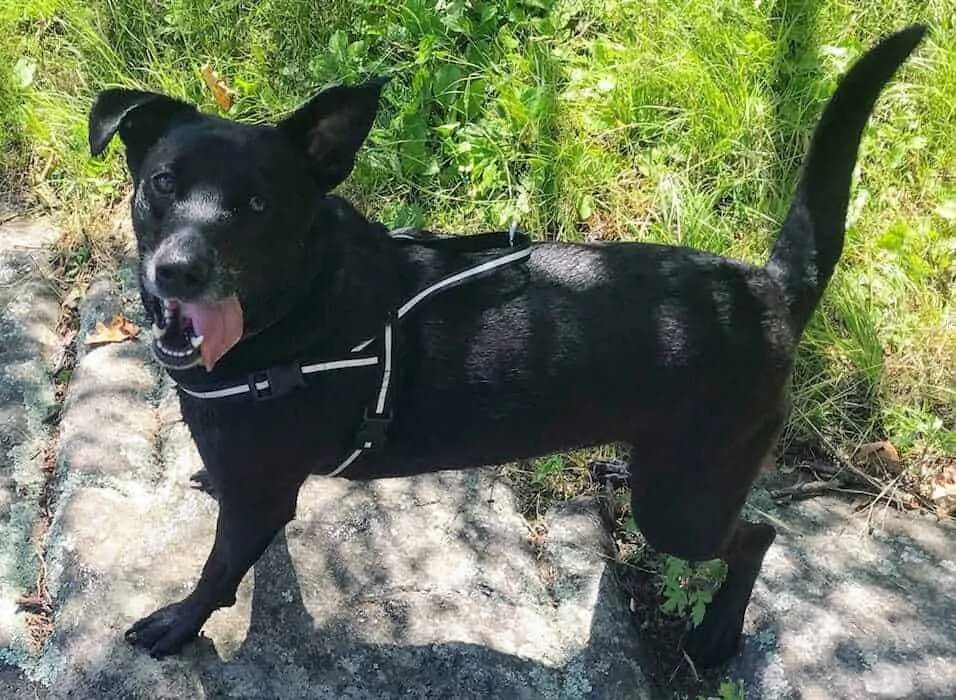 My beloved dog Suki on a recent hiking trip upstate New York.
My own check-list for travel-proofing my pooch Suki includes making sure she's up to date with her heartworm medicine and tick repellent. I clean her ears, and I trim her claws before the trip, so I don't have to bring the claw cutter. If your dog is taking any additional medicine, remember to bring enough for the whole trip and the first few days back home, so you have enough time to re-stock! However, if your dog suffers from anxiety and you want to use sedatives when traveling, please note that most airlines advice against it. You may have to choose another way of transport or try a new solution to handle the anxieties. 
Traveling by plane, train or on a bus
Driving may be your obvious first choice within the U.S. since you probably have your car set up already to go places with your dog. But what if you don't have a car (like me, living in New York,) or your vacation spot is too far away? What are your options?
Text: United Airlines has teamed up with American Humane to keep your pet safe.
It's not only important to check the specific pet policies of each airline. You also need to do it well in advance to book a spot since the number of pets on each flight is limited. Some of the airlines' pet policies are listed here:
Certain trains allow dogs on a leash while others require pets to be kept in carriers. National Amtrak welcomes dogs and cats up to 20 pounds for trips up to seven hours on most routes for an additional fee. Local train operators may be more flexible.

Trains generally have strict policies and busses rarely allow pets at all, but local operators may be more flexible.
Alaska Railroad allows pet kennels to be checked for an additional fee while California's Metrolink specify that they don't allow large pets. Only dogs small enough to be kept in a carrier under the seat or on your lap can board the train. The same goes for New York's Long Island Railroad while Metro North Railroad allows you to bring your well-behaved dog on a leash.
Busses may have the strictest pet policies, as few allow animals at all. Greyhound states they don't let animals on board, and even humorously adds" not even Greyhound puppies." Neither does Megabus, BoltBus, Peter Pan (except a few airport routes), RedCoach, nor Jefferson Lines, but you may have better luck with small, local bus lines. Just make sure to check in advance.
Finding a place to stay
Unless you are staying with dog-loving friends or relatives, the next obstacle is finding pet-friendly accommodation. Not all hotels allow pets, while the ones that do often charge an extra fee to cover cleaning. Many larger hotel chains accept pets in specific locations only. Some go out of their way to welcome your pooch with water bowls, pick-up bags, specialized bedding, and dog menus. Of course, there are also other options such as Bed&Breakfast, home-sharing services like Airbnb or, for the nature lover, camping! 

Camping is a wonderful way to enjoy nature with your dog. 
Some of the largest hotel chains are indeed dog-friendly, such as:
Loews Hotels offers treats, bowls, and placemats right at check-in. They have gourmet room service menus for pets, dog-walking route maps, and recommendations for dog-friendly restaurants and parks, among many other perks. 
Best Western have more than 1600 pet-friendly hotels allowing up to two domestic dogs weighing less than 80 lbs each per room. 
La Quinta Hotels welcome up to two dogs in designated pet-friendly rooms at most locations. If your pet is deemed dangerous, the hotel management will require you to find other accommodations.
There are plenty of booking sites with search engines for pet-friendly hotels and Inn's, such as Booking.com and TripAdvisor.com, while others, such as BedandBreakfast.com and Airbnb specialize in B&B's and home-sharing. If you prefer a more intimate setting among locals, you should choose the latter, which have additional perks. Many hosts which allow pets have dogs of their own and may be able to give good advice about the area and nice places where you can bring your dog. Some may even be able to help with dog walking (for a fee) if you're off to do some non-dog-friendly sightseeing. Others may not permit you to leave your dog unattended, or only locked up in a crate. I have personally had wonderful experiences with Airbnb, but you need to ask all these questions beforehand since each host set their own rules.

I brought my rescues to Hidden Passage in Morongo Valley, California, where we watched the sunrise during early morning hikes on the property. This Airbnb host allows well-behaved dogs (and cats) to be off-leash.
Camping in the outdoors may give the best sense of freedom. It can also be the most restricting if you need alone time since many camping grounds prohibit leaving dogs unattended. The number of dogs per campsite may be limited, and there may be restrictions on the sizes of dogs allowed, so always call in advance. Generally speaking, campsites are dog-friendly, but what about the hiking trails, scenic viewpoints or parks surrounding them?
Dog-friendly beaches, parks and hiking trails
Given the vast number of beaches, parks, and hiking trails in North America, it's impossible to list a coherent guide of rules and regulations. What's allowed in one state may be prohibited in another, and what's allowed on one beach may be banned on the next one over. However, there are some general rules of thumb to keep in mind before heading out.
Few beaches surrounding densely populated New York allow dogs on the sand between May and September. Although they are sometimes allowed before 9 am and after 6 pm when the beach crowds are gone, they need to stay on the leash. The reason is to protect the endangered Piping Plovers, who's fledglings are easy prey. The birds also breed along the shorelines of the Great Lakes, and along rivers and lakes in the Northern Great Plains, but not on the Pacific shores. You can find many year-round off-leash dog beaches on the west coast.

My lab-mix rescue Suki loves the beach. 
Most national parks don't allow dogs, so as not to disturb the wildlife. A few, however, such as Grand Canyon, Yosemite, Acadia, Zion, Rocky Mountain, and Mamoth Cave permit dogs on leash and in designated areas. State parks are different, and if you are heading to Wisconsin, for example, pets are welcome in most parks and beaches.
Unlike the parks, most national forests are dog-friendly, as long as you keep your dog on a leash. The United States Forest Service (USFS) administers the nation's national forests and grasslands, and conveniently lists the do's and don'ts for responsible recreation on their website.
What to Bring for Your Dog
When it's time to pack, most of us want to travel light. However, your little travel companion may have big needs. For example; most dogs are surprisingly sensitive to changes in their diet. Do you know if your dog's specific brand of food is available where you are going? When I fly with Suki I always bring a few portions of kibble in ziplock bags. I can feed her when we get off the plane, and I can use the rest to mix with whatever other brands I find abroad, to ease the change in her diet. If I travel within the U.S. and stay at Airbnb's, I ask ahead of time if I can order from Amazon and have it shipped to their place. Meanwhile, if the food arrives late, I have my ziplock bags.  I also bring a foldable water bowl, something to chew on, a toy, a towel, and some treats. 

I always bring a couple of meals worth of Suki's kibble when traveling.
Where are you going? Is it hot, or cold, or rainy and wet? If your dog will be outdoors more than usual, and you are heading for the snow, you may want to bring a dog coat and boots. What about the beach? The sand can be incredibly hot for unprotected paws, and so can asphalt if you are in the city. Consider bringing boots for your pooch!
Camping in the woods? Nothing can spoil a camping trip like rain, and sharing a tent with a soaked dog is no fun. Bringing a doggy raincoat can help you both to stay dry. It may also be a good idea to bring a muzzle, as some public transportation requires it. Reflectors are always good to have, and so is a harness with a strap in case your dog gets stuck somewhere in the wilderness and needs to be pulled out. I have a reflective harness for Suki, so I can see her better when it's dark.

Suki wearing a muzzle on the Staten Island ferry. Luckily it's a short ride because she doesn't like it one bit. For longer trips or in hot temperatures, I'd recommend a basket style muzzle instead with more room to breath. 
Last but not least, before you plan the vacation with your dog, it may be wise to evaluate its behavior in unfamiliar surroundings. Airlines and hotels can refuse entrance if they deem your dog disruptive to other passengers or guests. Again, make sure it's microchipped and remember to bring proof of the vaccinations! While the planning may take time and effort, the rewards are tremendous. I know for me, at least, the joy of bringing my four-legged friend(s) along makes it well worth it! 
Travel Checklist
This is the check-list I use when traveling with Suki, which may be helpful when you compose your own. Enjoy your vacation!
Health certificate/Proof of vaccination
Medicine if needed (heartworm preventative, tick repellent)
Zip-lock bag(s) with kibble
Collapsible bowl for food and water
Something to chew on (squeaky toy, bone, or rope toy)
Towel and wet wipes
Boots for hot or cold locations
Doggy jacket and/or raincoat 
Reflective harness or harness and reflectors
Poop bags (and wee wee pads if needed)
Airline approved crate if needed