I've always walked past the Benebone section in the store without paying it much interest. The bones aren't flashy or exciting, like Nylabones (which we love), and they're a little more expensive than the typical synthetic dog bone. But there they were, those humble bones, when I walked by them the other day. I finally caved and bought a Benebone for my Alaskan shepherd, Eira. Because of Alaska's hot weather and fires, she's been spending more time inside and less time outside exercising. The air quality hasn't been healthy enough to take her for her usual runs and walks as often as before, although she still gets exercise daily.
So I hoped this Benebone would help her stay occupied inside. I noticed that the Benebone chew I purchased bore the label of "dental chew," which made me curious about the company. What made Benebone's chews dental? What other types of products did they sell?
Here's what I discovered.
Benebone sells four flagship products: the Wishbone, Dental Chew, Maplestick/Bacon Stick, and Pawplexer. By keeping their product list small, they're able to focus on making each ingredient in their dog products shine. We'll take a closer look at each Benebone product later in this article.
The company manufactures and makes all its products in the USA. Supporting small businesses is one of its passions.
Each chew is made from extra-strong nylon and flavors that come from 100% real food — nothing artificial.
Benebone chews are shaped in ways that think of dogs first: each chew's shape invites the dog to constantly twist, paw, and chew new places on the bone.
The brand claims to provide extra high quality customer service, so if something ever goes wrong with your Benebone, you'll get a personal response from a company member who will work with you to resolve the issues.
Benebone is upfront and honest about keeping both people and pets safe, clarifying that Benebones are not edible; aren't meant for cats; can break into splinters that are harmful if swallowed; shouldn't be used without supervision; shouldn't be left out on the floor where humans can step or trip on them, as they can cause injury. That's a pretty detailed list, which is impressive. The company forsakes selling its product to any and everyone who wants an edible chew or a leave-it-with-the-dog chew and instead makes safety a priority. That's probably why it's such a highly rated dog chew!
Now let's get into each of the Benebone products, which type of dog they're good for, and which flavor Eira loved the most.
The Benebone Dental Chew
This is the bone I got for Eira, and after trying the chicken- and peanut-flavored Dental Chews, Eira settled on the bacon flavor as her favorite. And boy, does she ever love it!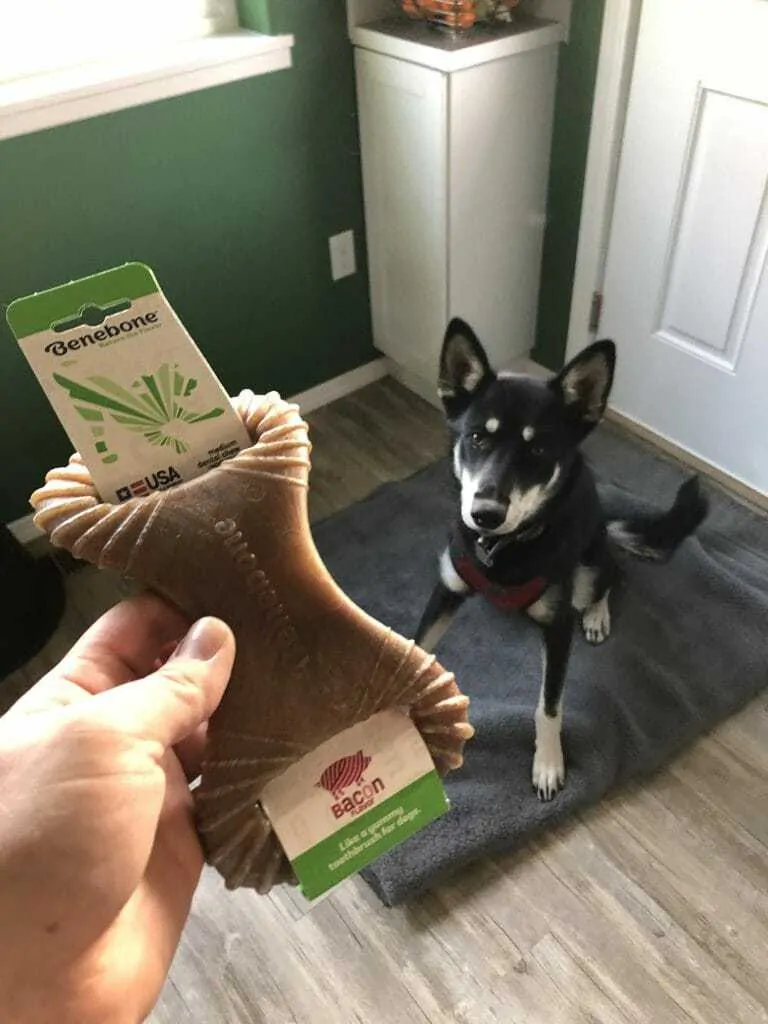 Eira's thrilled to see her bacon-flavored Benebone!
As you can see on the packaging in the photo above, Benebone markets its Dental Chews as "like a yummy toothbrush for dogs." Why is it like a toothbrush? Because of those ridges on the Benebone's handles. When your dog chews and works through those ridges, her teeth get cleaned of plaque and tartar buildup. Her breath doesn't really get freshened, though, unless you consider the smell of bacon "fresh."
I gave Eira her favorite Dental Chew in the afternoon the day I bought it.
Watch the video below to see Eira's reaction to her bacon-flavored Dental Chew.
She sure loved it! She chewed it all afternoon, no joke.
Take note of the sun streaming in through the windows in this photo. It's information that'll be helpful later on!
She even chewed the Dental Chew in a way that cleaned her teeth — she really focused on gnawing those ridges. She had the best time turning the Benebone in her paws and twisting her head to get the best angle on it. While Eira does enjoy regular-shaped bones once in a while, she favors ergonomic bones like this one because they're more intriguing and harder to chew. Not so straightforward. Not so easy. So much more exciting.
In fact, she loved her dental chew so much that she kept going back to it all afternoon and into the evening.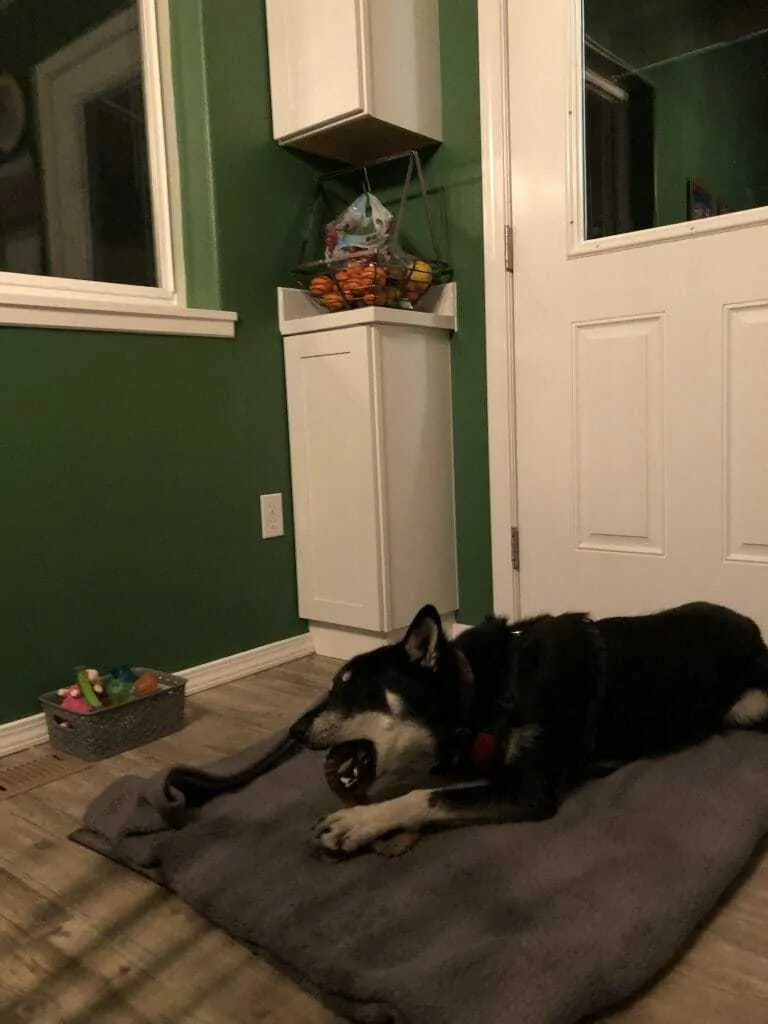 Here's Eira later the same night — see that it's now dark outside those windows? — still going at it with her Benebone Dental Chew!
There used to be concerns with the handles on this Dental Chew getting stuck over dogs' teeth, but Benebone listened and updated the design recently so that the hole in the handle is much too thin for a dog's teeth to get stuck. They even include a "Closed Loop Risk" warning on the packaging that's easy to notice, and which says, "Ensure the holes do not fit on your dog's jaw."
I truly love how careful Benebone is to advertise safety concerns along with the perks of the product. The Benebone Dental Chew isn't meant to last forever, and it says that right on the packaging, too. The website says that if "pieces the size of rice or smaller" come off the Benebone, those don't cause a problem. They even include a visual wear and tear guide online so that you can compare your Benebone to the photos and see if you need to replace it yet or not. Generally, the company says, it's safest to replace a Benebone after a month or after more than a sugar cube's worth of product gets chewed off total.
And your dog will enjoy that month like crazy, trust me: Eira's had her Benebone for about four days and it's moving into moderately chewed territory, so we're keeping it around for longer. She is a big dog and a strong chewer, though!
The Benebone Dental Chew comes in sizes that suit dogs from under 15 pounds to under 90 pounds, but not over 90 pounds.
Sale
The Benebone Wishbone
The ergonomic Benebone Wishbone comes in the same flavors as the Dental Chew: peanut, chicken, and bacon, but only bacon is available in the Wishbones for dogs under 15 pounds. The Wishbone has three different bone-shaped nubs where dogs can gnaw to their heart's content, and like all other Benebones, the only products inside are nylon and the real product behind the flavor. So in the chicken one, there's real chicken throughout the bone; in bacon, there's real bacon; in peanut, there are real peanuts. I'm pretty sure this is a huge part of why dogs love these bones so much! They can taste that real flavor in the bones and they adore it.
The Benebone Wishbone is available in sizes that are acceptable for dogs up to 90 pounds, but if you have a puppy, you may want to wait until he's older before giving him a Wishbone, as the nylon is quite strong. You don't want any of your puppy's teeth to break because of the bone.
Sale
The Benebone Maplestick/Bacon Stick
If your dog adores chewing on sticks but you're not so in love with the danger a sharp slab of stick can do, try the Benebone Maplestick or Bacon Stick. While the Benebones do deteriorate, they do so slowly and more safely than a raw piece of stick. The Maplestick features four "stick" ends in an ergonomic design that allows your dog to get a good paw on it for chewing. The Maplestick is also designed for fetching: as you would throw a real stick, so you can throw the Maplestick. So if your dog loves real sticks and can't get enough of them no matter how sick they make him, the Maplestick should satisfy him. It's made with real maple wood. Benebone is a New York State-based company, where maple trees abound, and the stick is infused with safely processed wood.
If, on the other hand, your dog isn't a fan of the maple wood flavor, the stick is also offered in bacon. Yum! And instead of a four-sizes-fit-most-dogs approach, the Maplestick and Bacon Stick comes in three sizes for dogs under 30, under 60, and under 90 pounds.
The Benebone Pawplexer
Intended as a sort of puzzle toy, the Benebone Pawplexer is a bacon-, chicken-, or peanut-flavored chew toy with a special insert grip where you can put bully sticks, treats, or dog jerky. It can be a challenge for your dog to get the bully stick or treat out — or if she wants to leave it in, that benefits you because she has to chew the bully stick in an upright position instead of getting the stinkiness of a bully stick on your nice floors, couch, or carpet. Eira ADORES bully sticks, but even the stink-free ones leave a bit of ickiness in the air. I just ordered Eira a bunch of bully sticks, so I am also going to get her a Pawplexer. What's better than a treat within a treat? The Pawplexer also features ridges that echo the Dental Chew, so I think it'll be a winner for Eira.
You can choose from three sizes for this treat, also: under 30, under 60, and under 90 pounds.
Sale
Is There Any Benebone That I Can Give My Puppy?
We've established that Benebones are fantastic for mature dogs of almost any size. But what about puppies? Is there a Benebone that can satisfy the chewing needs of our youngest furry friends? Absolutely! Benebone sells a Puppy Pack that includes one bacon-flavored Dental Chew and one bacon-flavored Wishbone. The bones contain nylon and real ingredients just like the bones for older dogs, but they're softer and easier on a puppy's teeth. But do not let a bigger, older dog find this bone if you have both puppies and older dogs around; this softer bone is no match for mature dog teeth.
Sale
Now that you know about Benebones, grab one to pack for your next road trip or vacation with your dog. I'm going to get Eira a few more because she'll be getting spayed soon, and the recovery process will be much easier to bear if she's got her beloved bacon-flavored Benebone Dental Chew at her side — a fresh new one, of course.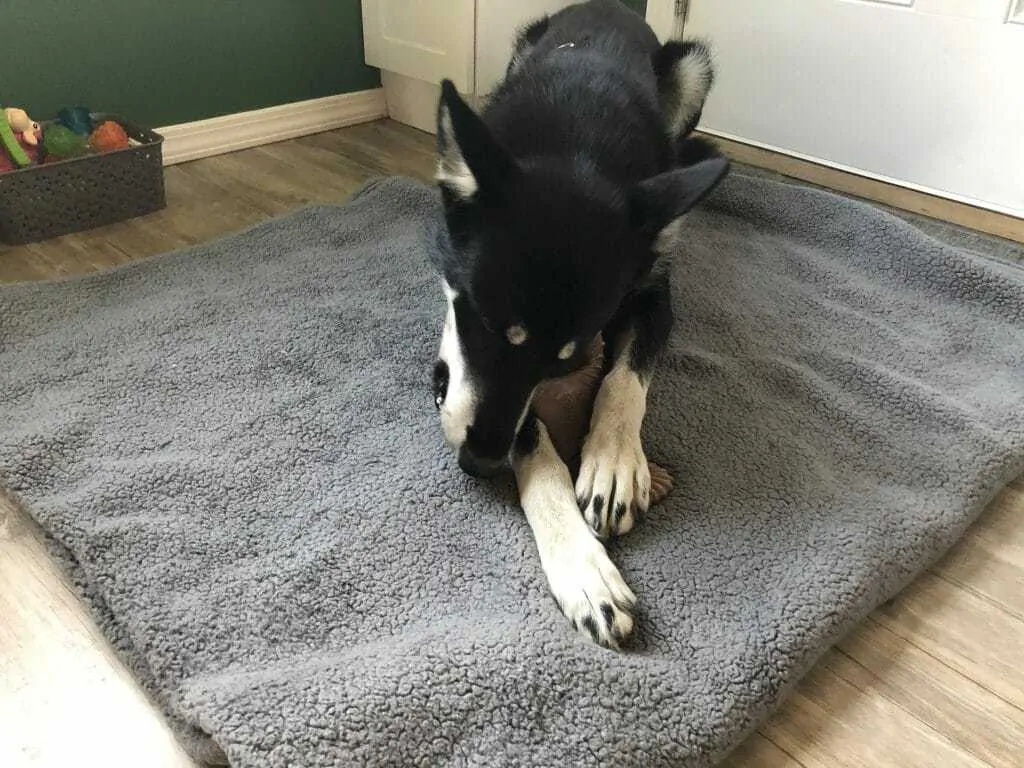 Another day, another session with her Dental Chew. See how perfectly it fits in her paws? I love how easy it is for dogs to manipulate Benebone toys. They really do have dogs' best interests in mind.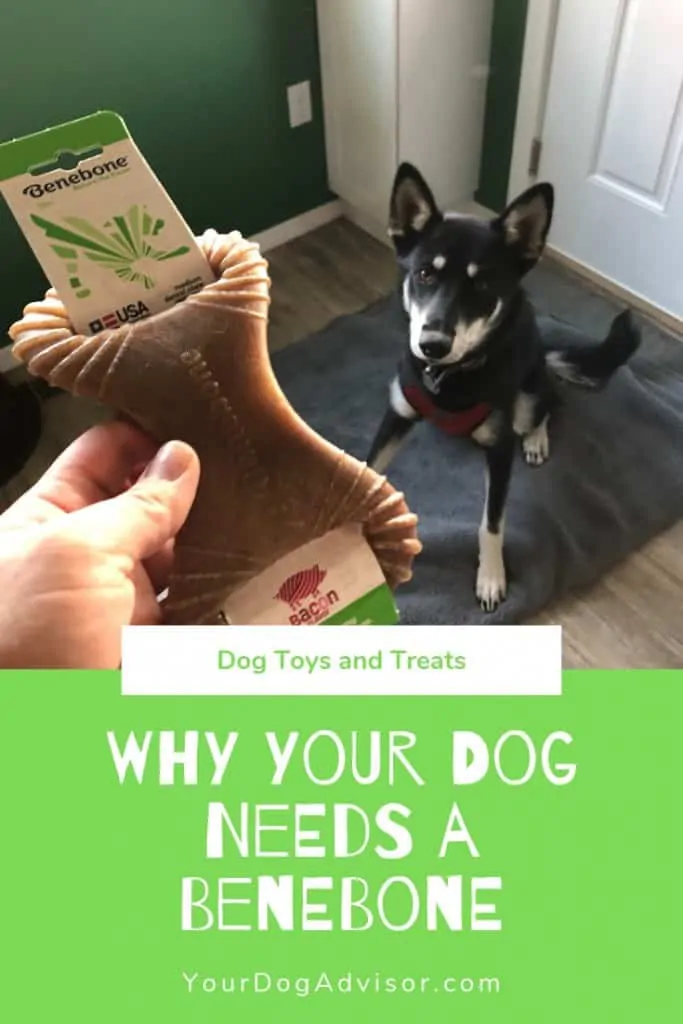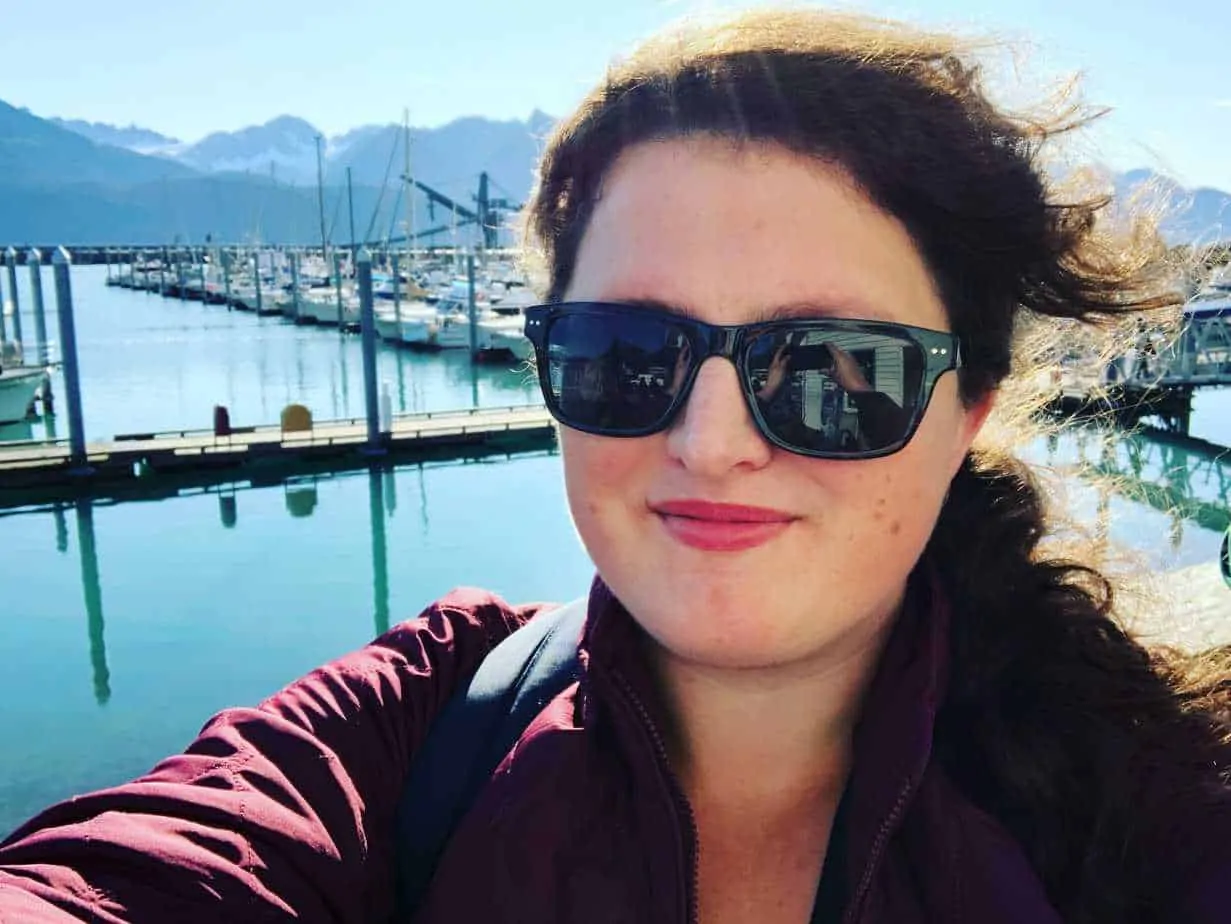 Laura Ojeda Melchor grew up with two beloved German shepherd dogs—Clancy and her daughter, Bella. From the time her family brought Clancy home, Laura took on the duty of pooper-scooper and potty trainer. As a teenager Laura helped her mother care for Clancy during her pregnancy. She still remembers fondly the exciting, frigid winter night when the seven special puppies were born. Laura kept the youngest puppy—Bella—and potty trained her, too. She taught Bella important commands, took her for long walks, and spent hours throwing tennis balls for her.
In November, Laura brought home a sweet new puppy, Eira Violet. Eira is half Alaskan malamute and half German shepherd, and Laura loves her deeply. She chose not to use a crate to potty train Eira and was pleasantly surprised at the results. She now has a sweet, energetic dog who always uses the potty outside, plays well with Laura's toddler, and enjoys long family walks in beautiful Alaska. If you were to meet Eira, she'd bound up to you with a wagging tail and get you running around the yard with her in no time.