Summer is just around the corner, which means fun in the sun and heat, heat, heat. For pet owners, keeping their pets cool in warmer months and even in warmer climates is not always just for comfort, but sometimes it can be for their dog's safety and health.
A dog's body temperature naturally runs hotter than a human's, and while dogs do have ways of keeping themselves cool, those ways are not always as effective as ours are. Panting is one of the most effective things our dogs do to help regulate their body temperatures, but sometimes panting isn't enough. Dogs sweat as well, but they only sweat minimally and only through their paws. That's why so many dogs can still be prone to overheating or suffering from heatstroke.
This is just one of the many reasons we recommend dog cooling pads. Are you interested in learning more?
If you're in need of a dog cooling pad to help keep your pup cool and comfy this summer, you've come to the right place.
Today's article is covering why cooling mats for dogs are important, how they can help our canine counterparts get through hotter seasons more comfortably, and what you should look for in quality cooling pads for pups.
Let's get started!
What Is A Dog Cooling Mat?

A cooling mat helps keep your dog cool and comfy during warm months. 
A cooling mat is a specially designed mat made of unique materials to help keep your dog cool or help regulate his body temperature. Dog cooling pads are especially helpful in warmer months, and they are great for dog owners who have crate trained their dogs and want to make sure their dogs are comfortable in their crates while they are at work or away.
But cooling mats aren't only for spring and summer seasons and warmer climates. A dog cooling mat can also be beneficial for senior dogs or dogs with bone and joint issues. In fact, some cooling mats are specifically designed to help support, comfort, and alleviate joint pain in senior dogs.
That said, there are quite a variety of cooling mats available online and in pet shops and many use different technology for their cooling systems. Some cooling mats use electricity while others use ice or gel packs. Some cooling mats use innovative touch-technology that is pressure induced and cools your dog instantly at the touch.
Some cooling mats are thin and blanket like, while others are made like beds.
Whichever cooling mat you decide to go with, make sure you do plenty of research to help ensure you get the right cooling mat for your dogs needs.
Which Kinds Of Dogs Could Benefit From A Dog Cooling Mat?

Double Coated dogs like Huskies can overheat and may need cooling mats to stay warm. 
All dogs can enjoy the benefit of a dog cooling mat but, as we mentioned briefly above, some dogs can benefit from using a cooling mat more than others.
Senior dogs can use cooling mats to help relieve arthritis pain, and large breed dogs with hip, bone, or joint issues may find resting on a dog cooling pad to be soothing and comforting. Cooling mats can also help decrease inflammation and swelling for dogs recovering from an injury or surgery.
For other dogs, cooling mats can help reduce the chances of overheating or heatstroke. Certain breeds like Pitbulls and Bulldogs, and other dogs with brachycephalic syndrome, are especially sensitive to extreme weather due to their flattened faces and unique skull shape. This skull shape, while a popular characteristic in these dogsdogs, actually makes it harder for them to adequately breath, pant, and cool themselves.
Double coated dog breeds and breeds who were bred to live in colder climates like Huskies, Alaskan Malamutes, and German Shepherds can also be prone to overheating easily and would greatly benefit from a dog cooling mat.
But what about your dog? Could he benefit from a dog cooling mat?
Does My Dog Need A Dog Cooling Mat To Stay Cool?

All dogs can be susceptible to heatstroke, but some dogs are more susceptible than others.  
As we mentioned above, some dogs are more susceptible to heatstroke and overheating than others, but that doesn't mean only heat-sensitive dogs can use cooling mats.
The great thing about most cooling mats is that they are lightweight, portable, and easy to store, which means you can travel with them, use them inside and outside, and hide them away easily when they are not being used.
Does your dog need a dog cooling pad?
If you have ever noticed your dog panting excessively during walks or after playtime, or if your dog drools excessively during jogs or exercise or when outside, or if your dog enjoys swimming, lays out flat on the wood or tile floor with his legs splayed, or enjoys hanging out by the air conditioner or fan, then chances are your dog will totally love having a dog cooling mat.
Tips On Picking The Best Dog Cooling Mat For Your Dog

Make sure you pick the best mat for your dog based on your needs.  
So, we know how cool and useful dog cooling mats can be, but we also know there are a lot of different kinds of dog cooling mat products on the market.
Which kind of dog cooling mat are you looking for? Some dog cooling mats last for several hours while others need to recharge and lose their cooling ability after just a few hours.
Some dog cooling mats have inserts for ice packs or gel packs, while others use electricity or your dog's very own pressure to activate the cooling effect.
The right dog cooling mat for you and your dog will depend on your personal needs and your dog's needs as well.
That said, there are some things we recommend you look for in a safe, quality dog cooling mat.
Always make sure that the cooling mat you buy is made with non-toxic materials that are both durable and easy to keep clean. Some of our favorite dog cooling mats on the below list are even machine washable.
We also recommend you pay attention to the measurements or sizes the dog cooling mat comes in so you know you are getting the right cooling mat for your dog's size.
If you have a senior dog and you are looking for a cooling mat to help alleviate arthritis, hip, bone, or joint issues, we suggest cooling mats that are made with extra cushion or gel, and that will be comfortable for your dog to lay on for extended periods of time.
Most importantly, if you do come across an electric cooling mat, we suggest letting your dog use it under supervision.
All of our favorite cooling mats don't require electricity at all and are all safe for dogs. And, for your convenience, we've listed them for you below. Take a look!
K&H Pet Products Cooling Dog Bed
This is one of the best dog cooling mat options because it's so versitible. You can order it in small, medium, or large and even in two different colors including blue and gray.
It is made with heat wicking material and works by absorbing your dog's body heat to help keep your dog cool. In fact, it helps keep your dog 22 degrees cooler than his natural body temperature.
For your convenience and the safety of your pet, this cooling mat works when filled with water and it only needs to be filled once. It folds easily to store and is comfortable for senior pets to lay on for long periods of time as it also helps relieve inflammation, joint pain, and arthritis pain.
Arf Pets Self Cooling Mat
Another one of the best dog cooling mat options is this self cooling dog mat by Arf Pets. This is a great option for larger, double-coated dogs who are crate trained and spend a lot of time in their crates while you're at work.
This is a self-charging cooling mat that gives continuous cooling to dogs for up to three hours. It is also safe for children to use as well and is easy to clean, durable, and long-lasting. And when this dog cooling mat is not being used, simply fold it flat and store it away for later.
The Green Pet Shop Dog Cooling Mat
We absolutely love this gel cooling mat for dogs by the Green Pet Shop. It is one of the best dog cooling pad options because it's made with cooling gel technology that requires no water refills or electricity.
It even stays cool in warmer weather, helping to reduce your dog's body temperature and keep him comfy no matter what. It's super versatile as well, coming in several sizes from small to extra large. It is a self cooling pad that is activated by your dog's natural body weight. It is also light, foldable for storage, easy to clean, and super portable.
Coleman Pressure Activated Cooling Mat For Dogs
Another cooling mat we love for dogs is by Coleman. This is similar to the above cooling mat as it is made with cooling gel and reacts to your dog's body weight. It is also great for older dogs, dogs with hip and joint issues, and dogs with arthritis.
It comes in several colors and is super easy to clean, making it one of the best dog cooling mat products on this list.
It's so easy to use in fact that it can be placed in your dog's carrier, on his dog bed, on your floor or deck, or anywhere your dog enjoys laying around. And, when you're not using it, just fold it up and put it away.
PetPlus Dog Cooling Pad
Another one of the best dog cooling mat products we came across was this dog cooling pad by PetPlus. Great for dogs of all sizes and ages, this dog cooling pad is soft, comfortable, made with cooling fibers. It doesn't need water or electricity and cools instantly at contact.
The cooling effect lasts for three hours and then recharges itself, so this is best for shorter period uses. However, it is totally portable, easy to clean, lightweight, and foldable. And, if you're not happy with it, it comes with a one year warranty.
American Kennel Club Reversible Pet Cooling Mat
Who knows dogs and cats better than the American Kennel Club? That's why we love their products and think they have some of the best cooling mat options available. We specifically like their reversible dog cooling pad, which comes in four sizes and twenty color options.
But that's not the best part.The cooling pad is completely safe and great for senior dogs with joint issues or arthritis. It automatically recharges and cools on contact. THe material is comfortable for your dog to lay on, durable, easy to clean, and folds for storage.
Nesutoraito Dog Cooling Mat
Another versatile and easy-to-store cooling mat for dogs is the Nesutoraito cooling mat. It is a thin, lightweight cooling mat that is ideal for travel or for putting in your dog's kennel during warmer months.
It comes in four sizes ranging from small to extra large and is available in three colors including blue, brown and pink.
This machine washable cooling pad is made with naturally cooling fibers on one side and soft, breathable material on the other, depending on your dog's preference or needs. It folds easily for storage and works best indoors, feeding off of fans or air conditioning to keep cool .
CoolerDog Hydro Cooling Dog Mat
This is the best dog cooling mat for dogs who need extra help staying cool in the summer. This is a gel and ice based cooling pad for dogs that is especially designed for heat sensitive dogs like bully breeds who are especially prone to heatstroke, huskies, and other double-coated dogs.
This is a non-toxic, veterinarian approved product that is made with high quality materials and includes a waterbed cushion for extra comfort. We love this product for senior dogs as well, as it is comfy to lay on for long periods and helps alleviate stiffness, joint pain, and arthritis.
AmazonBasics Cooling Pet Bed
While this isn't a cooling pad, per say, it is still one of the best dog cooling pad products because of its simplicity and comfort. This is a lifted design that is super popular with lots of my clients. We like to use it for senior dogs and dogs with double coats or bracycheplaic airway syndrome to have trouble cooling themselves down naturally.
The lifted design and mesh-like materials help to release your dog's natural body heat while keeping them cool when they are sleeping both indoors or out.
We also like the study, easy to clean make of this dog bed and the fact that it is also lightweight and easy to travel with.
Best Pet Supplies, Inc. Cooling Pet Bed
No products found.
Another cooling pet bed we like is brought to us by Best Pet Supplies, Inc. This is a comfy, cozy cooling mat for dogs that is ideal for long naps and snoozes. It comes in both medium and large and is the best dog cooling mat for summer as it includes self-cooling packs that begin cooling immediately upon contact.
This dog cooling mat does not require electricity or freezing and is an excellent and comfortable place for senior dogs to get some rest and alleviate pain. And an added bonus – this dog cooling pad bed is even machine washable!
Pannow Self Cooling Dog Mat
This self cooling dog mat by Pannow is yet another one of the best dog cooling mat options we have as it is made with self-cooling materials that are breathable and comfortable for dogs of all sizes and ages. It cools automatically and helps prevent your dog from overheating during the warmer months.
Because this dog cooling pad is so lightweight, you can use it for your dog's crate, in the car, on the beach, or anywhere else you want to ensure your dog stays cool and comfortable. This mat is also completely machine washable and safe.
Faith Force Dog Cooling Pad
Another cooling mat we love for summer time is the Faith Force cooling mat for dogs, which uses Ice Silk cooling fibers which cool instantly at the touch. This is the best dog cooling pad for dog owners who don't want to fuss too much with ice or electricity and are also looking for a cooling mat they can use both indoors and out.
We love that the cooling mat is easy to fold for storage and simple to clean. In fact, it's even machine washable! You can use it in your dog's crate, outside, or inside wherever he loves to lounge. It is also available in three sizes.
Sealy Dog Bed Lux Orthopedic Bed With Cooling Gel
We are crazy about this dog bed with cooling gel and think it's the best dog cooling mat for seniors, hands down. This is specifically made in a comfy bed design and includes cooling gel to help reduce inflammation and help reduce joint pain, stiffness, and arthritis.
This is also a good cooling dog bed for very large dogs like Great Danes and Mastiffs who tend to suffer prematurely from joint and bone pain.
It comes in four sizes, so little dogs can enjoy this cooling bed too, and it's cover is machine washable for your convenience.
NACOCO Cooling Mat For Dogs And Cats
This is an adorable cooling mat for both dogs and cats. It comes in three sizes and different colors and even comes in cute designs. It is a great dog cooling pad for owners who need a simple solution for keeping their dogs cool during the warmer months.
It is thin, lightweight, and uses touch technology to naturally cool your pets without refrigeration, ice, or electricity. It folds easily for storage and is a great pad for your dog's kennel or to lay in his favorite spot inside the house.
CoolDog Reusable Ice Mat For Small Dogs
We are rounding our list off of the best dog cooling pad with this reusable ice mat for dogs.  It is made with canvas material and includes an insert with purified water that owners can either heat or cool depending on their dog's needs.
This is an excellent dog pad for small dogs and even cats and is great for older, arthritic dogs who need relief for sore or stiff joints.
Other Ways To Keep Your Dog Cool and Happy This Summer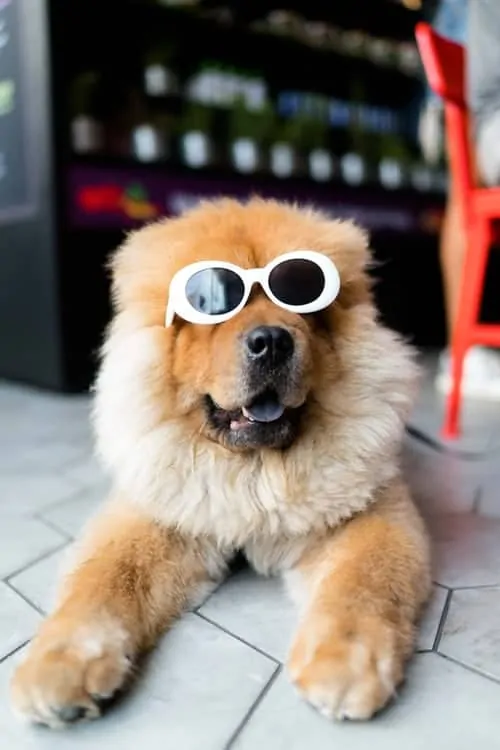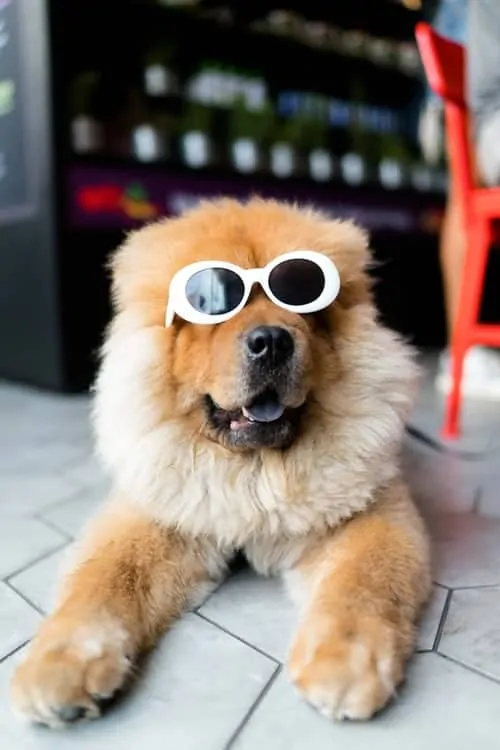 Remember, the safest place for your dog during very hot or cold seasons is inside with you. 
It's obviously important to keep your dog comfortable not just in summer but all year round. Remember, dogs can be more sensitive to changes in the weather than we may realize, so along with investing in a dog cooling pad for your dog during warmer months, you should also make sure to leave several water bowls around your house so your dog has consistent access to fresh water.
Some owners mistakenly think that if they shave their double coated dog breeds, it will help keep them cool in the heat. This is actually not true and could in fact put your dog at more risk for heatstroke and even sunburn.
Your dog's double coat actually helps keep him cool during warm days and protects him from the harsh rays of the sun during summer.
Double coated dogs aren't the only pups susceptible to overheating, though. Remember, bully breeds are also more sensitive to the heat, so keep an eye on them when out and about and watch for signs like excessive panting, excessive drooling, and pale gums.
When your dog is playing outside, make sure he has a safe, cool place to rest like an open, airy doghouse or under a shaded tree. And don't forget to make sure your dog has access to fresh water outside as well.
Last, remember that the safest place for your dog to spend extended periods of time is inside with you, especially during very cold or warm weather.
So, did you find the perfect dog cooling pad for your dog? Which one do you like best from our list above? We would love to hear from you! Tell us what you think in the comment section below.