As a self-described dog mom extraordinaire, I pride myself on following all the rules when it comes to first-rate pet parenthood. I make sure my dog is regularly groomed, that her teeth are brushed, and that she eats a well balanced diet packed with all the nutrients her little six-pound body needs to thrive.
I also make sure my sweet Maltipoo has several water bowls scattered around my house so she has constant access to clean, fresh water no matter where she is.
However, I have to admit that I haven't been the most diligent about refilling every one of her bowels every single day. Life gets in the way and I sometimes find a few of her bowls are dirtier than I'd like for them to be when I'm rinsing them out.
This got me thinking about dog water fountains and their benefits, so I decided to do a little digging on these bad boys and find out if they really are worth all the hype. And as long as I'm doing all this research anyway, I figure you can come along for the ride.
Let's get started.
What Is A Dog Water Fountain?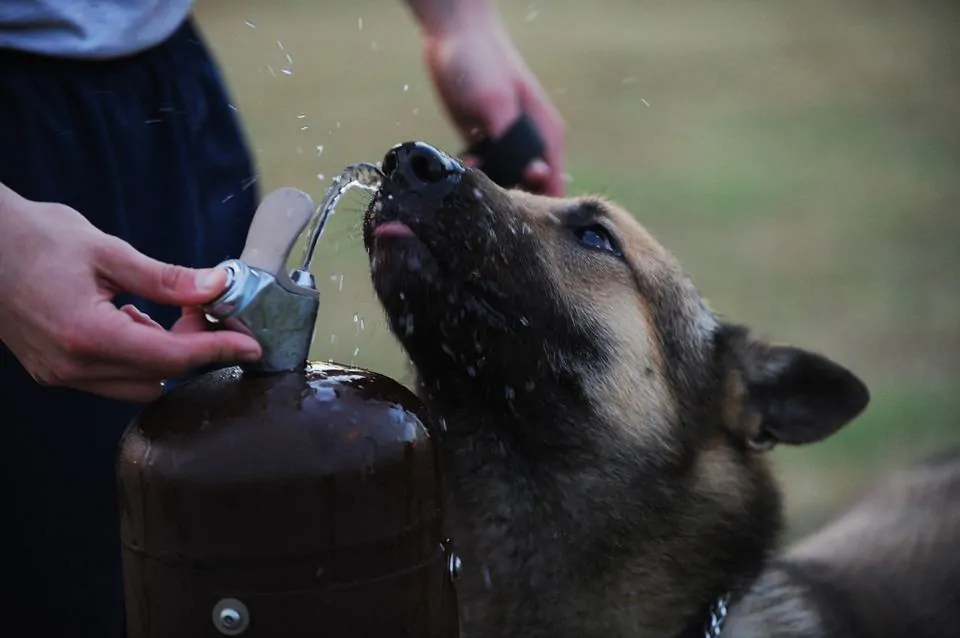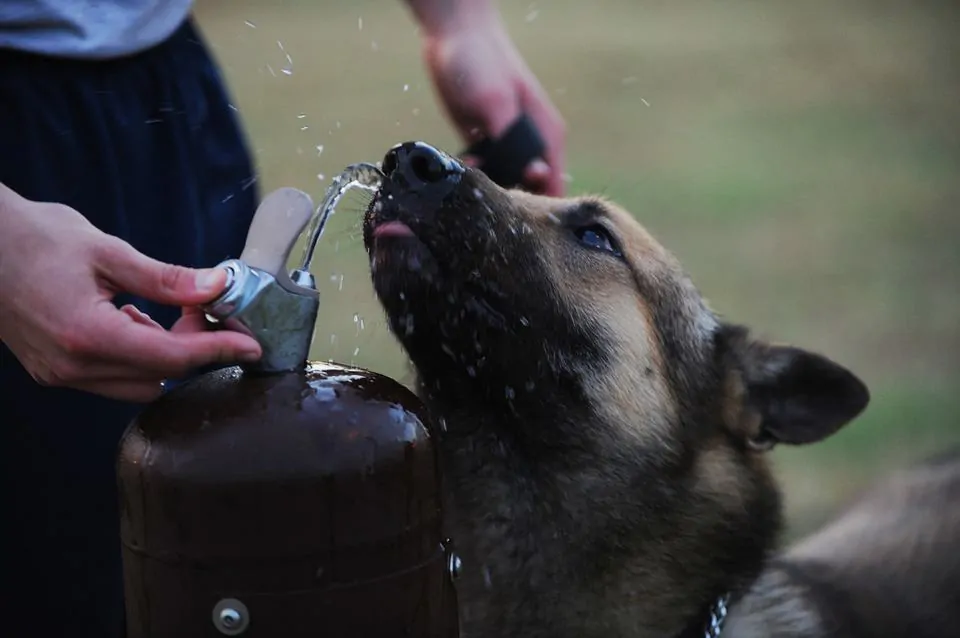 A dog water fountain is kind of like a human water fountain, but for dogs. 
Dog water fountains are totally awesome not only for our dogs, but also for us busy humans. Just like automatic dog feeders, which help keep our pets full and happy, dog water fountains are designed to keep our dog's water moving, filtered, and fresh.
Most of us know that stagnant water is quick to become dirty water, right? So it makes sense that a dog water fountain would be healthier than just leaving your dog's water bowl sitting around all day and night.
Most doggy water fountains are equipped with filters and recycle water through a filtration system before pouring it back out into the drinking bowl again. The water is constantly cleaned and cleared of debris like hair, food bits, dirt, and other particles that get into the water when your dog is drinking.
Lots of these water fountains also hold a few days worth of drinking water. So, along with keeping your dog healthy and hydrated, these fountains help take one more thing off your busy list of to-dos each day, which is just one of the many reasons I am seriously thinking about investing in one.
But what about you and your dog? Is this the right product for the two of you? Let's see.
Could Your Dog Benefit From Using A Dog Water Fountain?

When properly used, all dogs and owners could benefit from a doggy water fountain. 
I'll be honest – I think any dog could benefit from a dog water fountain. We just learned that these fountains help to keep our dogs water fresh and clean, but did you know dog water fountains also help promote healthy drinking habits?
The sound of water falling and the appeal of consistently fresh and clean water help to encourage dogs to drink. Just like humans, dogs like fresh, cool, clean water. That's why I often tell clients that if their dog isn't drinking after a long walk or hike, just refresh their water bowl with clean, cool water. More often than not a dog will take a good gulp.
Dog water fountains are also great for multi-dog households and even households with both dogs and cats roaming about. This is especially handy when you consider the filtration system in most of the fountains available.
When you have several pets drinking out of the same water source, the water is not only going to be depleted faster, it is going to be contaminated more quickly.
A pet water fountain helps promote healthy, fresh water for your dogs and cats no matter how many little mouths are dipping into the bowl.
And for our benefit, most of these water fountains are adorable, stylish, and tranquil with lighting and the soft, sweet music of falling water.
Seriously, guys. I was on Amazon earlier and made a list of some of my favorite fountains (which I've listed for you below) and I was honestly like "Here, fountain guys. Take all my money."
I love whoever invented these things.
Of course, as much as I love them, I should note that not every dog water fountain is top notch. Let's talk about what you should look for in a good dog water fountain before you purchase one.
Tips On Picking The Best Dog Water Fountain For You And Your Dog
Let's begin with the reason you are looking into purchasing a dog water fountain. Are you looking for cool gadgets that will help make your life as a dog parent easier? Are you hoping for a low-maintenance fountain that will filter your dog's water and allow you minimal refills periodically?
What if your dog is anxious of foreign contraptions or fearful of the sound of water, like mine is?
Don't worry. I've listed plenty of different versions of fountains below for all types of human and dog needs, and while all of them are unique in their own way, they do have several common traits that I suggest you look for in any high-quality dog water fountain available to buy.
Here are a few things to look for in a good dog water fountain:
Make sure your dog's water fountain is durable. I recommend reading the reviews and seeing what others have to say about their purchase. It's never fun ordering something and having it break down within a week of buying it.
Most of the products listed below are either stainless steel, BPA-free plastics, or ceramic materials, which are all dog safe and friendly. Remember, your dog is drinking from these materials so you want them to be non-toxic and safe for your fur kid.
You'll want to routinely change your fountain's filter and give it a good rinse, so make sure the fountain you buy is easy to keep clean. Many of the products I listed below are machine washable, which is always a plus.
This is especially important if you have anxious dogs or dogs who are fearful of the sound of running water. If your dog isn't a big fan of the hose or of the sink, he may not be a fan of his new water fountain.
For anxious dogs or dogs with water phobias, it's best to opt for a fountain that has different flow settings so you can customize your fountain to the setting that is least threatening for your dog until he gets used to it.
Now, are you ready to take a look at some of the best dog water fountains out there? Great! Let's get started.
Veken Automatic Pet Water Fountain
First on our list is the adorable pet water fountain by Veken, which pours fresh water for your pet from an adorable daisy spout. It is a very quiet fountain so it's great for pet owners who appreciate silence and it works for both dogs and cats.
The fountain also comes with a low consumption pump and has a lifespan of between 2.5 and four years. The fountain includes a circulation and filtration system as well which helps to keep your dog's water fresh and clean.
Most importantly, the Veken dog water fountain is made of PP resin and is BPA free, meaning it's safe, easy to clean, and user friendly.
It includes a silicone pad that the fountain sits on to help protect flooring from any water splashes and includes three different modes for your unique pet's needs.
URPOWER Cat and Dog Water Fountain
This automatic dog water fountain is sleek and designed for your dog or cat to easily access fresh water whenever they want. It is also owner friendly, holding up to 101 ounces of water, meaning it is excellent for small dogs and cats to medium or even larger dogs.
It also makes refilling easy by allowing owners to refill or refresh the water during operation, so you won't have to turn it off and take it apart to refill it every time it needs refilling.
It is easy to clean and comes with a filter and cleaning brush. It lso promises to be quiet enough to leave on during the nighttime hours.
This product only comes in white, but we think it's simple, sleek, and bowl-like design makes it perfect for pets.
PetSafe Drinkwell Dog Water Fountain
Another product we love is the PetSafe Drinkwell water fountain for dogs and cats. It's perfect for the dog or cat who may be fearful or anxious of larger water fountains and allows your dog to drink more naturally from a bowl on the ground or from the water spout.
It comes in four different sizes and holds anywhere from 64 ounces to 168 ounces, depending on the size of your pet or your needs.
The stream that releases the water is adjustable and you can customize the flow pressure for your dog or cat. The fountain is easy to clean and made with dishwasher safe materials. It is also safe and BPA free.
Pioneer Pet Big Max Drinking Fountain
This is the perfect water fountain for owners who want a little extra help keeping their pet's water moving and fresh. It is a simple design that continuously circulates their drinking water to keep it tasty and clean and can hold up to 128 ounces.
It is easy to assemble and the materials are dishwasher safe. It comes in three colors including black, white, and a stainless steel option, which we love best.
This water fountain is more simple than most on this list but it does require that owners clean the fountain at least once each week and it is suggested that the pump be taken apart and thoroughly cleaned each month for the health of your pet and to increase the lifespan of the fountain.
Pecute Transparent Dog Water Fountain
If you are looking for a doggy water fountain that is both functional and stylish, you may like the transparent water dispenser and fountain by Pecute.
It comes with a cute little palm tree spout design but the entire fountain is clear so you can see that your dog's water is fresh and clean. The pump is silent so this is great for owners who were hesitant about fountains due to noisy pump concerns.
It also includes three layer filtration sponge and ion resin to help keep your pet's drinking water pure and clean. It also helps remove any food particles, hair, or other debris that could get into the fountain during drinking transfer.
You can change the fountain's pour using three mode options, which can be customized to your pet's unique needs.
HoneyGuardian Automatic Pet Drinking Fountain
We love the simple design of the HoneyGuardian dog drinking fountain, but more than that we love that it puts your dogs safety and health first by using BPA free materials that are food grade and easy to keep clean.
However, the fountain is smaller than some on this list and only holds up to 70 ounces of water. For this reason, we recommend it for small to medium sized dogs.
The pump is submerged in the water and works quietly and efficiently to help keep your dog's water fresh and clean while keeping your house ambiance peaceful.
It's easy to keep clean but we do suggest you purchase extra water filters and read instructions carefully to ensure you are changing them as needed.
Wonder Creature Pet Fountain
This dog water fountain by Wonder Creature is pretty small, so it's best for smaller dogs. That said, it's adorable and simple. It's made with BPA free materials and is in the shape of a lotus flower, with a flower waterfall spout including.
The water pours out but also offers your dog a place to drink as he naturally would from the bowl. It helps to keep your dog's water moving and fresh using a quiet pump and fountain. It is also super simple to assemble and includes two cleaning brushes and a waterproof mat to protect your flooring from spills.
And for those of you who want a little extra pizzazz in your dog's water fountain, you'll love that it comes with LED light options you can turn on at night.
MOSPRO Dog Water Fountain
No products found.
This is another dog water fountain with a cute little flower spout design. It is blue and white, subtle, and simple, using a quiet pump with three water mode settings so you can offer your dog a waterfall, bubble, or fountain to sip from.
The water pours out into a bowl-shaped design but then filters back down into the pump, helping to keep your dog's water fresh and clean until it is refilled. In fact, this dog water fountain is actually designed to increase oxygen flow to the water to help keep it clean, healthy, and delicious to your pet.
For your convenience, this water fountain also comes with two replaceable filters.
Pioneer Pet Swan Dog Drinking Fountain
This is another Pioneer Pet product we had to include in this list, mostly because of it's amazingly sleek and simple design.
Of course, along with looking totally awesome, this dog water fountain includes all of our must-haves for good water fountains like including replaceable charcoal filters to purify and provide continued fresh water to your dog. It is also super simple to keep clean as it is dishwasher friendly.
This product can be used for a multi-dog household as it is a simple bowl and spout design, however it only holds 80 ounces of water so it will likely need to be refilled more often than some of these other fountains on our list.
Petmate Deluxe Fresh Flow Water Fountain
The Petmate Deluxe dog water fountain is a very simple and basic dog water fountain for dogs and owners who like to keep things straight forward.
It is reasonably priced and comes in three sizes, holding anywhere from 50 ounces to 216 ounces depending on which one you order. It also comes in either black or white.
The fountain is ideal for both dogs and cats of any size, depending on the size you order, and includes a charcoal filter to help purify and oxygenate water for a fresh, healthy drink every time.
Petmate Deluxe is also easy to assemble and disassemble, however it is not dishwasher safe and must be routinely cleaned by hand.
EPICKA Sprout Dog Water Fountain
This is a great water fountain for pet owners with both dogs and cats. It is pet friendly and helps encourage good drinking habits by keeping your dog or cat hydrated with water that is softened using carbon and ion exchange resin.
We also love that it's easy to clean and easy for your dogs or cats to use.  And if your pet is finicky about how it drinks its water or if you have an anxious pet, you'll be happy to know that this water fountain is quiet and customizable.
You can choose the flow you want or whichever flow or drinking option works best for your dog or cat. There is also a water indicator window on the side of the fountain so owners can easily see if their pet's water is running low or needs to be changed and it comes with an LED light for easy nighttime drinking.
HomeRunPet Dog Water Fountain
This dog water fountain by HomeRunPet is another simple and sleek design dog owners will love as it is super quiet and simply made.
It has a silent pup and keeps the water moving and clean while also using LED lights at night. You can change the LED light colors to blue, white, red, and even purple. The filter helps to remove and clean debris and the indicator allows pet owners to know when the water is running low or needs to be refilled.
There is only one mode, however, which is a bubble up water flow. This is a great option for pet owners who want to allow their pets to drink naturally from a bowl while also keeping their water fresh and clean.
isYoung Pet Water Fountain
We think the isYoung dog water fountain is another affordable and effective way to help keep your dog's water fresh and accessible.
It holds up to 84 ounces of water and is good for small to medium sized dogs and is also suitable for cats. Like most of the pet fountains on our list, this water fountain for dogs offers a filtration system that cleans your dog's water and removes debris like food and pet hair that contaminates sitting water when pets drink naturally.
The design helps stop encouraging healthy drinking habits from your dog and is great for finicky drinkers. It comes with a filter, but we suggest washing the filter before use and then routinely after use to help keep your dog's water safe and clean.
IPettie Tritone Ceramic Dog Water Fountain
We love this unique dog water fountain for it's unique design and also for the fact it's made out of ceramic materials, which cleans better than plastic and doesn't absorb contaminants as easily.
The design is also lovely to look at, with a quiet fountain and water pump, as well as a filtration system that helps keep your dog's water moving and clean.
The fountain comes in three sizes so you can customize it for your pet's size but we should note that even the large only holds up to 71 ounces of water. This is an ideal fountain for small to medium sized pets.
It is easy to set up, easy to clean, and beautiful to look at.
PetSafe Drinkwell Big-Dog Pet Fountain
We have a few different PetSafe products on this list so you know we already are fans of these products. They are built well and come in many varieties. This particular dog water fountain is ideal for larger dogs or multi-dog households.
It holds up to 288 ounces of water and can work for both dogs and cats, as it offers a waterfall spout that pours into a bowl shaped design for easy, natural drinking.
The product is easy to refill, easy to clean, and made of BPA free materials. You can also disassemble this water fountain and the top shelf is even dishwasher safe, which is always a plus.
The back reservoir is removable and refillable as well, holding as much as 128 ounces of water so your dog never runs low or goes thirsty.
Helping Your Dog Get Used To Drinking From A Water Fountain

Some dogs may find water fountains scary at first. Help them get used to it by introducing it to them properly.
As I mentioned early on in this article, not all dogs are going to be thrilled about drinking from a doggy water fountain. If your dog is a bit standoffish at first, don't get discouraged. I have a few tips on helping your pooch become more comfortable with his new, hydrating friend.
First, never force your anxious dog near something that is frightening for him and never scold your dog for being afraid. This will only make the anxiety worse and prolong the fear.
Instead, allow your dog to sniff out the water fountain before it is turned on. Offer him treats and even let him drink water from the surrounding bowl area (if there is one) so he understands what his fountain is for and can come to associate it with a positive thing.
Helping your anxious dog overcome his fears slowly and positively is hugely important not only for your dog's overall stress level, but also for you and your dog's relationship.
You may be surprised how quickly your dog adapts to drinking from his new water fountain so long as you take the proper steps to introduce it to him using positive reinforcement techniques.
So, take your time and enjoy your dog's new water fountain. Afterall, this is a gift for both your pooch and for you!