I work with dogs every single day so you can rest assured I come across all shapes, sizes, ages, and breeds. And each dog I work with is different. Every good boy and girl has his or her own unique personality and needs, and this is perhaps one of my favorite things about working with pups.
And since I see my fair share of dogs, I also see my fair share of dog equipment. One thing I don't see enough of in many well-meaning pet parents' homes are dog ramps.
Why do I want to see more of these ramps? Because so many dogs actually need and benefit from using ramps to get around their homes.
Is your dog one such dog? You may be surprised at the answer. Join us today as we talk about dog ramps and go over some of the best dog ramps for all types of dogs and occasions, and learn whether or not your dog is a good candidate for using a dog ramp.
What Is A Dog Ramp?

Dog ramps help certain dogs gain easier access to places like couches or beds.
Dog ramps are super useful ramps that help dogs get up and down or move around your their human's house more easily.
There are plenty of dog ramps for all different types of dogs but, for the most part, a dog ramp is basically one tool you as a pet parent can use to help dog proof your house and make it a little more friendly for Fido.
Of course, not every single dog needs a dog ramp, but many dogs do. In fact, you may be surprised at the number of dogs who could really benefit from a little extra help getting up and down around the house.
Let's learn why.
Why Do Some Dogs Need To Use Dog Ramps?

Senior dogs, very small dogs, and dogs with short legs can all benefit from a dog ramp. 
There are some dogs who obviously need dog ramps. These dogs include senior dogs with hip or joint damage, dogs who are recovering from injuries or surgery, and very small dogs who can't jump high enough to get up on the couch or bed.
Other dogs with shorter legs like Dachshunds and Corgis, for example, may also benefit from a dog ramp not only because they may not be able to jump high enough to get to their desired perch, but also because the shape of their bodies can lead to serious back injuries if they do accidently overexert themselves.
But these aren't the only types of dogs who could use a little assistance from dog ramps. Large dogs like Great Danes are more susceptible to suffering from joint issues and injuries due to their rapid growth spurts in puppyhood and will need to be monitored throughout their lifetime when running, climbing stairs, and jumping from the car or couch.
Ramps can help large dogs and dogs who are more susceptible than others to joint and bone damage actually prevent future injury by allowing them to easily get to where they need to go without putting extra pressure on their sensitive bodies.
Does your dog need a dog ramp? And if so, which kind of dog ramp would be best for him? We're about to find out.
Expert Tips On Picking The Right Dog Ramp For Your Dog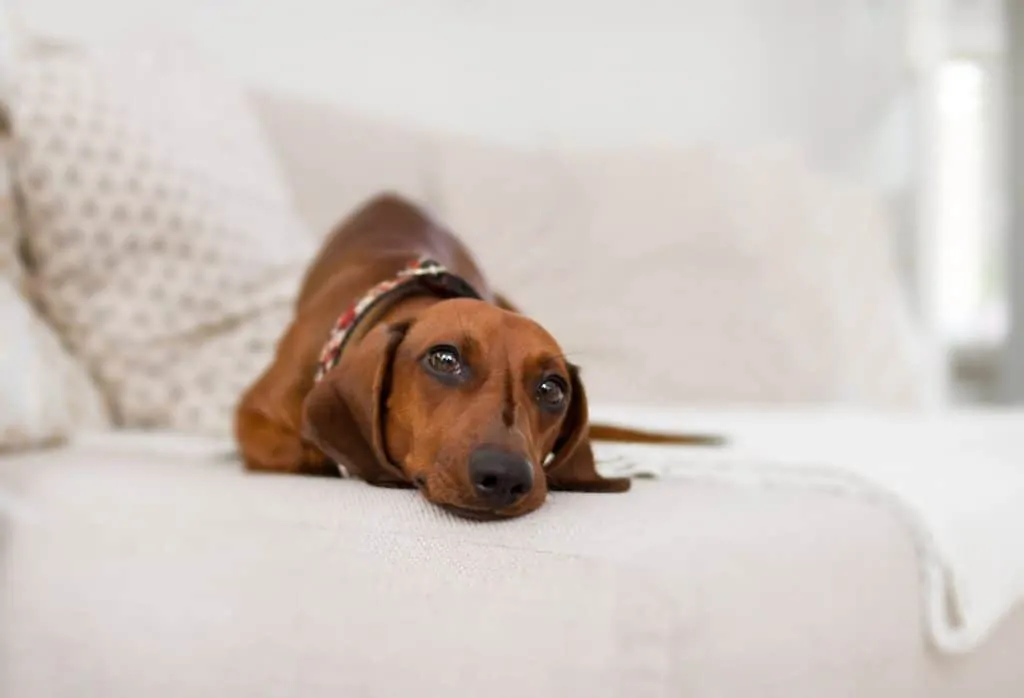 The right dog ramp for you will depend on the reason your dog needs it. 
There are so many affordable and functional dog ramp options available that finding the perfect one for you can be overwhelming. Luckily, we have some tricks you can use to help make the process of finding the best dog ramp for you a little easier.
Before going online or to the pet store in search of your dog ramp, try and have an idea of what you plan to use your dog ramp for most.
Would you like a ramp that is versatile and that can be used both indoors and out? Do you want a ramp that fits in with your furniture and that you can leave out in the open? Or would you prefer a ramp that folds and stores away quickly and easily?
You should also consider your dog before purchasing a dog ramp. Senior dogs may need ramps that don't have stairs and that instead allow them to get to their destinations at a slight angle but in a straight line.
Small dogs may do better with stepping stairs, and other dogs may do fine with both.
Whichever kind of dog you have and whatever kind of ramp you need, it'll be much easier to pick out the right one if you have a good idea of what occasion you'll be using it for.
Not sure where to start? Don't worry. We have listed a good variety of some of our favorite dog ramps to get you started.
Enjoy!
Pet Gear Stair and Ramp Combo
If you have a small dog who needs a little help getting onto your bed, couch, or other furniture, then you'll love a simple ramp design like the Pet Gear stair and ramp combination.
This is a great ramp for pets with shorter legs like Dachshunds or Corgis, or senior pets who have trouble gripping as they walk up and down ramps or stairs as it is made with a soft mat that has rubber grips.
The ramp will stay in place but also protect your dog's paws as he goes up and down and help make him feel safe and able to have full access to all of his favorite places.
The ramp comes in three colors so it will easily match your home's decor and it is small, compact, and portable.
PetStep Original Folding Pet Ramp
This is an all-around pet ramp for dogs of all ages, breeds, and sizes. It is made with soft, paw-friendly material which not only helps your dog keep his grip as he climbs but is also gentle on his sensitive paws.
We love that this dog ramp is foldable, so it stores easily and it is also durable and sturdy enough to use both indoors and out. It is rust-resistant and can hold small to very large dogs, with a weight capacity of up to 500 pounds.
The ramp is ideal for senior dogs who suffer from hip issues or very large dogs who need to be extra careful climbing up and down furniture to help prevent impending conditions like arthritis, hip dysplasia, and other joint issues.
Gen7Pets Natural Step Ramp
Okay, so this ramp is super cute and pet friendly with it's grass-surface design, which promises to be attractive and comfortable to your pet's sensitive paws.
Like some of our favorite dog ramps on this list, the ramp folds for easy storage and is easy to take with you on trips or leave under your bed until bedtime.
You can also order this ramp in both mini and large sizes, so you'll have the right size for your unique dog. However, be aware of your dog's weight and the weight capacity of the different sized ramps available.
The maximum weight allotted for this ramp is 250 pounds.
Internet's Best Small Pet Ramp
Small dogs don't require very large ramps, which is why we like this lightweight ramp by Internet's Best. It is not only light, compact, and portable, but it is easy to store and owners can adjust the height depending on what their pet needs.
This is a great ramp for pet owners with dogs of different sizes or with puppies who are going to grow but still need help climbing up to the bed or onto the couch.
Be mindful that the maximum weight for this ramp is 175 pounds and can be adjusted between 12 to 14 inches, depending on your pet.
Along with being comfortable for your pet, this product is also human friendly by being collapsable and easy to store. 
Snagle Paw Portable Pet Step Stairs
Some of us only need a pet ramp for our cars or to help our dogs get in and out of the backseat during road trips or errands.
Sound like you? Then you'll love these collapsible stepping stairs for cars, trucks or SUVs. These stairs are heavy duty yet only weigh 10 pounds, making them super easy to carry and store.
This is a great ramp product for outdoor use and camping trips or road trips with your dog, but we wouldn't necessarily recommend this ramp for everyday indoor use.
Snoozer Scalloped Pet Ramp
This is an adorable, comfy looking pet ramp that's especially useful for pets who want to climb up to comfortable spaces like couches or beds.
It comes in three sizes including small, medium, and large, and is available in five colors such as black, beige, light brown, dark brown, and red so it will be easy for you to match your bedding or style.
The ramp is best for pets who weigh under 100 pounds and it's soft, simple design means it is easy to transport. However, it is not easy to store as this ramp does not fold or collapse when needed and does have a rather bulky design.
Pet Gear Two Step Ramp for Cats And Dogs
Pet Gear has a ramp for dogs who weigh up to 150 pounds, but we think it is most ideal for smaller to medium sized dogs.
This is a great stair ramp for indoor use and it comes in four color options. It is made of sturdy materials with carpet tread grips that can be removed and easily washed when needed. The rubber grips on the bottom of the ramp help keep it in place and safe for your pet, especially if he gets a running start to get up that ramp!
Each step measures six inches so make sure your pet is able to climb that high before investing in this ramp.
Best Pet Supplies Foldable Pet Stairs
We absolutely love these pet stairs by Best Pet Supplies not only for the quality and durability, but for the aesthetic of the ramp.
This product comes in eight beautiful fabrics and designs so it will be easy to fit into your home or bedroom.  Best of all, these ramps are portable, light, and surprisingly foldable for easy storage options.
The fabric lining comes off and is machine washable and the product boasts mattress grade padding to make your pet's climb soft and comfortable.
We would especially recommend these dog stairs for senior dogs or dogs with joint issues like arthritis or hip dysplasia.
WeatherTech High Traction Pet Ramp
If your pet has mobility issues or serious joint pain, or if your dog is a senior dog at risk of suffering from injury trying to jump up and down on furniture or into your car, then we highly recommend this high-traction ramp by WeatherTech.
It has some serious grip technology to help make your dog's climbing journey as safe as possible. Most dog owners will use this product for outdoor use or for getting larger senior dogs or injured dogs in and out of their cars, but any owner can use this for indoor use as well.
The product is easy to store and move. It only weighs 16 pounds and is easy to fold and clean.
It's weight capacity allows for it to hold up to 300 pounds.
PetSafe Solvit Wooden Pet Stairs
This is a gorgeous wooden dog ramp option for the interior decorator inside you, and your dog will love it for it's comfy carpet grips which help to make his climb up and down the stairs easy and safe.
The ramp is easy to move and is best suited for indoor use. It is also collapsible and folds easily for under the bed or in-closet storage when needed.
Pet Studio Pine Frame Dog Ramp
Here is another beautiful wooden dog ramp option by Pet Studio. This pine dog ramp is ideal for smaller dogs or dogs with shorter legs like Corgis or Dachshunds, but it also helpful to senior dogs and dogs with joint and hip issues.
It comes in both two step and three step options depending on the height of your furniture or size of your dog. Each step is also covered with non-slip carpeting to ensure safe climbing and the ramp can hold up to 130 pounds.
Zinus Cozy Pet Ramp
This dog ramp is soft, functional, and cute. It comes in three color and pattern options and is best suited for smaller dogs who need a little extra help getting onto tall furniture.
The foam interior is super cushy and perfect for senior dogs or dogs recovering from injury or surgery and the cover is removable and machine washable. The product is foldable and can be assembled easily depending on where you would like to place it or how tall your furniture is.
Pet Gear Travel Lite Ramp
Available in five colors and ideal for senior pets or larger pets with joint issues, the Pet Gear travel ramp is perfect for those of you who like to be on the move.
We love this ramp for dogs who enjoy joining their human family members on road trips and especially appreciate that this product puts your dog's safety first with raised edges on the ramp's sides to reduce slips and "pressure activated grip technology" for safer climbing.
The ramp holds up to 200 pounds and is adjustable for different heights depending on the surface it is attached to. It is also easy to transport as it weighs just seven pounds and comes in different sizes depending on you and your dog's needs. And like many of our favorite dog ramps, this one also folds in half for easy storage.
Tobbi Portable Dog Ramp For Large Dogs
For the bigger dogs in your life, we recommend the portable and foldable dog ramp by Tobbi. It holds up to 200 pounds while weighing just 10 pounds. It also folds, making it easy for you to move, store, and take with you anywhere.
The soft, textured surface of the ramp helps your pet be sure-footed as he climbs into your vehicle and is designed to stay in place while your dog is using it.
We love this ramp and ramps like it for dogs with mobility problems, joint issues, and dogs recovering from injuries or surgery.
Titan Telescoping Collapsible Dog Ramp
Last on our list is this very handy and versatile dog ramp by Titan Ramps. It has a unique telescoping design which allows it to adjust to several different lengths depending on the height of your furniture or angel at which your dog climbs most safely at.
It is also collapsable and storage-ready and has a cute, bone-designed rubber surface for extra grip and support of your dog's paws.
This is an ideal dog ramp for older dogs and dogs with mobility issues. It is made with a lightweight aluminum and holds up to 180 pounds and can be used for both indoor and outdoor use. With that being said, we think it is best suited for outdoor use and getting into and out of cars.
Other Ideas On How You Can Make Your Home More Dog Friendly

Dog proofing your home helps make your dog feel happier and safer in his environment.  
As we said above, dog proofing your house not only helps keep your dog safe in his environment, but it also helps him to feel more at home.
Along with providing ramps so your dog can easily access some of his favorite spaces, you may also want to purchase dog gates to keep your dog out of spaces that are dangerous for him. This is especially important if your dog is a puppy and is still learning about the world around him.
So, how do you help your dog establish his spaces throughout the house? Try putting out his special toys and a cozy bed or blanket in spaces you want your dog to be, and help him learn that these spaces are his special spaces by encouraging him to use them with positive reinforcement.
Remember, dogs can be destructive and naughty but they are not being destructive and naughty on purpose. Dogs want to please us and most often misbehavior is simply a sign of a dog who isn't aware of what you want from him. So try to avoid punishing your dog and stick with learning how to communicate with him instead.
So, did you find a good dog ramp for your dog on our list above, or do you have other favorites you would like to share with our readers? Don't be shy! We would love to hear from you so leave us a comment in the comments section below.