Calling all fashion forward dog folks – this article is for you. If you are on the move and want an easy way to tote your pooch, you may be in the market for a dog purse. But before you go into your closet and grab your favorite Louis Vitton, there are a few things you should know.
First and foremost, not just any purse will do for your canine counterpart. You'll want to make sure the purse your carrying your furry friend in is safe, secure, breathable, and cleanable.
Dogs can be messy. Yes, that goes even for your sweet prince or princess. You should also note that not all dogs are down with riding in handbags.
So, which dogs do best in dog purses? Let's take a look.
Is My Dog A Good Candidate For A Dog Purse?

Your dog doesn't have to be pocket-sized to ride around in your purse, but it certainly helps. 
Dogs don't have to be pocket pooches to fit in a good, quality tote but you obviously don't want to try sticking your German Shepherd in your handbag anytime soon.
With that being said, even the smallest of dogs aren't going to be great candidates for riding in a dog purse.
Especially anxious dogs may find riding in a purse to be a highly stressful experience. You can tell if your dog is stressed if he is panting excessively, anxiously licking his lips or nose, yawning, shaking, or if you can see the whites of his eyes.
It's usually best to introduce dogs to new things when they are young puppies, but even adult dogs can get used to riding in a purse if they are introduced to the concept with positivity.
And while most small to medium sized dogs are good candidates for riding in a tote, we encourage you to be aware of your dog's weight and consider that weight when purchasing a dog purse. The last thing you want is for the purse to break when you're carrying your dog around inside of it.
Let's learn more about what you should look for in a quality purse for your dog.
What To Look For In A Quality Dog Dog Purse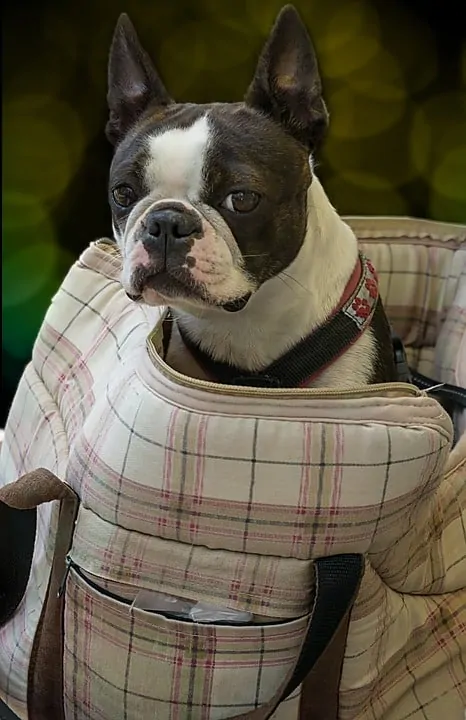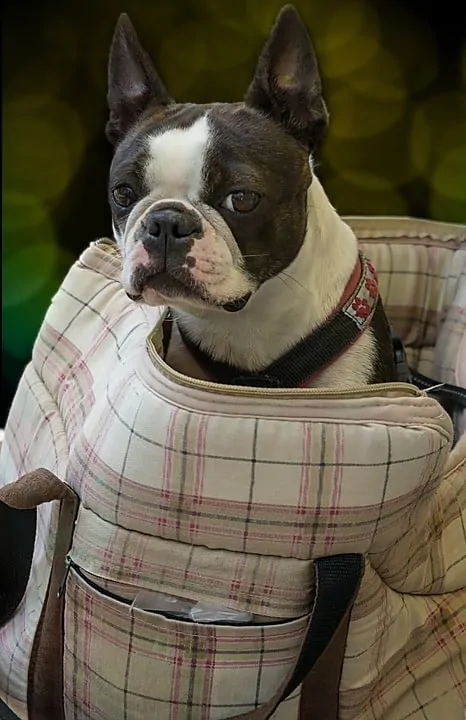 A quality bag will be more than cute – it will be safe for your dog. 
We get it. You are a fashion forward human with a fashion forward fur friend and you want the most attractive puppy purse available.
But before you buy the first cute purse you see, remember that not all dog purses are created equally and you'll want to make sure and do plenty of research before picking the right purse for you and your canine.
Here is what to look for in a good dog purse:
Weight Limit
Safety leash, harness, or clip
Cleanability
Ventilation
 Overall comfort
Weight Limit
As we mentioned above, make sure the purse you choose is ideal for your dog's weight and size. If the weight limit is not correct, you risk the purse breaking and therefore risk injury to your pooch.
Safety Leash, Harness, Or Clip
One of the reasons dog purses are so great is because they are specifically designed for hands-free traveling with your dog. For this reason, some of our favorite purses for dogs already come with built-in safety leashes, harnesses, or clips to help keep Fido snug and secure.
Cleanability 
Dogs are dogs and dogs can be messy. We recommend purses with water-proof or water-resistant lining and purses that can be easily cleaned or are washer and dryer friendly.
Ventilation
Make sure your dog's purse either stays open and allows him to comfortably poke his head out if he wants to or that it has plenty of mesh siding and ventilation holes. If your dog prefers to lay down in the dog purse, as some dogs enjoy doing, it's important to make sure there is proper ventilation in the purse lining so your dog can breathe and nap safely.
Overall Comfort
This goes for you and your fur kid. Remember, a six pound pooch in a purse can begin to feel pretty heavy after about half an hour or so on your shoulder. Make sure your dog's tote has straps that are padded and comfortable for your shoulder or arm. And, of course, make sure the inside of your purse is a comfy, cozy space for your pup to relax.
Are Dog Purses Really Safe For Dogs?

A purse can be a safe place for your dog to hang around inside temporarily as long as it is made with your dog in mind. 
The great thing about investing in a dog purse as opposed to carrying your dog around in a regular fashion purse is that these purses are made for, well, dogs.
With that being said, quality dog purses are safe so long as you find the right product and follow our checklist above.
Are you worried about finding the right purse for your pooch? Don't be.  We've done some of our own research and listed fifteen of our favorite products below.
Take a look.
I IHayner Airline Approved Fashion Pet Carrier For Dogs And Cats
The first purse on our list includes all our favorite must-haves. With a waterproof inside lining, padded interior, and built in safety leash, this adorable and affordable doggy tote is perfect.
It is for small dogs, though, holding pets who weigh up to 8 pounds only. Still, this bag has mesh siding for ventilation and is great for anxious dogs, allowing them to see out while keeping prying people from seeing in.
Best of all, this dog carrier is great for travelers. Whether you are taking a road trip or catching a flight, the tote is airline approved and fits under plane seats, all while being built to look like your typical shoulder bag.
Hubulk Pet Tote Bag With Collapsible Bowl
We love the Hubulk Pet Tote for a number of reasons, one of which is that it comes in both khaki or purple colors and can be ordered in two different sizes.
This is a great tote for small to small-medium sized dogs with the small purse holding pets up to 8 pounds and the medium sized purse holding pets up to 13 pounds.
The purse even includes a collapsible pet water or food bowl and is made with cleanable oxford lining. It includes removable inner padding and has a safety leash built in. The product zips open or closed on top and mesh windows on the side as well as six ventilation holes provide nice, fresh air for your pooch.
And for your comfort, this bag includes adjustable shoulder straps.
Zoostar Pet Travel Handbag
If you have dogs that are a little bigger then you may like the Zoostar Pet Travel Tote. It holds dogs and cats who weigh up to 15 pounds (but we still think it would be best suited for pets 10 pounds and under).
The elastic hook inside provides a great place to attach a safety leash and the mesh sidings offer great ventilation and views for your dog. We also like the soft siding and plush bottom for pet's who like to lay down and snooze.
Of course, having waterproof material with removable pads is a huge bonus in case of an accident. Last but not least, this tote comes in black or pink colors.
PetsHome Premium Leather Dog Purse And Travel Bag
No products found.
Not all dog purses come in size varieties, but this one is an exception. You can order this product in sizes ranging from small, medium, or large and can even order it in seven different colors. The bag can even hold dogs up to 22 pounds depending on size of bag purchased
It is a high quality product made of PU leather and waterproof materials with breathable mesh sidings so your pet can see out and get fresh air.
The top of the tote opens as well so your furry friend can poke his little head out and say hello. The safety leash inside means your dog will always be safe and secure and two removable, washable pads mean your tote will be easy to keep clean.
And for those of you who need a little bit of storage with your tote, this bag includes back storage pockets.
Tailfour Luxury Leather Dog Or Cat Travel Purse
This is another dog tote we love that is not only fashionable but functional. It comes in both medium or large sizes and is made of soft leather with a zipper top and removable inner padding for your pet's comfort.
The shoulder straps are made with your comfort in mind as well and there are even five storage pockets for not only your pet's snacks and toys, but your snacks as well!
The Tailfour Leather Dog Purse is made for durability and with your dog's anatomy in mind as there is a spot for him to poke his head out while at the same time zipping the purse closed for extra security.
Kenox Fashion Dog Travel Tote
The theme of great dog purses are breathability and comfortability, right? That's one of the many reasons the Kenox Fashion dog tote made it to the top of our list.
It has mesh sidings for easy breathability and two front storage pockets on both sides for you and your pooch. It zips closed and the sides roll up to expose the mesh or can be let down for extra anxious pets.
And we love the leopard print inner lining with a built-in safety leash so it's both cute and safe. Bonus points for this product including a removable bottom pad for easy cleaning.
Ballerata Dog Purse For Small Dogs
We love that this product is made of quality canvas material and includes a water-resistant PU coated bottom. It also has rubber nubs on the base of the bag for extra security when setting it down with your pet inside.
The bag's simple design makes it very versatile and it's comfortable straps make carrying or traveling with your pooch a breeze. We of course love the built-in and adjustable safety leash inside and the removable and therefore washable inner cushion.
This tote includes storage pockets as well but we should note it is best for small to medium sized dogs but is not suitable for super small dogs, puppies, or kittens.
BETOP HOUSE Mirror Surface Faux Leather Dog Tote
This is a great dog purse for that fashionista in you or for the dog who is a little bit of a diva. This purse comes in black or pink and includes a stylish design with function galore. We love the mesh windows for great breathability and the roll down flaps on each side for easy concealment of your pooch.
The zippered side storage pockets are great for valuables and the soft inner inning is excellent for pets who want to lay down and take a little nap during travel.
This product holds small dogs or cats up to 5.5 pounds and we should note that there is no safety belt included but you can attach your own. We would also recommend laying down a doggy potty pad or towel incase of accident as there are no specifications as to whether this dog purse has waterproof lining or not.
Glield Elegant Embossed Leather Dog Purse
The Glield Leather Dog Purse looks like a genuine purse and is perfect for those of you who want to travel with your dog discreetly. There are still mesh sidings on top and sides for ventilation and the removable pad inside makes comfort and for easy cleanup later.
The cute button pockets work great for extra storage options and the top of the purse zips closed. We recommend this product for smaller dogs or cats so make sure you do your measurements before ordering.
MG Collection Two-Tone Dog And Cat Tote
If you are looking for lots of durability, versatility, and function then look no further. This adorable dog purse comes in three colors including black, purple, and turquoise and all colors include a grey quilted top.
The exterior and interior are made with washable, easy-to-clean materials and the sturdy mesh tops and sides ensure your pet will breathe easy during travel. For extra safety and breathability, this purse also has eight ventilation holes throughout.
The double zippered top makes for a larger opening and easy access to your pet. There are also two large storage pockets for all your pet's goodies.
Lukovee Pet Shoulder Tote Bag
Is your dog a little messier than most? Then you'll definitely want to consider something like the above dog purse, which is entirely machine washable.
It comes in eight colors and is designed to be worn over the shoulder like a sling while still maintaining the look of a dog purse. Plus, the straps are padded and adjustable so you'll be extra comfortable for longer journeys.
This purse holds dogs who weigh up to nine pounds and while there is no safety leash built in, the product does have a drawstring mesh design to help keep your pet safely inside while also allowing him to stay cool and breath easily.
Zipper storage pockets on the side make for safe, secure storage.
Hillwest Fashion Dog Handbag
We think the Hillwest Fashion Dog Tote is super cute and perfect for fashion-forward dog owners who also care about their pet's comfort and safety. This product comes in options of black or pink and is made of vegan leather, so it's animal friendly all the way around.
It's fade resistant, easy to clean, and includes mesh on both the sidings and top of the tote. There are also front and side storage pockets.
Available in both small and medium, the dog tote includes a removable pad for easy cleaning and sides and a top that zip or unzip to open and close.
The shoulder strap and removable sling strap make it easy for owners to carry pets at their convenience and there is, best of all, an inside safety hook to keep your dog safe and secure while you're on the move.
Betop House Suede Dog Purse
This is another product that comes in two different colors – tan and black. It carries pets up to seven pounds but it would probably be best for pets who weigh between two and four pounds in order for them to fit most comfortably.
It is a lightweight dog purse so it won't add much to your load and it includes an adjustable arm strap which makes for versatile carrying. You can carry the purse in hand, on your arm, your shoulder, or even around your body like a sling.
The large pockets up front offer easy and safe storage while the mesh front gives your dog access to fresh air and a great view.
Your dog may also like that he can sit up or lay down at his leisure and there is a safety strap included for extra security. However, if you are looking for a tote that looks more like a purse than a dog carrier, this might not be the dog purse for you.
WOpet Fashion Pet Carrier
The WOpet Fashion Purse is another pet carrier on our list that is made with quality PU Leather material and is both fade resistant and washable. This purse includes mesh sidings for breathability and offers your pet a view out while keeping people from seeing in.
This product is great for small dogs who weigh up to 14 pounds and includes two safety straps that go across the top to help keep your pet safe and secure inside while the padded bottom provides extra comfort.
PetAmi Airline Approved Dog Purse
Last but not least we have the PetAmi Dog Purse which is great for vacationers as it's airline approved and comes in five different colors and patterns. This dog purse carries dogs who weigh up to 12 pounds and is created with ventilated mesh and has a very sturdy build.
It's designed to fit under airplane seats and made to hold up and not fold or collapse in on your pet, ensuring a safe and comfortable ride no matter how or where you are traveling.
The plush bedding inside is comfy and removable for easy cleaning and the product even comes with it's own water or food bowl.
Of course safety comes first when it comes to traveling with our dogs, so we love that this product also has a built-in safety leash and zipper. And for your comfort, the straps are adjustable and give you the option to carry this dog purse as a tote, on your arm, or on your shoulder.
And don't worry. There are storage pockets up front and in back for all your little extra things.
Did you love any of the above dog purses? Here's the thing: you're not going to get any use out of a dog purse if your dog doesn't enjoy sitting in one.
Luckily, we have a few tips and tricks on how you can teach your dog to enjoy the ride. Keep reading!
Training Your Dog To Ride In A Dog Purse

If your dog is small and loves to be held, he may be a great candidate for a dog purse. 
Remember, not every dog is going to enjoy riding around in a dog purse, and you'll never get your dog in the shoulder bag if you force him in while he's already anxious.
Don't worry, though. You can work on training your dog to enjoy the ride.
Try introducing your dog to the purse slowly and gently. It's a process that may take some time and will certainly take some patience. Using positive reinforcement techniques like treats and praise while introducing your dog to his new ride will help him to associate the purse with something positive.
You can begin by placing the purse on the ground and letting your dog sniff it out. Offer your dog some healthy treats while he's investigating the purse and even drop some treats inside. Let your dog climb into the bag on his own time and never punish your dog for being fearful of the purse, as this will only make the fear worse.
If introduced to the dog purse properly, your dog should soon begin to associate the purse with something great – treats! Then, getting him to sit calmly and happily in the purse while you're on the move should be much easier.
Of course, dog purses are for temporary travel, so make sure you always have your dog's leash and harness at the ready for when he needs to get out and stretch his legs or go for a bathroom break.
We also suggest carrying some dog water bottles or travel containers for water, food, and treats to help keep your dog happy and occupied while you're on the move.
Which of the dog purses above are your favorites? We would love your input. Leave us your thoughts in the comment section below!