There's a lot of information out there for the biggest of dog breeds — those weighing over 55 pounds — and small dog breeds, which usually weigh under 22. We know what is the best dog food for German shepherds, malamutes, and labs of the world. And we're up to date on the best small breed puppy foods for the yorkshire terriers, maltipoos, and chihuahuas. But what about the dogs that fall in between these two sizes? 
Some popular medium dog breeds are: 
Australian shepherd
Blue heeler (Australian cattle dog)
Shetland sheepdog
Border collie
English springer spaniel
Boykin spaniel 
Portuguese water dog
If you're lucky enough to call any of these breeds yours, or if you have a sweet adopted pup who's a mix of breeds but falls between 22 and 55 pounds or so, this article is for you!
Do medium sized dogs have certain needs?
Like all dogs, medium dogs should eat high-quality foods that list proteins, whole grains, and vegetables in their ingredients list. With medium sized breeds, there are a range of conditions to watch for, including eye problems, bloat, thyroid issues, heart problems, and even hip and elbow dysplasia. There are ingredients in dog foods that can help keep your pet protected against issues specific to medium-sized breeds. 
For eye problems, look for fish oil that provides Omega-3s, leafy greens (which contain eye-supporting lutein and zeaxanthin), vitamin C, and beta carotene-rich foods such as carrots for a good source of vitamin A. These ingredients all support eye health, so finding a dog food that has all or most of them is a must. 

Keeping your dog's eyes clear and healthy is easy with the right foods. 
To help prevent bloat, target foods without fat in the first four ingredients and without added citric acid, as one study found these factors to increase the risk of bloat in some dogs. 
The thyroid is an important hormone-producing gland in a dog's neck. If the thyroid gets out of whack, things get wonky in your dog's body. Thyroid dysfunction can cause weight gain, for one thing. And it's important to keep your medium-sized dog from becoming overweight or obese. For keeping thyroid problems away, look for dog foods with short ingredients lists of which you can understand most of the ingredients. Also, check for "highly digestible" labels, and ensure that grains are whole and lower on the list, i.e. not one of the top four or so ingredients. If your dog already struggles with thyroid problems, go grain-free. Also, stay away from additives like mixed tocopherols and citric acid. 
For keeping heart problems away, it's important not to eliminate grains completely unless your dog is truly grain intolerant. Good whole grains are often better for the heart than starchy vegetables and legumes, so if your dog is predisposed to heart issues, keep those healthy grains — like brown rice — steady in your dog's diet. Also, as always, make sure the first several ingredients of your dog's food are specific, hearty proteins. 
If your medium-sized dog easily packs on weight, this can stress not only your dog's heart but also her joints. To avoid hip and elbow dysplasia, avoid dog foods with corn as a main ingredient, as it's a quick-energy filler that doesn't provide significant nutritional benefits (and therefore can make your dog eat more and gain more weight). 
Another tip to keep in mind is that while small dogs require about 45 calories per body-weight pound and large dogs only require 25, mid-breeds need somewhere around 35. This is because small breeds are highly energetic (have you ever seen a yorkie dash in quick circles when he's excited?) and have a fast metabolism to match, whereas large breeds tend to have slower metabolisms. 
Medium-sized dogs have medium-sized metabolisms, energy levels, and activity needs. 
Now, onto our list of our favorite dog foods for medium-sized dogs!
The best dog foods for medium sized dogs
The thing about foods for medium-sized dogs is that they won't often be labeled as such. There's either food for small breeds or food for large breeds. So we've split the food into two sections: for dogs around 22-35 pounds, and dogs 36-55 pounds. 
For 22-35 pound medium dogs
Rachael Ray Nutrish Just 6 Ingredients Food 
You know how we talked about how the fewer ingredients are listed in the dog food, the better? There aren't many choices on the market with a truly short ingredients list, but dog food companies are starting to understand that, just as in people food, dogs need shorter ingredients lists. Shorter means higher quality. Shorter means more of the good stuff and less of the "meh" or even bad stuff. 
Rachael Ray Nutrish Just 6 Ingredients Dog Food fits the bill for a super-healthy, super low-ingredient dog food that your pup will adore. The first six — and only six — ingredients in Rachael Ray's Just 6 Ingredients dog food are: lamb meal (remember, this isn't a by-product meal — it's straight from the best proteins of a lamb), brown rice, beet pulp, chicken fat, ground rice, and pork flavor. Within those ingredients are all the essential vitamins and minerals your dog needs. 
Not all dogs need an ingredients list this short, but if your pup struggles with gluten intolerance or bad reactions to dairy and those other unnameable ingredients in his food, try this dry food by Rachael Ray Nutrish. 
Nutro Ultra Dry Dog Food for Small Breeds
Nutro is one of our favorite dog food brands for lots of reasons. They put excellent ingredients in their dog food, for one, and their packaging is bright and enticing. The spread of fruits, meats, grains, and vegetables in a sunburst on the front give you the image of your dog eating probably better than you do. And you'd be about right! 
Nutro's small-breed dog food is suitable for medium breeds up to around 35 pounds; you just have to adjust the amount of cups you give your dog. On the packaging, Nutro recommends 1 and ⅔ a cup for a 25-pound dog, so you can adjust to about 2 cups for your 30-35-pound pup. The first ingredients of this wholesome food are chicken, chicken meal, whole brown rice, brewers rice, rice bran, lamb meal, chicken fat, and salmon meal. Lots of fantastic proteins and grains, which are great for dogs who might be predisposed to heart issues. Further on, you'll find ingredients like kale, carrots, and pumpkin, all of which are excellent for your dog's eye health. 
Nutro is an excellent choice for most medium-sized dogs. 
Wellness Complete Health Natural Dry Small Breed Dog Foods 
For medium dogs that struggle with hip and elbow problems, Wellness Complete is a top choice because of its included chondroitin and glucosamine, both of which can help relieve and even restore damaged cartilage between your dog's bones. Featuring deboned turkey as its first ingredient, this protein and grain-rich food also contains lots of fruits and vegetables to keep your dog healthy for a long time. The first ingredients are deboned turkey, chicken meal, salmon meal, oatmeal, ground brown rice, chicken fat, and oats. Oats are excellent for heart health because they help lower cholesterol levels, so this food by Wellness Complete is ideal for older dogs who are starting to show signs of heart disease or who are a bit overweight.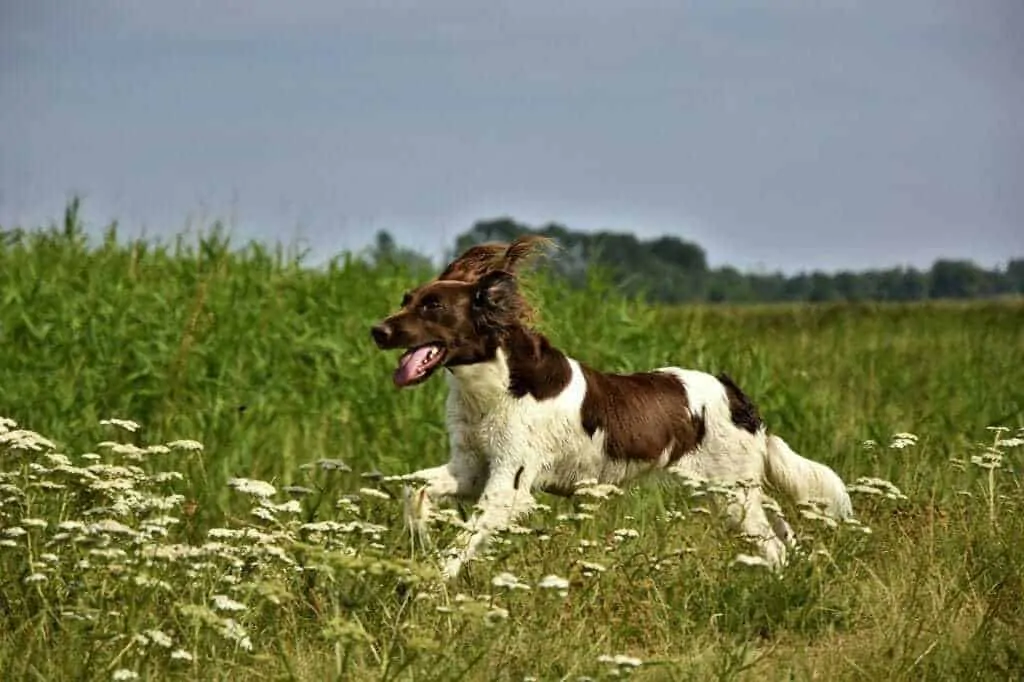 A healthy heart means a longer life!  
Wellness Core Rawrev Grain Free Small Breed Food
Is the raw diet something you've wanted to try but felt like you couldn't because of the risks — not to mention all the extra work? The Rawrev Grain Free food from Wellness Core mimics the raw diet but without all that work. The first ingredients of this grain-free food are deboned turkey, turkey meal, chicken meal, potatoes, peas, dried ground potatoes, and freeze-dried turkey. There are literally pieces of freeze-dried turkey among the regular bits of kibble. If your medium-sized dog balks at other foods, try the Wellness Core Rawrev food, because it's sure to please. Also, note that this one doesn't even include added fat among the first ingredients — and the proteins it relies on are lean. Because of this, the Wellness Core food is excellent for dogs who are prone to bloat. 
Just because it's raw doesn't mean this food doesn't have veggies and fruits, too: this kibble features kale, carrots, apples, blueberries, broccoli, and more. 
Be aware that it is one of the more expensive dog foods; still, feeding this to your medium-sized dog will definitely help keep you both out of the vet's office — which is much pricier! It's all about preventative care. 
For 36-55 pound medium dogs 
Chicken Soup for the Soul Adult Dry Dog Food 
I have fond memories of spending time in Barnes & Noble reading the typically tear-jerking and often heartwarming stories in the Chicken Soup for the Soul books. I was flabbergasted to find out that the same company that publishes those books also makes…high quality dog food! The company states outright that none of its food includes meat by-product ingredients, artificial flavors, preservatives, wheat, corn, or soy. So you know right away that you're getting great food for your dog, but let's take a look at the ingredients for this adult dry dog food. The first ingredients are chicken, turkey, chicken meal, turkey meal, cracked pearl barley, whole grain brown rice, and peas. That's what we call a fantastic start to a food that also includes salmon, duck, spinach, cranberries, carrots, apples, dried kelp, and more.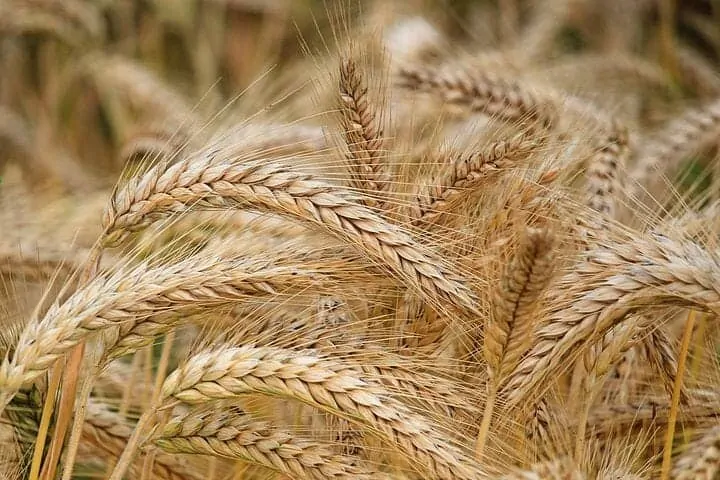 Barley is an excellent grain source for your dog.
Your medium-breed dog is sure to adore this food, which is reasonably priced for its quality and also happens to be on sale on Amazon right now. 
Blue Buffalo Basics Limited Ingredient Adult Food
If you love the idea of Rachael Ray's Nutrish 6-ingredient food but have a larger medium-sized dog, this Blue Buffalo Limited Ingredient food is for you. An excellent choice for dogs who struggle with thyroid problems, this easy-to-digest food features one protein — turkey — along with peas, turkey meal, pumpkin, and Blue Buffalo's Lifesource bits, which are packed with vitamins and minerals to help your dog thrive. For dogs with thyroid problems, weight gain, or sensitive stomachs, this food will keep tummy issues at bay. 
Castor & Pollux Organix Chicken and Sweet Potato
Probably the most expensive dog food you'll find, this food is also the absolute gold standard in dog food. Featuring organic ingredients to the point where it's USDA certified, Castor & Pollux's first ingredients are organic chicken, organic chicken meal, organic sweet potatoes, organic chickpeas, and organic peas. Further on, you've got good stuff like blueberries, alfalfa, and flaxseed — all organic, of course. All told, this is a relatively short ingredients list, which is a wonderful thing for dog food. Even better, this is a complete and balanced nutrition dog food for medium sized dogs, so the short ingredients list shouldn't make you nervous about whether or not your dog is getting complete nutrition. She is!
Castor & Pollux have led the way to make dog food better — sourced from good places and free of junk that we should keep away from our beloved fur children. 
Taste of the Wild Lamb with Ancient Grains 
Wheat and corn may not be ideal for dogs, but that doesn't mean you have to avoid grains as a whole. If you want the heart-healthy benefits of grains but don't want those grains to come from wheat or corn, check out this Taste of the Wild food with ancient grains. The first ingredients are lamb, lamb meal, grain sorghum, millet, cracked pearl barley, and dried yeast. Further on, you've got quinoa, chia seeds, tomatoes, blueberries, raspberries, yucca schidigera, and other wholesome ingredients, vitamins, and minerals. 
What we love about this food is that it proves that you don't have to avoid grains completely if you don't like the cheap flours and gluten-based grains a lot of inexpensive dog food brands have. Instead, you can make sure the grains your dog eats are high-quality — like the ones in this dog food from Taste of the Wild. As a side note, we fed Taste of the Wild to our German shepherd, Bella, until her last days. She acted like a puppy until a few weeks before she passed. If that's not a resounding applause for Taste of the Wild, I don't know what is. 
Your medium-sized dog will jump for joy if his diet consists of a quality dog food!      
This incredible list of foods for medium sized dogs proves that even though medium breeds often don't get their own label, there are plenty of fantastic, healthy, life-giving food choices out there for them.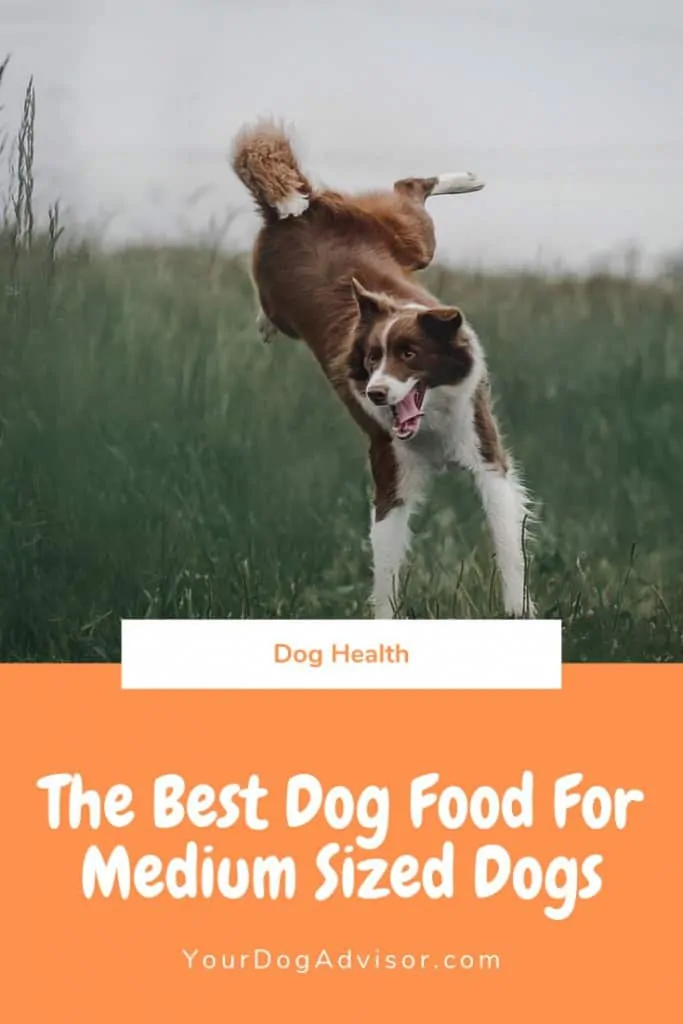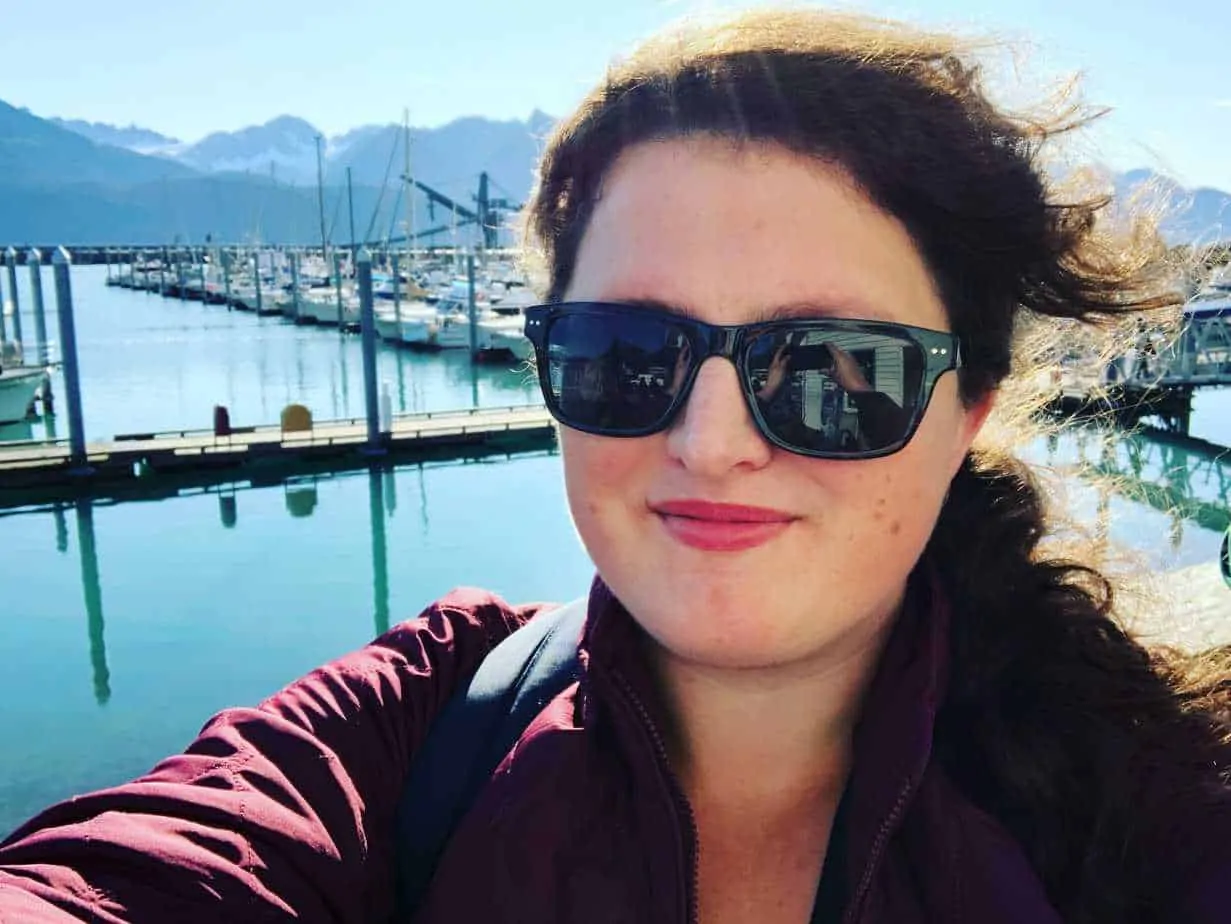 Laura Ojeda Melchor grew up with two beloved German shepherd dogs—Clancy and her daughter, Bella. From the time her family brought Clancy home, Laura took on the duty of pooper-scooper and potty trainer. As a teenager Laura helped her mother care for Clancy during her pregnancy. She still remembers fondly the exciting, frigid winter night when the seven special puppies were born. Laura kept the youngest puppy—Bella—and potty trained her, too. She taught Bella important commands, took her for long walks, and spent hours throwing tennis balls for her.
In November, Laura brought home a sweet new puppy, Eira Violet. Eira is half Alaskan malamute and half German shepherd, and Laura loves her deeply. She chose not to use a crate to potty train Eira and was pleasantly surprised at the results. She now has a sweet, energetic dog who always uses the potty outside, plays well with Laura's toddler, and enjoys long family walks in beautiful Alaska. If you were to meet Eira, she'd bound up to you with a wagging tail and get you running around the yard with her in no time.