Have you ever leaned over your food — and eaten it in that hunched position, too? It's not comfortable. The food goes down, but your body has to work harder. That's why most people eat in an upright position. Yet we feed our dogs in bowls on the floor, and for bigger dogs especially, this means they have to eat in a hunched position. Sometimes dogs will grab some kibble in their mouths and elevate their head to eat it, but if a dog is hungry, the chowing happens in that lowered position. Dogs often have to bend their elbows and crane their necks down quite far in order to eat off the floor.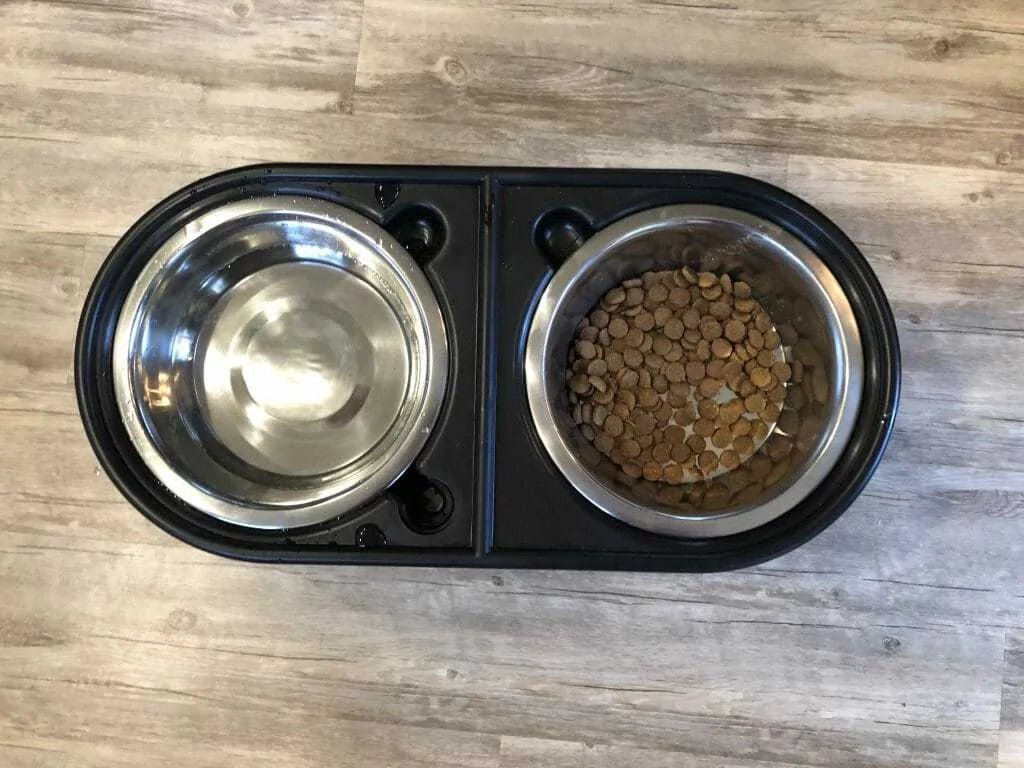 A top view of our elevated pet feeder. 
This can be detrimental to a dog's posture and digestion, causing extra gas to come out both ends of your dog. An elevated pet feeder can solve this problem, but it's not without its drawbacks — and benefits.
Pet Feeder Pros
Pet feeders can…
Help your dog retain good posture.
Keep pressure off an arthritic dog's spine and neck.
Make it easier for your dog to swallow.
Slow down the pace of eating in some dogs.
Prevent bowls from slipping around on the floor.
Give your dog a cleaner eating area.
Pet Feeder Cons
While pet feeders have many benefits, it's smart to look at the cons as well. Pet feeders can also…
Speed up the pace of eating in some dogs, which can then cause bloat. If your dog is one of them, try putting a puzzle feeder on an elevated pet feeder. This will allow your dog to retain strong posture while also slowing down her eating speed.
With an incorrect size of pet feeder, the dog can actually be forced to eat in an unnatural position. Thankfully this is something you can control when you purchase a pet feeder!
I decided to get Eira a pet feeder after noticing her digestive issues were getting better with puzzle feeding. I hoped that an elevated feeder would further slow her eating and/or help her feel more relaxed and at ease when eating. Also, I liked the idea of Eira having an eating space that we could easily bring on road trips or move about the house as necessary. And as a certified neat freak, I loved the idea of less mess around Eira's eating space! I had previously been using a small fabric mat to keep her food and water bowls from slipping around everywhere. But all it did was catch food and water stains and slide around along with the bowls. I ended up having to toss it in the washer every week, or else it would look icky and even smell bad.
So I bought Eira an elevated feeder, and after all that research, I have come up with the ultimate guide to the best elevated pet feeders for dogs big and small and everywhere in between.
OurPets Healthy Pet Diner Elevated Feeder
This elevated pet feeder, which I purchased for Eira, is a fantastic option for those who don't want to drain their wallets. It's made from thick, durable, high-quality plastic and comes with two removable stainless steel bowls. To me, that was an essential detail: the bowls had to be removable. Otherwise, the feeder becomes a pain to clean.

Eira with her OurPets Healthy Pet Diner Elevated Feeder. 
Eira took to it right away, too. She still leans down to reach her food — which is ideal, as dogs should bend down about ¼  of the way to the ground, just not all the way. But she no longer has to slightly bend her elbows in order to eat. And in Eira's case, she does not eat faster with an elevated feeder. She eats more slowly, just as I hoped she would!
Her water is up off the ground, too, which makes it easier for her to drink. The pet feeder has handles on the sides (as you can see in the above photo), which allows me to pick it up and carry it to a different place in the house if I want to. In the video below, you'll see how easy it is to remove the bowls to clean the whole structure.
The feeder does not slide around on the floor, and Eira doesn't leave little bits of kibble everywhere anymore. To me, this signals that she's having an easier time eating. Before, she would take a mouthful of kibble and eat it with her face raised, dropping bits onto the floor from her mouth. Now, she's already at a comfortable level when she's with her food bowl. She no longer feels the need to transfer the food away from the bowl in order to eat it.
She also doesn't splash water everywhere when she drinks! I'll take this to mean that it's easier for her to efficiently drink water.
And also: Just as promised, the pet feeder has made Eira's mealtimes much cleaner than they used to be. That makes for a happy me!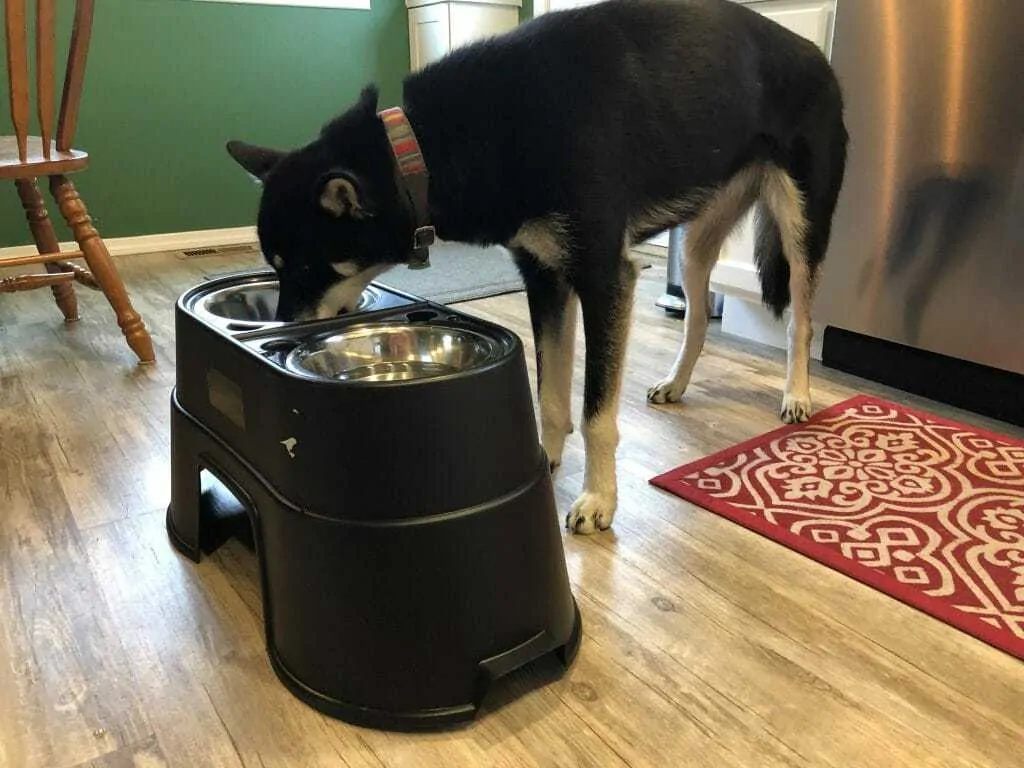 Eira eats out of her elevated pet feeder. She has to bend down — but only the perfect amount!
On days that I want Eira to have to work a little harder for her food, I can simply place her purple puzzle feeder on top of the elevated pet feeder, in place of the stainless steel bowl. That's another beauty of a pet feeder featuring removable bowls — you can put other ones in if you want to. As you saw in the video, the space under the bowl is all made from plastic; it's not just a big gap. It comfortably fits all types of other bowls!
We have the 12-inch-tall pet feeder, but you can also separately purchase a 4-inch feeder for smaller dogs.
Pet Zone Designer Diner
This elevated pet feeder costs a little more than the first one, but what I love about it is that it's adjustable. There are three positions: low to the ground, medium height, and tall. This means that even if you have a small dog, you can use this elevated pet feeder. At its lowest height, it rises 2.75 inches off the ground. Then, 8 inches, and finally, 12 inches. If you purchase this feeder while your dog is a puppy, you can use the feeder from puppyhood and into adulthood.
Another neat thing about this feeder is that it's collapsible. You can easily fold it into a flat piece that stores in your car or closet (if you don't want to keep food out all day). The reason I didn't purchase this one for Eira is that it has gaping holes instead of plastic grooves to hold the dishes. This feeder does come with two stainless steel bowls, but they are the only size bowl you can easily fit in there. Still, this is a fantastic option for those who need an adjustable elevated feeder that also folds into a slim piece.
Pawfect Pets Premium Pet Feeder
If you'd rather have a fancier-looking elevated pet feeder in your house, try this beautiful 7-inch bamboo feeder from Pawfect Pets. With a sleek, modern design and open slots for two bowls, it's a perfect feeder for your dog — that will also look nice in your house. Even though the bowl spaces are open, this pet feeder comes with not two but FOUR stainless steel bowls: two 4-cup bowls and two 6-cup bowls. You can use a shallower bowl for food and a deeper one for water, or whatever works for you.
Bamboo is a water-resistant material, so you don't have to worry about your pet feeder getting ruined by the water. And the feet on this pet feeder are anti-slip and scratch-resistant. You won't have to add those sticky fuzzy things to the bottom to keep it from scratching your floors. Those things would make it slip around, anyway, and you don't want that.
While this pet feeder does not collapse, you can purchase different sizes if you have a smaller or larger dog: a 4-inch feeder and a 12-inch feeder.
Eudemonia Raised Pet Feeder with Silicone Food Mat
Do you have a super cute, super fancy, super messy small dog? This raised pet feeder with a silicone food mat included is for you. It's designed for small dogs and it's made entirely out of ONE PIECE of stainless steel. This gives it a smooth, sleek look that's sure to blend with any home. Also, it is extremely durable. The silicone food mat goes underneath to prevent the raised pet feeder from scratching your floors — and to keep food and water off your floors if your pup is an extremely messy eater. The feeding mat is really neat: it is about 1/4 -inch deep with a ridge all along the sides to keep food and water from dripping onto your floor.
And unlike the fabric food mat I used for Eira during the first part of her life, it doesn't slip around. Plus it's super easy to clean, because you can just stick it under running water and wash it with soap and a bottle brush.
This pet feeder comes with two stainless steel bowls. Together with the matching feeder and gray food mat, they make for quite the fancy and flawless look.
Yangbaga Elevated Dog Bowls
This dog bowl set not only comes with a feeding/anti-slip mat, but it also comes with an option not found in many other feeders: a three-bowl food stand! If you have three dogs — and I know many dog-lovers who do — this is the perfect elevated feeder for you. The three-bowl option is 7.2 inches tall and features three openings with three removable stainless steel bowls for your three hungry dogs. You can also purchase a two-bowl option of 7.2 inches, or a two-bowl option of 12 inches for bigger dogs. If you really want your dogs to have a fancy eating space, you can get two three-bowl stands and fill one with food, the other with water. Your dogs will live like kings!
The mat that comes with the elevated stand (which, by the way, is made of pine wood) is anti-slip and features a cute puppy design.
UPSKY Adjustable Tilted Pet Bowl
If you have a smaller pup who loves to lick her food bowl clean, this is the elevated feeder for you. It is inexpensive and comes with only one feeder, but you can purchase two if you want one for food and one for water. But the greatest thing about this bowl is its capacity to tilt 30 degrees! Your dog can tilt it forward and lick the bowl clean. Or you can tilt it for her. Some dogs love to paw at their food dishes, and this bowl allows your adventurous dog the opportunity to play with her food bowl without knocking anything over.
The bowl and stand are both a smooth white color, but the bowl detaches from the stand for easy cleaning. It's one of the smallest stands at 2.5 inches (the bowl adds another couple of inches), so it's perfect for small or medium dogs. And it features rubber grips on the feet to prevent the stand from sliding around your floor.
Dexas Popware for Pets Elevated Feeding Bowl
This single pet feeder features a colorful bowl — choose from green, blue, pink, or purple — and it collapses to a mere 1.5-inch width. It's perfect to bring with you when you travel, or to use at home if you only want to offer food or water at an elevated height. It's 4 inches off the ground, so best for small or medium dogs, and my favorite thing about it is that you can put the whole thing in the dishwasher for super-easy cleaning.
You can also get a collapsible double-feeder from the same company. This one is higher, at 7 inches tall. Both types have rubber feet for no-slip security, and both are dishwasher-safe.
Have You Ever Used an Elevated Pet Feeder?
If not, now's a great time to start. Eira's mealtimes are much more relaxed for her now that she has an elevated bowl — and I love that she has her own portable dining space.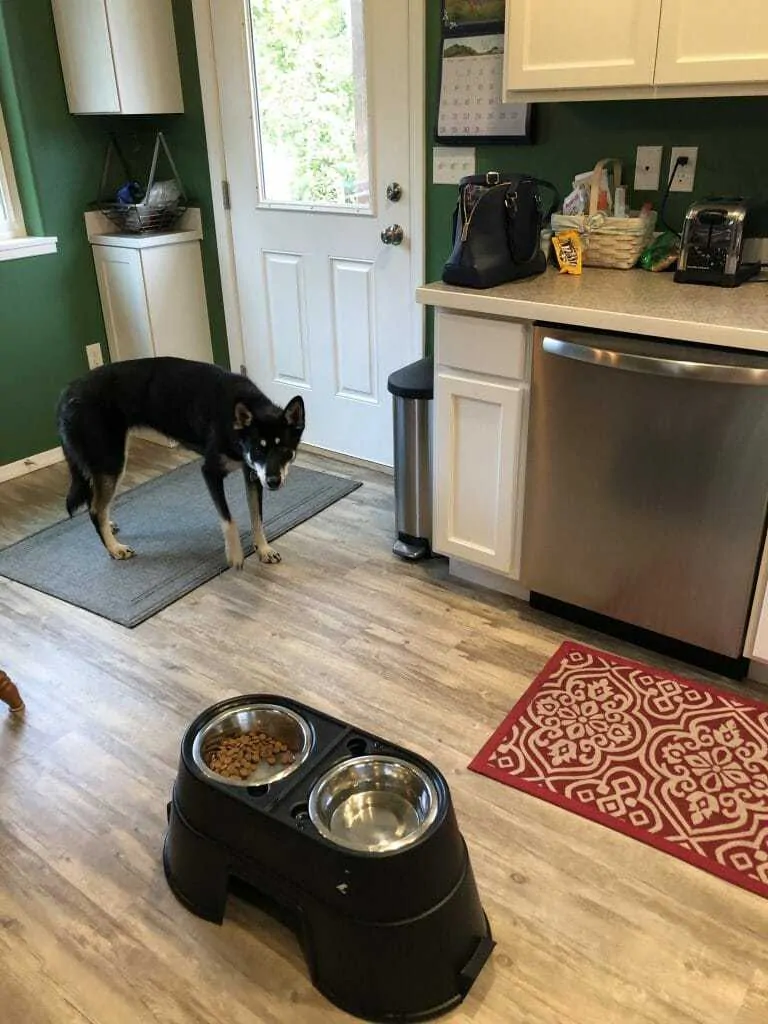 Eira walks toward her elevated feeder, ready to eat and drink and be merry.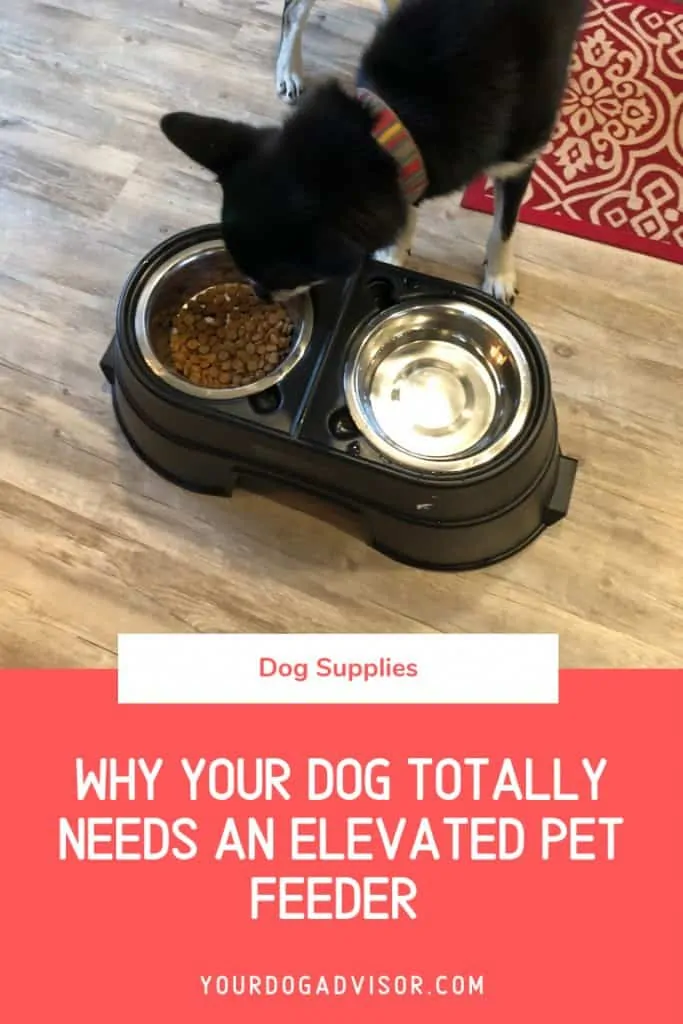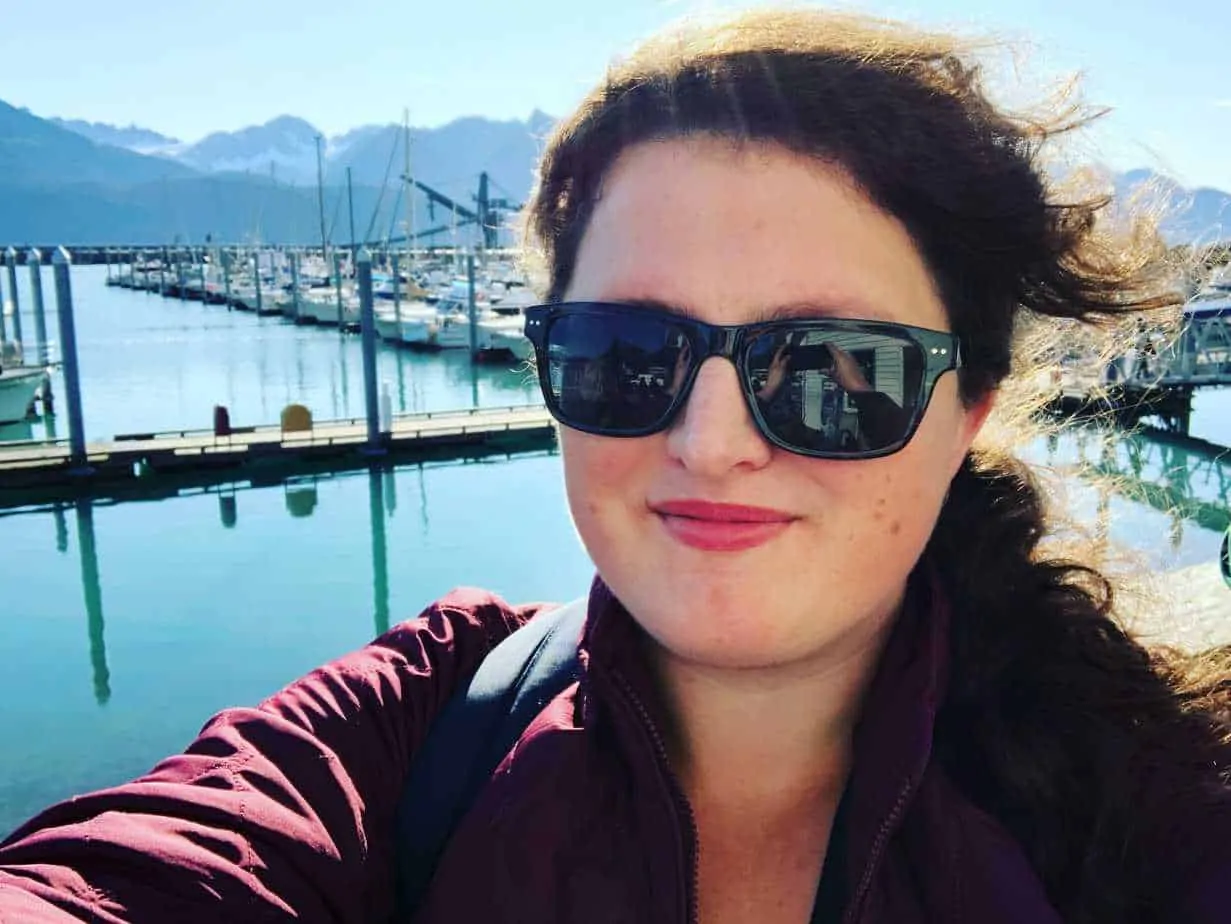 Laura Ojeda Melchor grew up with two beloved German shepherd dogs—Clancy and her daughter, Bella. From the time her family brought Clancy home, Laura took on the duty of pooper-scooper and potty trainer. As a teenager Laura helped her mother care for Clancy during her pregnancy. She still remembers fondly the exciting, frigid winter night when the seven special puppies were born. Laura kept the youngest puppy—Bella—and potty trained her, too. She taught Bella important commands, took her for long walks, and spent hours throwing tennis balls for her.
In November, Laura brought home a sweet new puppy, Eira Violet. Eira is half Alaskan malamute and half German shepherd, and Laura loves her deeply. She chose not to use a crate to potty train Eira and was pleasantly surprised at the results. She now has a sweet, energetic dog who always uses the potty outside, plays well with Laura's toddler, and enjoys long family walks in beautiful Alaska. If you were to meet Eira, she'd bound up to you with a wagging tail and get you running around the yard with her in no time.