Dogs are often hailed as great stress-relievers for humans. Along with getting lots of sleep, good food, regular exercise, and the occasional massage or spa therapy, we humans get all kinds of advice on how to keep our stress levels down. Add dogs to the mix and you get a super-relaxed human: research shows that petting and playing with dogs brings human stress levels down. Dogs are used for therapy in senior centers and hospitals and everywhere in between.
But how often do we think of our dogs' stress, and how to keep it down? We feed, play with, care for, and even clothe our dogs. These things are so important! So is going the extra mile to relieve your dog's natural stress and any aches or pains. Did you know that we can reduce our dogs' stress levels with a simple handheld pet massager?
Even though Eira's still young — not even one year old yet — I want her to feel relaxed sometimes. She hates getting brushed, so I wanted to ease her stress after grooming with a tool that would be applied to the same area (her back) but produce a feeling of relaxation.
That's when I discovered handheld pet massagers. At first, Eira and I both were unsure as to whether she would enjoy this massage tool.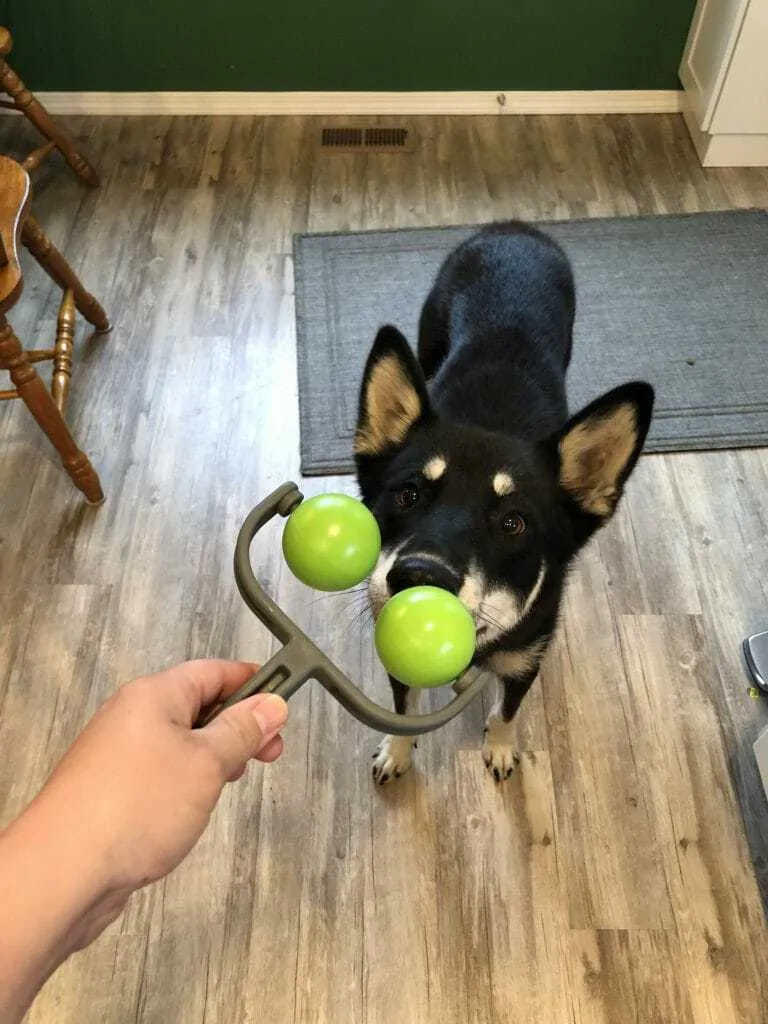 Eira suspiciously sniffs her pet massager. 
But here's what happened when I actually tried it. (Our pet massager is the type that rolls down either side of Eira's spine.)
She loved it! She sat still and let me run the handheld massager up and down her spine. It was such a fun, relaxing experience for both of us, strangely enough, and it felt nice to give Eira back some of the stress-relieving properties she's given me.
Dog lovers around the world have discovered the joy of giving their dogs a massage, and we've rounded up the very best handheld pet massagers so that you and your dog can start this bonding process, too!
Bath Massagers (That You Can Also Use Without Giving Your Dog a Bath)
ConAir PRODog Pet-It Massager
This handheld pet massager features a handle for you and soft plastic bristles for your dog. You can use it anytime — including while you give your dog a bath. The bristles softly massage your dog's skin, eliciting that relaxing feeling all throughout your dog's back, belly, neck, chest, and legs. If you use it to shampoo your dog's coat, bath time will get a lot more pleasant (I'll be getting one of these for Eira). Plus, the bristles make sure that the shampoo gets evenly spread through your dog's coat.
Hertzko Pet Bath & Massage Brush
This pretty purple handheld pet massage brush features bendy bristles that deliciously smooth your dog's fur and massage the skin beneath. Each rubber bristle has four separate micro-bristles on it to provide several points of contact. During bath time, they help massage shampoo into your dog's coat, release dirt and grime, and remove old and shedding fur.
This pet massage brush features an ergonomic grip design, so your hand won't get tired. You can massage your dog for as long as you both enjoy it!
DELE Dog Massage Brush
If you prefer a brush-handled pet massager, this massage brush will suit you. It's shaped just like a hair brush, but instead of hair-brushing bristles, it's got soft silicone bristles that massage your dog's skin and fur. The brush handle is made from a squishy gel for extra comfort — which means you can give your dog a longer massage! You can use this brush on a wet dog, as a bathing tool, or on a dry dog, as an anytime massage tool.
The brush comes in two colors: pink and blue. It features an eyelet on the end of the handle so you can easily hang it up in your bathroom or next to your dog's food area as a constant reminder to give your pup a relaxing massage.
LEEB Pet-Grooming Massage Gloves
These are probably the only gloves your dog will ever want you to put on once you both experience how awesome they are. Slip them on and pet your dog like usual — you'll also be giving your pet a delicious massage! Each glove features 260 silicone bristles that massage your pet's hair and skin. YOu can use these for a really relaxing bath time, or you can pop them on after a tough time at the vet to bring your dog's blood pressure down.
Eira has decided that I'll be getting these for myself — well, for her — for Christmas.
PetWell Handheld Massagers
PetWell has cornered the market on the most amazing non-bath pet massagers out there. Let's take a look at their wide array of handheld, non-electric pet massagers!
PetWell Back and Neck Reliever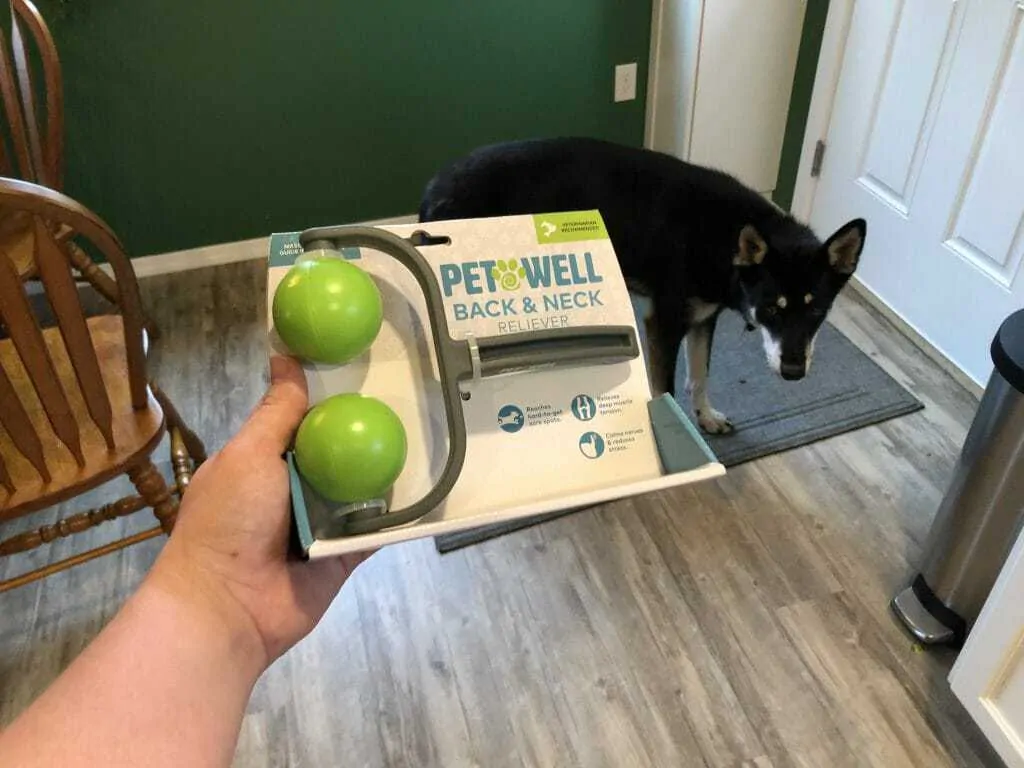 Eira suspiciously studies her new handheld pet massager — she wasn't suspicious for long! 
You probably will recognize this particular massager from the video I posted above of Eira getting her first massage. It is the one we got her, and we love it. It's sturdily made and rolls efficiently on either side of the entire spine — without getting too close for comfort. You could probably try it on yourself, too, to see how nice it feels, but Eira's face says it all.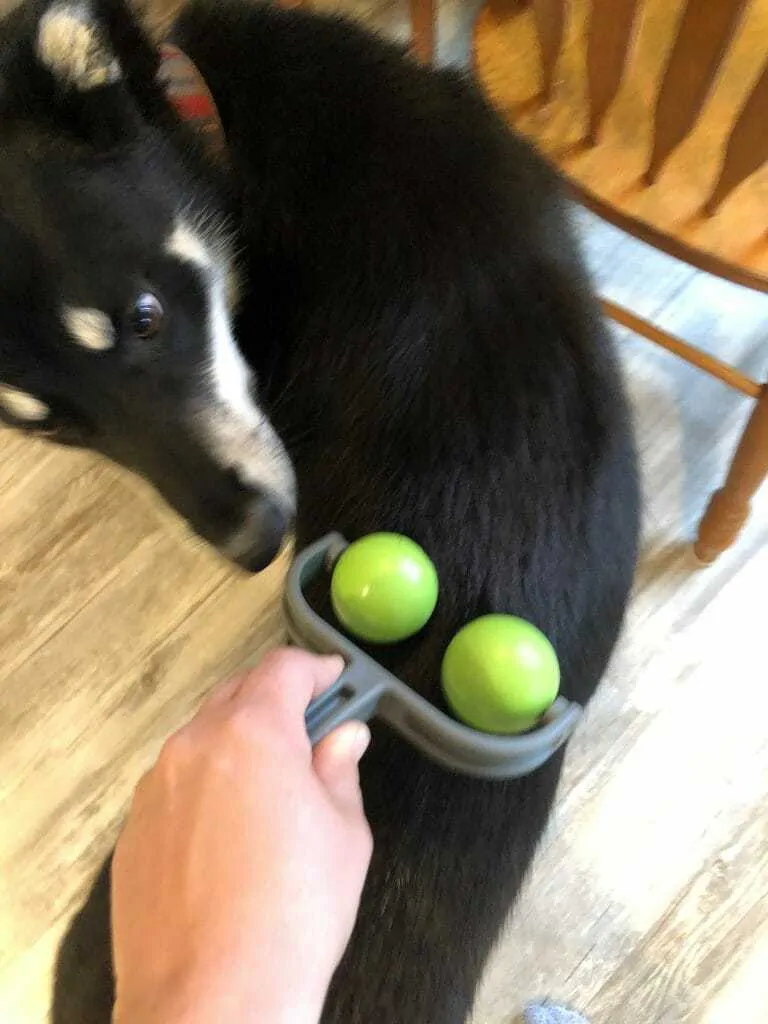 Eira sniffs the magical tool that's giving her all sorts of lovely relaxation.
I highly recommend this handheld pet massager. It's inexpensive yet provides so much joy to your dog. Even dogs who hate brushes, like Eira, will love it.
PetWell Therapeutic Hand Massager for All Sizes
This handheld pet massager features four different grips. Place your fingers in and run the massager over your dog's body to bring relief and get blood vessels flowing more efficiently. You can also simply put your hand on the grip and run the massager in slow circles over your dog's coat. If you have a pup who frequently gets terrified during thunderstorms or when a train goes by — or while he's waiting to see the vet —  keep your hand massager near. It easily fits into a purse or backpack, so you can bring it anywhere and give your pet instant relaxation and stress-relief.
PetWell All-Over Massage Roller
This handheld pet massager features one larger, rolling stainless steel ball attached to an ergonomic handle. You can conveniently massage your dog's chest, shoulders, and legs with this roller — and if it fills with fur, there's a quick-release feature that makes cleanout easy. This massager is also a perfect size for bringing to vet and groomer appointments: just pop it out of your bag when your dog seems jittery, start a slow massage, and watch the stress melt.
PetWell Dual Point Handheld Massager
This arched, handheld pet massager features a large ball in front and a small ball in the back. You can apply gentle pressure to your dog's muscles and smooth the massager back and forth over the same area several times for maximum effect. This massager could technically fit in your purse, but it's better as a tool for a sit-down session with your dog at home. Devote fifteen minutes to just helping your dog relax with this wonderful handheld massager that gets the soreness out and the relaxation in.
Electric Massagers
For an extra luxurious massage session, try these fantastic handheld electric massagers for your dog!
iHOO Handheld Electric Massager
Designed much like PetWell's All-Over Massage Roller but with electric power, this handheld massager is sure to be a treat for your dog. It features four circular massagers with 76 contact points total. It's a safe and effective way to give your dog a much-needed deep-tissue massage. Can you imagine cozying up on a rainy day, sitting next to your dog, and gently giving her a full-body massage? She would love it. And you probably would, too! This massager comes with a rechargeable lithium battery, so you don't have to worry about buying and replacing batteries.
FatPig Electric Head Massager for Pets
Made with silicone bristles and powered by a built-in lithium battery, this scalp massager will help your dog relax and maybe even fall asleep. You can use it anywhere on your dog's body, but it is designed for safe use on a dog's head. Have you ever had a scalp massage at the hairdresser's? It's wonderful, isn't it? And now your dog can experience the joy of a scalp massage, too!
No products found.
Have you ever given your pet a massage? If you haven't, try one of these handheld pet massagers and see how relaxed your dog gets when you use them. And then let us know in the comments how the massage session went!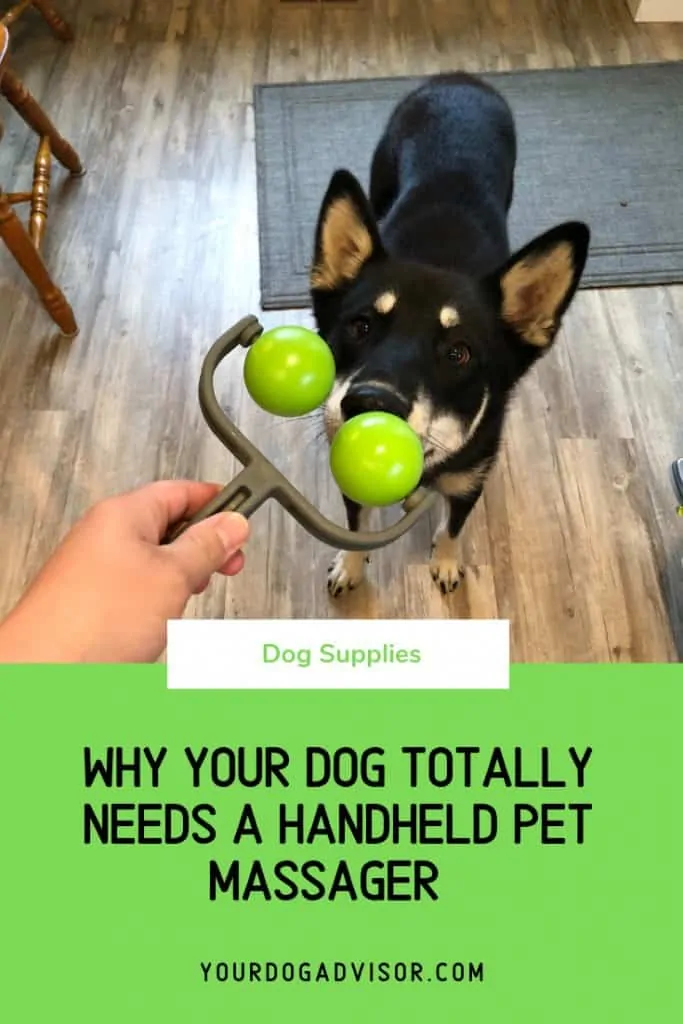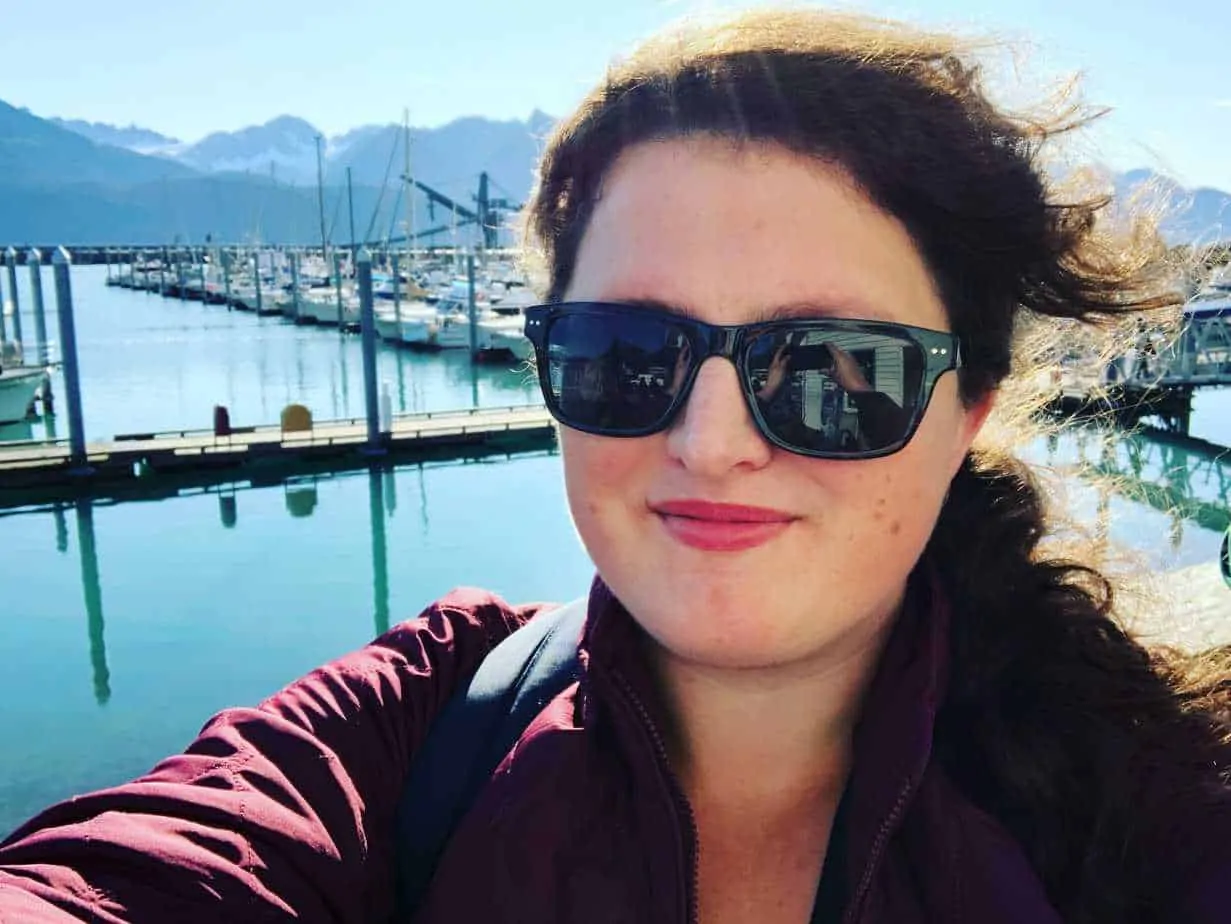 Laura Ojeda Melchor grew up with two beloved German shepherd dogs—Clancy and her daughter, Bella. From the time her family brought Clancy home, Laura took on the duty of pooper-scooper and potty trainer. As a teenager Laura helped her mother care for Clancy during her pregnancy. She still remembers fondly the exciting, frigid winter night when the seven special puppies were born. Laura kept the youngest puppy—Bella—and potty trained her, too. She taught Bella important commands, took her for long walks, and spent hours throwing tennis balls for her.
In November, Laura brought home a sweet new puppy, Eira Violet. Eira is half Alaskan malamute and half German shepherd, and Laura loves her deeply. She chose not to use a crate to potty train Eira and was pleasantly surprised at the results. She now has a sweet, energetic dog who always uses the potty outside, plays well with Laura's toddler, and enjoys long family walks in beautiful Alaska. If you were to meet Eira, she'd bound up to you with a wagging tail and get you running around the yard with her in no time.