Summer is almost upon us and there is nothing quite as fun as enjoying a sun-filled day with your best furry friend!
But did you know that dogs can actually suffer the negative effects from too much sun just like their human counterparts?
As surprising (and unnerving) as this information may be, the good news is that the pet world has prepared and we now have doggy sunscreen, dog sun-shirts, and yes, dog sunglasses.
Are you ready to beat the heat with your pup while looking totally rad doing it? Then you have come to the right place. Today, we are going to talk about why dogs really do need sunglasses and then go over some of the best sunglasses available for dogs.
Let's get started!
Do Dogs Really Need Sunglasses Or Is This A Fad?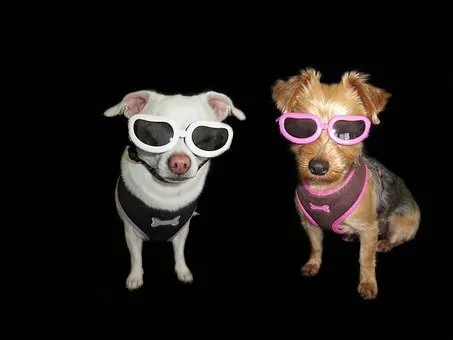 Doggy sunglasses aren't just a fashion statement.
As we mentioned above, some dogs really do need sunglasses or goggles to protect their eyes from the elements, from debris, and from the sun. However, the reason your dog may need a pair of totally cool sunglasses is probably different than you think.
While we humans use sunglasses to protect our eyes from the harsh ultraviolet sun rays, certain dog breeds wear sunglasses to protect them from eye injuries or chronic autoimmune diseases they were born with.
The truth is, all dogs can benefit from a little extra eye protection, but the dogs who really need to wear goggles or sunglasses are dogs who have large, protruding eyes like most brachycephalic breeds.
These dogs include many of the world's flat-faced favorites like French Bulldogs, Pugs, Shih Tzus, and Boston Terriers. This is because these types of dogs tend to have very large, prominent eyes that can be more susceptible to injury or abrasions.
Other dog breeds like Greyhounds and German Shepherds may be more susceptible to suffering serious health issues due to increased sun exposure since they are more prone to suffering from a chronic autoimmune disease known as chronic superficial keratitis.
Chronic superficial keratitis, also known as pannus, can lead to blindness in certain dogs and breeds and can be worsened by prolonged exposure to the sun.
So, do you think your dog needs to wear dog sunglasses? If so, think of it like this – your dog is about to look insanely cool while out and about so instead of stressing, get to shopping!
But what if your dog isn't a fan of wearing sunglasses? That's where a bit of training, treats, and patience come in. Keep reading to learn more.
How To Help Your Dog Get Used To Wearing Doggy Sunglasses

You can train your dog to wear sunglasses by using positive reinforcement and treats. 
Unless you have the most chill dog in the universe, chances are your dog isn't going to be so happy about wearing sunglasses at first.
Sunglasses are going to feel foreign on your dog's face and he's not going to be able to see the way he usually does, which can cause some stress and anxiety. For this reason, we suggest taking it slowly at first and not forcing your dog to wear the sunglasses right off the bat.
Instead, try offering your dog some treats and allow him time to sniff the sunglasses and get used to them. Hold the sunglasses up to his face and eyes and offer him treats when you do.
Practicing this with your dog repeatedly for a few days will help him begin to associate his new dog sunglasses with something positive.
And remember, try to be patient. Never punish a dog for his fear of something as this will only make the fear worse and the problem more difficult to solve.
But what if you have a very small dog or a very big dog? What if you are more into skiing the rockies than surfing the pacific? Are there different types of sunglasses for different types of dogs or occasions?
Of course! Keep reading.
Are There Different Types Of Dog Sunglasses Available?

There are lots of different sunglasses options for different types of dogs.
Not every pair of dog sunglasses is going to work for every dog. Each dog is unique and not all dogs tolerate things over their heads and faces. Furthermore, some dogs have very different shaped heads than others and will only be able to wear certain brands of sunglasses.
Luckily, there are plenty of dog sunglasses available to fit all different types of dogs and many of them are breed specific. All you need to do is take your time and do some research to find the right pair for you and your pup.
Not sure where to begin? Don't worry. We've listed some of our favorite dog sunglasses below for those dogs who need a little extra TLC when it comes to the summer sun.
QUMY Waterproof Sunglasses For Dogs Over 15 Pounds
No products found.
First on our list are these waterproof sunglasses for dogs by QUMY. We like the variety and that these glasses come in six colors so they not only add protection, but also a little style to your dog.
These sunglasses are made for dogs over 15 pounds and come with shatterproof lenses which are also anti-fog and protect against wind, water, ultraviolet sun rays, and debris.
PETLESO Large Dog Eye Protection Sunglasses
We also like the PETLESO sunglasses for dogs, which come in four different colors and have a sleek, cool design. They are easy to keep in place with an adjustable elastic head and chin strap and protect against all the elements including UV rays.
The glasses are made of polycarbonate materials and are shatterproof as well, making them extra safe for Fido.
According to Amazon, these dog sunglasses are best suited for medium to large sized dogs
Enjoying Small Dog Sun Glasses For Dogs And Cats
If you liked the above sunglasses but you have a small dog, don't worry. THese sunglasses by Enjoying are specially made for small dogs and cats.
They have a padded goggle frame for extra comfort and are made especially with tiny fur heads in mind. The elastic strap is adjustable and straps across the chin and head for extra stability.
We also like that these are UV400 glasses and that they are waterproof and windproof. And bonus points for the super adorable and sleek design which is both fashionable and comfortable for your dog.
PEDOMUS Dog Sunglasses
Great for sun or snow, the PEDOMUS sunglasses are made with polycarbonate, shatterproof material and offer UV400 protection.
This product is wonderful for versitible use and can be worn all year around to keep your dog's eyes healthy. And, as most of these products do, these dog sunglasses have an adjustable strap that goes around the head and spongy padding on the inside for extra eye comfort.
While we do love this product, we should note that it's not ideal for small dogs and is best suited for medium to larger sized dogs like Huskies or German Shepherds.
Kailian Dog Stylish Sunglasses
For small dogs, we recommend these dog sunglasses by Kailian. What we love most about them, aside from the fact that they come in three adorable colors, is that the elastic head and chin straps are adjustable and will keep the glasses in place.
They also offer UV and UVB  protection and protection from other elements including wind, snow, rain, and debris.
Whether you purchase them in black, pink, or yellow, we know you'll find them just as cute and comfortable as we do.
Vevins Dog UV Protection Dog Sunglasses
If variety is calling your name, then you'll love that the Vevins doggy sunglasses come in six colors. They are made of durable plastic and even fold at the bridge for ideal storage!
That's right, you can keep your dog's sunglasses in your pocket or purse at all times. The inner eyes are lined with foam padding for extra comfort and the sunglasses are, of course, 100% UV protective.
These glasses are also ventilated on the side so they don't fog or create moisture and your dog will have a clear view of everything going on around him.
Since these are ventilated though, we should note they are obviously not ideal for swimming.
Doggles Silver Skull Dog Sunglasses
You know we can't resist adorable names, and Doggles had us at Doggles. But there's so much more to this cute name. These dog sunglasses are for the coolest of the cool kids with a unique silver skull design.
They also have an extra wide bridge which means they are great for dogs like French Bulldogs or Shih Tzus, who tend to have wider set eyes.
These dog sunglasses also come in four sizes including extra small, small, medium and large and offer UV protection and debris protection. Padded interior makes for extra comfort and the anti-fog and shatterproof design means your pup will be styling and safe.
Petall Dog Sunglasses
Petall sunglasses for dogs come in six bright colors and are wonderful for outdoor or indoor use. This is where fashion meets function when it comes to dog sunglasses and we love the padded frames, which add extra comfort.
The chin and straps are, of course, adjustable and the glasses are also waterproof and offer UV sun protection. These are great sunglasses for small or toy breed dogs so make sure to do your measurements so you can be confident you are ordering the correct fit.
Namsan UV Dog Sunglasses
We love that these dog sunglasses offer 100% UV and UVB protection while also coming in five different colors. They are shatterproof, like many of the wonderful dog sunglasses above, and the padded cushion around the inside of the frames make for extra comfort and stability while your dog is wearing them.
They also have an adjustable chin and head strap for secure wearing and are foldable for storage.
HelloPet Dog Sunglasses/Goggles
Another pair of dog sunglasses that are great for snow sports or skiing are the HelloPet dog sunglasses above. They offer UV and anti-fog protection and an adjustable head strap for a secure, snug fit.
They come in two colors and are made of polycarbonate lenses that protect against UV400. They are also impact-resistant and shatterproof. The silicone strap is good for a non-slip fit, however it can get matted in certain dog breeds' fur so make sure you are aware of that.
The strap is also removable and easy to clean if need be. This item is best for medium to large sized dogs.
COCOPET Dog Sunglasses For Small Dogs
What comes in five colors, is shatterproof, and offers UV and debris protection? The COCOPET dog sunglasses above!
They are not only super cute but super functional with an elastic and adjustable strap, padded foam around the eyes, and waterproof lining for extra protection against the elements.
We love these sunglasses and dog sunglasses like them for super outdoorsy dogs who enjoy swimming, hiking, climbing, roadtripping, and other adventures.
And while these products are great for dogs with big personalities, they are best suited for dogs who are small in stature. In fact, we highly recommend these dog sunglasses for brachycephalic breeds like Pugs.
PetBoBo Anti-Fog Dog Sunglasses
Next on our list are the anti-fog dog sunglasses by PetBoBo. They come in blue, pink, or yellow and fold at the bridge for easy storage.
Best of all, they do protect against UV sun rays and are made with shatter-proof materials to keep your dog extra safe. We suggest you do your measurements on this product though, as consumers point out that these sunglasses are ideal for small to medium sized dogs.
Rex Specs Dog Googles
No products found.
Just take one look at Rex Specs and you know you are in for a very high quality pair of doggy sunglasses.
Not only are they sleek and come with two lenses, but they also come in five sizes including extra small, small, medium, large, and extra large. One of the lense colors is clear but you can choose the sun-protectant color and boy is there a huge variety!
Whichever style you choose, rest assured you are coming away with dog sunglasses that offer UV400 Protection and also protect against UVA and UVB rays.
We should note that this product is not for every dog as the strap goes around the muzzle, which is a very sensitive area for dogs. If you do like this product, the seller recommends allotting a 1 to 3 week training period to help your dog get used to the fit.
If you aren't sure how to go about training your dog to get used to wearing sunglasses, you can run back up to the top of this article where we list a few expert training tips.
Doggles ILS Large Sunglasses
This is another Doggles product we love and not just because of the witty name. We like the simple design of these dog sunglasses and love the extra wide nose bridge, which is great for flat-faced breeds who really need extra eye protection.
The frame is flexible and made from rubber so it is extra comfortable for finicky or sensitive dogs and the elastic head and chin straps are adjustable and make for an easy, snug fit every time.
And, like most sunglasses on this list, these guys are shatterproof and offer UV and anti-fog protection.
GO10 Dog Aviator Sunglasses
Last on our list are a pair of sunglasses that are more suited for the causal sunglass-wearing pooch. These super cute aviator style glasses are UV400 protective, but they are not as durable or fitted as some of the glasses above.
They are also NOT ideal for flat-faced breeds like Pugs, Shih Tzus, Frenchies, and other bully breeds.
Best for dogs between 20 to 50 pounds, these GO10 Aviator sunglasses are super cute and cool for that dog who enjoys casual outings and is totally fine with wearing sunglasses. And for extra flair, you can put your own personal spin on these glasses by picking from their eight different color options.
How Else Can I Protect My Dog From The Sun?

Sunglasses are just one tool available to help keep your dog protected from the sun. 
As we mentioned above, some dog breeds are more susceptible to sun damage than others. If your dog is vulnerable to sun exposure you may want to consider investing in a good, quality dog sunscreen.
Along with dog sunglasses, a dog sunscreen can protect your dog from sunburn which can lead to redness, pain, itching and even skin cancer.
Many companies also provide doggy sun protection in the form of dog hats to help further shade your dog's sensitive eyes. And for those of you who want to be extra cautious, you can even purchase a sunshirt for your dog.
If you are still worried about your dog suffering from sun exposure, we suggest you speak with your veterinarian about other ways you can help keep your dog safe and healthy during outdoor playtime.
Are you looking forward to fun in the sun with your dog this summer? Tell us some of your favorite summer activities with your dog in the comment section below.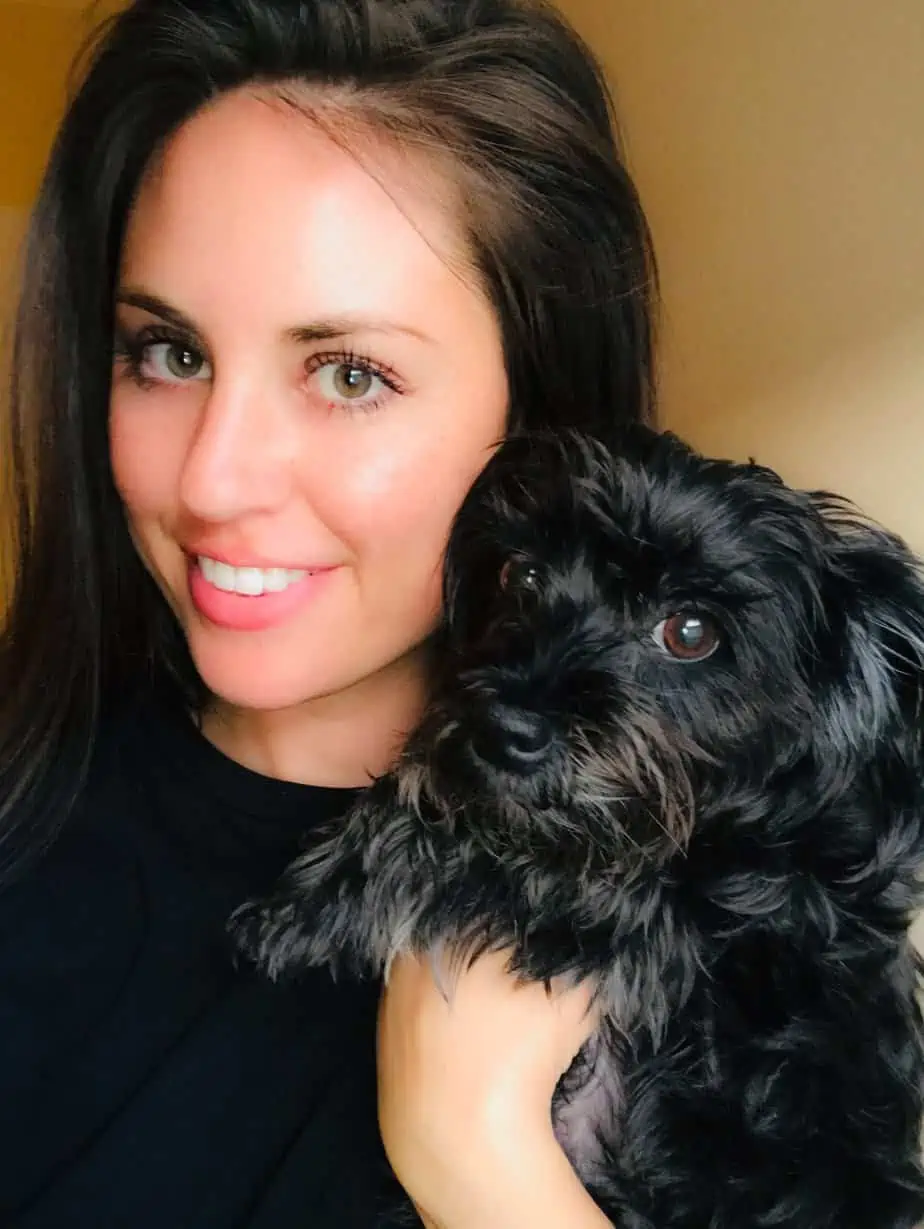 Madison Guthrie (also known as Sonny Mackenzi) is a pet care specialist and positive-reinforcement trainer who works most closely with anxious and reactive dogs. Born and raised in Littleton, Colorado, Madison developed a love for animals at an early age and spent most of her childhood outdoors rescuing stray pets and helping to rehabilitate injured wildlife.  Along with animals, Madison also developed a love for writing and music. Over the past five years, she has worked to use her passions to help the pets and pet parents in her community build stronger bonds and live happier, healthier lives together.  Currently, Madison lives in South Pasadena, California where she owns and operates Miss Madison LLC, a marketing company that focuses on helping privately owned veterinary establishments and pet care companies grow and thrive. She also works as a dog trainer at My Dog Spot, which is an award-winning pet care and training establishment in Pasadena, California.