Crate training is a popular way to potty train a new dog, keep your belongings safe from dogs that love to chew, and save your counters from dogs that "help themselves" to your food. That's why the right size crate is one of your most important pet supplies for new dog owners.
When trained right, a crate is a pleasant, safe space for your dog to sleep while you're away at work. Before taking the plunge into crate training though, you might ask: "What size crate do I need?"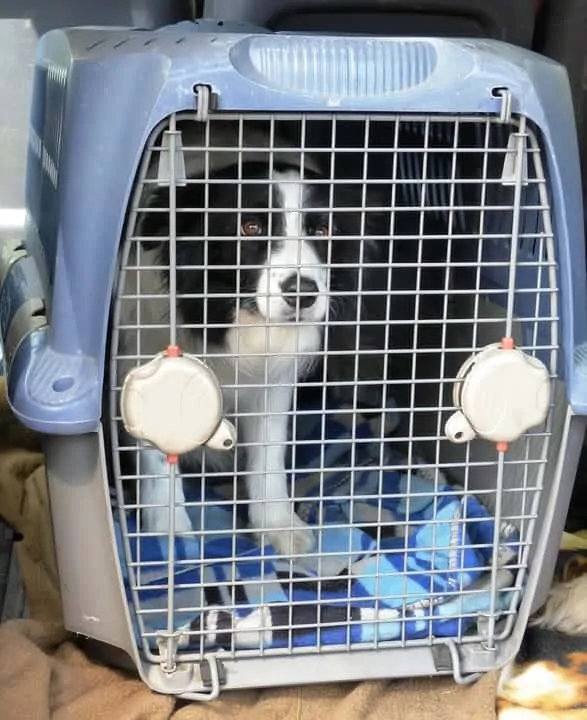 You won't be surprised to hear that the answer depends on you and your dog. When researching what size crate you need, be sure to remember that these are general guidelines and will change depending on your dog.
In general, a dog crate needs to be tall enough for your dog to stand and wide enough for your dog to turn around easily – but not much bigger.
We'll get more into the specifics of choosing the right size dog crate in a bit. Just remember that bigger isn't always better.
Selecting the right size crate will help make sure that your dog feels at home in her new crate!
Why is it important to get the right size dog crate?
Depending on what you're using your dog crate for, picking the right size crate is the most important part of selecting a crate. If you are using the crate as a tool to help with potty training, the right size crate is absolutely important. However, if you are using the crate to just keep your dog contained, it won't hurt to get a bigger crate.
Let's break this down a bit more.
The reason that a crate is helpful when potty training your dog is that it taps into your dog's instincts to not want to soil her "den." Your dog will instinctively hold it until you release her from the crate, letting you control when and where she relieves herself. However this won't work if your crate is too big.
Pick the right size dog crate when potty training to reduce the stress of owning a new dog. This will help you reap all of the amazing benefits of owning a pet without the stress of messy carpets!
If you want to potty train your dog using a crate, your crate must be big enough to be comfortable, but not big enough for your dog to designate a "potty side" and a "sleeping side."
If your crate is too big, your dog will quickly learn to pee in one corner and sleep in another. Once a dog learns to pee in her crate, it's much harder to effectively potty train her. That's why potty training dogs from puppy mill situations is so hard.
On the other hand, some people use crates just to keep their stuff safe from their dogs. That's why I crate my four year old dog when we have guests or are traveling. I don't trust my guests or my hosts to properly store all of their food – so I leave my dog in a crate while we're away. This saves us from vet visits (my dog thinks of himself as a chocolate connoisseur, a dangerous profession for a dog).
If you're like me and just want to crate your dog for safety of your dog or your stuff, pick a larger sized crate. You might even want to look into using baby gates or an x pen setup, if your dog won't jump over them.
The right size dog crate will help your pup feel right at home sleeping in the crate while you're at work.
What sort of dog crates are out there?
Now that you understand the importance of picking the right size crate, let's look at a few of your options for purchasing a dog crate. Keep in mind that you should always line your dog crate with a nice bed to keep your pup comfy. There are four main types of dog crates out there:
Wire or metal dog crates. These crates are the most common crates on the market. They are basically a wire cage for your dog. They fold down nicely and come in a variety of sizes. Most dogs will be happier in a wire dog crate with a blanket thrown over the top for some darkness, rather than being contained in a crate out in the open. Metal crates are my go-to for everyday use. They come in a huge range of sizes, which makes picking the right size crate a bit difficult!
Best for: foldable everyday use.
Plastic dog crates. Plastic dog crates don't fold down to a small size like wire crates, but they have solid walls that keep the dog feeling safe and cozy. They come in a variety of sizes and can be quite sturdy. These crates are great for everyday use.
Best for: keeping your dog cozy every day.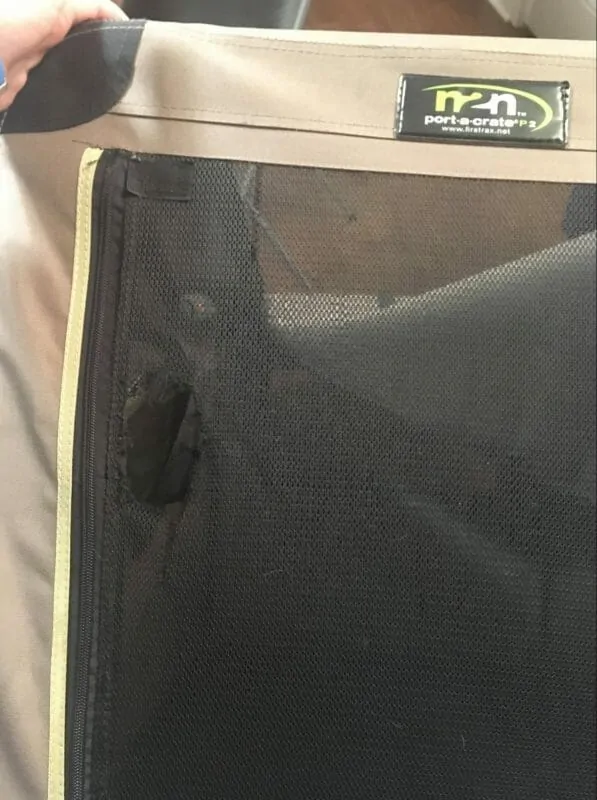 It only took my dog Barley about 20 minutes to figure out how to break out of his fabric crate, despite sleeping in his metal crate almost every day.
Soft carriers. There are a variety of soft dog crates out there, ranging from foldable fabric crates that dog sport competitors use while traveling to over-the-shoulder sling bags for smaller dogs. They are not meant for everyday use as many dogs can (and will) easily escape by tearing through the mesh or fabric.
Best for: temporary crates and travel.
Decorative dog crates. More and more dog crates now come in stylish versions that look like end tables or wicker baskets. If your dog is already comfortable in the crate, you can transition to a decorative crate for everyday use. However, most dogs can easily escape from a decorative crate and they should not be used until your dog is comfortable in the crate.
Best for: well-trained dogs and stylish owners.
Think about your main goals when deciding what type of dog crate to purchase. It's smart to start with either a metal or plastic crate at first, then slowly transition to a decorative or soft crate. As mentioned above, even well-trained dogs can easily escape from the soft crate options.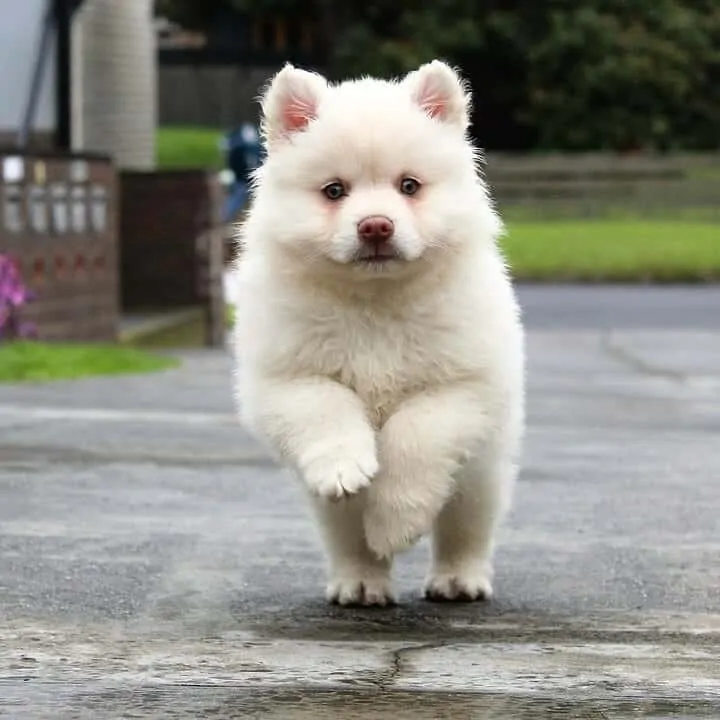 A well-sized dog crate will keep your floors safe from puppy accidents and help you teach your puppy to go potty outside.
What size dog crate do I need?
In general, you want a crate that's not much taller than your dog. Your dog should easily be able to turn around and stretch out while sleeping, but the crate shouldn't be much bigger than that.
Most crates are sized according to your dog's weight and height at the shoulder. Before driving to the pet store or hopping onto Amazon, be sure to measure your dog's height at the shoulder and weigh her.
If you don't know your dog's height and weight, you can weigh yourself on a bathroom scale first. Then pick up your dog and weigh yourself again. Then subtract the difference, and you'll have your dog's weight. Please don't do this if your dog is uncomfortable being picked up or your dog is so big that you'll hurt yourself picking her up.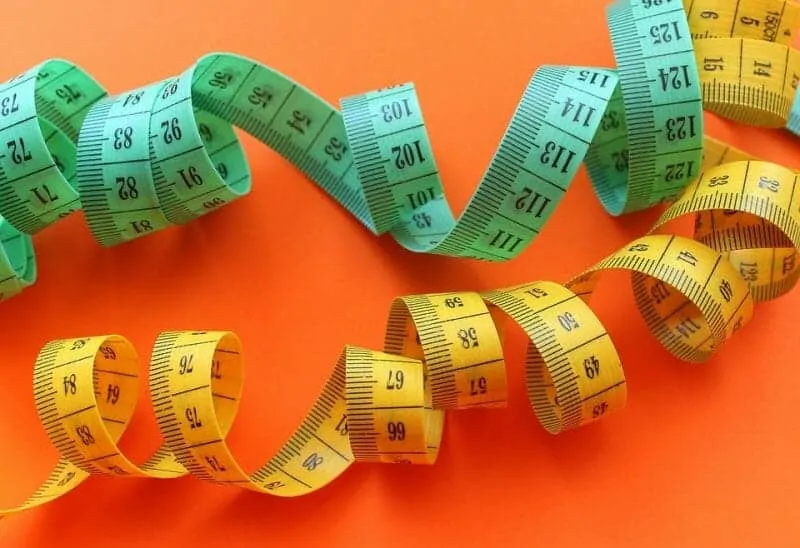 A tape measure is the easiest way to measure your dog, ensuring you pick the right size dog crate.
To measure your dog's height, either use a tape measure or estimate by putting a small piece of tape on your leg where your dog's shoulder ends. Then use the long edge of a standard piece of paper. The edge of the paper is 11 inches, which will give you an accurate enough estimate to pick the right size crate.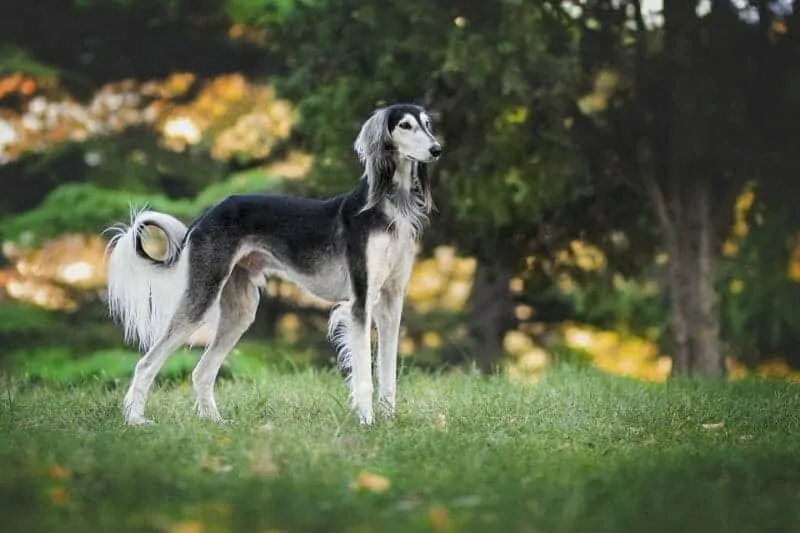 Long and leggy Salukis might need a bigger crate than other dogs of the same weight.
Use both estimates to find the right size crate, especially if your dog is an extreme body shape. Otherwise, use height as your main indicator for picking the right size crate. For example, a long and leggy Saluki might need a bigger crate for a dog her weight than an Australian Shepherd of the same weight. Likewise, a stocky Bulldog might not need as big of a crate as a Labrador that weighs the same amount.
Each of the most popular dog breeds in the world is a bit different, so don't blindly follow guidelines on how to pick the right size crate.
In general, select a crate that is at least 6 inches taller than your dog.
Crates generally just come in about five sizes, so don't stress too much about precision when asking what size crate you need. Many metal crates now come with an adjustable wall, allowing you to make the crate a bit bigger or smaller while your dog grows.
Always follow manufacturer guidelines when choosing what size crate you need. Here are some sample crate sizes and the height/weight of dogs that will fit in them to get you started when figuring out what size crate you need:
| | | |
| --- | --- | --- |
| Crate Height | Dog Weight | Dog Height at Shoulders |
| 18-24 inches | Under 25 pounds* | 18 inches or shorter |
| 30 inches | 26-40 pounds* | 24 inches or shorter |
| 36 inches | 41-70 pounds* | 30 inches or shorter |
| 42 inches | 71-90 pounds* | 36 inches or shorter |
| 48 inches | 91-110 pounds* | 42 inches or shorter |
| 54 inches | 110 pounds + | 48 inches or shorter |
* Remember to look at the height of your dog first when asking what size crate you need. For example, my border collie weighs 50 pounds – but he uses a 42 inch crate because he's so leggy!
If your dog is taller than 48 inches, you might spend some time looking for a crate to find the perfect giant-sized crate for your dog.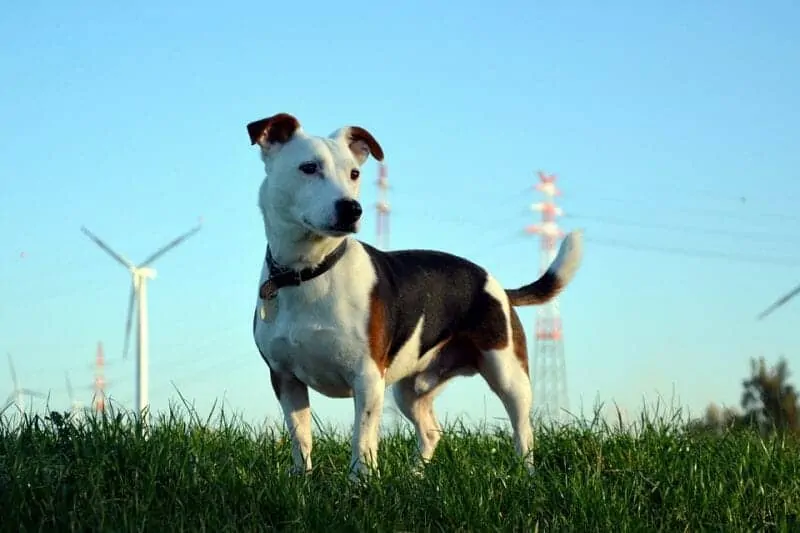 Short-legged dogs might still need a long crate, so be sure to triple-check measurements if your dog has extra-short legs!
How do I teach my dog to love her crate?
Proper crate training is important if you want to use your new properly-sized dog crate. Rather than just shoving your dog into the crate and letting her "cry it out," your mission is to turn the crate into a super-awesome place to be.
There are lots of amazing resources out there on how to crate train your dog. But for now, here are a few quick dirty tips on how to teach your dog to love her crate:
Make the crate comfy. Spruce up your new dog crate with a comfy bed. Keep it relatively dark by tossing a towel over the top.
Feed meals in the crate. Once the crate is comfy, start to feed your dog her super tasty and nutritious dog food inside the crate. You can start with the door open, then start closing the door. Let her out when she's done.
Hide surprise treats in the crate. At first, you can just covertly place treats inside the crate. Your dog will learn to check out the crate to find awesome things like bully sticks, peanut-butter stuffed kongs, and bits of cheese or lunch meat.
Play some crate games. Once your dog is comfy eating her meals in the crate and is used to going into the crate to find tasty treats, you can start playing some "crate games." Sit near the crate with some treats. When your dog looks at the crate, praise her and toss a treat into the crate. As long as she's in the crate, keep feeding her. If she comes right out, that's ok. Repeatedly praise her and toss treats inside the crate for her to eat. Eventually build up to closing the crate door for short amounts of time.
Go slowly. Don't just close your dog in the crate and leave for work for the day. This is super stressful for your dog and won't help teach her to like the crate. Slowly build from your dog eating her dinner in the crate with the door open, to you leaving the room while she's closed in the crate, to leaving the house, to going to work. Rushing crate training might send you right back to square one!
Use lots of treats to teach your dog to love her new properly-sized crate.
Picking out the right size crate is key to your success when using a crate to potty train your dog or keep your dog safe while you're at work. Select the right size crate to ensure that your dog is comfortable and relaxed while you're away.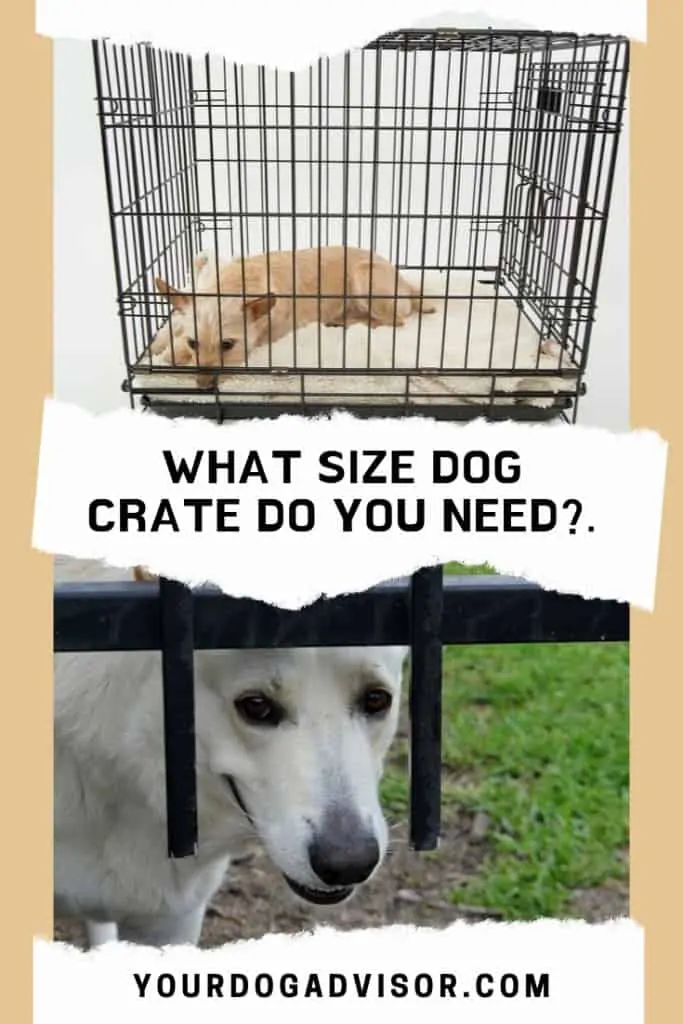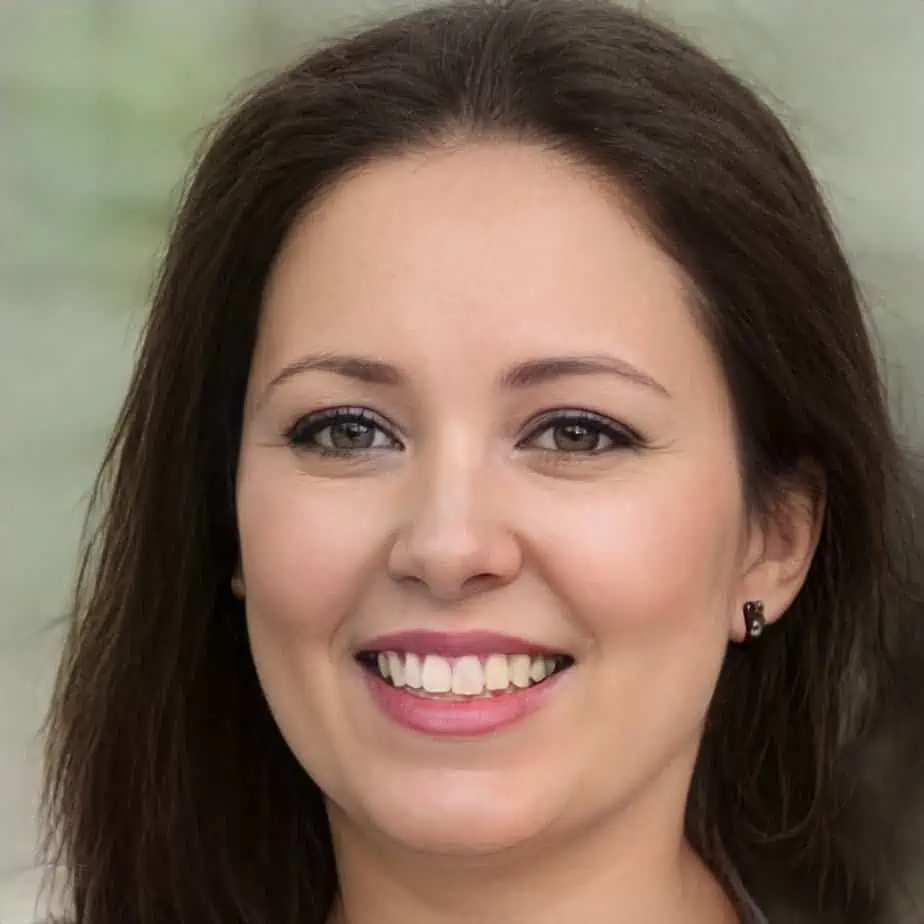 Jen Jones is a professional dog trainer and behavior specialist with more than 25 years of experience. As the founder of 'Your Dog Advisor' and the 'Canine Connection' rehabilitation center, she applies a holistic, empathetic approach, aiming to address root causes rather than merely treating symptoms.
Well known for her intuitive and compassionate approach, Jen adopts scientifically-proven, reward-based methods, encouraging positive reinforcement over punishment. Jen specializes in obedience training, behavior modification, and puppy socialization. Her innovative methods, particularly in addressing anxiety and aggression issues, have been widely recognized. Jen has worked with many of the world's leading dog behaviorists and in her free time volunteers with local animal shelters and rescue groups.