Pet camera systems that allow you to watch your dog from literally anywhere may seem like an extreme gadget for the overly canine-obsessed. But the range of useful and fun features on these cams make them ideal for both practical and passionate pet owners alike.
Pet cams make it easy to keep an eye on your fur-baby right from your phone, giving you peace of mind whether you're across town or across the world. 
I use my Furbo for everything from a quick check-in while I'm running errands, to a long conversation with my pups while I'm on vacation. It even comes in handy to check the weather and see if the front door is locked, assuming you position it correctly. With a long list of useful features like remote treat launchers, two-way audio, and swiveling lenses, there really is nothing the average pet owner can't accomplish with one of these.
And, with an ever-expanding array of products, there is sure to be a dog camera out there to fit your needs. In this article, we'll take an in-depth look at pet cams and review some of the best options for both the passionate and the practical dog owner.
>>>Want more high-tech gear for your pet? Check out our list of the best gadgets for dog lovers.
Why You Should Add a Pet Cam to Your Life
Many owners decide to purchase a pet camera so they can keep in touch with their pup while they are away. Maybe you've often wondered what your pooch does while you're at work all day. Or maybe you sometimes find yourself missing Fido while you're on vacation. A pet cam is a perfect solution to keep you and your pup connected even while you're apart.
But the usefulness of these great products goes far beyond eavesdropping on your pooch while you're bored.
If you have a dog who suffers from a medical condition, a camera may not just be useful, but necessary. You can use features like two-way audio to call your pup into view to make sure they're alright. Or, toss a treat out to assure their behaving like their normal selves.
Dog cams are a great tool for pups with separation anxiety. You can check the progress of your training by watching your dog react to your departure in real time and see exactly what they're up to while you're gone. 
Or, maybe you have a new puppy or anxious adult in the house and need help keeping an eye on them. Many cameras now offer options to receive movement alerts. This is perfect for nighttime potty training. Push notifications on your phone can let you know when your puppy has started pacing in their kennel. And bark alerts can tell you if it's urgent.
These same bark alerts have actually saved dogs from dangerous situations, including fire and robberies.
>>>Do more to keep your dog safe during emergencies by putting together your own doggy first aid kit.
The usefulness of a pet cam doesn't stop with your pet. These gadgets easily double as security cams, allowing you to check on your home while you're away.
With a little imagination and the right features, there's no end to the practical functions of these gadgets. When I was first home with my newborn, I found a way to exercise my dogs with my baby asleep on my lap using my Furbo. I would wait for them to come into my room upstairs, then I would activate the treat launch on the monitor downstairs. The marker noise would send them eagerly running down the stairs. Once they finished, they'd come back upstairs looking for more treats. And I'd send them off again with the push of a button. My pet cam ended up being one of the best gadgets a new mother could ask for!
Even if you don't use your cam every day, you're likely to find yourself relying on it more than you think. And in more ways than you think.
You already know how addicting watching your dog can be. A pet camera only adds to that obsession. 
What to Look for In a Camera for Your Pup
With so many different dog camera brands out on the market today, it can be difficult to pick just one. And a wide variation in prices, anywhere from $30 to $300, makes that decision even harder.
>>>Treat tossing pet cams aren't the only way to keep Fido entertained while you're gone. Check out our list of the best puzzle toys for dogs.
Before you can pick the best cam for your pup, you need to know what's available. Let's look at some of the different features the best brands offer.
Camera Quality – Just about every system you look at today offers HD video, but the actual resolution can vary. Cheaper cams will be closer to 700p while the high-end units top out around 1080p. But, keep in mind that your connection may also limit your video quality. If your connection speeds are slow, you won't be able to view super-HD images anyway, so save some money and go with the lower resolution system.
Treat Throwing Capabilities – Arguably, what sets a dog cam apart from any old camera is the ability to launch treats at your pup while you're away. Most cams marketed as "pet cams" do have this ability but not all. Also, keep in mind that the treat capacity of these systems varies, with some needing reloading frequently while others are capable of holding a couple of meals worth of kibble at a time.
Audio – The best pet cams have two-way audio that not only lets you hear your pup but lets your dog hear you. Some cheaper cams, however, only let you talk to your pooch while others only let you listen.
Camera Angle/Movement – Most pet and security cams tout a "wide angle" lens, but this is another area where models vary. Of the cams we reviewed, the widest view was 182 degrees and the narrowest was only 110 degrees. Most treat dispensing systems are stationary, but those designed more for security purposes often have rotatable lenses.
Bonus Features – Many cams made specifically for pets come with a host of fun features. Some treat-throwers allow you to schedule treat tosses throughout the day using the phone app or Alexa. Others offer informative push notifications like bark, activity, and selfie alerts. Many newer systems can even sync with your Amazon Dashboard to automatically order more treats once the dispenser gets low.
Subscriptions – Be aware that many of the fancier cams come with optional subscriptions with monthly or yearly fees. To access many of the bonus features mentioned above, you may need a subscription. Luckily, all cameras offer at least basic features free of charge. Many even offer free trials for the advanced features so you can try them out before you commit to upgrading.
Don't forget to consider the aesthetic look of the camera when making your decision. Pet cams come in all shapes, sizes, and colors which makes it easier to find one that fits best with your household decor. 
Consider What You'll Use the Camera For
With such a range of features, it would be impossible to decide which dog cam is the best of the best. But which one is the best for you, will depend on your situation and how you want to use it.
If you travel frequently and will rely on your camera to supplement the tasks performed by your pet-sitter, you may want to consider getting one of the more expensive dog-specific cams. These systems come with treat throwers and audio so you can check in with your pup whenever you need to. Looking for a large capacity dispenser is also a good idea, so you'll have the option of feeding meals remotely if needed. Some systems also offer person alerts. These are great for checking when the pet sitter arrives and how long they stay.
>>>Prefer to travel with your dog? Stock up on the best gear before your next canine companion road trip.
If your needs are more recreational, any one of the lower-end systems will likely work.
Almost all systems come with phones apps that allow you to easily check in on your pet while you're away. Many of these allow you to take screenshots of your pup in action. Some even let you to share directly with social media.
Wish you could take your pup with you while you travel? A dog camera is the next best thing to having your pooch by your side. With the more advanced models, you can watch them, talk to them, and throw them treats all the way from across the globe. 
These systems also work well if you need your cam to double as a security system. Some even offer motion detection without the added cost of the treat dispenser.
Consider what you want in your pet cam and how you'll put it to use. Now let's take a look at some of our picks of the best dog cameras.
>>>Is your dog a wild child who constantly needs watching? Learn some helpful tips on how to survive with a high energy dog.
The Best Dog Camera for the Obsessed Pet Owner
The Furbo dog cam is one of the original cams to hit the market. It combines functionality with a ton of fun features that make it one of the best choices for the pet owner who can't step out of the house without checking on their pup.
The Furbo cam is made up of a treat compartment, treat thrower, speaker, microphone, and night vision capable 1080p HD cam with a 160-degree view. This unit can be placed on a table or shelf or mounted via a sticky pad to any horizontal surface. For optimal treat throwing power, you'll want to mount it at least two feet off the ground. If your pup likes a challenge (like forcefully removing treats from containers), you'll want to go a lot higher than that.
The monitor connects easily to the free app with a huge range of features.
In the free addition that comes with purchase, you can take screen grabs, record video to your phone, and set a treat schedule through Alexa. You'll also get bark push notifications on your phone. You can adjust the sensitivity for the alerts or turn them off altogether.
The optional subscription version offers even more great features like person and movement notifications, automatic cloud recording of events (like barking), and even selfie notifications for when your pooch looks directly into the lens.
<iframe width="560″ height="315″ src="https://www.youtube.com/embed/KcfXSSuLWMY" frameborder="0″ allow="accelerometer; autoplay; encrypted-media; gyroscope; picture-in-picture" allowfullscreen></iframe>
The Furbo cam comes with a ton of fun features and useful tech that make it one of the best choices for pet owners who can't get enough of watching their furry friend.
If you're looking for an all-around great dog cam that can do everything, this is it. The easy to use app is perfect for quick check-ins at work, while the advanced features are great if you travel a lot.
This camera does have a smaller treat tank than many others of similar size and jams easily if crumbly or small treats are used. For this reason, it isn't the best choice for owners who will be using their cam exclusively while they are on long trips.
This is also the most expensive camera on our list, but well worth it for the serious pup parent.
The Best Dog Camera for the Frequent Traveler
The Petcube offers many of the same great features as the Furbo, but the large treat tank and easy to schedule treat delivery make it one of the best options for the frequent traveler.
The Petcube cam is wider but thinner than the Furbo and contains a treat dispenser, microphone, speaker, and night vision enabled 1080p HD camera with a 138-degree view. The treat tank has an impressive 2lb treat or kibble capacity.
This cam can be set on any horizontal surface or mounted on the wall, making it easier to keep it out of reach of destructive pups.
The free app that accompanies this system offers both free and optional subscription features.
The free features include motion alerts to let you know when your dog is getting restless or when the pet sitter has arrived. You can easily use the app to schedule treat tosses throughout the day or a larger volume of tosses near mealtime if you're running late.
<iframe width="560″ height="315″ src="https://www.youtube.com/embed/9tmJWyuq47w" frameborder="0″ allow="accelerometer; autoplay; encrypted-media; gyroscope; picture-in-picture" allowfullscreen></iframe>
The Petcube has a huge treat tank, event-triggered recordings, and motion alerts that make this one of the best pet cam choices if you frequently have to leave your pup behind when you travel.
The optional subscription includes barking and sound alerts, stored video history, and event-triggered recordings. Videos are easy to download from the cloud and share on social media. This subscription also includes access to savings perks for pet owners to save you money on the things you already buy.
This product typically costs as much as the Furbo cam, but be on the lookout for frequent Amazon specials that bring the price down almost 50%!
The Best Camera with Necessary Features on a Budget
If you want all the best features of the higher end systems but don't want to pay the higher price, WOpet's pet cam is one of the best budget cams that doesn't sacrifice a ton of features. This cam offers treat throwing capabilities, two-way audio, and a decent HD camera for about a hundred dollars less than the retail price of our first two picks.
The WOpet dog cam includes a moderately sized treat tank, microphone, speaker, and night vision capable HD camera. This cam maxes out at 720p resolution compared to the 1080p of the Furbo and Petcube. And only has a 123-degree view.
One major benefit of this system, though, is you can set the number of treats dispensed with each throw based on breed and size of your dog. This is helpful if you're trying to cut down on added calories or want to give your dog extra treats to extend the time between meals for those extra long days at work.
Like the Furbo, this monitor must be set on a horizontal surface and comes with a mountable sticky pad to keep your pup from knocking it over.
>>>Pet monitors aren't the only advancements in pet ownership. Check out these scented dog toys.
The free app that comes with this cam isn't the best out there as the system lacks a lot of the bells and whistles of other products. But it is perfect if all you're looking for is a straight forward app that lets you check on your dog, toss the occasional treat, and say hello. It is also super simple to share pics and videos straight to Facebook through the app.
The Best Compact Dog Camera
If you're looking for something small and functional to help keep an eye on Fido but not take up a lot of space, the Petzi Treat Cam is one of the best options we've found. This tiny gadget is about half the size of most treat dispensing dog cams and can easily be mounted on a wall to save on space.
This cam features a small treat tank, speaker, and 720p HD cam with 110-degree wide view. Unlike the other products on the list so far, this one does not record or transmit audio from your home, but you do still have the ability to talk to your pup.
One awesome perk of this little monitor is that it connects directly to your Amazon Dash Replenishment and will automatically let you order treats if they start to run low.
Like the WOpet, this camera app makes it super simple to share candid pictures of your pet straight to social media. Unfortunately, unlike the other products listed so far, this cam app does not support video recording.
>>>Love taking pictures of your pooch? Check out these tips to get the best photos of your best friend.
While this camera might have a shorter features list, the super simple interface and compact design make it the best choice if all you want is a dependable treat-tossing pet cam that's compatible with a tight space. And, at almost a third of the price of higher-end cams, it's easy on the budget as well.
<iframe width="560″ height="315″ src="https://www.youtube.com/embed/BA0YO_2Mr84″ frameborder="0″ allow="accelerometer; autoplay; encrypted-media; gyroscope; picture-in-picture" allowfullscreen></iframe>
The Petzi Treat Cam is a sleek, compact treat tosser that allows you to watch and talk to your pooch from anywhere without sacrificing a lot of money or space.
The Most Affordable Camera for Dog Owners
For pet owners who are desperate to find a super-affordable pet cam that will allow them to keep an eye on their pup and their home during the day, the Taococo Pet Camera is one of the best you'll find at this price point.
Unlike the others on our list, this cam doesn't toss treats. But, what it lacks in fun features, it makes up for in picture quality. This cam offers 1080p HD resolution, night vision, and the widest viewing angle of any of our choices at 182 degrees.
The wide angle lens and clear picture quality make this a great choice if you're hoping to use your cam for security in addition to keeping an eye on your pet. But what truly makes this a useful cam for watching Fido and your house is the ability to move the camera up and down and side to side.
From the phone app, you can easily tilt and rotate the camera by using your fingers. And this system comes with push notifications for motion detection and will let you know if your pup or an intruder is moving around the house. If you do catch your dog doing something they shouldn't, you can use the two-way audio feature to get their attention.
For the picture quality and lens features, you might be surprised to find out how affordable this system is. It is by far the cheapest on our list but still the best option for owners who can happily do without the treat-tossing feature.
The Endless Joys of a Pet Cam
No matter which camera you choose to help keep an eye on your fur-babies, odds are, you won't be disappointed. These gadgets are both incredibly useful and highly addictive. Once you get a glimpse into the secret life of your pup during your time away from home, you won't want to look away.
>>>Looking for more ultimate guides? Check out our articles on the best dog diapers and the best collapsible bowls.
Once my daughter was born and I had the opportunity to stay home during the day, I stopped using my camera for a while (other than the occasional exercise round). But now that my daughter is more mobile, we're spending a fair amount of time out of the house again. And my pet cam is still as useful as ever now that life is a little more scattered. Did I leave the dog door open? Did I accidentally lock the pups outside? Did I leave the front door open?
One click into my pet cam app and a flick of the finger to send some treats flying, I can reassure myself that all is well and that my pooches are safe and happy.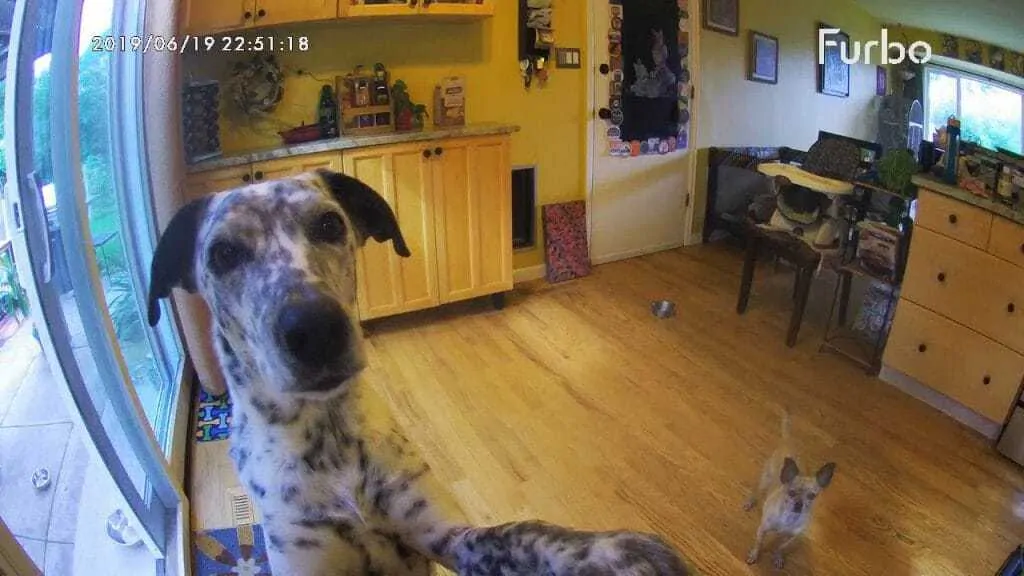 My Furbo cam is still one of the best pet-related purchases I've made. This view reassures me my pups are safe and happy while I'm away.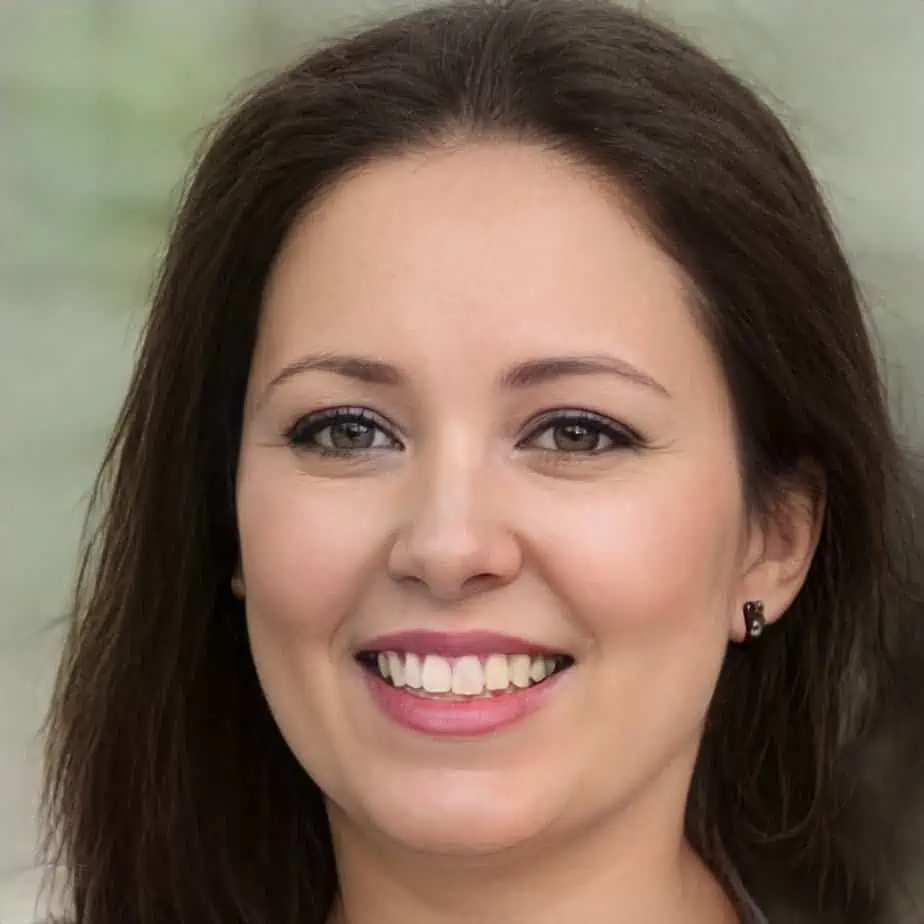 Jen Jones is a professional dog trainer and behavior specialist with more than 25 years of experience. As the founder of 'Your Dog Advisor' and the 'Canine Connection' rehabilitation center, she applies a holistic, empathetic approach, aiming to address root causes rather than merely treating symptoms.
Well known for her intuitive and compassionate approach, Jen adopts scientifically-proven, reward-based methods, encouraging positive reinforcement over punishment. Jen specializes in obedience training, behavior modification, and puppy socialization. Her innovative methods, particularly in addressing anxiety and aggression issues, have been widely recognized. Jen has worked with many of the world's leading dog behaviorists and in her free time volunteers with local animal shelters and rescue groups.