We love our dogs, even if they drive us a little crazy sometimes, and there is nothing that drives a dog parent crazier than destructive behaviors, am I right?
Digging, gnawing, excessive barking, marking, and yes, chewing.
But did you know there may be a lot more to your dog chewing than you realize? That's right! In spite of what my boyfriend would like to believe, our dogs don't chew on things, damage furniture, rip their toys and bedding apart, and leave claw marks on our door and window ledges to annoy us.
For many dogs, chewing can be an inherent behavior due to their breeding history. Chewing and other destructive behaviors may also be a result of stress, anxiety, or even just plain old boredom.
So what are we to do when our dogs constantly destroy things? Well, while we can't help you find chew-proof furniture, shoes, or flooring, we can help you find a few good chew-proof dog beds.
Why is this important? It's important because, many times, a dog bed is the first thing to go when you have a dog who is a chewer. This is because regular old dog beds are of the most tempting items in the household for our heavy chewers to chomp down on.
But before we get into our list of some of the best dog beds for heavy chewers, let's talk a little bit more about why your dog might be chewing in the first place.
Why Do Some Dogs Chew More Than Others?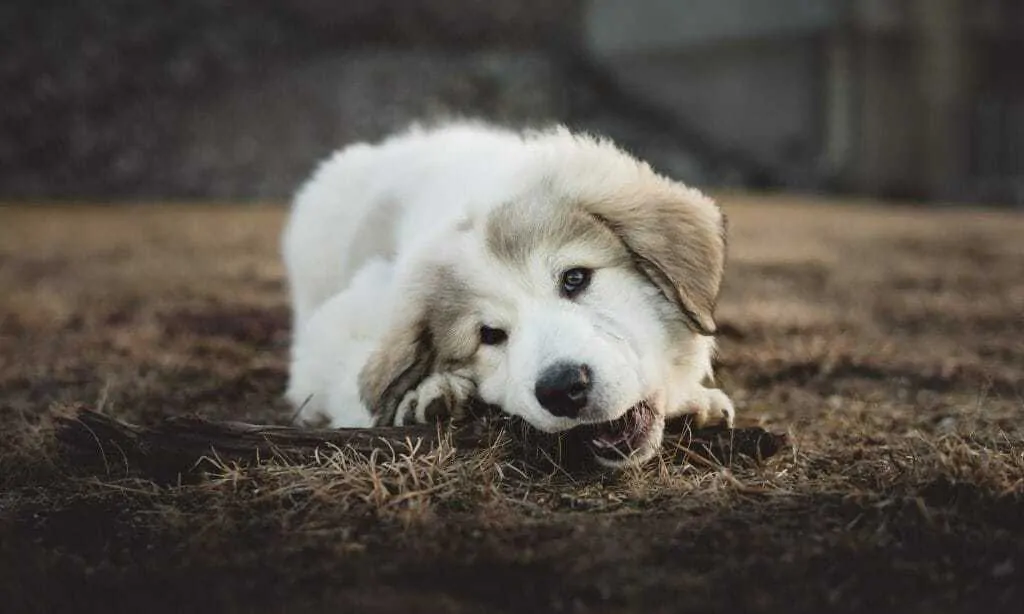 If your dog is a chewer, it could be in his DNA. 
As I touched on briefly above, some dogs may have an inherent desire to chew just based on their breed or genetic history.
Some dog breeds known to be the most destructive if not properly exercised, trained, and socialized, include:
Pitbulls
Labrador Retrievers
Shetland Sheepdogs
And German Shepherds
It's not that the above dogs were specifically bred to use their jaws. In fact, if you take a look at some of the dog breeds most notorious for destructive behaviors like chewing, you may find that they all have a few things in common – all of these dogs are highly intelligent, athletic, and work oriented.
Intelligent dogs with a working background can be more prone to problematic behaviors like anxiety, digging, excessive barking, and chewing.
All these behaviors can stem from dogs who are bored and who have not properly socialized or physically and mentally stimulated. Sometimes even then, when these dogs are left home alone or are out and about being curious, they can still get themselves into trouble.
Chewing isn't just an annoying habit. Chewing on certain materials may cause dogs to become sick or some dogs may even end up choking.
That's why most experts agree that if you know you have a dog who is prone to destructive behaviors, it is best to dog proof your home to the best of your ability.
But what about dog training? Can't you just train your heavy chewer not to chew? Well, it's not always that easy.
Keep reading to learn why.
Can I Train My Dog Not To Chew?

Even the best trained dogs can be prone to chewing. 
If your dog chews, you're not alone. Chewing is a normal part of puppyhood and doghood, so it's important you keep that in mind.
All dogs chew a little bit, especially as puppies. In fact, did you know that puppies exhibit biting and mouthing behaviors because puppies go through a teething phase, just like babies do?
Still, while teething is a normal part of puppyhood, some puppies seem to never grow out of it.
For those dogs who don't grow out of their heavy chewing habits, our belongings may wind up paying the price. Literally.
The good news is that there are some ways you can go about helping your heavy chewer alleviate his chewing addiction.
For some dogs, the chewing doesn't happen until their human family members are gone. If your dog is otherwise well behaved while you are home and then you notice that when you leave the house winds up in shambles, you likely have a dog who is suffering from separation anxiety.
Training an anxious dog on how to be home alone can be tricky and time consuming, but it is possible with lots of patience and positive reinforcement.
Remember, try not to scold your dog for being destructive, as it is likely this behavior is already caused from anxiety or fear and scolding him will only make it worse.
For dogs who just chew because that's what they like to do, I suggest doing a little research on crate training, investing in some tougher dog toys, finding a good doggy playpen, puppy-proofing your home, and yes, getting your pup a good, chew-proof dog bed.
What To Look For In A Quality Dog Bed For Dogs That Chew

Look for dog beds that are made with durability, comfort, and safety in mind. 
If you have a dog that's a heavy chewer, the last thing you want to do is buy a nice dog bed that you'll wind up throwing away immediately.
Worse, you don't want to leave your dog home alone with something that could potentially harm him if he begins to tear it apart.
For dogs who are heavy chewers, you will want to look for a durable, high-quality dog bed made of safe materials that are non-toxic to dogs and created for dogs who are tough on stuff.
A good chew-proof dog bed is going to be made of durable material that your dog can't sink his teeth into and rip on the first go-round.
Other good dog beds for dogs who chew will be made of a material your dog won't want to chew because it's not tempting or satisfying to him to do so.
And with that in mind, let's move on to 15 of the best dog beds for heavy chewers!
K9 Ballistics Chew Proof Elevated Dog Bed
For many dogs, chewing their bed is a way to alleviate boredom and relieve stress and anxiety. I mean, is there really anything as relaxing as tearing into a bed and ripping out the soft material after a long, hard day?
Well, one of the ways to help keep your dog's dog bed in one piece is by getting him a dog bed he won't be tempted to chew on.
The k9 Ballistics chew proof dog bed above is one such bed we love for heavy chewers because it's comfortable without being made of tempting materials like plush, cushiony stuffing.
This dog bed is made with an aluminum frame and waterproof material, making it perfect for both indoor and outdoor use.
Dog beds like this one are also great for warmer climates for dogs like Huskies who may be prone to overheating.
The elevated design and mesh fabric sling will help to keep your pup cool and comfy no matter the weather! Best of all, you can bet this dog bed will last longer than a few hours, even with your pal, Chomy Mc Chompers over there.
K9 Ballistics Tough Chew Resistant Orthopedic Dog Bed
If you are looking for a dog bed that lasts your dog, you'll want to look for something that is durable, not only to your dog's sharp teeth but also to his every day doggy behaviors.
And that's why we love the bed above, which is also by K9 Ballistics.
K9 Ballistics chew resistant orthopedic dog bed is a dog bed made especially for those of you looking to offer your dog a bit more of the cushier comforts of life.
It is a quality dog bed made tough on the outside and soft on the inside. The outer cover is not only resistant to heavy chewers, but it also stays in tact against scratching, digging, and even holds up to wear and tear.
Dogs who will benefit from this type of dog bed are larger breed dogs who need extra support for their bones and joints.
K&H Pet Products Ruff n' Tuff Crate Pad
Sometimes crating your destructive dog is a must, but even then these crazy canines will tear through their crate pads!
Of course, it's incredibly important to make sure your dog's crate is somewhere he loves to be and feels safe and comfortable to him, so you don't want to leave him in there without a comfy pad to lay on.
For situations like these, you'll need a crate pad that is chew resistant and made with tough, dog safe materials that your dog won't be able to rip easily.
And if he does rip into the pad, you want to rest easy knowing that your pooch isn't digging into something toxic for him.
For all these reasons and more, we recommend the K&H Pet Products K-9 Ruff n' Tuff Crate Pad, which is perfect for crates and is made with durable, materials and even comes with a one year warranty.
The raised edges of this crate pad will also help give it a more comfortable feel for your dog when he is laying down in his crate for a good snooze after trying unsuccessfully to rip the pad to shreds.
Slumber Pet Heavy Duty Chew Resistant Crate Mat 
If you are really into the crate mat idea for your dog, then here is another one I like. It comes in six different sizes so it is easy to fit in most crates and is made to keep your dog's crate a comfortable place.
However, what I love most about crate mats like this one is that they are so versatile and you can use them for travel as well as use them for your dog's bed when you are home.
K9 Ballistics Tough Rectangle Nesting Dog Bed 
Okay, there is a common theme here. K9 Ballistics is one of our favorite brands for dogs who are aggressive chewers because they make so many great products for dogs who love to chomp.
For example, we love this nesting dog bed for dogs who chew because it's plush, comfy, machine washable, and waterproof while also being made tough for dogs with stronger jaws.
This is also a great dog bed for dogs who are nesters. This means it's built for dogs who dig and scratch as well as chew.
The material is non-toxic so it's safe for Fido, and comes with a chew resistant warranty. You can't beat that!
Kuranda Chew Proof Design Elevated Dog Bed 
For dogs who are extremely aggressive chewers, dog beds that are made of aluminum and tough fabrics are a must.
This is another elevated dog bed we love for heavy chewers for those two reasons, but also because this bed is just as light and portable as it is tough and durable.
We also like elevated beds like the Kuranda Chew Proof Dog Bed because, as you know, it helps to keep larger, double coated breeds like huskies, German Shepherds, and more cool and comfortable.
The Dog's Bed Premium Waterproof Dog Bed 
The Dog's Bed has made a great dog's bed and we like it for a couple of reasons. First of all, this waterproof bed is perfectly portable, which means it can be used as a dog bed, crate mat, and a portable bed for travel time and
doggy road trips
.
This is also an excellent choice for those of you with adventurous dogs who are heavy shedders or who tend to get a little dirty during outdoor play.
It is made with high quality, durable material and comes with a waterproof coating so it's even easy to clean.
Let your tough chewer get a hold of this dog bed and see how he does!
EhomeGoods Do It YourselfDurable Canvas Dog Bed Cover 
If you already have a dog bed you and your dog love and are worried Fido will tear it to pieces while you are away, then why not opt for a dog bed cover that is durable and chew-resistant?
This type of cover is especially ideal for dogs who suffer from separation anxiety or for dogs who only chew or exhibit destructive behaviors when their owners are away.
What we like about this tough and durable dog bed cover is that it's made with waterproof material, secure zippers, and is made tough.
Best of all, this is an excellent way to use what you already have if your dog is a heavy chewer and you know he destroys things quickly. You can fill this cover with old pillows or other flatter materials to make a DIY dog bed for your furry best friend.
Just make sure that you are using dog safe materials in your DIY endeavours as this cover is not entirely indestructible and an extremely heavy or aggressive chewer may be able to chew his way through the cover if he is persistent enough.
Blueberry Pet Heavy Duty Dog Bed
While this bed does advertise as being heavy duty and durable, I would still warn that it is probably best for smaller to medium sized dogs who chew but don't necessarily have the jaw strength to do any major damage. This is a strong cover but it's made of microsuede, which can be torn by stronger, more persistent chewers.
With that being said, this is a durable dog bed that offers both function and fashion. It's cute design is backed by a tough build. You even have the option of only purchasing a cover for your already existing dog bed if you choose.
The cover comes off of the dog bed  and is also machine washable.
PetFusion Ultimate Dog Bed With Tear Resistant and Waterproof Cover
Larger dogs
need more support, which is one of the things we love most about the PetFusion Ultimate Dog Bed.
Not only is it made with heavy duty materials, but it's made with larger dogs' comfort in mind. Because of their size, large dog breeds are more prone to developing joint issues like hip pain and arthritis.
Sometimes a good, high quality bed can make all the difference. But if you have a larger dog breed who is prone to chewing, you'll want a dog bed that is both durable and comfortable.
The PetFusion ultimate Dog Bed offers both comfort and durability with a tear-resistant, waterproof, and washable cover that is safe and tough for your furry best friend.
K9 Ballistics Tough Bolster Nesting Bed 
It's another K9 Ballistic Bed, but let's face it. These guys get heavy chewers and design beds that can stand up to the teeth.
This is another durable, washable, waterproof dog bed that comes in a number of different sizes and colors.
Like many of the beds on this list, comfort and durability come first. This bed is made to help your dog sleep better and support your larger dog's joints while also ensuring the heaviest of chewers won't be able to tear through the ripstop technology.
This dog bed also comes with removable liners for easy cleaning.
Pet Craft Supply Super Snoozer Calming Indoor/Outdoor Durable Dog Bed
The Pet Craft Supply Super Snoozer combines all the things you would want in a quality dog bed that we recommend you look for.
It's comfortable for your dog while also being built with durable, chew-resistant polyester that is safe for dogs and compatible for dogs of different breeds, mixes, and sizes.
The waterproof material means it is good for both indoor and outdoor use while also being easy to clean.
We also give this bed bonus points for helping to eliminate odor and it doesn't collect dog hair the way many other dog beds do.
DogBed4Less Heavy Duty Denim Jean Dog Bed Cover
This is another dog bed cover for those of you who have heavy chewers in the home but also already have a great dog bed you want to protect.
Just make sure the measurements add up and that you are able to cover your existing dog bed with this heavy duty dog bed cover.
It's made of high quality denim material and is machine washable. Like some of the beds on this list, it is not 100% indestructible, so be careful what kind of padding you put inside the cover to ensure if your dog is able to break through this heavy duty dog bed cover, he won't be getting himself into something toxic.
Sealy Quilted Memory Foam Heavy Duty Crate Pad
No products found.
You already know we love crate pads because they are so versatile. We love that this heavy duty crate pad is made with memory foam so it's great for larger dogs with joint issues or arthritis, and also that it is of course made for dogs who tend to chew.
In fact, this crate pad is especially good for puppies who are going through teething phases due to the reinforced corners.
4Knines Premium Durable Waterproof Heavy Duty Dog Bed Liner
Last on this list is another liner or dog bed cover that is made specifically to protect your dog's bed.
If you spent a good chunk of change on an orthopedic dog bed, you'll want to get a liner that is durable, machine washable, waterproof, and of course can stand up to heavy chewers.
This dog bed liner by 4Knines is all that and then some. It also comes with a two year warranty and comes in four sizes.
Again, and as with all liners and dog bed covers on this list, just make sure that the dog cover measurements align correctly with your dog's bed that he already has and that you are filling it with safe, nontoxic materials.
Other Tips To Living With Dogs Who Are Heavy Chewers

Try not to punish your dog for chewing as chances are he is chewing out of boredom or anxiety.
We get it. Living with a dog who is a heavy chewer can be frustrating. Sometimes training, chew sprays, and tough dog beds don't always work, and that can be even more frustrating, especially if you find you are spending lots of money trying to solve the problem.
But try and remember that this behavior stems from boredom, stress, or anxiety. Your dog isn't chewing to drive you insane!
Also try and remind yourself that there are a number of ways you can combat the issue of heavy chewing with your dog by helping them to cope with some of the issues that may be bothering them.
For dogs who are highly energetic and active, try going on more walks and runs every day to help them burn off excess energy.
If you have a busy lifestyle and are not able to walk or run your energetic pup as often as you would like, you can always look into investing in a good dog walker or pet sitter to stop by and take your dog out for you.
Other companies offer doggy day care where energetic and intelligent dogs are cared for throughout the day.
We also suggest you help keep your heavy chewer's chompers satisfied by offering him plenty of good chew toys.
Chew toys that smell like treats or have yummy flavors are always a favorite and will keep your dog occupied for a while.
For teething puppies, make sure you invest in teething rings and teach your puppy cues early on like "leave it", and "drop it". It's also important to help your puppy and dog learn what he is allowed to chew on and what is a no no.
Along with proper exercise and providing quality chew toys, establishing rules and boundaries with your dog early on is one of the best ways to help alleviate destructive behaviors in the home.
Lastly, mental stimulation is going to play a huge role in your dog's emotional happiness and will keep boredom at bay which may in turn save your belongings from being destroyed.
Puzzle toys and games that work to get your dog thinking will help keep him mentally strong and emotionally satisfied.
For dogs who suffer from separation anxiety, sometimes crate training is the best route. When done properly, crate training your dog can have enormous benefits to his mental health. In fact, many dogs enjoy their crates and find them to be a safe space when their owner is away.
Your crate will not only help protect your house from your dog's bad habits, but it will also help protect your dog from hurting himself by chewing on things he shouldn't be chewing on.
So, good luck with that heavy chewer of yours and let us know which dog bed you think will suit your heavy chewer best in the comment section below!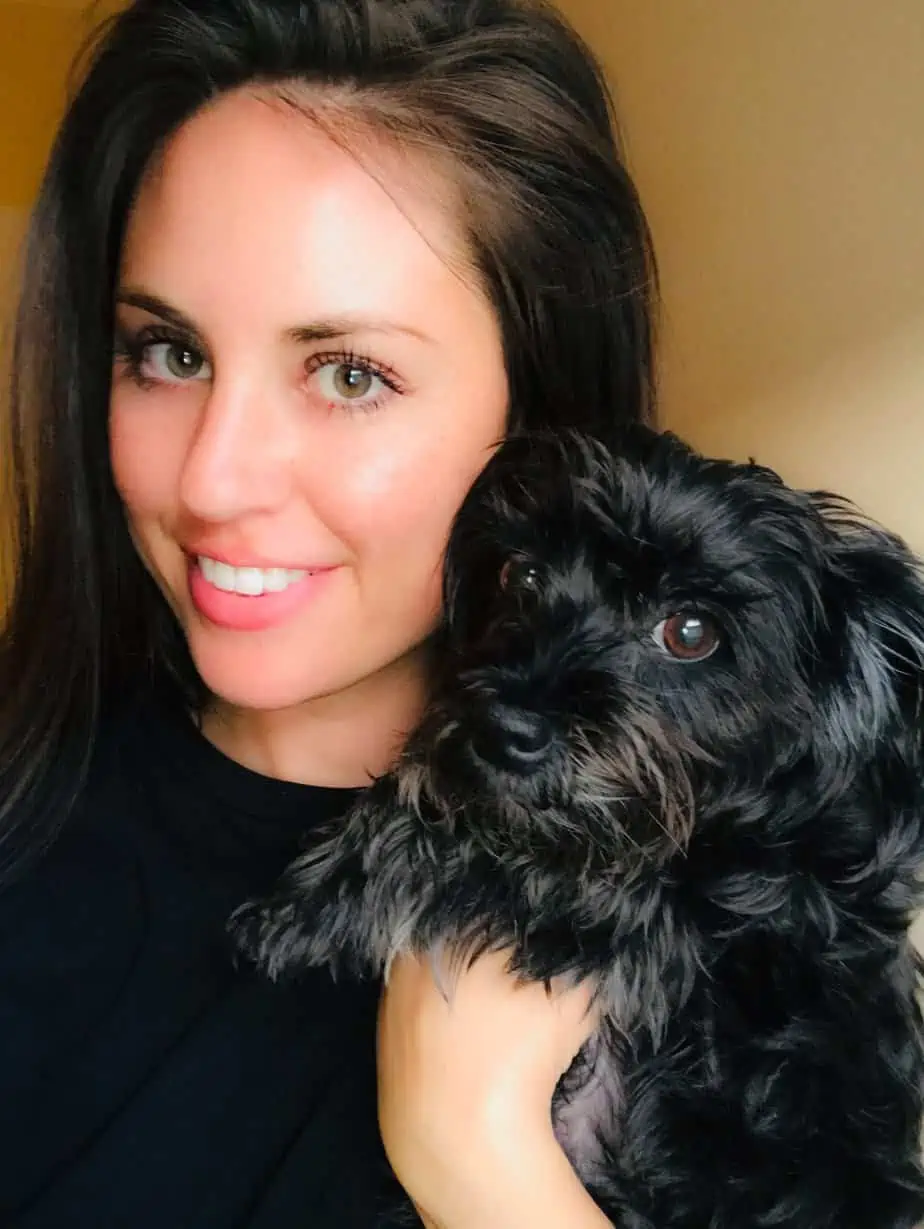 Madison Guthrie (also known as Sonny Mackenzi) is a pet care specialist and positive-reinforcement trainer who works most closely with anxious and reactive dogs. Born and raised in Littleton, Colorado, Madison developed a love for animals at an early age and spent most of her childhood outdoors rescuing stray pets and helping to rehabilitate injured wildlife.  Along with animals, Madison also developed a love for writing and music. Over the past five years, she has worked to use her passions to help the pets and pet parents in her community build stronger bonds and live happier, healthier lives together.  Currently, Madison lives in South Pasadena, California where she owns and operates Miss Madison LLC, a marketing company that focuses on helping privately owned veterinary establishments and pet care companies grow and thrive. She also works as a dog trainer at My Dog Spot, which is an award-winning pet care and training establishment in Pasadena, California.