I will begrudgingly admit that my dog is not a human child and that she doesn't always like wearing the clothing I have so meticulously picked out for her and hung in her own personal space in the back of my closet.
Still, there are times my little dog actually needs to wear dog clothes to stay warm and safe.
My little fur child and I are originally from Colorado and she is a six pound Maltipoo who really doesn't do a great job at regulating her body temperature. In fact, gets cold rather quickly if we're not careful.
In Colorado, my fur kid wore dog jackets and sweaters, but now that we're in sunny California, I've turned to dog hoodies.
And let me let you in on a little secret – my dog loves her dog hoodies. She wears them at will and runs and plays and enjoys herself as if she is wearing absolutely nothing. I think there is something about the comfort of a hoodie that both we humans and our canine counterparts can appreciate.
Afterall, hoodies are meant to be comfortable, casual, and cozy for all. So, without further ado, let's dive into learning all about dog hoodies and take a look at some of the best dog hoodie options available for colder weather.
When Is A Dog Hoodie Appropriate For A Dog?

A dog hoodie is meant to help keep your pup warm and comfortable. 
It's not always a good idea to put a dog in dog clothes and it's important we humans keep in mind that most dogs really don't enjoy being dressed up or fussed over in costumes, skirts and shirts.
However, there are some dogs that truly need extra help staying warm or protected in colder weather. In fact, some dogs even need protection from the sun and heat, especially if they are double coated dogs and have had their coats shaved.
That said, healthy, medium to large sized dogs with double coats like Huskies, German Shepherds, and Labs are typically fine to run around and play outside in chillier conditions.
However, smaller dogs, young puppies, senior dogs and dogs with short coats tend to be more susceptible to suffering from the cold weather.  A general rule most dog enthusiasts and experts like to abide by is that if it is too cold for you to go outside without a jacket or a hoodie, then it may be too cold for your dog as well.
But how do you know for sure if your dog is a good candidate for a dog hoodie? Let's find out.
Does My Dog Need Extra Help Staying Warm During Cold Weather?

Young puppies may need more help staying warm when the weather gets cold.
As we mentioned above, not all dogs need a dog hoodie. Remember, certain breeds were bred to spend significant time in colder weather and are built for such climates. Other dogs were not.
Does your dog need a dog hoodie when it gets cold outside? Dogs who need a little extra help staying warm include senior dogs, sick dogs, puppies, small breed dogs, and dogs with short coats like Pitbulls or Boxers.
However, if you do put your dog in a dog hoodie, make sure to keep an eye on him while you're out. Dogs can also easily overheat, so if you go back inside make sure to remove your dog's hoodie so he can cool down.
Also keep in mind that if your dog is doing lots of exercise like running or heavy playing outside and begins to pant excessively, he could be getting too hot and will need to have his hoodie taken off.
We should also note that not every dog hoodie is made for every dog. Some dog hoodies are best for smaller dogs while others are made thicker or more weather-resistant for dogs who live in colder or wetter climates.
Do you know how to go about picking the right hoodie for your dog? Let's talk about what to look for when buying the best hoodie for your unique dog breed or mix.
Choosing The Right Dog Hoodie For Your Specific Dog

Make sure you pick a hoodie that will fit your dog properly so he is comfortable wearing it.  
As we mentioned above, not all hoodies for dogs are made the same and some won't fit certain dog breeds.
French Bulldogs and other bully breeds, for example, have larger heads and thicker bodies than many other dog breeds and may not fit into some hoodies. THeir heads may not always fit in pullover hoodies either, so for these types of dogs it's best to look for button up or zip up hoodies.
And speaking of pullover hoodies, dogs who really hate wearing dog clothes may despise them mainly because dogs don't like things going over their heads and ears. For dogs who are sensitive to things covering their faces or going over their heads, we suggest sticking with pet hoodies that button or zip in the front.
The last thing we should note is that fit is important. A hoodie that is too tight will be uncomfortable for your dog and won't allow him to move as freely as he will want to. This will lead to him not wanting to wear his hoodie and may make it difficult for you to put it on him in the future, especially if he runs or cowers.
Make sure to always do your measurements to ensure you get the proper hoodie size for your dog.  If you are ever in doubt, you can always order a size up.
Not sure where to begin when looking for the right pet hoodie for your dog? You've come to the right place. Below is our list of super cute and functional dog hoodies perfect for all kinds of dogs.
Let's begin!
IChoue Animal Design Dog Hoodie
Topping our list is a pet hoodie that is insanely cute and insanely cozy. Available in sizes from small to double extra large, this dog hoodie comes in six adorable animal designs.
So not only are you keeping Fido nice and warm in colder weather, you are also disguising him as the world's most adorable shark, duck, bear, dinosaur, bunny, or panda. Excuse me while I go sob in the corner from cuteness overload.
But the animal designs are not even the best part about this hoodie. The hoodie sips from the front so you don't have to pull it over your dog's head, which we all now know dogs hate.  Plus, the fabric is made of 100$ soft cotton and is machine washable.
Please do your size measurements and remember that when in doubt, size up.
Expawlorer Fleece Dog Hoodie
We love this simple and versatile hoodie for dogs by Expawlorer for a number of reasons, but mostly because it's made for your dog's body type and comfort first. It comes in sizes extra small to double extra large, so you're certain to find your right fit so long as you do your measurements and follow the measurement guidelines provided.
This dog hoodie has wonderful ratings on Amazon, and it's no wonder. It's available in six bright colors and even has a cute little back hoodie pocket, like human hoodies. I know – adorable, right?
There is also a back opening for your dog's harness or leash, so we suggest purchasing this hoodie to fit a bit loosely so it is comfortable over his walking gear.
Zack & Zoey Basic Dog Hoodie
Zack & Zoey provides our dogs with super cute, super simple hoodies for those colder days. The hoodies come in ten different color options and are available to order from sizes extra small to double extra large.
This is a pullover hoodie, so please do your measurements and of course size up if needed, especially if you have a dog with a larger head like French Bulldogs, Pugs or Pitbulls.
Moolecole Adidog Dog Hoodie
No products found.
Are you a fan of Adida gear? Then you're going to flip out over this super cute Adidog pet hoodie by Moolecole.
It's available in traditional black, or you can choose other colors like grey, blue, light blue, yellow, pink and even red.
Sizes range from small to double extra large. However, please note that this hoodie can run small so the seller advises you order up one size for your dog or do very careful measurements following the measurement guidelines provided.
IChoue Zip-Up Dog Hoodie
I love this adorable dog hoodie with the mismatched pocket color. It's made by IChoue, the same company that makes the cute animal hoodies, so you already know it's cute and quality.
It comes in sizes small to extra large and is available in seven colors. This hoodie is 95% cotton and machine washable, and made specifically for larger-build dogs like bulldogs. That said, it still works well for all kinds of other breeds and mixes and zips in the front, so no pulling the hoodie over your dog's head.
BINGPET "Security" Dog Hoodie
Sale
If you need a little laugh each time you put your dog's hoodie on, then you might like this "Security" dog hoodie by BingPet.
It comes in a variety of sizes from extra small to double extra large and is available in black, blue, pink and red.
It is machine washable and made of soft, comfortable fabric that shouldn't shrink in the dryer, which is always a plus. The sleeves and waist are ribbed for a snug fit, and the belly is open so your dog can move and go to the bathroom naturally.
KOOLTAIL Plaid Dog Hoodie
Remember when that plaid fad was in? Well, it's kind of coming back this year and now your furry friend can join in on the fashionable trend. This adorable plaid hoodie comes in blue, white and traditional red and it's perfect for those chilly morning walks on your favorite hiking trail.
Available in extra small to double extra large, this hoodie for dogs should fit most sized dogs, but we still encourage you to follow the measurement guidelines available and size up if you aren't sure.
Expawlorer "Bitches Love Me" Dog Hoodie
If you've read any of my other reviews or blogs, you know I love funny dog puns. This hoodie is not only cute and functional, but it's also totally hilarious and punny.
It is available in six sizes but only one color. Still, this is a great hoodie for both male and female dogs and is made of a cotton/polyester blend so it is machine washable but should be air dried. As always, we encourage you to follow the measurement guidelines before buying to make sure you get your dog the best, most comfortable fit.
Scenereal Dog Hoodie
This is an excellent hoodie for extra cold outings with your dog. It's made for winter and is even windproof, so it will keep your dog protected and cozy no matter the windchill.
It comes in small to extra large and is available in blue or pink. The design has a cute distressed wash to it, which I love, and a little hoodie pocket in the back for some style.
The materials are machine washable but the hoodie should be air dried to avoid shrinking.
Fitwarm Knitted Dog Hoodie
You guys, this pet hoodie is so adorable and functional. IT's made of high quality knitted polyester, cotton, spandex and nylon, so it has some stretch and give, but it's also warm and comfy.
It comes in two different color options and is available in sizes extra small to double extra large. I'm seriously obsessed with the subtle plaid design and solid colored hood and arms.  I also like that the arms are a little longer for extra protection for your dog during outings.
Perhaps the only downfall of this hoodie is that it's a pullover, so make sure you follow the measurements carefully and size up if you're not sure about your dog's exact size.
Fashion Pet Dog Hoodie
Yay for zip up hoodies that come in lots of size options and styles! In fact, this versatile dog hoodie by Fashion Pet comes in seven colors and styles and zips up in the front for extra comfort for your pet.
They've also updated their size chart to help you border the most accurate size possible for your pet, so be sure and take advantage of that.
This hoodie is made of comfortable, warm material with an open belly for easy movement as well as natural bathroom use. The arms are also long and loose, so your dog is cozy and comfy all the way around.
Gooby Fleece Dog Hoodie Vest
This hoodie for dogs is unfortunately a pullover, but if fitted right it should be comfy and cozy for your pooch.
It is a vest-like fit, so there are no arms on this Pet hoodie, making it ideal for dogs who really don't enjoy wearing dog clothes or feeling constricted on their arms and legs.
The sizes vary from extra small to extra large and you can even choose the chest size you need. Choose from eight cute colors and trust your dog will be nice and snug in this fleece lined hoodie, which includes a leash loop for easy walking options.
Lollimeow Supreme Dog Hoodie
No products found.
This pet hoodie is ideal for the trend-loving dog in your life. It's both stylish and functional, with a draw-string hood and the totally hip supreme logo on back.
The material is made of natural cotton and colors are available in pink, black, red and white. It's best fitted loose, so follow the measurement sizes.It is machine washable and can go in the dryer, which we love. There is also a sewn opening near the hoodie so your dog can easily wear this hoodie over his leash and harness.
Fitwarm Fleece Dog Hoodie
I adore this cute pet hoodie design by Fitwarm. It's a simple washed grey with cute stripped lining for a subtle hint of style and fashion.
The hoodie pocket on the back adds a bit more character, but best of all the fit is made with your dog's comfort first. The fleece lining keeps Fido cozy during cold walks and the open belly allows him to use the bathroom naturally.
The drawstring hoodie is cute but the cutest part about this jacket are the front buttons. That's right – this is not a pullover and instead buttons in front with chunky white buttons. I know. So cute.
It is available to order in four sizes from extra small to large. That said, it may not be the best fit for big dogs so make sure you do your measurements.
ZOOZ PETS Snoopy Dog Hoodie
Last but not least we have this adorable, lightweight snoopy hoodie by Zooz Pets. This is a good hoodie for early fall or summer nights, and it comes in five different colors and five size varieties.
The fabric is breathable but still warm and designed to allow your dog to move and play naturally. It's also super easy to clean and machine washable.
The design is made for most dog bodies, but it's always wise to do your  measurements and follow the unique measurement guidelines provided by the company.
How Else Can I Keep My Dog Cozy During The Fall?

By better understanding your dog's unique needs, you'll be able to help him stay warm and healthy all year round. 
Some dogs can be more susceptible to the elements than others. Flat faced breeds and breeds with brachycephalic syndrome in particular are more prone to heatstroke due to their inability to regulate their body temperatures through panting.
Small breed dogs, senior dogs, and short haired dogs are more susceptible to a decrease in body temperature during colder months, as we mentioned above.
Get to know your unique dog and talk with an expert or a trusted veterinarian regarding your dog's needs during the colder or warmer months if you aren't sure what is best.
And remember, the best way to keep your dog healthy during the fall and winter is to keep them inside with you at night and to provide them a place to go with heat and shelter when they are outside.
We hope you loved these hoodies listed above as much as we did! Do you have other cute dog hoodie brands you want to share with us? Leave us your favorite hoodie brands for dogs in the comments below.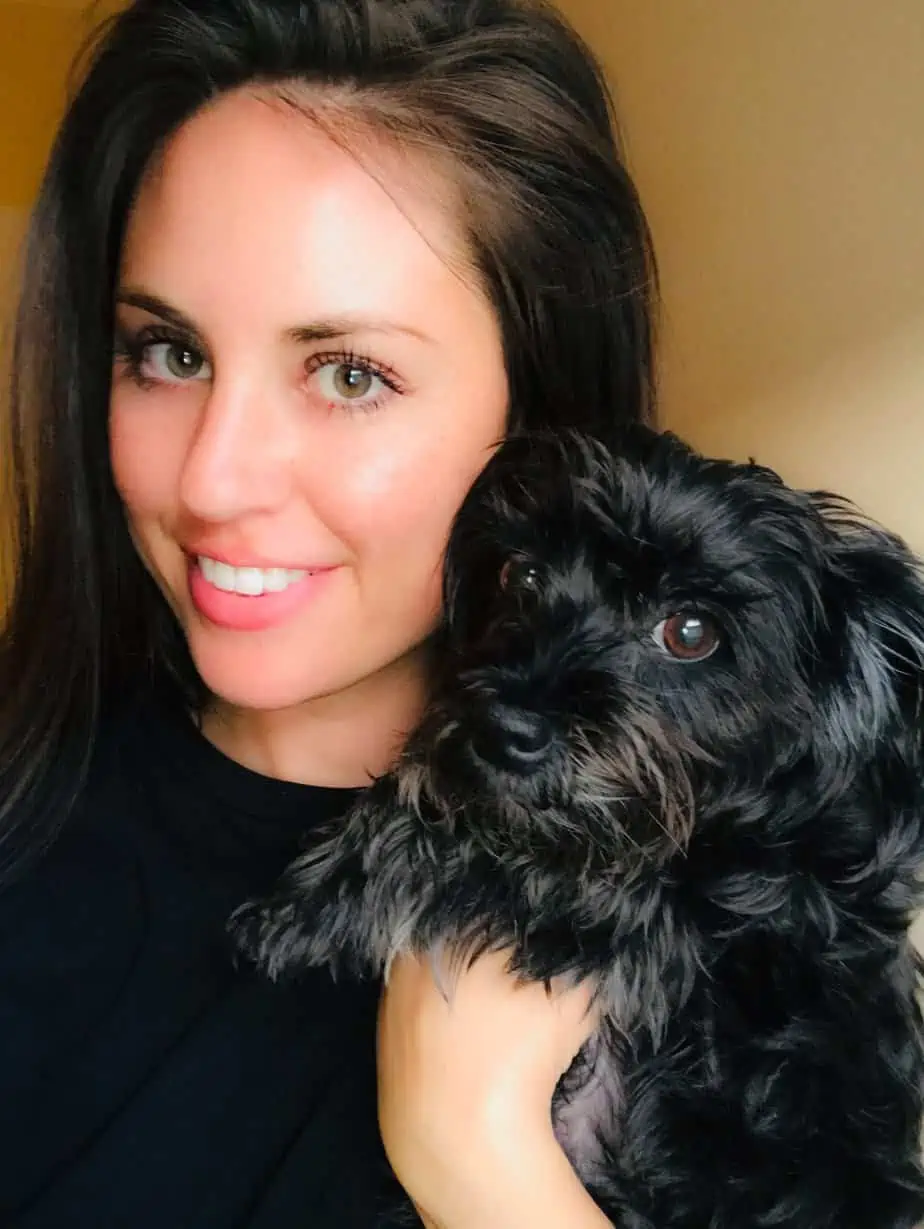 Madison Guthrie (also known as Sonny Mackenzi) is a pet care specialist and positive-reinforcement trainer who works most closely with anxious and reactive dogs. Born and raised in Littleton, Colorado, Madison developed a love for animals at an early age and spent most of her childhood outdoors rescuing stray pets and helping to rehabilitate injured wildlife.  Along with animals, Madison also developed a love for writing and music. Over the past five years, she has worked to use her passions to help the pets and pet parents in her community build stronger bonds and live happier, healthier lives together.  Currently, Madison lives in South Pasadena, California where she owns and operates Miss Madison LLC, a marketing company that focuses on helping privately owned veterinary establishments and pet care companies grow and thrive. She also works as a dog trainer at My Dog Spot, which is an award-winning pet care and training establishment in Pasadena, California.