Let's face it. Dogs get cold. On top of this: Owners love to embarrass and be goofy with their dogs (I know I do at least.)
While dogs fur gives them an extra layer of protection, sometimes, it just isn't enough. Along with this, holidays and birthdays are a great time to dress your dog up in a sweater.
There are hundreds of options for dog sweaters to choose from on the market, but today, let's just look at some of the top rated sweaters for dogs, and hopefully, it will guide you to making a cozy decision for your puppy.
Are Dog Sweaters a good idea?
Before just jumping in and going to your local pet store to grab a sweater, we do have to cover a few things.
Dog sweaters are not for all dogs. Some of them despise the idea, and will even react negatively to you attempting to put the sweater on. Nipping, biting and growling may occur.
Let's look at a few considerations when sizing your dog sweater:
Measure appropriately: The sweater should not be too snug. The length should be ending somewhere near their waist. The weight of the dog will allow you to understand what size you need.
Do not choke your dog out: The neck has to have some room to breathe. Make sure the top of the sweater is not choking out your dog.
Take your dog: While buying online is great, taking your dog to the store to try on the sweater will definitely help.
Dog sweaters should be almost required in frigid, cold climates. When dogs, especially smaller dogs, are in these cold climates, the extra warmth will help them from shivering and being too cold to function.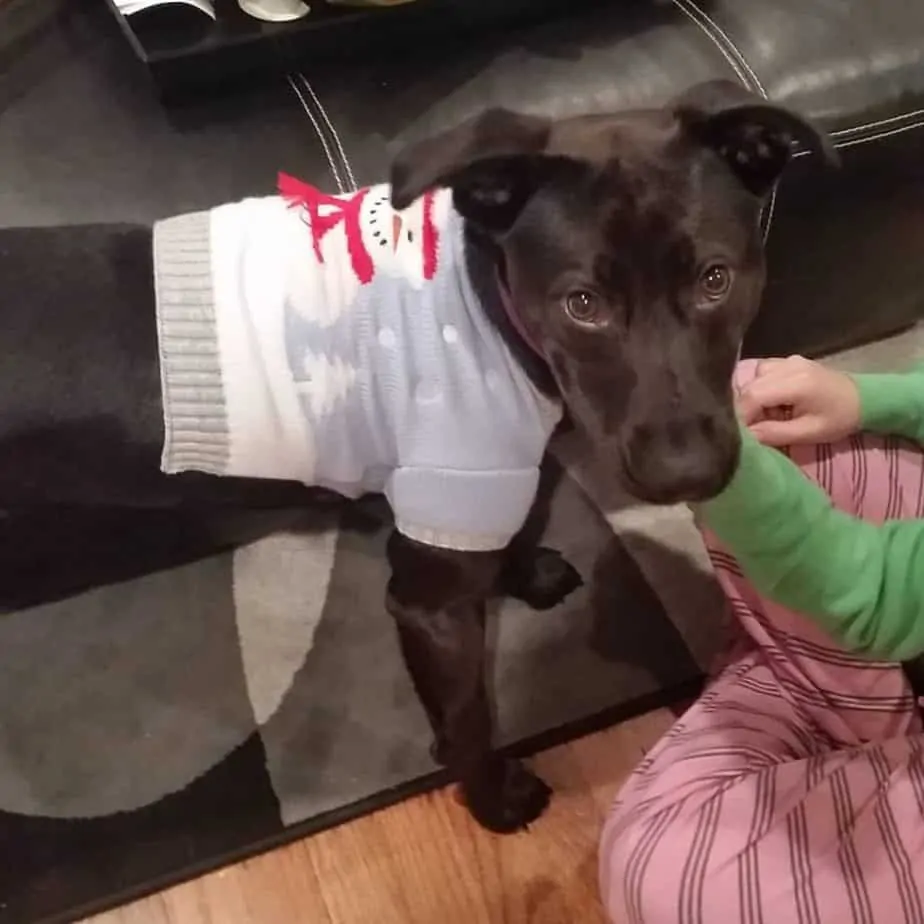 Sizing is extremely important for sweaters
What Size Do I get?
Measuring your dog for the correct size is crucial. With a variety of different sized dogs, you want to make sure the dog measurements are dead on to avoid an uncomfortable fit. A few things you want to consider are:
Body length and shoulders: The length of your dog's body, from the front chest to the top of the tail will help in this category. Along with this, bigger dogs have more broad shoulders, so measuring shoulder to shoulder will help with the width of your dog.
Neck and chest: My smaller Border Collie has a much smaller chest than the Boxador. Knowing what your dog's chest and neck line is is crucial in making sure no choking occurs.
Waist and arms/legs: This is important for the lower body portion of your dog. This can help with your dogs legs and lower body slipping easily into the sweater.
When comparing my 50 pound Border Collie and my 70 pound Boxador, the chest and stomach area are just a couple of huge differences within their features. Also, the height of the dogs is drastically different. When measuring them, my Border Collie could get away with a Medium/Large, where my Boxador would be an extra large when it comes to sweaters.
Best Dog Sweaters
Kuoser Cozy Waterproof Windproof Reversible British Style Plaid Dog Vest
A very affordable, high quality jacket/sweater, this option is a great choice for any stylish dog owner. A few of its top features include:
Seven different sizes: What a variety. Sizes come in in extra small, Small, Medium, Large, Extra Large, 2XL and 3XL. The item will show the different measures, making it super easy to measure your dog, and fit them in whatever size necessary.
Soft, Polyester Material: Soft and comfortable on the inside, and water resistant on the outside. The quality is top notch.
Lightweight and wind proof: Very flexible and comfortable for your dog, and with high speed winds, can maintain a snug fit to resist the wind.
The only complaints I could find on these are that they are not very easy to wash. Possibly hand washing them with an air dry would be most sufficient to avoid any damages in the washer or dryer.
Mihachi Dog Sweater
A very fuzzy option for all kinds of dogs, the Mihachi sweater is a very well priced item. Some of the best features that come for this great price include:
Fashion and comfortable: Your dog can be styling while being extremely warm. The material is 100% made of high-quality terylene, and will be very comfortable for your pup.
Elastic High Collar: Makes it easy to slip on and off your dog, as well as attach a leash with ease.
Comes in 5 different sizes: Coming in in Extra Small, Small, Small/Medium, Medium, and large, there is bound to be a size for your dog.
The only complaints that are consistent within the reviews of this product is that if you have a bigger dog, or a dog that might gnaw at the material, it could easily shred quickly.
Sale
Kurgo Dog Jacket | Reversible Winter Jacket for Dogs
A much more expensive option, this is more than just a basic household sweater. This is a great option for outdoor hiking as well, and is worth the price paid.
Great features of this sweater and jacket include:
Different sizes and colors: The item comes in five different sizes and 11 different colors! This option has plenty of sizes and colors to fit it perfectly onto your dog.
Reversible and water resistant: The coat is reversible to have two different options for your dog, and is water resistant. Thus, the coat can handle rain outside or rolling around in the snow pretty well.
Warranty guaranteed: The company guarantees quality, and has a hassle free return/replace warranty.
The only real complaint I see about this item is that the neck area can wear out and tear easily. However, it might appear that most of these complaints the sizing could be incorrect by the consumer, causing the dogs neck area to expand the material.
Sale
Chilly Dog Boyfriend Dog Sweater
A "premium pick" on your ordering websites, this option is very affordable for what you are getting. A hand knit item, the material is very warm and also includes:
Eight different sizes: XX small, Extra Small, Small, Medium, Large, Extra Large, XX large, and XXX large. With these many different sizes, there is bound to be the perfect fit for your dog.
100% Wool: Wool is a great feature to keep your dog extra warm and cozy.
There is a common complaint that does come with this of a strong diesel type smell when unwrapping it from the packaging. This seems to be a manufacturer error, and does not occur on all orders, only a handful of these complaints.
Blueberry Pet 9 Patterns Fair Isle/Lopi Pullover Interlock Dog Sweater
We have this type of sweater for our medium sized dog, and we really like it. (She doesn't always love it, though.)
The material and price is very good for what you get. Along with this:
Easy to understand sizes: The options break it down by chest size and back length, making it extremely easy to "fit" your dog into the correct size. We used a tape measure to understand what size to order.
Spot for harness: A walking harness is easily attached via a loop on top.
Good, strong material: The material is very warm, and easy to clean. I would recommend a hand wash and air dry for the material.
The complaint may be that if you do lightly machine wash and dry, it may shrink a little bit. Other than that, with personal experience with the product, I would highly recommend it!
DOGGYZSTYLE Christmas Pet Clothes Jumper Stripe Snowman Sweater
While most sweaters are used for warmth, there had to be a fun sweater thrown into the mix. This is a fun holiday sweater that is very inexpensive.
Along with a great price:
Comfortable material: A very soft, fuzzy material will have your dog comfortable 24/7.
Ready for the holidays: Dressed to impress, there are several different Christmas designs with this option
Variety of sizes: With five different sizes, it is easy to get your dog into the Christmas spirit.
While you get what you pay for, and the material might shed after a few uses, you will most likely only be having your dog wear this a week or two in December. The opportunity to give your dog a great look for the holidays is worth the money.
Overall, dog sweaters can not only be a good thing to keep dogs warm in cold weather, but they can also be fun as a dress up during certain occasions! Comment below on any other sweaters you like.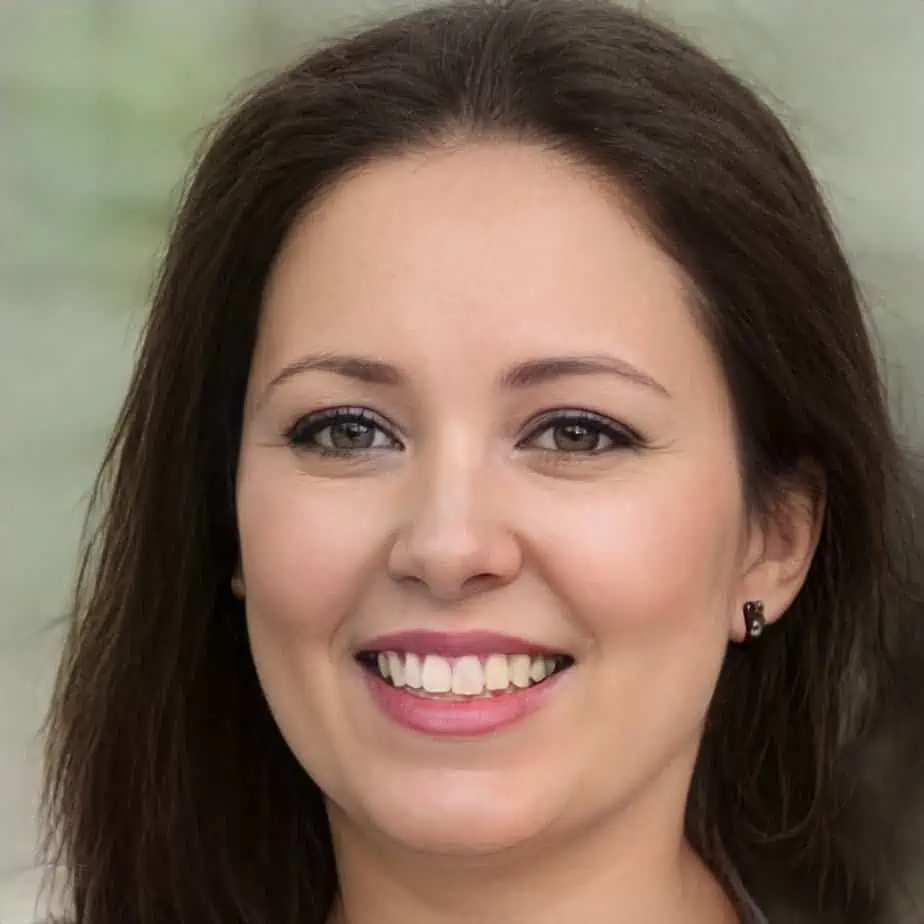 Jen Jones is a professional dog trainer and behavior specialist with more than 25 years of experience. As the founder of 'Your Dog Advisor' and the 'Canine Connection' rehabilitation center, she applies a holistic, empathetic approach, aiming to address root causes rather than merely treating symptoms.
Well known for her intuitive and compassionate approach, Jen adopts scientifically-proven, reward-based methods, encouraging positive reinforcement over punishment. Jen specializes in obedience training, behavior modification, and puppy socialization. Her innovative methods, particularly in addressing anxiety and aggression issues, have been widely recognized. Jen has worked with many of the world's leading dog behaviorists and in her free time volunteers with local animal shelters and rescue groups.