Siberian huskies are known around the world for their lightness, their quickness, and their strength. They are so strong yet quick-footed, in fact, that they are the official racing dog of Alaska's Iditarod Sled Dog Race. I moved to Alaska in 2017 and attended my first official Iditarod start in March of 2018. I went with trepidation, unsure of how to feel about the Last Great Race. Some animal rights groups consider the Iditarod to be abusive; so much so that the documentary, Sled Dogs, was made to paint a dark picture of what happens behind the scenes in sled dog life.
I watched the documentary, which I've now come to find out portrays some truths and some not-so-true facts about sled dog life. So that day, walking through the snow to the official Iditarod start on frozen Willow Lake, I expected to see dogs looking reluctant and sad to race.
Instead, I saw (and heard) a tumult of excited huskies. Veterinarians milled around taking heart rates and feeling dogs' legs to make sure they were ready to race. (Vets stay with the dogs throughout the race, and they have the final word on whether a dog can continue racing or if it is too tired to go on.) The ones in the starting gate waiting for their turn could barely be restrained, they were so eager to start running. They jumped and lunged and yelped with anticipation. And when the announcer finally called their musher's name, they shot out of the box.
A team of huskies gets started on the 2019 Iditarod race in Willow, Alaska. 
I soon found myself screeching and cheering for the dogs with everyone else. The energy was joyful and infectious. Since then, I've become friends with a fellow writer who owns a sled dog kennel in Willow. (She even took care of Eira in a pinch once!) She and her husband, who races the Iditarod most years, love dogs deeply and employ dog handlers who make sure all the dogs in their kennel are fed, watered, cared for, exercised, and socialized. Of course, there are handlers out there who aren't so kind to their dogs, but they're rare and are quick to face punishment if they're found out. Most Iditarod racers consider their huskies as part of the family — enter a musher's home and you're likely to step on a carpet of fur!
In addition, Iditarod huskies get to eat better than almost any other dogs out there. After a full day of interacting with and training their dogs, mushers I know stay up till 2 or 3 am preparing fresh meat, fish, and vegetables for their dogs' meals. These high-protein, high-nutrient diets keep the dogs healthy and running until they retire at around eight or nine years old.
Siberian huskies have a long history of pulling sleds (which is why they're terrible at heeling!). It is literally in their blood to want to pull heavy objects. Indigenous peoples of the Arctic have long worked with huskies to get them to help with daily life and with hauling loads over long distances. Today, Denali National Park in Alaska maintains a kennel of sled dogs who rest in the summer and work the trails in the winter, helping take rangers to remote areas where wildlife and park care and management are needed.
In short, huskies are amazing dogs. And because of their high capacity for energy and optimal health, they require a special diet.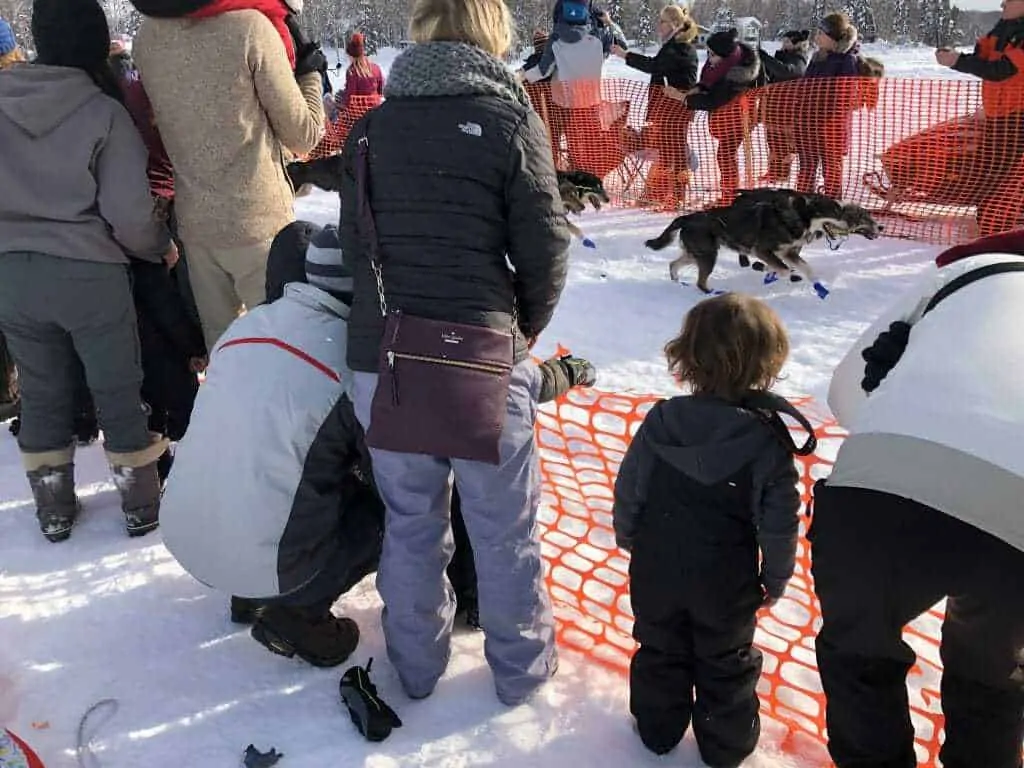 My toddler watches husky athletes race at the 2019 Iditarod in Willow, Alaska.
First, some husky facts.
Huskies are smaller than Alaskan malamutes: they typically weigh between 35 – 60 pounds.
Huskies require about 1200-1500 calories per day if not spayed or neutered. Spayed or neutered huskies require slightly fewer calories.
Each dog's needs are different, however, so if you notice that something isn't working for one of your huskies, adjust accordingly.
What Should a Husky's Diet Include?
Whether you feed your husky a raw or dry or somewhere-in-between diet, make sure your dog is getting the following things.
High Protein
Huskies need lots of protein to stay energized. Quality (read: not from by-products) proteins like beef, chicken, and salmon should top the ingredients list. Working huskies will require more protein than non-working huskies, about 20 percent per serving in the summer months and 32 percent in the winter, when they are running through the snow and pulling heavier loads.
Fat
Fats are essential to energy — they are the first resource a dog's body uses as energy. A dog's diet should contain 10-15 percent healthy fats per meal. The types of fat to look for in your dog's food are animal fats, flaxseed, cod liver oil, and canola oil. Make sure you choose fats that contain Omega-3s, which support coat and skin health (very important for dry winters!) and DHA, which helps huskies' brains develop optimally.
Carbohydrates
Together with fat and protein, carbohydrates complete the triad of nutrients necessary for healthy development and energy. Carbs also help keep a dog's blood sugar from dropping, causing fatigue and even illness. Sweet potatoes are an excellent form of carbohydrate and are found in many dog foods. Whole grains like oatmeal, whole wheat, barley, and brown rice are excellent sources of carbs, but any carb should be lower on the list of ingredients in a dog food, as high amounts aren't necessary and can lead to health issues. Also keep in mind that huskies can be prone to gluten intolerance, so if your dog seems to react to grains, switch to a grain-free option instead.
Now let's get to the best dog food for huskies.
Best Dry Food
Taste of the Wild High Protein Dry Dog Food
This dog food features roasted venison and bison as its main sources of protein. It also includes probiotics designed especially to give dogs high-functioning immune and digestive systems. Its omega-3 blend will keep your dog's eyes, brain, skin, and fur healthy and strong.
Here's the breakdown:
Protein: 32%
Fat: 18%
Fiber: 4%
Calories: 370kcal/cup
Main ingredients include buffalo, lamb meal, chicken meal, sweet potatoes, canola oil, roasted bison, roasted venison, beef, ocean fish meal, berries, and more. This is a super-healthy, high protein (did you count how many different types of meat are in this food??), grain-free food that your husky will thrive on!
Wellness CORE Wild Game, Duck, Turkey, Boar Dry Dog Food
This high-protein food includes duck, lamb meal, chickpeas, and chicken fat among its first ingredients. That's a fine-tasting dog food! It also features wild boar, rabbit, flaxseed, egg, spinach, broccoli, kale, carrots, apples, blueberries, and plenty more nutrients. Here's the breakdown:
Protein: 34%
Fat: 16%
Fiber: 6%
Calories: 388 kcal/cup
With more protein, a little less fat, and a little more fiber than the first choice, this dry dog food is perfect for older huskies who need to stay fit and slim and have regular bowel movements. It's got no meat by-products, no potatoes (but quality carbs from other sources), and no grain or soy.
Blue Buffalo Wilderness Puppy Food
Ideal for puppies and younger dogs, this high-protein formula guarantees that your dog will develop at a healthy rate and in optimal ways. Packed with antioxidants, lots of real chicken, and essential vitamins, this formula is loved by puppy owners around the world.
Here's the breakdown:
Protein: 36%
Fat: 16%
Fiber: 5%
Calories: 423 kcals/cup
You'll notice this is a higher-calorie formula, and that's because puppies need those extra calories to grow! This food features chicken, fish, flaxseed, eggs, potatoes, dried chicory root, and more. It's a grain-free food.
Best Wet Food
While dogs shouldn't exclusively eat wet or moist food because they need the crunch of kibble for optimal dental health, supplementing with wet food can be a real treat for your dog and can help keep things fresh and fun.
Here are our favorite wet foods for huskies.
Rachael Ray Nutrish Wet Food
Okay, so Eira's not a husky. But she is half malamute and many Alaskans mistake her for a sled dog, so she decided to test out some of the husky foods and let her husky friends know how she liked them.
The first one she loved? Rachael Ray's Nutrish line. Eira loved the wet food line. More specifically, she loved the Chicken Muttballs meal, which I ended up adding to her regular food.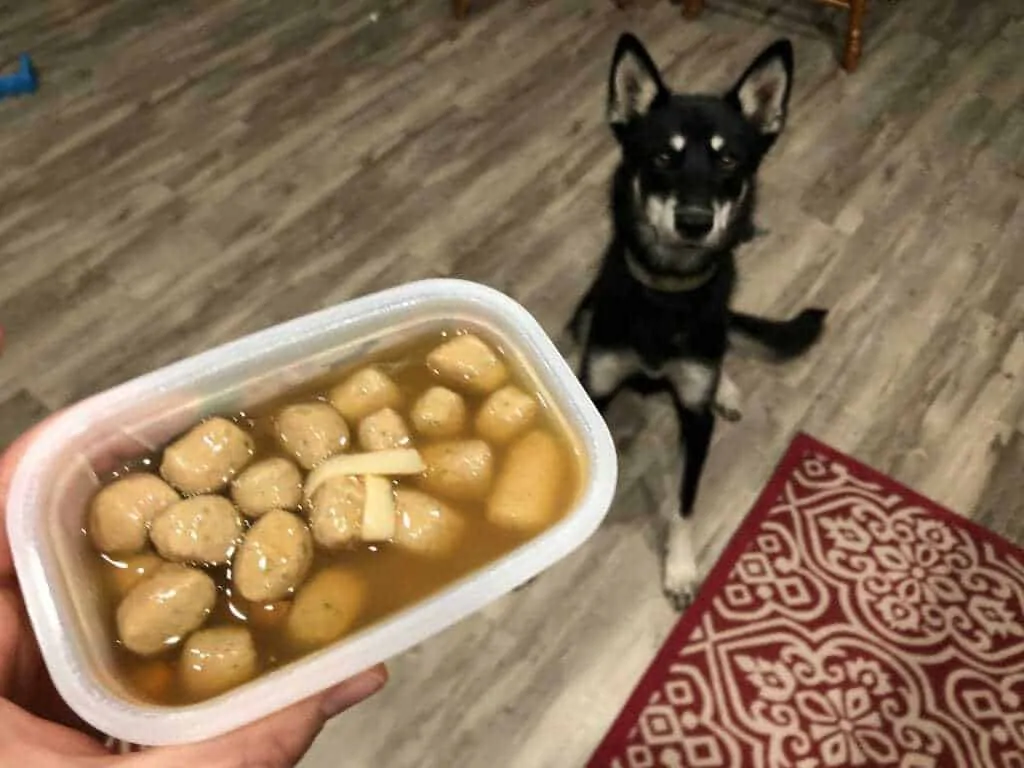 That almost looks good even to my human tastebuds!
One serving of wet dog food is actually a small serving of food overall, so I combined this tub of Nutrish with Eira's dry food. You can also substitute one regular meal with 1 tub of Nutrish per each 10 pounds of your dog. Each tub contains:
Protein: 9%
Fat: 5%
FIber: 2%
Calories: 298kcal/tub
Note the higher fat content per tub, and the higher calorie load. This is a perfect meal for your husky before you go out to work because of the high fat content, but you don't want to give it to your dog too often! She might find herself carrying weight that isn't wanted — aka, more body weight.
So what did Eira think of this? After I put it in her food bowl, she did the funniest thing: she took each meat ball out separately, brought it to her favorite rug, and daintily ate each one individually!
It was hilarious and sweet to watch.
Eira with the Nutrish "Muttball" she carried over from her food dish…
Eira delicately eats her Nutrish meatball. I was tempted to grab her a fork!
She ate the entire tub, slowly, and also some of her regular kibble. She wholeheartedly recommends this food to her husky friends!
No products found.
Blue Buffalo Wilderness Trail Trays
These little tubs are perfect for when you're on-the-go with your dog. If you know huskies, you know they sometimes skip meals. While this is normal sometimes, at times you may want to entice your husky with something special. Like a Blue Buffalo Wilderness Trail tray! Unlike other wet dog foods, Blue Buffalo does not use wheat to thicken its wet food. This is a high-protein snack (or meal, if you want to give your husky several) made with real beef, chicken, liver, potatoes, and flaxseed.
Blue Buffalo Wilderness Trays are small, but delightful. (For dogs!)
Like the Nutrish wet dog food, you feed one tub to your dog for every ten pounds. Keep that in mind when reading the breakdown:
Protein: 9%
Fat: 7%
Fiber: 1.5%
Calories: 119kcal/bowl
While this one has more fat per bowl than the Nutrish, it is lower in calories. It's the perfect pre-trail (or on-the-trail) meal for a husky who needs energy, and quickly.
Eira heartily approves of this one. How could she not? It's a tasty, moist, beefy bowl of delight!
Beneful Simple Goodness Tender Meaty Morsels
These are labeled as dry food, but they're definitely not dry kibble. They're not quite wet food either — they're hard to categorize. But what Eira and I love about them is that they're tasty, they're packed with protein, and they can be added to kibble or can be eaten as a standalone meal.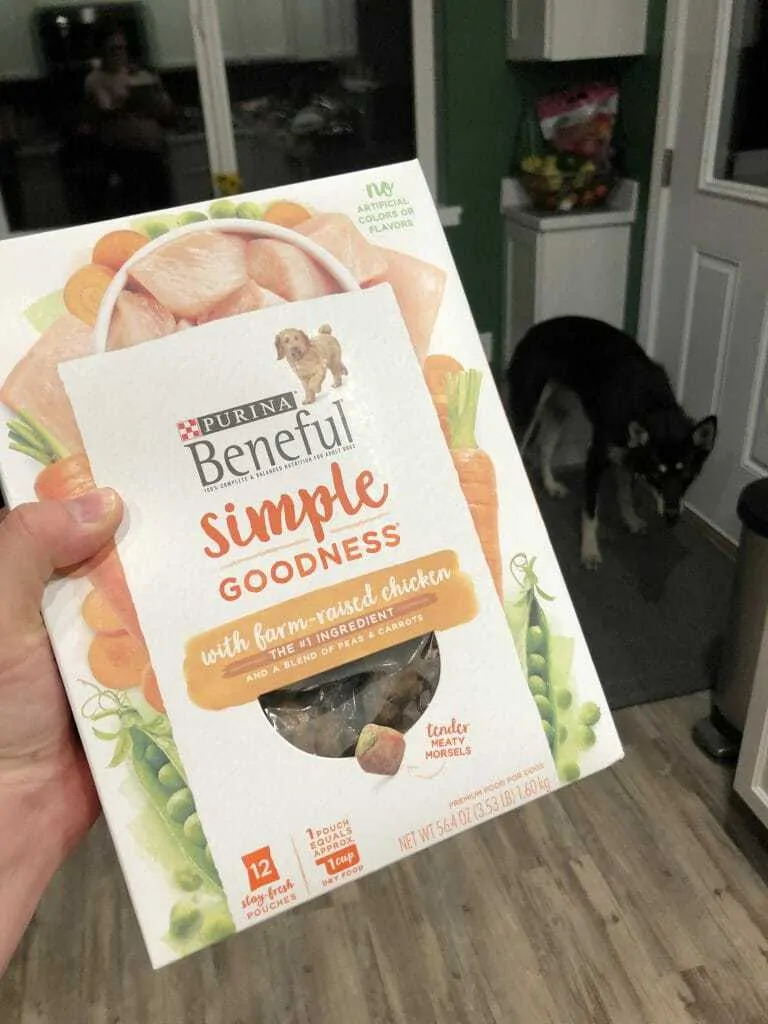 Eira says, "Yum! My husky pals will love this."
Each pouch has:
Protein: 18%
Fat: 7%
Fiber: 3%
Calories: 353 kcal/cup
A husky between 36 and 50 pounds would enjoy three pouches of this as a meal. That's a ton of protein! But like we mentioned before, you can add this to kibble and make it last longer. (Make sure to reduce kibble when you add this so that you don't overfeed your husky.) Eira absolutely loves this stuff. On the days when she's sick of her regular food, I add some of this moist kibble and she chows.
And why wouldn't she, with ingredients like fresh chicken, barley, beef fat, carrots, and peas? It's good stuff, folks. Your husky will benefit from the high protein and fat and will be all set for a winter's day of work.
Remember, no two huskies are alike, and there are lots of quality foods out there for huskies. These are just a few of the very best. Keep in mind that your husky needs lots of protein, fat, and carbs to stay energized, and you'll be equipped to find the best food out there for your dog.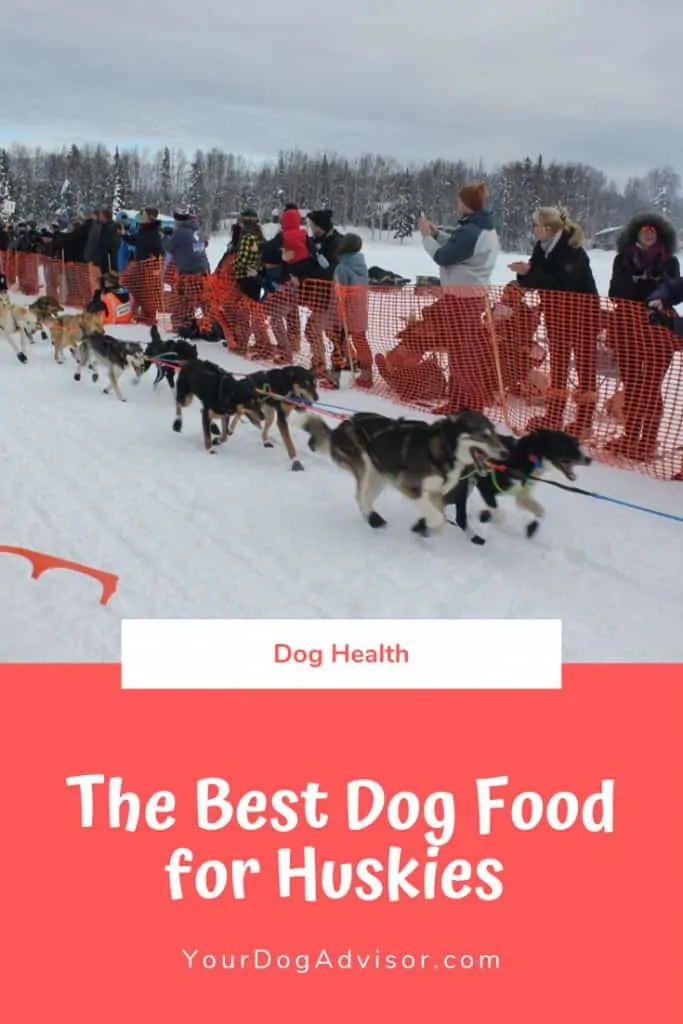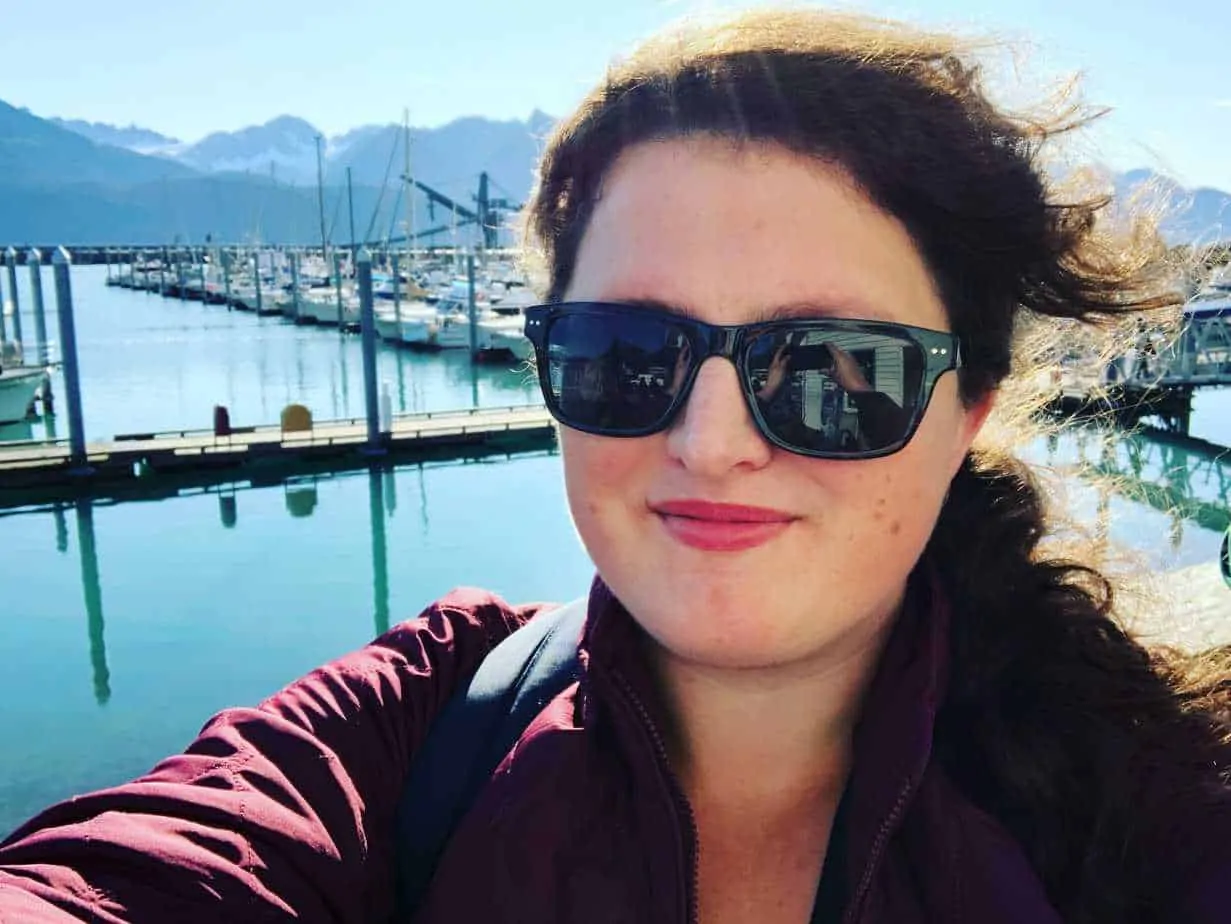 Laura Ojeda Melchor grew up with two beloved German shepherd dogs—Clancy and her daughter, Bella. From the time her family brought Clancy home, Laura took on the duty of pooper-scooper and potty trainer. As a teenager Laura helped her mother care for Clancy during her pregnancy. She still remembers fondly the exciting, frigid winter night when the seven special puppies were born. Laura kept the youngest puppy—Bella—and potty trained her, too. She taught Bella important commands, took her for long walks, and spent hours throwing tennis balls for her.
In November, Laura brought home a sweet new puppy, Eira Violet. Eira is half Alaskan malamute and half German shepherd, and Laura loves her deeply. She chose not to use a crate to potty train Eira and was pleasantly surprised at the results. She now has a sweet, energetic dog who always uses the potty outside, plays well with Laura's toddler, and enjoys long family walks in beautiful Alaska. If you were to meet Eira, she'd bound up to you with a wagging tail and get you running around the yard with her in no time.