I'll admit it. I'm one of those dog moms who's kind of dog-accessory obsessed. I love all things dogs, from doggy jackets to hair accessories, to blinged out dog collars, to funny dog ID tags.
So you can imagine my excitement when I learned about dog collar charms. Adorable little additions to your dog's collar to help spruce it up and make it more personalized? Count me in!
Perhaps the greatest thing about dog collar charms, in my humble opinion, is the fact that they come in all varieties and work for any dog. Male dogs, female dogs, small dogs or big dogs, any dog can wear a dog collar charm.
And because I love these adorable and oh-so versatile dog collar charms so much, I've listed fifteen of the cutest ones for both you and I to adore together.
But before we begin melting over this cute list of dog collar charms and spending all our hard earned money on them, let's learn more about what they are and the purposes they serve.
Is A Dog Collar Charm The Same As A Dog ID Tag?

Dog collar charms help personalize your dog's collar. 
Some dog collar charms can be used in place of a dog's name or ID tags so long as they are engraveable and pet parents are able to put all the adequate information needed to keep their dog's safe or identifiable if they ever get lost.
What kind of info would you need to put on your dog's collar charm for it to double as an ID tag? Experts recommend at least putting your dog's name, your name, and your phone number on your dog's ID tag in case your dog gets lost.
Dog ID tags are also important for dogs to wear in case of an emergency or natural disaster. On my personal dog's ID tag, I also note that she is microchipped.
But dog collar charms can play another role outside of being a dog ID tag. Many dog collar charms serve as cute little bells. These bells are especially useful for very small dogs or puppies who are at danger of being tripped over or stepped on in the house.
Not only do these bells help keep little dogs safe and sound at home, they also help owners find their dogs or puppies if they are hiding under beds or other furniture.
Plus, dog collar bells sound really cute and festive during the holidays, just saying. But dog collar charms can play a bigger role than just being a cute bell or accessory to your dog's collar.
Let's learn more.
What Is A Dog Collar Charm Used For?

Bell charms can help owners find their dogs around the house. 
Sometimes dog charms are necessary and other times they are just for fun. Many dog collar charms serve as cute little symbols of your dog's personality. Some charms are even symbols of your love for your dog.
We especially like the dog collar charms that come with matching jewelry for humans, so you and your four legged best friend can stay "connected" wherever you go, even when you're not together.
Of course, aside from vanity purposes, some dog collar charms serve an important purpose, like the bell charms we mentioned above.
Other charms that serve a purpose are charms made to alert people if a dog is microchipped or if he has certain health issues like diabetes or bee allergies.
These health alert charms are super important if your dog spends lots of time at a dog park, is out in the backyard often, or spends lots of time with dog sitters or dog walkers.
For today's post, though, we want to focus on the cute dog charms that are really just for fun, like charms that can be personalized to have cute, funny or punny dog sayings or quotes, and dog charms that illuminate your dog's personality and just add some pizazz to his or her collar.
That said, even just for fun dog collar charms should be high quality and dog-safe.
Keep reading to learn more.
Tips On Picking The Best Dog Collar Charm For Your Dog

Make sure your dog's charm doesn't block the writing on his dog tag. 
Picking a dog collar charm for your dog certainly doesn't need to be rocket science, but there are a few things we suggest you take into consideration before making the buy.
First, check that the materials of the charm are dog safe, durable, and won't easily fall off of your dog's collar. This is especially important for pet parents who are looking to buy a dog collar charm for a young puppy, as puppies go through teething phases and will often chew on or even eat things they are curious about.
Furthermore, if you have a dog or puppy who has skin allergies or sensitivities, it may be best to purchase a charm that is nickel free. Stick with materials like stainless steel, gold or silver if you can.
Last, make sure the charm size is suitable for your dog and his collar. Many of the dog collar charms listed below offer different size options, and the last thing you want is to accidently purchase a huge dog collar charm meant for a German Shepherd that's going on your three pound Chihuahua's collar.
Alright then. Now, it's time for some fun. Let's get started looking at some of the most charming dog collar charms out there.
IVIA Pet Bell Dog Charms
Some dog charms are just for looks while others actually serve a purpose. These cute bell dog charms do both.
Bell dog charms are great additions to the collars of small dogs or puppies, or dogs who are undergoing training.
I use bell charms for my little dog who likes to hide under furniture or doesn't always come when called. It's nice to know that if I can't find her I can at least hear her. Bell charms also help me hear her when she's following me around so I don't accidently trip over her, which has unfortunately happened more than once.
The Christian Mint Saint Francis Pet Medal
I'm sincerely obsessed with this pet medallion that is engraved with Saint Francis himself. Saint Francis is the protector of animals, so this is a wonderful gift to the dog lover in your life who is religious or is into this kind of thing.
I really love that the medal comes in five colors and includes a bit of siol from the holy grounds of Papal Basilica.
Each charm is hand made in Italy and no two charms are exactly alike. This is truly a unique and meaningful pet gift for the dog or dog lover in your life.
Pet Show 4 Piece Dog Flower Charms
If you are looking for a fun way to spruce up your dog's collar without spending a ton of money, then you'll love this four piece package of dog charms by Pet Show.
These adorable and frilly flowers are a great addition to any dog collar. You can add them all or swap them out depending on your desires.
They are comfortable for your pet to wear and come in a variety of color options to fit your style. The material is non-toxic chiffon materials which are safe for pets, and the elastic connector means they are easy to slide on and off most any size collar.
PetFavorites Couture Designer Dog Charm
This adorable rhinestone dog charm comes in blue, silver, and pink and adds a little bit of bling-filled sparkle to your dog's collar.
The charm is made of nickel and the rhinestones are embedded and safe. This is a small charm suitable for most dog collars and works with both dogs and catts.
Most of all, we love the alloy lobster clip, which easily attaches to your pet's ID tag or collar loop and is easily removed or swapped out.
Meiligo Fashion 2 Piece Friendship Dog Charm And Necklace
You guys! I need this in my life right now. It brings me back to middle school when friendship bracelets were all the rage, only this nostalgia is matched with an epic obsession with my dog.
If you and your dog are the ultimate BFF's, then this is the charm bracelet you are going to want to invest in.
Not only is it a super cute bone outline charm for your dog's collar, but you get the actual bone to wear as a necklace. Seriously, how cute is that?
This elegant material is either alloy gold or silver plated, depending on the color you want, and makes a great gift for birthdays, weddings, valentines day or even just for fun.
SUNYUM Dog Collar Flowers Four Pack
Here is another four pack of gorgeous dog collar flower charms. The colors are so elegant and the flowers look almost real.
These flowers are great for smaller dogs because they aren't as bulky as some flower dog charms, but they will work for larger dogs as well.
The material is made of non-toxic satin and they are built to last. Like most of the flower or bow charms on this list, they attach to your dog's collar with a flat elastic loop and will be comfortable against your dog's neck.
Dolike 10 Set Pet Bell Charms
No products found.
I love these mix and match bell charms because they are so full of color and life. Each is a completely random design, with Whinnie the Pooh, Hello Kitty, strawberries, and more.
The charms are happy, cartoonish, and great for smaller dogs who could benefit from wearing bells around the house.
You can also set these bells up on backdoors and train your dog how to use them as potty training bells by shaking them when he has to go outside to go potty.
SENFAI Alphabet Charm Letters
These dog charms are super elegant and fit for any four-legged prince or princess. You can choose from any letter of the alphabet and pick your dog's initials or even just the first initial of his first name.
These charms are small enough to fit comfortably on your dog's collar and will look adorable alongside his dog tag. You can even order these charms in rose gold, gold or silver.
It's All About You Letter Charm For Pets
If you like the letter charms but don't want the crystals, It's All About You letter charms offer you a more simple and elegant charm for your dog's collar.
Made of stainless steel, this is a quality charm that promises to last. This charm isn't just for pets! You can use this dog charm for your dog's collar or even your own bracelet, necklace, or other jewelry.
Didog Glitter Paw Print Id Tag
This dog charm doubles as an ID tag, so you know we had to include it on our list of favorite dog charms.
It comes in ten different colors and is lightweight, easy for your dog to wear, and securely attaches to your dog's collar. You can order these dog charms in two sizes depending on the size of your dog.
When you order, you give the seller your information and they personally engrave it for you with your dog's name and your address and phone number.
Lux Accessories Pawtners In Crime Dog Charm
This is another adorable friendship charm both you and your dog can share. It comes in the shape of a heart, just like traditional friendship jewelry and fits together when you put it together.
The saying is adorably punny and we love the lobster claw attachment, which makes it easy to attach or remove from your dog's collar.
Coastal Pet Products Multi-Pack Dog Bells
If you need some simple dog charms or dog bells, then this is the charm for you. These cute, simple designed bells are great for small dogs or dogs in training.
We also love them for puppies or itty bitty dogs who follow their humans around and risk getting stepped on or tripped over. You can order these bells in packs of three or six.
RYPET Dog Collar Bells And Dog Charms
For more color and variety with dog charms and dog bells, take a look at these colorful bells by RYPET. You get a massive variety with this 24 pack and the colors are bright and happy. They are made of stainless steel and the bells are loud enough to keep you alert when your pooch is around.
The bells are small and include lobster claw hooks so they are easy to attach to your dog's collar and easy to remove or swap out when necessary.
Purley Charming Pet Collar Dog Charm
These adorable dog collar charms come delivered to you in an elegant black velvet bag perfectly suited for a prince or princess. These dog collar charms are protected by Rhodium plating which helps keep them from tarnishing and protects their shine.
The crystals are also high quality with Swarovski crystal pieces and an easy lobster claw clasp to put on your dog's collar or remove from your dog's collar as needed.
Four Piece Plant Dog Collar Charms
Last on our list of dog collar charms are these unique plant charms that come in a four pack variety. What I love most about these charms is how unique they are and the adorable character included in each one.
Each charm features a different type of potted plant or succulent. The material is made of durable aluminum and is safe for pets and kids to be around. They will certainly spruce of your dog's collar and be an adorable gift for any dog lover or dog enthusiast.
Other Cute Ways You Can Personalize Your Dog's Collar

You can add flowers or other ornaments to your dog's collar to make it cute too.  
There are so many fun ways we as pet parents can personalize our dog's style while also ensuring they are comfortable and happy.
As humans, many of us find that clothing and accessories are a great way to expand on who we are and our personalities. Unfortunately, dog's don't necessarily have the same sentiment regarding clothing that we do.
And while some dog breeds do need to wear clothing to help keep them protected from the elements, it's not always ideal to dress our dogs up for fun. In fact, many dogs absolutely hate wearing dog clothes like t-shirts, dog sweaters and jackets.
But don't worry. You can still add some razzle dazzle to your dog's style without causing him any stress or discomfort.
Try adding fun elements to your dog's collar like flowers, charms and even decorative or funny dog tag IDs with hilarious sayings engraved on them.
Of course, there are also super blingy dog collars you can purchase at most pet stores and online. Some of these collars even look like dog necklaces!
Whichever way you choose to personalize your dog's style and collar, just remember to always put your dog's safety and comfort first.
So, which dog collar charm above was your favorite? Give us your opinion in the comment section below.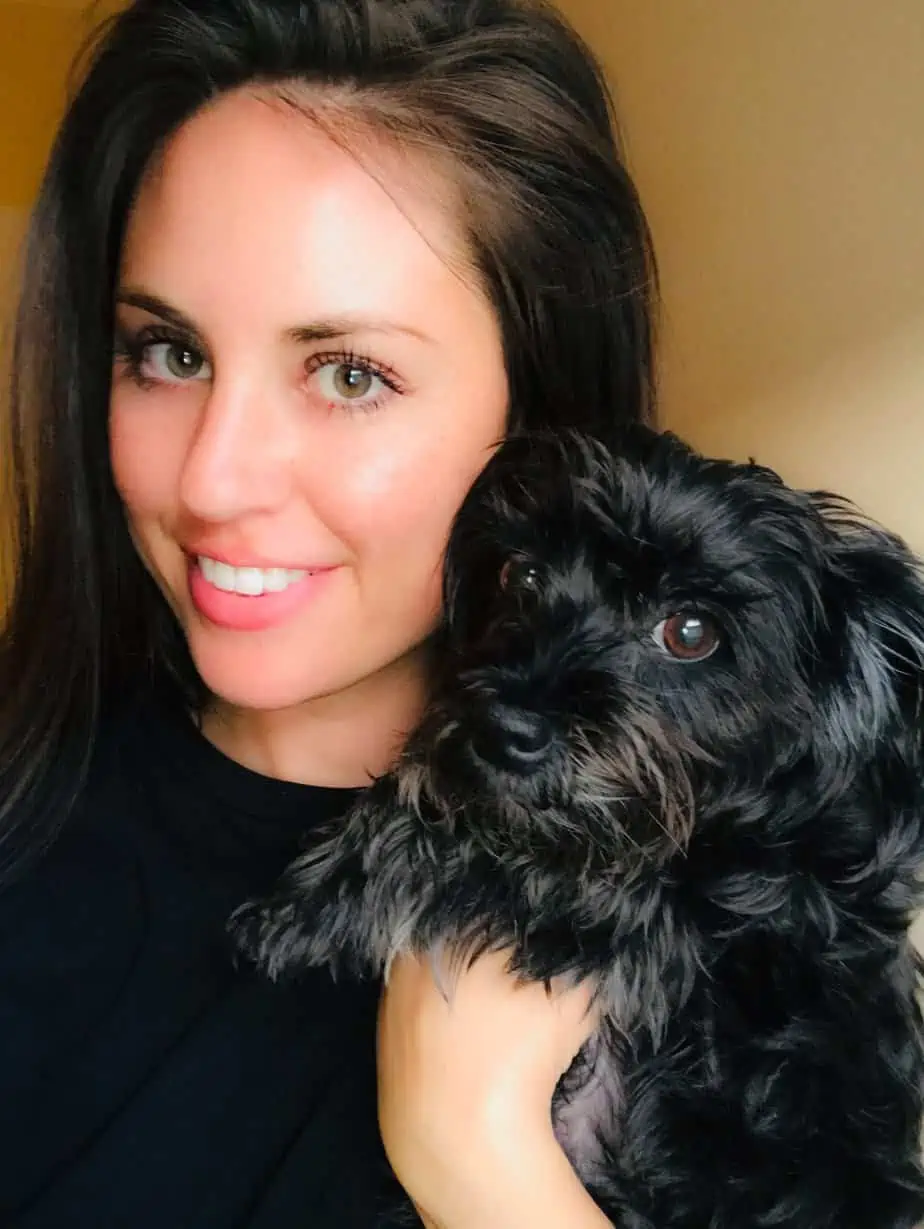 Madison Guthrie (also known as Sonny Mackenzi) is a pet care specialist and positive-reinforcement trainer who works most closely with anxious and reactive dogs. Born and raised in Littleton, Colorado, Madison developed a love for animals at an early age and spent most of her childhood outdoors rescuing stray pets and helping to rehabilitate injured wildlife.  Along with animals, Madison also developed a love for writing and music. Over the past five years, she has worked to use her passions to help the pets and pet parents in her community build stronger bonds and live happier, healthier lives together.  Currently, Madison lives in South Pasadena, California where she owns and operates Miss Madison LLC, a marketing company that focuses on helping privately owned veterinary establishments and pet care companies grow and thrive. She also works as a dog trainer at My Dog Spot, which is an award-winning pet care and training establishment in Pasadena, California.