Whether it's small dog prejudice or an actual fact, there is a common opinion floating around amongst dog enthusiasts that small dogs bark more frequently than large dogs.
In fact, I think the exact term is that small dogs are "yappy". My personal and somewhat educated opinion as an unbiased small dog owner is that excessive barking can be both a small dog and a big dog thing, and it really all depends on the dog and the dog's environment.
Whether or not your dog is a barker also depends on training, socialization, and whether or not your dog is generally anxious, calm, or happy.
That said, there are some dog breeds that tend to be more vocal than others for one reason or another. And the truth is that small dogs can be "yappier" according to humans simply because they bark at a higher frequency than big dogs. Their shirll, excited yip seems to leave a ring and can be a little more annoying to us than the bigger, lower barks of our larger canine counterparts.
Unfortunately, Pomeranian dogs fall in that small, yappy dog category. They are also one of those dog breeds that is known for being more vocal than others by nature, which can cause some problems for otherwise quiet households.
But don't worry. We do have a solution for your chatty Pomeranian, and it isn't a Pomeranian muzzle.
Today, we are going to learn about bark collars, and we have even listed some of the best Pomeranian bark collars available.
Keep reading.
What Is The Purpose Of A Bark Collar For Dogs?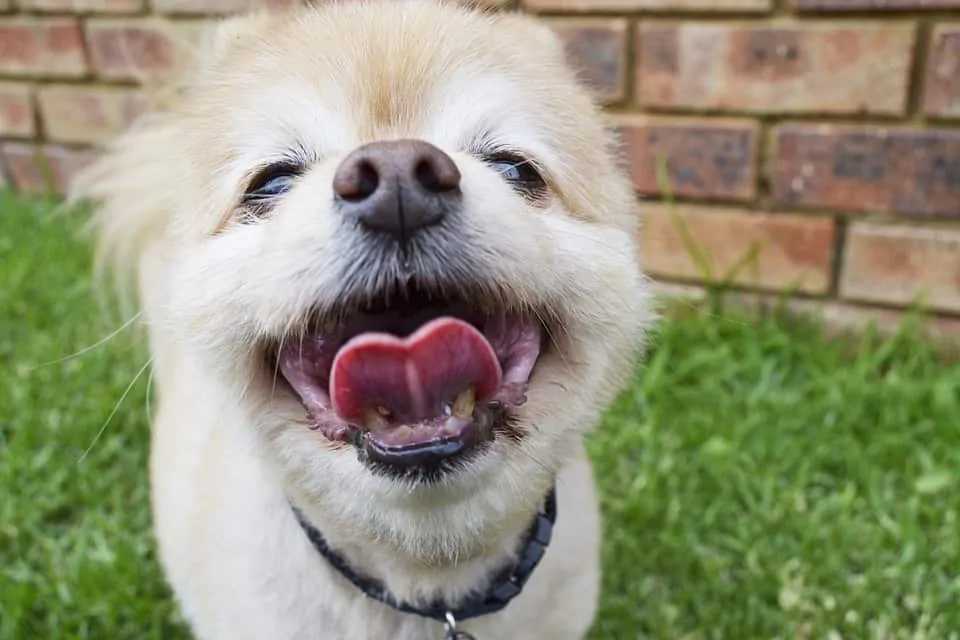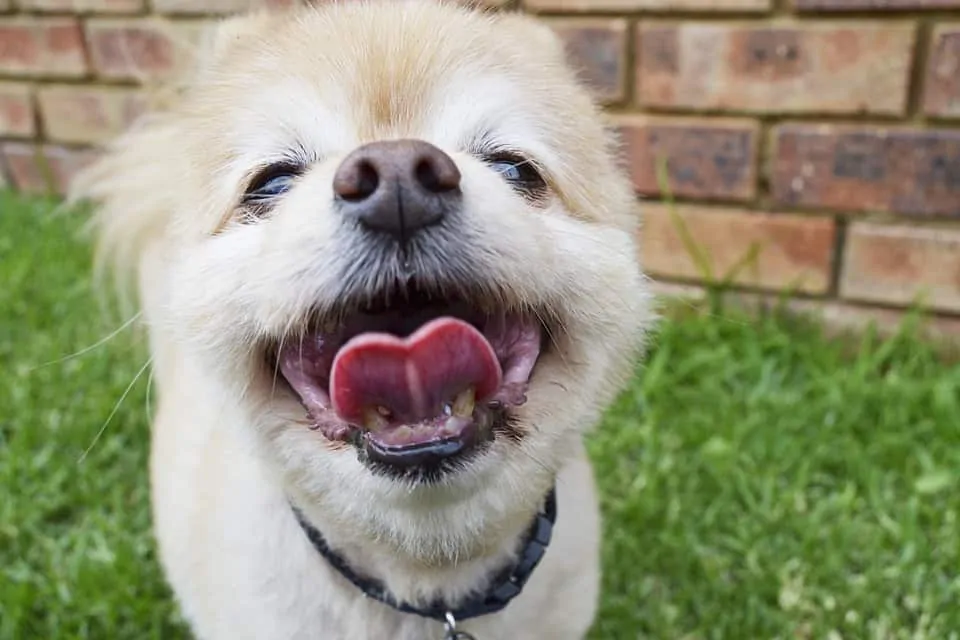 Bark collars are designed to stop your dog from barking excessively. 
Bark collars are nothing new. These devices have been around for quite a while now and are designed to help alert your dog when it's time to quiet down.
Most bark collars use a type of static shock or vibration, which is triggered by your dog's bark. Owners can set the intensity of the shock or vibration to their specific needs or depending on the frequency of their dog's barking habits.
Other bark collars use a type of non-toxic citronella spray that emits from the collar when dogs are barking too excessively, and then there are the bark collars that use sound.
Whichever bark collar you choose, the purpose is the same – to help reduce the frequency of your dog barking.
Does My Pomeranian Need A Bark Collar?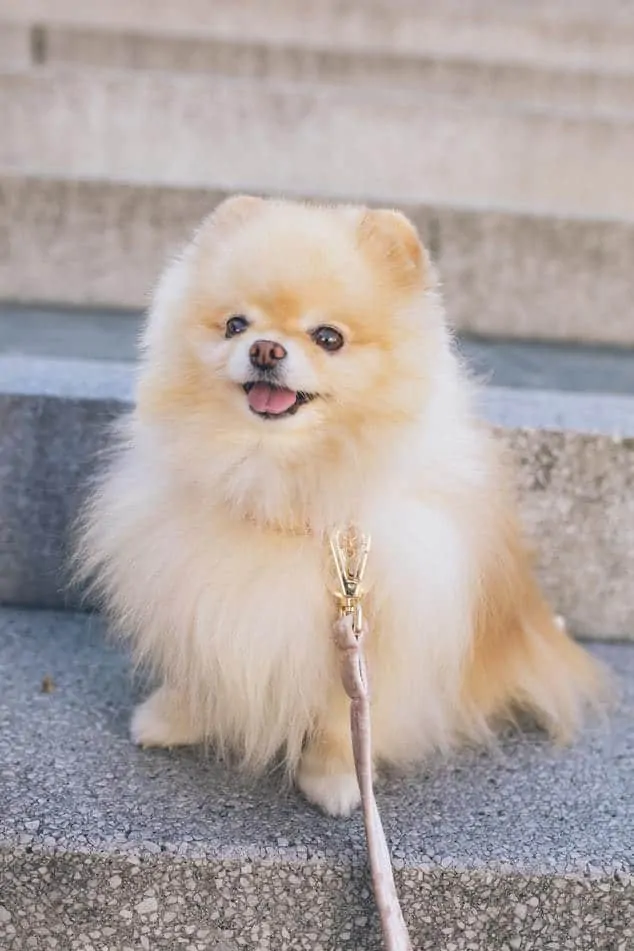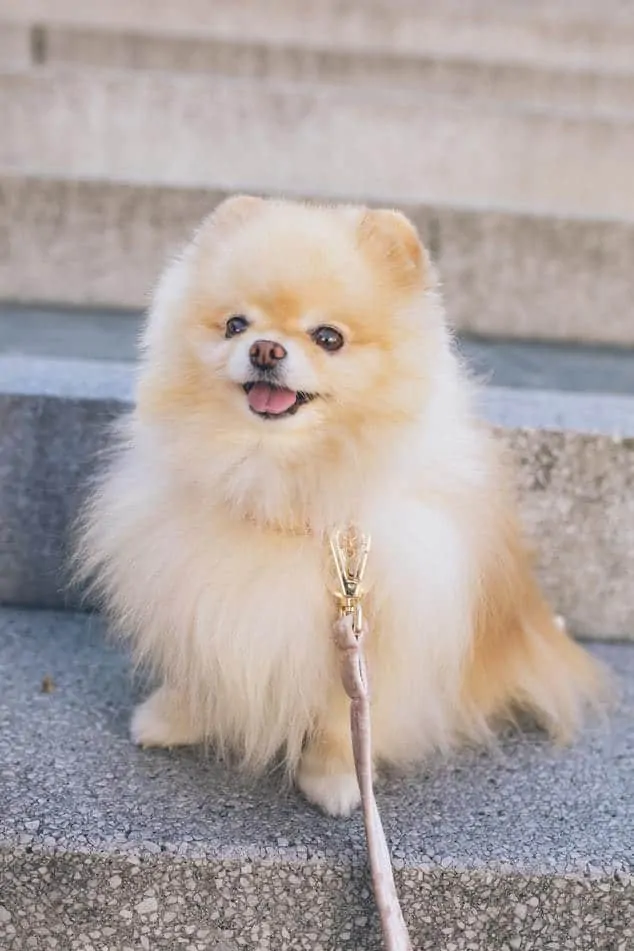 It's important to make sure your Pomeranian really needs a bark collar before using one.
Bark collars are controversial, and it's easy to see why. The bark collars of old were most commonly shock collars created to give a little zap to your dog when they got a little too vocal.
These days, the dog loving community has tried to get away from such devices and tend to focus more on positive reinforcement training techniques to help teach their dogs when it's appropriate to use their voices.
However, sometimes training a stubborn dog or naturally chatty dog like a Pomeranian can be difficult, and owners feel obligated to turn to devices like bark collars, corrective sprays, and citronella collars to help maintain the noise level in their homes or apartment buildings.
Luckily, there are plenty of bark collars that only use sound and vibration to help teach your Pomeranian when to quiet down. In fact, vibration and sound bark collars are the best Pomeranian bark collar options, considering Pomeranians are so small.
Are you feeling a little guilty about having to get a bark collar for your Pomeranian? Don't worry. That's natural. That's also why we've gone ahead and listed fifteen of the best Pomeranian bark collar options that are harm-free and use vibration, sound, or spray instead of static shock.
Of course, we understand you may want to know more. Let's go over a few things you should know about bark collars in general.
Will A Bark Collar Hurt My Pomeranian Dog?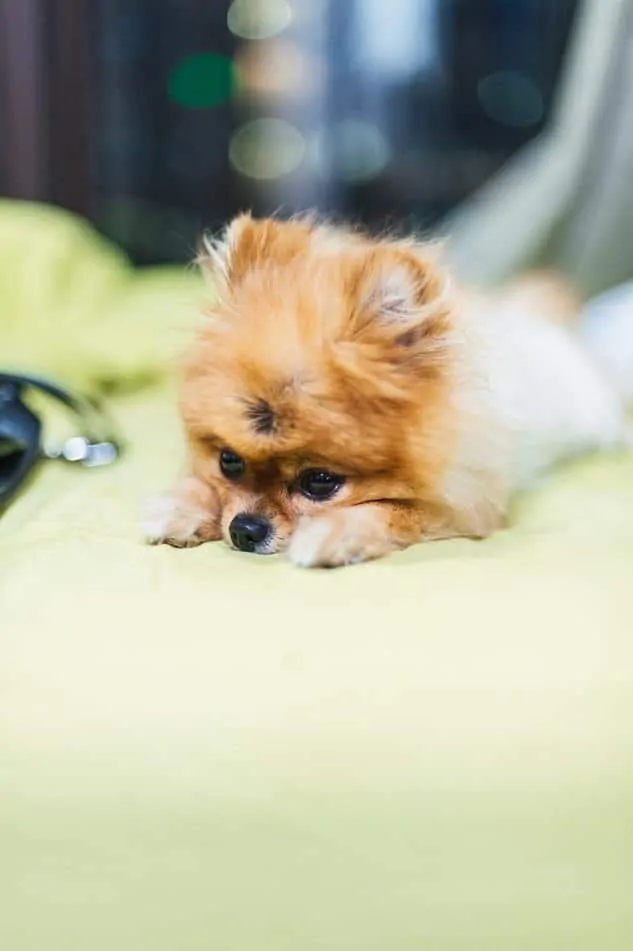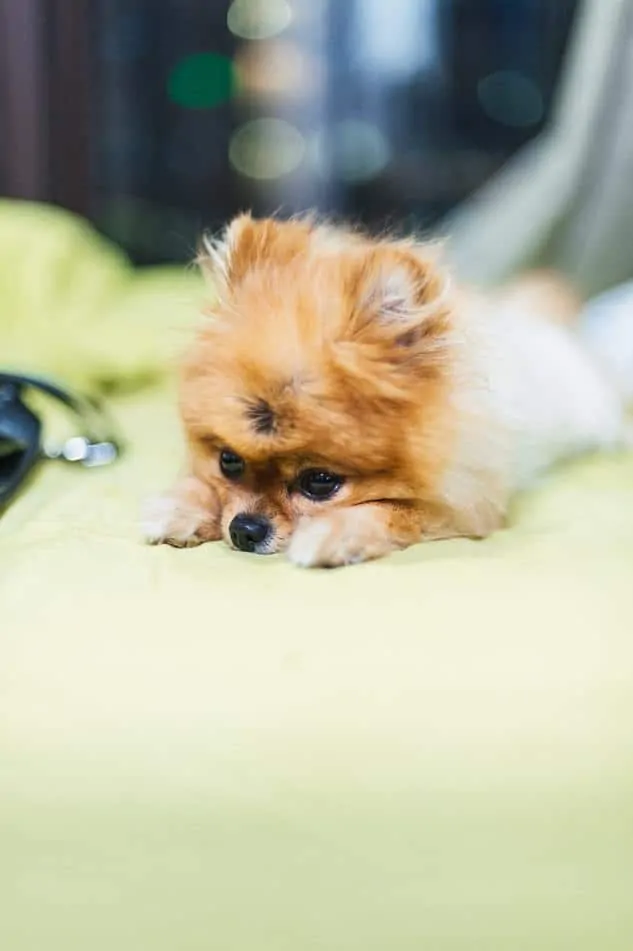 There is a lot of controversy surrounding the use of bark collars, especially for smaller dogs. 
Will a bark collar hurt my Pomeranian?
This is a common concern for many dog parents who love their dogs and don't ever want to see them harmed.
We are strong advocates for positive reinforcement training, so we must be honest and admit that bark collars are not a positive reinforcement tool, even when they are pain-free.
Even without a static shock, bark collars are unpleasant for dogs to wear. In fact, most positive reinforcement trainers will encourage dog parents to try different training methods and techniques before purchasing a bark collar for their dog to help reduce excessive barking.
That said, the best Pomeranian bark collar will not physically harm your Pomeranian and can work quite effectively to reduce excessive barking in your dog.
If you're nervous about where to begin looking for the best Pomeranian bark collar options, don't be. For your convenience, we've gone ahead and listed some of the best Pomeranian bark collar options available to help you in your quest to quiet that noisy Pom of yours down.
Let's begin.
Trulrox No Shock Bark Collar For Dogs
If your Pomeranian is a Mr. Barky-Pants, take a look at this anti-bark collar for small dogs. The reason I love it most is because it's a no-shock bark collar. That means this Pomeranian bark collar is pain free!
It uses vibration and tone to alert your Pom to stop barking when necessary and you can adjust the vibration sensitivity as needed.
The collar is also adjustable and comfortable to wear. It includes a rechargeable battery that lasts two weeks when fully charged. It is also waterproof and can be ordered for dogs in different sizes varying between six and 150 pounds.
Authen No Harm Bark Collar
No products found.
This Pomeranian bark collar is another no-harm anti-bark collar I like for small dogs because it uses vibration and beeping tones to let your Pom know when his barking has become a bit excessive. You can implement a static shock if needed, but the shock is gentle and pain-free.
You can set the vibration to different levels of intensity depending on your needs and rest easy knowing your Pomeranian will never feel any pain when he barks.
There are also two available training modes. Like most Pomeranian bark collars on this list, this product is waterproof and includes a rechargeable battery.
Elecane Small Dog Bark Collar
This Pomeranian Bark Collar by Elecane is specially made for the smallest of our four-legged friends and is designed to help them learn to stop barking with a gentle vibration.
The no-shock design means you can feel comfortable about allowing your dog to wear the collar and the cute, adjustable design is perfect for little necks.
You can order this Pomeranian bark collar in small or medium. It is rechargeable and water-resistant to rain, snow, and puddles. That said, it is not water proof and shouldn't be submerged.
For complete vanity purposes, you can order the bark collar in five adorable colors.
DogRook No Shock Bark Collar for Small Dogs
Here we have another Pomeranian bark collar perfect for smaller dogs. This no-harm bark collar means no shocking and simply alerts your Pom to stop barking using vibrations. It is waterproof and safe to wear, as well as adjustable.
There are two modes available for owners to choose from as well.
Masbrill Bark Collar For Small Dogs
If you need a Pomeranian bark collar specifically made for small dogs, thi is it. The Marsbrill bark collar is specifically designed for very small dogs between five to 55 pounds. The collar is adjustable and comfortable for your little Pom to wear, and it's a vibration collar, which means your Pomeranian will not feel a shock or pain when he barks.
It only works when your dog barks excessively (meaning over seven times in under a minute), so it's a smart design bark collar which still allows your dog to use his little voice.
You can also set the vibration mode intensity level as needed.
NPS No Shock Bark Collar For Small Dogs
With a sleek design and available in black or burnt orange, this no shock collar by NPS is perfect anian owners looking for a Pomeranian bark collar that is safe, gentle and effective.
This collar uses vibration and sound to help let your POmeranian know when his barking has gone on a little too long. It's intelligent design increases the vibration intensity automatically as well if your Pom keeps barking.
The collar is adjustable and is best for dogs between six and 120 pounds, so it comes in quite the size variety. Best of all, there are no false buzzes. Your Pom won't be corrected if he growls and other barking dogs won't trigger the collar either.
GoodBoy Mini Rechargeable Bark Collar
GoodBoy offers a Pomeranian bark collar that is specifically designed for tiny dogs. It has a lightweight design and is more comfortable for smaller dogs to wear. It is triggered by your dog's own vocal chords so other dog's won't set it off, and you'll never need to feel guilty because this Pomeranian bark collar is shock free.
You can choose between several modes and settings and feel confident that this bark collar is weatherproof and waterproof.
MARSBRIL Dog Bark Collar
This is another Pomeranian bark collar for small dogs that uses humane, no-shock alerts to help your Pomeranian learn to stop barking.
By using sound and vibration, this Pomeranian bark collar helps your dog learn when to tone it down and how to use his voice appropriately. Ideal for dogs between 5 and 55 pounds, this collar is small, lightweight, comfortable, and comes complete with seven modes of vibration sensitivity.
Dog Care Bark Collar
We really like this Pomeranian bark collar by Dog Care for a number of reasons. First, because it's anti–sock and pain free. I, and second because it's super cool and futuristic looking.
What makes it so futuristic looking? The five LED lights built into the collar to help you get a better idea of how the collar is working and when the battery needs to be replaced.
You can also set the vibration to two training modes and sensitivity levels to ensure your Pom gets the right amount of stimulation he needs to know when it's time to be quiet. That said, he will not be shocked or ever feel pain.
eXuby Anti Bark Collar For Small Dogs
Now this is an anti-bark collar for small dogs. It's the perfect bark collar for Pomeranians due not only to its size, but also because it is a no shock bark collar using only vibration and noise to let your Pom know when it's time to pipe down.
The battery pack and vibration pack is the size of a quarter, so it's the perfect fit for your Pomeranain's little body, and the adjustable collar design is lightweight and easy to remove or take off.
Petnf Small Dog Bark Collar
A Pomeranian is wearing this Pomeranian bark collar so you know it's legit. Just kidding – that's not the only reason you know it's legi.
What makes this Pomeranian bark collar good for your Pom is the fact that it's a no-shock bark collar that, like most bark collars on this list, only use vibration and sound to correct the barking behavior.
It does not trigger false barks or other dogs and comes with an indicator to alert you to a low battery that needs recharging.
The vibration case is made of silicone and is soft and gentle on your dog's skin and fur. It is also waterproof and safe.
eXuby 2-Pack Dog Bark Collar
This is another Pomeranian bark collar by eXuby we would recommend for chatty Pomeranian dogs because it's an anti-shock collar that is gentle and versatile for your Pom.
This is also a two-pack so it's great for multi-dog households, or you could even switch one of them out while the other is charging.
There are seven levels of vibration intensity and the battery is rechargeable. The Pomeranian bark collar is pain fre, shock free, and specifically designed for small dogs like yours.
AHJDL Bark Collar For Small Dogs
No products found.
Ideal for dogs between six to 120 pounds, this Pomeranian bark collar is versatile and humane. It uses sound wave detection to ensure it never mistakens another dog's bark for your dog's bark and offers seven different training modes for ideal performance.
The vibration is always gentle and safe, but still effective to stop your Pomeranian from barking excessively. It is also environmentally friendly and even recyclable when you're finished with it.
Pumila Small Dog Bark Collar
No products found.
You already know we love it when Pomeranian bark collars are gentle and safe, and this is one such small dog bark collar that includes all our favorite alerts. It uses sound and vibration to help your POom stop barking while also being rainproof and water proof.
It's adorable too, coming in both blue and pink, and it's perfect for small dogs like your Pom. The size goes up from six pounds, so make sure you do your measurements.
We also love that this product is lightweight and adjustable, but most importantly that it's comfortable for your Pomeranian to wear.
Jing Cheng Spray Anti-Bark Collar
No products found.
The Jing Cheng Spray Pomeranian bark collar is different from the rest on this list as it's the only one for Pomeranians that offers a spray mode.
The spray is non-toxic and you can adjust the level of spray depending on your Pom's barking habits. This is a shock free collar that doesn't use vibration or sound, but instead uses spray to help teach your Pom good barking manners.
We like that the battery is rechargeable and that this Pomeranian bark collar works for dogs of different sizes. It also comes with a USB for plugin and is adjustable for your dog's unique neck size.
Before Buying A Bark Collar, Try These Tips On Training Your Pomeranian Not To Bark

Smaller dogs like Pomeranians are known to be yappy, but they are intelligent and can also be trained to settle quickly. 
Nearly all of the bark collars listed above are shock free and harm free.
Still, it can be difficult for some dog owners to make the decision to invest in a bark collar for their dog. It's never easy or fun to train our dogs using aversive training methods. That said, regardless of which type of bark collar you get, this is an aversive training method.
What this means is that bark collars are meant to be unpleasant for your dog, even if it doesn't hurt him. So, before you decide to buy a bark collar for your Pomeranian, we recommend trying positive reinforcement training, socalizain, and counterconditioning techniques first.
Pomeranians are naturally vocal dogs, but many Pomeranians bark more than others out of excitement, boredom, stress, anxiety, or just plain old fear.
To help keep your Pomeranian quiet without using a bark collar, try making sure they are getting plenty of exercise each and every day.
You can also use plenty of treats and praise to help them associate things they are fearful of and that make them bark with things that are positive and less scary.
What do you think? Are bark collars a good way to help train a Pomeranian to stop barking? Let us know your thoughts below in the comment section.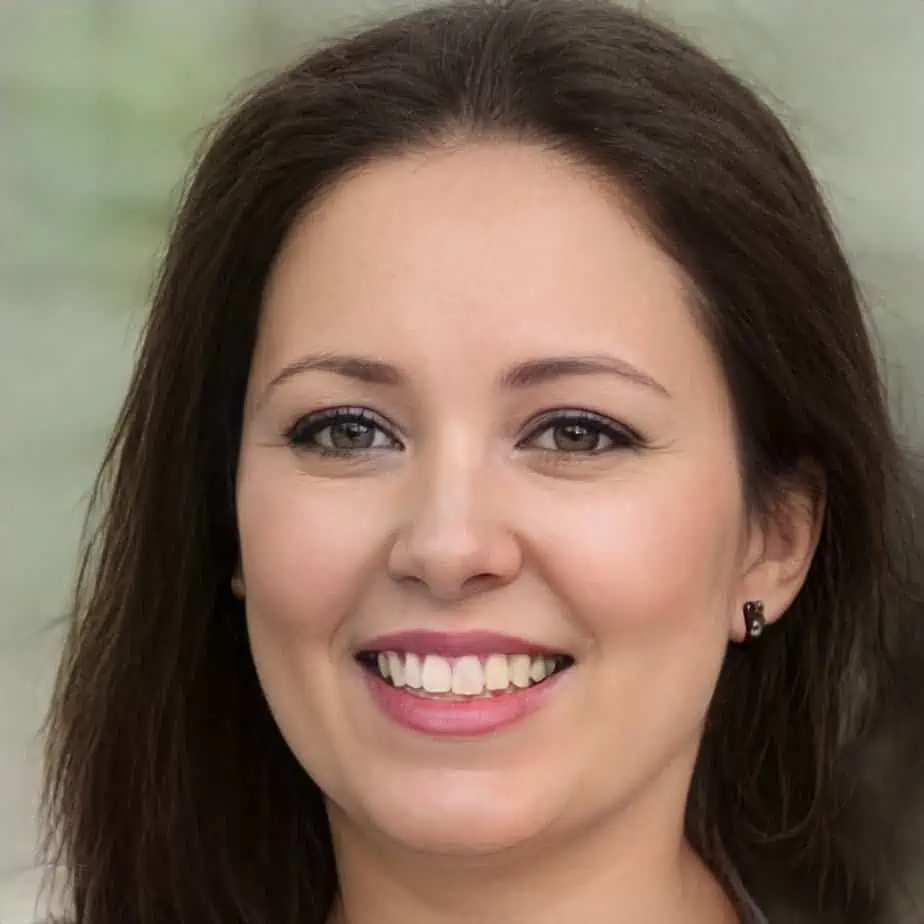 Jen Jones is a professional dog trainer and behavior specialist with more than 25 years of experience. As the founder of 'Your Dog Advisor' and the 'Canine Connection' rehabilitation center, she applies a holistic, empathetic approach, aiming to address root causes rather than merely treating symptoms.
Well known for her intuitive and compassionate approach, Jen adopts scientifically-proven, reward-based methods, encouraging positive reinforcement over punishment. Jen specializes in obedience training, behavior modification, and puppy socialization. Her innovative methods, particularly in addressing anxiety and aggression issues, have been widely recognized. Jen has worked with many of the world's leading dog behaviorists and in her free time volunteers with local animal shelters and rescue groups.