The concept of light-up dog collars may seem strange to some, and to others, these silly devices seem like some kind of gimmick. However, when you truly begin to understand how light-up dog collars work and what features are available for providing your dog with a safer night walk, you'll likely change your mind.
Does your dog need a light-up dog collar?
Though not every owner may think their dog needs a light up dog collar, there are many dogs and households that would benefit from using these products when walking their dog, and not only at night.
So, before you make up your mind about whether or not a light up dog collar is right for you and your dog, let's talk a bit about what these collars are, why they might be important, and then go over a few of our favorite light up dog collar products.
What Is A Light Up Dog Collar?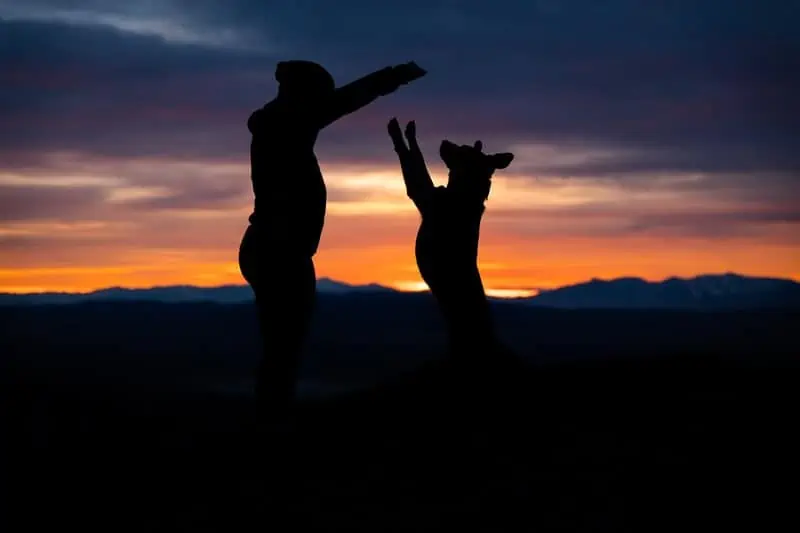 Light up dog collars can help make night walking safer.
A light up dog collar, sometimes known as an LED Dog Collar, is just what it sounds like – it is a collar that has the ability to light up. These collars are usually made of some sort of flexible material and often have LED lights embedded inside of them.
These types of collars can come in many forms, with some that blink, strobe, or simply shine depending on the particular settings you choose. These collars are usually used for nighttime walks or for other activities like camping or hunting, however, light up dog collars can also be used for general walks or other activities as well.
In fact, some dog owners use light up dog collars as a part of their dog's everyday attire. And why not? It's hard not to love a light up dog collar when they look so fun!
With all that being said, the main reason light up dog collar products were invented was to help keep dogs safe during low visibility outings including early morning walks, night walks or walks when the weather is rainy, foggy, or cloudy.
Light up dog collars work similarly to reflective dog collars, though they are typically even easier to see when visibility is especially poor. You can think of light up dog collar products for your dog the same way you would think of headlights for your car.
They are specifically designed to alert others that your dog is nearby, so people can see your dog's location even if they cannot see your dog's physical body.
Light up dog collar products are also useful for you if you have a dog that is a canine Houdini. In fact, some people have their dogs wear a light up dog collar all the time if they have very large yards or if they live on large stretches of land and let their dog play outside often.
For smaller dogs, light up dog collars can even help to make it easier for you to see where your pet is inside the home so you don't accidentally step on him or her if you're moving about in the middle of the night.
What Is The Difference Between A Light Up Dog Collar and A Reflective Dog Collar?

Reflective dog collars and light up dog collars are not one in the same.
Light up dog collars are fun, but are they really any different than a reflective dog collar?
Actually, the answer is yes. Reflective dog collars are made with a material that reflects light back, but they only work if a light source is shined directly on them. A light up dog collar, on the other hand, shines whether or not there is light hitting its surface.
Reflective dog collars are excellent for walking your dog along busy sidewalks near roadways at night, as headlights from cars are likely to catch the reflective materials of the collar and alert drivers to you and your dog's presence.
However, if you are hiking or walking in a more remote location, or if you are on a bike path with your dog at night, a light up collar can be much more effective and alert people to your dog's location without the help of other light sources.
Of course, there are pros and cons to light up dog collar products, and it's important to consider this when you are looking to invest in one.
The Pros Of A Light Up Dog Collar
The pros of a light up dog collar are plenty, and while light up dog collar products may not be right for every situation, they are a very useful tool you can add to your dog's supply box or walking equipment to help ensure your dog is safe during the right circumstance. Below is a list of pros of a light up dog collar you should consider.
Light up dog collars are easy to see at night
They can be used as an emergency light if needed
Light up dog collars make finding your dog easier if they get off-leash
Light up dog collars can help you find your dog if they get out of the yard in the dark
Light up dog collars can help keep your dog safe from traffic when you are walking them near a road
Light up dog collars are made of dog-safe materials such as nylon, polyester, and nylon braided material
They are often easier to clean than traditional collars
They are often more durable than traditional collars
The Cons of A Light Up Dog Collar
Light up dog collar products may require charging or new battery replacements
They should not be left on your dog unsupervised if your dog is a heavy chewer
Light up dog collars may be more expensive than traditional dog collars (though not always)
What To Look For In The Best Light Up Dog Collar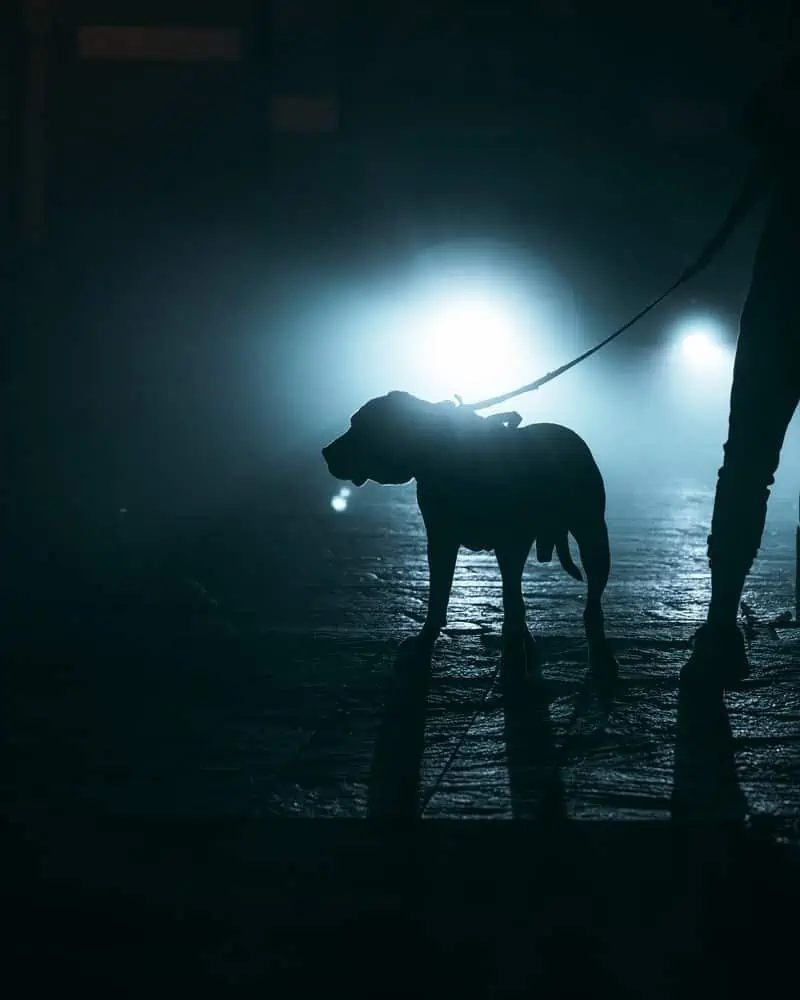 Look for dog collars that are going to be visible from far away, especially if you walk at night.
Before you decide if you should buy a certain light up dog collar for your dog, it's important to do your research. While the pros do tend to outweigh the cons of using a light up dog collar for your pup, remember that not all light up dog collars are made the same.
So, what should you look for when looking for the best light up dog collar for your furry family member? Keep reading!
Durability
The first thing you want to consider is how durable the light up dog collar is going to be. Will it fit your furry friend's neck and will it be able to withstand any type of activity that he or she may get into?
If you have an active pup who loves playing in the yard at night or going on walks through your neighborhood at night, and if you plan to allow your dog to wear a light up dog collar more often than not, then durability is a must!
With that being said, if you have a quiet pup who spends most of his time indoors or just needs some extra visibility when he goes out at night, then durability isn't as much of an issue.
Brightness
How bright will this light up dog collar be? Most light up dog collars are made with LED lights which means they can get very bright. However, some are better than others when it comes down to brightness.
The brighter the collar, the more effective it is when it comes to safety and visibility. If you want a collar that stands out and is easy to see, then look for one with high brightness levels.
Battery Life
How long will this collar last on one battery charge? Some collars have better battery life than others so make sure that you find a light up dog collar that will last long enough for your needs.
There are many factors that affect battery life including how often you use the collar and how long each charge lasts before needing to be recharged.
Weather Resistance
The best light up dog collars are designed to be weather-resistant, so they can withstand rough conditions and bad weather. If you live in a rainy area or have an active pup who loves playing outside, this is an important feature.
Light Color Options And Settings
Many of today's best light up dog collars come with multiple light options. Some have adjustable brightness levels, while others have flashing lights that help you see your pup when he's off-leash at night. You should also look for a collar that has a strobe mode for emergencies.
Best Light Up Dog Collar Options

There are several types of light up dog collar products you can choose from.
If you've become sold on getting a light up dog collar for your dog, you're in luck. There are countless options on the market for you to choose from!
In fact, there are so many choices that making the right one can seem like a daunting task. But don't worry, we are here to help you decide with our list of the best light up dog collar products.
We made our decisions based on three criteria:
1) Value for money – We have included a few quality light up dog collar options that come with all the best features without breaking the bank.
2) Durability – The last thing you want is for your dog's collar to break after only a few uses! A good quality product will be made out of durable materials and will last much longer than its cheaper counterparts.
3) Customer satisfaction – Most of the brands on our list below have received hundreds of positive reviews from happy customers who were impressed by their service and products!
Take a look!
Sale
When it comes to lighting up your dog's collar, you want something that is bright and visible. You also want something that will not break the bank. This is why we chose the BSEEN LED Dog Collar as our first product on our list of the best light up dog collar products.
The BSEEN Light Up Dog Collar is a simple and straightforward product. It is made from durable nylon and has three bright LEDs on it. The dog collar has a small button on it that you can push to turn it on or off. When turned on, the lights will shine brightly for about 30 minutes before needing to be turned off again for another 30 minutes of use time.
This light up collar is great because it is affordable and provides just enough light for your dog to be seen in low light conditions without being too bright or distracting for other people around you. It's also waterproof so if your dog gets caught in the rain, their light up dog collar will not go out.
We like the Blazin LED Light Up Dog Collar above by the Blazin Store because it combines both a reflective collar quality with a light up function we love as well as 1,000 feet of visibility.
It is made with durable materials and has three different modes to choose from, including a flashing red light, steady red light, and steady blue light.
This collar is also waterproof and features a safety lock feature that keeps the dog from removing it. The collar itself is adjustable between 14-22 inches, so it should fit most dogs without any issue.
We recommend this product for those looking for an LED dog collar that can be used as both a flashlight and reflective accessory. This collar features 26 bright LED lights that are sure to keep your pup visible in any environment.
The HAOPINSH LED Dog Collar comes in eight different light color options and is a rechargeable light up dog collar option we like for those looking for a simple yet effective light up dog collar for safer dog walks.
This light up dog collar has two different modes including an On Mode and a Flashing Mode.
The ON mode will continue to flash until it needs to be recharged, while the Flashing mode will only flash when the dog is moving around. This is a great safety feature because it will ensure that the dog can be seen from all angles when walking at night or in the dark.
We also like that this light up dog collar comes with an adjustable size that fits most dogs comfortably. This means you don't have to worry about having to buy multiple sizes for your pup over time like some other brands require.
This makes it a great option for those who want to use the same collar for multiple dogs year-round with no hassle!
The Illumifun LED Dog Collar, as its name suggests, is a fun light up dog collar your dog can wear consistently and safely.
This dog collar is rechargeable and comes in several color options. It has a long battery life of up to 30 days on one charge, so you don't have to worry about it running out of power before your pup wears it out!
The collar comes with two modes: flashing or constant light. This allows the wearer to choose what they prefer most. The lights on this collar are LED lights so they will last longer than other types of lights and they require less maintenance than other kinds of lights because they don't have bulbs that burn out or break easily.
The PcEoTllar LED Dog Collar by the PcEoTllar store may look like a simple reflective nylon dog collar on the surface, but it glows bright the moment you need it to!
This light up dog collar is also waterproof, making it a great option for dogs who are active or enjoy swimming or walks in the rain. The collar can be adjusted to fit any size neck and comes with a free remote control so you can control the color of your dog's collar at any time.
The rechargeable battery lasts up to 30 hours on a single charge and will automatically turn off when not in use to preserve battery life. A standard USB port allows for easy charging.
The lights on this collar are made with high-quality LEDs that have an estimated lifespan of 100,000 hours before needing to be replaced.
The collar is made from nylon webbing with an adjustable Velcro closure, so it's easy to put on and take off of your dog's neck. The lights on this collar are bright enough that they can be seen from far away, but not so bright that they're distracting or annoying for you or your dog.
Last, we have the NOVKIN LED Dog Collar by the NOVKIN Store. This dog collar is another light up dog collar that is excellent for the active dog. It is waterproof and provides your dog with plenty of visibility thanks to its bright LED lights.
This collar features a 3-mode switch that allows you to choose between steady mode, flash mode, or off mode. The maximum run time on this collar is 6 hours at full brightness and 24 hours at half brightness.
Like many other LED dog collars on the market today, this one also includes a battery pack that clips onto your dog's leash so it isn't dangling around their neck while they are playing or running around in the dark! This makes it easy to keep track of where your batteries are located and prevents them from getting lost!
The battery pack clips onto any standard leash or belt with ease and can be used for any other activity where you need some light during the nighttime hours!
Other Products To Help Make Your Night Walks Safer

Along with light up dog collars, you can also use light up leashes or collar accessories.
Along with investing in a light up dog collar, there are other products you can purchase to help make night walks – or any type of outdoor experience – as safe as possible.
Some other products you can invest in include light up dog leashes, reflective vests, light-clip accessories, and even light up dog harnesses.
Dog Leashes With Lights
Light up dog leashes are great accessories to go along with a light up dog collar, or they can simply be used on their own to help enhance visibility when you are out walking your dog. Like light up dog collars, light up leashes often use LED lights and are made with dog-safe, durable, and waterproof material.
Light Up Collar Accessories
If you prefer not to invest in a collar or leash that lights up using LED lights, you can always invest in collar accessories or clips that enhance the safety of your dog's night walks. These clips are often very affordable, easy to find, and simple to use.
Light Up Dog Harness
If you have an active dog who loves to run around in the yard at night, then consider investing in a light-up harness. They're especially helpful if your pup goes off-leash when camping or if he accidentally gets out of your yard at night.
Not sure which product might be right for you? Below are some of our favorite products you can use in conjunction with some of the best light up dog collar products above.
Although the NITE IZE SpotLIT LED Light is not a light up dog collar, it is an excellent accessory to any dog collar that can help make night walks or low visibility walks safer.
This is an affordable and easy-to-use alternative to light up dog collar products, as it simply attaches to your dog's collar when you are ready to use it. We also like that it comes in so many color options!
The NITE IZE SpotLIT LED Light has three modes including steady glow, slow flash, and fast flash. This makes it easy for you to choose how bright you want your lighted dog collar to be. The battery lasts up to 15 hours on a steady glow mode.
We also love this product because it is lightweight and waterproof! The material is extremely durable which means that you won't have to worry about breakage or other issues with this product. You can take your pup just about anywhere with this lighted dog collar accessory and feel confident that they will be seen!
The Illumiseen LED Dog Leash will go well with any of our light up dog collar products listed above. It comes in several colors and can further help ensure your dog is seen in low visibility areas or on night walks.
The leash has a waterproof design for easy cleaning and has a battery life of over 100 hours. It also includes two replaceable batteries so you don't have to worry about recharging the leash after every use.
Sale
The Noxgear LightHound LED Dog Harness may be exactly what you need if you enjoy going on night walks or low visibility walks with your dog but you want to forgo a collar. Harnesses are generally used for walking or exercising your dog only, which can help prolong the battery life and reduce excess strain on the neck.
The above light up dog harness comes in different color options and sizes as well.
Other Expert Tips For Safer Night Walking With Your Pup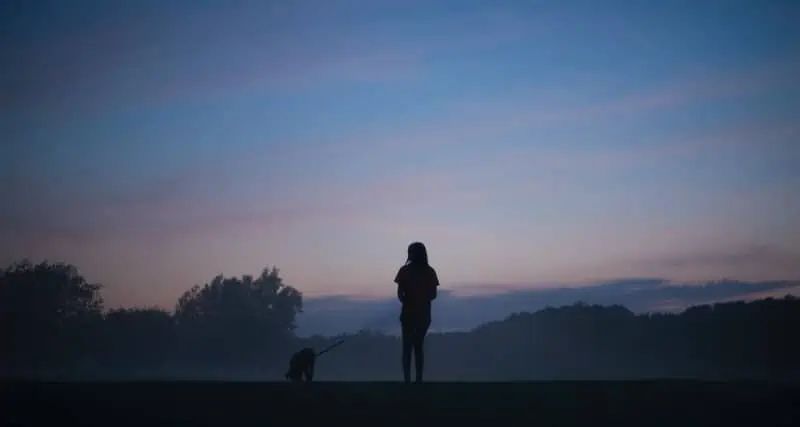 Use proper safety measures and your best judgement when walking your dog at night.
Many people enjoy night walks, hikes, or walking in the rain or fog with their dogs. For anxious or reactive dogs, walking later at night or very early in the morning when there are less people out and about may even be safer and less stressful for you and your pup.
However, walking your dog when there is low visibility also comes with some risks. Along with using a light up dog collar to help keep your pet safe, there are other steps you can take to help ensure both you and your dog are as safe as possible when out and about at night or when it is more difficult to see.
Don't Allow Your Dog Off-Leash
This is true for almost anyone, even if visibility is great, and even if your dog is friendly and well-trained. It's best to keep your dog on a leash and harness at all times unless you are in a designated space where your dog can safely run off-leash like a secure dog park, fenced-in dog beach, or a large expanse of property that is far from roads.
Stay on the sidewalk or path at all times
Avoid crossing through yards and parks unless absolutely necessary! If you do need to cross over property lines (such as from one sidewalk corner onto another), make sure your dog is on a short leash and under your control at all times.
Bring Safety Equipment With You
It's always a good idea to have a flashlight or headlamp with you when walking at night, even if your dog has a light up dog collar. If you're walking in an area that's not well-lit, you'll need to have a way to see where you're going.
If you're going hiking or live in an area where many wild animals also live like bears, cougars, or coyotes, we also recommend bringing along bear spray, pepper spray, or loud whistles.
And Finally, Use Your Best Judgment
The final step in making sure your dog is safe when walking at night is using common sense and good judgment. If it feels unsafe for any reason (e.g., dark alleyways, wild animals, etc), don't go there!
Consider walking with another person or group, and make sure you have a phone handy in case of an emergency.
If you are walking in a neighborhood, make sure to look up and down the street before crossing it. This way you can see if any cars are coming, and give them plenty of time to stop for you and your pup.
Finally, if you're unsure about whether or not you should walk at night, ask yourself this question: "Am I comfortable walking at night with my dog?" If the answer is no, then simply don't do it!
We hope this has been a helpful guide on the best light up dog collar products! Did you find one you love from our above list?
Share which one you picked in the comment section below.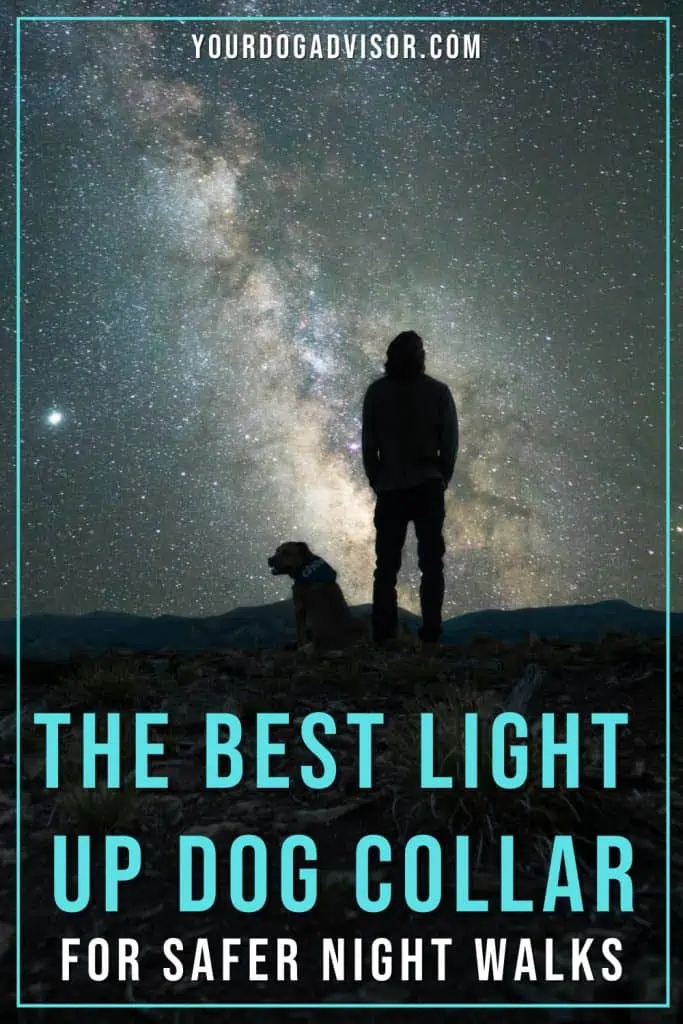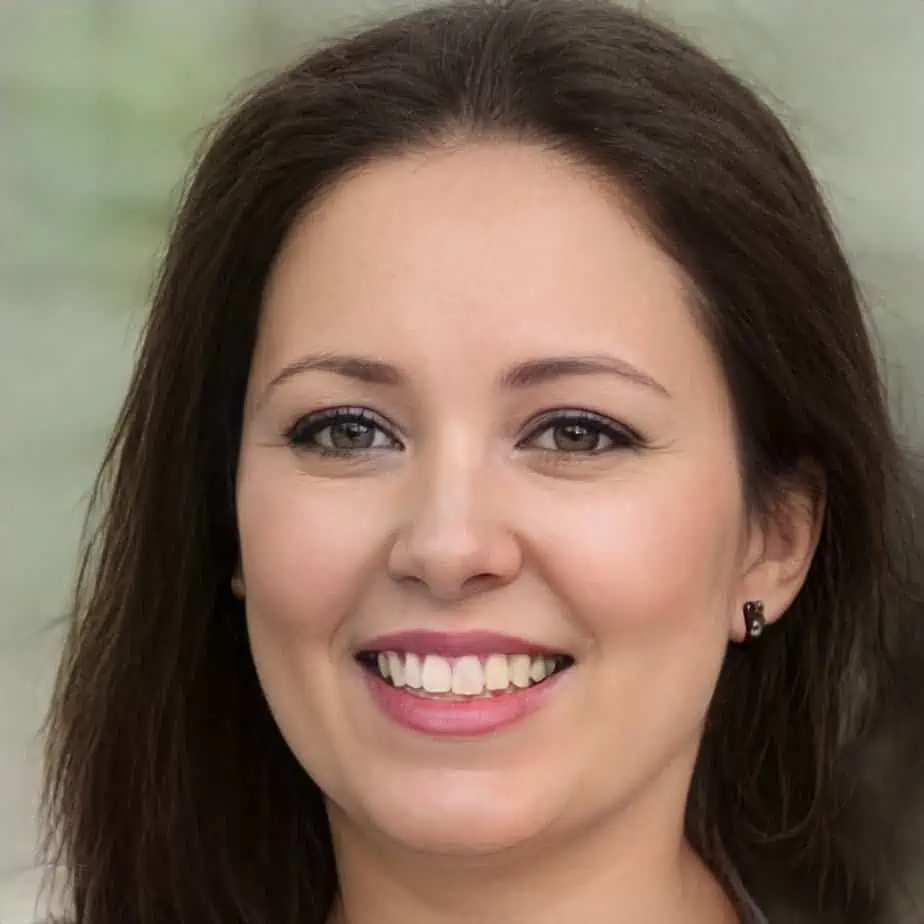 Jen Jones is a professional dog trainer and behavior specialist with more than 25 years of experience. As the founder of 'Your Dog Advisor' and the 'Canine Connection' rehabilitation center, she applies a holistic, empathetic approach, aiming to address root causes rather than merely treating symptoms.
Well known for her intuitive and compassionate approach, Jen adopts scientifically-proven, reward-based methods, encouraging positive reinforcement over punishment. Jen specializes in obedience training, behavior modification, and puppy socialization. Her innovative methods, particularly in addressing anxiety and aggression issues, have been widely recognized. Jen has worked with many of the world's leading dog behaviorists and in her free time volunteers with local animal shelters and rescue groups.