The cone of shame. There is hardly anything more hilarious or more pitiful than a doggy in a cone. While you may not want to see your own pooch in this humorous yet sad state, the fact is, the vast majority of dogs will need a recovery collar at some point in their lives.
And if your dog is at that point, then that means you have a decision to make. Because no longer are clear plastic Elizabethan collars, or e-collars, the only type of cone available.
Today, there are dozens of brands of dog cones and multiple cone types to choose from. Depending on what your dog needs an e-collar for, some will work better than others for your pooch.
To help you navigate through the world of dog cones, we have picked our top five favorite dog cones that include a variety of different types so you can find exactly the right e-collar to fit your pup's needs. We've also broken down the different types of e-collars and what they work well for and where they fall short, so you'll know what you're looking for even before you begin shopping.
Different Types of Dog Cones
The idea behind all dog cones is to keep your dog from getting at (ie. licking or chewing on) certain parts of their body. Almost all cones will work to keep your dog from bugging wounds or sore spots on their shoulders or midsection, but only certain types will be effective in keeping your dog from biting at their hind end and front paws.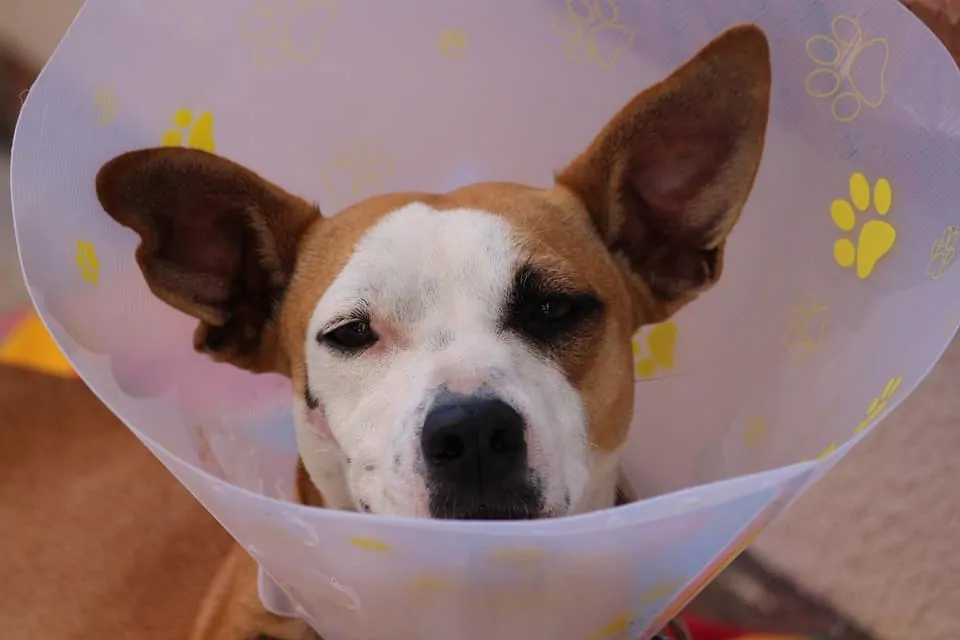 Simple, plastic cones have been used to keep pets from opening wounds after surgery for decades. But these old-school cones are uncomfortable, difficult to move around in, and can be a pain to take off and put on. Before you accept this e-collar from your veterinarian, consider some better alternatives first. 
But how much a cone limits your dog's range of motion is only half the equation. The other half has everything to do with comfort. You want your dog to feel as comfortable as possible in their e-collar so they don't try to rip it off.
Below, are the four basic cone types that you will find on the market. Each has some positive qualities and some negative, depending on the specific situation your pup is in.
Plastic E-Collar
This is the traditional e-collar. It is usually made out of clear hard plastic and wraps around your dog's neck sticking out around their face so they can't reach any part of their body with their mouth.
These types of cones are very effective in keeping those teeth and that tongue away from wounds and itchy spots but are notoriously difficult for dogs to navigate in. So plan to pack away low-hanging valuables now if you choose this type.
>>>Is your dog eating the right food? Here are our choices for the best dog foods.
Dogs are also less likely to tolerate wearing this type of cone. Fortunately, they tend to be very difficult for dogs to get off.
Pros:
Effective in preventing licking/biting on most parts of the body.
Hard for dogs to pull off.
Obscures peripheral vision but does not blind it.
Cons:
Make walking around and drinking/eating difficult.
Not overly comfortable.
May not be able to wear inside a crate or kennel.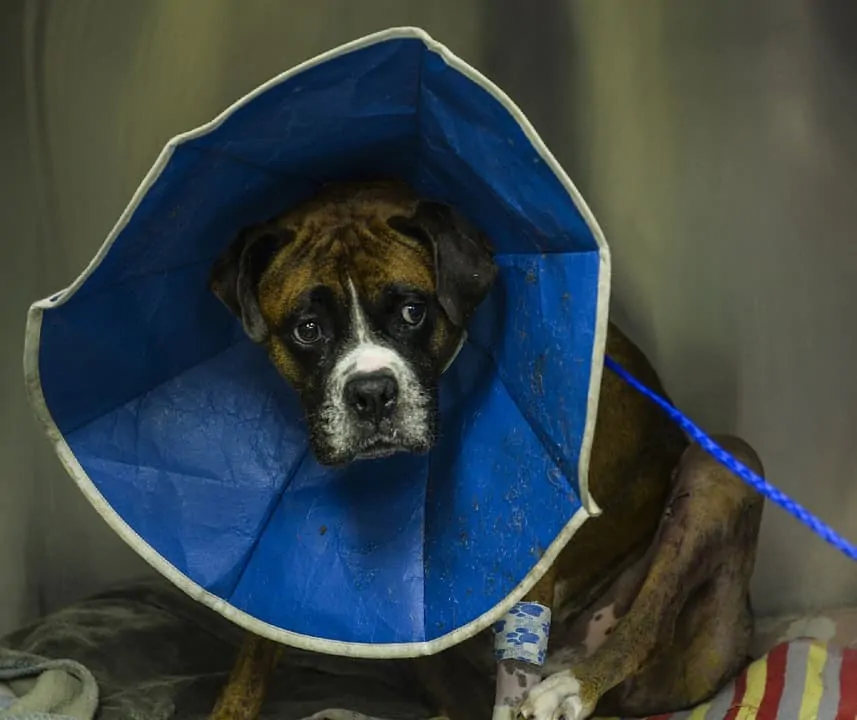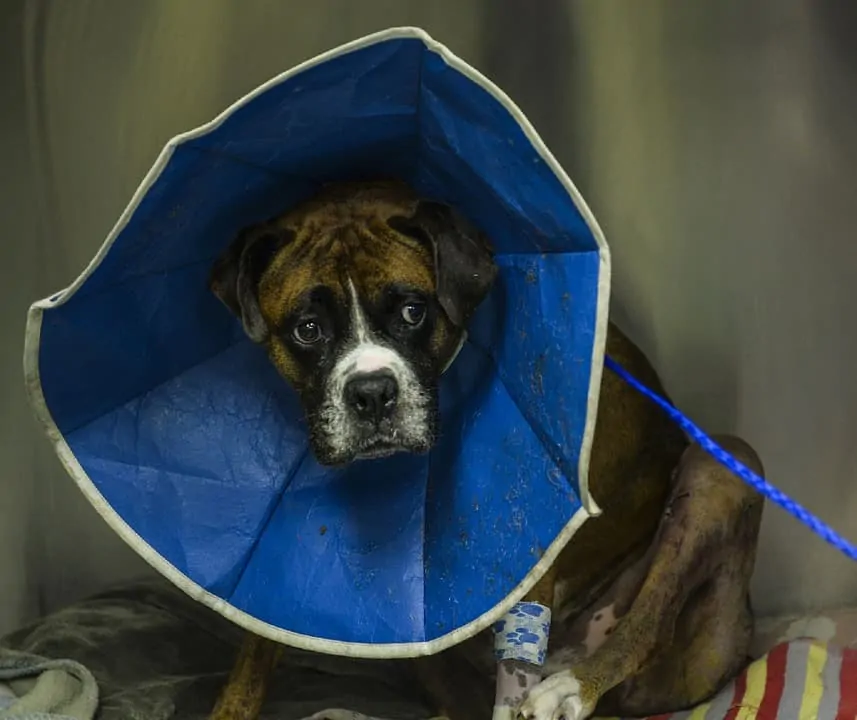 Unlike the rigid, plastic e-collar, soft-style e-collars can be worn in tighter spaces because they are more flexible. They also make it easier for dogs to eat and drink while wearing them.
Soft E-Collar
A soft e-collar is similar to a traditional cone in shape and use, but it is made of soft, flexible material instead of rigid plastic.
Unlike a traditional cone, this e-collar is not see-through and will block a dog's peripheral vision, which can make some dogs anxious. But, the soft fabric is much more comfortable and is much easier for dogs to sleep in.
>>>Is your pup struggling with the summer heat? Here are our choices for the best doggy cooling mats.
Depending on the size, a soft e-collar can be very effective in keeping a dog from reaching most parts of their body. But, because they aren't completely rigid, a very determined dog might be able to get around the cone or even chew through it.
Pros:
More comfortable than a plastic e-collar.
Can easily be worn while sleeping and in larger crates and kennels.
Cons:
Blocks peripheral vision.
May not be enough to stop very determined dogs from chewing or licking.
Donut Collar
A donut collar is nothing like a traditional e-collar. It is made of a round, inflatable ring that fits around a dog's neck like a very puffy collar, similar to a neck pillow.
The inflated donut limits neck rotation, preventing the dog from turning their head. While most dogs will be able to lick at their back and front feet, and possibly even their hind end, this e-collar does work well for preventing dogs from bugging their shoulders and midsection.
>>>Once your dog is out of their cone, you are going to want to check out our picks for the best dog bandanas.
This is by far the most comfortable cone and typically well-tolerated. It is a great choice for dogs who need to wear their cones while kenneled. Because this cone doesn't stick out as far, it also makes navigating around the house much easier.
Pros:
Most comfortable cone type.
Dogs can eat, sleep, and rest with the cone on.
Can be used inside crates and kennels.
Cons:
Does not block access to all parts of the body.
May not be effective for very flexible or long-necked dogs.
Easier for the dog to get out of than other collars.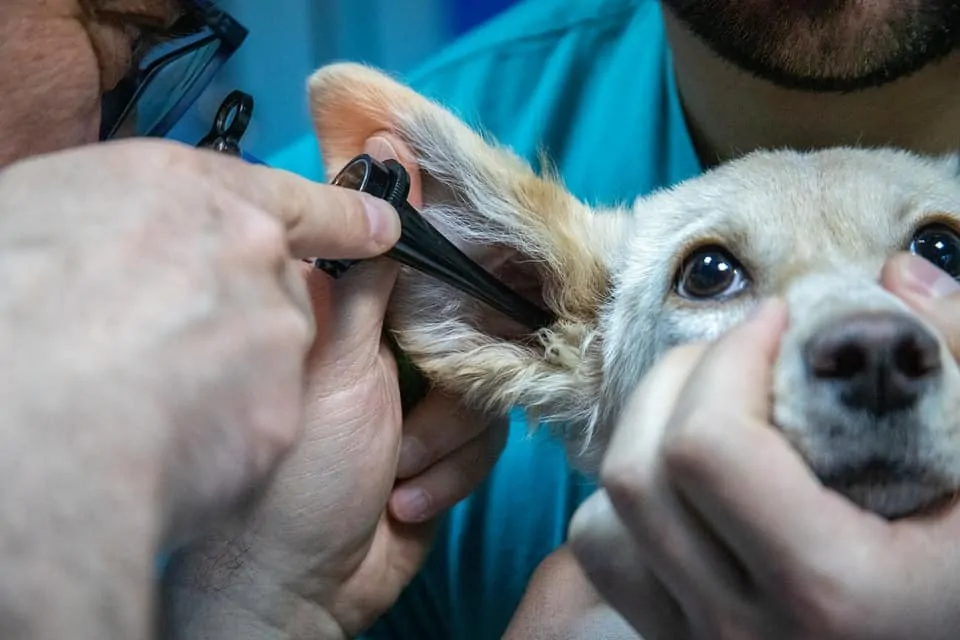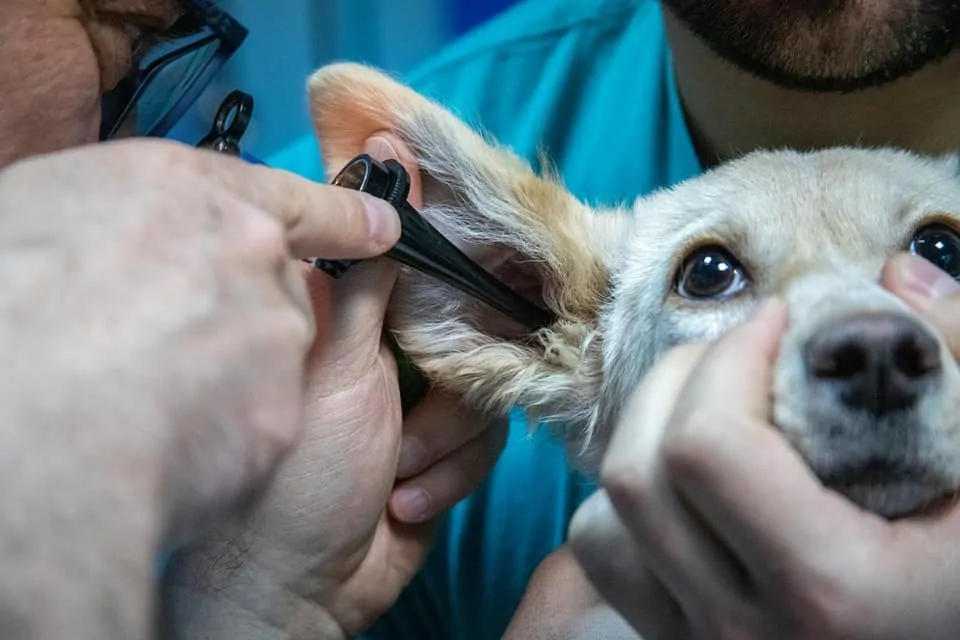 Most people think of cones are something to use to keep your dog from licking or chewing, but they can also be effective in keeping your dog from scratching or clawing at their ears and face.
Brace Collar
A brace collar is similar to a human neck brace. It is typically made out of soft material with a rigid inner or outer skeleton. It fits around the dog's neck like a very wide collar.
Just like the donut collar, a rigid collar works by restricting neck movement. It tends to be slightly more effective in limiting motion than the donut collar, though it is still not as effective as a traditional cone.
>>>Could all that itching be caused by fleas? Here are our choices for the best dog flea collars.
The big positive of a brace collar is that it lies flat against the body. This makes it a great choice for dogs that are kenneled as well as dogs that need to utilize a dog door or squeeze through other tight spaces while wearing their cone.
Pros:
Low profile.
Fairly comfortable.
Very difficult for the dog to get off.
Cons:
Does not block access to all parts of the body.
May not be effective for very flexible or long-necked dogs.
The Best Dog Cone Options
Have an idea of which type of e-collar will work best for your pup and ready to start shopping? We've made it easy by choosing our top five favorite doggy cones.
1. E-KOMG Dog Cone After Surgery, Protective Inflatable Collar
No products found.
Product overview:
Best feature: Washable cover
This donut-style collar from E-KOMG comes in four sizes: small, medium, large, and extra-large. It will fit most breeds from Chihuahuas up to Great Danes. The outer strap can also be adjusted to find the perfect fit.
Inflating this comfy cone only takes about a minute and when it is deflated, it folds into a tight circle for easy storage. The innertube can be removed via a zippered opening so the outer cover can be washed in the washing machine as needed.
Unlike other donut cones, this one features inner loops that allow you to fasten it to your dog's normal collar. This helps keep the donut in place and makes it much more difficult for dogs to remove.
2. Supet Dog Cone Adjustable Pet Cone
No products found.
Product overview:
Best feature: Soft fabric edge
While this traditional e-collar is very similar to most basic rigid plastic cones, there are a few key differences that helped it score a spot on this list.
For one, both edges of the cone are covered with a thick layer of soft fabric. This means greater comfort for your dog where the cone meets their skin and more protection for your furniture as your dog inevitably crashes through your living room.
It also has one of the easiest to use and most effective closure methods for any plastic cone we've tried. The thick velcro areas cover the entire space on the edge of each end of the cone, making it easy to get a secure fit without having to mess with tiny plastic tabs or snaps that are destined to break.
This cone is available in five sizes from extra small to extra large.
3. The Original Comfy Cone, Soft Pet Recovery Collar with Removable Stays
Product overview:
Best feature: Water-resistant
This soft cone is made of foam-backed padded nylon for a durable yet comfy cone that is also resistant to water and mess.
This e-collar comes in eight sizes for varying neck widths and cone length needs. The sturdy velcro closures are also somewhat adjustable to allow for the perfect fit. Small rings on the back end of the cone can be attached to your dog's collar to help keep it in place and keep them from pulling it off.
Each e-collar comes with a removable plastic insert that can be used to make the cone more rigid if needed. The Original Comfy Cone is available in two colors: black or tan.
4. UsefulThingy Dog Recovery Collar
Product overview:
Best feature: Extra width
This unique take on the donut collar from UsefulThingy combines the best features of a traditional e-collar and those of a donut collar.
Unlike a typical donut cone, this one does not inflate, but is instead made of rigid foam that sticks out away from the neck to better block access to the body. But, unlike a traditional e-collar, it does not fold inward toward the dog's face, so it does not block their vision or their ability to eat or drink.
>>>Does your pup hate cold winter walks? These doggy hoodies will warm them up!
This cone isn't as easy to navigate in as other donut cones but it is a great compromise for dogs with lower-body injuries and owners who want their pup to stay comfy.
The UsefulThingy recovery collar is available in four sizes and two colors. It is water-resistant and easy to spot clean.
5. E-KOMG Dog Recovery Collar for Surgery
No products found.
Product overview:
Type: Soft-plastic e-collar
Best feature: Clear panels with comfortable design
Our last pick is another great cone from E-KOMG. This one combines the best of the rigid and soft e-collars for a cone that offers comfort and protection.
The padded portion of the e-collar is made of durable and waterproof oxford cloth while the other half features rigid, clear plastic windows to allow for greater stability and visibility.
Like the Supet e-collar, this one utilizes a wide section of velcro for easy fastening and adjusting. This collar also features rings on the inside edge that can be attached to the dog's normal collar to help keep it in place. As an added bonus, the edge of the cone is lined with reflective material so the dog can easily be seen at night.
This E-KOMG collar is available in four sizes to accommodate different neck widths.
When to Use an E-Collar or Dog Cone
Many dogs who need a cone for surgery or injury are provided one by their veterinarians. While these flimsy, uncomfortable e-collars are cost-effective, it is often worth investing in a better cone for your dog. Not only are there far more comfortable and effective options out there, but, more than likely, this won't be the only time your dog will need a cone in their life.
Dogs may require a cone for a number of reasons, including:
To keep them from tearing out stitches
To allow wounds time to heal
To stop them from obsessively licking or chewing
To stop excessive scratching of the ears and face
To stop excessive itching due to allergies
To prevent them from pawing at an injured eye
To prevent them from eating things off the ground
Whatever ends up causing your dog to done the cone of shame, you'll feel a lot less pity for them (though, likely, just as much amusement) if you pick a quality, comfortable e-collar that you can feel good about putting on them.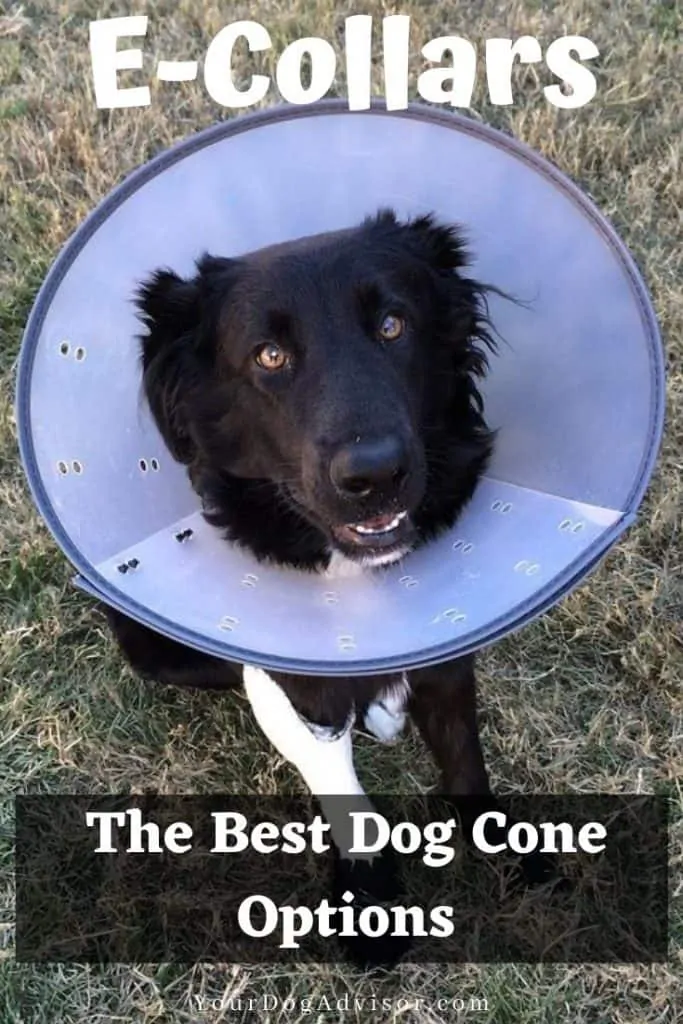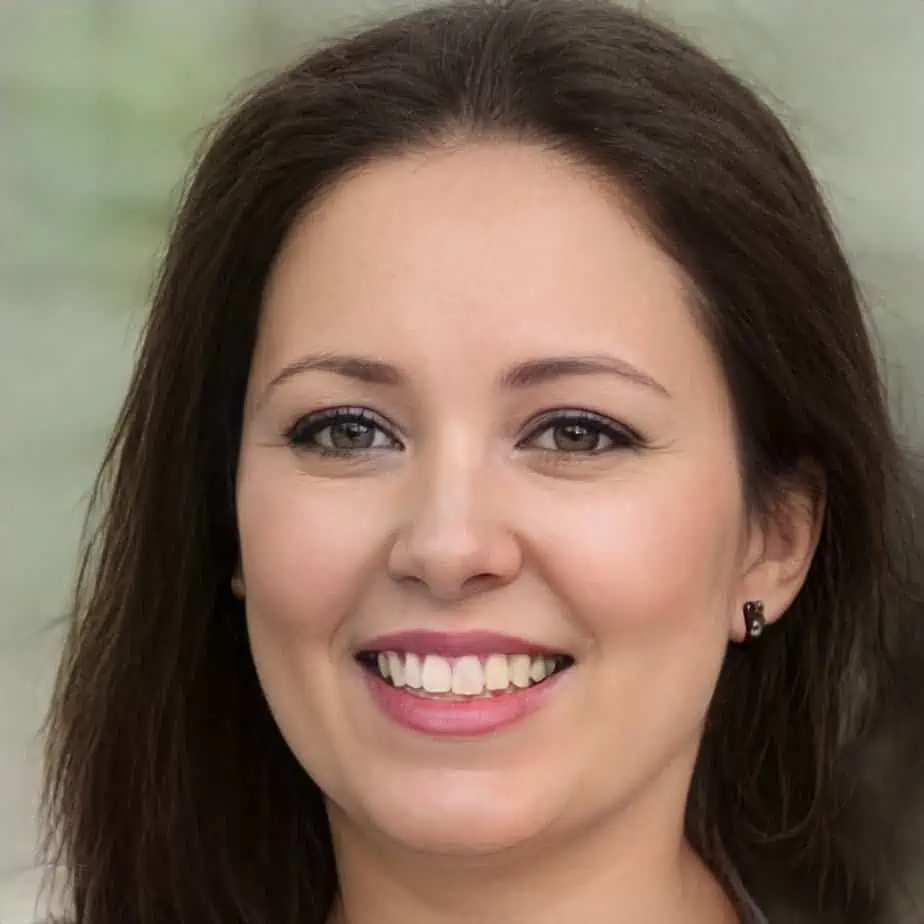 Jen Jones is a professional dog trainer and behavior specialist with more than 25 years of experience. As the founder of 'Your Dog Advisor' and the 'Canine Connection' rehabilitation center, she applies a holistic, empathetic approach, aiming to address root causes rather than merely treating symptoms.
Well known for her intuitive and compassionate approach, Jen adopts scientifically-proven, reward-based methods, encouraging positive reinforcement over punishment. Jen specializes in obedience training, behavior modification, and puppy socialization. Her innovative methods, particularly in addressing anxiety and aggression issues, have been widely recognized. Jen has worked with many of the world's leading dog behaviorists and in her free time volunteers with local animal shelters and rescue groups.