How does your dog ride in your car?
Do you let them sit in the passenger seat? Or do they have to sit in the back?
Do they distract you while you drive? Does dog hair get EVERYWHERE? Do they scratch the seats or chew on whatever they can find?
Well, if you are looking for an alternative way to travel with your dog that keeps the dog hair at bay and keeps your dog in a place that is both safe for you and for them, you should think about looking into purchasing the Jeep Dog Kennel by Mopar.
When I bought a new car earlier this summer, I was determined to keep it as nice and new as I could. However, I knew this was going to be a difficult task with black leather seats and a Siberian Husky.

The Jeep Dog Kennel helps keep Aspen's hair in my car to a minimum. It also keeps her from scratching my leather seats. 
After doing some research and trying to sort through all the options, I ended up purchasing the Jeep Dog Kennel. I am so happy that I did! It keeps my dog, Aspen, in one place. She isn't moving throughout the car and looking to get into trouble. I don't have any scratches in my black leather seats and except for the occasional floating hair and a few inches around the actual kennel, my car is basically free of dog hair. I don't have to spend any time trying to find the best way to remove dog hair. One thing that I love about this kennel, is that it has straps that keep the kennel in one place and don't let it slide around. This keeps us both safe and puts my mind at ease.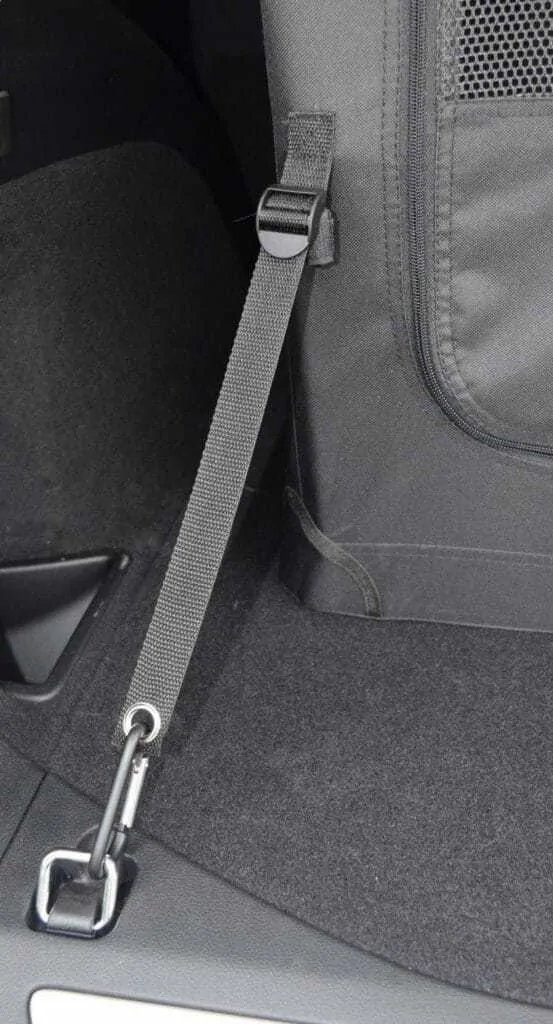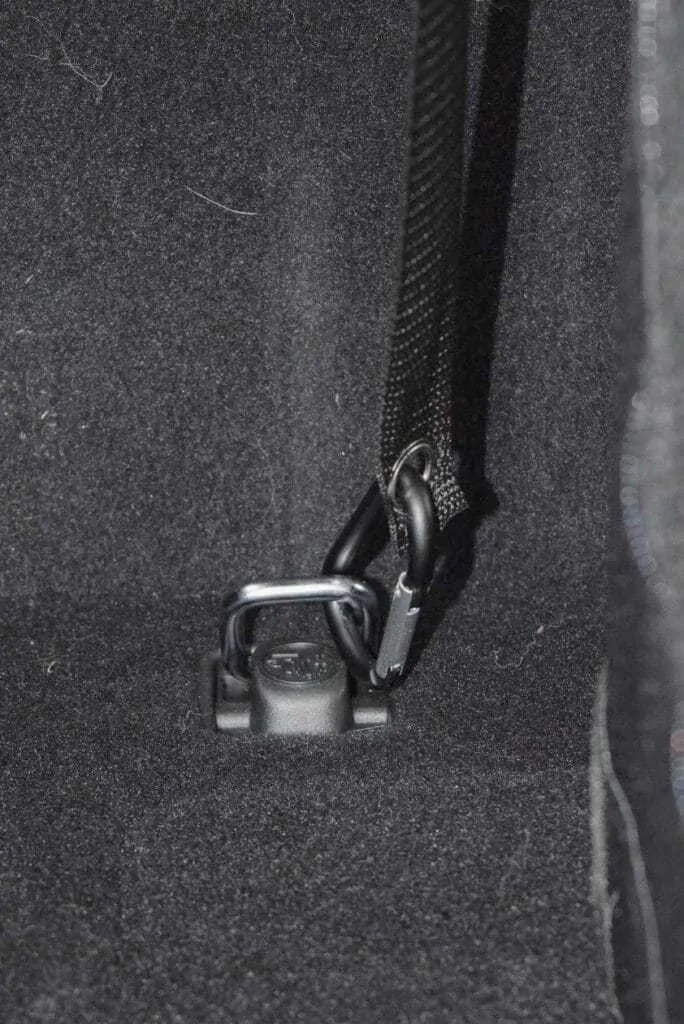 These straps attach to the cargo hooks in the back of my Jeep Grand Cherokee. They keep the dog kennel from moving around while Aspen is inside.
The kennel also has pockets that allow me to put Aspen's leash and some toys inside them. Of course, I also keep the always needed lint roller in the pocket as well. This helps me stay organized and keeps my car clean and decluttered.

The pockets on the kennel are perfect for storing Aspen's leash, some of her toys, and a lint roller.
Advantages and Disadvantages
Advantages:
Collapsable
Easy set up and tear down
Straps keep the kennel from moving around
Handle for easy carrying
Two pockets for storage
Three zipper doors for multiple entries/exits
Mesh sides allow for adequate airflow
Tough nylon fabric
Sturdy metal and plastic framework
Can remove kennel from car and use as normal kennel
Helps reduce dog hair in your vehicle
Keeps you and your pet safe
Keeps your pet from urinating/defecating in your vehicle
Decreases scratches in your leather seats
May help your dog cope with car rides

The Jeep Dog Kennel has a zipper door on top and two straps that connect as a handle. There is also a zipper door on the front for easy entry.

There is a third zipper door on the side of the kennel that would be useful for your dog's entry if the kennel was outside of the vehicle.

There is a metal framework on the inside that supports the kennel. The bottom of the kennel does not have a cushion, so it might be a good idea to lay a blanket down (this is what I do) or find a bed that fits the kennel.
Disadvantages:
Takes up most of the space in the back of the vehicle
Size = 32 x 22 x 22 inches

Fits small to medium sized dogs, but not large dogs

Won't work in every vehicle

Designed for use in Jeep vehicles with cargo hooks

No bed or cushion on the bottom of the kennel

There is plenty of room for small to medium sized dogs. Large dogs may not fit comfortably.
Other Options
Petmate Sky Kennel
Sale
Another option for your dog while traveling in the car is the Petmate Sky Kennel. It is almost the same thing as the Jeep Dog Kennel, however, it is made of a heavy duty plastic rather than a tough nylon material. It also does not have straps that allow you to securely fasten the kennel in the back of your vehicle like the Jeep Dog Kennel does.
The Petmate Sky Kennel comes in six different sizes to account for both large and small dogs. Make sure you properly measure your dog to determine exactly which size of crate you need. The following video may help!
This kennel is less expensive than the Jeep Dog Kennel, but may be a bit bulkier and harder to maneuver. If you are looking for a durable kennel that you don't need secured in your car and you might want to take on an airplane, this may be a good option for you.
Doggie World Dog Car Seat Cover
If you are more concerned about keeping your seats scratch free than you are about decreasing the amount of hair in your car, the Doggie World Dog Car Seat Cover might be a good choice. This seat cover is waterproof and machine washable. It protects the entire back seat and is easy to set up, tear down, and store.
This seat cover works in almost any vehicle, unlike the Jeep Dog Kennel. The seat cover can be used as a hammock or used to just cover the seats. When you have your dog in the car, you can set up the hammock. This helps keep your dog in the back seat and away from the front seat, but still allows your dog to move around. When you have your friends or family in the car, you can use it as just a seat cover. A plus to this is that the Doggie World Dog Car Seat Cover works with the seatbelts too. This allows easy conversion between the hammock and the seat cover. You don't have to tear it down every time people ride in your back seat.
X-Zone Pet Carrier
The X-Zone Pet Carrier is a very similar, but cheaper version of the Jeep Dog Kennel. It is made of durable fabric and has mesh on the sides that allow for good airflow. This carrier is secured in the vehicle by the seat belt rather than the cargo holds like the Jeep Dog Kennel. Because of this feature, the pet carrier works in more vehicles than the Jeep Dog Kennel does. The X-Zone Pet Carrier also has a removable fleece mat to increase your dog's comfort level.
The downside of the X-Zone Pet Carrier is that there are only two sizes – a medium and a large size. The medium size holds a dog that weighs up to 16 pounds and the large size holds a dog that weighs up to 20 pounds. So, even though the carrier is a large size, it will still not hold a large dog that weighs more than 20 pounds.
If you are still not sold on any of these options, check out some of these alternatives to secure your dog in your car.
Is it Worth It?
If you are willing to spend some extra money and you have a Jeep vehicle or at least have a vehicle with cargo hooks, I believe the Jeep Dog Kennel purchase is worth it. However, if you don't have the cargo hooks like the Jeep vehicles have, I am not sure if you would be able to use the Jeep Dog Kennel to its full capacity. This kennel is easy to set up and collapse and provides a safe space for your dog while traveling. You don't have to worry about scratched or dirty seats and your vehicle has less dog hair floating around. I especially like that the kennel can be secured and won't move around while my dog is in it. This keeps Aspen safe and in turn, keeps me safe. I can keep my eyes on the road and not turn around to check on Aspen and make sure she is alright. To me, this Jeep Dog Kennel is worth the purchase.

The Jeep Dog Kennel is perfect for what I need and fits great in the back of my Jeep. It securely holds Aspen in one place and I don't ever have to worry about where she is or what she is doing in the car.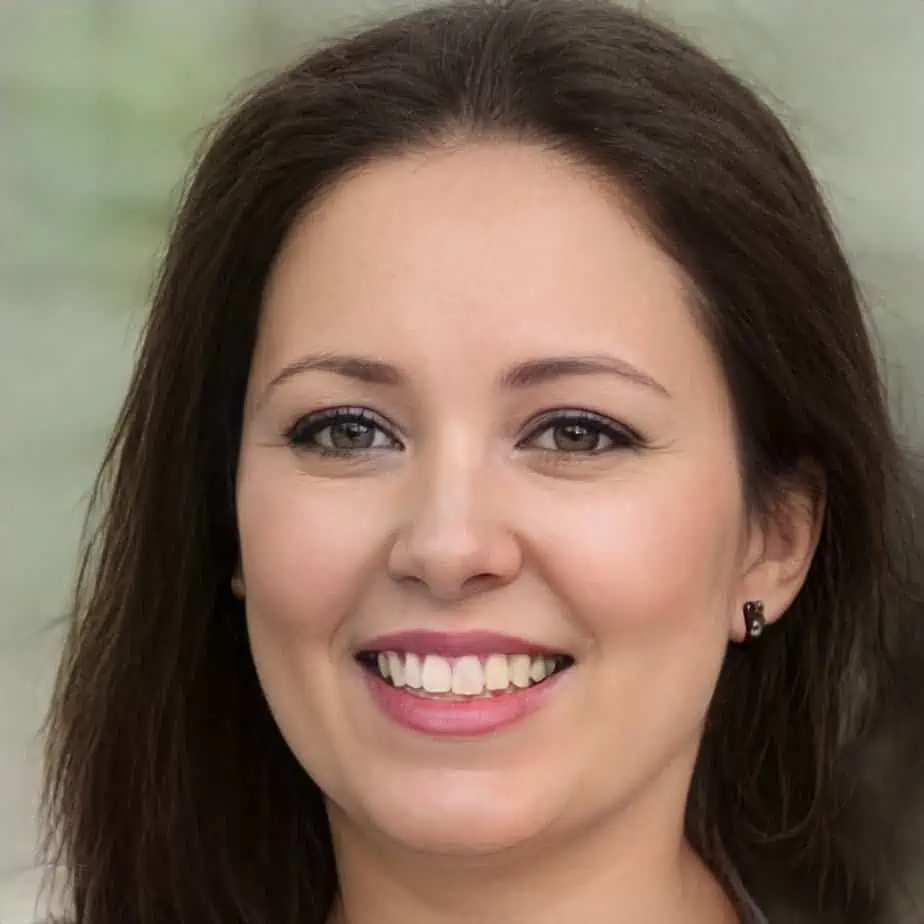 Jen Jones is a professional dog trainer and behavior specialist with more than 25 years of experience. As the founder of 'Your Dog Advisor' and the 'Canine Connection' rehabilitation center, she applies a holistic, empathetic approach, aiming to address root causes rather than merely treating symptoms.
Well known for her intuitive and compassionate approach, Jen adopts scientifically-proven, reward-based methods, encouraging positive reinforcement over punishment. Jen specializes in obedience training, behavior modification, and puppy socialization. Her innovative methods, particularly in addressing anxiety and aggression issues, have been widely recognized. Jen has worked with many of the world's leading dog behaviorists and in her free time volunteers with local animal shelters and rescue groups.