It's not easy being the owner of a dog who pulls on the leash, especially when that dog is a large and powerful pooch.
Throughout the years, many trainers and dog experts have shared their opinions on the best way to alleviate pulling dogs, but which methods work, and which methods make the pulling worse?
From complicated training techniques to sophisticated and less-than-humane walking equipment, there are a number of theories on how to get your dog to walk with a loose leash.
As a dog care expert, I've seen it all, but one of my least favorite non-pull methods would have to be the prong collar.
It's easy to hate the prong collar. It looks scary, it has prongs on it, and it causes pain to your dog when he pulls.
But those aren't the only reasons I despise this piece of equipment.

Prong collars are not only considered inhumane by most experts, but also widely ineffective. 
Not only do a number of accredited trainers, veterinarians, and dog experts agree that prong collars are inhumane, but many types of research have found that prong collars, shock collars, and choke collars are not only ineffective but also dangerous.
So, does that mean you must simply put up with your dog pulling on the leash? Of course not! There are several humane and safe products on the market today that have been proven to reduce and even eliminate pulling altogether.
But before we go over some of my favorite products, let's talk a little bit about why your dog pulls on the leash and why investing in the right harness can make all the difference in your walk.
Why Dogs Pull – Even While Wearing Prong Collars
Your dog may be pulling against his leash for a number of reasons.
Your dog simply moves faster than you
Your dog may suffer from leash anxiety
Your dog has a natural instinct to pull when feeling restrained
Your dog's environment is stimulating and overwhelming
Your dog may be new to his leash and still learning leash manners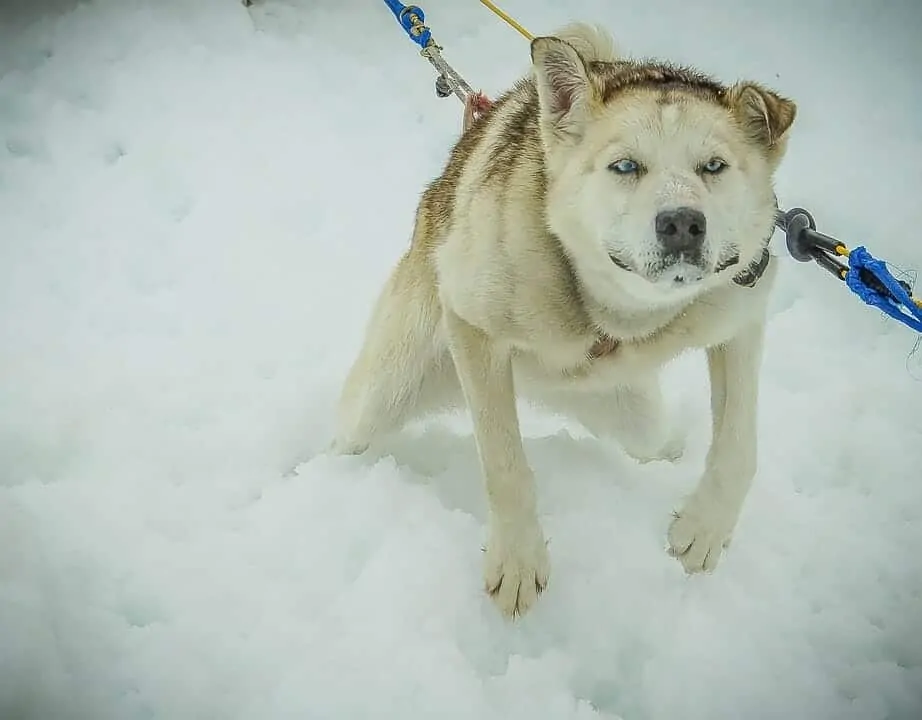 Some dogs have a natural instinct to pull.
Unfortunately, some dog parents may be unaware of the leash options they have when it comes to helping their dog feel more confident and relaxed on the leash, leading many owners to turn to aversive training methods like choke, prong, and shock collars.
However, many studies have shown that aversive training, or training using negative reinforcement methods like prong collars, shock collars, and other harsh punishments, often times have adverse effects on dogs.
A study published in the Journal of Veterinary Behaviour shows that dog owners themselves found positive reinforcement training methods to be more effective when training their dogs.
This means they had better results with their dogs and their dog's subsequent behaviors when using praise, training treats, and proper equipment.
Now, let's go over some of my favorite tried, tested, and trainer-approved harnesses for dogs who pull on the leash!
Best Harnesses for Dogs That Pull, According To Dog Trainers
Most of my days are spent working with reactive dogs and helping them become more confident walkers.
Along with positive reinforcement training techniques, I have found that there are four harness types in particular that work the best for dogs who pull.
For my strongest dogs who tend to suffer from leash anxiety and reactivity issues, I prefer to use head halters.
There are several different brands of head halter harnesses, but they all work in typically the same way.
They slip over the dog's snout and either clip behind his ears and below his chin while attaching to his collar, or they simply clip behind his ears.
I have personally found that a head halter is the most effective and quickest way to minimize pulling in very strong dogs.
This video from Youtube shows the basics of walking a dog on one of the most common head halters known as a gentle leader.
Next on my list of favorite harnesses for dogs that pull is the front clip harness. Front clip harnesses can come in many different varieties, but their basic function is to reduce the natural instinct your dog has to pull against the pressure of the leash on his collar or back.
A front clip harness also makes it easier to guide your dog when walking, as he is more likely to walk beside you instead of in front of you due to the placement of the leash and where he feels the tugs.

Front clip harnesses are proven to help reduce and even eliminate pulling on walks. 
A back clip harness is another popular harness, although I wouldn't recommend this type of harness for very large or strong dogs who tend to pull. A back clip harness is a great option for smaller dogs or dogs who don't pull all that hard, or dogs who just need a bit of leash training.
If you want the option of both a front and back clip harness, then a duel clip harness may be perfect for you.
Duel clip harnesses allow you to switch from front to back with ease depending on your wants and needs with your dog.
Luckily, all of these products are available online and in most pet retail stores, but if you aren't sure which products and brands are best, you're in luck.
I have listed my top ten favorite products of all four harness types below. Each product is available on Amazon.
Take a look.
1 – The Pet Safe Easy Walk Dog Harness
The Easy Walk harness is a favorite amongst many of my clients and trainer and veterinarian friends.
We love this brand because it is easy to use and easy to adjust. You just slip it over your dog's head and clip the leash in the front at his chest. The Pet Safe Easy Walk Harness is a no-choke, pain-free solution to dogs who pull.
The only issue I've seen with this harness is that some owners tend to put it on too loose. It can also be difficult to fit certain body types. Dachshunds especially may be able to slip out of this harness if it is not snug enough.
With that being said, you do not want to put the harness on too tightly, either.
If you worry you are putting the harness on too loose or that your dog may be able to slip free, I suggest clipping the leash to both the harness and the dog's collar.
2 – The Halti Front Clip Control Harness
The Halti Front Clip Control Harness is another of my favorite brands.
It is similar to the Easy Walk Harness in that it clips in the front, although it straps lower on your dog's chest in front and is good for dogs who suffer from leash anxiety.
3 – The PHOEPET No Pull Dual Clip Reflective Harness
I have included the Phoepet No Pull Duel Clip harness for two reasons:
One – this harness is great for owners who opt to walk their dogs at night. Many dog owners who worry about their dogs being leash aggressive, anxious, or reactive during walks choose to walk their dogs at night when they have fewer chances of running into people and other dogs.
For those who choose to walk their dogs in the evenings, a reflective dog harness is always a wise choice.
The second reason I like this brand is that it is built solidly and is great for larger dogs. It also has a dual clip option so you can choose if you want to walk your dog with a front clip or a back clip.
4 – PetSafe Gentle Leader Headcollar
As I mentioned above, the head harness is perhaps my favorite, especially for strong and reactive dogs.
I typically use the PetSafe Gentle Leader Headcollar when working with more reactive and anxious dogs.
This brand is easy to use and my four-legged clients don't seem to mind it as much as some of the other head harnesses on the market.
5 – Halti Headcollar
The Halti Headcollar is another harness that goes over your dog's muzzle and attaches to his leash and collar.
I use this brand of head harnesses for some of my more reactive dogs who are prone to lunging at other dogs during walks.
What I like best about this head harness is that it is strong, durable, and it hooks to the dog's collar so even if they manage to slip free of it you as the walker can still have control.
This harness also reduces and even eliminates pulling, as your dog is being guided by his head.
Sale
6 – PetSafe 3 in 1 Harness
I have found the PetSafe brand to be reliable and would certainly recommend the PetSafe 3 in 1 harness below.
One of my favorite things about this 3 in 1 harness is that it offers safety for not only routine walks but also car travel.
I also enjoy using this harness for running with my four-legged clients.
7 – Rabbitgoo No Pull Front Clip Harness
The Rabbitgoo No Pull Front Clip Harness is another great option for pet parents with large dogs who opt to walk at night.
This harness is durable and doubles as a reflective vest to help keep your dog safe in the dark. I would recommend this to dog parents with larger dogs.
8 – SPORN Head Dog Halter
Very similar to the Halti and the Gentle Leader, the Sporn Head Dog Halter is another great option for especially reactive dogs who pull on the leash.
However, I would only recommend this for heavy pullers and larger dogs.
What I do like about this head harness is that it is padded for your dog's comfort, as some of the other head harnesses can cause irritation for dogs who pull with force.
9 – BARKBAY No Pull Dual Clip Harness
The Barkbay is another no pull harness with dual clip options. My clients and I like this harness for dogs and puppies who are undergoing leash training.
While all dogs tend to pull when they are getting used to a leash and harness, this harness is helpful for teaching dogs to walk politely and helping them adapt to front and back clip harnesses.
If you are in the process of leash training your puppy and plan to use a dual clip harness,  I would suggest beginning with the front clip and transition to the back as your dog gets used to the leash.
10 – 2 Hounds Design Freedom Dog Harness Dual Clip
Many of my clients use the Freedom Dog Harness and it is certainly one that I have no problem recommending to friends and family.
The 2 Hounds Design Freedom Dog Harness is a great option for large and small dogs, but I really love it for my bigger dogs who tend to pull and react on the leash.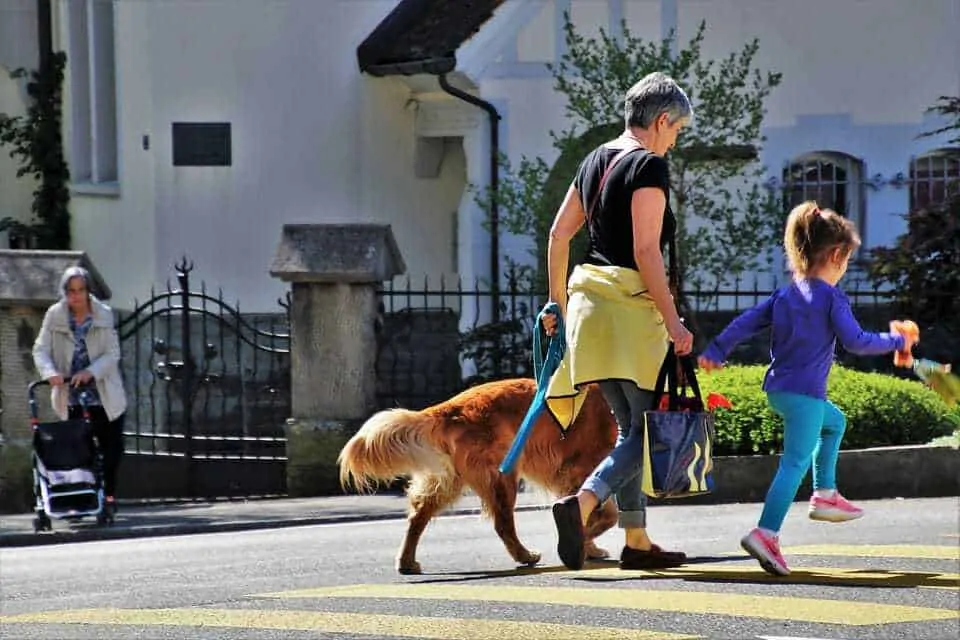 Helping your dog helping your dog learn to walk on a loose leash is possible with the right harness.
With that being said, while all the harnesses above can work for almost any size dog, they are most ideal for larger dogs who pull. Still, they can work just as well for smaller dogs.
What is your favorite dog walking product? Let me know in the comment section below.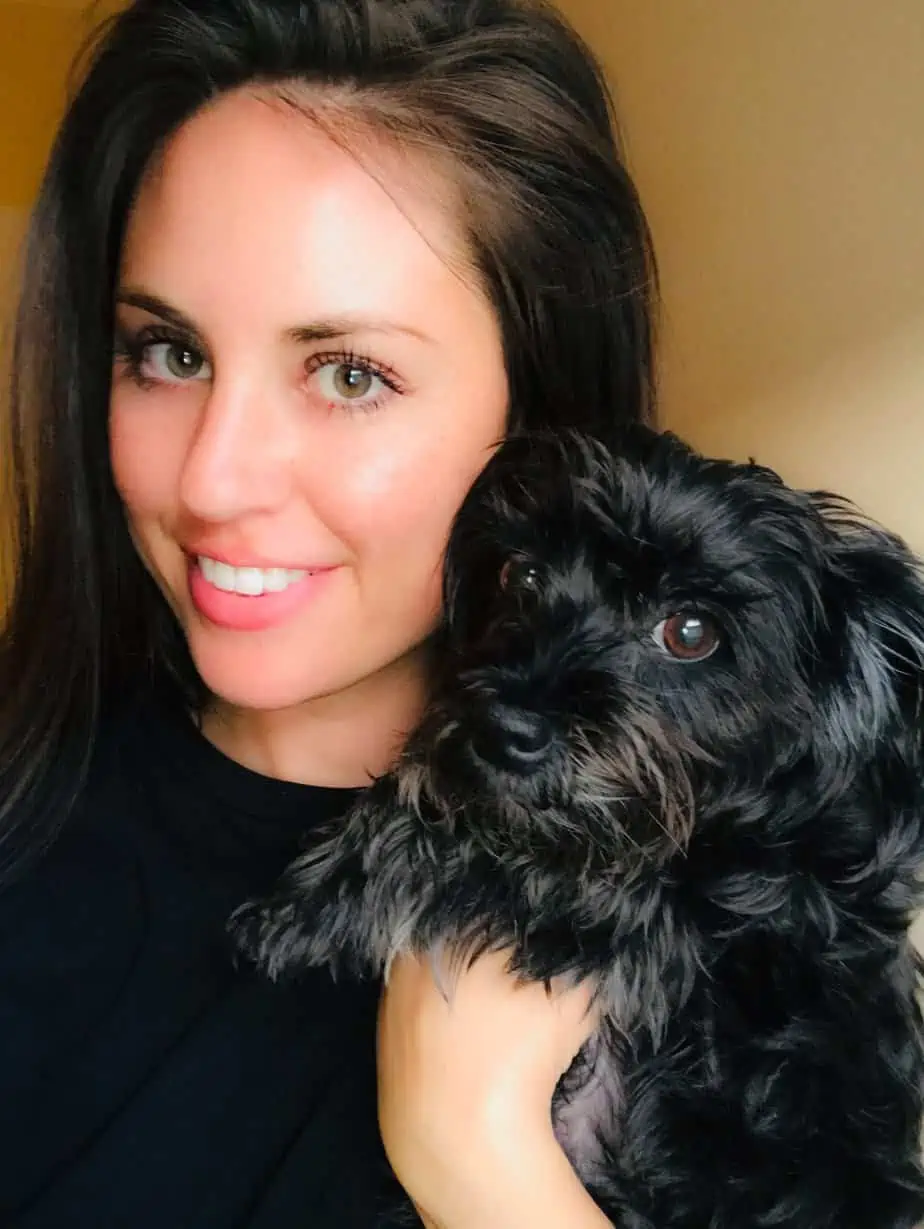 Madison Guthrie (also known as Sonny Mackenzi) is a pet care specialist and positive-reinforcement trainer who works most closely with anxious and reactive dogs. Born and raised in Littleton, Colorado, Madison developed a love for animals at an early age and spent most of her childhood outdoors rescuing stray pets and helping to rehabilitate injured wildlife.  Along with animals, Madison also developed a love for writing and music. Over the past five years, she has worked to use her passions to help the pets and pet parents in her community build stronger bonds and live happier, healthier lives together.  Currently, Madison lives in South Pasadena, California where she owns and operates Miss Madison LLC, a marketing company that focuses on helping privately owned veterinary establishments and pet care companies grow and thrive. She also works as a dog trainer at My Dog Spot, which is an award-winning pet care and training establishment in Pasadena, California.