I'm sorry,  but certain dogs just look way too cute in dog clothes. Pomeranians are one such breed who really know how to rock their canine closet.
With their teddy bear-like appearance and their pocket-sized bodies, Pomeranians are like tiny furry babies just waiting to be bundled up in cute attire and toted around in dog purses.
Okay, if I'm getting a little too Paris Hilton for you, let me drop this disclaimer: Not all dogs enjoy wearing clothes and if your dog is one such dog, don't force him to wear clothing.
Why? Because putting outfits on a Pomeranain who totally hates wearing Pomeranian clothes can cause undue anxiety, stress, fear, and even aggression.
However, many dogs don't mind wearing dog clothing and some dogs even enjoy wearing certain types of clothes. My dog, for example, loves her cozy fleece sweater and immediately snuggles up into it and takes a nap the moment I put it on her.
The trick? I found a sweater that is comfortable and fits her just right. So, if you want your Pom to love her Pomeranian clothes, you need to do the same. And that's where this article comes in.
If you are dying to dress your Pom up like the prince or princess they are, then this is the article for you. We are all about dog comfort and style, so we've gone ahead and compiled a list of super cute and comfy Pomeranian clothes for your Pom that you both will be sure to love.
Let's get started!
Is It Okay To Dress My Pomeranian In Clothing?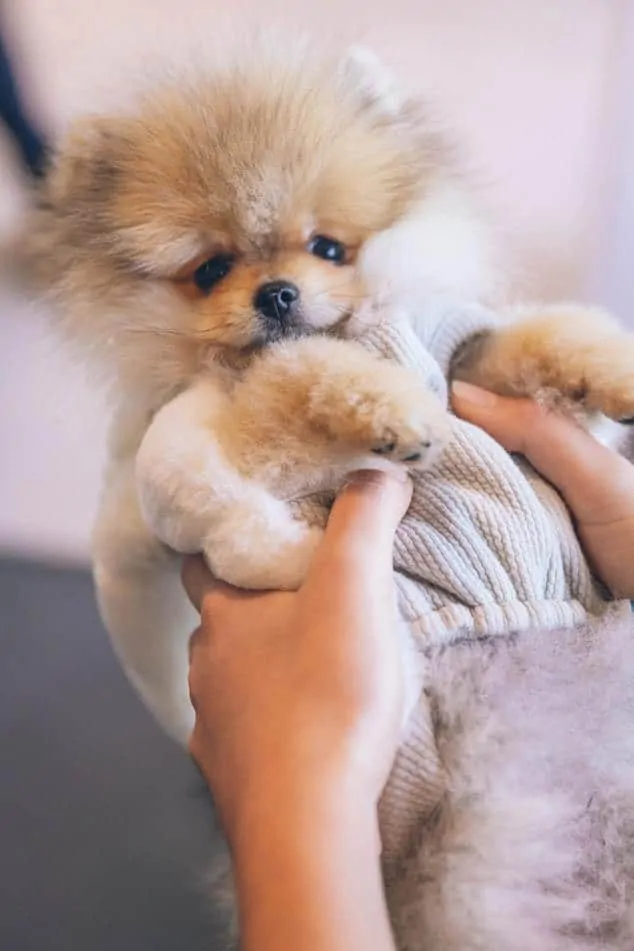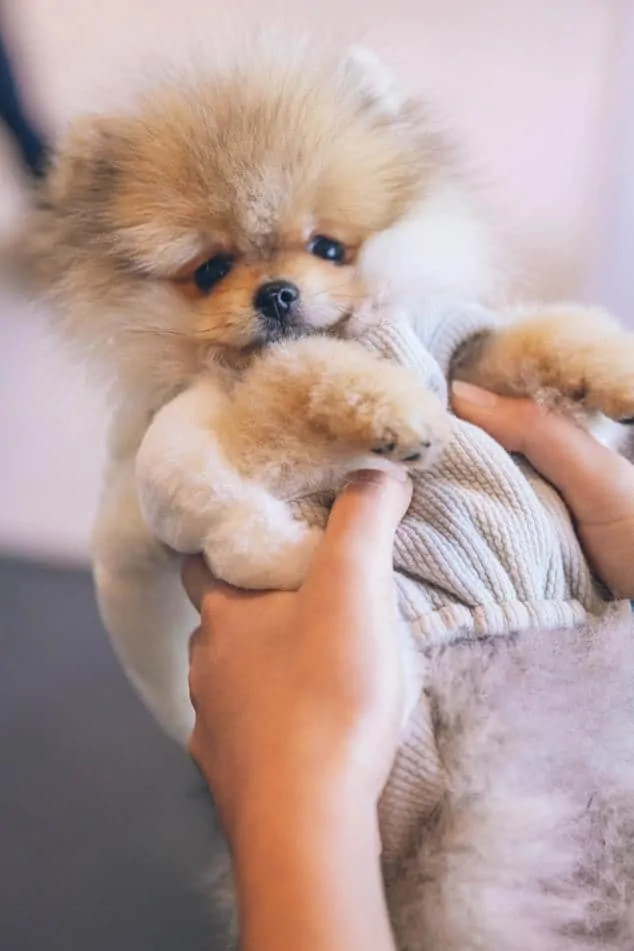 Small dogs like Pomeranians may actually need to wear sweaters or jackets when the weather is extra cold. 
While we did touch on this briefly above, I want to reiterate that not all dogs need to wear clothes and many dogs will actually detest wearing anything other than a collar, leash and harness.
However, some dogs actually need to wear dog clothing like sweaters, jackets, and t-shirts to help protect them from the elements.
It's true that Pomeranians are from the Spitz family and they are related to snow-savvy dogs like Huskies, however, their small size makes them more susceptible to suffering in colder weather.
That said, because of your Pomeranian's thick, double coat, Poms can also be more susceptible to heatstroke than other small dogs if they are wearing dog clothing that isn't breathable or comfortable in the summer months.
The trick to keeping your Pom safe, comfy, and looking cute is finding the right Pomeranian clothes for that are both comfortable and functional.
How do you do both? Let's take a look.
Fashion Vs. Function – What Types Of Clothing Do Pomeranians Actually Need?

You can help your Pom feel more comfortable in dog clothes by ensuring the Pomeranian clothes are comfortable for her to wear. 
As we discussed above, not all dogs need to wear dog clothes. However, some dogs do need to wear clothes in certain conditions.  Small dogs, puppies, and senior dogs may need a little extra help staying warm in the cold. And since Pomeranians are small dogs, they fit into this category.
And while Pomeranian clothes can serve to help keep your Pomeranian cozy and warm, Pomeranian clothes can also help reduce the chances of sunburn to your Pom during the summer, especially if your Pom has recently gotten a shorter haircut.
Still, just because your Pomranian may need Pomeranian clothes doesn't mean she will enjoy wearing them. It's important to make sure the clothing you buy for your Pomeranina (or any dog, for that matter) is comfortable, functional, and easy for them to wear.
Let's go over some key factors you should look for when looking for Pomeranian clothes,
What To Look For In Quality Pomeranian Clothes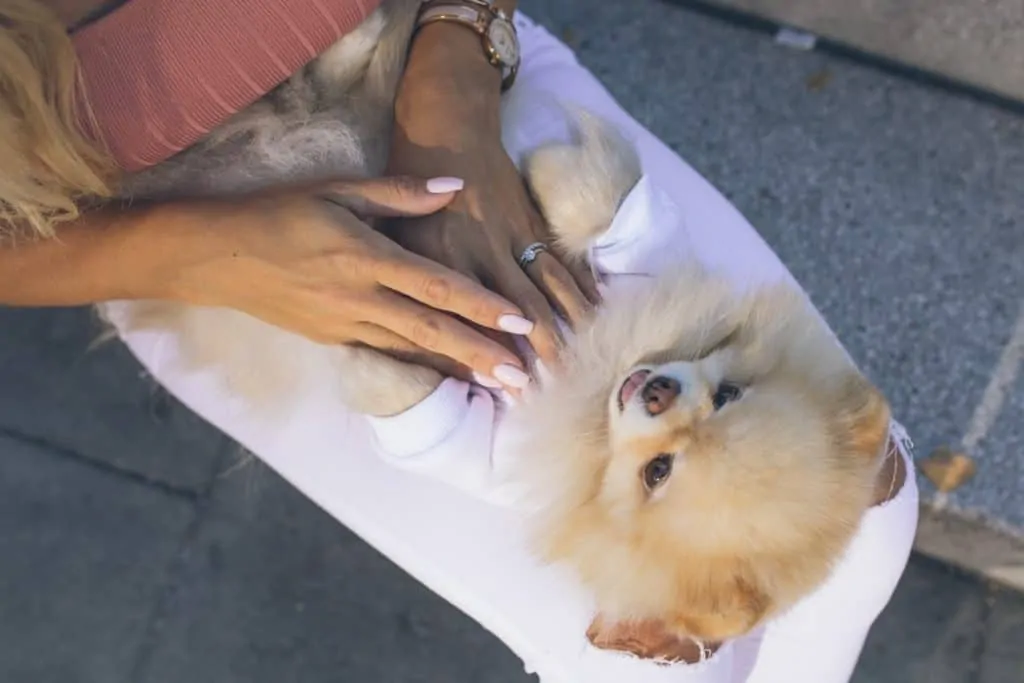 Consider your Pom's needs when picking out the best clothes for her. 
When you're on a mission to expand your Pom's closet, make sure you take your Pomeranian into consideration.
It's fun to dress our dogs up, but it's important to remember that these are living, breathing creatures who may not always want to don a frilly tutu and blingy collar.
Put your Pomeranian's comfort first by making sure you purchase Pomeranian clothes that are made with breathable materials and suited for your Pom's body shape and size.
Try and follow measurement guidelines whenever they are available and if you aren't sure of your Pomeranian's exact size, always order up in size to be safe.
If you're not sure where to begin when looking for fashionable and functional Pomeranian clothes, we've got you covered. Let's go over some of our favorite Pomeranian clothes both you and your Pom are sure to adore.
Petroom Dog Dress For Small Dogs
This adorable dog dress for small dogs made with your Pomeranian's comfort in mind. Your sweet princess will be pretty in pink, or blue, or one of five color options available.
The dress is made of lightweight cotton and designed with an open front so your doggy can go potty and move easily and naturally.
It is made for small breed dogs like Pomeranians and measures from extra small to extra large with largest chest size being 16 inches and smallest being eight.
Please do careful measurements of your Pomeranian to ensure you have the proper size so she is comfortable in her adorable little summer dress.
Kingmas Polo Dog Shirts
For the furry little gentleman in your life, we love these adorable doggy polo shirts which come in a four-pack and include colors like blue, orange, red and green.
Your Pomeranian will look dapper and preppy in his little polo, especially with the two little buttons at the nape. So cute, you guys.
Since Pomeranian's are super fluffy, it may be wise to get a size up so your pup doesn't feel restricted. That said, the shirts are made for a dog's body shape and have are designed to allow your boy to go potty normally and move around comfortably.
The shirts are for small dogs like Poms and measure from extra small to extra large, but make sure you do your measurements to ensure the proper fit and comfort for your pooch.
SILD Vintage Washed Dog Jean Jacket
Okay, so is this not the most ridiculously adorable doggy jean jacket you've ever seen? It's perfect for your cool Pomeranian and ideal for those fall months when the temperatures are beginning to drop.
We love the little hood and the vintage wash of the dog jacket, but most of all we love that this jacket is designed for your dog's comfort. It is lightweight and not too heavy, and made to allow your dog to walk comfortably and naturally.
It measures from extra small to double extra large and even comes in six different styles.
HoodDeal Plaid Dog Shirt And Bow Tie
We literally cannot get over this adorable and charming little plaid dog shirt and bow tie for Pomeranian dogs. The shirt only comes in one color, but it can work for both male and female dogs and comes in small to double extra large sizes.
It is made of 100% cotton materials and is therefore comfortable and lightweight for your Pomeranain. Best of all, it's machine washable so it will be easy to keep clean.
However, the sellers do note that this shirt may be smaller than expected, so we recommend doing your measurements and then sizing up, especially if your Pom is very fluffy.
Kyeese Small Dog Party Dress
This sweet little party dress is perfect for any occasion. The top is made of soft cotton material and the bottom sports an adorably fun tutu so your Pom will look festive wherever she roams!
The garment is best suited for small to medium sized dogs with back lengths between 8 inches to sixteen inches and sizes available in extra small to extra large.
The design is a pullover, however, which many dogs don't like. If your dog is not a fan of wearing Pomeranian clothes that have to go over her head, this may not be the best dress for her.
Aside from this, the dress is designed for your dog's shape and body movement and should otherwise be comfortable for her to wear.
Fitwarm Small Dog Yellow Sundress
We cannot get enough of the amazing vintage vibes this little dog dress is throwing out there. From the lightweight mesh fabric to the flowered collar to the little stripes, we are swooning.
The elastic waste makes for a comfortable and snug fit, but of course please do your measurements to ensure your Pom fits comfortably.
That said, the dress is available in five sizes from double extra small to large and has an open front so your sweetpea can go potty and do her business naturally and comfortably.
Fitwarm Dinosaur Small Dog Pajamas
No Pomeranian dog clothing list is complete without a pair of cozy, comfy PJ's. And since your dog is your baby, you need a pair of pajamas that are not only going to keep him snuggly and warm, but also insanely cute.
These jammies are made with a warm velvet material and are best for cold nights with your Pomeranian. They would be great for camping trips or overnight road trips when the temperatures drop.
Whie the pajamas are best suited for small dogs, they do come in six sizes from extra small to double extra large, with the largest chest size measuring 21 inches and the largest back length measuring 16 inches.
The waist is elastic and cozy but the belly area is left open so your Pomeranian can go tinkle at his leisure.
Fitwarm Unicorn Small Dog Pajamas
Here we have another Pomeranian pajama set by Fitwarm that is completely fit for a princess. We know your sweet Pomeranian will have the sweetest dreams in these cozy PJ's which, like the Dinosaur jammies above, are made with velvet material and come with a comfy elastic waist for the perfect fit.
Just like the pajama set before them, these unicorn Pomeranian pajamas have an open belly, allowing your girl to go potty as usual and ensuring she is comfortable and can move easily.
Again, since these pajamas cover all four legs and are made with warmer fabrics, they are not recommended for warmer climates and are best for colder nights, camping trips, or chilly road trip adventures.
IChoue Sleeveless Dog Shirt
Lightweight, comfty, and casual, this dog tank is everything your Pom needs for a summer day at the beach or for a good, easy stroll through the park.
It comes in six sizes and is offered in nine adorable colors. Made of 100% cotton, the dog shirt is machine washable and will help protect your Pomeranian from the sun while also ensuring he does not overheat.
We love this tank for when your Pomeranian has a shorter haircut and needs extra UV protection when out and about during the summer.
The shirt stretches so the fit should be comfortable, but the seller still recommends that you size up if you aren't sure of your Pomeranina's exact size needs. However, this is an over the head pull on shirt, so remember if your Pom doesn't like Pomeranian clothes going over his head that this may not be the best option.
BBEART Small Dog Tutu Dress
If your Pomeranian is a true princess then she'll adore this dress. It's everything a royal pup would love with all the comforts, including breathable material and a complete button down front.
Your dog will not have to have this dress pulled over her head, which is always a plus, and the front is open so your dog can go to the bathroom without making a mess.
The inside lining is made with your dog's comfort in mind and is free of seams or any scratchy or itchy materials.
We also love that the tutu dress comes in pink or white fabric and is designed to protect your Pomeranian from sunburn.
Voberry Dog Polo Shirt And Sweater
No products found.
This is an adorable and preppy polo shirt/sweater design that's perfect for the Pomeranian who wants to look casually put together.
It comes in red and gray, and is available in four sizes from small to extra large.
The material is lightweight and comfortable, but it is best suited for colder weather occasions so your Pomeranian doesn't overheat.
For your convenience, the seller provides a complete measurement chart, but we still recommend that you order a size up if you are uncertain of your Pom's size or if your Pomeranian has a very fluffy coat because this item can run small.
Fitwarm Palm Leaf Dog Shirt
If you're in the Hawaiian mood, check out this ridiculously adorable Hawaiian dog shirt by Fitwarm. They're really pulling out all the punches with the breathable fabric with a design that really pops and a fit that your pet will feel totally comfortable in.
This shirt is wonderful for helping your pup stay protected from the sun and comes in several different sizes from extra small to double extra large.
However, not all sizes are available so make sure you check what is and do your dog's measurements.
LifeWheel 4 Legs Cotton Dog Sweatsuit
No products found.
We simply couldn't leave this Adida (aka Adidog) sweatsuit off our list of adorable Pomeranian clothes for your dog.
It's sporty and cute while being made to fit your dog's unique body type. This is a one piece outfit that buttons down the front so you'll never have to pull it over your dog's head. It has an open lower belly so your dog can go to the bathroom naturally and walk comfortably.
The seller does advise that owners measure their dogs carefully, however, and not buy straight from general sizing recommendations.
SILD Cool Dog Jean Jacket With Patches
If your Pomeranian is extra edgy and totally cool, you are going to seriously freak out over this awesome jean jacket dog vest with patches and natural fringe. The acid wash wear and tear of the jacket makes it look even more authentic.
Just slap a pair of doggy sunglasses on your Pom and watch everyone totally swoon.
More important than looks, though, is the fact that this jean jacket is made for comfort. It is lightweight and can be worn during different seasons and even helps protect Pomeranians from the elements. It comes in six different sizes and four style options.
Excuse me while I go and purchase this now for my Maltipoo.
NFL Pet Jersey
We're going to end this list with a dog outfit anyone can appreciate. Brought to you by the NFL themselves, this jersey can come in any of your home team favorites.
Since I'm a Colorado girl at heart, I'm sticking with my Broncos, but you can grab any jersey you want and rest assured not only is your dog going to look like the cutest little furry fan every, he is going to be comfortable while rooting for his team as well.
The jerseys are available in seven sizes and are made of poly-mesh, breathable material. Your dog can move and use the bathroom as usual and when the game is over, the jersey is machine washable.
Helping Your Pom Get Used To Wearing Pomeranian Clothes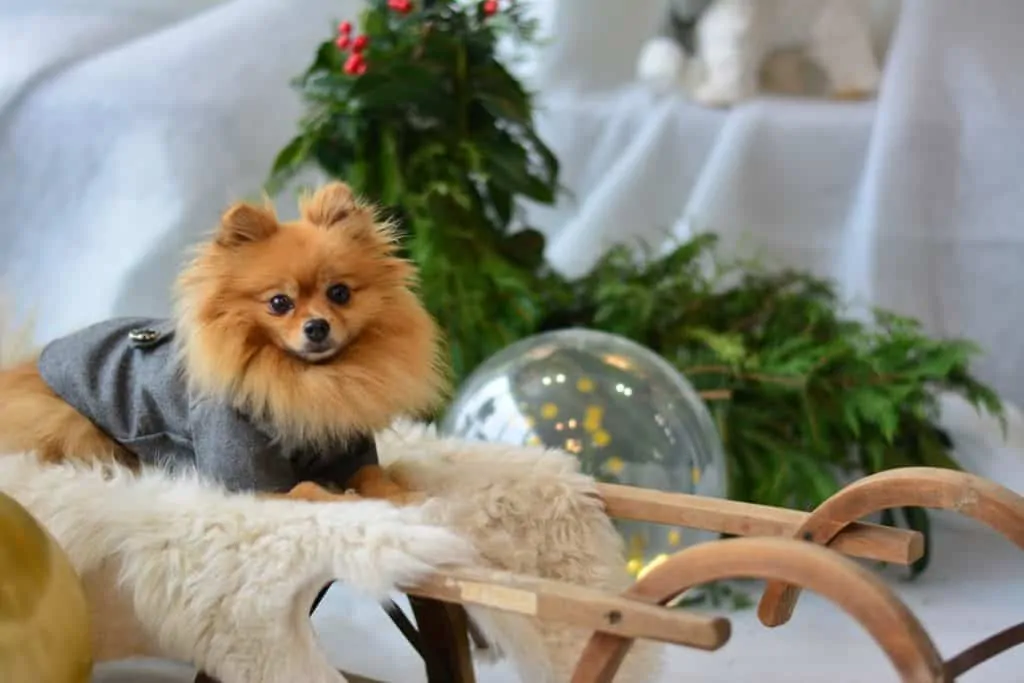 Use treats and praise to help your Pom associate Pomeranian clothes with something positive. 
Some Pomeranians act as if they have been wearing Pomranian clothes all their lives. Other Poms will struggle with the idea of having a shirt or dress put on their little bodies and you will have to use lots of patience to help them get used to it.
If you have a Pom dog who absolutely hates wearing Pomeranian clothes and doesn't need to wear clothes, avoid making him wear anything that's not necessary.
However, if it's extra cold outside or your Pomeranian needs to wear Pomeranian clothes to help protect his body from the sun, try and work with your Pom to  help make the process of wearing Pomeranian clothes easier and more pleasant for him.
If your Pom is afraid of Pomeranian clothes, that's okay. Never scold or punish any dog for being fearful of something, as this will only make the fear and anxiety worse and can lead to other negative behaviors.
So, how can you help your Pomeranian get used to wearing Pomeranian clothes even if she hates them? First, find Pomeranian clothes that don't have to be pulled over your Pom's head. Most dogs hate tight clothing that has to go over their faces and ears, and this could be the root of the issue if your Pom cowers when you pull out her dog sweater.
Instead, look for garments that zip or button in the front and can be put over your dog's body and secured at the belly. Also make sure the fabric is soft, has some stretch, and is breathable and comfortable.
Then pull out the treats. Using healthy training treats any time you introduce new Pomeranian clothes to your Pom will help her to associate the garmet with something positive.
And be patient. If you want your Pomeranian to come around and begin wearing Pomeranian clothes more regularly, the way you introduce your Pomeranian to clothing is key.
Happy shopping!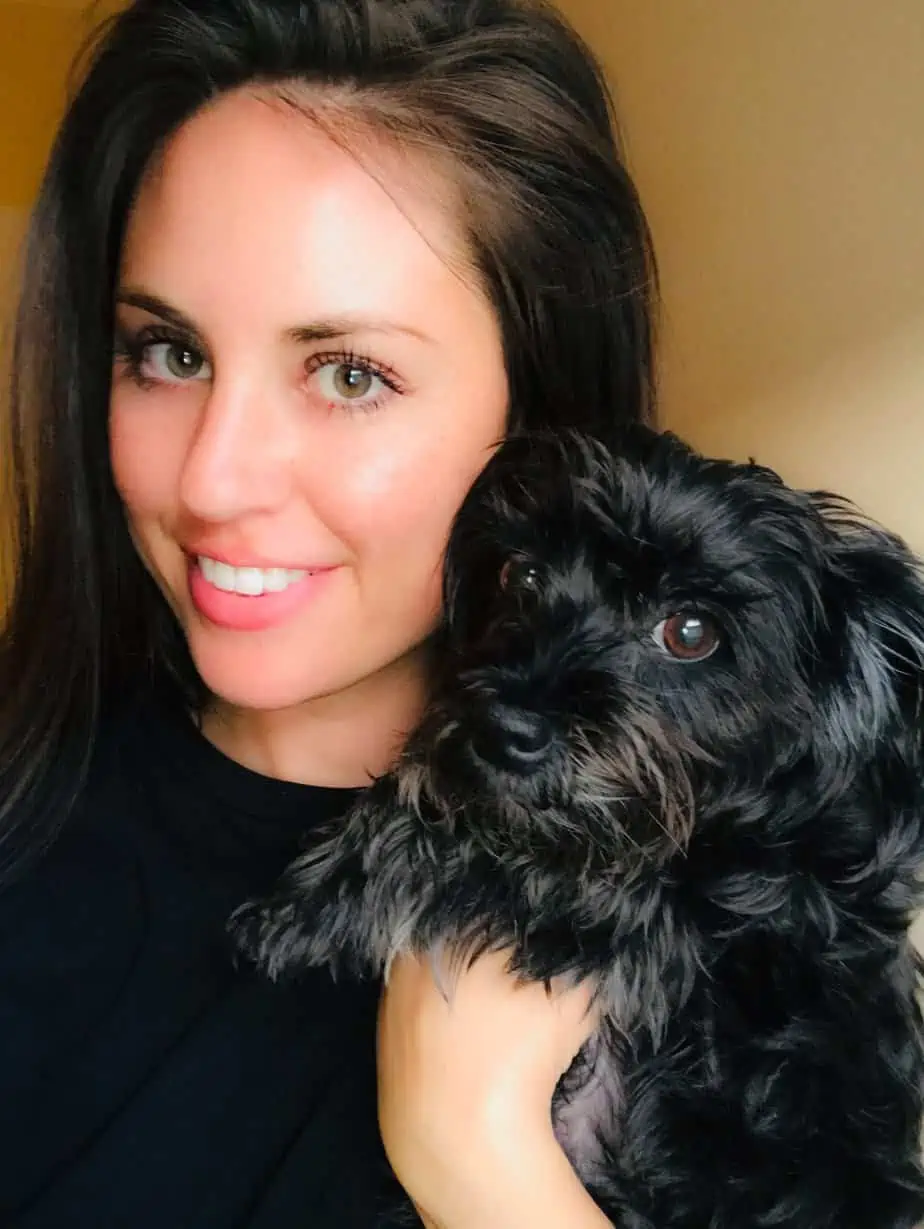 Madison Guthrie (also known as Sonny Mackenzi) is a pet care specialist and positive-reinforcement trainer who works most closely with anxious and reactive dogs. Born and raised in Littleton, Colorado, Madison developed a love for animals at an early age and spent most of her childhood outdoors rescuing stray pets and helping to rehabilitate injured wildlife.  Along with animals, Madison also developed a love for writing and music. Over the past five years, she has worked to use her passions to help the pets and pet parents in her community build stronger bonds and live happier, healthier lives together.  Currently, Madison lives in South Pasadena, California where she owns and operates Miss Madison LLC, a marketing company that focuses on helping privately owned veterinary establishments and pet care companies grow and thrive. She also works as a dog trainer at My Dog Spot, which is an award-winning pet care and training establishment in Pasadena, California.