Whether you're a professional dog breeder, you've gotten your hands on some brand new puppies, or you have a dog in need of some extra nutrition, we think it's always a good idea to know where to find some high quality milk replacer for dogs.
Unfortunately, unless you're a veterinarian or a pro breeder, you may know much about what to look for in a good dog milk replacer. Furthermore, you may not realize how many milk replacer options are available.
Picking the right milk replacer for your dog will depend on a number of factors, including your dog's age, his overall health, and whether or not you need to replace your puppy's mother's milk completely or are just looking to supplement.
Luckily, we're here to help. Today's article covers all the things you should know about a milk replacer for puppies and which types of milk replacers are best for certain situations and dogs.
Let's begin.
What Is a Dog Milk Replacer?

For puppies who can't nurse or puppies who are sick, a milk replacer is very important.
A dog milk replacer is just that – a replacement for a mother dog's natural milk. Just like human milk, dog milk is filled with tons of powerful nutrients newborn puppies need to grow and thrive.
Over the counter cow milk or goat milk is not an adequate replacer for dog milk, so before you run over to your grocery store, it's important to know exactly what a good, quality milk replacer for dogs consists of.
Luckily, you can purchase puppy milk replacers online or at many pet stores. However, there are also some wonderful recipes provided by veterinarians and breeders on how to make homemade dog milk formula at home.
But before you decide which option is best for you and your dog, let's learn about why dog milk replacer isn't just for puppies, and let's talk about some of our favorite milk replacers available over the counter.
Is Dog Milk Replacer Only For Puppies?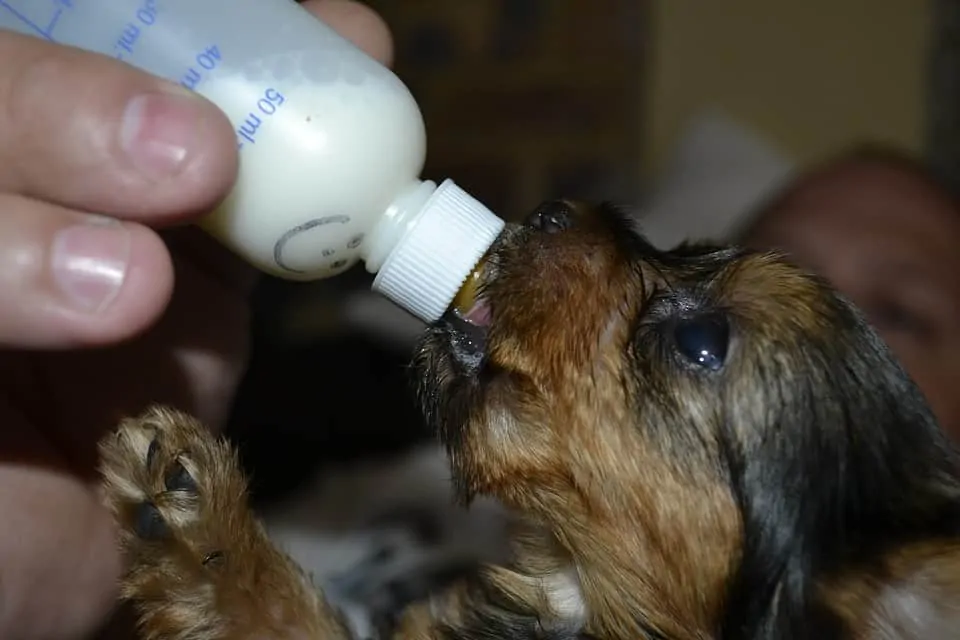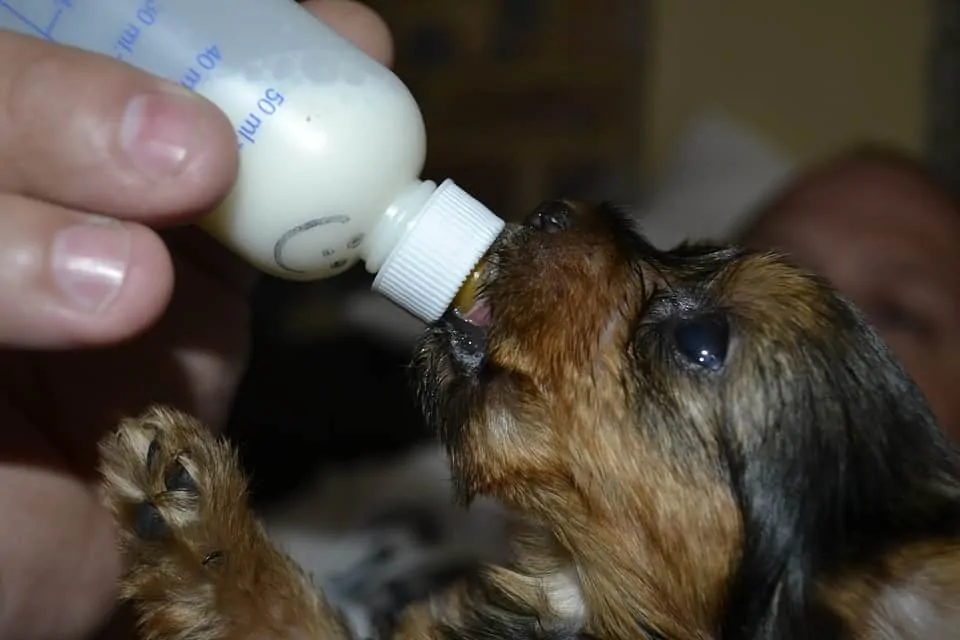 Some puppies may need extra help getting the nutrition they need to grow up big and strong, but milk replacer isn't just for them.
Regardless of the species, there is nothing quite as incredible as a mother's natural milk. We can all benefit from some of the nutrients provided in mother's milk, which is why many dog owners like to use milk replacers for their adult or senior dogs.
As we mentioned above, a mother's milk is rich in vitamins, minerals, antioxidants and more. All these ingredients together create a superfood source that works to enhance immune system health, aid in bone and tissue growth, and assist in brain development.
And because mother dog's milk is so full of nutrients, it not only makes the best meal for puppies, but it also performs well as a nutritional supplement for adult and senior dogs.
In fact, many dog owners use a milk replacer as a supplement for dog's who are underweight, have digestive issues, suffer from food allergies or skin problems, or just need a little boost of vitamins to their daily diets.
Senior dogs can truly benefit from adding a bit of milk replacer to their diets as it helps aid in overall immune health, coat health, and brain function.
For puppies though, a mother's milk is their first introduction to food and helps set the foundation for their overall health for the rest of their lives.
Unfortunately, not all mother dogs are able to nurse and sometimes, even if they are, not all of their puppies are able to get the nutrients they need. And this is where puppy milk replacer comes most in handy.
That said, it's important to note that not all milk replacers are created equally and not all are made to be complete meal replacers for newborn puppies.
Some dog milk formula is made just to be a supplement while others are made to enhance adult and senior dogs' immune health. So, before you purchase a milk replacer for dogs, make sure you are getting the right kind that will suit your unique needs.
We also suggest you make sure and look for some key ingredients in dog milk replacer to ensure you are getting the best possible product on the market.
Let's learn more.
Here Is What To Look For In The Best Dog Milk Replacer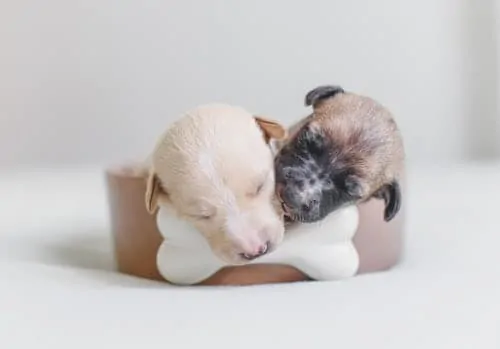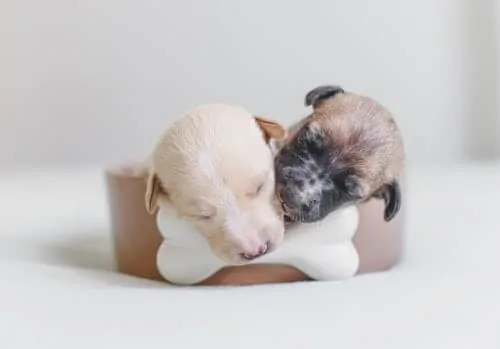 Make sure your dog's milk replacement is high quality.
There are a few dos and don'ts when it comes to purchasing a milk replacer for puppies or offering a dog milk replacer to your adult or senior dog as a supplement
First of all, don't give your newborn puppy or dog cow milk or goat milk. While some quality milk replacers do actually contain these ingredients in their formula, they are not pasteurized and are blended into the formula in a way that won't cause your dog digestive upset or harm.
We also suggest taking your dog into consideration. Dogs and puppies with digestive issues or certain food allergies may find that milk replacers made with goats milk is easier to digest.
Of course, determining your dog's digestive health may be easier for those of you with older dogs as you will have a better idea of what type of digestive system your dog has. However, you can get an idea of a young puppy's digestive issues by keeping an eye on him, speaking with your veterinarian, and by comparing his progress with the progress of  his sibling puppies (if there are any).
If you are looking for a complete meal replacer for newborn puppies, make sure you carefully read the milk replacer instructions to ensure you are able to offer them all the nutrition they need through the formula you are choosing.
If you want to simply supplement your dog's food with a nutritional boost using dog milk formula, you can rest easy. Any milk replacer on the below list can be used as a food supplement or nutrition enhancer for older dogs.
Now, are you ready to take a look at some of the best milk replacers for dogs available online? Let's get started!
PetAG Esbilac Milk Replacer For Puppies
Perhaps our favorite milk replacer is Esbilac by PetAG. This is a milk replacement for puppies aged newborn to six weeks old and is rich in vitamins, minerals, and all the fats, probiotics and prebiotics that puppies need for their developing brains and bodies.
You can order this product in different sizes depending on your needs and it also comes in a powder or liquid form.
PetLac Dog Milk Replacer For Puppies
PetLac also provides a good replacement for your puppies' mother's milk. This milk replacer comes in a powder form and is rich in all things growing puppies need to thrive. It does not contain any soy protein and is easy to digest.
This product is great for young puppies but can also be used as a supplement for adult dogs who need an extra boost of nutrition to their diets.
PetAG Goats Milk Esbilac Dog Milk Replacer
As anyone who raises puppies knows, goat's milk is a popular ingredient in puppy milk replacers for young puppies. It is rich in important nutrients and vitamins, which is why we like this goats milk Esbilac formula by PetAG.
It comes in powder form and is ideal for puppies with sensitivities. This is an all natural dog milk replacer and offers a complete meal for your furry little ones.
Raw Paws Frozen Or Powdered Goat Milk Replacer For Puppies
We are always fans of all natural milk replacers for dogs, which is one reason we like Raw Paws frozen or powdered goats milk.
It is loaded with enzymes and probiotics and is great for helping give extra nourishment for your newborn pups or even kittens.
Dog owners can also use this product as a meal topper for their pets to help increase appetite or offer a nutrition boost.
Revival Animal Health Foster Care Dog Milk Replacer
We also like Breeders' Edge milk replacer for newborn puppies as it supports not only brain, body, and coat development, but it also provides immune system defense.
This is a great milk replacer for young puppies who also suffer from digestive issues or have gut sensitivities. And while this offers a complete and balanced meal to newborn pups, it can also be used as a meal topper or food enhancer for older dogs as well.
Hartz Powdered Puppy Milk Replacer
Hartz offers a powder milk replacer for dogs that is similar to those already listed, but what we really love about this milk replacer for dogs is how closely it matches a mother dog's natural milk.
The powder formula is also easy to mix and is perfect for newborn puppies all the way up to six weeks of age.
It helps promote healthy eye, brain, and heart development of your puppies while also supporting bone and muscle growth. Last but not least, it's even made with real milk protein.
Nutri-Vet Milk Powder Replacement
This milk replacer for dogs is a great milk formula for puppies but can also be used to help promote health and provide extra nutrition to pregnant and lactating mother dogs.
It helps promote healthy weight gain in newborn puppies using whey protein and is rich in probiotics, amino acids, and Colostrum, so it's close to a dog's mother's milk and is rich in antibodies for a healthy immune system. We also love that this milk replacer for dogs is made proudly in the United States.
Vets Preferred Dog Milk Replacer
Along with finding the best natural milk replacers for puppies, we also love when we can find veterinarian recommended dog milk replacers like this product by Vets Preferred.
This milk replacer is enriched with colostrum for a healthy immune system and to keep it as close as possible to the puppies mother's milk.  It is also able to be used as a complete replacement meal for young puppies.
It is veterinarian grade, helps support healthy digestion and overall growth, and is even great for senior dogs, pregnant dogs, and nursing mother dogs.
Dogzymes Puppy Bac Milk Replacer
Dogzymes Puppy Bac dog milk replacer promises to be identical to puppies' mother's milk. It has a two-year shelf life, so it's great for breeders, and is rich with digestive enzymes specifically designed for puppies and their development.
There are no additives and the formula is easy to make and blends smoothly. You can order it in different sizes from eight ounces to four pounds, depending on your needs or how many puppies you are trying to feed.
Vet Worthy Dog Milk Replacement
This dog milk replacer is a nutritional supplement for dogs of all ages, not just puppies. If you are looking for a complete meal milk replacement for puppies, be sure to read up on the feeding instructions to ensure you are offering your puppies the nutrition they need.
Along with being a supplement, this dog milk replacer is enriched with colostrum, so it is ideal for young puppies who need a boost to their immune system or for those of you looking for a dog milk replacer that is close to mother's milk.
Royal Canin Babydog Puppy Milk Replacer
Royal Canin is a well known dog food brand that is also offering a dog milk replacer. What we like about this dog milk replacer is that they worked to get it as close to a mother's milk as possible and can be given to puppies from as early as birth up until they are eight weeks old.
It is easy to make and dissolves into water smoothly, leaving no residue behind so the puppy is getting all the nutrients. As always, please read the feeding instructions to ensure you are giving your puppies all the nutrients they need to grow up strong and healthy.
Esbilac Liquid Dog Milk Replacer Cans
No products found.
This is another dog milk replacer by PetAG and is great for those looking for a super quick and easy way to get their puppies fed. The cans come as already mixed liquid formula and are highly digestible, very tasty, and ready to feed.
Puppies can get their full nutritional needs met through this dog milk replacer or you can use them instead as a supplement for undernourished dogs who are nursing but not growing as they should.
The Honest Kitchen Dehydrated Goat's Milk
We love human-grade made foods and formulas for dogs, and the Honest Kitchen delivers with their dehydraated Goat's Milk formula. This is a decent dog milk replacer but make sure you read all the feeding guidelines before purchasing it as a complete meal replacer for young puppies.
It can be given on its own or poured over your dog's kibble as a meal enhancer or nutritional supplement, and is rich with probiotics and digestive enzymes to support a healthy gut.
PetLac Dog Milk Replacer 3 Pack
Who doesn't love a good deal? PetLac offers a 3 pack of their quality dog milk replacer for puppies and we're here for it.
This product is rich in vitamins and minerals and can fully replace your puppies' mother's milk if needed or simply be used as a supplement or food enhancer.
It is also often used for a nutritional supplement for pregnant or lactating mother dogs as well, so you might as well stock up if you know you're going to need a dog milk replacer.
Essential Pet Products Dog Milk Replacer
Last, we have a dog milk replacer by Essential Pet Products. This milk replacer is an excellent source of nutrition and, like many of the dog milk replacers on this list, can be used as a complete replacement for your puppies' mother's milk or used as a supplement.
You can also use it as a food enhancer or give it to your pregnant or lactating mother dogs as well.
It is enriched with colostrum, which you already know we love when it comes to dog milk replacers, and is full of vitamins, minerals, fatty acids and protein to help support a healthy growth in young puppies.
Other Expert Tips On Caring For Newborn Puppies

Like newborn babies, newborn puppies need lots of routine care and attention 
While we know not all of you are looking for a dog milk replacer to care for newborn puppies, many of you reading this article are. With that in mind, we want to share some fun tips on how you can ensure your new puppy or puppies get the best start in life possible.
Along with making sure new puppies are getting the proper nutrition they need from their mother or a dog milk replacer, you must also make sure they are living in a clean, safe environment to help keep them healthy.
Make sure you contain young puppies to an area that is safe and warm, where they can move about freely and lay down or stretch out. Also be sure to clean their bedding everyday. Most mama dogs clean up their puppies' waste in the early days, but some mama dogs need help, so give yours a hand as frequently as possible.
We also suggest purchasing a heat lamp to help keep your puppies warm. Remember, young puppies can't yet regulate their own body temperatures and will need extra help from their mom, you and a heat lamp to stay warm and comfortable.
Make sure your puppy's heat lamp is placed far enough from the puppy's containment area that it can't be touched or knocked over, and high enough that it won't burn your pups or their mom.
Are you the happy human of a pregnant mama dog or a litter of new pups? We'd love to hear from you! Drop us a line in the comments below.