Our dogs make us laugh on a daily basis. It's just a part of the perks of being a dog parent. What's more, now we have hilarious dog accessories to help keep the giggles going with our four-legged friends.
So, If you're in need of a good laugh today (and who isn't) then you've come to the right place. Today, we have had the incredibly fun task of finding fifteen of the most funny (and punny) dog shirts available.
But before we begin, let's talk a little bit about why a dog would need to wear a shirt in the first place. Is this really all just for the laughs, or can shirts play a role in our dogs' overall health and wellbeing?
Let's find out.
Why Would A Dog Need To Wear A Shirt?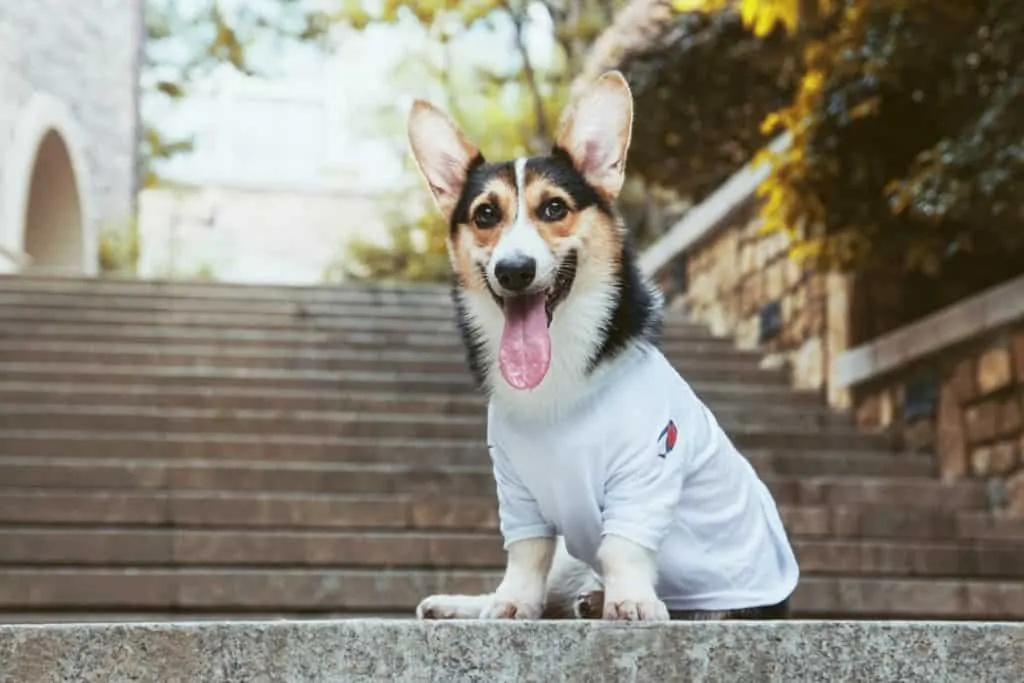 Sometimes we just want our dogs to be fashion forward. Other Times they need to wear shirts to protect from the elements.. 
Aside from wanting your dog to look totally adorable, dog shirts do actually provide a function that can be very important for certain canines.
While not all dogs will need to wear shirts, jackets, hoodies, sweaters, or other types of doggie apparel, some dogs need this extra layer of protection to keep them safe from the elements.
When is it a good idea to invest in dog clothes for your dog? Well, it depends on the pup.
Smaller dogs, seniors and puppies, for example, tend to get colder more quickly than large breed dogs and dogs with thick, double layered coats. Likewise, dogs with shorter fur like Pitbulls can also be more susceptible to feeling the chill of the snow and wind than Huskies or Malamutes.
But dog clothes aren't only great for winter months. While we never promote shaving your double-coated dogs fur, some dogs need to be shaved for medical reasons. Dogs who have shaved fur can easily get sunburns and are more susceptible to heatstroke in the warmer months.
Along with dog sunscreen, shirts can help add another layer of sunblock to your dog's exposed skin.
Of course, not all dogs are going to be okay with wearing doggy attire, and for some it could cause an extra level of fear and anxiety, especially if your dog isn't introduced to wearing a shirt properly.
How do you know if your dog is cool with wearing a shirt? Keep reading.
How Do I Know If My Dog Is Okay With Wearing A Shirt?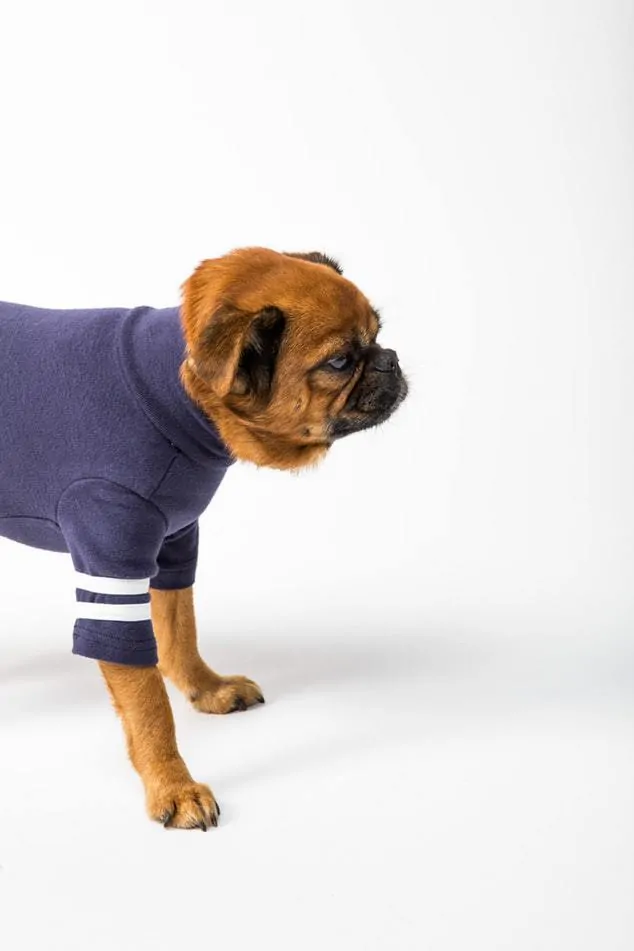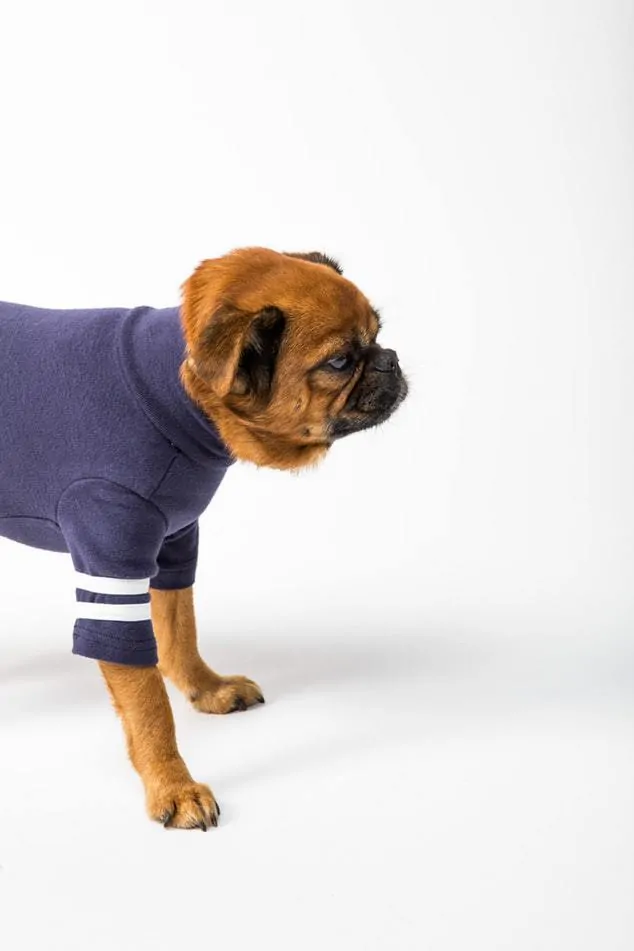 You can tell if your dog isn't feeling his shirt by watching his body language.
While most dogs in most situations don't technically need to wear shirts (or any dog clothes for that matter), there are occasions that call for your dog to be extra protected.
Unfortunately, some dogs hate wearing dog clothes. Shirts can be especially difficult for dogs, not so much because of the shirt in general, but because of the process of putting the shirt on.
Dogs hate things being pulled over their heads and faces. Your dog's ears and the top of his nose are two of the most sensitive parts of his body, and pulling a shirt over his face can cause him to feel vulnerable, trapped and scared – even for just a moment.
You can help your dog feel more comfortable wearing shirts by introducing him to shirts slowly and gently, and by helping him to associate these items with something good by using positive reinforcement techniques like treats and praise.
But once the shirt is on, how do you know if your dog is cool with wearing it? Keep a close eye on your dog's body language. Happy dogs walk loosley with relaxed expressions and slowly wagging tails. Dogs who are uncomfortable in shirts will stiffen up. You may see the whites of their eyes (known as whale eye) or notice that their ears are pinned back.
Nervous dogs will also hold their tails between their legs or pant excessively.
If your dog isn't happy wearing a shirt and he really doesn't need to be wearing one, then it's best to remove the shirt and let him be. Causing excess stress to a dog can lead to other undesirable behaviors and even illness due to stress.
On the other hand, if your dog is totally fine wearing his shirt, that's wonderful! Still, you'll want to help keep him happy in his outfit by making sure you are purchasing the best quality dog clothes you can find.
Let's learn more.
Picking The Best Dog Shirt For My Dog

Pick a shirt that will fit your dog's unique body shape and that will still allow him to move naturally.
Finding the right dog t-shirt for Fido goes beyond just looks and funny sayings. If you want your dog to be happy in his doggy attire, you'll need to make sure that his dog t-shirt is made for his unique body type.
Make sure you follow the measurement guidelines provided by the seller of the shirt as well so you can ensure you get your dog the best fitted dog shirt possible. And, when in doubt, always size up.
A dog shirt that is too small can be uncomfortable for your dog and he will end up not wanting to wear it. Dog shirts should also be made of comfortable fabrics like cotton. Fabrics should be breathable and have a certain amount of stretch to allow your dog to move comfortably.
Avoid fabrics that are scratchy, itchy, or too tight.
Also keep an eye out for dog shirts that have more open space in the belly. This way your dog can use the bathroom naturally and won't make a mess. And speaking of messes, one of the best qualities to look for in your dog's dog shirt is washability.
Along with comfort, picking out a dog shirt that is easy to clean is key to keeping your dog healthy and happy.
Now, are you ready for some good laughs? Let's get into the fun stuff with fifteen of the funniest dog shirts available.
EXPAWLORER "Bitches Love Me" Dog Shirt
First on our list is a funny, punny, and not so family friendly dog shirt those with a sense of humor are sure to enjoy. Honestly, this one had us ROTFLing. I've also seen some pretty cute dog tags with this saying, but the shirt is awesome because it's so much more obvious.
Giggles aside, we also love that this shirt is available in six different sizes so no matter what kind of dog you have, you should be able to find the right fit.
It only comes in one color but is made with your dog's body and comfort in mind. The shirt is also machine washable, which is always a plus when it comes to doggy attire.
Alroman Poop Emoji Dog Shirt
I know a few 11-year-olds who would love this shirt for their dog. I also know I myself would love this shirt for my dog. I'm sorry, I can't help it. But sometimes my current mood is a poop emoji.
This funny shirt is lightweight and comfy, and made to fit a dog's natural body. Of course, make sure you do your measurements before purchasing to ensure you have the proper fit for your dog.
And if the poop emoji really isn't your style, don't worry. This product offers an abundance of cute and funny shirts to pick from.
Parisian Pet Funny Dog Shirt
We all have that one dog in our family that we can't take anywhere because they simply can't control their licker. Perhaps it's time we let the world have a little bit of a warning by putting these crazy dogs of ours in a funny t-shirt that says so.
If you're not a big fan of the caution shirts, there are a whopping 80 more funny dog shirts for you to choose from from the same seller.
All shirts are made of comfortable, breathable materials that are machine washable. Available sizes include double extra small all the way up to 3XL.
DroolingDog Dog Shirt
Dreaming of taking a nice vacation with your dog? Honestly, who isn't? Make that dream a reality (or at least get one step closer to it) with this adorable and cheeky dog shirt by Drooling Dogs.
The shirt is available in large and extra large and is best for small to medium sized dogs, so make sure you do your measurements before making your purchase.
The T-shirt is simple and comfy, with lightweight material your dog won't mind wearing and with a funny saying that will keep all your friends grinning.
Star Wars Yoda Dog Tee
Alright, Star Wars fans, this one's for you. We absolutely love this dog tee for dogs who are small, but it can be super cute for fairly large dogs too.
The shirt is available in six different sizes and you have three different quotes to choose from. You can also choose a tank or a t-shirt for your dog, depending on what you think would be most comfortable for him.
The shirt is made of soft material which is machine washable and perfect for just hanging around the house or for dogs who need a little extra protection from the sun or cold wind.
Star Wars Chewbacca Dog Tee
Well, since we're on the Star Wars kick we really couldn't leave out Chewbacca. Especially since Chewbacca relly is the O.G. of copilots. And what is your dog if he isn't the ultimate copilot himself?
This shirt is equal parts true, cute, and hilarious, and is made with the same breathable, washable, and comfy material as the Yoda tee above.
It is also available ein both a tank top or a t-shirt design and comes in six sizes and three equally hilarious sayings.
Parisian Funny Dog Tanks
Parisian is back on our list offering a series of unforgettable dog tank tops for all year around to keep you laughing.
With iconic sayings like "sexy and I know it" or "I'm kind of a big deal", you are sure to find the dog tank that seriously helps capture your dog's epic attitude.
The seller offers countless sizes but not all shirts and sayings are available in every size, so make sure you do your research and do your measuring.
We should also note that it looks like this product may run small so if you're uncertain, it's best to order a size up.
BINGPET Security Dog Shirt
This shirt will work whether your dog is a four pound Chihuahua or a 160 pound great Dane. Think about it – it will either be ridiculously hilarious or ridiculously true.
I think the best part is (for those of you who really know your dogs) that the real security will be the itty bitty Chihuahua.
Like all of the shirts on our list, this shirt is made of lightweight, comfortable material suitable for dogs of all sizes. It is machine washable, comfortable, and of course super funny.
Grinch For Pets "Resting Grinch Face" Dog Shirt
This is such a great shirt for those of you looking for a cute and comfy holiday gift for that dog lover in your life.
I for one certainly know a number of senior dogs who would totally rock this shirt with the same gusto they have rocking that resting Grinch face of theirs.
Best of all, this shirt isn't too festive, meaning it wouldn't even be inappropriate for dogs to wear this shirt all season long.
This Grinch dog shirt is available in four sizes from small to extra large, so do some good measuring to make sure the dog in question will fit, since sizing is bit limited compared to some of the other shirts on our list.
The material is machine washable and made with soft, comfy material so your dog will be comfortable and happy, even if his "Grinch face" doesn't show it.
Howstar Funny Dog Shirt
Okay, so we're not going to lie. This dog shirt may or may not get you in trouble. Hopefully your dog really doesn't bark at ugly people, but either way we think this is pretty funny, especially if you've got a good sense of humor and don't mind when dogs are barking at you, near you, or around you.
Along with the totally honest saying, the shirt is made in the USA and is created with your dog's comfort in mind. It comes in red or black and is available in sizes from extra small to extra large.
That says, sizing may run small, so take Fido's measurements before making your purchase.
DroolingDog "I'm With The Human" Dog Shirt
If you're like me, you bring your dog with you everywhere you can. I love this shirt for that very reason. This funny and cute dog shirt lets everyone know your dog is being accompanied by a very adult (ish) and mature (ish) human being.
It also alerts that as to how much you love your dog. The only thing that would make this cute dog shirt even cuter? A human shirt that states "I'm with the dog".
Just saying.
Available in four sizes and made of jersey material, this shirt should be hanged to dry but is machine washable on gentle.
Parisian Pet Capitan Dog T-Shirt
I don't know why but I work with so many senior dogs and I want to buy each of them this shirt right now. This shirt is insanely cute and funny, and it could work well with male and female dogs alike.
It comes in eight size varieties and several color options, so you can find the one that best fits your dog's style and personality.
The material is soft, machine washable, and made for a dog's body type.
DroolingDog Small Dog Tank Top
This one had us cracking up. We especially like the little dog lifting the weights on the design. This adorable dog tee comes only in black and grey and is available right now in extra small or large.
It is best suited for very small to medium sized dogs, but more sizes may become available so keep an eye out.
The shirt is really just for play and looks, but even so it is made with comfortable, breathable material that should be comfy and cozy for your dog.
Parisian "Little Miss Attitude" Dog Shirt
I love, love, love this dog shirt for a few reasons. One, I just ordered it, and two, it's so my dog! She is nothing but attitude and sass.
If your dog is like my dog, then you'll totally understand. As most dog shirts made by Parisian are, this dog shirt is comfy, breathable, and 100% made of cotton. It is machine washable but it will shrink, so we suggest you air dry.
THe sizes vary greatly and are available in double extra small to extra large.
Parisian "WTF" Dog Shirt
Basically every dog I know asks this question at least one hundred times a day, so I figured this would be a great shirt to end on because it's so relatable.
As any dog parent knows, our fur kids live for food. And if my dog could text, she would be using this acronym most to express her feelings and desires.
And since we've already listed plenty of Parisian shirts on this list, you already know this product is going to be comfortable, breathable, machine washable, and doggy friendly.
The shirt is also available in sizes XX-Small all the way up to 3XL, so no matter how big or small Fido is, he can express himself freely with this hilarious shirt.
Tips On Helping Your Dog Get Used To Wearing Dog Shirts

Introduce your dog to wearing shirts and other clothing slowly. Never punish your dog for being fearful of something. 
As we mentioned above, not all dogs enjoy wearing clothes. If your dog truly hates wearing a shirt and doesn't need to wear a shirt, we highly recommend you don't force him to.
However, if your dog is one of those dogs who needs that extra layer of protection during heat or cold, you can help him get acclimated to wearing dog clothes by introducing the clothes to him gently and using positive reinforcement techniques.
With that said, never punish your dog for his fear of wearing a dog shirt. This will only make his fear of the shirt worse and lead him to associate it with something negative.
Instead, help your dog associate a shirt with something positive using praise and treats. Doing this can take time, so be patient. Show him the shirt and let him sniff around it to get used to it. Offer him treats when he sees the shirt.
If the shirt is a pullover (meaning it goes over his head) open the neck area and offer your dog treats from the other side so he can put his nose or face through on his own.
Practicing these steps several times will help your dog associate the shirt with something positive and should better prepare him for wearing it.
Of course, sizing matters as well so make sure your dog's shirt is comfy, breathable, and properly sized, as we discussed above.
So, which shirt on this list did you find most hilarious? We are dying to know. Drop us your opinion in the comments below.