Dogs are messy. You can dog proof your house and buy the best cleaning products and still your dog is going to make messes. Especially when they eat. 
Annoyed? Don't be. We think it's time to cut our canine counterparts a break. After all, dogs don't have opposable thumbs. They can't hold cutlery. They are forced to stuff their whole entire faces into food and water bowls and just go to town. Kind of like my boyfriend. 
This is why dog feeding stations are so conveintenet, especially for dog owners who appreciate organization and products that offer easy-cleanup solutions.
Are you one such organized dog owner? Then this is the article to you. Today we are discussing the benefits of a good dog feeding station and we are even going over some of our favorite brands!
Let's begin! 
What Is A Dog Feeding Station And Does My Home Need One?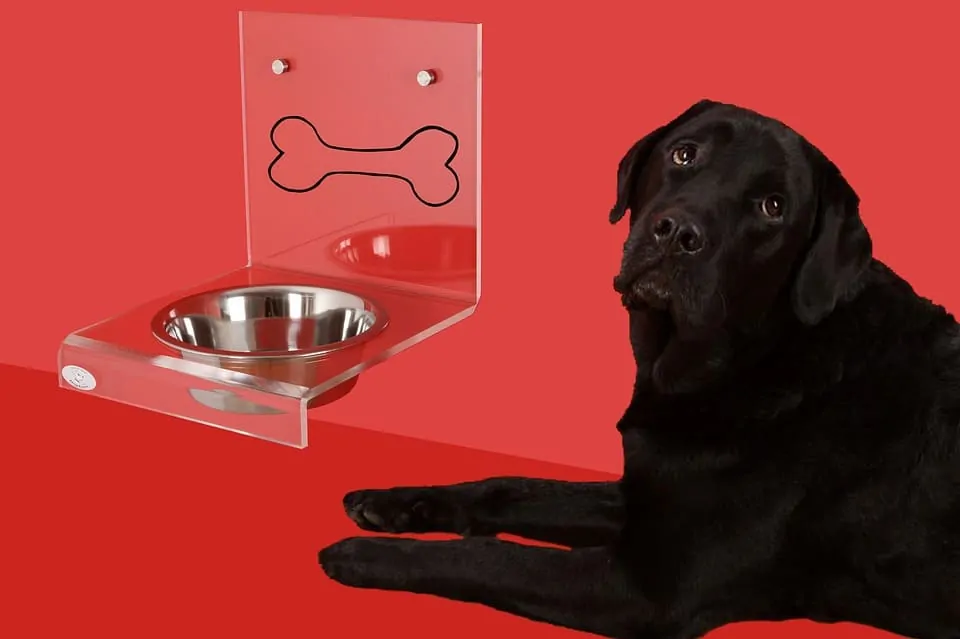 Dog feeding stations are great for every home and dog. 
Do you have a dog? Do you have a home? Does your dog eat? Then a dog feeding station is right for you!
Feeding stations for dogs come in all shapes and sizes, (which we'll get to in a moment), but for the most part their purpose is to keep the area around which your dog eats clean or as clean as possible. 
You may find that you only need a simple feeding station, like a rubber mat to place beneath your dog's food bowls. Or, if you're an especially organized dog owner, you might be on the hunt for a feeding station that comes all tricked out with drawers, compartments, and the works. 
Regardless of which type of feeding station you choose for your dog, there are some traits experts suggest you look for to ensure the station is suitable for your unique pooch before making your purchase. 
Keep reading to learn more. 
What To Look For In A Quality Dog Feeding Station

Look for dog feeding stations that are made of dog safe materials like wood or stainless steel. 
There's not a whole lot to a dog feeding station and, for the most part, these products are common, simple and made for easy owner and dog use. 
Still, there are some qualities you should look for in a good feeding station so you know it is not only right for your unique dog, but also for you. Most importantly, you'll want to make sure your dog's feeding station is safe. 
Experts suggest considering three factors when looking for the best dog feeding station for you:
Elevated vs non-elevated food bowls
Elevated feeding stations are not for every dog. Some veterinarians and even some studies have shown that elevated food bowls can actually increase the rate of Bloat in dogs. If you have a pup that is at high risk of suffering bloat or suffering from other issues related to it, don't get your dog an elevated food station. 
On the flip side, elevated food bowls can be a great benefit to senior dogs or dogs with joint or neck issues. If you aren't sure if your dog is a good candidate for an elevated dog feeding station, we suggest speaking with your veterinarian. 
Cleanliness is important. And since we already know that dogs are messy, you'll want to make sure that any feeding station you invest in is easy to clean. We love the dog feeding stations that are dishwasher friendly and made with non-toxic, dog safe materials. 
Storage may be your top priority when it comes to finding an ideal dog feeding station. However, please note that many dog feeding stations don't have storage options. We suggest you read the reviews, consider what you are trying to store in your dog's feeding station, and take some measurements before purchasing one. 
How Many Different Types Of Dog Feeding Stations Are Available?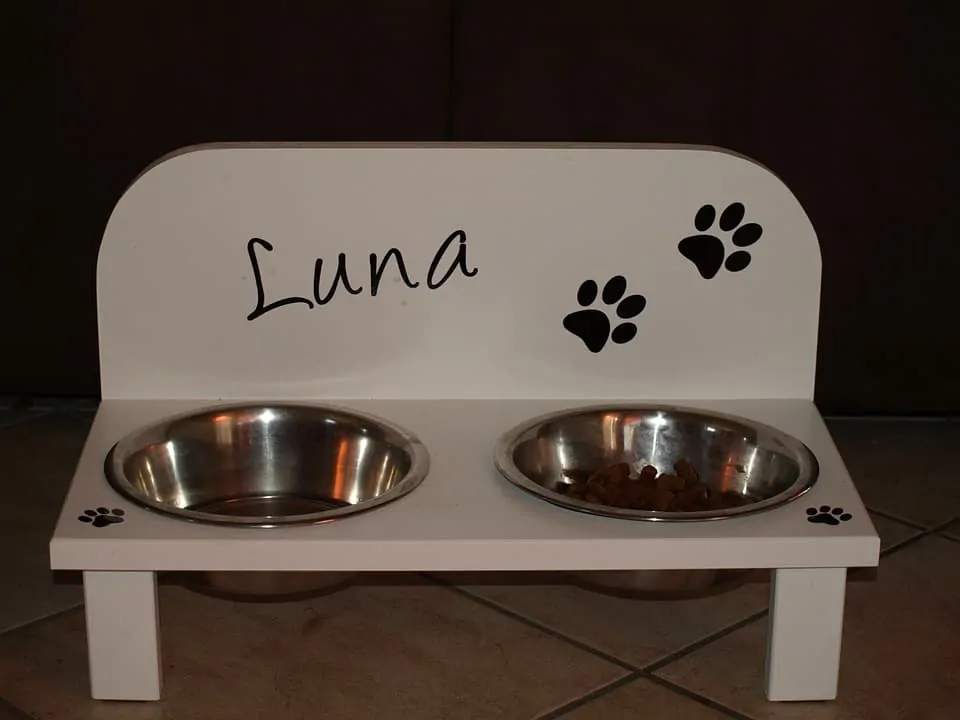 Dog feeding stations come in all shapes and sizes and can serve different purposes.
Based on our research, there are a few different types of feeding stations for dogs. Some are simply designed silicone mats made to hold your dog's food bowls and keep your dog's kibble and water from going all over the floor.
Other stations are designed to look like furniture and not only hold your dog's food bowls, but also hide your dog's food, toys, and leashes in drawers and cabinets. 
And then there are the feeding stations that fall somewhere in between. The type of dog feeding station you get for your dog should be determined by your needs and expectations. If you aren't sure which type of feeding station would be right for you, don't worry. We have listed a variety of our favorite dog feeding stations below to get you started. 
Roomfitters Pet Feeding Station And Storage Organizer 
Let's start with this gorgeous feeding station by Roomfitters. We love that it comes with two stainless steel dog bowls which are easy to clean and dishwasher safe. 
This is the ultimate dog feeding station for organized owners as it includes a cabinet that pulls open and is perfect for storing dog food, leashes, dog toys, or whatever else you decide to hide away. 
Better still, your dog's actual feeding station below slides out in a drawer and is easily tucked back under when mealtime is done. And for a cuteness factor and total bonus for you, the top of the station includes two shelves for, well, anything really. 
Two top shelves for organization
New Age Pet ecoFlex Piedmont Pet Diner And Storage
If the above station is a little too complex for you, then perhaps you'll like this one. This feeding station by New Age Pet comes in three different colors including white, grey, and black so it should fit in well with most design needs. It also includes a cabinet for dog food or canned food underneath.
This product is made of wood which is non-toxic and safe for pets. It is also made durable and built to last, so it's great for rough dogs or dogs who can be hard on things. 
This feeder stands about 15 inches tall and is described as being best suited for taller dogs. It is an elevated dog feeder, so keep that in mind. And, like the above station, this product Includes two stainless steel bowls. 
We should note that the New Age Pet dog feeding station does require a minor amount of assembly but it promises you that no tools will be needed. 
PUPTECK Elevated And Adjustable Bamboo Pet Feeding Station
The Pupteck dog feeding station is beautiful. It's a sleek, simple design made of natural bamboo and is even adjustable for dogs of different heights.
There is no specific storage space for this station but there is an open space beneath it for storage if needed. We love this simple, clean design and we of course love that it includes two stainless steel, dishwasher safe dog bowls. 
The Pupteck dog feeding station is an elevated feeder, which can help support neck and joints for senior dogs but is not recommended for dogs at a higher risk of suffering from bloat, as we discussed above. 
Is simple to keep clean
IRIS USA Elevated Dog Feeder With Airtight Storage
This is another elevated dog feeding station we like for senior dogs. It also comes with two stainless steel food and water bowls for your convenience. Best of all, it sits on top of airtight storage container for dry pet food. 
We love that it also comes in three colors including black, white, and green, and
and different sizes including small, medium, and large.
Pawfect Pets Elevated Pet Feeder
We love this elevated feeder by Pawfect Pets not only for it's adorable name  but also because it Includes not two but four stainless steel bowls!
This product works well for both dogs and cats and is spill proof, skid proof, easy to clean, and helps support neck and joints for older dogs. 
And while there is no specific storage container or cabinet built to this product, the bottom is open and one can create a storage space there as needed. 
The simple design of this product makes for easy assembly and easy cleanup. 
Flexzion Elevated Dog Feeder With Storage Tray
The Flexzion feeding station comes in two sizes including 14 oz and 18 oz, making it great for small or medium sized dog breeds or mixes.
You already know we love the natural bamboo design and the cute little cubby on the bottom for storage of toys, treats, leashes, ect. This can be used for both dogs or cats, but keep in mind it is an elevated feeder. So while it may be suitable for senior dogs, it is again not ideal for dogs at higher risk for bloat. 
Groove This Woodshop Personalized Dog Feeding Station
Handmade items are always something to call home about, and this dog feeding station by Groove This Woodshop is no different. Our most favorite thing about this feeding station is that it's not only handmade, but it can be personalized. 
That's right, your dog's feeding station can be donned with his or her name. Way too cute, right? 
The materials are also sturdy and durable, and the product includes a waterproof storage cabinet underneath for food, toys, leashes, and more. 
And for those of you with a specific design preference, the top of the feeder comes in several different colors including blue, brown, magenta, grey, and green
It also comes in a few sizes including extra small, small, medium, and large. 
XCSOURCE Elevated Dog Feeding Station For Small Dogs 
If you only have small dogs, then you'll love the XCsource Elevated feeding station. This product is made specifically for the littlest pooches in our lives. It includes two two stainless steel bowls and even has a pull out drawer underneath to store dog food, treats, toys, leashes, and whatever else you can think of. 
The elevated feeder helps reduce neck and back strain and is great for senior dogs. It is also  spill and skid proof so it's good for dogs who are extra messy or excitable during meal times. 
The weighted stand means it won't be easy to knock over and the natural wood design lets you know this product is going to look beautiful and sleek in any home. 
Casual Home Pet Feeder With Storage
If you're into that farmhouse look, then look no further than the adorable, two toned farmhouse design of this dog feeding station by Casual Home. 
The station isn't only cute, it's functional with an inside storage cabinet to hold all your dog's special items. It also includes two aluminum dog bowls, however we will say we suggest you swap those out for some high quality stainless steel bowls, which are more durable. 
This item is larger and is best suited for dog parents with medium to large sized dogs. And, as any farmhouse furniture should be, this station is made of quality wood materials and is built to last. 
Neater Pet Brands Dog Feeder Deluxe
As an obsessive organizer, anything with the word "neater" in it is going to catch my attention. Of course, there has to be more depth than a catchy name when it comes to buying products for my dog, and the dog feeding station above does not disappoint. 
It comes in three sizes including small, medium, and large and it also comes in six colors. 
This is a great product for those who have messy little eaters on their hands as it is spill proof, skid proof, and dishwasher safe.Elevated feeder
It is great for dogs of all sizes, however, there is no storage included. Still, this product does come with two food and water bowls, which is always a plus. 
FOREYY Adjustable Elevated Dog Feeding Station
If you are in need of any adjustable feeding station for your dog then this may be the brand for you. It comes with an option of adjusting it to five different levels, making it great for puppies who need a feeding station they can grow into. 
It is also great for multi-dog households as it comes with two trays that hold your dogs' dog bowls. This means that each dog will have his own space to eat and won't have to wait. It also means you don't need to buy two feeding stations. 
The feeding station is elevated and includes silicone mats for both trays which helps to keep the dog bowls from slipping during meal time. Railings on the side also help to keep the bowls in place and from spilling. 
This product is made of bamboo and has a no-slip design so it is easy on floors and hardwood. 
URPOWER Non-Skid Silicone Pet Feeder With Bowls
We talked a bit above about simple, silicone mat feeding stations and this is one such product we love. It is great for those of you looking for something to easily clean and that will help keep loose food and water from your floors.
The cute bone design comes in four color options. It is also large and will hold larger dog bowls or multiple dog bowls. 
The product is made of easy to clean silicone which helps reduce slipping and comes with two stainless steel food and water bowls which are both rust resistant and dishwasher safe. 
Since this feeding station is just a simple silicone mat, it is not elevated and is great for dogs who are prone to suffering from bloat or who may otherwise not do well with an elevated dog feeder. 
Pedy Elevated Dog Feeding Station
No products found.
The Pedy feeding station is another station that Includes four stainless steel bowls, which any dog owner knows you can't have enough of. It is elevated, making it ideal for senior dogs with neck and back issues and is made of natural bamboo.
What we love most about this unique feeding station is that it not only has a sleek design, but it folds away for easy storage or transportation. It is also adjustable and is great for puppies who need to grow into their feeding stations, or dogs of different sizes. 
Ideally, this feeding station measures between 6.71 inches to 10.2 inches. And since it folds away, it is a great station for those with apartments or small spaces.
Bonza Silicone Feeding Station Mat For Small Dogs
Another great feeding station for small dogs or small spaces is the Bonza Silicone Feeding Mat. It is approximately 15 inches x 9 inches, according to the reviews, and comes with two stainless steel bowls which are dishwasher safe. 
The silicone design helps catch any food or water spills and the non-slip design helps reduce skidding. 
Best of all, not only are the bowls dishwashers safe but the mat is dishwasher safe! Talk about easy cleanup! 
Upsky No-Spill Resin Feeding Station
The last dog feeding station on our list is the Upsky No-Spill station. It comes in three different colors and, like many of the stations included above, comes with two stainless steel bowls.
It is a no spill design and is created especially to help catch food and water in the surrounding areas where your dog eats, making it an ideal station for messy or excitable eaters.
The no slip design means your dog will have a tough time spilling his meal. This feeder is slightly elevated by 0.8 inches, so if you have a dog who is prone to experiencing bloat we suggest speaking with your veterinarian before making the purchase. 
Tips On Picking The Best Dog Feeding Station For You And Your Dog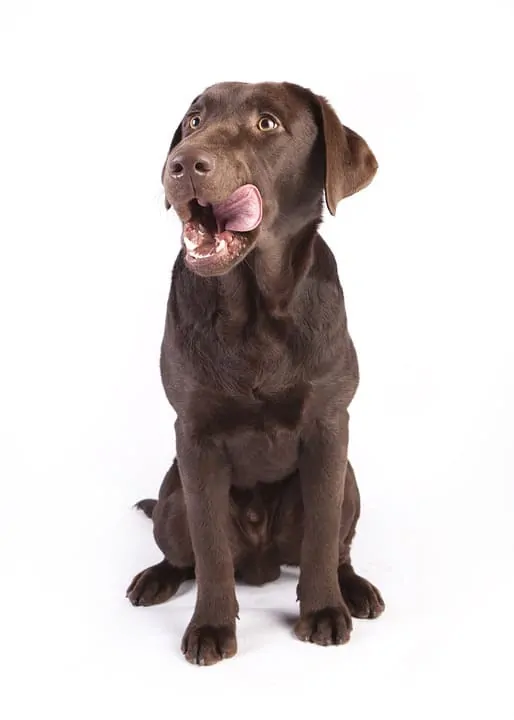 Do you know which type of feeding station would be right for your on-of-a-kind pup?
Remember, not all dogs are going to do well with elevated feeding stations, just as not all dogs are going to do well with just a silicone mat. 
Keep your unique dog in mind before investing in a feeding station and remember, picking out a durable dog feeding station that is easy to clean, non-toxic, and also suitable for your needs is key. 
With that being said, our biggest tip is to do your measurements, especially if you are looking for a dog feeding station that doubles as storage. Some of these stations listed above may be larger or smaller than you anticipate and it's never fun ordering one thing and receiving something entirely unexpected. 
Last but not least, if your dog is a finicky eater, is more at risk of suffering from bloat, or is a senior dog with neck or joint issues, we highly suggest speaking with your veterinarian about the best type of feeding station they would recommend to help your dog thrive. 
We hope this article has been helpful and that you have found some good feeding station options above!
Are you thinking of using one of the above feeding stations for your dog? Tell us which one you like best in the comment section below.