I don't know about you, but my dog eats a lot. In the beginning of my pet parenthood, I began to feel as if my pup's food bags were taking over my apartment! Worse, I started to notice that her kibble sometimes went bad before the 'best by' date on the packaging said it would.
Luckily for me, I discovered dog food storage containers. These nifty little bins allow me to keep my pup's treats, kibbles, and sometimes even her water fresh and organized. 
Are you looking into purchasing a storage container for your dog's food? Then you've come to the right place. We've done our research and we know what qualities make for a good dog food storage container. We've also listed fifteen of our favorite brands just for you! 
But First, What Is A Dog Food Storage Container?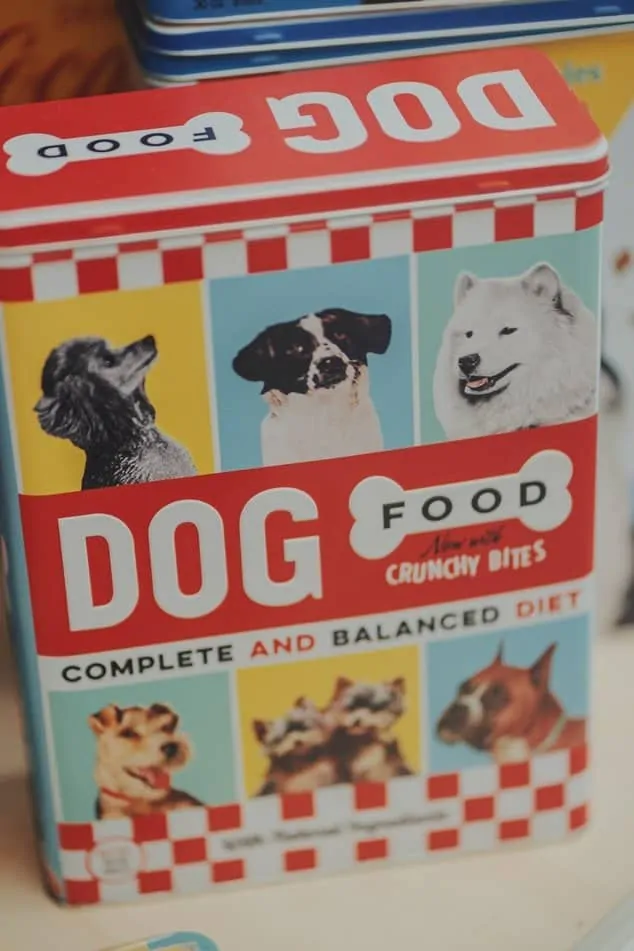 Dog food storage containers help to keep your dog's food fresh.
The purpose of a dog food storage container is pretty self explanatory, but it's important to note that good storage containers can do more than just tuck your pooch's food away so it's out of sight and tidy. 
When my dog's food started going stale earlier than it was supposed to, my veterinarian recommended I get some high-quality, air-tight storage containers for both her treats and her dry kibble. 
The right storage container, I was told, will not only keep my dog's food from going bad before its expiration date, but it will also help seal in the nutritional value and may even prevent my dog from getting food-related illnesses. And since I'm all about keeping my dog as healthy and happy as possible, I decided that buying a storage container for her food was a no brainer. 
Let's learn more. 
How Do Dog Food Storage Containers Help Keep Dogs Healthy?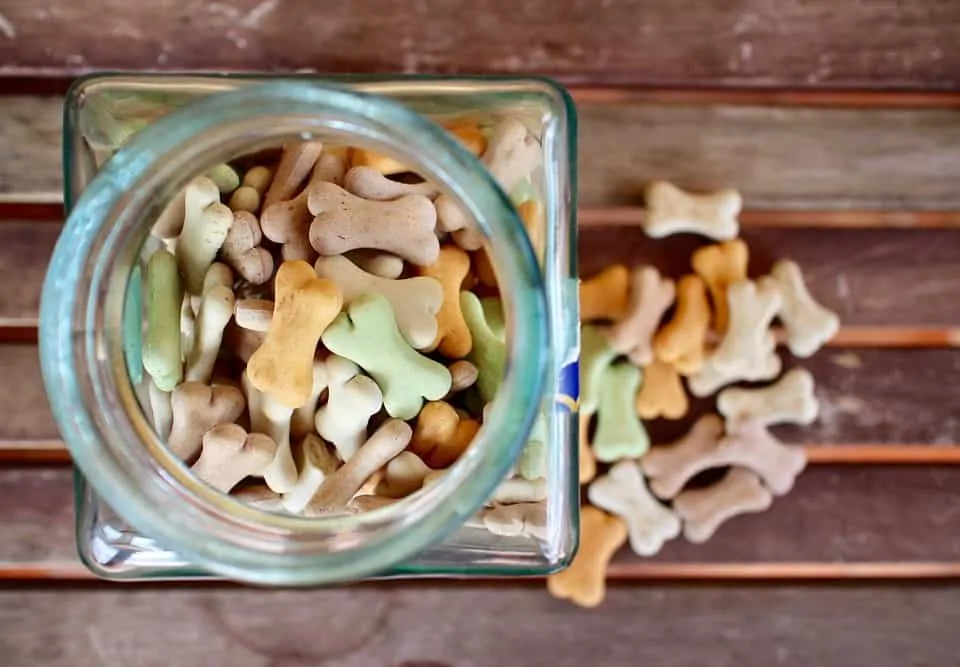 Dog food storage containers should be air tight and stored in a cool, dry place. 
It's a common misconception that dogs can eat anything and not get sick when in actuality, dogs have very sensitive digestive systems. 
Aside from the obvious foods dogs shouldn't eat like chocolate, grapes, and onions, dogs can and do get sick from eating dog-approved foods that have expired, gone rancid, or become moldy. 
For those of you who prefer using canned foods, keep in mind that unopened canned food can last for up to several months. However, once your dog's canned food is opened and exposed to the elements it should be sealed in a food-safe container and refrigerated. Even then, wet dog food is only good for 24 hours after it has been opened.  
Think you're safe with dry kibble? Think again. Even dry dog food can go bad before it's "best by" date if it's not stored properly, which can lead to your dog developing food-related illnesses that can cause diarrhea, vomiting, and more. 
Veterinarians warn that warmer temperatures, moisture, and air all play factors in the overall freshness of your dog's food and can begin degrading your dog's dry kibble from the moment the bag is opened. 
This is why many experts and even veterinarians recommend proper food storage containers for dogs to help keep their dry kibble fresher longer and to help reduce chances of it spoiling, growing modley, or allowing easy access to pests who are looking for a sneaky snack. 
So, what types of storage containers are best? Let's take a look. 
Here Is What You Should Look For In A Good Dog Food Storage Container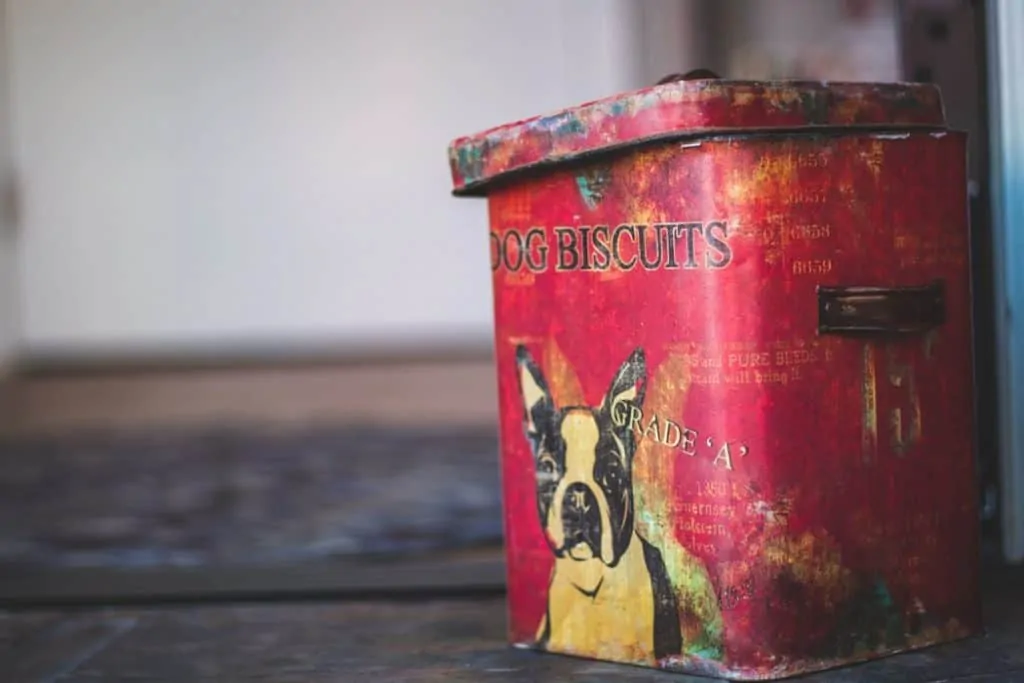 Most food storage containers come in different shapes and sizes, but their purpose should all be the same – to keep your dog's food fresh and healthy.
The best dog food storage containers should have the same qualities, according to experts. Great storage containers should:
Seal shut
Be air-tight
Be made of high quality materials like durable plastic or stainless steel
Be dishwasher safe or otherwise easy to keep clean
Not sure where to start looking for the best storage containers with the above qualities? Don't worry. We've done some of the foot work for you. Join us as we take a look at some of the best dog food storage containers below. 
IRIS USA, Inc. 3-Piece Airtight Pet Food Storage Container 
The IRIS container has an airtight lid that seals shut, helping to keep food fresh and hold in the nutritional value as long as possible. 
And while the bottom part of the container is clear and made with BPA free plastic, the top part is solid and comes in nine different colors.
Two storage containers come in a pack, including a 33-quart container which holds up to 25 pounds of kibble and a 12-quart container which holds up to 10 pounds. 
The small container is perfect for pet owners on the go who may be embarking on flights, road trips, or camping trips. They are also ideal for having on hand in your pet's disaster preparedness kit. 
A food scoop is also included with your order for easy feeding options. And since this kibble storage container holds such large amounts of dry food and can get heavy, roller wheels make for easy maneuvering and storage. 
Gamma2 Vittles Vault Outback Airtight Pet Food Storage Container 
Another plastic airtight storage container we love is the Gamma2 Vittles Vault container. This is a popular kibble container that many of my clients use. They love it for it's easy open turn lid, which seals shut tightly and helps keep food fresh and safe from pests. 
This container is built with BPA free plastic that is durable and very strong. The design also makes for a unique, stackable storage option and containers can store both food and water. 
Each food storage container holds up to 40 pounds of pet food and is made specifically with pet safe plastic material. The containers also come with a dog food scoop for easier meal times. 
Bone Dry Dll Lattice Square Ceramic Pet Food Storage  
While it is true that we recommend dog food storage containers be made of quality materials like stainless steel or durable plastic, some high-quality ceramic designs can work well too. We love this adorable ceramic dog food storage option not only for it's gorgeous look, but also for its functionality. 
As you can see, it is dishwasher safe, easy to clean, and has a silicone, airtight seal to help keep dog food fresh and nutritions. 
You can store either water, food, or treats in this ceramic food storage container and the bin comes in four colors with cute paw print designs. 
With that being said, we do recommend that you keep your pet's food packaging size in mind as this product is smaller than you may need if you have a larger dog, although it does come in three different canister sizes. 
If you like this storage container option, then you may also like the fact that you can purchase matching ceramic food bowls to go along with it. 
Kytely Airtight Pet Food Storage Container With Pour Spout 
This airtight pet food storage container by Kytely actually has two silicone seals and four lock buckles to ensure your dog's kibble stays extra fresh for as long as possible. 
It is an especially great dog food storage option for dog owners who live in humid environments. We also like that the plastic storage compartment is transparent so you can easily see how much kibble is inside and when it's time to run to the store to buy more.
The Kytely pet food storage container also Includes a measuring cup for those of you looking for portion control, but keep in mind that this is a smaller storage container and may be best for those of you with small dogs or for simple traveling needs as it only holds up to about 3.5 pounds of kibble. 
Snapware Airtight Pet Food Storage Container
No products found.
We like that this storage container option comes in 11 different sizes with options to carry anywhere from 0.5 cups to 40 cups of kibble. The airtight container also promises to keep out moisture and pests while keeping your dog's food fresh.
The lid is leakproof and has four locking tabs with a handle for easy carrying. When closed and locked, the kibble shouldn't spill out, making this storage container a great product for the dog owner with a larger dog who may get excitable during feeding time. 
We love that this container is simple, made of BPA free plastic, and is safe for both human and pet use. It is also easy to clean and dishwasher safe. 
Simplehuman Brushed Stainless Steel Pet Food Storage Can
This is possibly one of the best stainless steel dog food storage containers we came across during our search and we love it for a number of reasons. 
Of course, stainless steel is safe and lasts longer than plastic storage containers, but we also love the sleek looking brushed design. The container comes in three different sizes from medium to extra large and holds between 25 to 35 liters of dog kibble. 
The lid has a silicone seal which helps to keep food fresh and free of moisture, while a magnetic food scoop can be stuck to the side or mounted to the lid for extra convenience. 
There is also a bucket inside the storage container which is removable and made of BPA free plastic for easy cleaning options. Last but not least, the back wheels help owners to easily maneuver the storage container around when it is filled with heavy kibble
Gamma2 Vittles Vault Pet Food Travel Container 
For dog owners on the move, this 2-in-1 airtight travel container kit that comes with an easy handle for traveling is a must. 
Both the top and the bottom can be unscrewed and used for food and water bowls on the fly, making this an excellent product to have for camping trips, flights, or simply in your pet's disaster preparedness kit.  
It of course has all our favorite features, like an airtight seal and pet-safe materials. It only holds about three cups of dry kibble or three cups of water, though, so this storage container is clearly not for long term use. 
Lock & Lock HPL510 Easy Essentials Food Storage Container
Dog food storage containers that are dishwasher safe are always going to be some of our favorites, especially since keeping your dog's storage container clean is such a large part of keeping his food healthy and fresh. 
This storage container is dishwasher safe and comes in five sizes, making it great for small to large dogs. It can also be used for travel or you can buy multiple containers depending on your needs, as the varieties available hold anywhere from one cup of dry kibble to 50.7 cups.
The unique design makes for easier storage and the back wheels help owners with larger dog food storage containers maneuver. The material is BPA transparent plastic and the airtight lid flips open or locks shut. This product also comes with a food scoop. 
Incredible Solutions 95200 Pet Food Storage Container
The above dog food storage container by Incredible Solutions is best suited for small to medium sized dogs as it holds about 10 pounds of dry kibble. It is made with pet safe transparent plastic and has a snap-tight lid to ensure prolonged freshness and no spilling.
One of the things we love most about products that are made with transparent plastic is that you can easily store your dog's food inside the container in its original packaging, which allows you to easily read labels, follow feeding instructions, and keep up with the 'best by' date. 
Buddeez Pet Food Storage Container And Dispenser 
The Buddeez food storage container is perfect for dog owners looking to make filling their dog bowl an easier task. It offers a bag-in feature so owners can keep an eye on their dog's food labels, as we mentioned above, by keeping it stored in its original packaging.
We also love the built-in spout and handle which makes pouring your dog's food into his bowl much easier. 
The product is made with BPA free transparent plastic and the lid and spout snap closed to seal in freshness between uses. 
Paw Prints Food Bin Wordplay Storage Container
If you are looking for a dog food storage container option that is both cute and practical, look no further than the Paw Prints Food Bin with a word play design. We can't get over the color and cuteness of all the words and dog silhouettes that decorate the outside of this container. 
The back of this container is also flat so it sits up against a wall or back flush inside a cabinet, which is always helpful when it comes to storage. Best of all, we love the gasket-sealing lid which locks in freshness when closed and flips open when you are ready to feed your pooch. 
Like many of our favorite dog food storage containers on this list, this product also Includes a measuring scoop.
TIOVERY Pet Food Storage Container
We are definitely fans of this pet food storage container by TIOVERY. It has all of our favorite features including an airtight lid, buckles that lock for extra security, and even a pourable spout for easy feeding time.
And for those of you who have pups that need a bit of portion control, this product also includes a measuring cup scoop so you know exactly how much food you're feeding fido during breakfast and dinner. 
This container is made with BPA free plastic that is both durable and transparent. It is easy to clean and, as a bonus, comes with a free collapsible pet bowl for owners on the move. 
Buddeez 12.5 Gallon Roll-Away Pet Food Dispenser
Another dog kibble storage option that is made with BPA free plastic is the Buddeez roll-away food dispenser. 
The Buddeez Roll-Away Food Dispenser is made with a unique design and shape, offering more storage options for your convenience. It also includes a food scoop which helps to make mealtimes easier and a lid that flips and locks for extra food freshness. 
The transparent plastic offers a bag-in feature which helps us to keep track of the "best by" date and other important labels and instructions. The container also includes back wheels for easy maneuvering and storage and holds up to 12.5 gallons of dry dog kibble.
IRIS Small Elevated Feeder With Airtight Dog Food Storage 
Are you looking for a dog feeder and food storage bin in one? Then look no further than the IRIS Elevated Feeder and Storage Container. 
This product offers owners the best of both worlds with an elevated dog feeder that includes two stainless steel bowls on top of an airtight storage container. The product comes in three different sizes including small, medium and large, and also comes in three colors.
The bottom part of the air-tight container is clear so you can see how much kibble is left inside or store your dog's food in the bag and easily read the labels. Please note that this storage container holds up to 54 cups of dry dog food and that the lid is spill-proof. 
OXO Good Grips Pop Food Storage Container
So this product may not be specially designed for pets, but that doesn't mean it's not a perfect candidate for this list of storage containers. We love that it is made for freshness in mind and seals tightly, keeping the food fresher longer. 
Plus, the clear plastic design is great for in-bag food storage so that you can see labels and read the ingredients in your dog's dog food. We also like that you can keep up easier with the "best by" date, as we've mentioned above.
The plastic is durable and BPA free and the container comes in several different sizes which makes it perfect not only for different sized bags of kibble, but for different storage options.
How Else Can I Keep My Dog's Food And Treats Fresh And Healthy?

There are other ways you can help keep your dog's kibble fresh. 
Along with keeping your dog's food stored in an airtight storage container, there are other ways you can help keep your pet's food fresh by following some of these pro-tips. 
Store your container in a cool, dry place.
Remember that temperature, moisture, and air all play factors in how quickly your dog's kibble can deteriorate. You can get the most out of your dog's food and your storage container by keeping it stored away from the elements. 
Keep your dog's kibble stored in its original bag inside the container. 
Yes, that's right, you are doubling up on the freshness for your pooch by storing his food in its original bag and a storage container. Why? Because storing your dog's food in its original packaging helps the kibbles hold on to the healthy oils and fats for longer, which keeps the kibble's original nutritional value in tact. 
Furthermore, keeping your dog's food stored in its original bag also allows you to keep all the information of your dog's food at hand including the "best by" date, the nutritional information, and any information regarding the dog food brand in case there is ever a recall or health alert issued. 
Purchase high quality dog food 
It may go without saying that the quality of your dog's dry dog food will play a role in the freshness and nutritional value, so make sure you don't skimp on ingredients and do plenty of research to ensure you are giving your dog the right food for his age, weight, and activity level. 
Choose quality over style 
Sure, no one wants an eye sore in their home, but the most important aspect of your dog's food storage container is how well it works, right?
It's important to go for quality over style, but rest assured there are brands that offer both function and looks, so in the end you may not even have to compromise. 
We hope you were able to find the right dog food storage container for your dog on our list above. Do you have other dog food storing tips for our readers? We would love to hear from you. Let us know your thoughts in the comments section below.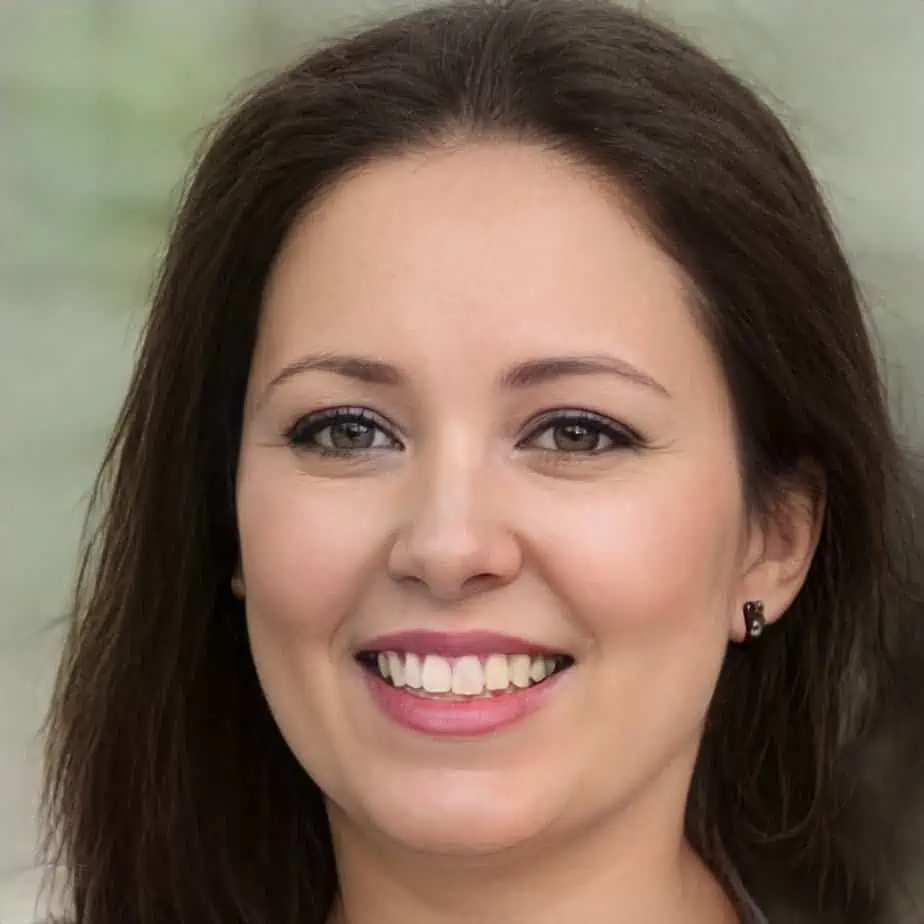 Jen Jones is a professional dog trainer and behavior specialist with more than 25 years of experience. As the founder of 'Your Dog Advisor' and the 'Canine Connection' rehabilitation center, she applies a holistic, empathetic approach, aiming to address root causes rather than merely treating symptoms.
Well known for her intuitive and compassionate approach, Jen adopts scientifically-proven, reward-based methods, encouraging positive reinforcement over punishment. Jen specializes in obedience training, behavior modification, and puppy socialization. Her innovative methods, particularly in addressing anxiety and aggression issues, have been widely recognized. Jen has worked with many of the world's leading dog behaviorists and in her free time volunteers with local animal shelters and rescue groups.