Dogs are the greatest, there's no doubt about it. But they can also be pretty messy and completely clueless as to how we humans feel about material things like clothing, shoes, and furniture.
That said, some dogs are also harder on our material items than others. But we're not just talking about dogs with destructive behaviors. Any dog can be messy, and the places in our homes that tend to suffer the most are couches, chairs and beds.
Recently, I moved to a new apartment and splurged a little bit on furniture. I'm a dog mom, but I'll admit that when I was out furniture shopping I was not thinking like a dog mom at all. I was thinking like a Kardashian.
Thus, I irresponsibly dropped a whole lot of money I didn't have on a very expensive couch, only to get home and have my dog immediately choose it as her favorite new napping spot. That was fine. I could remove the dog hair and fluff the pillows, no big deal.
But it became a big deal when, two days later, my dog brought a peanut butter filled Kong toy up onto the couch and buried it in one of the cushions. Thus, it was then that I realized I needed to invest in a couch cover for your dog.
Now, I know what you're thinking. Why would I get a nice couch only to cover it up? Isn't that going to look tacky? I was truly worried about this, honestly, but after some careful research I was able to find a plethora of couch cover options that were not only totally functional, but also super adorable.
And today, I'm going to share my findings with you!
What Are Dog Couch Covers?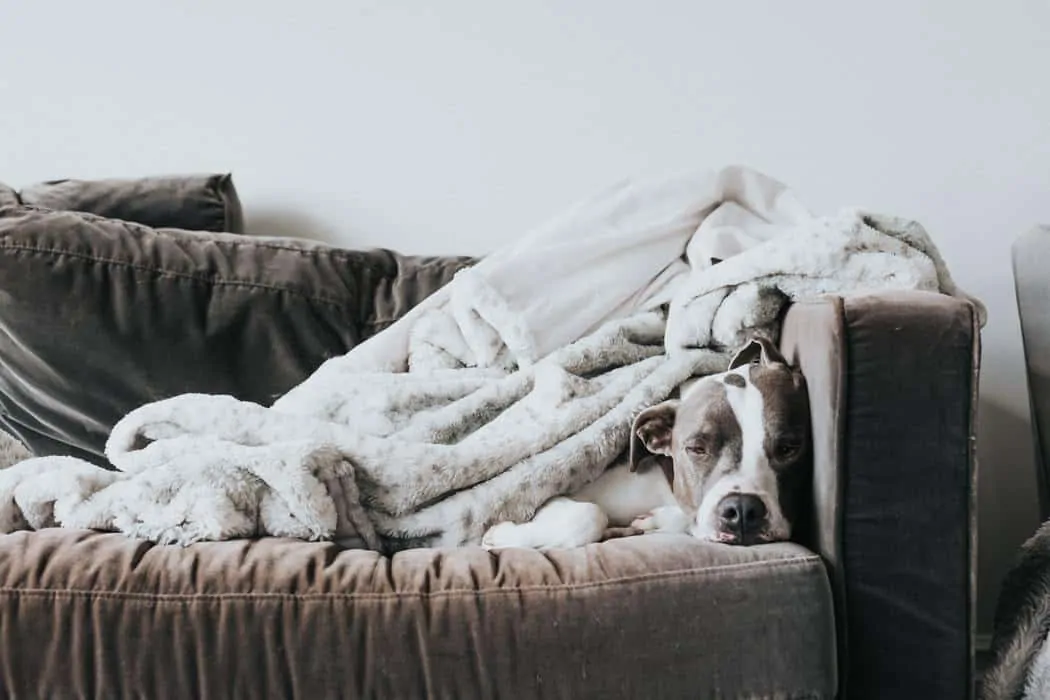 Couch covers can help protect your couch from dog hair, scratches, stains and more.
A dog couch cover is a couch cover specifically designed to protect your furniture from messy dogs. Couch covers differ from other types of furniture coverings because they are typically water resistant, stain resistant, and scratch resistant.
What we love best about good, high quality couch covers for dogs is that they also help protect our couches from human errors as well. Messy kiddos and even messy adults can find that their couch cover saves them time, money, and stress.
Best of all, dog couch covers are really not too expensive. They're also easy to put on and take off, and super simple to clean.
It's a win win!
Do Couch Covers Work On All Types Of Couches?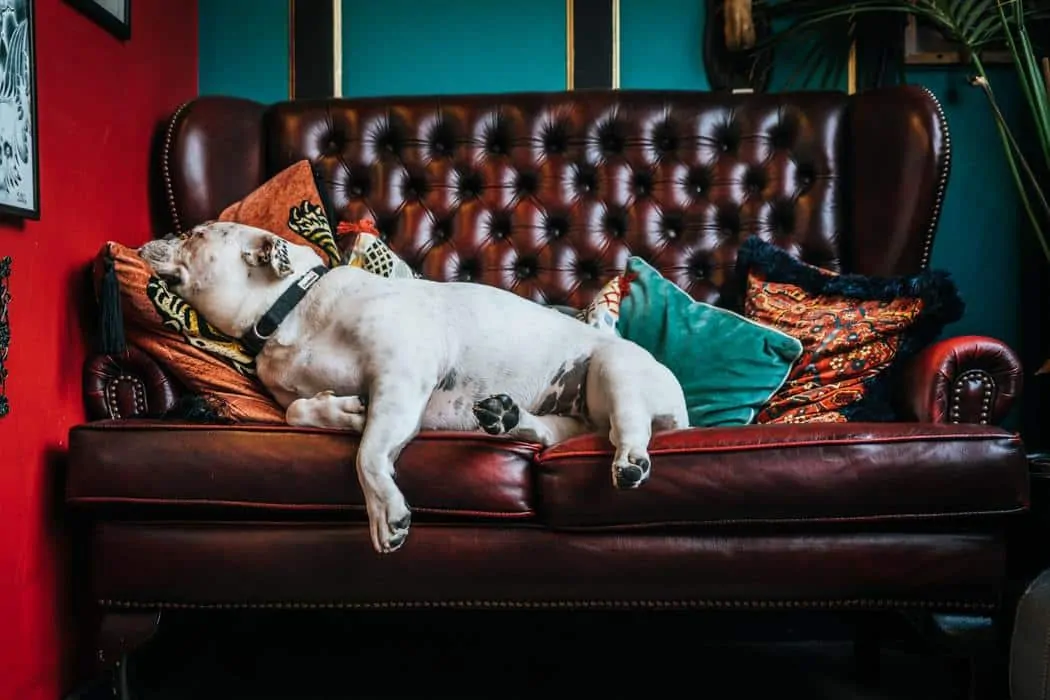 Leather couches hold up against dogs pretty well, but even they can benefit from a couch cover.  
So, unfortunately, not all couch covers are going to work on all couches and sofas. In fact, it's especially difficult to find couch covers to cover leather couches and it's sometimes difficult to find couch covers to fit L-shaped couches, love seats, and recliners.
Typically, generic couch cover products are stretchy and fit over mediums sized sofas, but if you look long and hard enough we do want to assure you that you can find dog couch cover products for most of your living room furniture.
That said, it's important to read the couch cover description carefully before you purchase it and make sure you do proper measurements so you know that the cover you order is going to fit your unique couch. Not only that, but it's also a good idea to make sure your couch cover provides the protection to your couch you are looking for.
Do you need some tips on how to pick the right couch cover for you? Then keep reading!
Tips On Picking The Right Couch Cover For Your House And Dog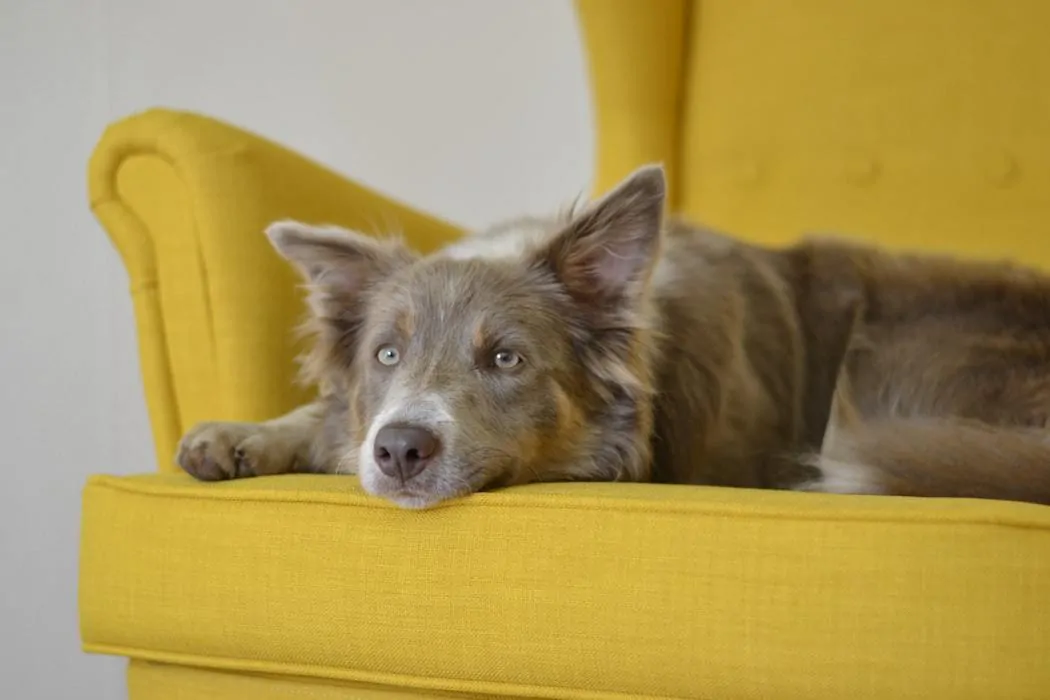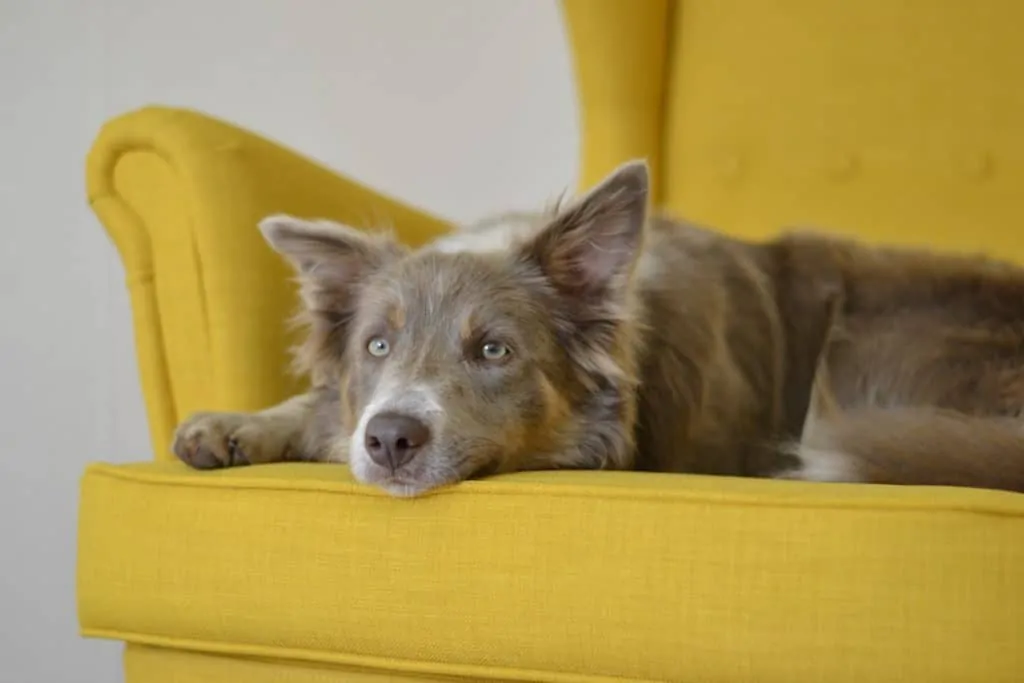 We suggest picking your couch cover based on your needs and your dog's size.  
As we mentioned above, not all couch covers are going to provide the same level of protection, so be careful and diligent when doing your online shopping.
We like the dog couch covers that are stain, spill, and water resistant. We also like couch covers that are textured. Velvet couch covers for dogs tend to help keep loose pet hair at bay while polyester and spandex couch covers will be stretchy and easier to wash and keep clean.
If your dog is a digger or likes to burrow, we recommend investing in a couch cover that is thick and made of durable material so it protects your couch from scratches and rips. We also recommend you try and look for a dog couch cover that is machine washable.
If you're not sure where to begin looking for the right dog cover for your couch, don't worry. We have fifteen of the best couch cover products available online below.
Mighty Monkey Reversible Sofa Protector
The first couch cover on our list is both functional and fashionable. It's a reversible cover that not only protects against dog wear and tear, but kid wear and tear as well. It's stain resistant, water resistant, and reversible.
This couch cover is also fitted and can be ordered to most any couch. It comes in small, large, and extra large or oversized. It's easy to put on and simple to take off if you  have company coming over, but you may not feel the need to take it off because it comes in such a wide variety of colors, patterns, and styles.
Best of all, if anything happens to this dog couch cover in the ten years after you purchase it or if it doesn't work, the company offers a ten year warranty. You can't beat that!
Sofa Shield Reversible Large Sofa Protector
This product is similar to the dog couch protector above. It comes in a wide variety of colors and can be fitted to most couch sizes, but is ideal for large couches as it has a seat width that measures up to 70 inches.
It's super affordable and comes in fourteen reversible colors and can even be ordered in different patterns, including an adorable paw print pattern! The sofa cover protects against stains, spills, dogs and kiddos and even comes with a lifetime warranty.
And while we do love this dog couch cover for all its versatility, it's patent pending design, and adorable patterns, we should note that this is not a good dog sofa cover for sofas that are leather.
Furhaven Pet Reversible Furniture Cover
Furhaven offers a dog couch protector that is specifically designed to protect against the wear and tear of dogs. In fact, it's actually designed more as a dog bed and couch cover than a complete couch cover, which means you can designate a spot on your couch for your dog to sleep while still being able to enjoy the furniture you picked out originally.
However, keep in mind this isn't a complete couch cover so if you are looking for a dog sofa cover to completely protect your furniture this would not be it.
That said, it does come in a number of adorable designs and even has a pillow border to help protect your furniture and keep your dog cozy and comfy while laying there. And since this dog sofa cover doesn't completely strap or slip over your furniture, you can move it around easily and even use it on beds and chairs.
Easy-Going Sofa Slipcover
Finding couch covers for L-shaped couches can be tough, but we managed to find one such product offered by a company called Easy-Going. This is a complete couch cover design that is made to protect your entire couch from top to bottom and is an excellent dog sofa cover for dogs who are heavy shedders.
The cover protects against stains, spills, and usual wear and tear and, like many of the dog sofa covers on this list, it's reversible and comes in different designs and pattern styles.
But what we like most about this dog couch cover is that it's completely machine washable.
Easy-Going Waterproof Couch Cover
If you loved the Easy-Going L-shaped couch cover design above but you don't have an L-shaped couch, don't worry. Easy-Going also has a waterproof couch cover with the same technology for sofas.
Like it's counterpart above, this dog couch cover is available in a couple different sizes and several designs and colors, so you should certainly be able to find the dog couch cover that perfectly matches your home decor.
And if your dog (or child) is super hard on furniture, don't worry. This couch cover is 100% waterproof and machine washable.
OstepDecor Dog Couch Cover
So this dog couch cover is pretty unique and we like it because it's sold by the piece as opposed to an entire covering. This means you can completely customize it to your furniture and even buy pieces to fit chairs, loveseats, recliners, and L-shaped couches.
The design is beautiful and made of velvet, which actually reduces the cling of pet hair. It also protects against spills and stains while keeping your couch looking lovely.
You can remove these pieces easily or leave them be, and when they do get soiled they are machine washable for easy cleaning.
Tewene Velvet Couch Covers
Did you like the idea of purchasing your couch cover by the piece as opposed to an entire section? We loved that idea too, so here is another option by a company called Tewene. They offer high-quality velvet couch covers sold by the piece as well so you can customize your couch coverings and ensure all the furniture in your home is not only protected, but also matches.
Again, the velvet design reduces the attachment of pet hair so this is a great dog couch cover for dogs who are heavy shedders. It also comes in a variety of colors and sizes, so as long as you do your measurements you should be able to find the perfect fit for all of your furniture.
Easy-Going Stretch Sofa Slipcover
Although we do love the idea of sold-by-the-piece dog couch cover options, sometimes all we need is a simple slipcover to keep our furniture looking lovely for company.
If this sounds like you, then you may want to check out this one piece, super stretchy slip cover by our familiar company Easy-Going. The slip cover is made of super stretchy spandex and polyester and should fit most normal sized sofas. That said, we of course encourage you to do your measurements to ensure you get the proper fit for your unique furniture.
Once on, this couch cover fits seamlessly and protects your couch completely. However, it is not completely waterproof or stain resistant so this isn't the best dog couch cover for especially messy dogs. We would recommend this cover for dogs who just like to lounge on furniture and for owners who want to protect their furniture from shedding pet hair and daily wear and tear.
It is easy to put on and simple to remove, and it is machine washable. Best of all, it comes in a wide variety of colors so you can find the perfect shade for your living room decor.
Rose Home Fashion Leather Couch Slip Cover
Not all the dog couch cover options on our list are suitable for leather couches, which is why we really like the Rose Home Fashion slipcover, which is specifically designed to cover and protect your leather furniture.
It comes in several sizes and nine beautiful colors. You can even order this dog couch cover for loveseats, chairs, extra wide sofas. The velvet material helps reduce the amount of pet hair and the fit is completely strapless and resistant to slipping, so it's great for pets who like to jump on and off of furniture.
It is also machine washable and easy to keep clean, however, it is not completely waterproof so again we do not recommend this dog couch cover for extra rambunctious or messy pets.
Granbest Water Repellent Couch Cover
Okay dog owners, this is a great dog couch cover option for those in a hurry and who like to keep things simple. Granbest is offering a super simple slipcover option that protects your couch from top to bottom while also being water repellent.
It is resistant against all kinds of stains including red wine, so that's a plus for us humans, right? It comes in twelve beautiful colors and is made of 95% polyester material and 5% spandex, so it's not as stretchy as some slipcovers. While that can help with protection, we do encourage you to do careful measurements to ensure you get the right size.
Turquoize Slip Resistant Couch Protector
Nevermind the very obviously photoshopped dog in this picture, who, by comparison, makes the couch look like something that belongs in Hagrid's Hut. Instead, focus on this very simple, easy to apply and remove dog couch cover by Turquoize.
The couch cover is a simple remedy to dog owners looking to keep their furniture nice and new looking while also allowing their dogs to have a cozy place to take a snooze.
It comes in a few different sizes and includes two slip-resistant straps to help reduce folding, slipping and bunching. This is a great alternative to other couch covers that easily slip and move around when rowdy dogs get to scratching.
The material is stain resistant and protects against loose pet hair, spills, dust and dirt. It is also reversible and comes in a wide variety of colors for your convenience. And, as all good dog couch cover products should be, this cover is machine washable.
Turquoize 100% Waterproof Dog Couch Cover
This is another dog couch cover by Turquoize that offers 100% waterproof protection. Like it's counterpart above, this couch cover is also slip-resistant, although it doesn't include the extra slip protection straps.
Still, it's a great alternative for dog owners with especially messy dogs or for people who have kiddos who like to eat and drink on the furniture. It is not reversible but comes in seven colors to help match it to your decor. And yes, this dog couch cover is indeed machine washable.
Ameritex Waterproof Couch Cover
We like that this dog couch cover comes in a unique texture and includes an anti-slip backing with elastic straps to help keep it in place. This is specifically designed to help protect your furniture from pets and is also 100% waterproof.
It is stain resistant, machine washable, and is available in 16 different colors and style options.  You can also order it in different sizes, so make sure and do your measurements and follow the guidelines provided by the company, as a proper fit is important and will impact the ability of this dog couch protector to do its job.
Sofa Shield Reversible Sectional Protector
This is another dog couch protector that isn't meant to cover the entire couch, but meant to protect a designated part of the couch. We like it for it's simplicity and the fact that your dog can have his own space on the couch while you and your guests can enjoy your furniture in its original state.
It is made of a unique, patent pending design that is stain and spill resistant and comes in a wide variety of colors and patterns. It is meant to specifically protect against the wear and tear of dogs and kids, is completely machine washable, and comes with a lifetime warranty.
Easy-Going Cushion Cover
Last on our list and for the sake of providing you with choices, we are including this stretchy cushion cover by Easy-Going. This is a dog couch cover designed to protect your cushions, which is great for those who need a quick and simple fix for when their dog is inside.
The design is easy to stretch over the cushions and helps protect your furniture against daily wear and tear, spills, and stains.  It is also available in a wide variety of colors and is completely machine washable.
That said, before you purchase it, make sure you do your measurements and remember that this is not a full dog couch cover and does not cover your couch completely.
Expert Tips On Other Ways You Can Dog Proof Your Home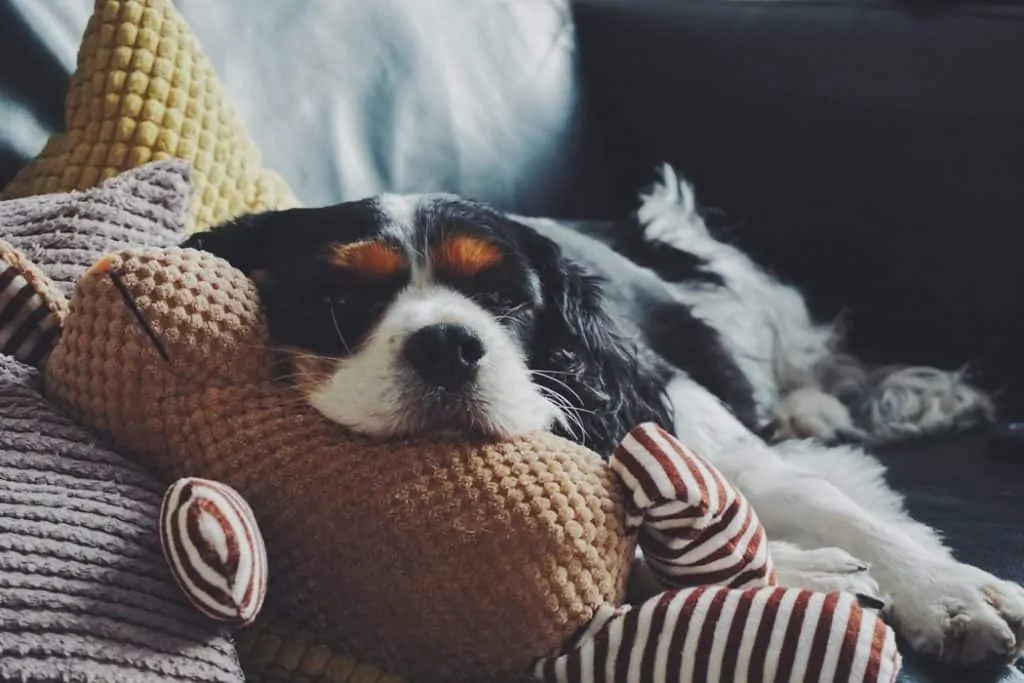 Both dogs and people can benefit from a dog-proof home. 
Getting a dog couch cover is just one unique way you as a dog owner can help to dog proof your home. Dog proofing your home helps to reduce the chances of injury to your dog and destruction of your belongings.
Remember, dogs are dogs and they don't put value in furniture and clothing the way we do. Dogs and cats will do things that come naturally to them, like digging, chewing, and marking.
You can help your dog and your home coexist happily together and in one piece by ensuring you have all the items you need to keep your dog happy and healthy. Making sure your home has designated spaces for your dog to play and sleep will help him to know where he is allowed to be and where he is not allowed to be.
For puppies who are in their teething phase, investing in some quality dog chew toys is a great way to help keep their teeth off of your wooden chair legs.  And doggy doors help give your dog the freedom to go potty outside when he needs to, especially if you are a busy dog owner.
Do you have other ways you can help protect your furniture and home from doggy hair and pet stains? Give us your tips and tricks in the comment section below.