It wasn't too long ago when organic foods became one of the hottest topics in America. I specifically recall my older sister jumping on the organic-food bandwagon with intense enthusiasm. She spent many passionate days and nights researching all the reasons and ways organic foods made our lives healthier, and I spent many passionate days and nights making fun of her.
Well, time has passed since the initial introduction of organic foods into my life and now, I have to admit that my sister was totally right. Organic food is actually better. Not only that, but organic foods are also more universal and accessible, and even proven to be healthier as they are free of pesticides, chemicals, and antibiotics.
I hate being wrong, but I love new and healthier food options for both me and my family.
And since dogs are family too, it's no surprise I would want to feed my four-legged fur kids the very best as well. After all, a dog's diet plays a major role in his overall health and vitality, and if you're anything like me, you want your dog to be around as long as possible.
That's where organic dog food comes in. There are tons of brands offering all natural ingredients, wholesome ingredients, and even holistic ingredients, but what does all this mean, and which types of organic dog foods are best for your unique dog?
Today, we are going to talk all about the basic nutritional needs of dogs and take a look at some of the best organic dog food brands available. Let's get started!
What Are The Basic Nutritional Needs For Dogs?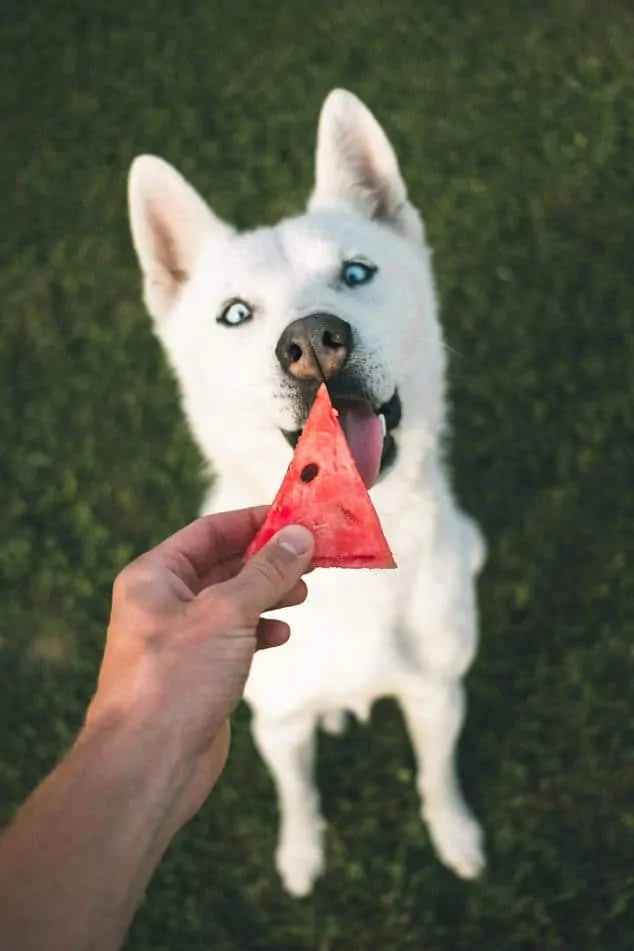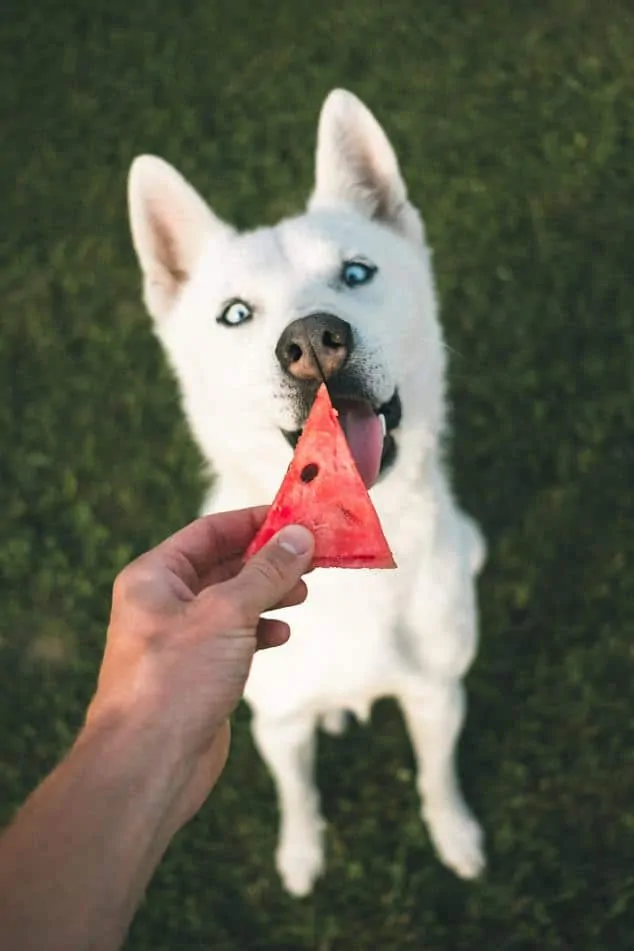 While there are some human goodies dogs can enjoy, they Dogs have different basic nutritional needs than humans.
All dogs, regardless of their breed or age, require six key nutrients in their diet to help them live a full and happy life. These ingredients include water, protein, fatty acids, digestible carbs, and vitamins and minerals.
Protein is one of the most important ingredients on this list, which isn't surprising considering dogs are descendants from wolves and thus natural born carnivores.
In fact, real meat protein is especially essential to our dogs' overall health because it helps support their basic development, builds a strong immune system, gives our dogs energy, and promotes brain power.
So, whether you are choosing to go with traditional dog food, organic dog food, or you are picking between wet, dry, or freeze dried dog food, you should keep in mind that the fundamental nutritional needs of all dogs are the same.
And on that note, let's talk a little bit more about wet, dry, and raw dog food options. Because if you're going to get organic dog food, you'll surely be looking at some of these options as well. But which is better for your unique dog?
Keep reading to find out.
Is Wet Food, Dry Food, Or Raw Organic Dog Food Better?

Choosing the best type of organic dog food for your dog will depend greatly on your dog's overall preference and needs.  
The verdict is still out when it comes to whether feeding your dog dry kibble, wet canned food, or a raw dog food diet is best. There are pros and cons to all feeding styles, and we believe that what you choose to do for your dog is a personal choice between you and your veterinarian.
That said, the most important thing a dog owner can do when picking out their dog's dog food is to be vigilant.
Make sure you look at the ingredients on the back of the dog food packaging to ensure you are getting the food that is right for your unique dog. It's always best to try and find a food that is specified to your dog's age, weight, and activity level if possible.
Let's learn why below.
Why Choosing Organic Dog Food Based On Your Dog's Age, Weight, and Activity Level Is Important

Puppies have different nutritional needs than adult dogs.  
While all dogs do have the same basic nutritional needs, dogs of different breeds and different ages have different nutritional requirements.
In fact, smaller dogs actually have a higher metabolism than large dog breeds and require diets that are higher in calories to help keep up with their energy levels. Larger dogs, on the other hand, may have a slower metabolism but they grow much quicker than small breed dogs and are therefore more susceptible to bone and joint issues as they age.
That said, large breed dogs need food that is higher in protein and calcium to support bone and muscle health.
Puppies need higher levels of DHA and Omega 3 and 6 acids to help build on brain and eye development, while senior dogs often require diets that are higher in protein to help support their aging skeletons, joints and muscles.
Still, regardless of your dogs age, breed, or size, it's important to make sure you are looking for the six key ingredients that align with your dog's basic nutritional needs, even when you are choosing from high quality dog food products like organic dog foods.
What To Look For In The Best Organic Dog Food Brands

Look for foods that are made with high quality ingredients suitable for your dog's nutritional needs. 
When it comes to picking the best organic dog food for your dog, experts suggest looking for dog foods that contain real meat proteins and dog foods that are free of any additives or unnecessary fillers like corn, soy, wheat, and artificial flavors or by-products.
When it comes to raw dog food, the biggest pro is that you're highly unlikely to find these ingredients as this kind of dog food is so straight forward.
The same goes for when you are looking at getting your dog on an organic dog food diet. This means that, regardless of if you are going with dry dog food, wet dog food, or raw dog food, you are likely going to only find the highest quality of ingredients.
Still, be vigilant and read the list of ingredients. If the dog food doesn't specify age range or says it is for all life stages, as many of the organic dog food options say below, consider your dog's age, weight, and activity level and what he specifically needs to thrive. You can usually pinpoint if a dog food is right for your specific dog by taking a look at the ingredients and seeing how much protein, carbs, or calories it contains.
If this seems like a lot of work, don't sweat it. I've already done some research myself and have taken a look at some of the best organic dog food brands for dogs of all ages.
Take a look.
TruDog Freeze Dried All Natural Dog Food
Freeze dried dog food is becoming more and more popular amongst dog owners. It may be a bit more expensive than traditional, less expensive dog food, but we love that freeze dried options for dogs are usually made with organic ingredients, like this organic dog food by TruDog.
This freeze dried organic dog food is made with high quality, all natural ingredients and is grain free and free of other fillers and additives.
In fact, it is practically a raw food diet and can be used as a meal topper, a mixer, or a complete meal for the pampered pooch in your life.
Organix Grain Free Dog Food
Another organic dog food product we love is this grain free option by Organix. It is made with completely organic chick and sweet potatoes. It also includes organic flaxseed, coconut oil, and flaxseed to help improve your dog's coat, immune system, and digestive tract.
All ingredients are certified USDA organic as well, so you know you are getting the highest products. And for your convenience, you can order this dog food in four pounds, ten pounds, or 18 pound bags, making it a great option for homes with multiple dogs in the house.
Wellness Core Natural Dog Food
We love the all natural ingredients of Wellness Core dog food brands, and this dry kibble, grain free organic dog food option is no exception.
This is the original turkey and chicken recipe, with other ingredients including veggies, essential fats, oils, minerals and vitamins.
We like this option for dogs who need a little protein boost or dogs who need help keeping their skin and coats healthy. Because this is a grain free dog food as well, it is also good for dogs who suffer from certain food allergies.
The Honest Kitchen Human Grade Organic Dog Food
The Honest Kitchen is one of my favorite options for dog foods because it's made with human grade, organic ingredients. If you like raw organic dog food then this is a good option as well. It's dehydrated, so owners can simply add water to make it a complete and delicious meal or use it as a topper or mixer. Some owners also use this food as treats.
You can order this organic dog food in several sizes and three different recipes. It is high in calories and protein, so it's excellent for both small dogs and puppies, although it says it's good for dogs in all life stages. That says, we recommend you read the feeding instructions to ensure your unique dog is getting the adequate nutritional he needs.
I and Love and You Naked Essentials Dry Dog Food
If you've read any of our other dog food reviews then you know we are fans of this brand. I especially like this organic, all natural dry kibble because it's made with simple ingredients and is grain free, so it's ideal for dogs with food sensitivities or allergies.
It comes in three flavor varieties and four sizes. Best of all, it is a complete dry kibble meal option for dogs and contains no fillers, artificial flavors or by-products, and is completely free of preservatives and other things your dog doesn't need like wheat, corn soy or rice.
Organix Castor & Pullox Butcher Bushel Canned Dog Food
Here is another Organix product we like especially for picky eaters or dogs with sensitivities or food allergies. This organic dog food is actually wet canned dog food and is completely grain free and made with high quality, natural ingredients like chicken and potatoes.
As with all our natural dog foods on this list, this organic dog food is made free of any fillers, preservatives, artificial flavors, antibiotics, or other ingredients your dog doesn't need.
Blue Buffalo Life Protection Natural Dog Food
Blue Buffalo has a great reputation of putting out high quality dog food, and we especially like their all natural dog food with it's life protection formula.
This is organic dog food for adult dogs and is made with six fatty acids and holistic, essential proteins that help support coat health, immune health, and overall bone and tissue health.
It's a dry kibble organic dog food option and this particular recipe is made with lamb and brown rice but you can order it in three recipe options and three bag sizes depending on your needs.
Newman's Own Organic Dog Food
Newman's Own is another USDA certified organic dog food we love for a number of reasons. First, it's a grain free canned food option that is not only great for picky eaters but is also helpful for dogs with food sensitivities or allergies.
Furthermore, 100% of profits goes to charity. Sweet, right? This organic dog food is also free of unnecessary ingredients like wheat and corn and is free of additives like antibiotics, artificial flavors, and other non-essentials for your canine counterparts.
Whole Earth Farms Natural Dry Dog Food
While we know all natural dog food may not be the exact same as certified organic dog food, it is still high quality. That's what we like about Whole Earth Farms grain free dog food for adult and senior dogs.
It is made with all natural ingredients, is naturally rich in protein, vitamins, and minerals, and doesn't contain soy, corn wheat, or by products. This is also a great dog food for dogs with allergies as it is grain free and poultry free.
Halo Grain Free Natural Dog Food For Small Breed Dogs
Halo offers another grain free, organic dog food option for small dogs. It is made with wild salmon and whitefish, so it's loaded with DHA and is a great source of fatty acids to help support a healthy skin and coat.
But while this natural dog food is made specifically for small breed dogs, we should note that it is lower in calories and is best for small dogs who need help with weight management. That said, healthy dogs who do not need weight management may not do well on this lower calorie dog food.
Castor & Pullox Organix Small Breed Recipe
If you are looking specifically for a small breed recipe for your dog but aren't sure about the lower calorie option of the dog food above, then take a look at this organic dog food specifically for small dogs by Organix.
This is a grain free, dry kibble dog food option for smaller dogs who need smaller kibble bites and may be sensitive to grains or allergies.
It can be ordered in four pound or ten pound bags and is made with all natural, organic ingredients that are certified USDA organic.
Castor & Pollux Organix Senior Recipe Dog Food
Anyone with a senior dog knows that these guys have special nutritional needs and dietary requirements. For an organic dog food option for older dogs, we recommend Organix grain free senior dog recipe.
This is a dry dog food option that is certified USDA organic and is ideal for senior dogs who need an extra boost of nutrition, immune support, and joint support. It is loaded with organic ingredients like coconut oil, flaxseed oil, and blueberries to help with brain health and coat health, and is made free of any unnecessary ingredients like by-products or other fillers.
Solid Gold Holistic Adult Dog Food
When it comes to holistic, natural, and organic dog foods, we love recipes that are made with the highest quality ingredients. Solid Gold offers a natural dog food that is a protein rich, antioxidant rich source of nutrients for your adult dog.
This is a grain free kibble option that is specifically designed for dogs with sensitive stomachs and is made with salmon and veggies to help promote a healthy skin and coat as well.  You can also feed it to your dog resting easy knowing it is free from soy, wheat, corn, gluton, and any other unnecessary additives or fillers.
Stewart Raw Naturals Freeze Dried Dog Food
Stewart offers another freeze dried dog food option we love that is made with all natural ingredients and comes in several flavors including lamb, chicken, recipe and beef. There is even a chicken and salmon recipe for that extra dose of DHA and fatty acids.
We like that this organic dog food is also made grain free for dogs with certain allergies or sensitivities and is specially made to support a healthy skin, coat, and brain.
Natural Balance Limited Ingredient Diet Dry Dog Food
We always like limited ingredient diet dog foods for dogs with sensitivities or picky eaters, so it's no surprise we'll be rounding off this list with Natural Balance organic dog food option for adult dogs. You can get it in beef, lamb, chicken, duck, bison, fish and venison. It also comes in a variety of sizes, which is ideal for multi-dog households.
This is a great dog food option for dogs who suffer from digestive issues as it is a good source of natural fiber as well.
Along With A Healthy Diet, There Are Other Ways You Can Help Your Dog Live A Happy And Healthy Life

Help your dog stay healthy by keeping him active and mentally stimulated. 
These days, there are so many quality dog food brands and so many experts weighing in on how to best feed our dogs that it can feel overwhelming at times.
As pet parents, we always strive to do our best for our dogs, which is why I want to assure you that a healthy diet, while important, isn't the only way you can help improve your dog's quality and longevity of life.
Along with eating a well-balanced and healthy diet, dogs also need routine exercise each and every day. So harness up and hit the streets or trails with your pup. Even senior dogs need to get out and about to keep arthritis and other joint issues at bay. Besides, it's good exercise for you too!
But that's not all. Dogs are clever, so they need plenty of mental stimulation to keep them happy and healthy. Plus, the smarter dogs are, the more mental stimulation dogs need. Dogs who are not properly mentally stimulated can be prone to higher levels of stress and anxiety, which can weaken their immune systems and lead to illness.
Last, make sure you are giving your dog plenty of love and attention. Our dogs live to make us happy, and there is nothing quite as rewarding for them as spending quality time with their favorite human – YOU!