I'll never forget the alarm I felt when one morning, I awoke to find my German shepherd dog's tail fur gone from her tail. This was at least five years ago, and Bella, my dog, looked up at me with guilty eyes and then proceeded to chew the last bits of fur off her poor, skinny rat tail. "Bella, stop!" I said, dialing the veterinarian's number. We got Bella in the same day, and the vet told me that she didn't know what was causing the hot spots but that it could be some sort of fungus. We did live in Oklahoma, after all, where it's hot and sticky with humidity much of the year. Perfect fungus conditions. The vet gave us an antifungal medication and told us to spray it on Bella's tail twice a day and whenever we saw her scratching or nibbling at her tail.
It took months before Bella's tail fur grew back, and then it was thinner than before. But I was just glad she had fur again. For the rest of her life, though, she struggled with hot spots and skin conditions likely related to Oklahoma's insect-infested environment. We used various over-the-counter medications to manage her hot spots before they became full-on flare-ups.
And then, just a couple weeks ago, a hot spot showed up on my Alaskan shepherd dog's front leg.

Poor Eira's hot spot. 
To my relief, Eira's hot spot has stayed localized to one place. She hasn't tried to chew all the fur off her leg. And the spray we've been using on the hot spot has improved her condition over the last week.
So, before we get into the specific sprays and creams that you can get over the counter for your dog's one or two hot spots (because you should take her to the vet if she chews off a huge area like Bella did!), let's discuss what a hot spot is.
A hot spot is a raw section of skin caused by an underlying inflammation or irritation that your dog then chews, licks, and nibbles until it is raw and moist. The irritation can begin with many things: insect bites, small cuts that get infected, fungi. Most of the time, in summer months — when hot spots are most common — the culprit is an insect bite or other allergen.
You might be wondering why hot spots are called what they are. It's because the red, inflamed section of skin often feels warm to the touch.
If your dog has a minor hot spot like Eira's in the photo above, you may want to give your vet a call, but it isn't likely she'll need to see you. Follow these steps to treat it at home with the creams, sprays, or ointments we'll mention below. But if it doesn't get better, gets worse, or spreads, call your vet and set up an appointment as soon as possible.
If you have a long-haired dog, gently cut the fur around the hot spot. Long fur dragging dirt and debris over the wound won't make it heal any faster — in fact, it could make the hot spot worse.
With one of the hot spot treatment sprays we'll talk about below, warm water, and a clean towel, gently rub the hot spot area clean and dry.
Apply more ointment, spray, or cream onto the hot spot. If your dog spends a lot of time outdoors or tries to lick the hot spot, you may want to wrap a dog-friendly bandage around the area until she gets used to it. Don't leave it on for too long, because the wound needs to be able to get air and stay dry.
Always contact your vet if the hot spot worsens or takes too long to heal.
So, what are the best over-the-counter hot spot treatments for dogs? Let's find out.
ResQ Organics Hot Spot Treatment
If your dog already has super-sensitive skin that easily turns into hot spots upon exposure to common allergens, this non-greasy cream formula is made from natural, organic ingredients:
Manuka honey, a soothing anti-fungal
Coconut oil, a natural antiseptic that also helps make a barrier between the sun and the affected skin
Blue-green algae, an antioxidant
Revitalizing MSM, a pain and inflammation reducer
Hemp seed oil, an anti-itch and dryness-reducing oil
Australian cehami, a natural skin damage repairer
Shea butter, a well-loved moisturizer
Plumeria extract, a protector against future damage
Organic aloe vera, a soother (especially for sunburn, but also for hot spots!)
Olive oil, a skin-cell regenerator
Pretty impressive list, isn't it? This product is slightly pricier than other hot spot treatments, but the rewards are significant for many dogs. It also happens to be on sale right now on Amazon.
PetHonesty Hot Spot Spray for Dogs
This highly effective, antiseptic chlorhexidine spray works quickly to relieve your dog's hot spots. Using small amounts of chlorhexidine, which helps relieve infections, and ketoconazole, which aids in managing fungus, the spray applies directly to the affected skin and starts working immediately. It releases a fresh cucumber scent, so if your dog's hot spot smells funky, this spray can help both you and your dog get a break from the odor. The spray also contains aloe vera for its soothing properties.
Some dogs I know love this spray so much, they come begging for the instant relief it provides. It works wonders, often healing hot spots in just a few days. Something about the formula also seems to prevent dogs from licking it, so you don't even have to use a bandage.
No products found.
Remedy + Recovery Hot Spot Spray
This is the spray we got for Eira, because it's the one we were able to purchase the most quickly.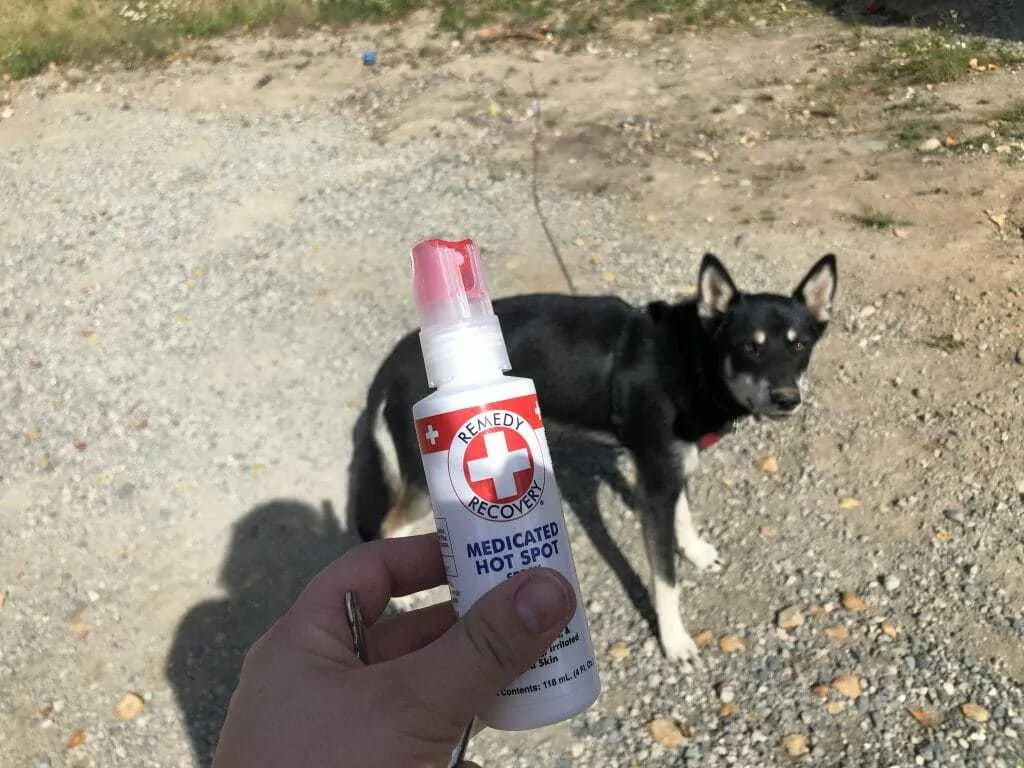 Eira with the hot spot spray that's helped her heal. 
This spray contains lidocaine, a local anesthetic that keeps your dog from scratching the hot spot, as well as aloe and lanolin for soothing and healing. I find it a little difficult to get the spray out of the bottle, which is the only downside so far to this spray. Eira doesn't love to have it sprayed on her, so I wish it worked well enough to just come right out onto her skin. I'm ordering the organic hot spot cream to go along with this one, which has already improved her hot spot a lot since we started using it a week ago. It's a less expensive option and works as a starting point to hot spot treatment — it'll keep your dog off the bite, hopefully, but if not, use an e-collar to keep her from nipping at the sprayed area.

Eira sniffs her hot spot spray.
Burt's Bees All-Natural Hot Spot Spray
Like the first option, this spray from Burt's Bees is all-natural and gentle on your dog's skin. It uses different ingredients, though, and is in spray form as opposed to cream form, which can be helpful depending on what you and your dog prefer. This spray contains aloe vera and apple cider vinegar, which balances pH levels, lowers inflammation, and keeps your dog from worrying the hot spot. The best thing about this spray is that it's safe to use on even the youngest puppies. So if you have a young dog with a summer hot spot, try using this spray to help her feel some quick relief! If this spray alone doesn't fully treat the hot spot, you may need to combine it with a stronger formula, but for many dogs it works just fine.
PetMD Chlorhexidine Wipes with Ketokonazole and Aloe
These wipes are basically the same as the first spray listed, but they are in wipe form — which can be much easier for some dogs to handle. Instead of using a rag and warm water to clean your dog's hot spot, all you need to do is wipe it gently with one of these towelettes a few times a day. These are good for treating the hot spot as it starts to heal with new skin growing over the raw spot. It can be used together with one of the other sprays or creams, or used on its own.
Sale
Once you've got one of these hot spot treatments in your hands, you can easily and quickly treat your dog's wound and get him comfortable again. And that's what we all want for our pets!

Eira's hot spot is healing nicely thanks to her spray!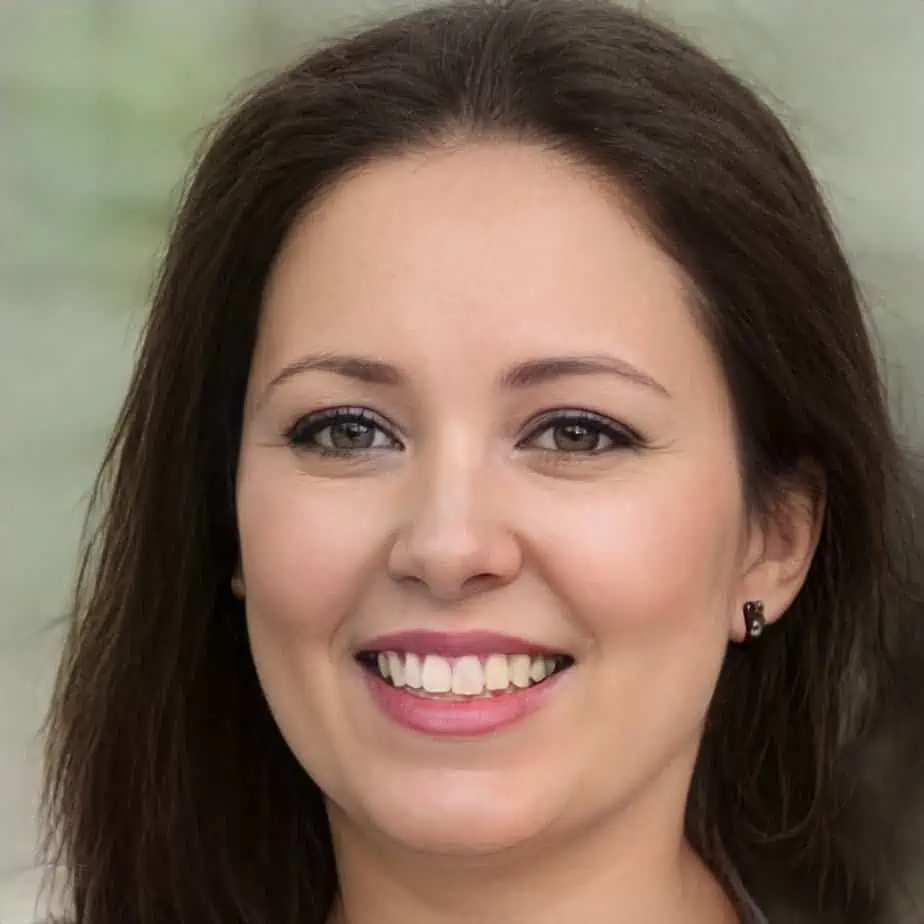 Jen Jones is a professional dog trainer and behavior specialist with more than 25 years of experience. As the founder of 'Your Dog Advisor' and the 'Canine Connection' rehabilitation center, she applies a holistic, empathetic approach, aiming to address root causes rather than merely treating symptoms.
Well known for her intuitive and compassionate approach, Jen adopts scientifically-proven, reward-based methods, encouraging positive reinforcement over punishment. Jen specializes in obedience training, behavior modification, and puppy socialization. Her innovative methods, particularly in addressing anxiety and aggression issues, have been widely recognized. Jen has worked with many of the world's leading dog behaviorists and in her free time volunteers with local animal shelters and rescue groups.