It's a frightening situation to be in, and one that still sticks out in my mind.
I had just finished taking my dogs out for their pre-bedtime potty break. We were headed up the stairs to our townhome when my chihuahua dove into the bushes. I could hear him eating something and pulled him back. When he reappeared on the steps, he had a piece of cardboard sticking out of his mouth. My heart dropped when I saw the bright teal smears across his muzzle.
I knew what it was almost immediately. It was rat poison.
There are a number of ways your dog might find their way to ingesting rat or mouse poison. They might stumble upon a box of poorly secured granules. Or, like my dog, they might find a ball of bait haphazardly left by an irresponsible landlord. Dogs and other animals can even be poisoned after ingesting rodents who have recently ingested Decon and other baits.

A dog who has just ingested rat poison will likely not show any outward signs at first. It's up to the owner to be vigilant and act fast to save their dog.
>>>Rat poisons aren't the only hazard your dog can get into outside. Learn more about toxic plants and other garden hazards.
Dogs who've eaten rat poison without their owner's knowledge often are too sick to treat by the time they show symptoms. So count yourself lucky if you catch your dog in the act or shortly after. This puts you in a unique position to save them before the rat poison enters their system.
But you have to act fast.

Rat bait can come in many forms, but all of them are hazardous to your dog.
Step 1: Identify the Poison
There are four major poison varieties found in rodent baits. All are potentially deadly, but the way they damage the body differs. How your dog is treated after ingesting the rat poison will depend on the type or types they have gotten into.
If at all possible, you need to figure out which brand of rat poison your dog has ingested.
It is worth it to take a few extra moments to grab the box the bait came from. Knowing the exact ingredients will help your vet save your dog's life.
Let's look at the four types of poison, how common they are, and how they would affect your dog if ingested.
>>>Does your escape artist dog constantly get into things they shouldn't? You need to read this.

A dog who has ingested rat poison will often appear lethargic and weak. 
Anticoagulants
Long-acting anticoagulants, or LAACS, are the most common type of poison found in rat and mouse baits. If you do not know what type your pet ingested, your vet will most likely treat them as if they ate this type.
How the poison affects the body:
Symptoms of anticoagulant ingestion:
Weakness and lethargy
Coughing (find out other reasons your dog may be coughing)
Vomiting, possibly with blood
Pale gums
Diarrhea
Bruising, swollen joints, or bleeding from the nose or gums
Typical onset:
A few days or more for typical ingestion
May be sooner for repeated exposure
Common products containing this poison type:
JT Eaton Bait Block
Bell Final Blox Rodent Bait
Blue Max Meal Bait
Motomco Hawk Bait Blox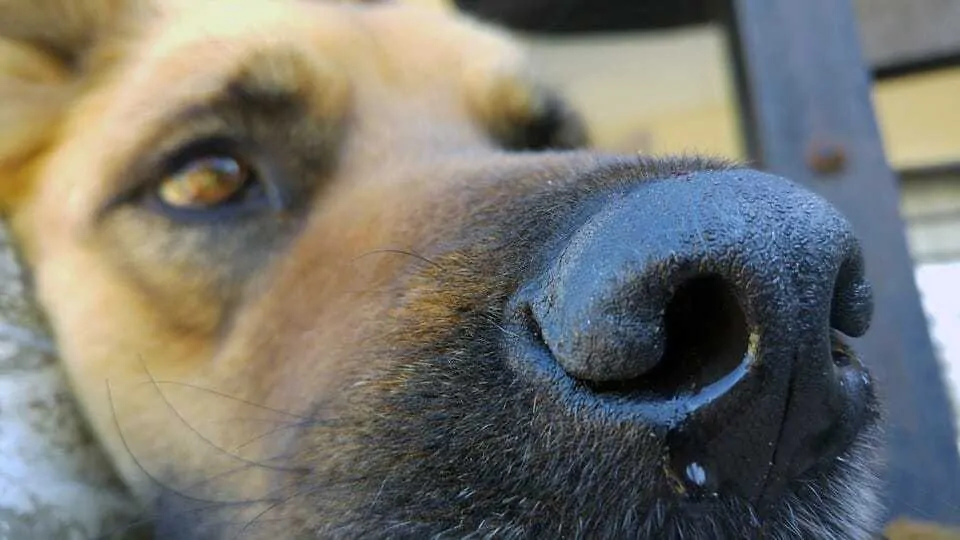 Dogs suffering from LAACS type poisoning may bleed from the nose and gums.
Vitamin D3
Vitamin D3, or cholecalciferol, is one of the deadliest rat and mouse poison types. Even a small amount can be fatal. Worse still, this type of rat poison is becoming more common.
How the poison affects the body:
Symptoms of vitamin D3 ingestion:
Weakness and lethargy
Increased thirst
Increased urination
Breath smells of urine (here are some other reasons your dog might smell bad)
Typical onset:
Severe damage occurs within a day or two
Common products containing this poison type:
Terad3 Blox
Agrid3 Bait Chunks
Selontra Rodent Bait
D-Con
Bromethalin
This type of rat poison causes swelling in the brain. Cats are more at risk of poisoning by this type, but dogs can be killed if larger amounts are ingested and should still be treated promptly.
How the poison affects the body:
Symptoms of bromethalin ingestion:
Seizures
Trembling
Ataxia
Paralysis
Typical onset:
Within a few hours or up to three days
Common products containing this poison type:
Top Gun Bait Block
Tomcat
Bell Fastrac Blocks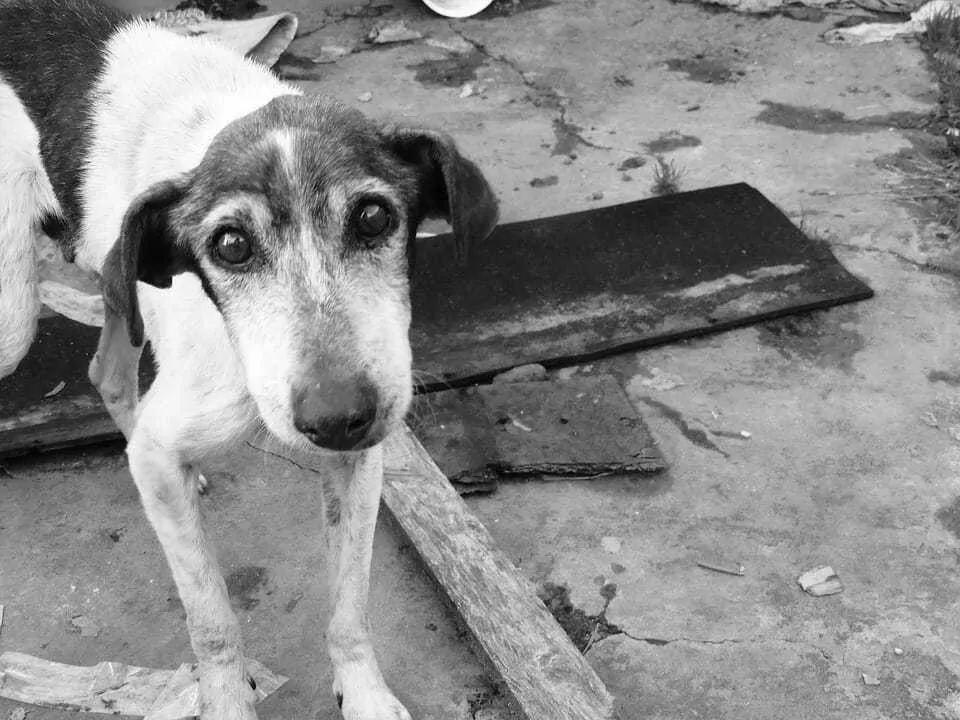 If your dog is already showing symptoms of rat poisoning, then you need to get them to a vet immediately. Dogs have the best chance at recovery if they are treated before symptoms begin. 
Zinc/Aluminum Phosphides
This type is most common in gopher and mole bates but may also be used by rodent control professionals. These types of rat poisons create gases that can be dangerous if inhaled. If your dog ingests this type of poison, it is very important that you keep the windows open in your house or car as the fumes from their vomit can cause lung damage to both you and your dog. Also, never feed your dog if they have phosphide poisoning.
How the poison affects the body:
Releases phosphine gas in the stomach
Symptoms of zinc/aluminum phosphide ingestion:
Gas and bloating
Vomiting
Liver damage
Seizures
Shock
Typical onset:
Immediate
Toxicity is more rapid if the stomach is full
Common products containing this poison type:
Motomco Eraze AG
Prozap
Amdro Mole/Gopher Bait
>>> Rat baits aren't the only common household items that can be deadly. Foods containing xylitol can also cause death if ingested by your dog.
Step 2: Call Your Vet
Once you have identified the type or brand of rat poison your dog has ingested, you need to call your vet right away.
If your vet is closed, try your nearest emergency or urgent care clinic instead. It is always a good idea to have this phone number alongside your normal vet's. Keep them posted somewhere in your house for these kinds of emergencies.
>>>Poisoning isn't the only emergency your dog might face. Wildlife can also pose a threat to pets.
If you are unable to get ahold of a nearby vet, your next best option is to call the Pet Poison Helpline at 855-764-7661. You will have to pay a $59 fee, but it will be worth it to get expert advice that may save your dog's life.
It is a good idea to write this number down. If your dog ingests strange chemicals or even some lesser known toxic foods, these poison experts may be more help than even your own vet.
Step 3: Induce Vomiting if Instructed
More than likely, your vet will instruct you to bring your dog in right away. But in some cases, they may tell you to induce vomiting at home.
Your vet may direct you to do this if you live far away from the nearest vet or do not have an open vet in your area.
While you are likely to be a little panicked at this point, it is important to stay calm and work carefully. You have about two hours after ingestion to safely induce vomiting in most cases. So take a deep breath and get ready to help save your pouch.
It's a good idea to always keep a fresh bottle of hydrogen peroxide and a syringe on hand in case you need to induce vomiting
To induce vomiting, you will need a bottle of 3% hydrogen peroxide and a needless syringe or turkey baster. (Wondering what else you should always have on hand for pet emergencies? Create your own dog first aid kit.)
You will need to give your dog one half to one teaspoon for every 5 pounds of body weight or one half to one milliliter for every one pound of body weight. Even if you have an extra large dog, never give more than five to six teaspoons in total.
3% Hydrogen Peroxide Quick Dosing Guide:
10 pound dog = 1-2 teaspoons
30 pound dog = 3-6 teaspoons OR 1-2 tablespoons
50 pound dog = 5-10 teaspoons OR 1.5-3 tablespoons
75 pound dog = 7.5-15 teaspoons OR 2.5-5 tablespoons
100+ pound dog = 10-18 teaspoons OR 3-6 tablespoons
Using a needless syringe or turkey baster, tilt your dog's head slightly and squirt the peroxide into the corner of their mouth. Go slowly to give your dog a chance to swallow the liquid.
<iframe width="560″ height="315″ src="https://www.youtube.com/embed/HlBisgNTXVA" frameborder="0″ allow="accelerometer; autoplay; encrypted-media; gyroscope; picture-in-picture" allowfullscreen></iframe>
After a few minutes, you should notice your dog's stomach start to expand. Your dog should start gagging soon after. As long as the peroxide you used was fresh and your dog received the proper amount, they should start vomiting.
If your dog does not vomit, talk to your vet or the poison helpline for further instructions. Again, it is important to stay calm. This will help keep your dog from panicking as well.
If your dog ingested zinc or aluminum phosphide type bait, make sure you tell your vet. As this type of poison creates toxic fumes, your vet may not want you to induce vomiting at home. If you do, make sure to do so outside or in a well-ventilated area to avoid lung damage.
Step 4: Take Your Dog to the Vet
Even if your dog successfully vomits up the rat poison, you will still want to take them to the vet as soon as possible. With my dog, I was able to get him to vomit up a large ball of teal bait on the first attempt. And, even though it had only been about thirty minutes since he ingested the poison, I couldn't be sure if any was absorbed into his body.

Your vet will check your dog for symptoms of poisoning, do blood work and administer drugs to counteract the specific type of bait eaten. 
Your vet will want to evaluate your dog for signs of poisoning and organ damage. If even a little bit of the bait entered their system, your pup may need follow up treatments to ensure no lasting damage is done.
Because each rat poison type affects the body in a different way, treatment options and outcomes vary significantly depending on what was ingested.
Prognosis and Treatment Options by Poison Type
Anticoagulants
If your dog got into a box of LAACS type bait, the prognosis is usually good. These types of poisonings are generally treatable with vitamin K. Exact treatment will vary depending on your dog's situation and overall health.
In many cases, your dog will be given an initial shot of vitamin K and then may be treated with prescription vitamin K supplements for the next 30 days.
Follow up blood tests are often needed to determine blood levels of vitamin K and risk for bleeding.
Do be aware, some dogs can have allergic reactions to vitamin K shots. Look for headshaking, scratching and hives and treat with Benadryl as needed.
Vitamin D3
Unfortunately, there is no proven antidote for this type of poisoning. Dogs exhibiting symptoms often require long hospital stays. Your vet may try IV fluids and drugs to help reduce the amount of calcium in the blood.
More than likely, multiple lab tests will be needed to check kidney function for up to six weeks after the incident. These tests and treatments can often lead to high vet bills and tough decisions.
Quick action on your part is your dog's best chance of avoiding long term damage or even death when this poison is involved.
>>>Remembering a dog you've lost? Check out our list of the best DIY dog momentos.

Some poison types require weeks of treatment to save the dog and reverse the damage. 
Bromethalin
Like vitamin D3, this bait type has no go-to antidote. However, the prognosis is slightly better for this type of poisoning. There are multiple ways your vet can help remove the chemicals from your dog's system and reduce long term damage.
Charcoal can help bind the toxin. While fluids and certain drugs can reduce brain swelling.
It is important that your dog is monitored long after the initial incident as this poison tends to have lasting effects.
As with all other poison types, acting quickly will reduce the severity of the damage.
Zinc/Aluminum Phosphides
Sadly, this type of bait also has no antidote and the prognosis is poor if certain therapies aren't started right away. Your vet may administer antacids to help reduce the buildup of phosphorus gas in the stomach.
Stomach pumping and inducing vomiting can also help if done soon after ingestion.
The best remedy for zinc phosphide or aluminum phosphide poisoning is to not feed your dog anything after ingestion, induce vomiting in a well-ventilated area if directed, and get your dog to the vet quickly.
Alternatives to Poison
One of the absolute best ways to keep your four-legged friend safe from rat bait is to not use it in the first place.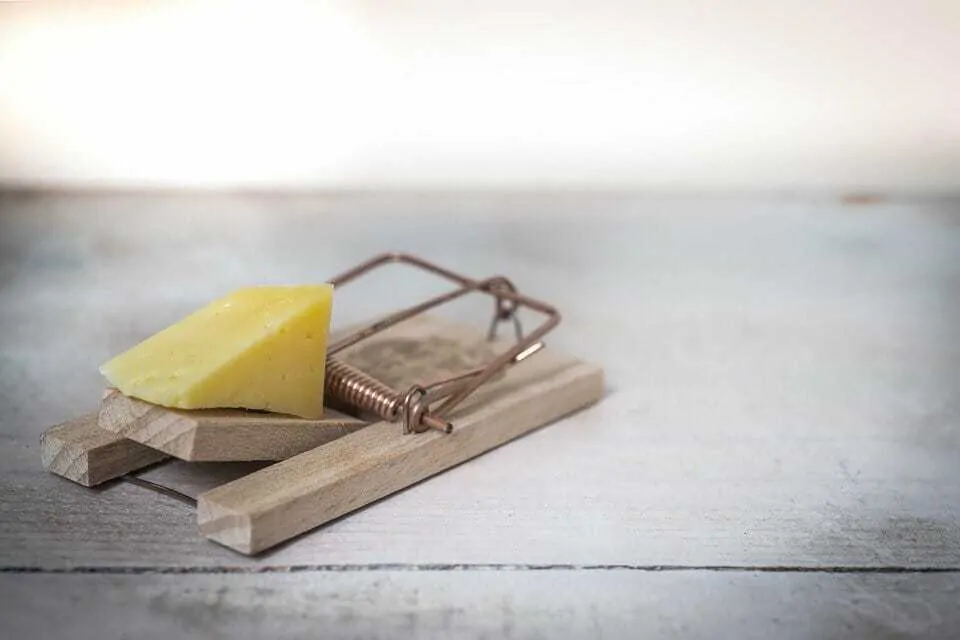 Snap traps and live catch traps are not only safer for your dog, but they are more humane than poisons. 
If you struggle with pest problems of the mouse and rat variety, there are other options beyond poisons. Best of all, these rodent-ridding products can be just as effective and much safer for your dog.
Live Traps
If you are looking for a way to keep your pet and your rodent guest safe (but preferably not in your house), a live trap is a great option.
These devices are humane and carry no risk of injury to your pets.
The CaptSure 2019 Upgraded Humane Smart Mouse Trap is a great option. I personally have never had the stomach for killing tiny, adorable rodents and have always used a CaptSure trap when dealing with mice. Unfortunately for my chihuahua, my landlord put down bait balls in addition to the live trap I had told him I was already using.
These simple devices use a ramp trigger and spring door system to catch rodents and hold them until you release them back into the wild. (Smart tip: Always release the mouse far from your house so they don't find their way back.)
You should bait these traps with cheese or peanut butter to attract your unwelcome house or garden guests.
>>>Looking for other great products for pet lovers? Check out our list of the best gifts for dog lovers.
Snap Traps
Are you too squeamish about rats and mice to catch a live one but still want a safer alternative to poison for your pet's sake? A snap trap is a good option for you.
No products found.
Snap traps are a more humane tactic for killing rodents than poisons. The touch-action spring snaps kill quickly and reduce pain and suffering. And as long as they are placed in areas your dog can't get, they are much safer for pets too.
If you are looking for a better option than traditional wood snap traps, I recommend the Authenzo Mouse/Rat Trap. The unique and ultra-sensitive design of these traps is safer for dogs and has a higher kill rate than wood traps. They are also reusable which is a great feature if you want to save money and reduce waste.
Bottom Line: Knowing What to Do if Your Dog Ingests Rat Poison Could Save Their Life
When my chihuahua ingested that ball of mouse bait, my knowledge on poisoning in dogs helped me navigate what to do next. I was able to get ahold of the emergency vet and induce vomiting using peroxide.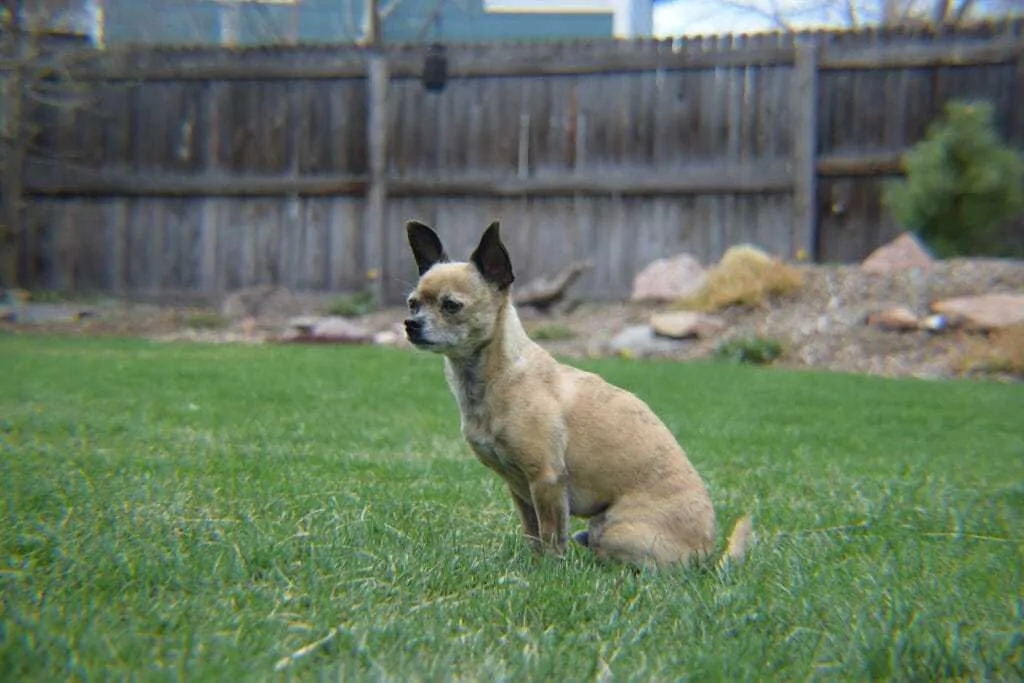 No one wants to think about what would happen if their dog ate poison. But being prepared is never a waste of time. You may even save your dog's life someday. 
I also got a little lucky. It was the middle of the night and I couldn't get ahold of my landlord. I had no idea what kind of poison he had put out. The vet treated my dog with vitamin K for the anticoagulant type. Luckily, it worked and my dog suffered no damage or symptoms from the poison.
My hope is that you never have to deal with your dog ingesting rat poison. But if you do, I believe this information will be invaluable and may even be enough to save your dog's life.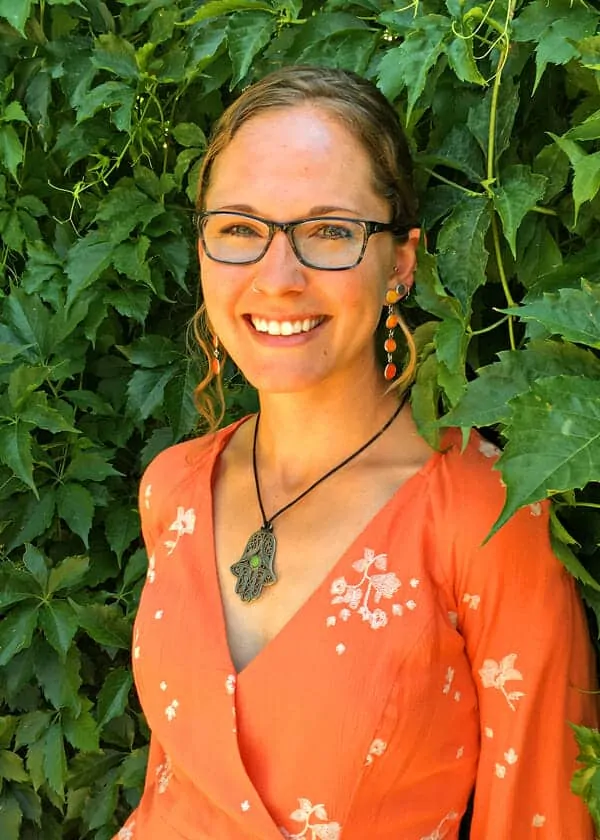 Sara Seitz has spent most of her life in the pet industry and has a bachelors in animal behavior from Colorado State University. Sara started working with dogs and cats as a high schooler at a rural boarding kennel. There she learned a lot about the bad and the ugly of the pet service industry. But not even the toughest day at that job would dissuade Sara from following her dream of working with animals.
In college, Sara got a job at a dog daycare and boarding facility in Fort Collins, Colorado. Her new career provided even more opportunities for learning about dog behavior than her classes did. As general manager of the daycare, Sara helped the company launch a new in-home pet sitting branch and trained to become a certified dog trainer. Between shifts taking care of peoples pets in-home and supervising dogs during playtime at the daycare, Sara organized and taught obedience classes.
Sara has always been passionate about bettering the lives of our canine companions. She soon found that advocating for and educating owners in the power of positive reinforcement training was one of the best ways to help dogs and their owners live happier lives.