Chewy.com is an online pet supply shop with the tagline "where pet lovers love to shop". Their aim to be the most trusted and convenient online store for pet owners. In this honest review of Chewy.com, we'll explore the experience of shopping with them and see if they might be a helpful resource for you.
What Does Chewy.com Offer?

English bulldog showing off his Chewy.com box at the park. 
Chewy.com offers pet supplies for dogs (our favorite!), as well as other animals. They offer every category of dog supplies imaginable: food, toys, healthcare, beds, bowls, grooming – the list goes on! They have hundreds of brands and thousands of items. 
Most likely, if you're looking for something for your pet, they have a version of it available on their site. In addition to their pet supplies, they also have an online pharmacy to fulfill your pet's prescriptions.
Great Website Usability
The Chewy.com website it easy and intuitive to navigate. From their front page, you quickly find what you're looking for, make changes to your account, or contact their customer service. 
With all online shopping, easy website navigation is important! The Chewy.com website is clear and intuitive. From their home page, your most prominent options across the top bar are to shop by pet or by brand, access their pharmacy, or see today's deals.
Their customer service icon is always accessible at the top and bottom of the page, offering 24/7 service via chat, phone, or email. The Chewy.com website makes it very easy to access the help you need.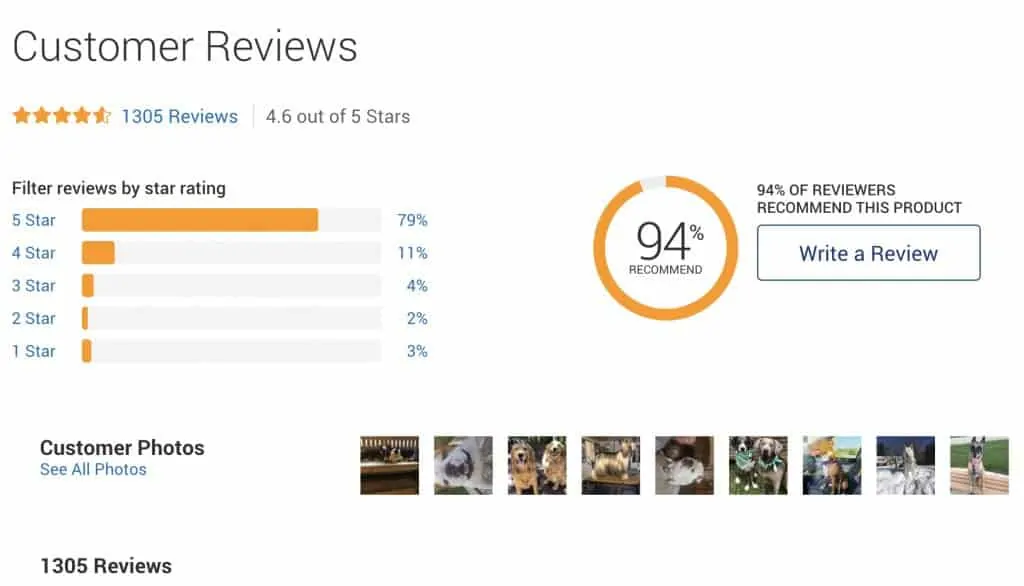 Products have ample reviews that can serve as useful resources. In this example of reviews for a Purina Pro Plan dog food, there are 1305 reviews and over 100 photos. When relying on reviews to help influence your decision, it's important that there are a sufficient number so the overall rating isn't swayed by the outliers. 
Once you navigate to a product, the reviews are prominent and helpful. Like on Amazon, most Chewy.com products have at least hundreds of reviews, making them a useful resource to help you make a decision.

Once you've loaded up your cart, their website makes it easy to make changes. The big cart icon in the top right allows you to access and adjust your shopping cart as needed.
The Benefits of a Personalized Account
Chewy.com encourages you to set up a personalized account. As you develop your account, the website gets better at making suggestions for you and your pet. To better review Chewy.com, let's dig in to a few of the account features.
Overview

The Overview tab of your account gives you a home-base to navigate from. You can see everything at a glance and make quick changes to your account. 
The "Overview" tab in your account allows you to see everything at a glance: your recent orders, upcoming Autoships, pet profiles, and the settings for your account. If you dig deeper into your account, you can see an overview of your activity, manage past orders, manage your Autoship, create profiles for your pets, collect favorites, and more.
Autoship

English bulldog in the box that his 35lb of Autoshipped food arrived in. 
Autoship is a favorite Chewy.com feature! Any food or treats can be set up to arrive on a recurring basis, and you have complete control over how often shipments arrive and when your next shipment is. By subscribing to the Autoship program, you get a 5% discount, as well as peace of mind that you'll never run out of food. Chewy.com also offers a 30% discount on your first Autoship order. 
Every six weeks I get a 35lb bag of dog food delivered to our home. In addition to the benefit of the discount, I never run out of food and I never needing to carry a 35lb bag up the stairs.

Items on the Chewy.com website have the option to "Ship Once with Next Autoship" if you're not ready to purchase or don't want to pay for individual shipping. 
If you want to buy a one-off item but you don't want to pay for shipping, you can add it to your next Autoship box with their "Ship Once with Next Autoship" button. This feature allows you to piggy-back on the $4.95 flat rate shipping cost, or perhaps push your cart over $49 for free shipping.
My Pets

Chewy.com profile of 55lb English Bulldog, Gimli. Having profiles set up for your pets allows the website to make specific suggestions based on the animals in your home.
Within your profile, you can set up profiles for each of your pets. The profile includes their name, species, birthday, gender, breed, weight, medications, allergies, and pre-existing conditions. Plus, to make it extra personal, you can add a picture of your pup.
Once Chewy.com knows about the pets in your family, it makes recommendations for food, treats, and toys. This isn't always 100% accurate, for example the top recommended toy for Gimli on my account right now is a Lamb Chop Plush Dog Toy. As an extreme chewer, my dog would likely destroy this poor lamb in a few minutes.
However, the second recommendation – the Nylabond DuraChew – would be appropriate for my pet. It's a Power Chew level toy – perfect for a two-year-old bulldog.


The Chewy.com recommendations can be helpful, but you also need to still be aware about what works best for your pet. In this example, the first recommendation is not a good match for a super-chewer like a bulldog, but the second option would be a great match. 
Having a profile set up also makes customer service easier. If you are looking for something size dependent – like a crate or a harness – you can ask customer service for help, and they will already have all of the information they need.
If you use the pharmacy feature of Chewy.com, having your pet's profile set up is specifically important for information about allergies and medication.
Favorites
The "favorites" feature is an easy and intuitive way to save items for later. You can keep tabs on items to see when they go on sale, or else keep them there until you need a little bump in your shopping cart to hit the $49 free shipping mark.
Vet & Prescriptions
Within your profile, you can also manage your vet and prescription information. Your vet will need to approve all prescription medication, so make sure their information in your profile is up to date. Once you are approved for the prescription medication, you can make changes to your orders within your profile.
Customer Service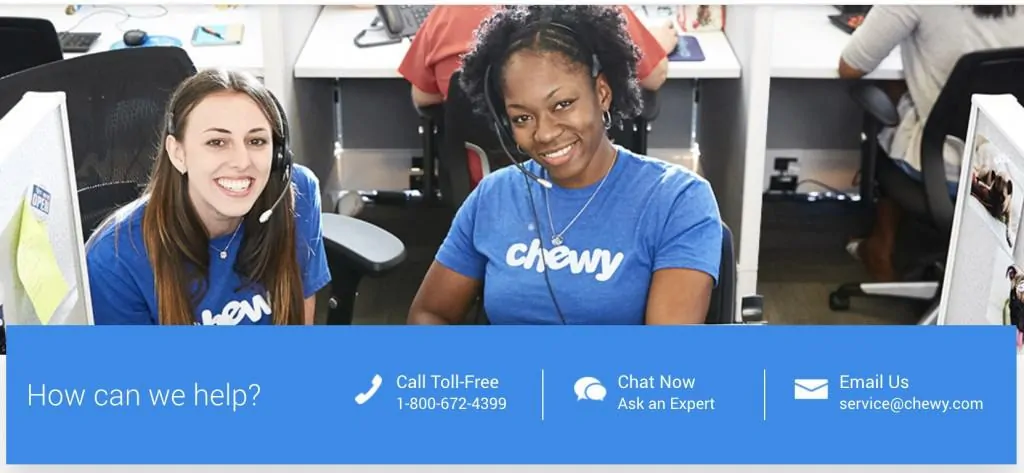 The Chewy.com customer service is always available and impressively helpful. They have experts on standby 24/7 to help you with all of your questions or concerns. 
A Chewy.com review wouldn't be complete without mentioning their superb customer service! Chewy.com really goes above and beyond on this front. Their customer service is available 24/7, and you can reach a real person immediately via chat or phone, or you can email them.
Customer Service Before a Purchase
If you are reaching out to customer service before a purchase, you can expect them to be thorough and helpful. They are always available and can make recommendations based on your pet or needs.
For example, I have a bulldog who is like a small bowling ball. His weight isn't proportional to his size, and he's a lot shorter and wider than most 55lb dogs. As a result, he needs smaller crates but much larger harnesses than most dogs his same weight. Chewy.com customer service will answer my questions and make recommendations to help make sure I get items that are sized to him, despite his stocky proportions.
Customer Service After Purchase
In the event that you purchase something that isn't a match for you or your pet, Chewy.com is there to help! Their response post-purchase is one of the primary reasons I return to them again and again. Overall, if something is wrong, they will make it right.  They've even been known to send handwritten notes after an interaction to follow up and make sure you're happy! Plus, if you're not satisfied, you are covered under their incredible return policy.
Return Policy
If you want to make a return – no problem! They Chewy.com return policy is one of the best ones out there! Outside of medications, any Chewy.com purchase can be returned at any time for a full refund, no questions asked. This gives you the freedom to try new brands or toys without feeling stressed, giving you the best chance of finding a good match for your dog.
Although this is not guaranteed, sometimes Chewy.com won't even ask for an item to physically be returned, but will instead ask you to donate it to a local animal shelter.
Shipping

Chewy.com shipping is reasonable. They offer a flat rate $4.95 option for orders under $49. Orders over $49 are free to ship. 
Chewy.com shipping is pretty average. They do offer free 1-2 day shipping on orders over $49. For orders under $49, there's a flat shipping rate of $4.95, no matter if you're getting a small bag of treats or a heavy dog crate.
If you have a small item that you want, but you don't want to pay for individual shipping, you can always add it to your next Autoship.
Currently, they are only shipping within the contiguous United States and cannot ship to PO boxes.
Pharmacy

The Chewy.com pharmacy offers a simple and easy method to fulfill your pet's prescriptions. 
Chewy.com's pharmacy is not a replacement for your vet, but they will work with your vet to supply the prescribed medication. This service can be more convenient and less time consuming than making a special trip to pick up some doggie pills. This is especially true for recurring prescriptions like heartguard or flea/tick prevention.
Please note, though, that because the prescriptions are shipped to you, they will take multiple days to arrive. If your dog is in pain, sick, or otherwise in need of urgent medication, please opt for a local pharmacy that you can stop at right away.
If you plan to use the pharmacy, make sure your vet's information is up to date in your Account Profile, and give your vet forewarning that they'll be contacted by Chewy.com so they'll be prepared when Chewy.com reaches out. 
Price Comparison
Chewy.com has comparable prices to Amazon and PetSmart – often to the cent. For these comparisons, I looked up three identical items on each website: a toy, a bag of dog food, and a dog harness.
There's really no price difference between the three vendors, so you get to make your decision based on the experience you want to have!
Online vs. Physical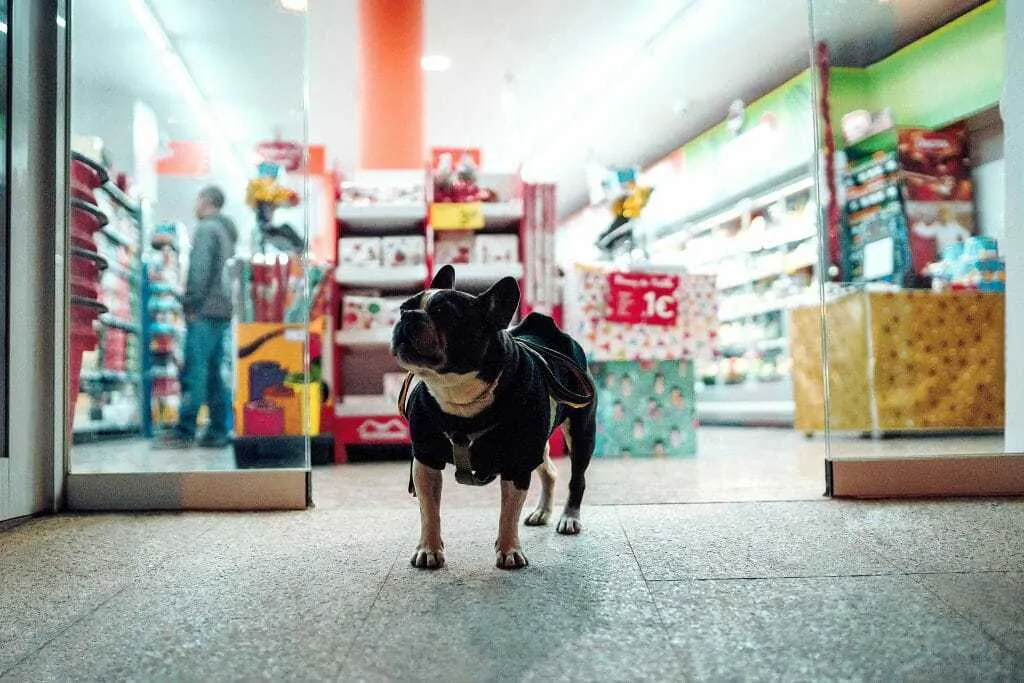 While shopping online can be convenient, going into a store has advantages as well. You can touch and try items before making the purchase, and there's the potential benefit of socialization.  
Chewy.com is doing a great job toward their goal of being a trusted and convenient store for pet owners. That being said, it's worth mentioning that there are some benefits to going into a real store, as opposed to online shopping. 
In a physical store, you can bring your dog to sample treats of have him pick out his own toys. Stores also offer opportunities for training, grooming, socialization, and, depending on the store you choose, supporting local business.  
If you enjoy the experience of going into a store, you may continue using your local store completely, or perhaps subsidize it with Chewy.com Autoship. There's no wrong answer, but it is worth considering what you value, what you can make easier in your life, and what you enjoy doing in person.
The Bottom Line About Chewy.com?

Chewy.com is a convenient and trusted online store that serves pet lovers around the United States. 
We won't tell you where to shop. However, if you're still reading this review of Chewy.com, you're probably considering it as an option. I would say try it! The website becomes increasingly customized to your needs as you build out your profile, customer service is there 24/7 to help, and in the event that something doesn't work out, their return policy offers a no-stress solution.
Happy shopping!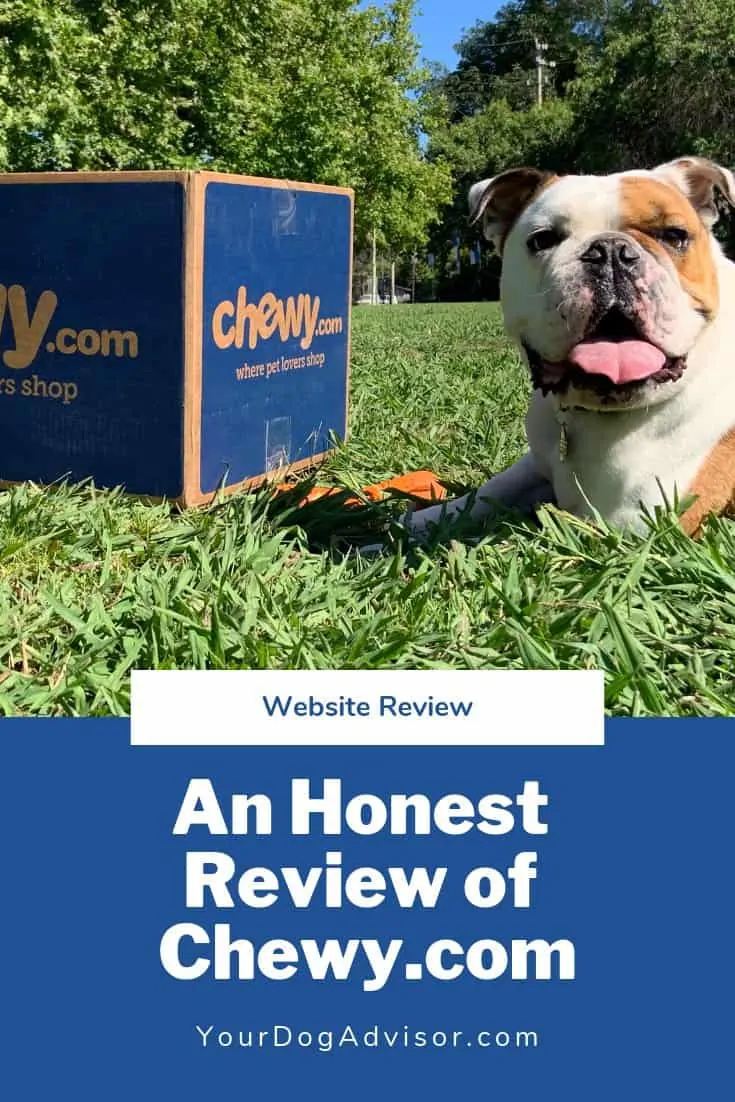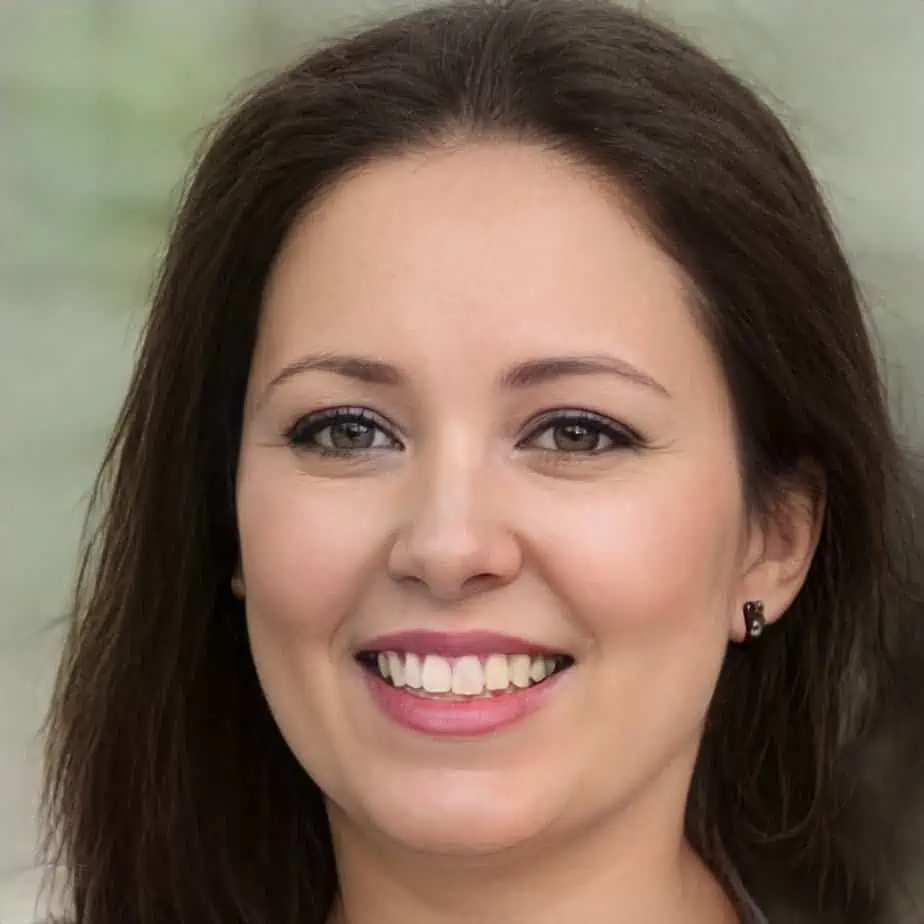 Jen Jones is a professional dog trainer and behavior specialist with more than 25 years of experience. As the founder of 'Your Dog Advisor' and the 'Canine Connection' rehabilitation center, she applies a holistic, empathetic approach, aiming to address root causes rather than merely treating symptoms.
Well known for her intuitive and compassionate approach, Jen adopts scientifically-proven, reward-based methods, encouraging positive reinforcement over punishment. Jen specializes in obedience training, behavior modification, and puppy socialization. Her innovative methods, particularly in addressing anxiety and aggression issues, have been widely recognized. Jen has worked with many of the world's leading dog behaviorists and in her free time volunteers with local animal shelters and rescue groups.