As a dog owner, many of us know that our puppies are not always the cleanest animals. Whether they are running through the rain and snow, or just digging dirt, dogs paws and bodies get dirty.
While giving a bath outside or in your tub may be your solution, not everyone has the time to give their dogs constant baths.
Another quick, easy way to clean up your dog is by using dog wipes. I will go through the pros and cons of each wipes, as well as the overall reviews and price points. Hopefully, you will be able to have a couple of options for dog wipes after reading this article.
Are Dog Wipes Okay for your dog?
Overall, yes. You must remember though, the wipes method is more of a quick fix. To get a deep clean, you should aim to bathe your dogs.
Here are a few things to consider when looking for dog wipes:
Use dog wipes, not baby wipes: You would think this would be logical, but some owners simply do not buy dog wipes, and think it is okay to use baby wipes. The dogs have a different PH level than humans, and may react poorly to human wipes. Spend the extra few dollars, and take care of your dogs!
Look for no chemicals: Always look for dog wipes that are chemical-free and also Fragrance-free. Not only will these substances cause rashes, irritations, and other symptoms, but they are also dangerous if inhaled or licked. They will make the dog extremely sick.
Use them sparingly: While it is a quick fix, you have to remember, because of their nature,they are not all that environmentally friendly. Use your wipes sparingly. Using them daily, and going through a box every couple of weeks almost comes as a waste. If you are needing to constantly clean your dog (which you shouldn't have to more than once or twice a week), possibly look for a dry dog shampoo to occasionally use.
Best Dog Wipes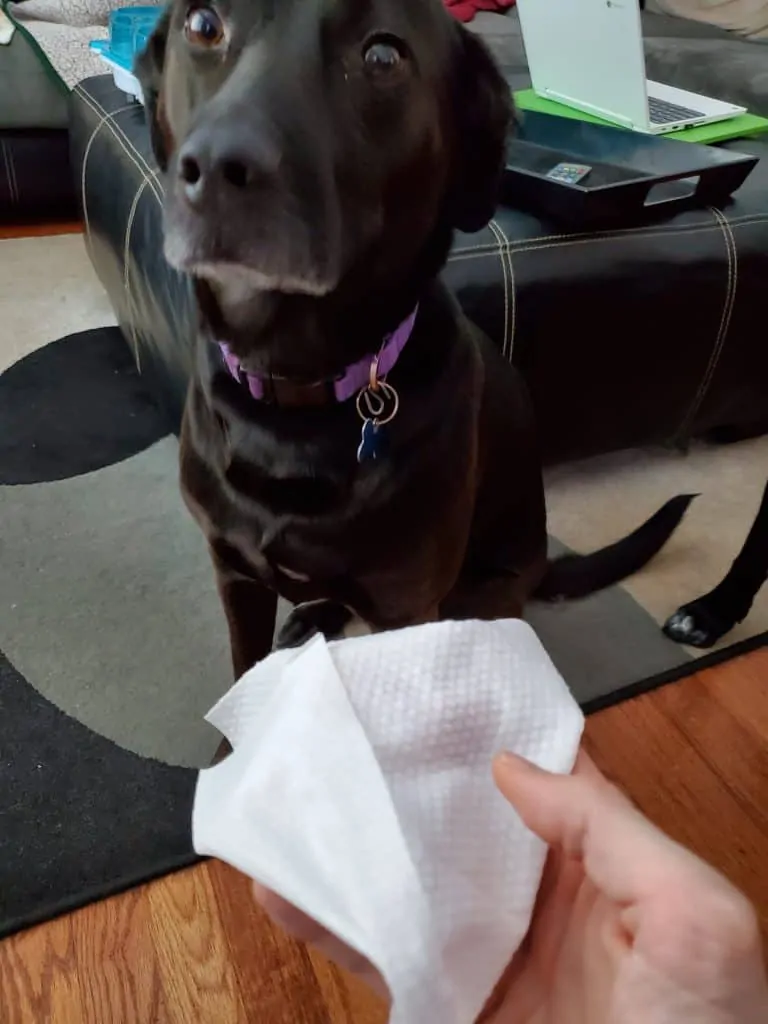 Try and get your dog to sit during application
Softies Secret Wipes
My personal favorites. I have tried a few other wipes, but they have always worked the best. The material is soft, easy to rub throughout your entire dog, and smells wonderful! The box comes in a 100 pack or two 100 packs as well.
Some of the other great features are:
Natural ingredients and natural extracts: These are vegan based and include healthy, non harmful ingredients that include lavender extract, green tea extract, chamomile flower and aloe vera, all which will be soothing for your dog.
Hypoallergenic and soothes dry skin: Dogs should not have allergies when using these wipes, and if  they have dry skin as well, it will help to ease that issue.
Detangles hair and eliminates odors: If your dog has tangled hair, these wipes will help smooth it out, as well as assist with any odd odors coming off of your dog.
I really don't have any complaints about these wipes. They are top notch, however, some people have complained that they dry out quickly and do not do enough cleaning for your dogs. If you close the packaging correctly, this will not occur though I have found.
No products found.
Earth Rated Dog Wipes USDA-Certified 99 Percent Biobased
Another organic option, users of these friendly dog wipes have given them high remarks! There are a couple of different amounts available, as the price point is pretty good on them.
The dog wipes come with a soft shea and aloe mixture base that is okay to use on your dogs. A few other great features are:
Biobased and Hypoallergenic: These are nearly 100% USDA certified and are free of alcohols and other sulfates that may harm your dog.
Deodorizing: They smell great, and can also be used on cats as well!
The only negative feedback on these that you may want to consider is that some buyers did state that they dry out quickly and are very difficult to pull just one wipe out at a time.
Nature's Miracle Deodorizing Bath Wipes For Dogs
Having used their Nature's Miracle spray product to clean up dog messes on the wood floors and carpets in our house, I know for a fact that the company makes a good product.
The price point on these are quite cheap compared to other brands, but they do the job. There are a couple of varieties of sizes for this brand.
Some of the best features that come along with these wipes include:
Easy to use and quick cleanup: They have an easy access package and are great for quick rinse through your dogs fur.
Alcohol free and safe: No alcohol used, and are quite safe for your dog's skin.
The only real negative feedback they get is that they are quite strong, and some may be concerned that the smell truly is not "alcohol free." While they do complain, many admit that it does do a good job giving their dogs that quick clean, but they are not as pleasant smelling as some of the other wipes on the market.
Burt's Bees for Dogs Multipurpose Grooming Wipes
Another well priced option on the market,  these wipes feature a quick clean to dogs after your walk or outdoor time. The pricing on these are good, and include a couple of different options for amounts of wipes.
Some of the other good features that are included with this option are:
Good ingredients: While all of these boast the great ingredients, Burt's Bees also includes honey mixed into their wipes, which is known as a cleaner with amino acids and minerals that are good for your dogs skin.
Free of fragrances and a good PH level: These also have no other sulfates, and vets often recommend that they are evenly balanced when it comes to the PH levels for all kinds of dogs.
The only cons that come up within most of those people that have used the product are that some of the more sensitive dogs may become allergic to these wipes, and may not react well with the liquid within the product. Only a few reviews stated this, but overall, it appears the wipes are an okay option for your dog.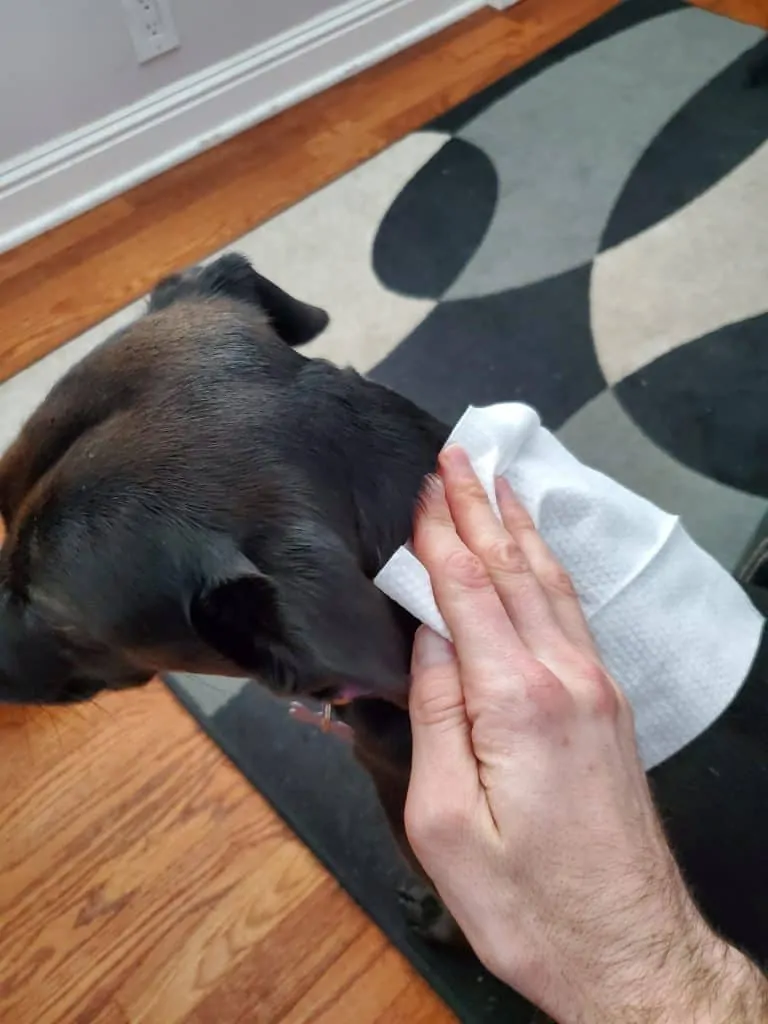 Gently apple the wipe across the dogs skin
Petkin Dog & Cat Paw Wipes
Some of our friends have used these wipes, and said they are pretty good. The price point is a little bit more than most wipes, but do include 100 wipes for your usage. Some of the best features with these include:
Aloe Vera and Vitamin E ingredients: Nothing harsh used in these, the two ingredients that lead the pack are soothing to your dogs paws and skin.
Extra strong and durable: These will handle the toughest dirt and not rip easily.
Convenient snap lid: This way, your wipes will not dry out, as they have extra protection around them.
The negative feedback I found on these wipes are that some users state that the company may have switched the quality of the wipes, as the smell and overall usage quality doesn't appear to be the same.
Sale
Pogi's Grooming Wipes
One of the top rated wipes on the market, these are a pretty reasonable price, organic and clean, and give you 100 large wipes.
The very highly rate wipes include:
Aloe Vera and Clean ingredients: A fresh, high Vitamin based set of ingredients will help your dogs fur stay shiny, and not harm them in any way.
Extra large: These wipes come in at 8×9 inches, which is larger than other wipes to cover a bigger area and allow you to use less often.
Earth friendly and Hypoallergenic: Good for the environment, as well as allergy free for those dogs that are sensitive.
With not a lot of complaints, besides some users stating that they are made not in the USA, and the scent isn't even present. Outside of this, these are a top notch option for dog owners.
Not every dog likes wipes
Overall
With most of the wipes in the dog cleaning game, they should be used sparingly, and not so much as a replacement bath. It appears that Softies Secrets get the top vote, while others enjoy the Pogi's Grooming wipes. There are still a lot of other options that are available for your dog's.
Comment below and let me know what wipes you like to use!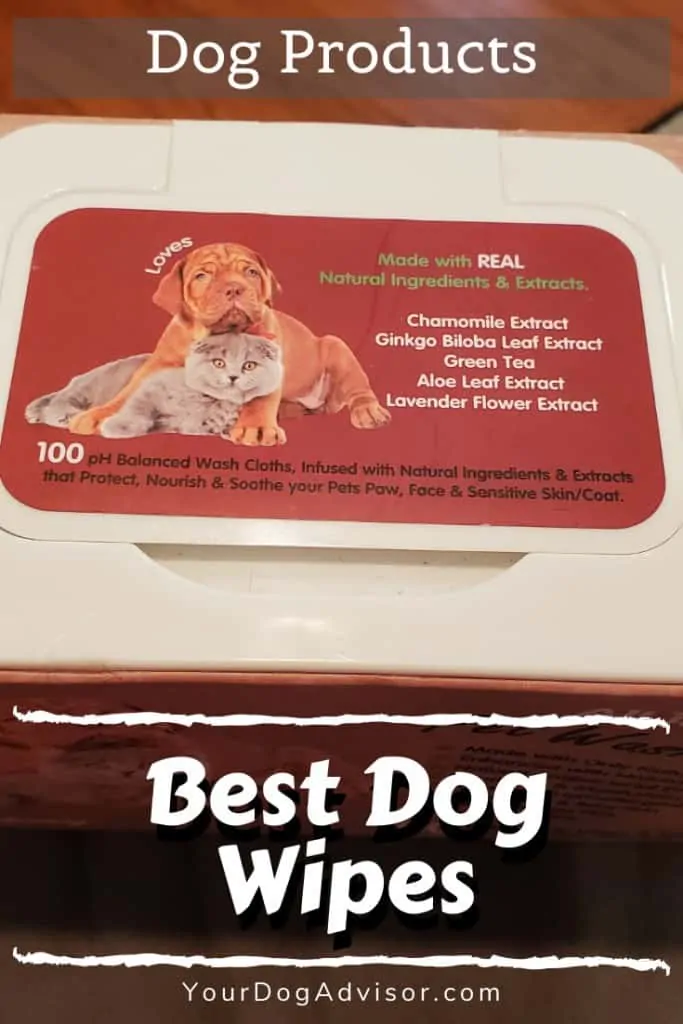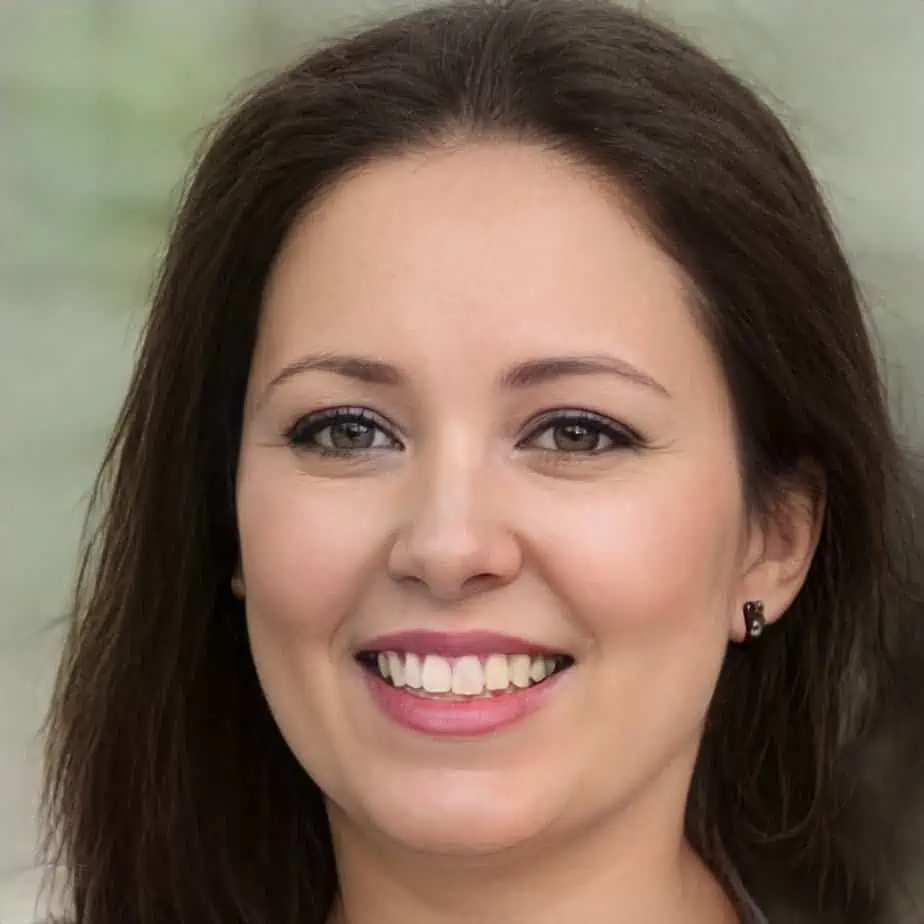 Jen Jones is a professional dog trainer and behavior specialist with more than 25 years of experience. As the founder of 'Your Dog Advisor' and the 'Canine Connection' rehabilitation center, she applies a holistic, empathetic approach, aiming to address root causes rather than merely treating symptoms.
Well known for her intuitive and compassionate approach, Jen adopts scientifically-proven, reward-based methods, encouraging positive reinforcement over punishment. Jen specializes in obedience training, behavior modification, and puppy socialization. Her innovative methods, particularly in addressing anxiety and aggression issues, have been widely recognized. Jen has worked with many of the world's leading dog behaviorists and in her free time volunteers with local animal shelters and rescue groups.