When I was a teenager, all I wanted was a CHI straightening iron. All my friends had one, but they cost a hundred bucks — a lot of money for a teenager who worked at McDonald's to pay her enormous texting bill. So, I never got a CHI iron, and as the years slipped by, I forgot about the expensive hair company.
Until one day, I stumbled across CHI products at my local pet store. That's right; CHI branched out from only selling salon-quality products for human hair, and now sells a plethora of products designed especially for dogs. They sell hair bows, brushes, combs, sprays, shampoos — anything a dog's fur might need for a fancy flair.
I had to find out if the CHI products for dogs were worth the somewhat hefty price.
Here's what I discovered.
CHI Products For Dogs Are Still Expensive, But They're High-Quality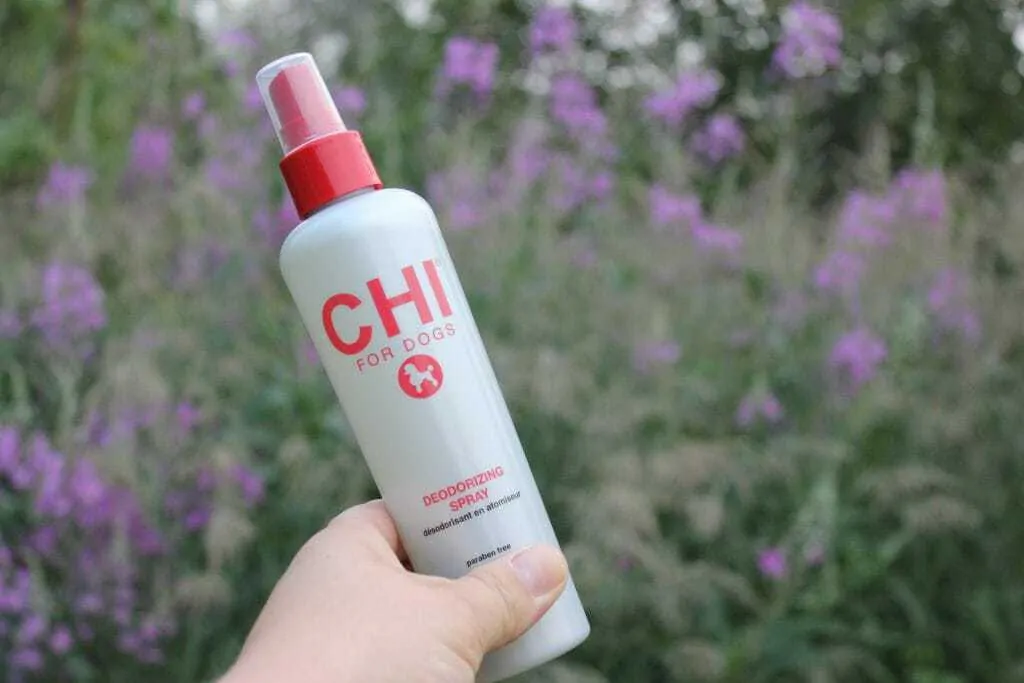 CHI For Dogs' Deodorizing Spray. 
For one thing, the shampoos, conditioners, deodorizers, and leave-in sprays by CHI smell amazing. I don't think I've ever smelled dog-fur products that smelled so nice. The products are free of parabens, which are commonly used in cheaper hair products to keep bacteria at bay. Parabens, however, can increase the risk of breast cancer in humans and can dry out both human and canine skin. You don't want that for your pup!
Here's the ingredients list for CHI's dog deodorizing spray: water, silk protein, oat protein, soy protein, chamomile extract, papaya extract, panthenol, fragrance. Just eight ingredients, most of them plant-based!
So while CHI products cost more, they're worth the price. And they definitely make your dog's coat shinier.
Let's take a look at the top CHI products for dogs.
CHI Tearless Puppy Shampoo, 16 Fl. Oz
Parents focus on finding tear-free shampoos for their young children, but do dog-parents do the same for their puppies? Bathing can already be a traumatic experience for a dog. My German shepherd, Clancy, used to hold a grudge against me for the entire day after I attempted to bathe her with a hose. Eira, my Alaskan shepherd, would love it if I never, ever gave her a bath.
While using treats and lots of petting and soothing speech can help your pup get through a dreaded bath, tearless puppy shampoo can guarantee a painless experience. I'm always very careful when I clean Eira's face, but when I'm rinsing it, shampoo gets close to her eyes and sometimes drips inside. Poor girl! This tear-free puppy shampoo eliminates the concern of a shampoo irritating your dog's eyes.
I wish I'd had it when Eira was younger. Like most CHI products, the shampoo smells amazing and its gentle ingredients guarantee a comfortable bathing experience for your littlest canines.
CHI Deodorizing Spray for Dogs, 8 Fl. Oz
If your dog really hates baths, you can compromise with her by giving her once a month instead of once every week or two. That's what I've decided to do with Eira. And since I'm not a huge fan of that lovely, doggy smell, I decided to give CHI's deodorizing spray for dogs a try during the weeks in between baths.
Not only does this spray only contain 8 ingredients, but it also is paraben-free, pH-balanced for dogs, and safe for use with topical flea and tick medication.
I followed the directions to spray Eira from her ears to her tail, but she was not excited about the spray.

Eira, needing a bath — or at least some deodorizing spray and a thorough brushing! 
The spray is much faster and easier than a full bath, though, and Eira really needed it. She'd recently gone exploring in long Alaskan summer grass and had a coat full of sticky plants and burrs.
I successfully avoided getting the spray into her eyes (this product is not tear-free like the puppy shampoo) and instantly noticed the amazing chamomile smell. Not only is it amazing, but it's also strong. You definitely don't need to spray the deodorizer on thick (unless your dog gets sprayed by a skunk). A light coating will work just fine!

Droplets of CHI deodorizing spray on Eira's coat, before I brushed her. 
After I sprayed Eira, I brushed her fur. It instantly became a lush, glossy coat! The transformation amazed me. And mind you, I brush her all the time, and her coat doesn't get like that. The spray made it super soft and fluffy.
I mean, look at it. See how shiny it is, even in a photo? I am a devoted user of CHI's deodorizing spray, now and forevermore. Next time I'll even use a little less. The product isn't cheap, but it's not outrageously expensive, and it can last a really long time.
Eira's glossy fur after I brushed the CHI deodorizing spray into her coat. 
If you've got a pup who hates baths, try spraying her with this deodorizing spray every couple of days. She'll smell fresh and clean no matter what she's rolled around in. You can also use it along with a CHI shampoo to keep her fur smelling nice for a long time after her bath.
CHI for Dogs Detangling and Finishing Spray
Eira has a shorter coat that really doesn't get tangled, but if you have a dog with a long coat, this detangling and finishing spray from CHI will make your life a lot easier. Like the deodorizing spray, the detangling spray gives your pup a soft, shiny coat. Spray some into the snarls, wait a minute or two, and then gently tackle the tangles with a comb. (You can even use the CHI comb, which I'll talk about in a second!)
By the way, this detangling and finishing spray is listed for a huge sale price on Amazon right now!
CHI for Dogs Combo Slicker and Shedding Rake
Okay, the comb: CHI makes a fantastic comb. It's both a shedding rake, made up of short wiry bristles meant to catch all the downy shedding fur, and a slicker. The slicker part smooths the coat over after it's been combed for loose shedding fur, resulting in a luscious, healthy coat. The materials are sturdy and well-constructed, once again proving that CHI's products are worth the money.
The comb works well for dogs with short hair as well as dogs with longer hair.
CHI for Dogs Cleansing and Refreshing Wipes
If you like the idea of the deodorizing spray but would rather give your pup a thorough wipe-down, these refreshing wipes from CHI will do the trick nicely. The bottle comes with 50 wet wipes, and they smell as amazing as every other CHI product out there. These wipes go beyond simply making your pup smell nice: they clean away grime and dirt while also softening the coat. I've used wipes that seem to make my dog's coat brittle; these are not those wipes.
After seeing them at the store, I'm going to purchase these for Eira. Sometimes she steps in another dog's poop or sits in a mud puddle just days after her bath, and that's when I'm going to use a CHI refreshing wipe to save the day (and not have to give her a whole new bath).
CHI for Dogs Keratin Waterless Shampoo, 8 Fl. Oz
Say your dog is part cat, in that he absolutely hates water. Maybe you only give him a bath a couple times every…year. Or less. Because he hates water that much.
What do you do? Put up with a stinky dog who really, really could use clean fur?
No! You get this amazing shampoo from CHI. It's so amazing that it requires no water whatsoever in order to do its job. Spray it onto your dog from ears to tail and massage it into his fur. Towel-dry your dog to dry any lasting dampness and watch his fur gleam with cleanliness. This shampoo contains keratin, a protein that's already in dog fur and that strengthens each individual hair, leaving your dog's coat looking healthier than ever.
All without a drop of water.
CHI for Dogs K9 Coif Gel
It might sound super silly, but have you ever tried styling your dog's hair? Did you even know you could? With CHI's K9 Coif Gel, you can shape your dog's fur into any sweet style. Give your dog a mohawk, or get a show dog ready for her big day. You can also simply use the gel for day-to-day maintenance, such as to keep your dog's longer hair out of her eyes.
It smells wonderful and stays in your dog's hair all day. You'll have to comb the gel out with water when you want it out — that's how well it holds.
CHI Oatmeal Conditioner and Shampoo For Dry and Irritated Skin
If your dog suffers from skin conditions, CHI's oatmeal shampoo and conditioner is a fantastic remedy. My German shepherd, Bella, started getting hot spots later on in life. Hot spots, also called moist dermatitis, are oozing sores on your dog's skin. A hot spot means that the skin is so irritated that your dog's been scratching, licking, and nipping at the area enough to make it bleed, and a bacterial infection is usually the culprit. We treated Bella's hot spots with antibacterial cream, but a soothing oatmeal shampoo would've further helped her skin stay healthy and soothed.
The oatmeal shampoo and conditioner from CHI can help alleviate dry skin, allergy-prone skin, and dulled coat issues.
Buy the conditioner here:
No products found.
And the shampoo here:
CHI Deep Moisture Dog Shampoo
Finally, for a luxury shampoo experience, try CHI's deep moisture dog shampoo. It does exactly what the title says: provides the most extra moisture possible to your dog's coat. If you live in a dry climate, this is the shampoo for your dog. It's sulfate and paraben free, and — of course! — smells like heaven. As with most CHI products, the shampoo will leave your dog's fur soft and shiny and smelling absolutely lovely.
No products found.
CHI for Dogs: Luxury or Necessity?
Sometimes, luxury IS a necessity when it comes to your dog's skin and fur. There are times when regular shampoos and sprays won't be enough and you'll need the high-quality extra oomph of a CHI for Dogs product to help your pup thrive.

Eira showing off her CHi-fluffy fur. Thank you, CHI for Dogs!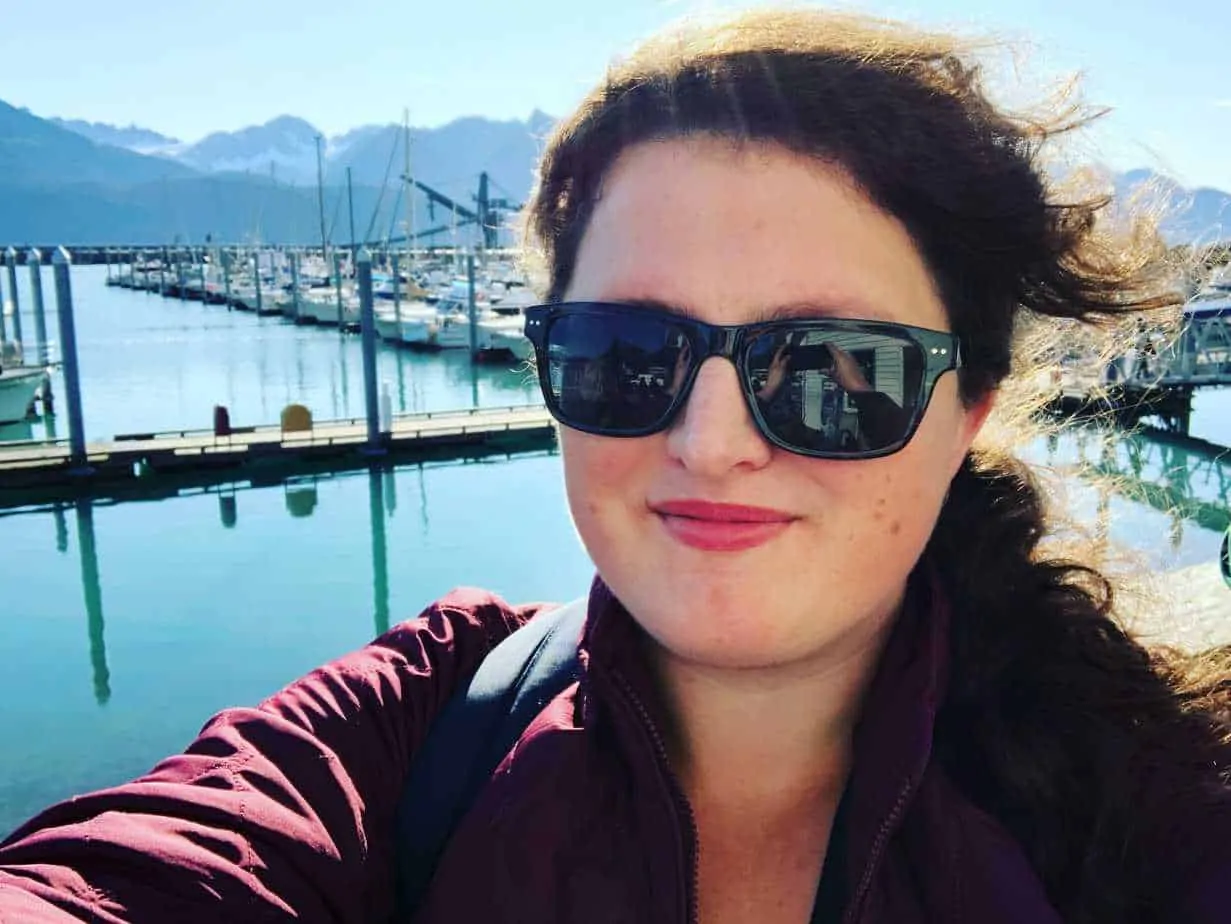 Laura Ojeda Melchor grew up with two beloved German shepherd dogs—Clancy and her daughter, Bella. From the time her family brought Clancy home, Laura took on the duty of pooper-scooper and potty trainer. As a teenager Laura helped her mother care for Clancy during her pregnancy. She still remembers fondly the exciting, frigid winter night when the seven special puppies were born. Laura kept the youngest puppy—Bella—and potty trained her, too. She taught Bella important commands, took her for long walks, and spent hours throwing tennis balls for her.
In November, Laura brought home a sweet new puppy, Eira Violet. Eira is half Alaskan malamute and half German shepherd, and Laura loves her deeply. She chose not to use a crate to potty train Eira and was pleasantly surprised at the results. She now has a sweet, energetic dog who always uses the potty outside, plays well with Laura's toddler, and enjoys long family walks in beautiful Alaska. If you were to meet Eira, she'd bound up to you with a wagging tail and get you running around the yard with her in no time.