It's hard not to fall in love with a Dachshund with its tiny legs, long body and wagging tail. I don't know about you but whenever I see one in the street or on social media, I cannot help but smile. There's something about Dachshunds that can bring instant joy.
You may love Dachshunds yourself or perhaps you know someone who squeals every time they see one. Either way, you'll probably be wanting to find the perfect gift for someone else or as a little treat for yourself.
It seems that my friends and family have caught on to the fact that I adore Dachshunds. I (and many others) usually refer to them as sausage dogs as it's a fun name and much easier to say. Quite often I get tagged on social media whenever there's a sausage dog video, new merchandise or picture. For gift-giving occasions I am usually given things that reference sausage dogs.
So, as someone who loves this breed and has received and bought many gifts with sausage dogs on them, I'd like to share with you some cool gifts that you can give to your Dachshund-loving friend. Or to buy for yourself, I wouldn't judge you…
Keyring

I've had this keyring for quite some time and love the simplistic design of it.
This may be a pretty basic gift to give to a Dachshund lover but it is something that many people have on their keys. I personally have a small Dachshund keyring attached to my car key.
The good thing about sausage dog keyrings is that they can be fun, practical or classy. You can find one that suits your friend perfectly, whether that's a little knitted Dachshund or a glittery metal sausage dog. They add a touch of flare and personality that they can carry around with them wherever they go.
Phone case

I found this case when I was in London and knew it was the perfect one for me.
What better way to show the world how much you love sausage dogs than with a phone case? We spend so much of a lives on our phones whether we're out and about or indoors, so a phone deserves to have some personalisation.
I found my Dachshund case in the Skinnydip shop in London in the UK. Currently, it is not available on the American website but I'm sure you could find something similar elsewhere! I love the variety on this case from the Dachshund shapes to their tiny noses. The case is actually transparent (apart from the dogs) and so it allowed me to still show off the yellow colour of my phone.
Matching outfits
With Halloween coming up, what better way is there to spend it than with a Dachshund? If your friend is completely in love with their Dachshund, you might want to try getting them matching outfits. Whether you know they're looking for fun things to do with their dog for Halloween, or simply want to show the world how much your friend and their dog are connected, why not get matching outfits for them?
It's up to you how far you go with this and of course how willing you know your friend will be. It could be something very basic like getting your friend a coat that matches the colour of their dog's. Alternatively, there's no harm in persuading them to dress up as the three musketeers with you for Halloween!
Bookends
This is one that is perhaps for those who are both book lovers and Dachshund lovers! You can buy these in a range of materials from thin metals to wood. They are a beautiful addition to your bookshelf and give a little more character to your collection of books.
I own these bookends and they are honestly a lovely addition to my bookshelf. They are strong and blend in nicely.
Sausage dog cafe tickets
Those of you who have ever been to a dog cafe or dog event will know how exciting they can be! They are full of other people who love dogs as much as you do as well as beautiful dogs who want to socialise. If you can find a sausage dog cafe or pop up event in your area, consider getting tickets for your friend who is crazy about Dachshunds.
There are usually different types of tickets available for both those who own a Dachshund and those who just want to go and enjoy the atmosphere. It's the perfect day out for Dachshund lovers as it gives them a chance to meet so many doggys who want to be given attention!
Dachshunds are known for being a little bit noisy, so make sure you're prepared for lots yaps but lots of love too.
Necklace
Jewellery is the perfect gift for someone in your life that enjoys wearing pretty or quirky things. I like to think of necklaces as something that is quite personal – it sits close to your heart and usually means something to you. For example, for my 21st birthday I was given a key pendant from my family and I like to wear it as a reminder that there are lots of opportunities in life and my family are the ones who encourage me to get where I want to be.
A sausage dog necklace however, can represent how much your friend cherishes their pooch. Necklaces mean that you can find the perfect one that matches your friend's personality. That could be a colourful sausage dog wrapped in a hot dog or a dainty metal sausage dog that oozes delicacy.
Scarf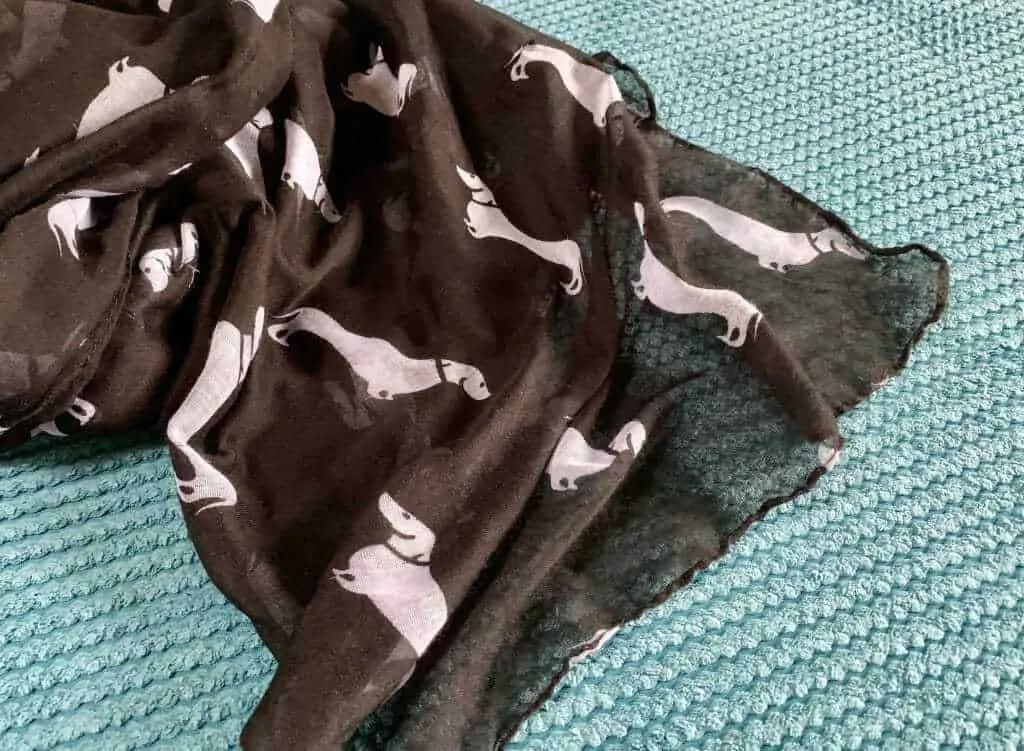 This scarf has basic colours that go with lots of outfits. 
We may not be able to wear our sausage dogs around our neck (despite their long bodies) but we can wear a Dachshund themed scarf. Allow your friend to show to the world just how much they love sausage dogs by gifting them a scarf that they can wear when it's not too hot.
It does not necessarily have to be a winter scarf – it can be a thinner one made for fashion instead!
What you wear is the first thing that people notice about you, wouldn't it be great if what they notice first was something you love?
Duvet set
Asda in the UK have become well known for bringing out new sausage dog bedding. At Christmas they bring out a seasonal themed one and during the year they have released a few different designs too.
Dachshund merchandise has certainly become more of a trend in recent years and its become easier to buy sausage dog themed products in well known stores. I personally absolutely love bedding. I love my bed and therefore I love what patterns go on it too.
My mom would always want her bed to be well made and clean whenever someone came over – she taught me that it is something that shows that you are presentable. Well, why not let your friend be presentable and show that they love sausage dogs?
This is a great gift for those who really like changing the patterns and design of their duvets.
Pillow
Why not gift your friend a Dachshund pillow to match their duvet set? It could be one that is in the shape of a Dachshund or you could really surprise them by printing a picture of their beloved pet onto a pillow.
This really depends what you intend them to use it for. Is it a show piece or is it made for comfort?
Planter

A beautifully simple grey planter that fits in with any colour scheme.
My friend bought me one of these for my birthday this year and I was honestly so astonished that it existed. I would never have considered buying one of these without having accidentally seeing it first.
However, as a houseplant lover, I was so happy and grateful for this gift! It added quirkiness to my pot collection. I admit, it is difficult to put a plastic pot in so you need a plant that is happy without one.
If you're looking for a gift for someone who likes quirky objects, this could be a hit.
You could also find outdoor planters that come in the shape of a sausage dog or perhaps even make your own if you're a creative person!
Framed picture of their dog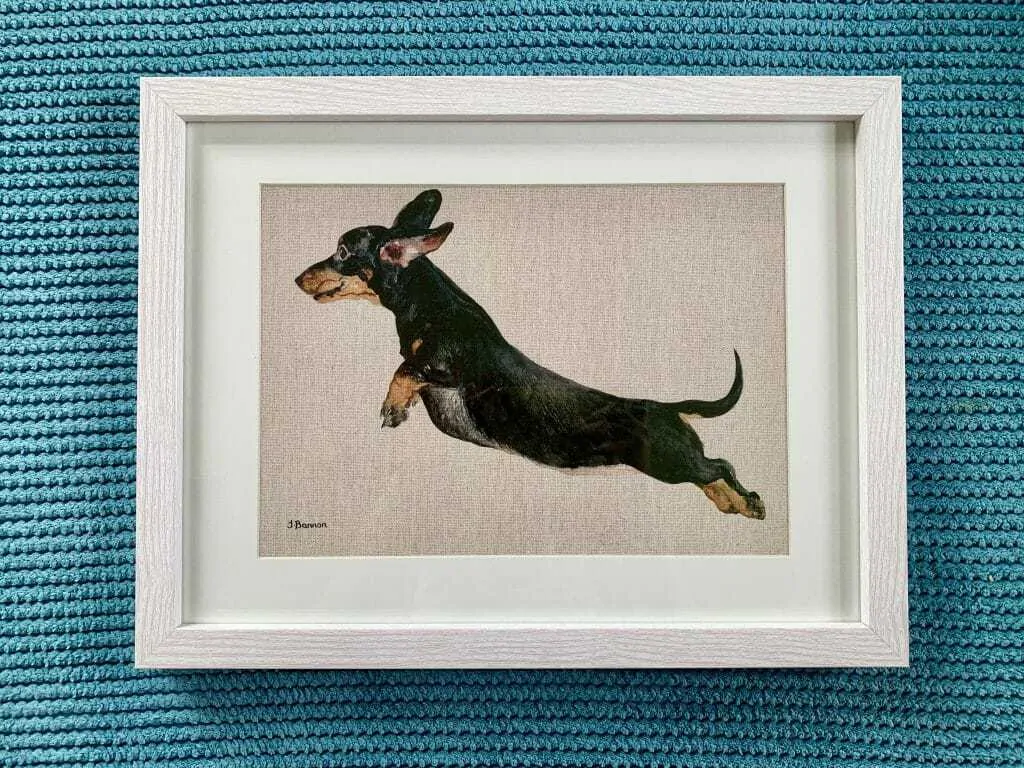 When my friend got me this framed image of a sausage dog from a garden centre, I was overjoyed.
Framed pictures are something many of us like to keep on display to show our appreciation for family and friends. They are to show that someone is special and to keep the memories of others alive.
Pictures are a constant reminder of a person, a place or an event. Your friend's dog is an important piece of the puzzle – they complete their home. Why not show them that you understand how much they appreciate their dog? You could frame an image of their dog that you've taken, or maybe you have a picture of them both together. Either way, they'd probably love you for it.
Failing that, there are plenty of paintings or images that are available to buy. I was given one that my friend picked up from a garden centre. It hangs up on my wall and makes me happy.
Pet paw print kit
Dogs are a huge commitment and they definitely need a lot of thought and consideration before owning one. However, many dogs become part of a family very quickly and are the key to happiness!
If you know someone who is absolutely in love with their pooch, they might like something that they can cherish for a very long time.
Lots of people get their child's footprints or handprints painted or sculpted, so why not do the same for a dog? This gift means that your friend is able to keep your dog's paw print with them forever.
Human's fingerprints are incredibly unique and it is something that identifies us as individuals. According to Daily Dog Discoveries, doggy paw prints are not as individual as human fingerprints. However, this kit allows your friend to adapt their sculpture to their dog.
Dachshund colouring book for adults
Adult colouring has grown in popularity in the recent years, proving that it is not something that's just for kids. Colouring can bring lots of benefits, including bringing out a creative side. From experience, I know that it can also have calming affects. So, if you know someone whose nerves are settled by a combination of sausage dogs and colouring, it's worth buying them a thoughtful gift like this that can help them.
This is one lovely example of a colouring book for adults. Keep in mind that this particular one is Dachshunds 'and friends', which means your friend will be colouring in other dogs too! It will be great for those who love sausage dogs and lots of other breeds too.
Giant wall clock
If your friend loves to add a touch of class to their home while still showing others that they are obsessed with sausage dogs, you could gift them a giant Dachshund wall clock.
Sale
This particular wall clock is adorable as it shows the different shapes and sizes that the Dachshund breed comes in! It adds a luxury feel to the room and is adjustable depending on what size your friend would like their clock to be.
This could be the perfect gift for someone who has just moved house, or perhaps you saw a lovely empty space on their wall!
These are just a few things that you can buy for the Dachshund lover in your life. From the simple to the quirky, there's always something that will put a smile on your friend's face.
Let us know in the comments if you've found any quirky sausage dog gifts in your area or online!